It is considered to be a very significant step to plan properly before traveling to any place in the world. Without proper planning, there is a possibility that your tour will turn out to be chaotic. And if you are traveling to India, there are a few things that you should keep in mind so that you can enjoy your mystic and a surreal trip to India. Now, what are those things? Well, to know that you have to carry on with your reading. So, give yourself some time and prepare yourself for the wilderness and a ravishing tour of India.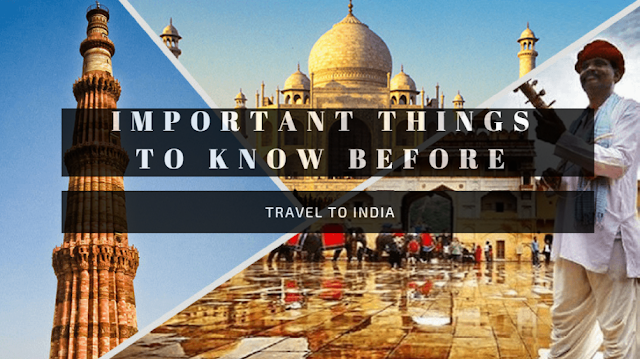 We all are aware of the fact that Visa and Passport are very significant documents, which we should take care of. Especially, if you are a foreigner, you must have a valid Visa before you visit the land of India. While you travel to India, you should collect your Visa from the embassy of India or from the high commission. It will guide you to enjoy a hassle-free journey through the heart of India.
India has several cultural layers that intensify the elegance of this country. Every nook and corner of this country have different sets of cultural values. It is a very fascinating fact that a total of 22 languages is spoken in the land of India and people from every religion exist in this country. You will be intrigued by the cultural vastness of India. You can witness a change in the habits and lifestyle after traveling just a hundred kilometers from your home. Also, the fashion statement of this country is very surreal. It is very vivid and colorful and it depends on the different traditions and diverse geography of this country. Most of the India tour operators will introduce you to the cultural enormity of this country.
If street photography fascinates you, India can be considered as a paradise for it. You will get countless candid frames and moments, which you can capture through your camera. The chaos of this country has a beauty of its own and will deliver you several splendid moments to catch. There is a possibility that you might miss some really fascinating frames like a boy picking up a fruit from the nearby market or an elderly lady choosing the saree of her desire.
During a trip to India, you will find out that most of the places here accept cash. Yes, your cards will be accepted here, but it is recommended for you to carry some cash, especially when you are strollingthrough the streets of rural areas in India. If you want to stay away from the hassles, carrying cash is very necessary because the local vendors, cabs and markets will rarely accept card here.
While you travel through the streets of India, you will witness that India is a very densely populated country. But, it is advisable that apart from staying in the cities only, reconnoiter the countryside as well. Those places are comparatively less populated and will provide you the peace of mind. Also, the countryside of India holds several beautiful and magnificent sites on its lap where you can spend some productive time. Just be sure to charge your gadgets when you are in rural areas.
If you are visiting India for the first time and you have no experience in traveling to international destinations, then you should opt for the reputable hotels in India. It will help you stay safe and will also guide you to chalk out the plan for your traveling. These hotels will deliver you all the aspects of luxury and you will get several staff here who can communicate with you in English.
Thus, if you have a plan to visit India, keep the above-written things in your mind and make your journey worth visiting.
Source : https://indiatortravel.blogspot.com