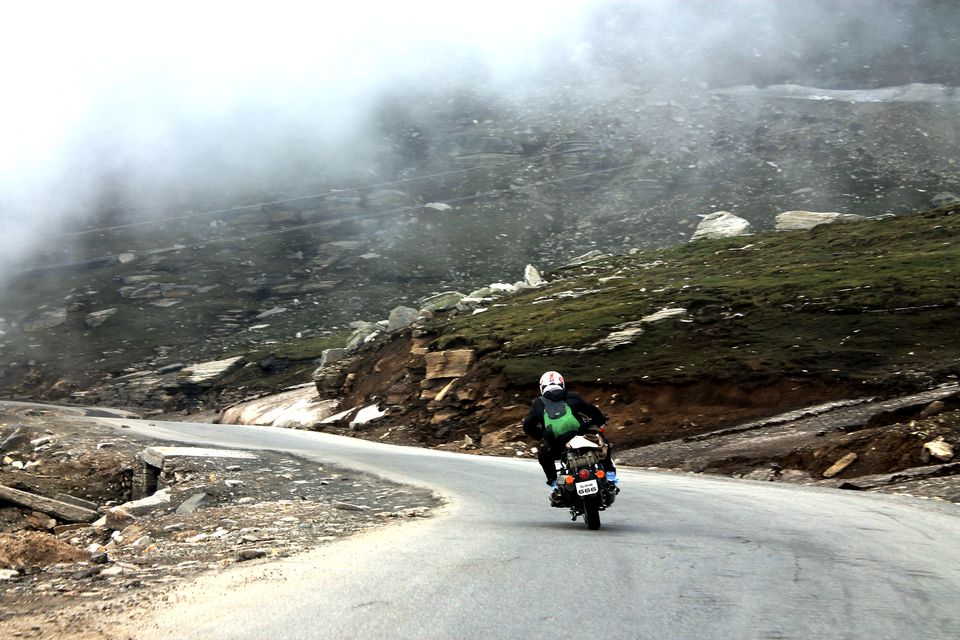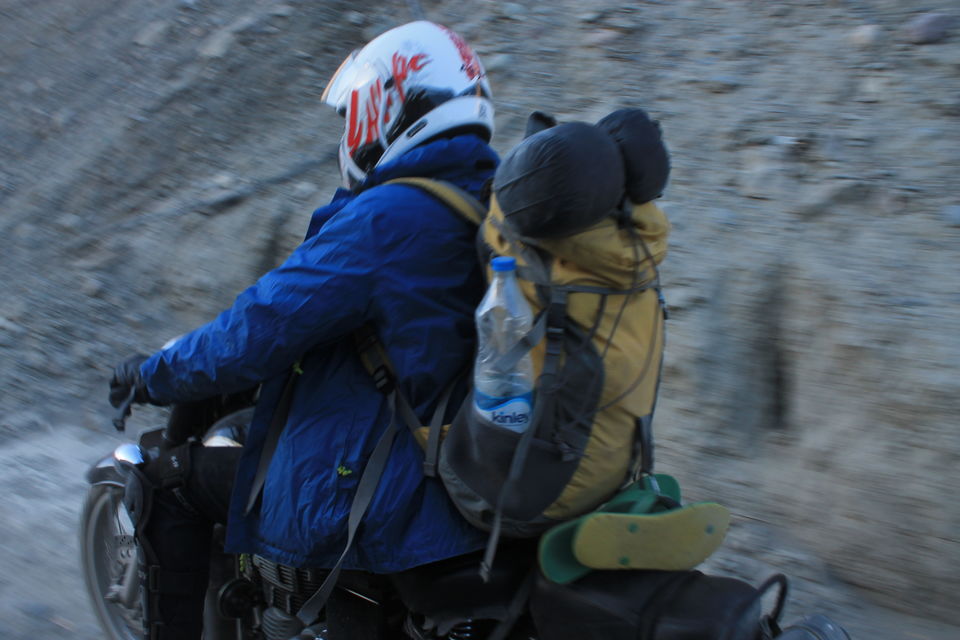 Its been 3 years now, but the memory is still as fresh as yesterday. Thanks to my extended family of friends from Delhi and NCR region I was once fortunate enough to get on a life changing expedition that covered a full ride on my own motorcycle from Delhi to Delhi through the heaven above; Spiti Valley.
Though there are more than a thousand experiences that I could share with you right now some being the likes of running into an active landslide or seeing the Great Himalayan Vultures peck at a dead trapped mountain goat, one experience in particular stuck with me. It is so unreal and uncanny even today that sharing it with you, I have to reveal the trivial details including the names of people involved because, they helped me retrieve my Bike which was stolen from my Hotel Parking in Manali! Yes you read it right... A Gujarat Number Plate Bike, Stolen, In MANALI after completion of a 18 day long treacherous ride, through breathtaking landscape and some of the most dangerous roads.
I bring to you the piece I wanted to originally title, Retrieving a STOLEN bike in Manali with the help of, 'Drumrolls' Manali Local Police! [Stick along because I am going to share with you the name of one of the most loyal Police officers and I would want every reader (read rider) to go through the pains of visiting him and saying THANK YOU for his services, not only to me but also to THE Entire City of Manali because what he did was phenomenal.
It all began with me shipping my Bike from my home town called Vadodara, in Gujarat to Noida in Delhi. A friend received my bike and immediately set to the task of fine tuning the parts in order to undertake such a mammoth task of riding the Himalayan horseback. My Bike, my soul, a Classic Royal Enfield 350 (much common now) was all set for me to grind her tires to a flat, treading the road less taken to locations that even the most powerful and expensive Canon or Nikon Dslrs could do no justice to!
The Journey started with us blending in on the whole 10-12 hours a day riding concept and through Northwestern UP beyond Delhi and then through Chandigarh and Narkanda, we progressed into the Lord Shiva Territory. The entire ride can become a blog itself and here is a link in case you wish to delve deeper into the experience of bike riding, https://dontgetserious.com/mettlesome-journey-6-friends-14-days-himalayas/ HOWEVER, this Blog is not for the Journey, its for what happened at the end of it.
Completing the entire circuit in over 12 days, we decided to halt at Manali for a last couple of Nights just to ease back into society and the social construct of living in concrete jungles, urban and civilized. We had a gala sit down dinner with free flowing Wine and a lot of good, nicely cooked meals that Night and soon, it was time for us to go back to the Hotel. [Trust me I am trying really hard not to reveal the Hotel Name but that would be catastrophic to their image and I do not wish to tarnish their name just because a Bike Got Stolen from their parking lot, if you know what I mean!!]
So, the extraordinary thing about the last night was the fact that one of my Co riders and also the friend who brought me into the ride, Rudrani Singh; decided that she wanted to swap bikes with me for the ride back to the Hotel. Now throughout the journey we maintained the rule of no bike exchanges so that we could grasp terrain and handle the machine well being familiarized with our own vehicles, but since the only ride remaining was the one Back to Delhi, I decided why not!!!
Now, the Fun Part begins. We go back do our thing, chill, talk and pass out all five of us not knowing what the sunrise was going to bring to us, the next day!! It was a startling knock on the door at 8:00 AM when my friend Rudrani broke the news to me.
Hungover, I opened the door considering it to be an opportunity that may be knocking but it was a panicking friend that I was greeted by. Knowing the kind of people we were back than, pranks with and around us went way beyond the normal limit of friendly poking pranks. My eyes were sullied with the past nights debauchery but her expressions conveyed way more than what she could convey through her words. She said, "Teri Bike nai hai Jaimeen, maine jahan rakhi thi" giving me trivial details of how the bike is not on the spot at which it was parked last night.
Our instant reactions were, we'll figure it out, maybe the Hotel Staff moved it to accommodate a few taxis or some guests cars and we do the next logical thing to do, walk up to the reception. At this point, i may take the liberty to remind you that we already checked all the parking spots and places even outside the Hotel Compound in case it had been moved. At the reception we were greeted by a Nepali Worker who was sitting behind the desk, he had sort of a grin on his face (which I later figured out were his natural facial features) however, I being the paranoid and extremity lover I am, made up my mind that he was behind the theft of my Bike. His answers only drew me closer to getting into a nasty fist fight when Rudrani called the more sober friends we had into the commotion. Ganji as we knew him back then, a Noida resident too, Nitish Sharma aka Ganji decided to take the lead by asking the Reception boy to call up the Owner for CCTV footage. No one had seen or moved the bike and CCTV was our last resort of finding out what had happened to the Bike.
The owner made the mistake of asking for time to shower before he could come to the Hotel and by then, I was quite verbally profane so after a few concocted insults in my national language, Hindi. I decided to take the next logical step. Wait for the Owner.
When he did show his pricey ass at the premises, I could clearly see that a fist fight with him would leave me battered considering the fact that he was a huge balloon of a man who had probably had all the nutritious himalayan food that I never had a chance to even taste! So taking intimidation out of the options I lay down on the table, Ganji helped me to request him to allow us to see the CCTV footage.
Now the thing with technology is that, technology, never lies. We saw a piss drunk man jump over the hotel fence and walk towards my parked baby at around 2:30 AM. Trying to get it off the main stand, the half man half cunting thief let the bike fall and we could only decipher the fact that the bike had fallen and the man ran off into the night. The bike however was still in the CCTV footage frame. We were very hopeful and we decided to forward the tape a bit and as the clock hit 3:13 AM on the CCTV monitor, the Drunken thief saw that the fallen bike had not caused any ruckus after which he eased back into the Hotel Parking and picked up the bike drawing it downhill, OUT OF THE CCTV frame. We had it, we had proof of my bike being stolen by a random stranger. A Gujarat RTO registered bike, stolen in the middle of the night in Manali. Comment to tell me what are the chances that after these set of events, I would retrieve my BIKE.
Then it all began. The bike that did not even bother me over a meagre puncture in the entire Journey from Narkanda, Chitkul, Nako, Tabo, Kaza etc was now MIA from my hotel parking. Ganji and Rudrani clobbered sense into my mind and we decided with the help of Sakshi Chand, (A walking yellow pages for everything legal and paralegal) to visit the police station that had the Hotel in its jurisdiction. I was convinced in my mind, that the Nepali Receptionist who was on duty that night, had something to do with the theft.
At the police station, I had a tough time considering the only experience I had, dealing with the police was through all those episodes of Crime Patrol that I had binged on. There was a moment when the on duty cop asked me to shut up and utilize my energy to write a formal complaint, IN HINDI on a paper. He was focusing on all the wrong things by telling me to not waste the margins of the A4 sized paper. Imagine I had lost my Bike, my only mode of transport and the cops were asking me to go all environment friendly by not leaving a big margin on the official complaint document. By now it was almost 9:30 - 10:00 AM and I was losing my shit when a cop named, ANKIT SHARMA (This is a real name coz he is a real life hero) tried to calm me down by telling me to relax. His exact words were, "Aapki Bike Mil Jayegi" (We shall find your Bike)
Thus began the man hunt at around 11:00 AM from the Police Station on Mall Road or Market Road which is a cobbled street that is shut for Vehicles during the night when the Market becomes all touristy. Two Cops in a Maruti Jeep, Me and Ganji on a Bike and two cops on another Bike. We began scouring every god damn service centre in Manali and every nook and every corner of the city. The cops would ride next to us, ask us to stop and ask us to look into lanes with housing complexes, uphill, downhill lanes that either opened up into individual bungalows or commercial spaces for small shops, restaurants or garages. Yes a lot of garages. We got off everywhere, the cops handed out slips of paper with their number on it and my Bike Number and Model. The hope was so unsettling that after about an hour of searching, I lost my Shit again. I felt the COPS were behind this and they were just taking me for a ride, trying to pretend to be working. Every minute passed by, me and Ganji would discuss how by now every square part of the bike would have been un-assembled by thief. Every minute that went by, I was getting sures that my bike was on its way to some Chor Bazaar in Bombay or Delhi stripped down to the Nut-Bolt level. If there is one thing that Bollywood teaches us, it is the fact that thieves are often smarter than their protagonist counter parts. I was sure the bike could never be found and I entered into a verbal tussel with the cops accusing them of not taking steps that I had asked them to.
The steps I asked them to take were, "Inform about the Bike Number and Model on every crossroad and even check points on the roads that lead down south towards Chandigarh and Up North Towards Leh Ladakh and Spiti to which I was asked to Shut Up and let the cops do their work in their way!" What happens next took not only me but my five friends by surprise as well.
The cops got a tip off from a Laundry Operator while scouting the city lanes that the thief was a local known alcoholic and drug dependent person. In that moment as the cops asked their informants, Ankit Sharma the investigating person walked up to me and my friend waiting a little away saying that, we may find your bike, we have a tip.
We went to a not so very famous Shiva Temple on the Hidimba Temple Road in Manali from where we had a small descend down the mountain ridge to a place where, the Bike was covered in broken foliage and sticks from shrubs around to camouflage it. NOT even the FUEL was stolen from it.
I may want to tell you now, that I was a braveheart through it all but trust me I wept seeing my Bike. I couldn't help myself but thank the Cops with watery eyes momentarily apologizing for all the random abuses I hurled at them during the whole episode. This does not end it, Back at the Police station, when I asked if I could contribute towards the successful intervention and investigation that the Manali Police had done for a RANDOM INDIAN CITIZEN from halfway across the nation, THE COPS, told me that THEY WOULD NEVER WANT THE CITIZEN TO GIVE A SINGLE RUPEE AS LONG AS THEY ARE ON DUTY. They REFUSED to accept any form of donation or compensation for their time or fuel spent to retrieve my LOST MOTORCYCLE.
In an array of social mistrust in the nation. With many online news platforms working round the clock to tarnish and harm the INDIAN UNITY IN DIVERSITY, I present this story to all online readers and say to you once again that the name of that COP is still saved in my cell phone and his name was ANKIT SHARMA and he helped me retrieve my STOLEN bike in an unknown mountain top city without charging or even expecting any returns for the massive 2.5 - 3 hour long operation, say a bike hunt!! Such people deserve a CHEER and some recognition for their selfless DUTY... or DOOTY as the Himachal Pradesh people say...! Thanks for the read... stay blessed and keep riding.!!