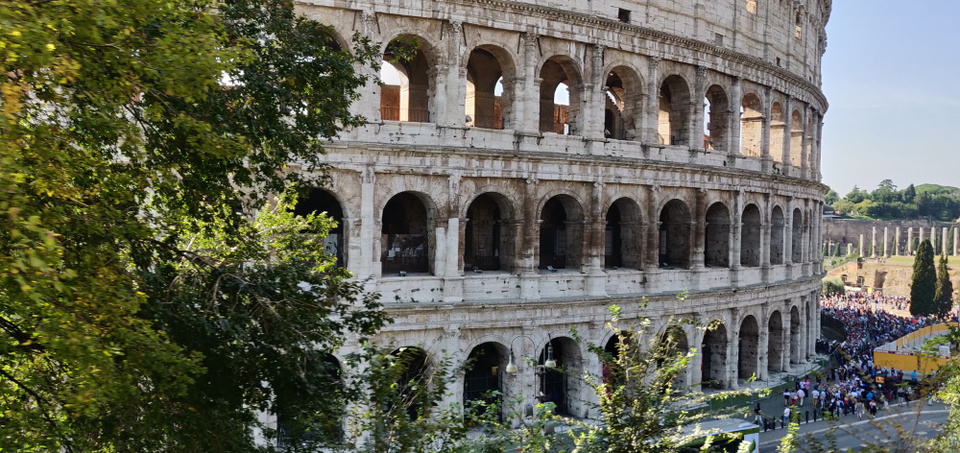 Rome, Italy, is undoubtedly the most beautiful city I have ever seen with lot of history and ancient architecture. It is the most touristic destination all around the year. In my 3 weeks solo trip to Europe, Rome was the last destination, where I was staying for 3 days.
Rome is not just popular for its architectural legacy, but it is also defamed for the pick-pockets and robbers. Knowing this fact and being warned by my friends and fellow travelers, I was quite scared and cautious about my belongings.
I was traveling from Florence to Rome, which took around 3 and half hours by train. I reached Rome at 3 p.m. in noon. I checked online to find route to my hostel. It showed me options to catch a bus or a metro. I went to the bus stand to buy a ticket, and the operator suggested me to take a train instead. I bought metro ticket of 1.5 euros and kept my wallet back into my small backpack,which I was wearing in the front.
I was carrying a large suitcase, a backpack and a small backpack in front. Soon I regretted my decision to catch a metro, as it was too back breaking to carry so much of weight. Metro train was too crowded, a girl asked me to hold the handle, I said no it's okay. Then she asked me to see if this station is coming, I just looked up for few seconds and told her no. Then she left on the next station. After two stations I left and moved out of metro station. I stopped to check my bag and to my shock, my wallet was not there.
I hardly kept my eyes off my bag. I tried to find around the places I walked, but it was not there. I was sure by now that someone must have stolen in metro, when the other girl was trying to distract me. My wallet had my passport, cards and cash. I kept in front of me so that no one can steal it. Still in matter of seconds it got stolen.
I panicked and called a friend, he asked me to rush to the police station right away. In such situations, we often loose our sanity and start panicking. Thankfully my phone was in my hand and it didn't get stolen. I asked for help from a group of people standing on the side of footpath.
There were two girls and two guys, they came along with me to the police station. At that police station, the personnel said they do not take loss of passport complaints, so we need to go to the another police station. The two girls with me had to go back to work. But the two guys, Federico and Diago came along with me.
They took me to another police station and helped me file a complaint. Now I was asked to go to Indian Embassy. Federico booked a cab for me and they decided to come along with me to the Embassy. Meanwhile we were in the cab, I called Embassy and explained what happened, I gave them my passport number. By the time I reached, personnel at Indian Embassy kept the application ready with all details.
For an Emergency certificate two passport size 2″*2″ photographs are mandatory. Again guys took me to photo booth and got the photographs done. While getting photos done I was also calling to bank to block my cards. We ran back to embassy, as it was their closing time. Finally I got my Emergency certificate made, which I could use only one way from Italy to Ahmedabad, India. Embassy charges 14 euros for emergency passport, but looking at my situation and Italians trying to help me, they waved the charges.
Now it was time to arrange for cash. I had no cash at all, the guys with me were so good that they were willing to help me with cash too. But my friend sent me some cash through Western Union. Meanwhile I got the cash, the guys also took me to a pizzeria and get me some pizza and juice to eat. They said they are sorry that this is happening to me in their city.
They were with me all the time, and dropped me till my hostel at night. They insisted that I should see the places and enjoy in Rome. That such incidences happens in life and should not break my travel spirit. I am so grateful to them and to God that they helped me.
Story doesn't ends here. The hostel I booked was another shock to me. As I booked for 6 bed female dorm and they provided me 10 bed female dorm, in which even guys were sleeping. It was not clean enough, too claustrophobic and noisy. I had to change my hostel in the morning. Luckily, the manager at hostel supported me and gave me my money back.
At the one end there are people who stole my wallet and on the other side I met wonderful people who helped me and stood by me without any expectations. This world is so strange yet a beautiful place to live in.
So, here is what I learned from this experience:
Always keep your passport and major portion of cash at a safe place in the backpack and lock that section.
Keep only some change of money in different pockets. This should suffice the food and travel need of one day.
Keep copy of your passport and visa in all the bags and in your phone too.
Keep passport size photographs with you.
Keep your add-on travel card in different bag. This can be activated when you loose your original travel card.
Do not take metro or bus with too much luggage and specially when you are travelling solo. Instead take a cab.
Book the hostel with excellent rating only. Read the reviews before you book.
Sometimes hostels are not same as they show in photographs.
Follow your instincts, it helps.
Hope sharing my experience will help you with planning your trip and packing your belongings.
Never let your travel spirit break..????
Thanks,
Pooja