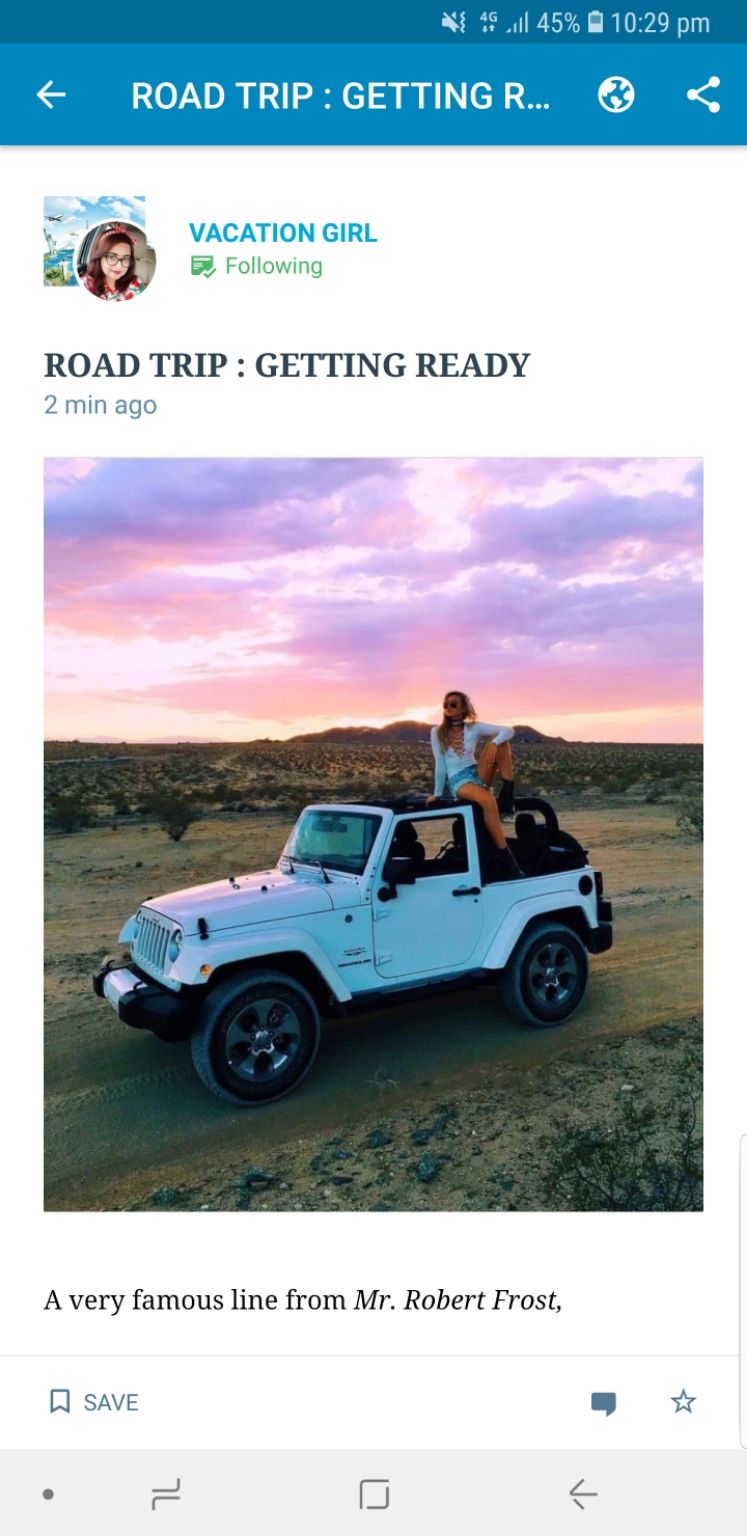 A very famous line from Mr. Robert Frost,
"Two roads diverged into the woods, and I took the one less travelled by, which have made all the difference."
Is close to many hearts. Ever find these lines reality of your life..? If yes, this article is just for you.
Road trip is a young phenomenon since a long time. Many of us even choose to visit places faraway via road, not because it's economical but it is something more of a feeling. So many movies being Bollywood or Hollywood have always added to the flavour.
But road trip isn't as easy as it looks. It comes with its own advantages and disadvantages. It's totally up to you how intelligently you get prepared. As many of us really wish to go for a vacation on their own vehicle but loose confidence just because of lack of knowledge.
Internet have it all, but mostly scattered. Your Vacation Girl brings you every essential knowledge you want under the one article. Let's divide things into point for your better understanding :
Choosing Right Vehicle
This is the most important of all. Mostly everyone is aware that genre of cars are divided into 3 groups :
HATCHBACK
SEDAN
SUVs
Choose the one according to the area you are travelling.
Preparations
Get your car or bike serviced properly
Don't forget the important medicines.
First aid must be your priority
Your important papers are life saver
Keep clothes for unexpected weather as well
Entertainment ( for travelling in cars only that too for co travellers)
Safety gears for bike
Very importantly have cash with you, not all routes are very developed to have ATM
Different driving situations
There are multiple driving situations you can go through while driving and you must always be prepared for them. I have some tips for sure :
Reducing speed at dust tracks, gravel, river, stream etc. Keep a healthy distance from the car ahead.
For crossing the river or stream ahead, check for vehicle ahead of you and if not walk over the stream to understand the depth.
Road with bad patches, pot holes must be avoided to driven at night, try to cover these areas at day time.
Use low beams at foggy situations.
Keep good quality spare tyres as tyre puncture is a very normal phenomenon
Avoid driving through still waters or water near industrial areas as they could be oily.
Avoid driving at night but if necessary do it on four laned roads only.
Use mirrored sunglasses driving through mountains in very bright and sunny days.
Use chain straps in vehicles wheels while driving in snow.
Choose a steady momentum while driving through sands in areas of deserts. Never drive without a knowledgeable guide in areas of sinking sand. Do not stop in middle of the sand.
Favourite driving routes of India
North (taking Delhi as the start point)
Manali to Leh NH-3
Delhi to Manali to Spiti NH-21
Chandigarh to Chamba NH- 503
Delhi to Jaisalmer NH-9 & NH- 52
Delhi to Khajuraho NH- 34
West
Ahmedabad to Bhuj NH - 947
Mumbai to Delhi NH- 8
Mumbai to Goa NH - 4
South
Hyderabad to Pench NH - 7
Hyderabad to Mumbai NH - 65
Bengaluru to Coorg NH - 48
Bengaluru to Munnar NH - 48 & NH- 44
Chennai to Rameshwaram NH- 49
East
Siliguri to Gangtok NH - 10
Guwahati to Tawang NH- 52 & NH- 229
The Grand Trunk Road NH - 19 & NH- 44
My TIPs
While taking a four wheel vehicle try to opt for SUVs as they offer more boot space and 4×4 wheel drive keeps you tension free on surprising patchy roads. Sedans are also good for long distances but SUVs are always suitable for surprising problems.
For bikers I would suggest powerful engine bike of 350 cc and above. Try to take bikes with ABS system on your ride which will prevent you from slipping on wet roads and skidding over turns.
Contact your hotel or lodge before check in if they have parking facility or not.
Highway emergency number for NH - 1033
That's all for today.
If you have any suggestions or want me to write any specific blog for you, write in the comment section below or write an email to me.
Email – medha.sharma88@yahoo.com
Always in your support .
The vacation girl.
IG -- https://instagram.com/download/?r=8464560769
Facebook- https://www.facebook.com/vloggervacationgirl/
Youtube—https://www.youtube.com/channel/UCGIJF0CA-CsOE2eV9VDlSww