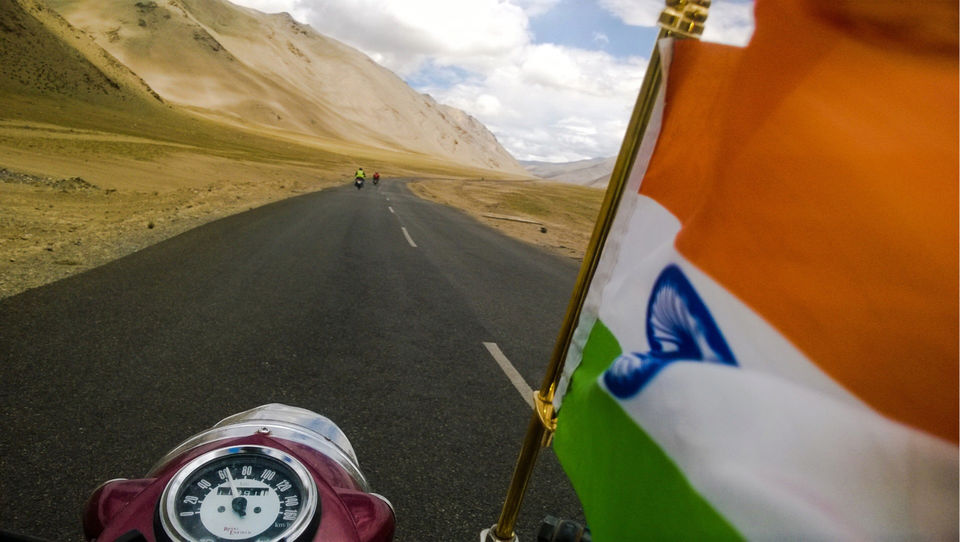 Well its better to start the bike ride from Chandigarh. Some prefer it from delhi, but I would suggest to start from Chandigarh. As I was least interested to drive on expressway. We have boarded out bikes a day advance in train from Mumbai. And collected it at Chandigarh on next day as we all are flying to Chandigarh by train. Arrive here in evening collect your bike and take rest.
You can try most amazing food here. Since its start of your journey don't hop onto food as there are just started your journey
Chandigarh-Manali
Start your ride early in morning around 6-7am. As air is fresh outside and and it always better to start early. First 49-50km of road is almost smooth and expressway. But there after its nothing but mountains, river following you and mesmerising landscape. You can feel the fresh air differences as you leave city. When you are mountain always follow driving rules. And these rules are quite opposite to that we follow in our city. Never try to overtake any vehicle unless he gives you sign via indicator. Don't be hurry and keep on honking. Always move in group one behind other with discipline. Reach manali by afternoon and you have full evening to chillax.
Since now onwards we will be travelling through high altitude its better to get yourself acclamatise and get our bike checked and get serviced. Since we are into manali for day. Here we have visited Hadimba temple, Vashith temple, solan valley where you can do cable car ride which gives fisheye view of solan valley. This day was completely to breath the nature and relax the mind. There so many cafes and restaurants I personally prefer Casa bella vista pizza and Jalebis in main market area. We have slept early as our most amazing bike ride gonna start tomorrow.
We have started at 7am in morning after breakfast. We were having backup vehicle and mechanic for any breakdown in between. Today we are supposed to cross Rohtang. The moment we started ascend for Rohtang pass we are welcomed heavy rain. It was so heavy that we were driving bike with 10m of clear vision. Though I had wear the raincoat and jacket. I was completely drenched in rain including underwear. Hand were freezing and I was in between trying to drenched out water from my both hand simultaneously driving. Had cup of tea at top which is most needed after a hours of ride in rain. The moment we pass rohtang pass and start our decend and ride towards Keylong the nature has turns out to be so beautiful and mesmerising. Days in Keylong are bigger than manali. Sun was shining bright even at 7pm and we could dry our cloths and shoes.
Note that there is last petrol pump in keylong. So make sure you have enough petrol as you will see next petrol pump at kargil. You may petrol black in case of emergency
We have started our journey for Sarchu. Most beautiful place on these route. It have very low oxygen level. So make sure you drink lot of water so that your blood oxygen level remains in limit. You can check your blood oxygen level at army vamp sarchu. Its free of cost and they will medicate person of any one is not feeling well. Here we have stayed in tents with attached bath and its most beautiful stay. Since its at hight sarchu is best place for star gazing and astrophotographers. You have to bear the cold winds which freeze your nerves
Our next destination was Leh. Since we have distance was very less the plan was move slow enjoy the view and drive. On the way you will find moon land, change in colour pattern of mountains. Roads you will find it shade of purple. And most of roads runs parallel to satlaj river. We have done the local sight seeing, shopping and planning of further journey as the condition in Kashmir was not good.
We have started for our next journey to kargil. And now the roads are like highways. I have never seen such smoother (makhan) at any hilly region. Salute to BRO for such roads. Keep reading quirky slogans by BRO on your way. View you get top is unbelievable. We have stayed in tent here 10-12km before kargil.
We started early in morning to visit kargil war memorial at Dras. We have hired car as we are suppose return to kargil since the conditions were not good in kashmir so we don't have any option but to return to all the way back to Chandigarh on same route we were tired if driving bike.
On the we have seen places were shooting has taken place between India and pakistan army. Samgam of rivers, and Drass is coldest region where temperatures drips below -40 jn winter time. Visiting war memorial is really proud feeling we have and generate more respect towards Indian army
Since condition were not good in kashmir we have decide to return to leh. And do pangong khardungla on next day. Travelling back in kargil highway was amazing and on return we faced Shinning sun, but of rain, snow flakes and hailstones also. All three weather conditions in single day.
These day we have started for khardungla top in morning. You can observe drop in oxygen level the way you breath heavy and the way bike accelerate. Roads was not hood as BRO tries to make it good and next day layer below it washes away. We have skipped nubra valley as we have to drive all the way to pangong before 7pm. As at night crossing pagal aka yeda nala is tricky and risky also. But one of out rider has missed the road and he has drived 1-2 hour in wrong direction till he could get someones mobile to call back us.
Driving to pangong at night was once in life time experience. Driving at night and crossing through chilled water streamwas nerve wrecking. We were at yeda nalanat 11pm and we were unable to see the road. The yeda nala and roads seems equal only. Because of our guide only and his experience we could cross the yeda nala amd reach pangong lake at 12.30 am. Legs were almost senseless for hour since were dipped in chilled water and cold breeze has freezed it.
Pangong the devine beauty. Though 1/3 of lake is in India territory the beauty is mesmerising. White sand and crystal Blue lake. Time always runs faster when you are at beautiful places. After spending half day at pangong we headed to leh for our next halt. We have home stayed at some place after leh. Its really warming experience to stay there.
We have returned to Chandigarh in next 4 days with stops at keylong- malali- Chandigarh.
Though we have travel on same road few days before only returning on same route was again new experience with new views and beauty of nature with different day