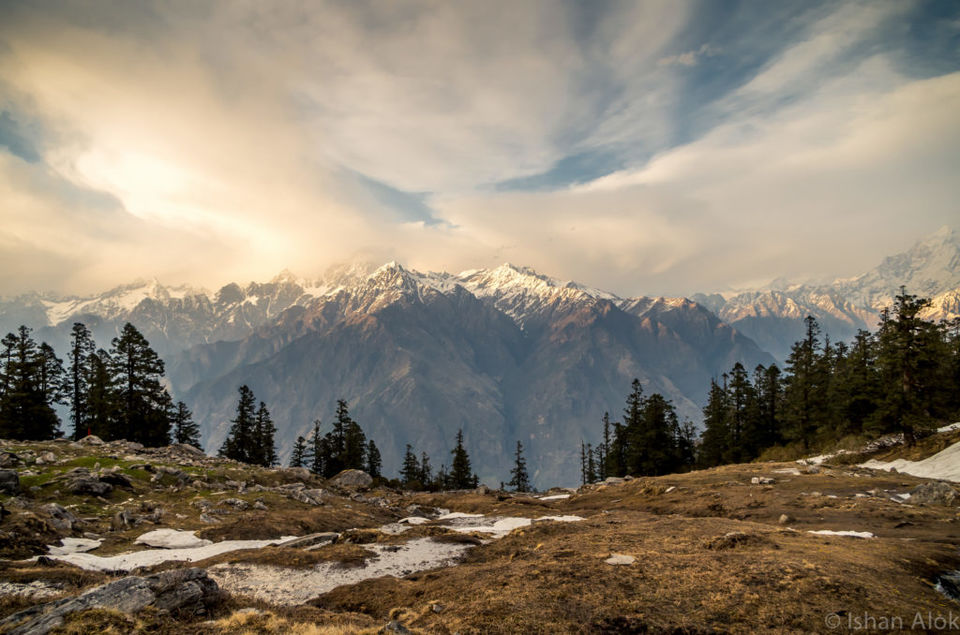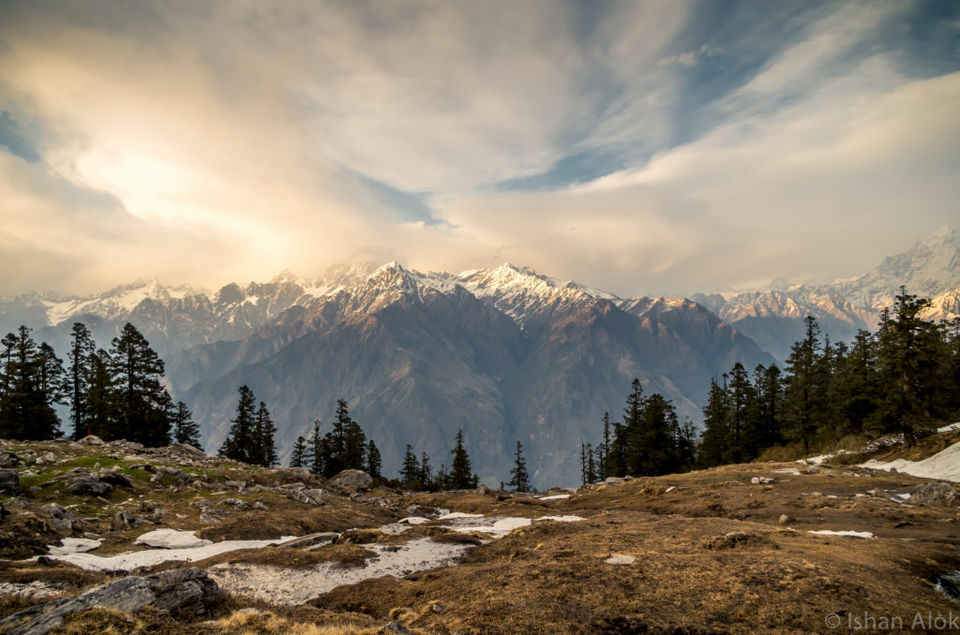 Sigh! I breathed heavily once again and wiped the beads of sweat off my face. My backpack was getting heavier by the minute. Lack of preparation for high altitude was evident. Oblivious to all the noise around me, I was lost battling my own thoughts on how I ended up here in the first place. Here I was at the base of Kuari Pass trail, backpacking my way to reach the Pangarchulla Peak.
It all started when I decided to go on my first Himalayan trek. Two months and a lot of researching later began the soul-searching journey from Bangalore – Delhi – Haridwar – Rishikesh – Auli – Kuari Pass – Pangarchulla Peak. 30 people from different parts of the country with different ethnicities and backgrounds gathered together to be part of the mystic Himalayas.
Kuari pass is an above moderate trek when coupled with Pangarchulla peak. It offers breathtaking views of the highest peaks of the Garhwal region including Nanda Devi peak with the right amount of challenge for trekkers, making it a well-rounded trail. The vista changes from green to snowy pristine white during Spring offering a treat to the eyes. Although, during winters, the Pangarchulla peak hike is on the technical side(with gears and harnesses). This trek was special to me since it involved a lot of firsts – first Himalayan trek, first time camping, first time experiencing and trekking on snow.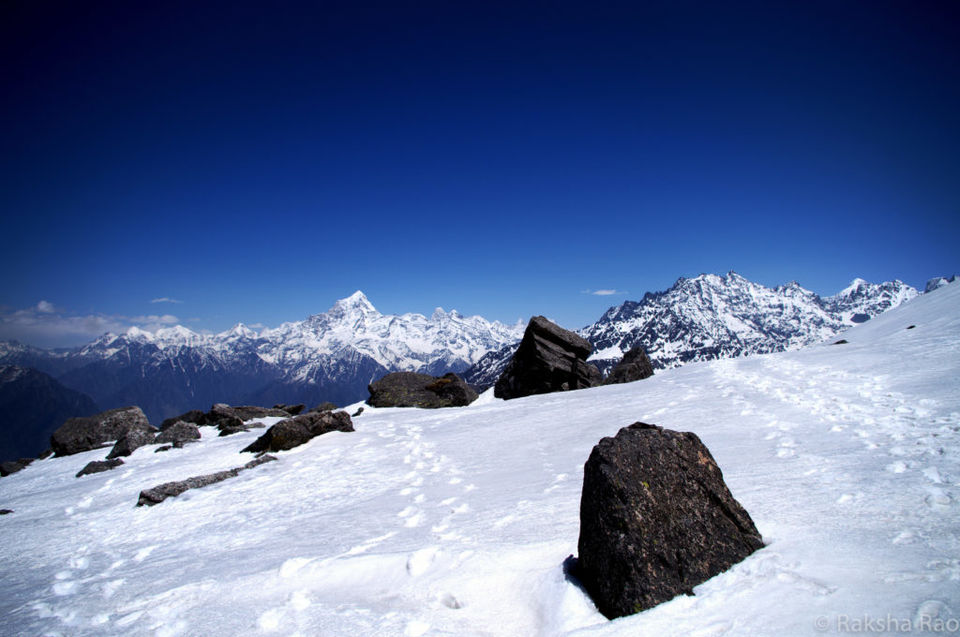 Fun Facts
Also called Lord Curzon Trail.
Location Garhwal Himalayas, Uttarkhand
Maximum Altitude Pangarchulla Peak summit(4700 m) , Kuari Pass(3650m)
The journey from Haridwar to Auli was a long 12-hour drive. The treacherous drive owed to steep and winding roads; often had board signs indicating landslide zones. However, most parts of the drive were along the Ganga & Alaknanda rivers. Enroute we crossed the holy towns of Devprayag & Rudraprayag. One thing was certain – I never got bored of the views. Once I reached Auli, I was even more elated. Surrounded by the mighty Himalayan range, Auli is a quaint town, an upcoming skiing destination. Difficult roads indeed lead to beautiful destinations. The starting point of the trek was just a 20-minute drive from here.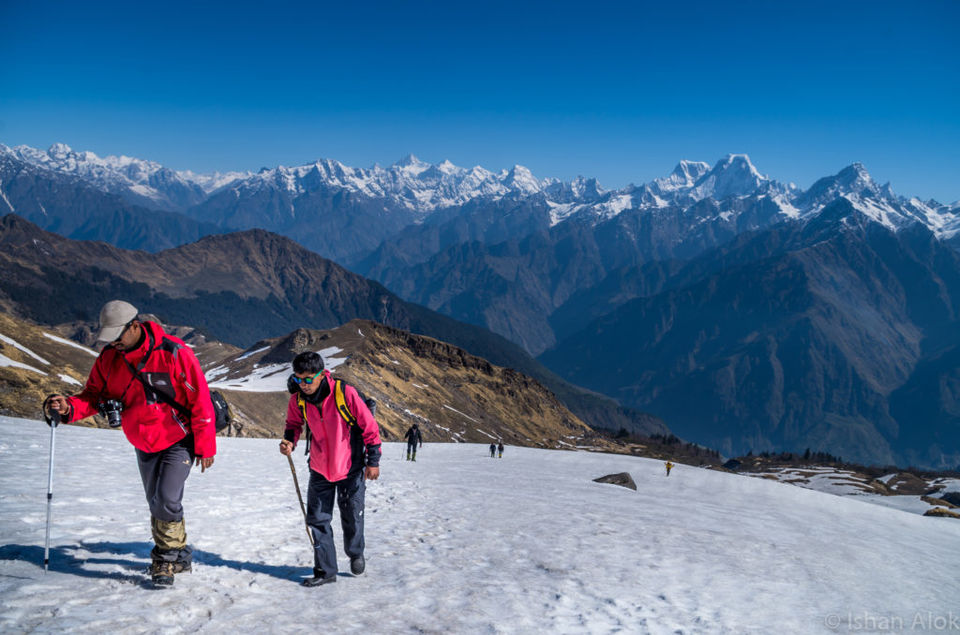 Kuari Pass
Enroute to Kuari Pass and Pangarchulla peak, each step was a delight. The pristine blue sky seemed fictitious after being used to the gloomy city skies. And the surrounding snow-capped mountains seemed so majestic and alluring with its tales and enigmas locked within its magnificent stature. And the sky full of scintillating stars forging a magical setup.
The bustling of the trees and the chirping of birds all around felt like a lullaby in the arms of nature. A gentle stream of freezing water splashed against my face gave a refreshing feeling.
In the mountains, it is really living in the moment. You don't know what treasures and surprises the mountains are going to unfold or what whims of nature you are going to be a part of. All you have to do is take one step at a time and keep moving forward. I got soaked up in the tranquility of my surroundings. It's inevitable to forget all the mess and madness going on in the outside world and you just live one moment at a time. The Himalayas is a whole different world in itself. You realize that you could get used to this simple living. There is a certain charm in the wilderness which makes you beg for more.
Wilderness is definitely not a luxury but a necessity of human spirit.
One of our trekking guides was a retired army man – also a mountaineer and a skier, who walked with more ease than all of us combined. Furthermore, he has represented India on a global level in skiing competitions. Before the advent of harnesses and skiing equipment – learning skiing was tough, he said. He talked about avalanche training courses, rescue missions, and trekking expeditions. A life full of adventure!
The other guide was giving us valuable advice on the shifting nature of weather in the mountains. He witnessed rain, snow and sunny weather – all on the same day while he was trekking at Har Ki Dun, he said. "Pahadon ki mausam Bombay ki fashion ki tarah badal ti rehti hai" ( Weather in the mountains changes like Bombay's fashion ), he kept reiterating.
Pangarchulla Peak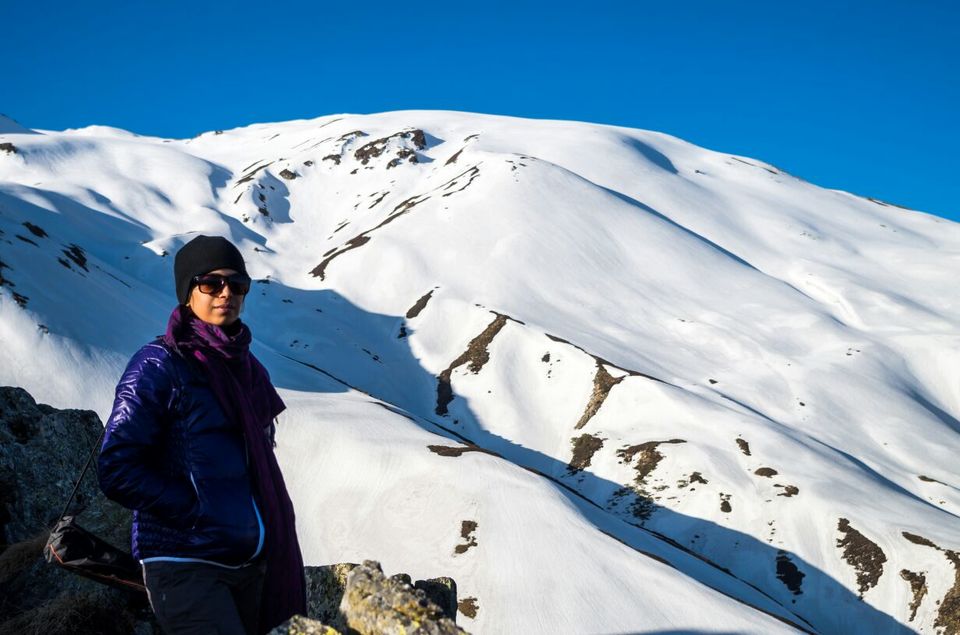 Till Kuari pass, the trek was fairly easy but it was about to get challenging because of the snow trail on the way to Pangarchulla peak. Equipped with gaiters and walking sticks, we charged ahead. The guides were making way for us with zig-zag trails all throughout the ascents. The intensity of the heat was very high due to light reflecting on the snow. Dehydrated, we filled our bottles with ice which was readily available and drank out of the melted water.
Owing to strong winds and melting snow, it was time to head back, just off the peak by 200 meters. The bitter disappointment of not climbing to the top of the peak was soon diminished by the thrilling experience of sliding down the snow. It was more than a fast getaway, it was sensational. After close to 12 hours of demanding trek, we reached the camp.
I ended up with a burnt face, chapped lips, severe cold resulting in running nose and of course exhaustion which was definitely a small price to pay for the incredible experience. And I knew right then that I'll always come back to the mountains.
I'd also like to add that when trekking in the mountains, the right shoes and layering up can make all the difference. It's best to invest in a good winter jacket that would keep you safe and warm. I recommend checking out eco-friendly winter wear from Kosha, a high-quality travel brand that focuses both on comfort and performance. Click here for a wide range of Kosha's winter jackets and coats.
"Climb the mountain not to plant your flag, but to embrace the challenge, enjoy the air and behold the view. Climb it so you can see the world, not so the world can see you." ~ David McCullough Jr
More travel musings at therovingheart.com