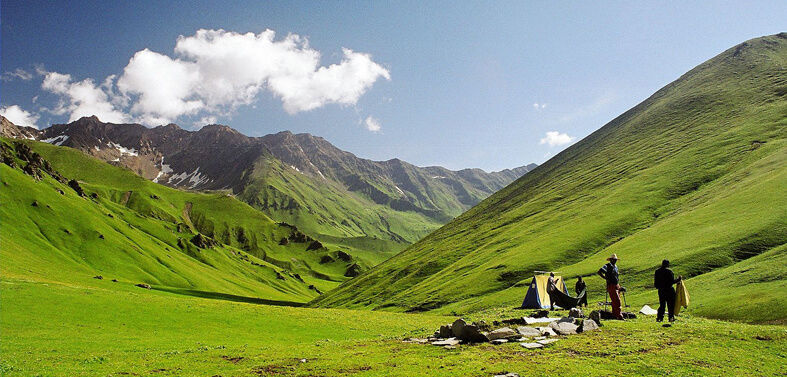 Remember those Bollywood movies you watched since time immemorial where the hero serenades and woos a beautiful heroine in exotic destinations - read vast open green spaces or snow covered landscapes? Now, reasonably, you would peg these for exotic foreign locations in Europe, possibly the USA, right?
What if I told you that these superb open vistas are waiting for you right here, in Uttarakhand?
High altitude meadows in Uttarakhand, or Bugyals (as they are called locally) are vast, distinctive landscapes covered with natural grass, various species of flora and serve as pasture lands. While they're vividly green during the summers, these beautiful meadows turn heavenly, covered with thick layers of snow, in winter making them practically wallpaper material.
These bugyals are amazing camping destinations, with 360 degree views of open skies and unending meadows.
The Garhwal region, especially, is host to several of these bugyals which are perhaps the best locations for astro-philes and casual sky watchers alike.
These meadows are a part of popular trekking routes and trekkers, more often than not, are spellbound once they lay their eyes on these magnificent views. To name a few, the twin meadows of Ali and Bedni bugyal lie on the famous Roopkund trail, the expansive Gorson bugyal on the Kuari Pass and Pangarchulla routes while Dayara bugyal has now become a popular camping destination in its own right.
Perhaps the most well known of these would be the Auli Bugyal which houses the ever popular Auli ski slopes. Located in the heart of Chamoli district of Uttarakhand, Auli hosts several thousand people every year on its skiing slopes every winter. At an elevation of over 3000 metres (10,000 ft), it is comparable and in my opinion, even better than the slopes of Gulmarg in Kashmir.
It is a one-of-its-kind skiing resort in India with modern skiing equipment and hosts the annual skiing tournament held in February-March every year.
Tell me, don't you want to go there? Like, right now?
A few lines of another old classic song come to mind as I think of these dreamy places.
Yeh haseen vadiyaan, yeh khula aasmaan,
Aa gaye hum kaha, aye mere saajna,
In bahaaron me dil ki kali khil gayi,
Mujhko tum jo mile har khushi mil gayi...
You just crooned that in tune to a pretty picture painted in your mind, right?
Frequent Searches Leading To This Page:-
place of uttarakhand is known as bugyal, land of gods in uttarakhand, uttarakhand dev bhoomi, the soul of incredible india, principal tourism uttarakhand