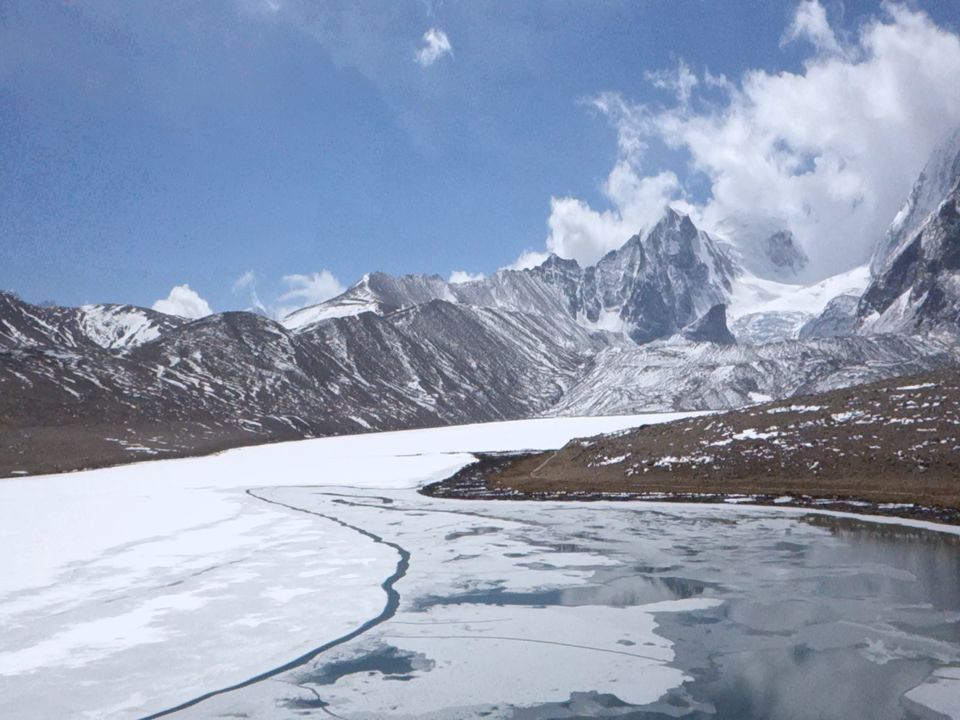 Me and my husband decided to explore north east covering Sikkim and Meghalaya. We planned a sort of bagpack trip for March End and the motive was to explore nature rather than the town.
Points to remember:
It is advisable that you travel to Sikkim in a group of 4 to 6 people and hire a private cab for your group.Unless you have budget constraint, avoid shared cabs as they accommodate 10 people which gets uncomfortable.
You will be at the mercy of the drivers as they will not stop on the way for capturing the scenic beauty.
In order to visit Nathula Pass, Army permits are required which gets issued every morning before 8 AM. Just handover the documents to your travel agent one day before your planned travel.
Nathula Pass remains closed on Monday and Tuesday.
Road for Lachen and Lachung are not suitable for people with back pain
Plan for Yumthang valley in June and July as per local driver.
Helicopter ride available at Guwahati airport should be a must in your list. Booking details are shared below.
General Guidelines:
Check the temperature for the time of your travel so that you can pack your luggage efficiently. In case warm clothes are required, carry wind and water proof jackets, gloves, mufflers/scarf, etc. (There are shops from where you can easily take stuff on rent around Changu Lake but for rest of the trip you will be needing woolens)
Keep ample food storage/back up for travelling from one place to another.
If you are not used to travel in a hilly terrain then do take a handful of pills that can suppress motion sickness.
What we covered??
Gangtok --Nathula, Tsomogo Lake, Baba Mandir, Rumtek Monastery
Lachen ---Gurudongmar Lake
Lachung --Katao, Yumthang Valley
Chungthang -Gurudwara Nanak Lama Sahib
Darjelling --Tiger Hill, Tea Garden
Cherrapunjee -Mawsmai Caves, Waterfalls, Double Decker Living root bridge.
Bagdogra -> Gangtok -> Lachen -> Lachung -> Gangtok -> Darjeeling -> Guwahati -> Shillong -> Cherrapunjee
Below is the Map followed by us. Enlarge the Map to view detailed day wise plan.
19th March: Bangalore to Bagdogra
Morning we started from Bangalore and reached Bagdogra around 3 PM. At Bagdogra airport we took a shared cab to Gangtok.
As soon as you move out of the airport, there will be a lot of cabs available. You can either take a cab all for yourself or share the cab with others from Bagdogra airport. Avg fare for 3 people on sharing was approx 600 pax for a hatchback.
We reached Gangtok around 8 PM.
There are a lot of travel agents in Gangtok. You can just walk upto any of them to manage your tour to different places around Gangtok. Market closes by 9 to 9:30PM.
Stay In Gangtok: We stayed in Summit Crescent Resort for the night. A good hotel to stay with family.
20th March: Nathula Pass (Indo-China Border), Baba Mandir and Tsomogo Lake/Changu Lake.
We started at 8 AM. It is advisable to start your trip asap as the weather becomes unpredictable post noon.
9 AM: We halted at shops near Changu Lake from where we rented boots and other basic stuff required to protect us from snow/cold. Then we continued for Nathula Pass.
It took around 2 hours to reach Nathula Pass.
Checkout how it feels at Nathula:
CAUTION: It gets really difficult for people to climb at the top from where you can actually see the Indo-China Border so carry Camphor for inhaling. Camphor comes to rescue when you experience breathing issues at high altitudes.
NOTE: There is a high probability that your permit might get declined in which case you can spend some quality time at Baba Mandir.
On our way back from Nathula we stopped at Baba Mandir around 1 PM. A brief history about Baba Mandir can be read here : Baba Mandir History.
There is a beautiful Siva Temple amidst Snow covered mountains near Baba Mandir. There is a good distance to be covered by walk till you reach the actual deity. We could not go to the Siva Temple as it started snowing.
From Baba Mandir we moved down to Changu lake after travelling for 1 hour. You can enjoy YAK ride at Tsomogo Lake.
Checkout Changu Lake experience:
Also, don't forget to catch up with Momo's there in the market near Changu Lake.
You will get sufficient time in the evening to just roam around Gangtok.
21st March: Gangtok to Lachen to Lachung.
We started from Gangtok and our cab was from Vajra Taxi stand. That stand is basically for shared taxis for Lachen, Lachung and back.
It was raining heavily when we were going to Lachen so luckily we witnessed a lot of Waterfalls. We were able to see waterfalls from the very top of the mountain and running down to Teesta River that was flowing parallel to the road but deep down. And of course they were everywhere. The waterfalls that we witnessed looked something like this:
The road was not good at all. Due to bad weather and land slides it took us full day to reach Lachen. We reached our destination around 10 PM. The stay where we stayed was a very basic house without electricity.
Morning we had to start at 4 AM for Gurudongmar Lake. The journey till Gurudongmar was out of the world. We stopped on the way for breakfast (Maggi and Coffee). There The road condition was pathetic so it took around 5 hours to reach the lake.
There was a Military camp on the way, where we had a chance to eat Momos, Samosa and coffee again!!. The temperature was about -5 degree over there. From there the road was developed by the army s it was just superbly amazing.
The view of Gurudongmar is right here:
From there we headed Lachung straightaway. It started raining on the way. We did not take the booking from the package as it was not good enough so we booked Delight Hotels royal Lachung. Decent food with good arrangements. It got pretty cold at night and hotel provided us a heater but power supply was an issue.
22nd March: Lachung to Zero Point/Katao and Yumthang Valley and back to Gangtok.
Morning we had to start for Zero Point but could not go to zero point because of excessive snow so we decided to go to Katao. We had to stop on the way to Kataoas again it was too snowy.
Here is a glimpse from Katao:
Then we started for Yumthang Valley. Yumthang valley is also known as Valley of flowers. The way to the valley was totally broken down. The view from Yumthang vally is right here:
It is said that the entire valley gets covered with flowers in June and July.
Once done, we had Maggi and Coffee and started back for Gangtok.
On the way back to Gangtok, we crossed Chumthang. In Chumthang, there is a Gurudwara named Gurudwara Nanak Lama Sahib. This Gurudwara has a very interesting history.
We started from there to Gangtok.
The arrangements included in the package were not up to the mark. They made us cover all the points but food arrangements were pathetic. It seemed that the drivers were made in charge of food. They did not even bother to stop for lunch anywhere. As a part of the package the lunch was provided at 7:30 PM (One of the reasons to say that go in a group and don't opt for this sharing package)
We reached Gangtok around 10 PM. We stayed at Greendale Residency. Pretty good hotel with great food, specially Thupka.
23rd March: Gangtok Sightseeing and Gangtok to Darjeeling.
We visited Rumtek Monastery. We could not connect to the Monastery so well so did not find it too interesting (Personal opinion).
We had lunch and started for Darjeeling. We took a shared Sumo. Pretty reasonable.
Reached Darjeeling around 7:30 PM.
The whole idea of going to Darjeeling was to see Kanchenjunga range from Tiger hill at sunrise. Along with this just roam around to local of Darjeeling.
We checked into the hotel 'Sinclairs' which was too good to stay if you are on a holiday. The amenities provided were pretty good and its right in the middle of the main market. So you can get taxis, food and shopping as well in the vicinity.
Near to the hotel there is this travel agency named 'Canaan Tours and Treks'. It is worth taking their service. After meeting with the owner we found that there are a couple of options to spend a day in and around Darjeeling. At that time we realized that we should have come to Darjeeling in the morning itself instead of spending half a day in Gangtok.
But now due to time constraint, we decided to watch sunrise over Kanchenjunga from Tiger hill and visit some tea estate. So after finalizing everything, we checked into the hotel.
24th March: Tiger Hill, Tea Garden and NJP
Next day we were told to be ready at 4 AM t get to the point to see sunrise. Darjelling faces heavy traffic jams every morning around 3:30 AM to 5 Am as there is only one way to go to Tiger hill and daily round about 500 vehicles drive to that place. Your driver might ask you to be ready on time but as a matter of fact nobody reaches on time. It does not take more than 30 to 45 minutes to reach Tiger hill but due to traffic it takes more time.
Do not panic as your driver knows the timings so they make sure that you reach your destination before sunrise. You can also get down few meters before the actual drop point and walk up to the peak and get yourself place to stand.
For us sunrise started around 5:40 AM. We were able to see Kanchenjunga peaks but not the entire range due to excessive fog. But it looks ravishing golden when sun rays fall on the range. If you are lucky enough you can get a view of the entire range which looks something like this:
We started from tiger hills and reached Tea Estate after finishing one round of shopping. The estates were dried out due to excessive heat. We managed to spend around half an hour over there bought some tea (which is a must buy as it tastes really well) and left back to the taxi stand to leave from Darjeeling. Took a shared cab from Darjeeling to NJP.
Next in the list was Cherrapunjee (Double Decker root bridge). We had a train to catch from NJP (New Jalpaiguri) around 10:30 PM for Guwahati. From Guwahati we took Helicopter ride to Shillong. You can book helicopter ride by either calling Guwahati airport or directly after reaching airport. It is worth experiencing and if you happen to be lucky enough, you might get a clear view.
This part of the journey was done in a private vehicle and not shared. Also, March April is not a good time to visit Cherrapunjee. If you really plan to enjoy the weather, then plan post monsoon. Post monsoon this place would be amazing with waterfalls and greenery all around you.
As the weather was very hot and dry, I would not write much about it. Will directly take you to the points of interest.
Started from Shillong around 11:30 AM for Cherrapunjee(Double Decker route bridge).
If you have time in Cherrapunjee, you should cover Waterfalls but only post monsoons and not in March April.
Our trip continued with Mawsmai (around Cherrapunjee) caves and zip lining (on the way from Shillong to Cherrapunjee).
Ziplining video posted here:
The next part of the journey - Cherrapunjee Double Decker Bridge is described in my other blog, whose link is right here: Double Decker Living Root Bridge