After the tough time of 2 years of Lock down, we have decided to plan a trip to get relaxed from office work and daily household chores. As school holidays were also starting we planned to visit some places in the month of May.
There were many places in the bucket list, but the one which got priority in the hot climate of Pune was the Queen of hills :), because of its cool and pleasant climate. Many of you must be aware about which place I am talking about, yes its Darjeeling.
But after many discussions with my friends who already visited this place and the information got while surfing, I came to know that this place can be covered within 3-4 days only, so we added one more state "Land of Beauty" i.e Sikkim into our list. As we heard a lot about Darjeeling and Sikkim from our colleagues, we were keen to visit these places.
Here, I forgot to mention what this "WE" is, yes its me, my husband, my 2 kids and family of one of my friend.
We started planning for our trip since Feb month only as May is the peak and best season to visit these places as temperature is good in this period of time. With many screen sharing sessions with my friend, we did main important thing of booking our flight tickets to and from Pune to Bagdogra airport.
Many people shared their experiences and info from various websites with package tours, prices,hotel booking charges, and based on that we booked all our hotels at respective places in advance at reasonable rates. As we were traveling with 4 kids, we wanted to avoid any run-time issues.
We booked car from G-cabs, for local sightseeing and entire trip. Based on no. of people and luggage, SUV vehicle was reserved for us.
Finally after completing the bookings according to the itinerary and shopping of important things like winter wears, we were ready to depart on 4th May at 1.30AM.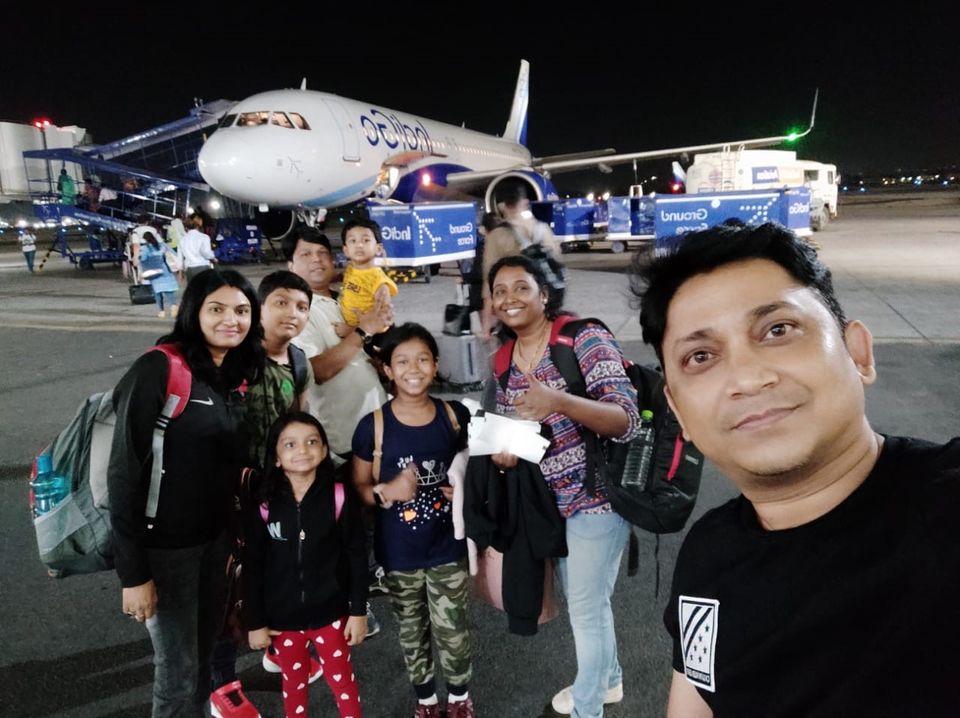 We started our journey from Pune to Bagdogra via Bengaluru .
At morning 9AM we have reached at Bagdogra airport. These flights were @ midnight and delayed too, so everyone was tired with the journey. It was hot and humid when we reached @ Bagdogra.
Here, my advice is to book direct flight or day flights so that one will get some rest at night.
Our car from G-cabs was ready @ the airport to pick up and take us to the Queen of Hills, Darjeeling. Everyone was so excited including kids too.
Around 10AM, our journey towards Darjeeling started through lush of green tea plantation. As we were approaching Darjeeling, weather was becoming more pleasant. The soothing serenity and blowing breeze refreshed us from the tiring journey of flights. On the way, crossing the dense fog was giving a feeling like we were traveling through the clouds. Also, seeing the huge mountains peaks and ranges covered with clouds was giving unforgettable experience of life.
Wow! what a beauty of nature!!!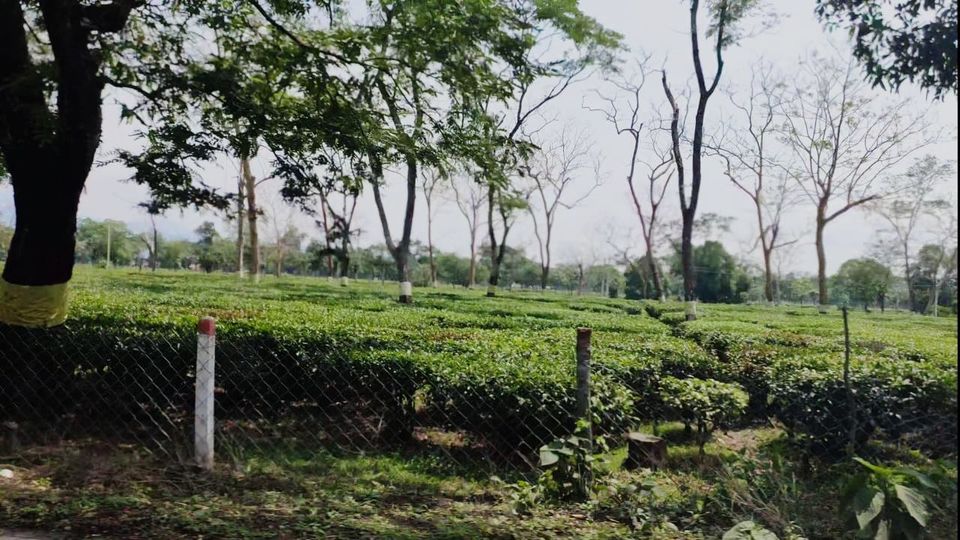 On the way, we have done our breakfast @ "Tashi Taki restaurant" and enjoyed some local food like Momos, bread omlet, Thukpa and masala Tea. Actually it is a journey of 4 hours, but as we were taking breaks, after 6 hours we had reached Darjeeling around 4PM.
Our 1st stay was @ "Spring Brooks Homestay, Darjeeling". This place is very far from the city, very calm, very beautiful, deep inside the forest, and on top of the mountains. We reached at our Homestay, with some difficulty as the visibility during the heavy clouds and rain was very low. If anyone thinking to visit Darjeeling just for relaxing then this is a place!
Rooms are in cottage form with two floors with double beds and one common bathroom, suitable for a family.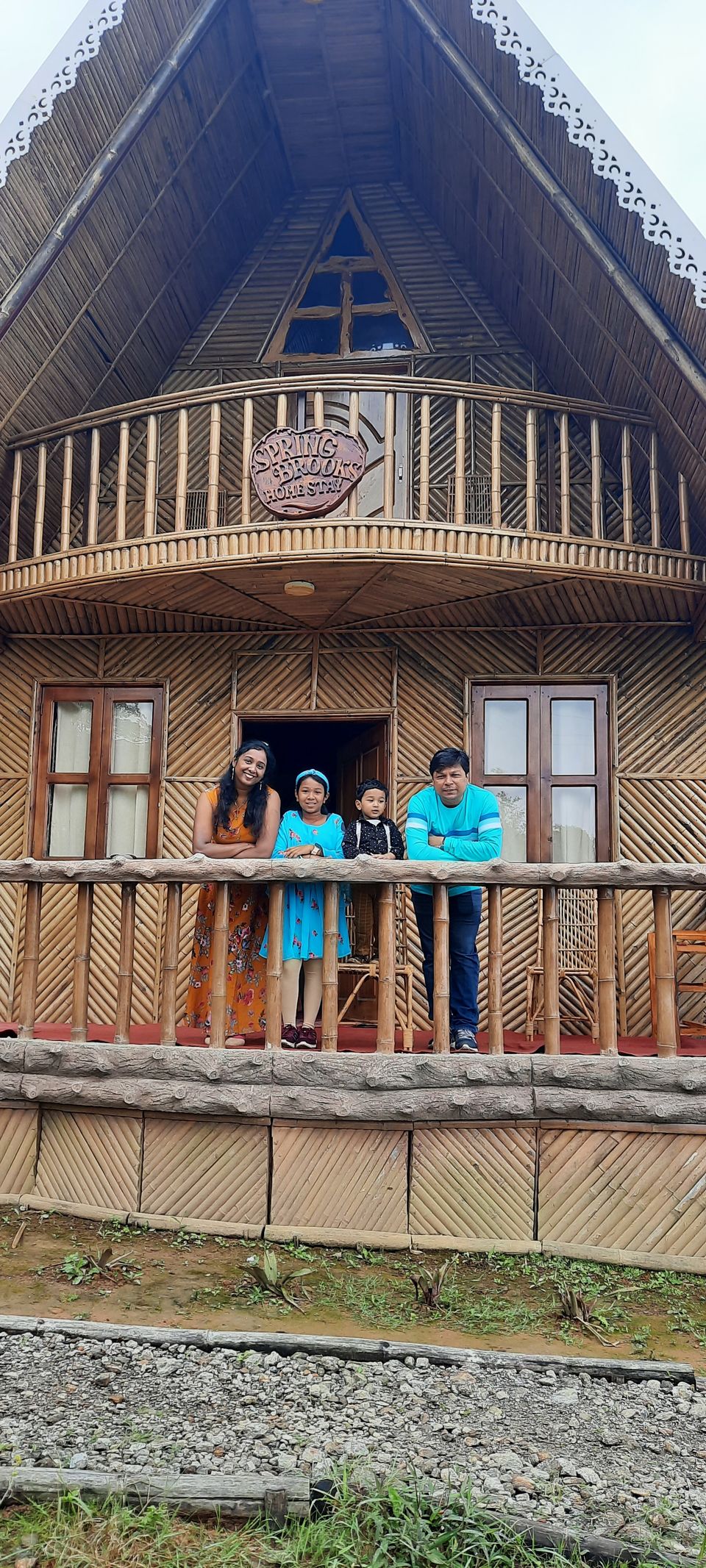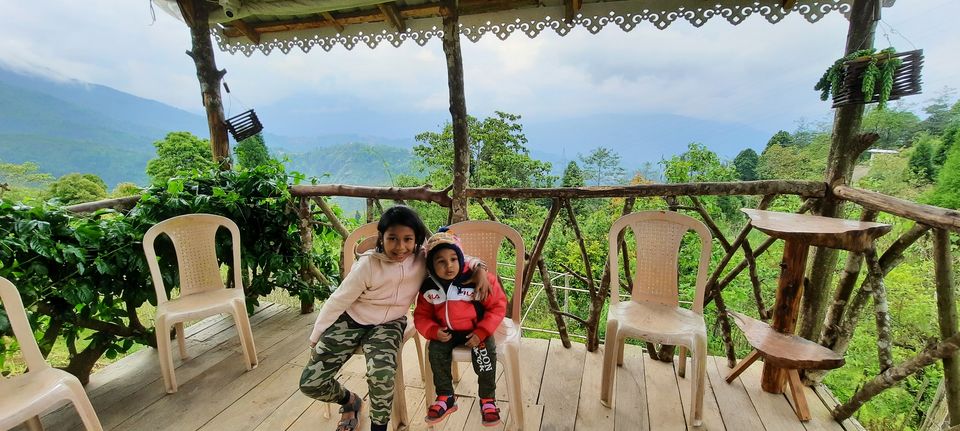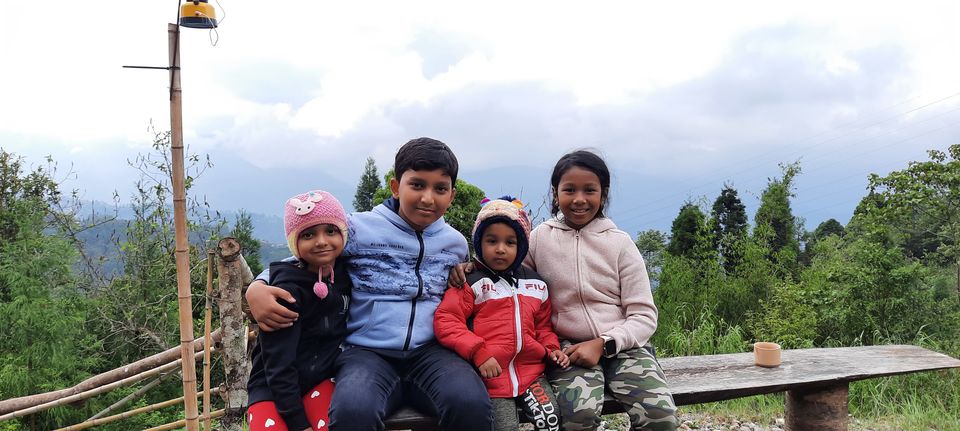 While online booking, it was mentioned that the homestay was near mall road but in actual it was very far from City even we can't imagine as the city and homestay are on different hills :). The road is also not in a good condition and our car also was having issues while traveling on such road. As it is located in the outskirt, driver was not aware of the route so we called homestay owner and asked to come and lead us to the hotel. It took around more than 2 hr to reach to the Homestay from city area.
On the same day, we visited Rock garden,a very beautiful water fall/spring.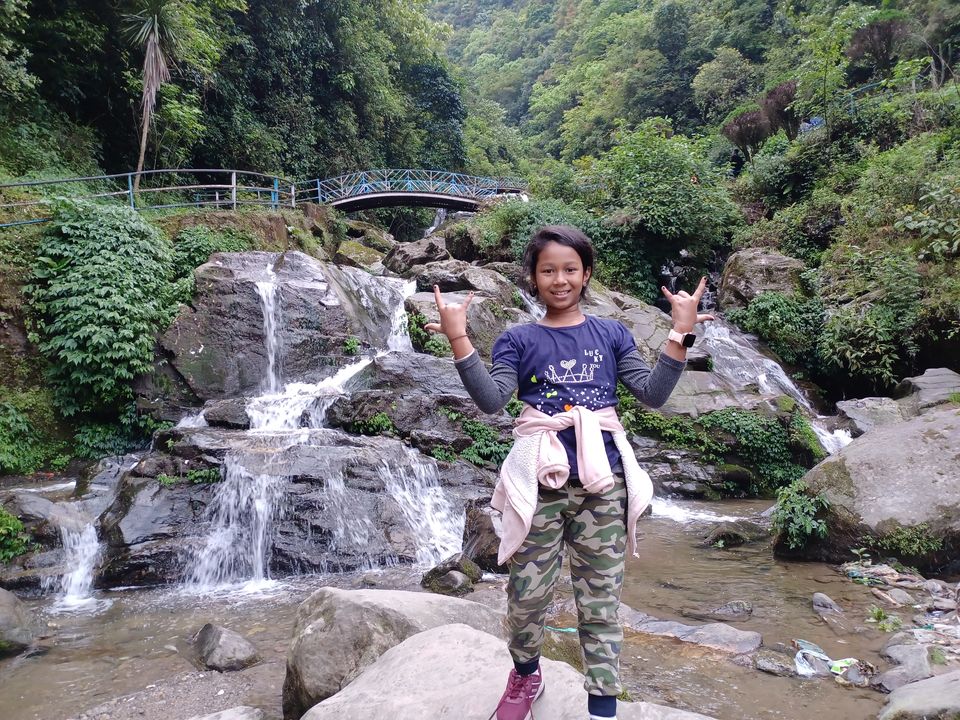 As this homestay was very far from city, we decided and next day moved to other hotel (Hotel Samden Retreat) near to city area as we had to visit many places every day.
Sightseeing @ chilly Darjeeling:
Hotel Samden Retreat which is near to Darjeeling Train station @ center of the city. It is having small but clean rooms. The staff is polite and friendly. The food was also good.
I will recommend to stay in this Hotel as Train station and Mall road is very near, in walking distance only. Even we can see Mt. Kanchenjunga peak from the train station.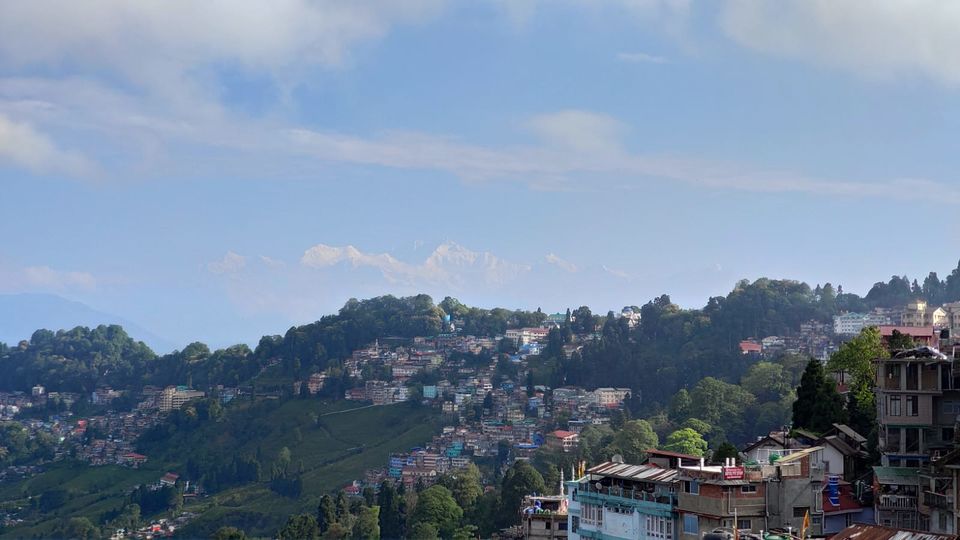 We already done the Toy train booking from IRCTC site 2 months ago, it is Rs. 1K for each person for a round trip. It starts from Darjeeling Train station, goes via Batasia loop to Ghoom Train station and return back with same route. It waits for 15 min at Batasia Loop.
I had been eagerly waiting for this moment, since the day I watched the movie "Parineeta". The ride was memorable. It was different kind of experience of traveling in the train in the hill area. Kids enjoyed the ride.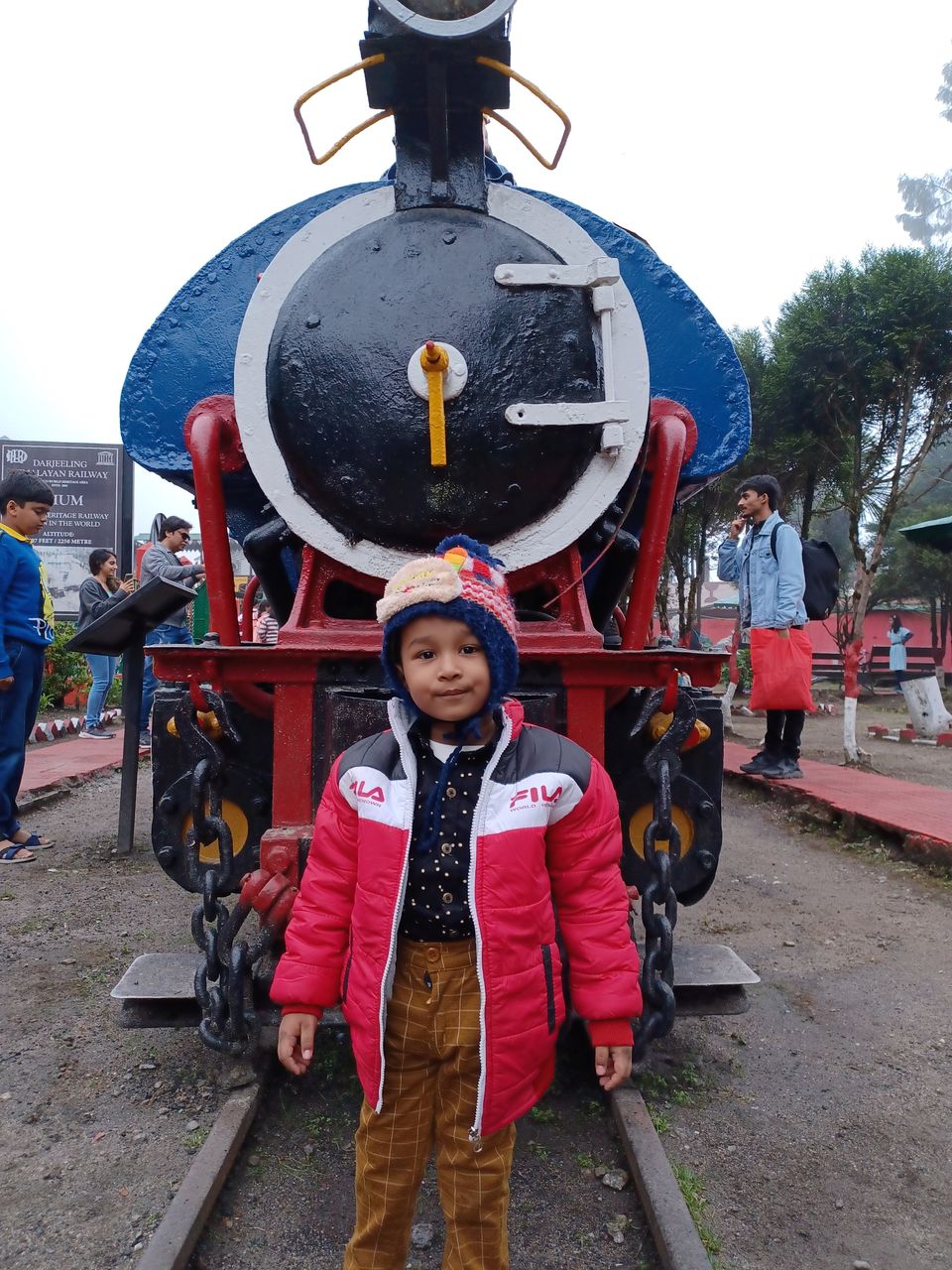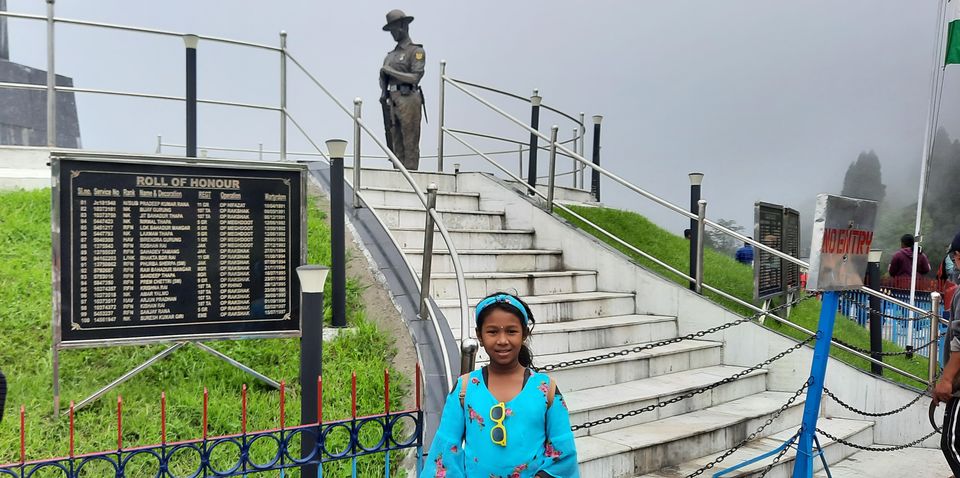 Here the advise is to explore different options for booking toy train ride other than IRCTC . There is only option to book ticket for round trip. But one way ride is also OK to enjoy as same places are covered in the return journey, people can also save their bucks too by booking 1 way ride.
Next attraction visited was Darjeeling Rangeet Valley Passenger Ropeway. The length of the rope way is 5KM (2.5KM on each side), and worth watching. Ticket per adult is 260 Rs. and for child 130 Rs. You can enjoy beautiful views of tea plantations along the highland, the mountains, green valleys.
The ride is really breathtaking. The experience - across the hills into the valley felt serene and unforgettable. I finally understood, for a brief matter of minutes, what soaring like a bird felt like. This is must visit place if traveling to Darjeeling.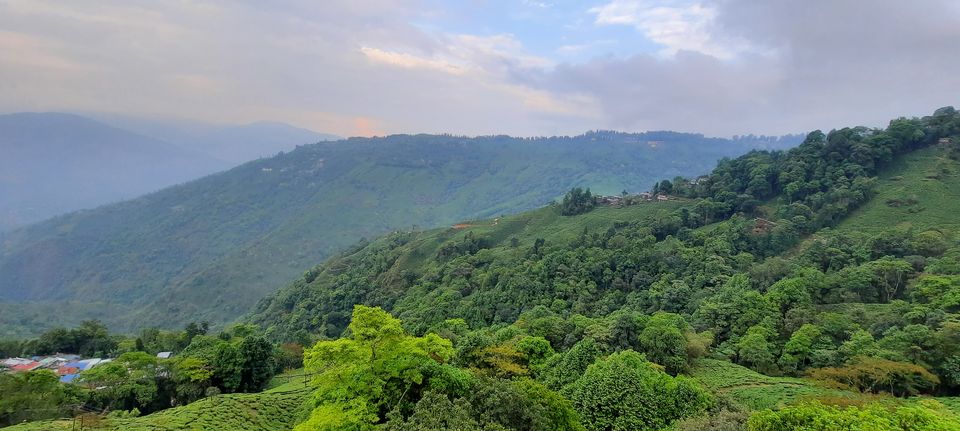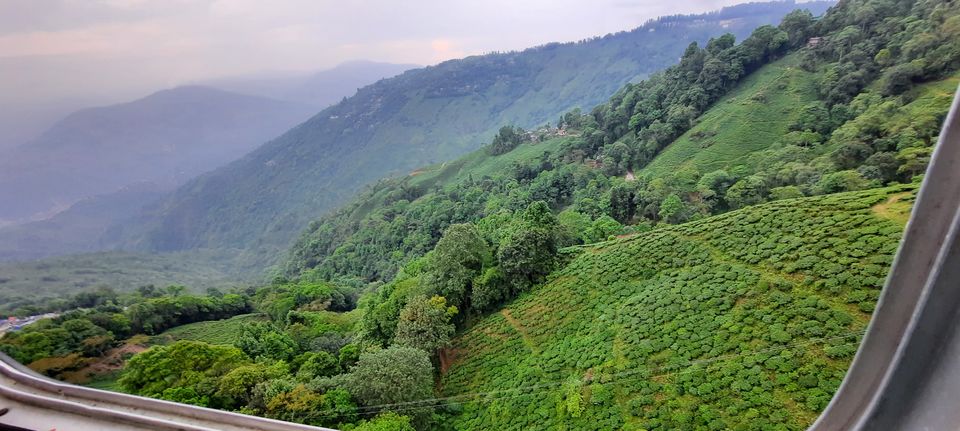 After that, we visited nearest "Roof Top restaurant" for dinner. The lady owner was drunk and treated us very badly. We suggest, not to visit this place.
We decided to visit Tiger hill sunrise point, but many other travelers and hotel staff suggested us that due to cloudy and foggy weather conditions, you will not get clear view of Mt. Kanchenjunga peak, hence we changed our plan to visit Tinchuley village, offbeat destinations in Darjeeling Hills.
Takdah Orchid center: exclusive sanctuary to a rarest and a wide variety of orchids.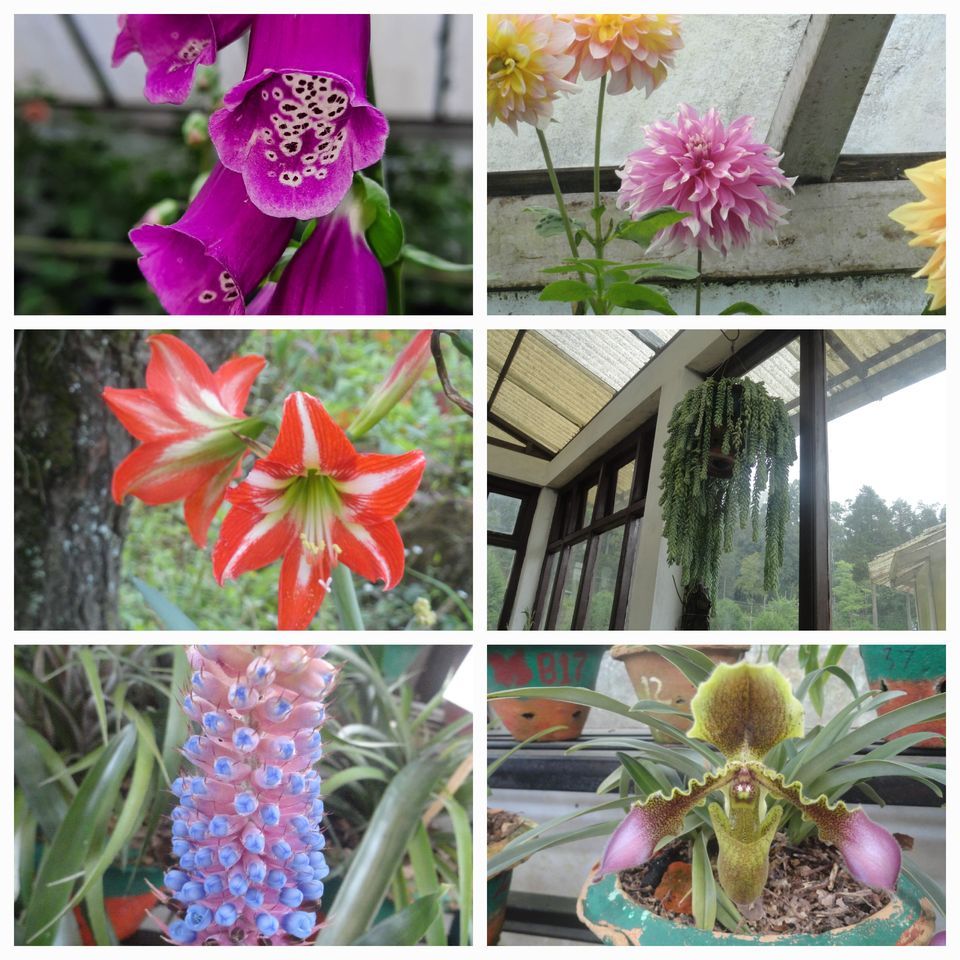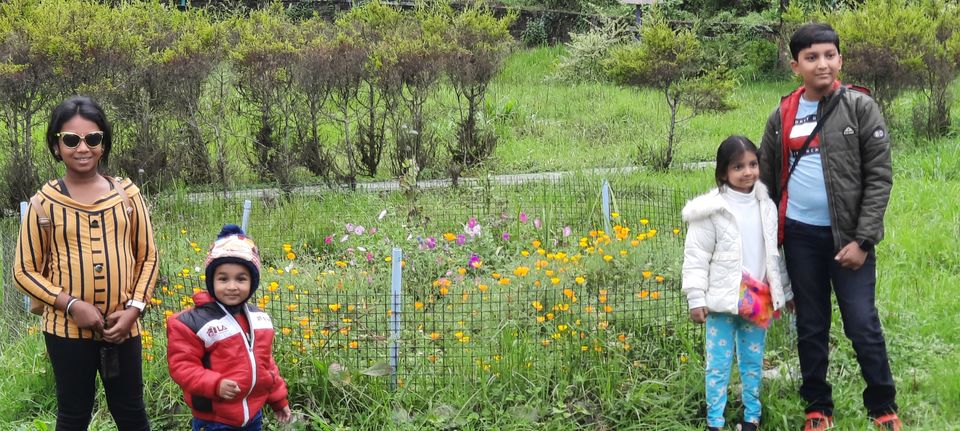 Lamahatta Eco park: This park is rich of dhupi and pine forest and above there is a sacred lake, a short nature trail leads you there, but the view once reach there is simply mesmerizing. The trek to the top is quite lovely but might not be advisable for the elderly or those with medical conditions. However, they can still enjoy the ambience of the location.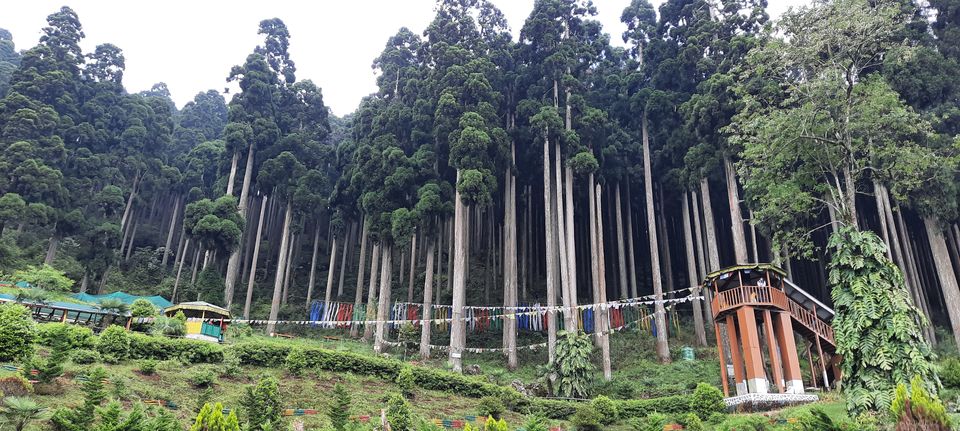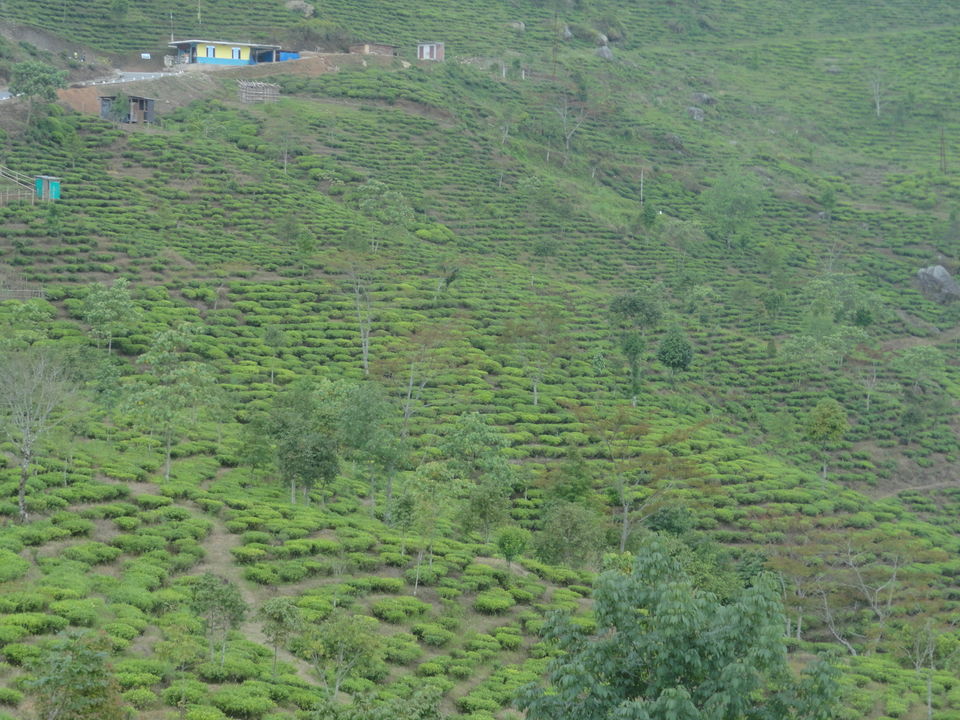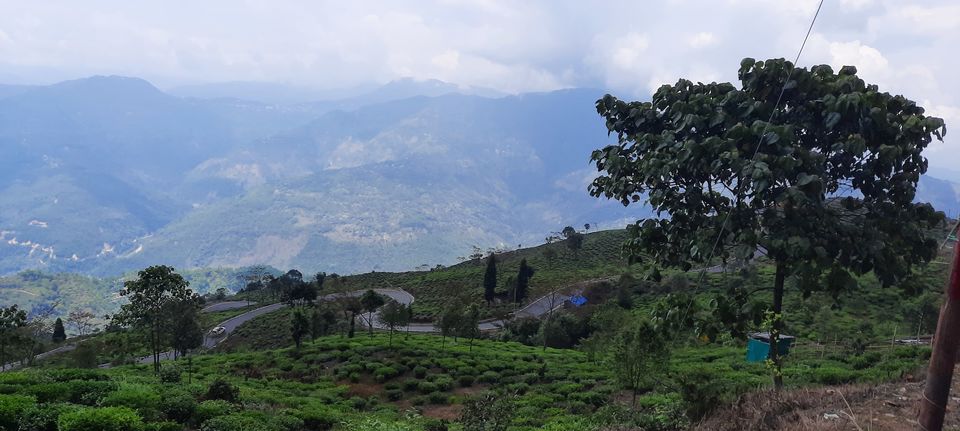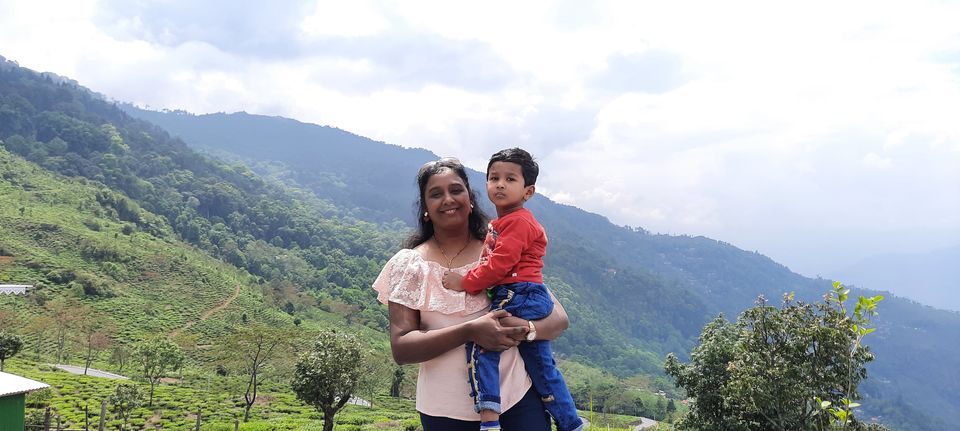 At night, we explored the Mall Road and enjoyed the delicious street food in Darjeeling. All of us returned to the hotel exhausted after yet another wonderful day on our trip to Sikkim and Darjeeling.
Simana view point: From this place, we can see Nepal's view on the other mountain.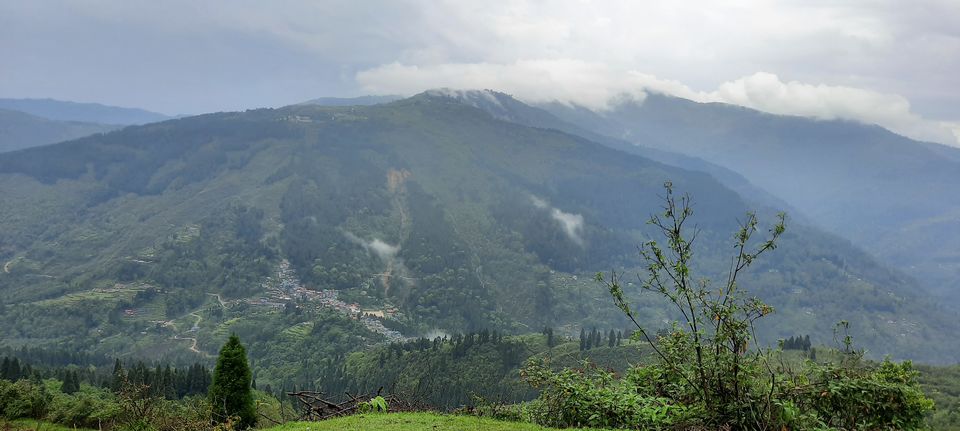 Then visited Nepal border and Pashupati market.
While entering in Nepal, we need to make entry @ Nepal check post office by showing Photo-identity card for each traveler.
Enjoyed with some road-side shopping @ Nepali shops.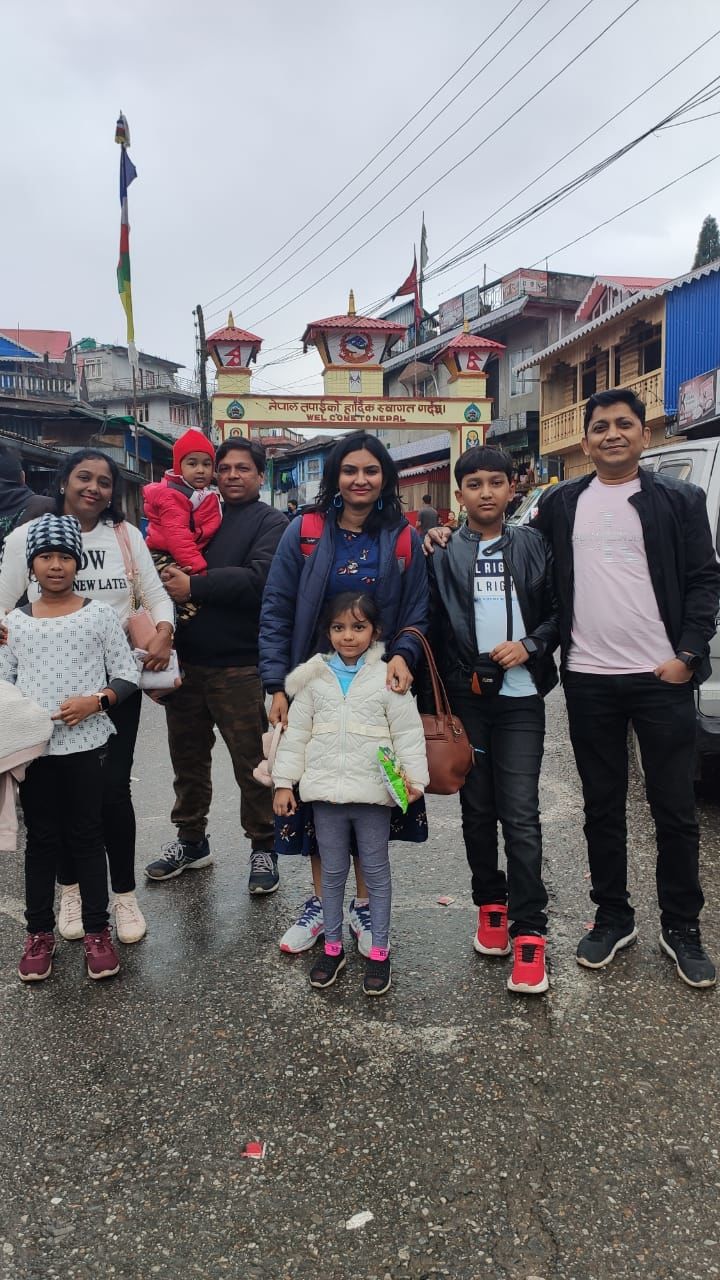 Attended Nepali wedding ceremony too :)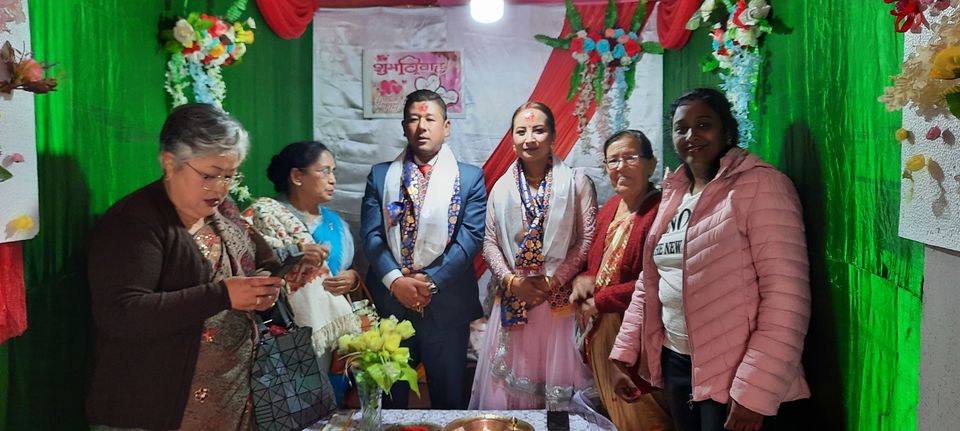 Mirik Lake: Best place for boating and horse riding.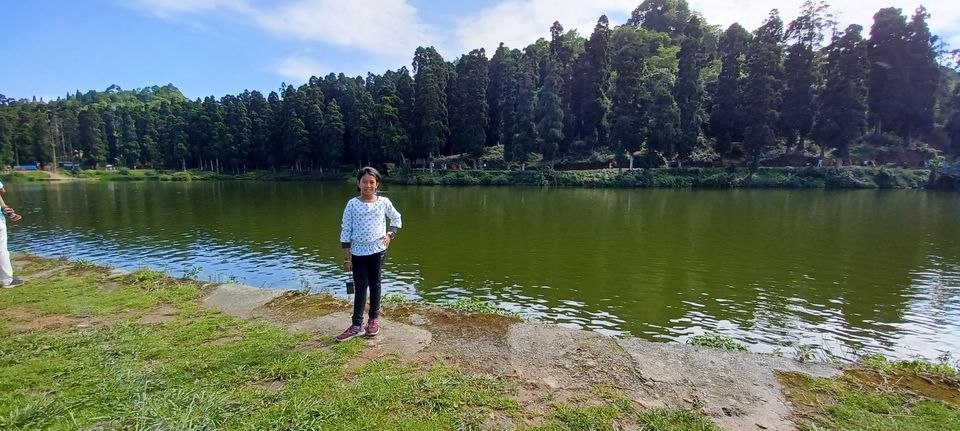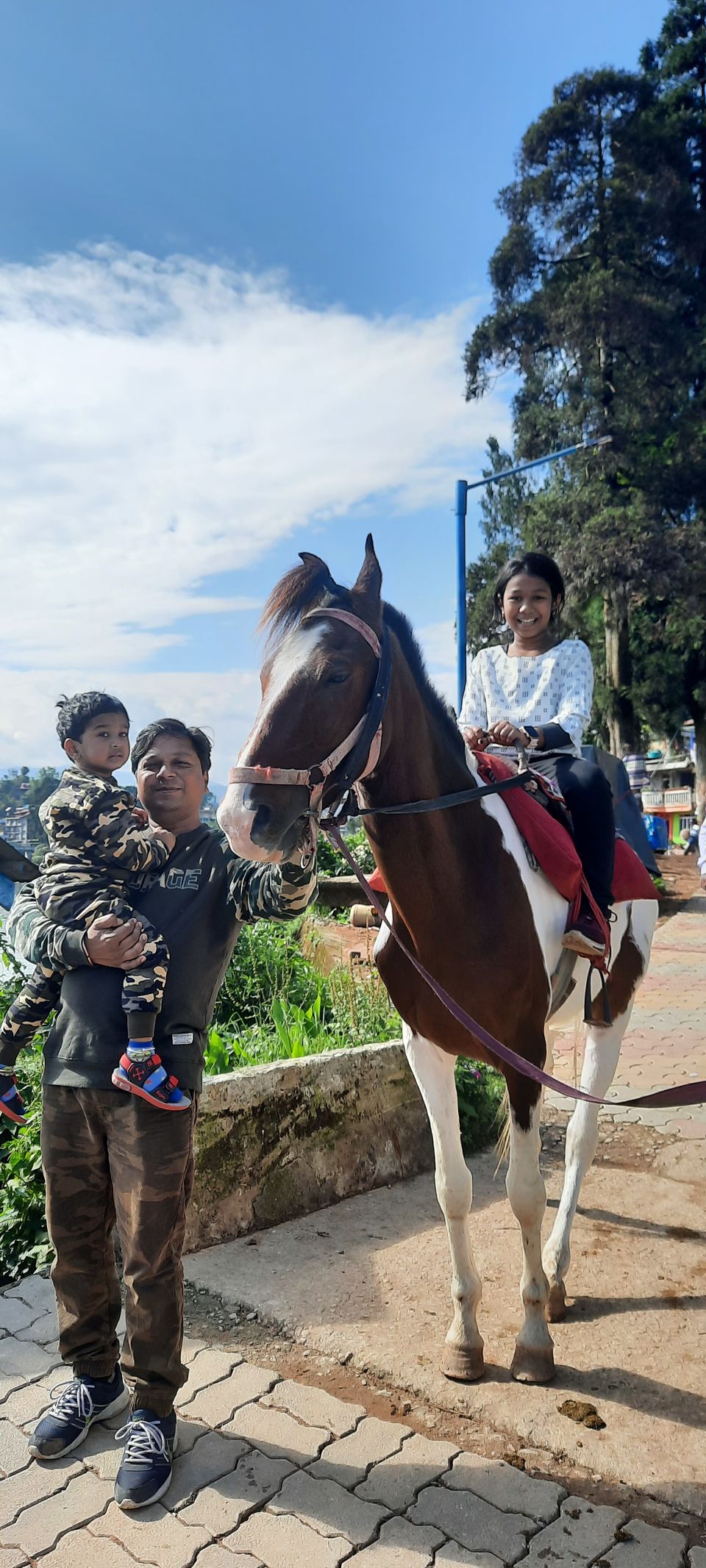 And finally visited Ghoom Monastery.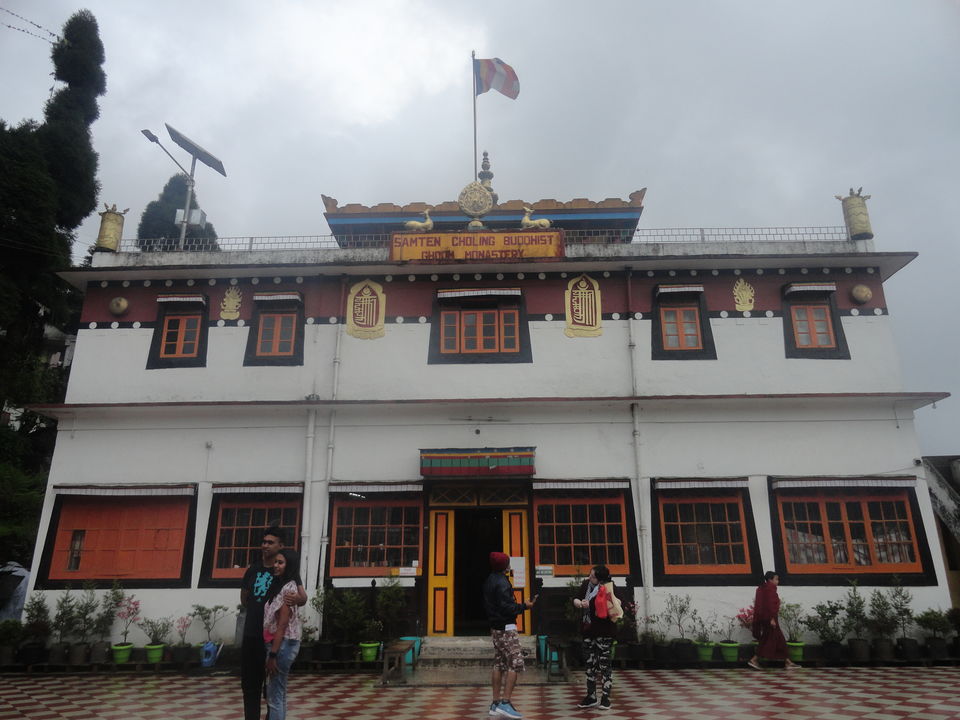 Based on time and weather conditions you can visit other places in Darjeeling, like Tiger Hill, Orange Valley, Himalayan Zoo, Japanese temple, Kalimpong, white water rafting @ river Teesta etc.
Next day, we left Darjeeling(West Bengal) and traveled towards Pelling (west Sikkim).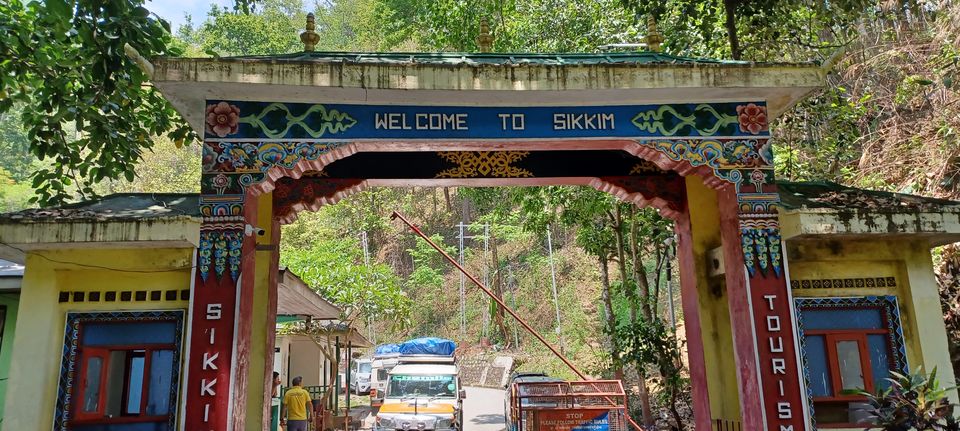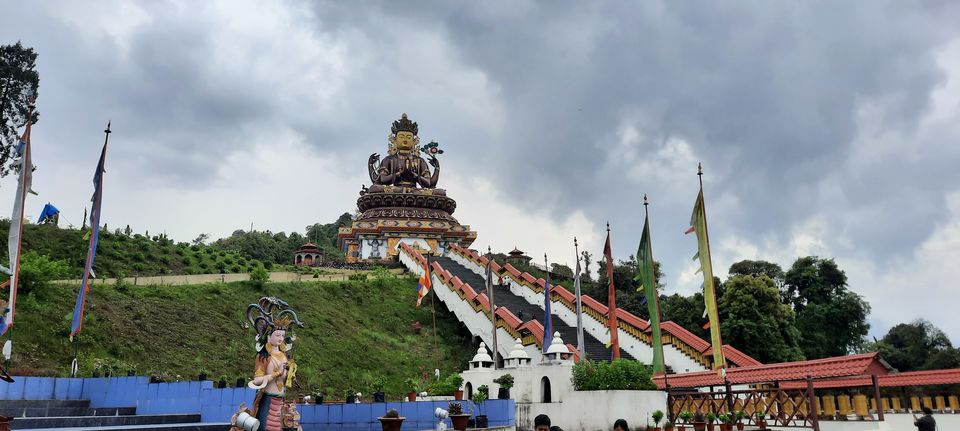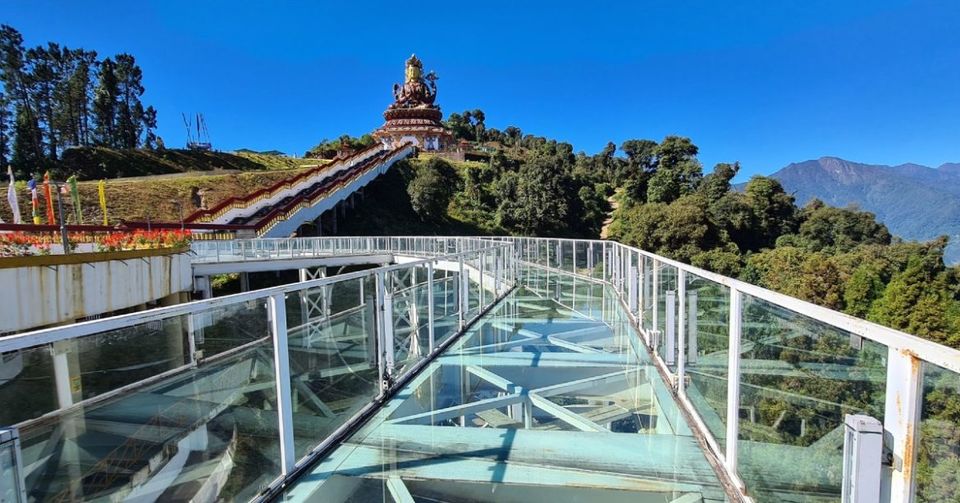 Stayed @ Hotel Sodizang Retreat @ Pelling. Very nice place to stay near to Helipad and SkyWalk attractions.
Nearest best hotel to dine is The Crassula's Kitchen. The ambience was good with soft music and food was also delicious. We ordered Paneer chilly, HotNSour soup, Man-chow soup and veg fried rice. It was very yummy. Especially HotNSour soup was very very hot and spicy :)
Nice view of sun rise and Mt. Kanchenjunga peak from our hotel.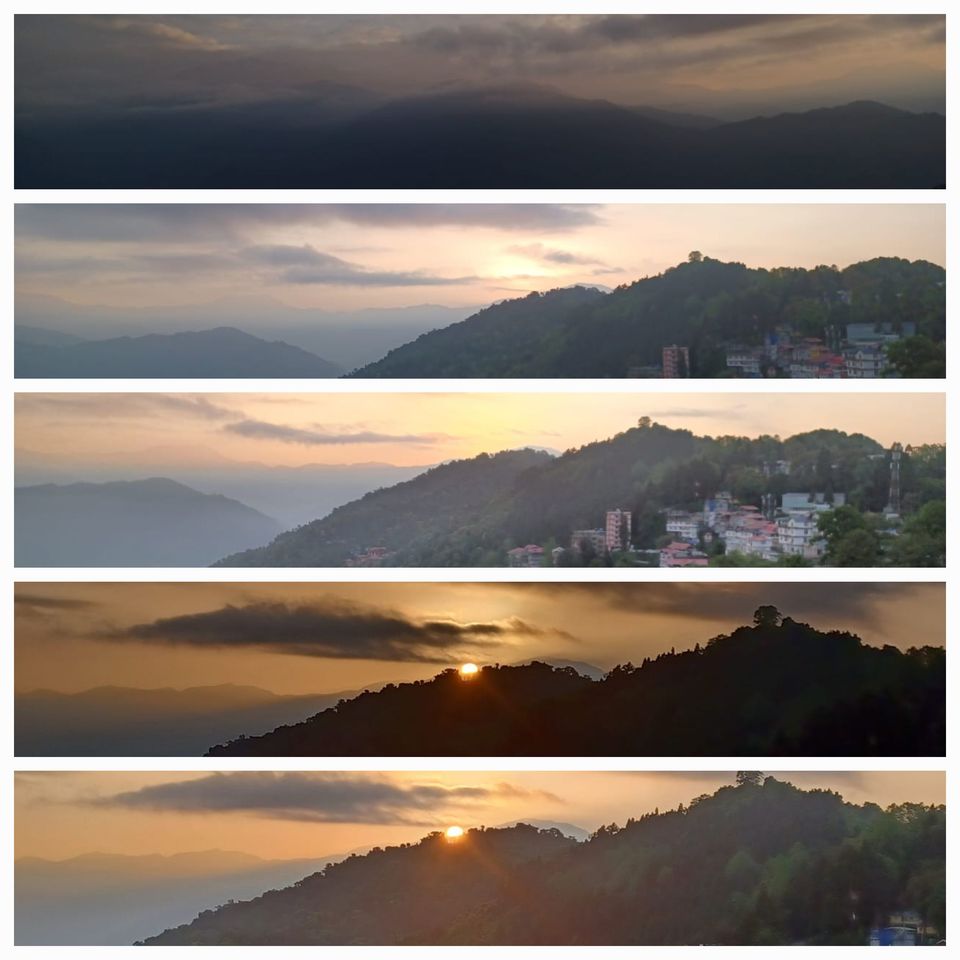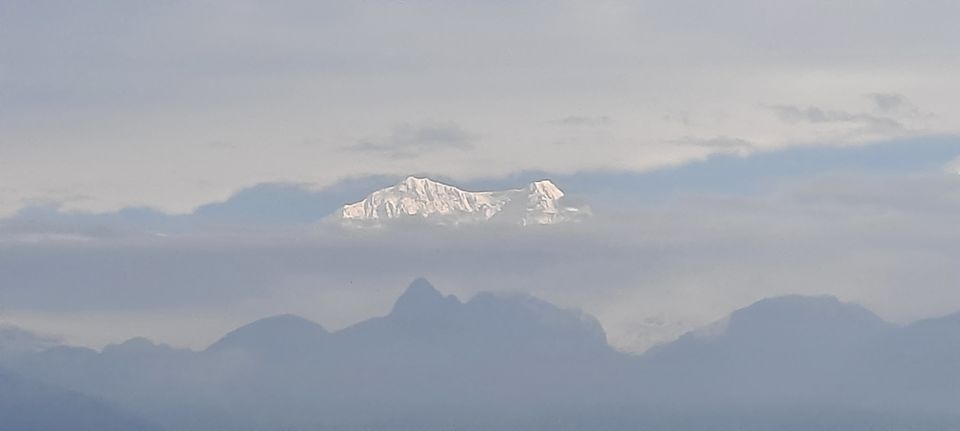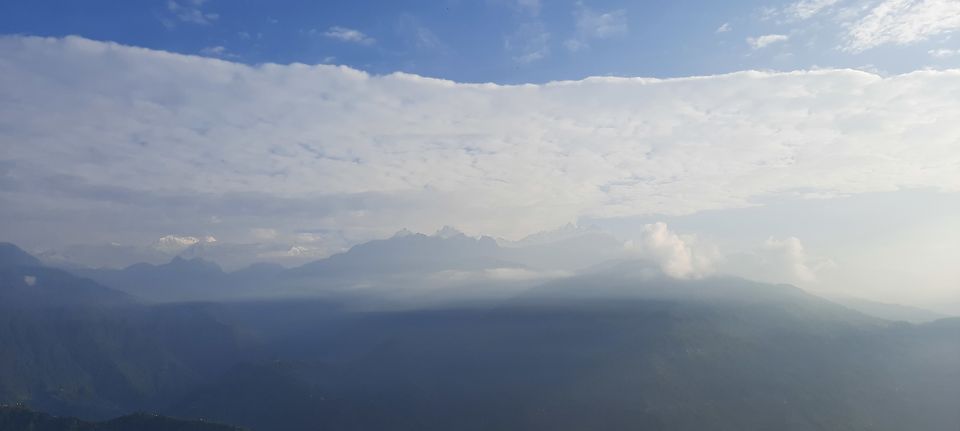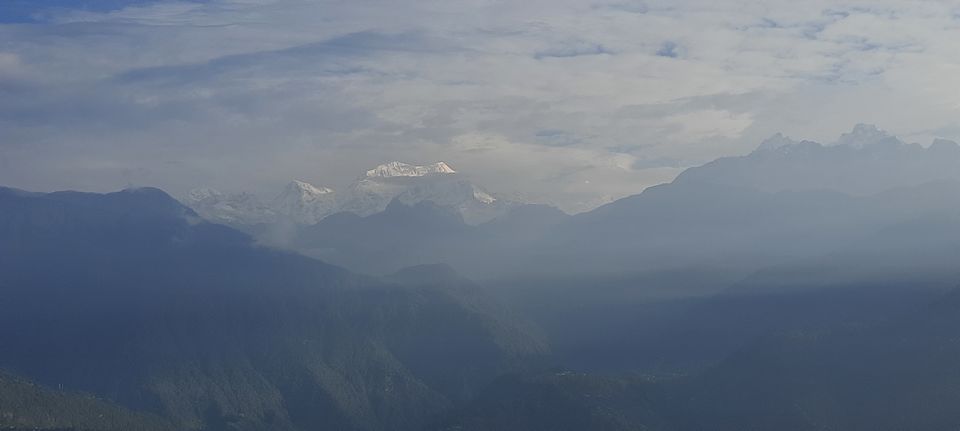 There are many places to visit @ Pelling including Helipad, Pemayangst Monastery, water fall, Rabdantse Ruins. One should stay 1N1D in Pelling to visit these attractions. As we were having less time, we planned to visit only Skywalk and started towards Gangtok on the next day.
Traveling from Pelling to Gangtok via Ravangala. On the way, you can visit some places like Bird Park, Kirateshwar Mahadev Mandir, Buddha Park, etc
Bird park @ Pelling: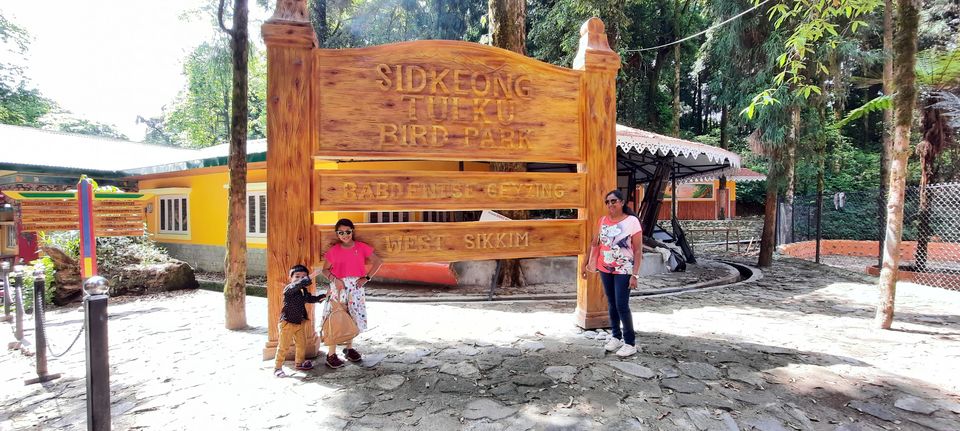 Kirateshwar mahadev mandir @ Pelling:
There were lots of monkeys in the temple.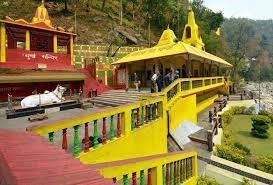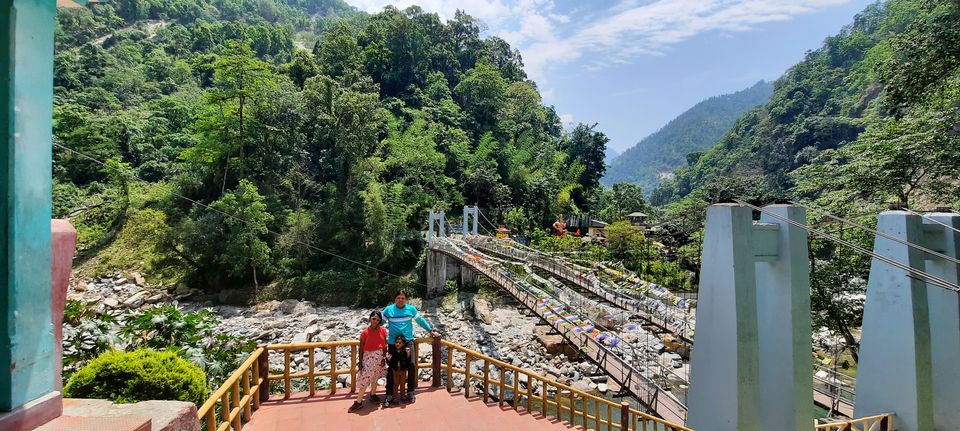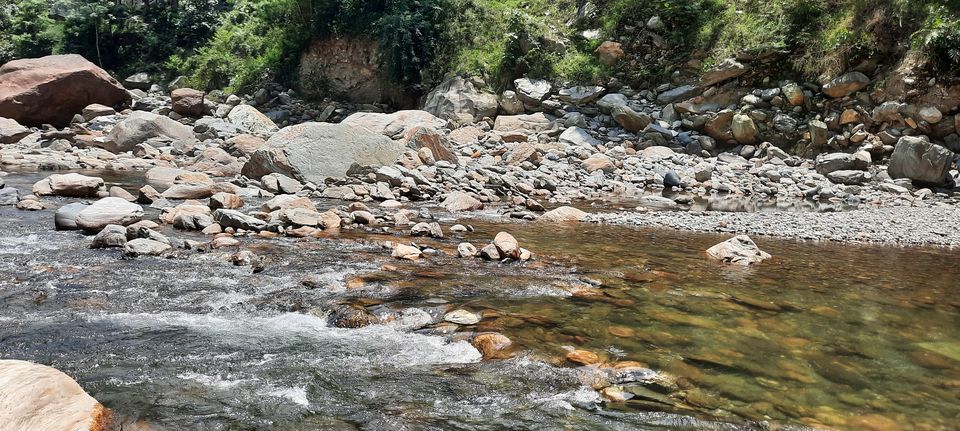 Buddha Vihar @ Ravangala: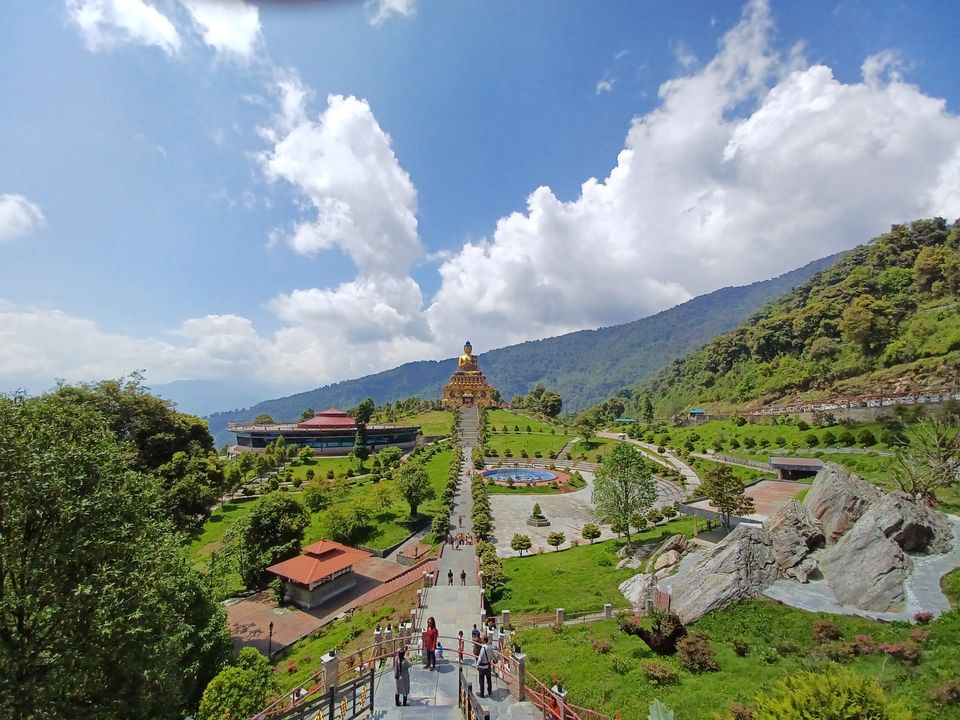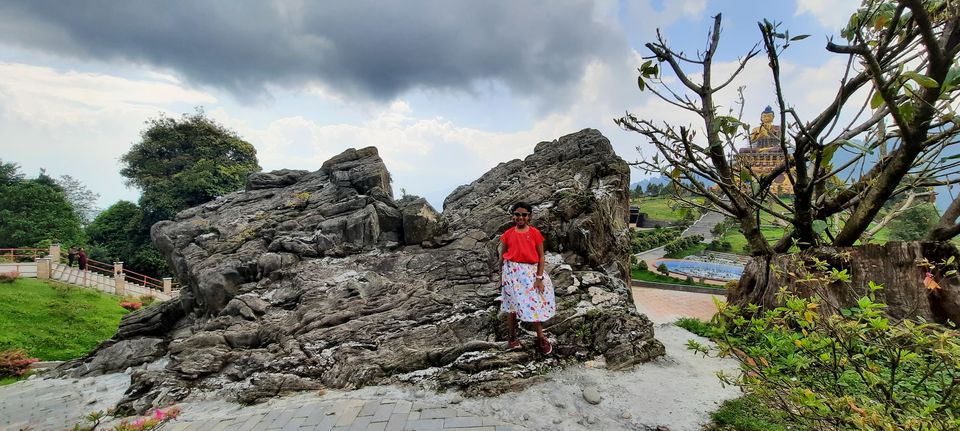 Reached @ Hotel Griffon's nest, Gangtok @ night.
Hotel was good, view from hotel was awesome but again it was not in the main town of Gangtok. Also, the services they were providing was not good.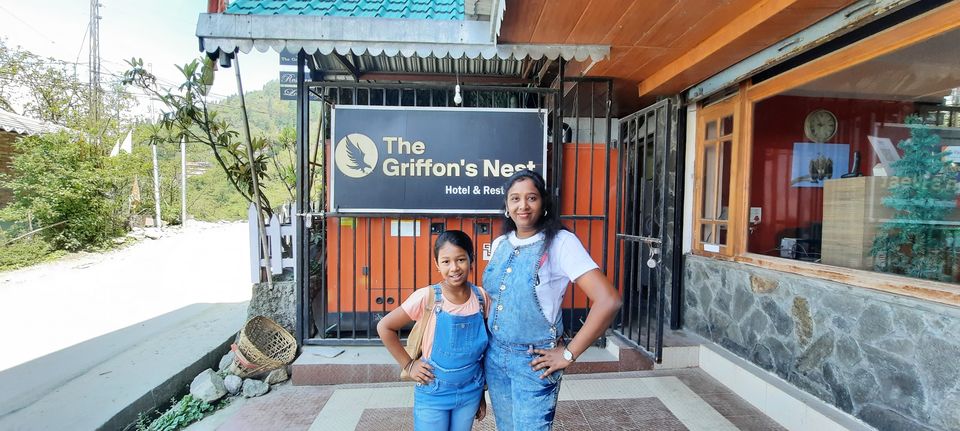 View from Hotel: Early morning view of hills from our room @ G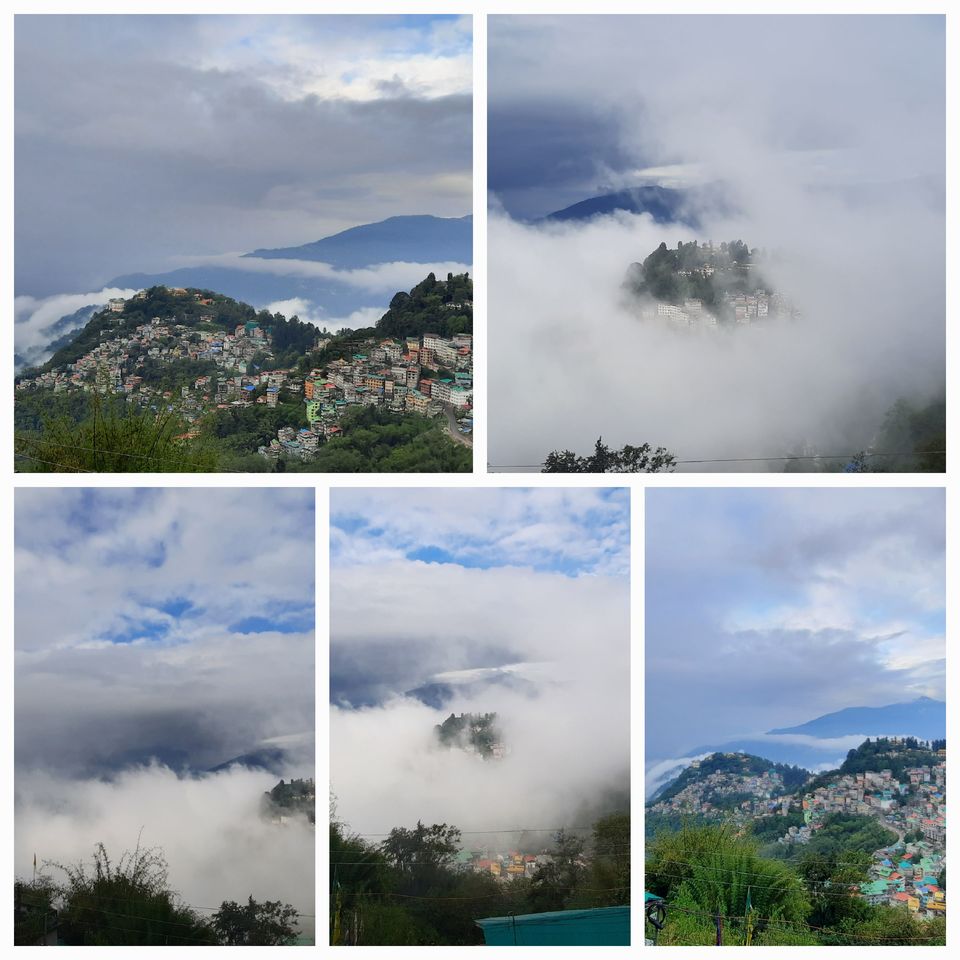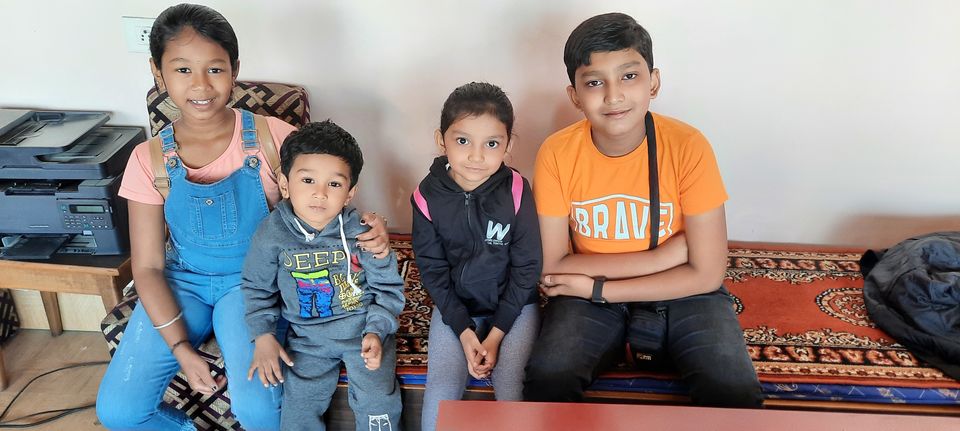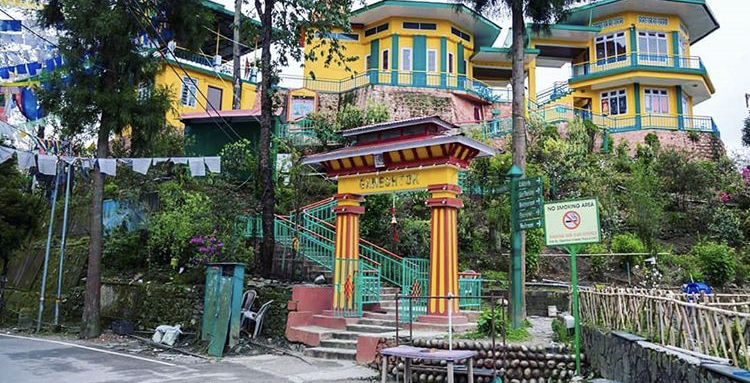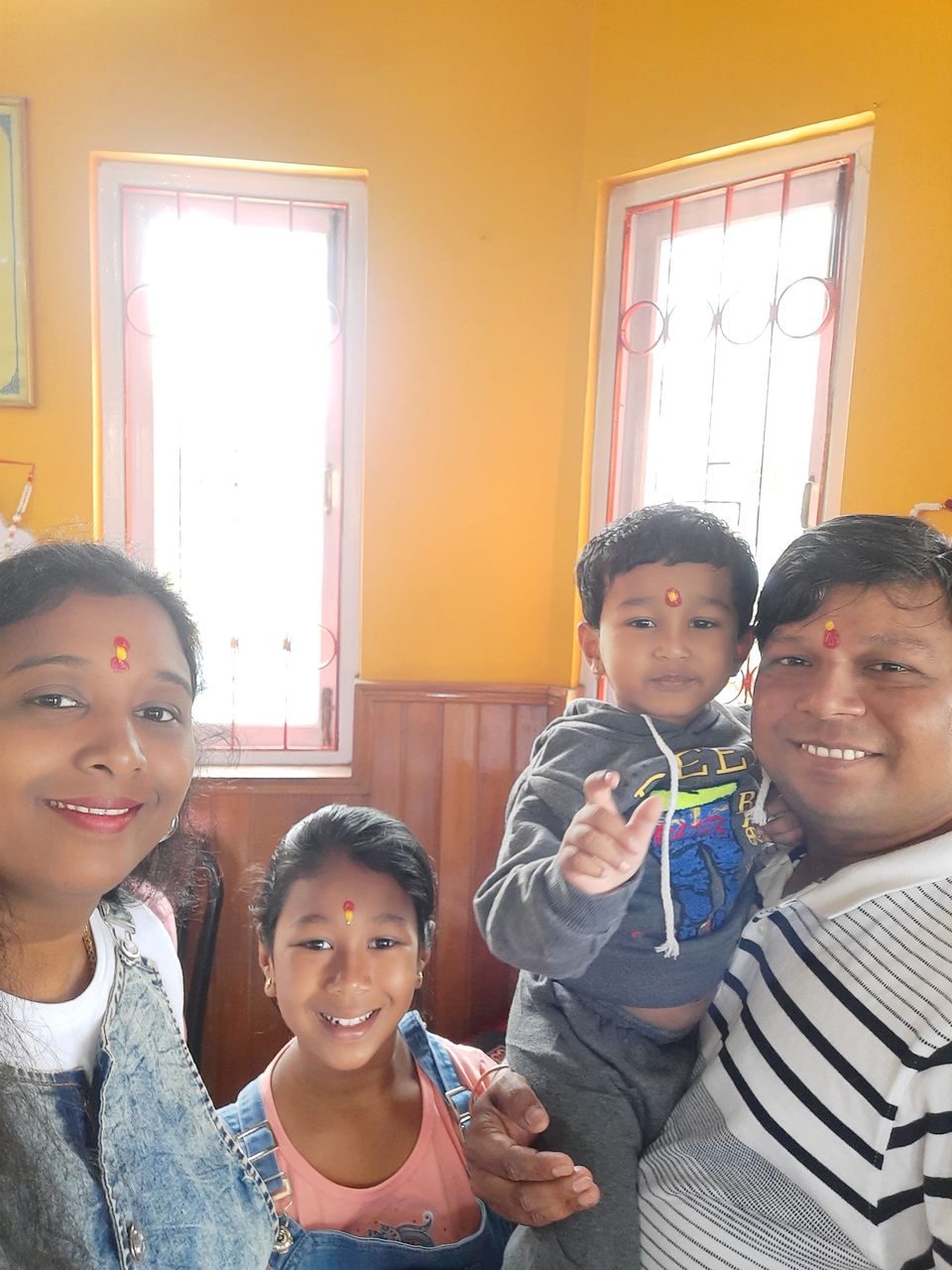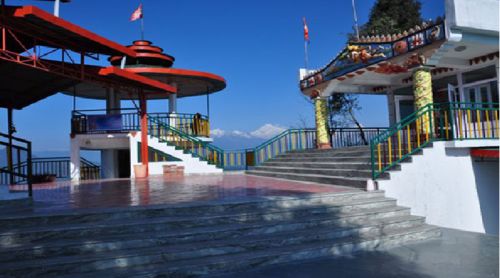 Himalayan Zoological park: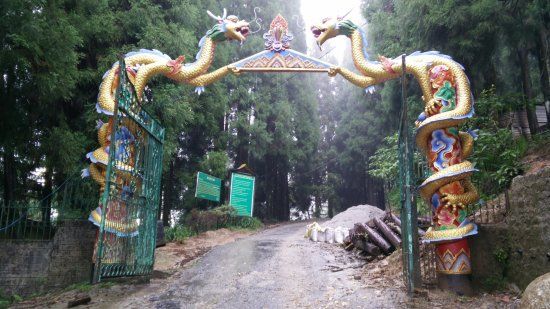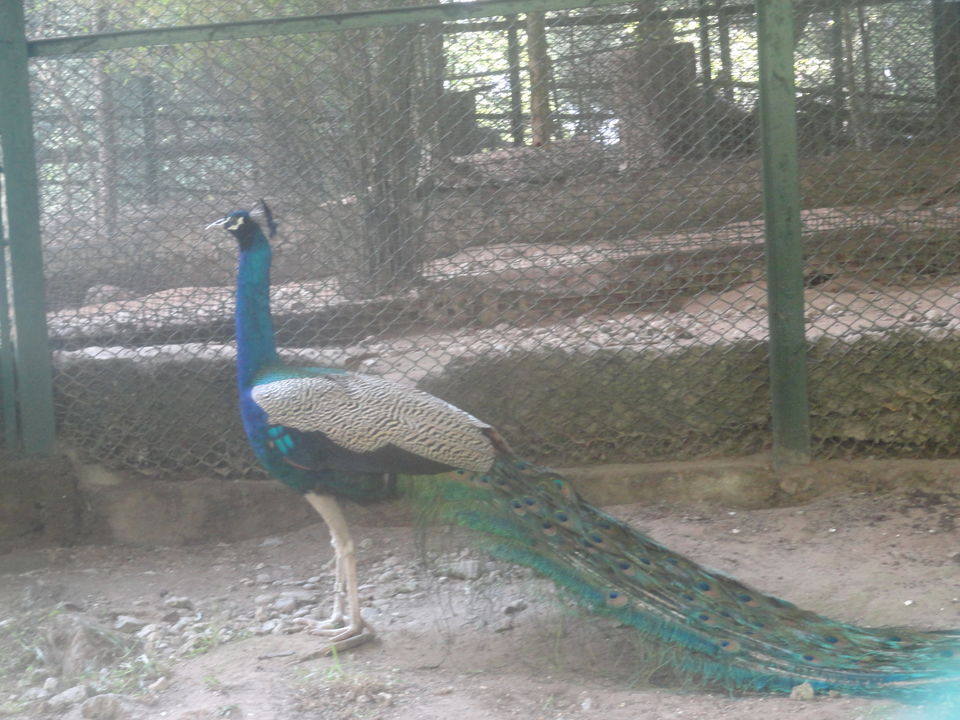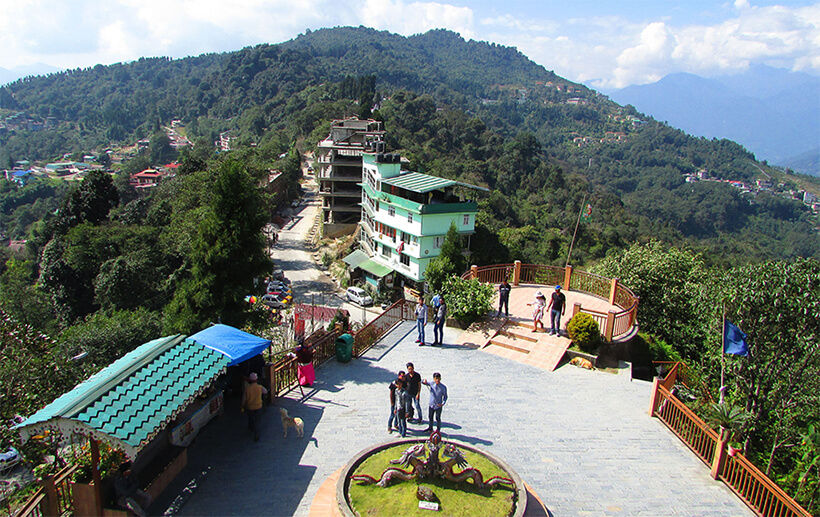 Bakthang waterfall and zip-lining:
Kids will love doing zip-lining here. Around 100 bucks /kid (INR)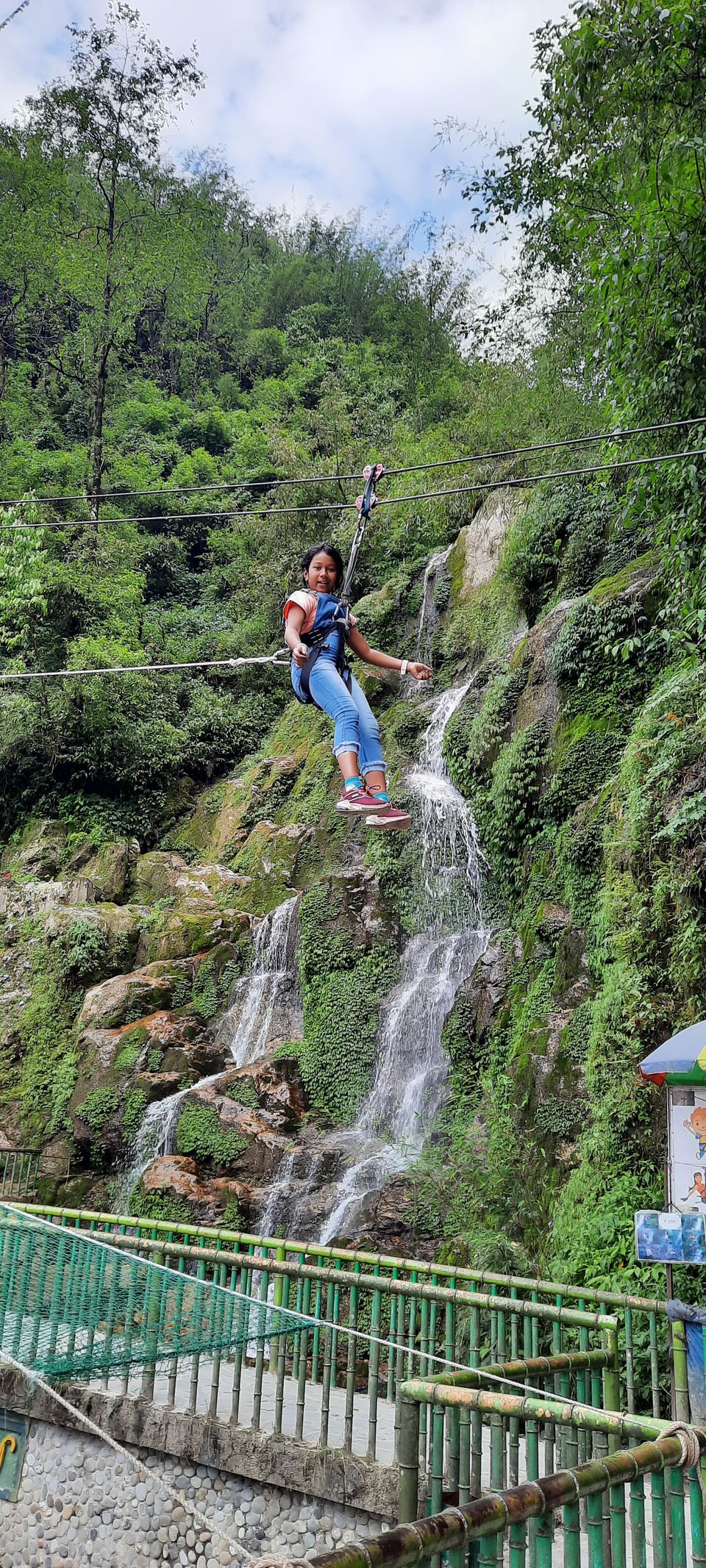 In the evening, we got down at local market at MG Marg to indulge in some local cuisine and shopping. MG Marg was full of lights and tourists. @ 10 pm, we returned back to our Griffon's Nest, Hotel by local taxi.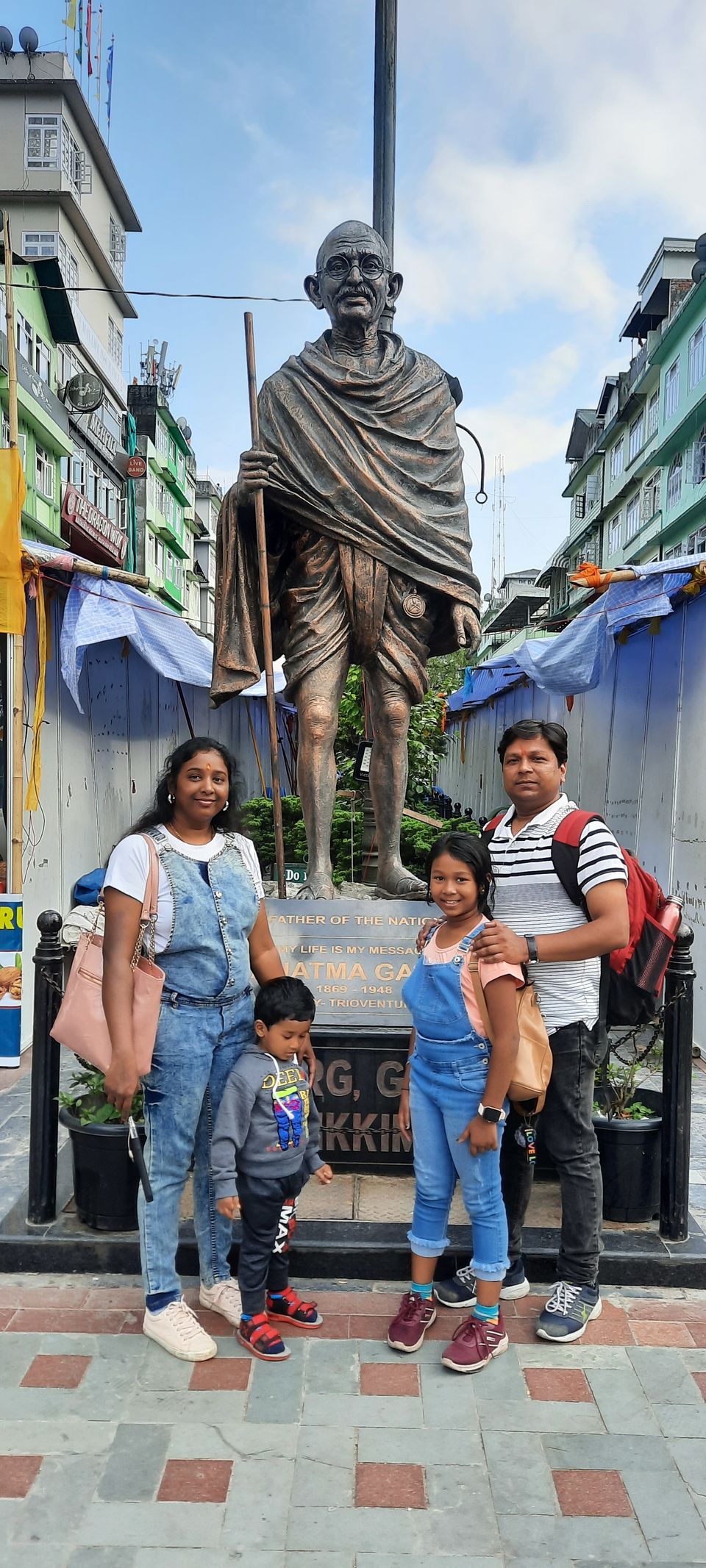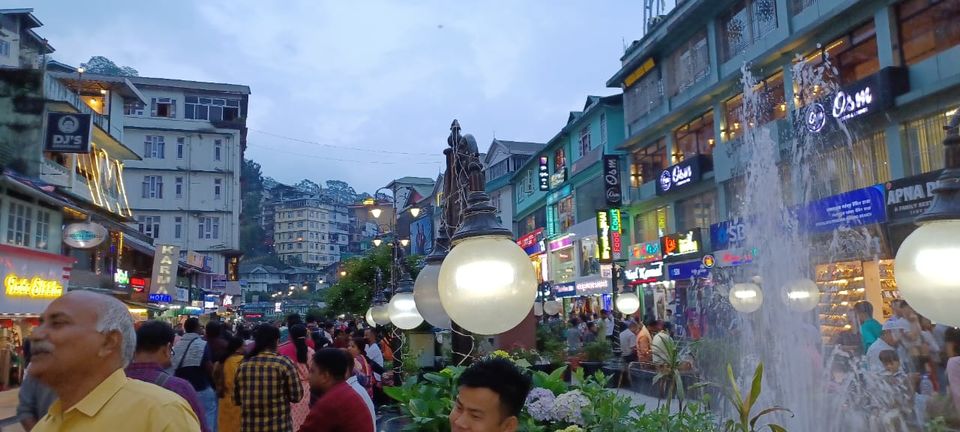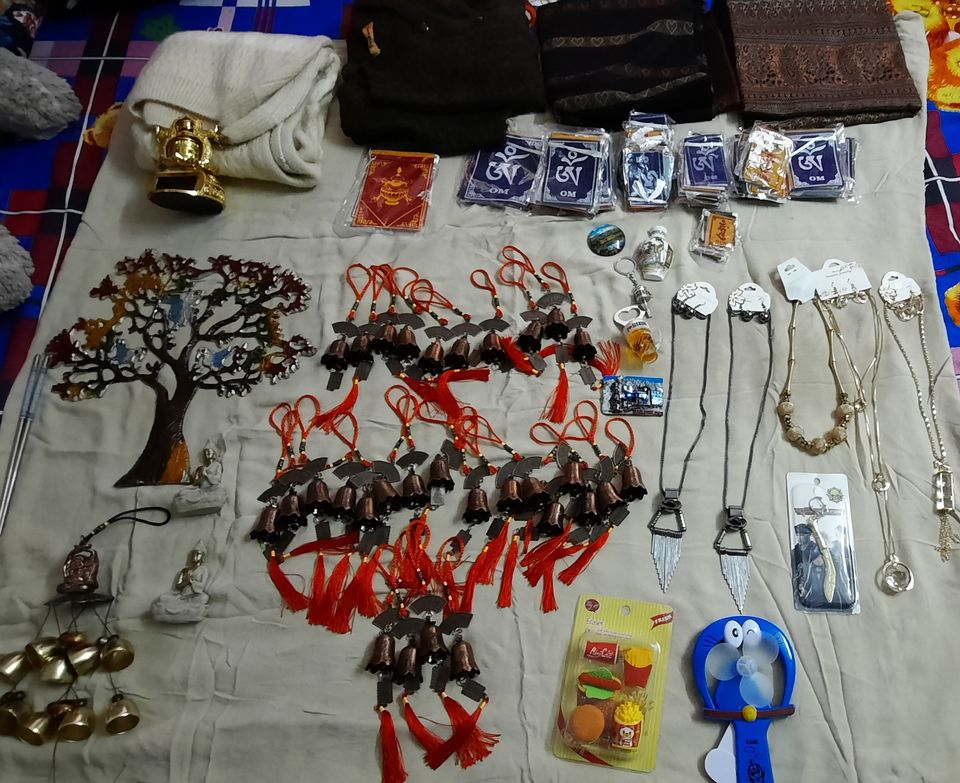 We got up a little early this morning, packed our breakfast and then went off to visit Tsomgo Lake, Baba Mandir, and NathuLa Pass.
To visit Tsomgo Lake, permit is required which isissued at the Police Check Post. One must get the permit to visit the lake. It will cost you around 4K INR/vehicle.
Visited NathuLa - mountain pass in East Sikkim. It is in the Dongkya Range of the Himalayas between China's Yadong County in Tibet, and the Indian states of Sikkim @ altitude 14,140 ft.
The roads were affected by landslides but watching the destination with mountain covered with snow peaks made us forget about all our worries. The view was so amazing that I could not stop myself from capturing it.
Once we look at the site, automatically everyone's patriotism rose. Everywhere you can hear "Bharat Mata ki Jai". Being an Indian everyone feel proud especially Maharashtrian when they see Chatrapati Shri Shivaji Maharaj's statue at Nathula.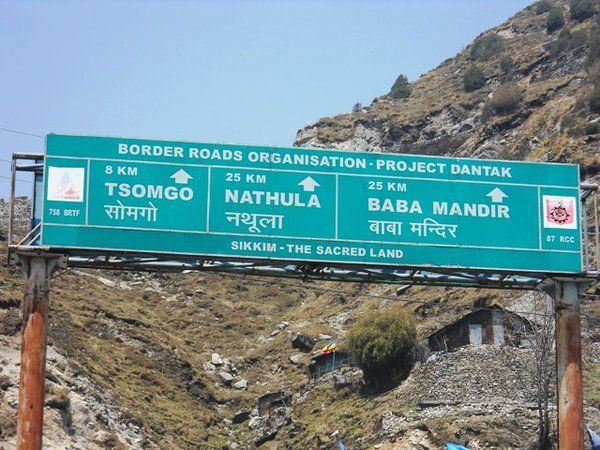 Tsomgo Lake and Changu Lake are the same glacial lake located at an altitude of 12,310 feet.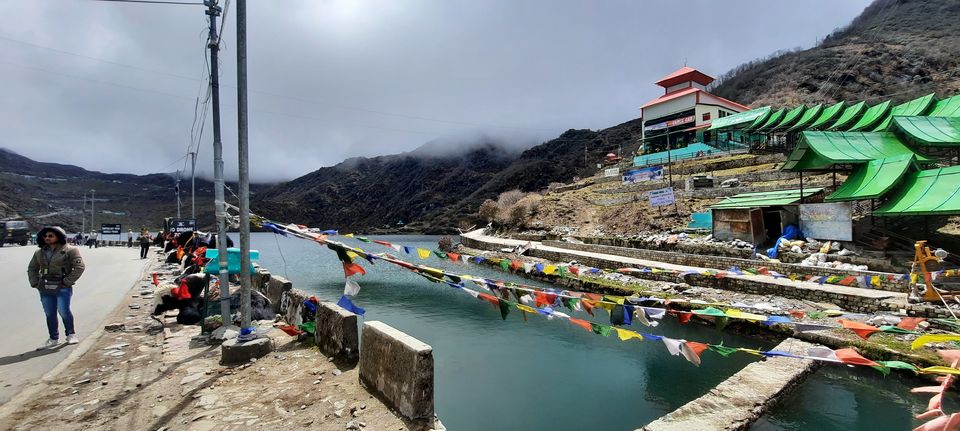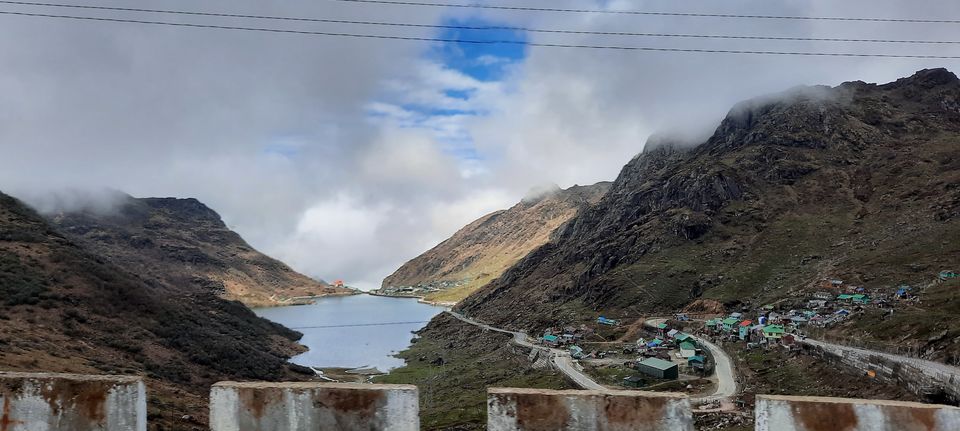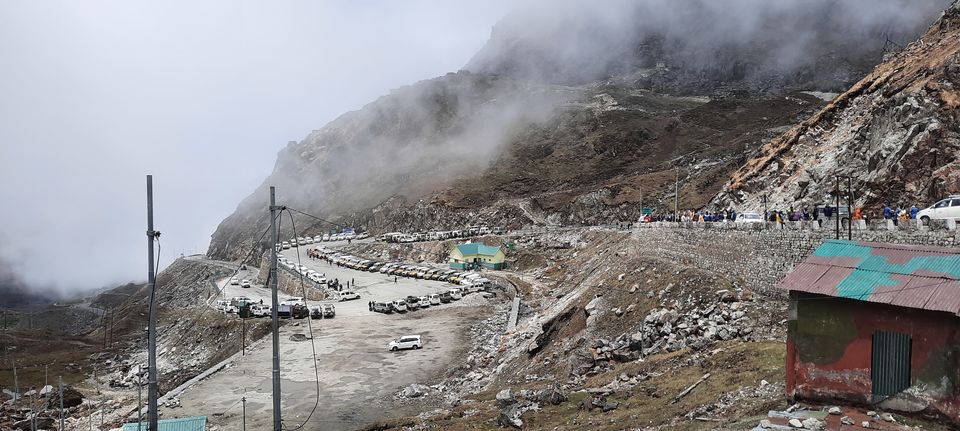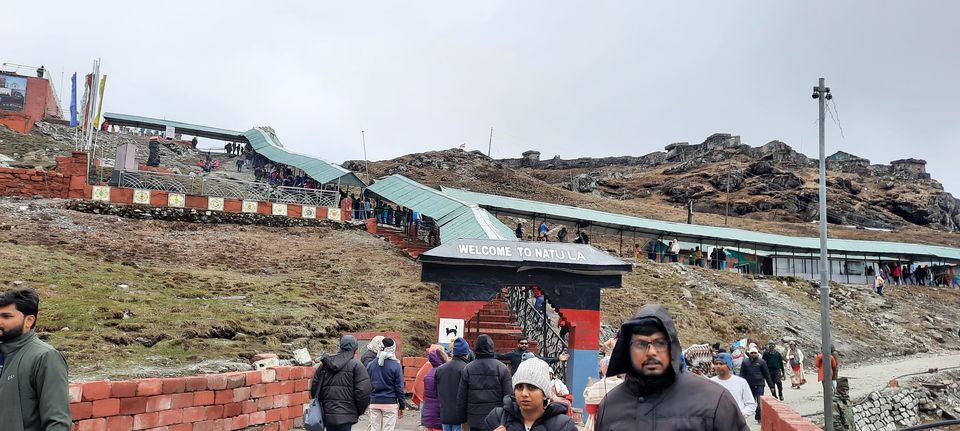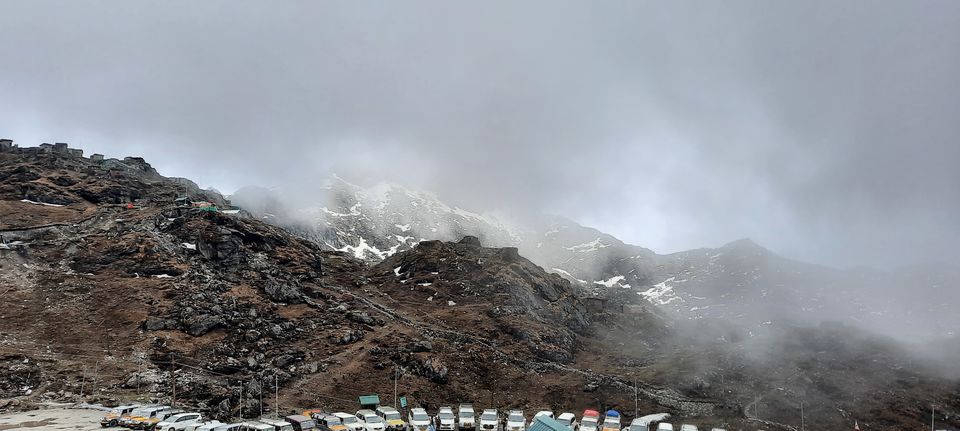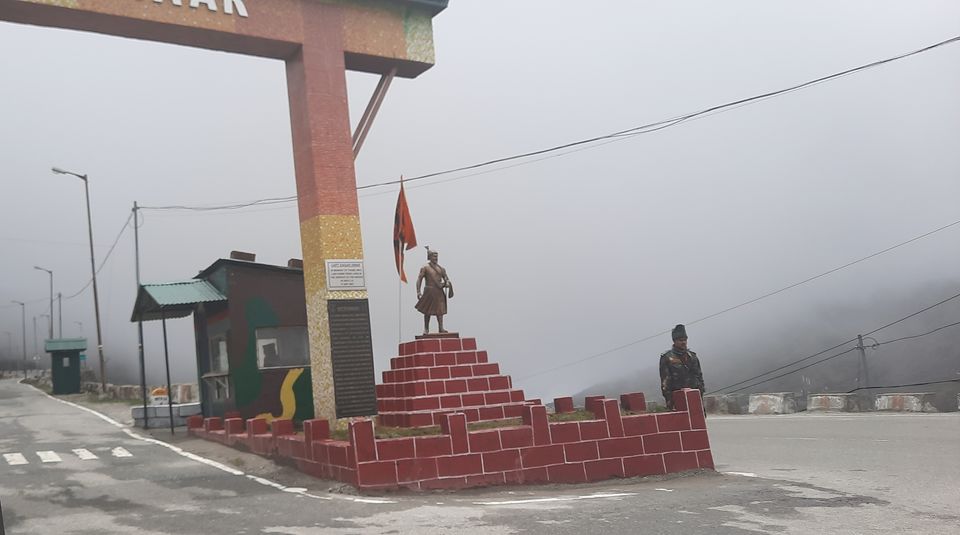 Baba Harbhajan Singh Mandir: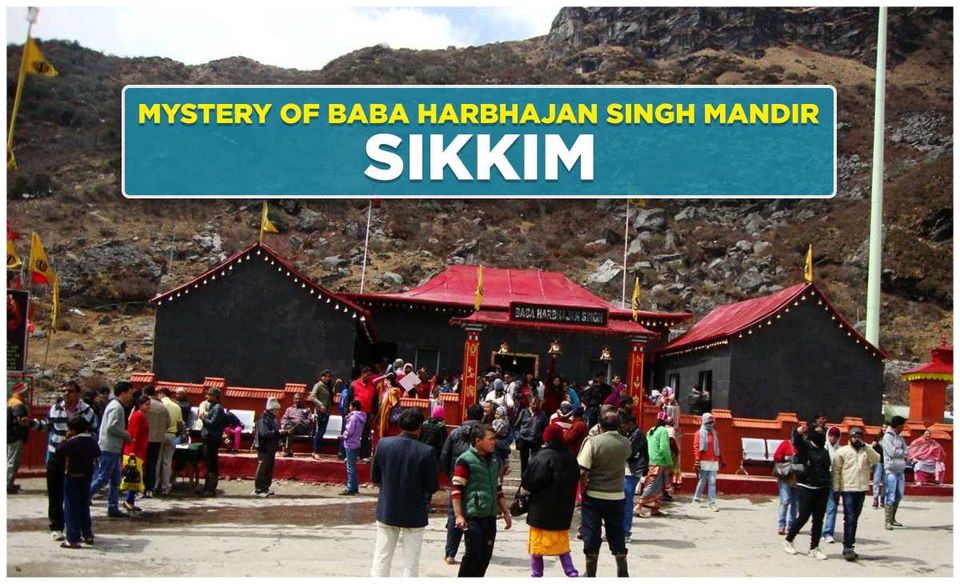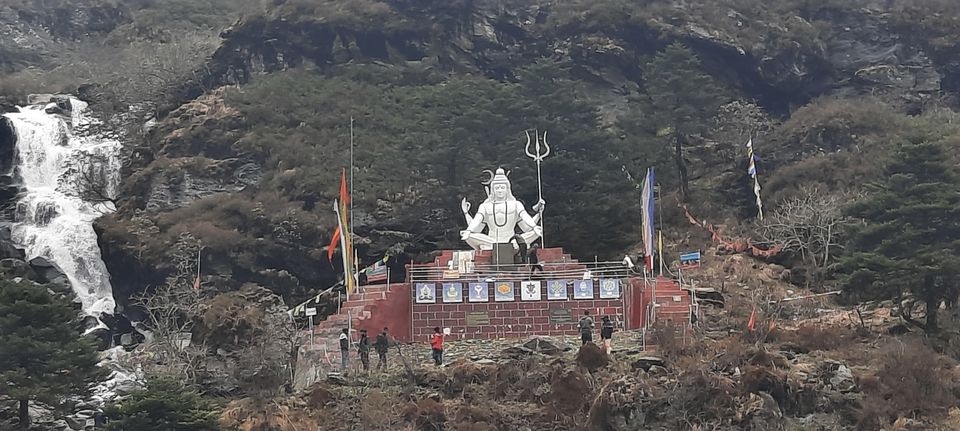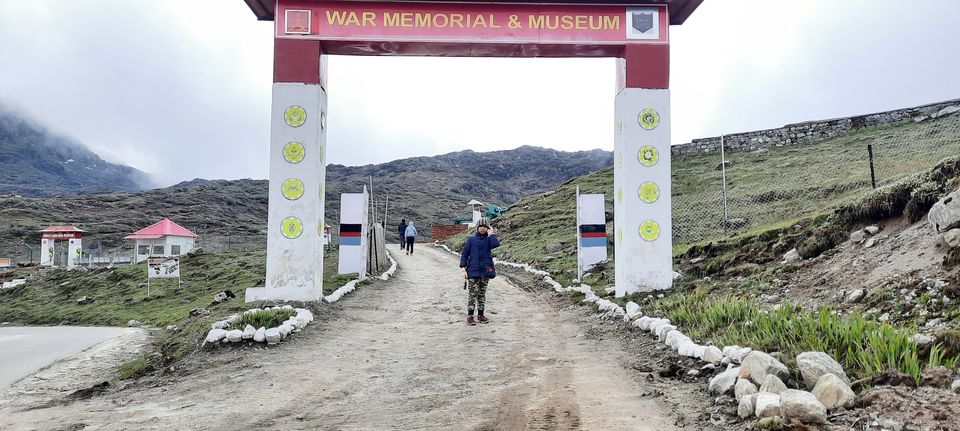 Next, we booked 3 days tour for Lachen and Lachung, North Sikkim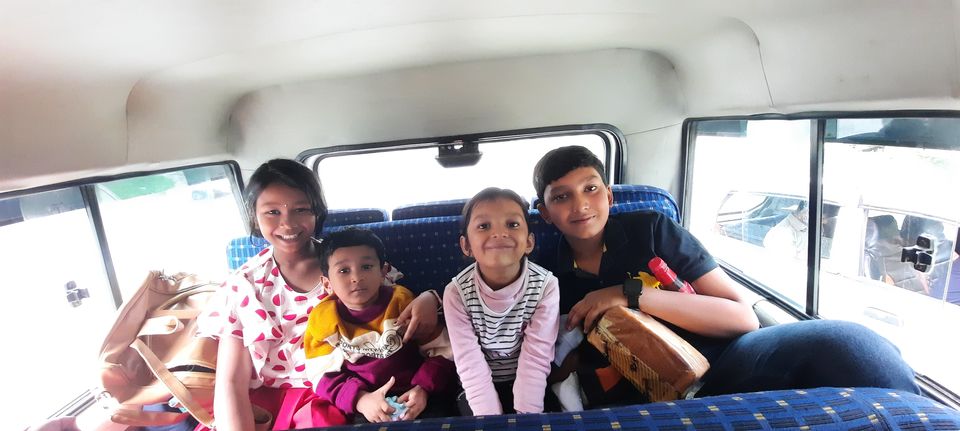 There were so many waterfalls on the road. The best one was the Seven-sisters waterfall.
Stayed @ Hotel Tso Lhamo, Lachen. Rooms are big and nice. Service is also excellent. The town is a base for those headed to Gurudongmar Lake. Also, as the lake is situated at quite an elevation, it is better to make a stop and let the body adjust to the altitude.
On the way to Gurudongmar Lake:
Here, you can visit Kala Patthar point, where you can enjoy snow, for which separate permit is required which is issued at the Police Check Post which will cost 3.5k INR/vehicle. As we had already decided to visit Zero point next day, we skipped this.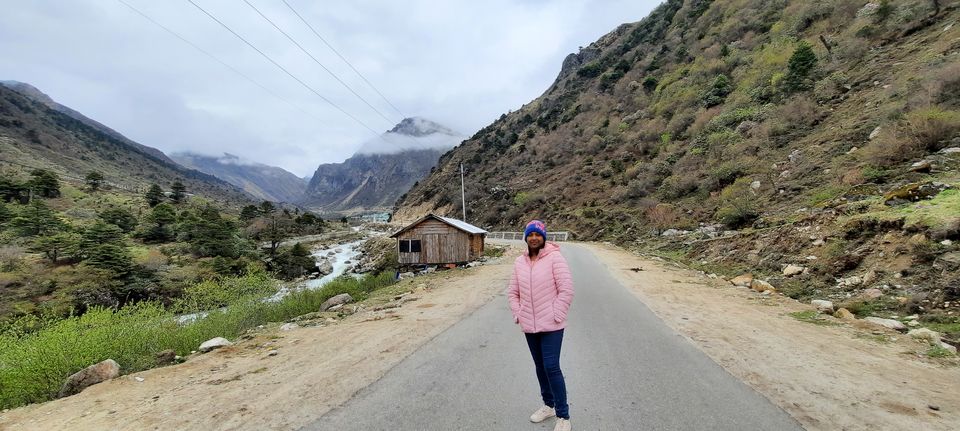 Thangu valley : Thangu is at a distance of 2 hours from Lachen. This is a beautiful hamlet in Sikkim. With a few huts and army base, all that the valley has immense beauty. If one is stopping at Lachen for the night, then the following morning, this is the first stop to make on the way to Gurudongmar lake.
Enjoyed tea/coffee, noodles and Aalu-cha (Aalu bonda) for breakfast here.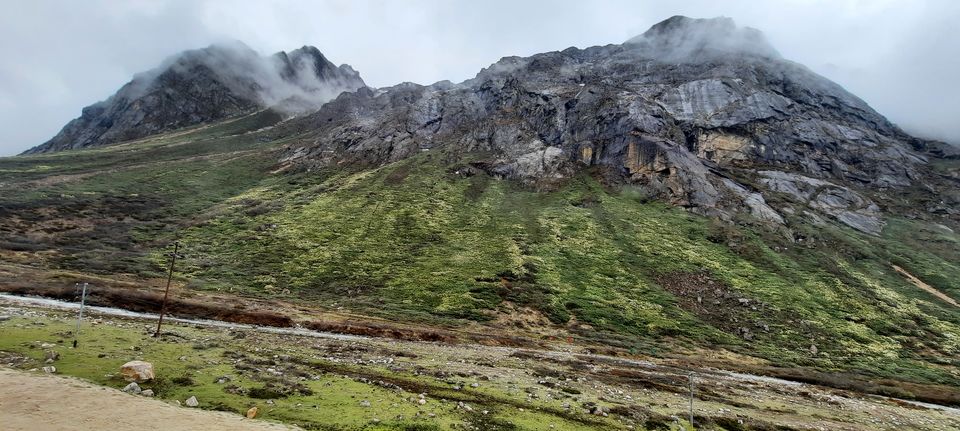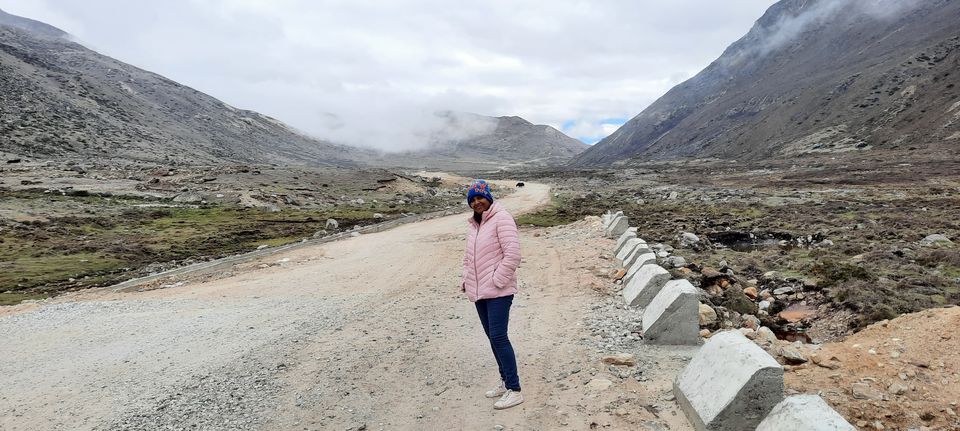 There were lots of yaks on our way.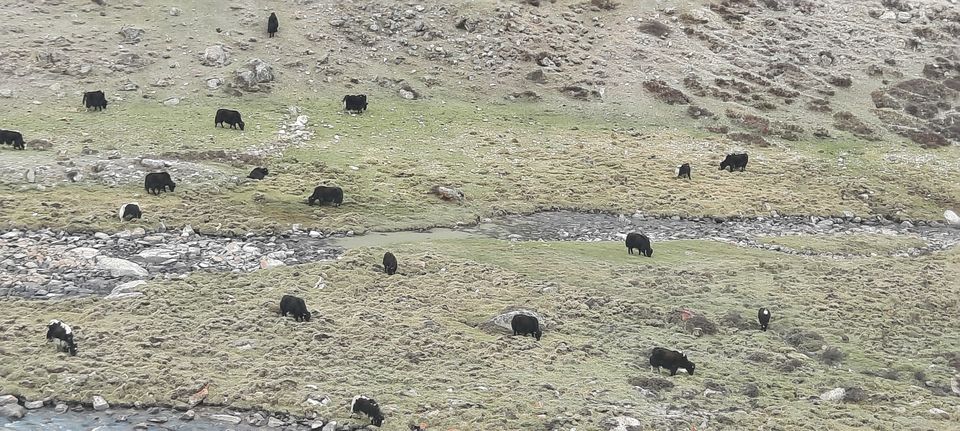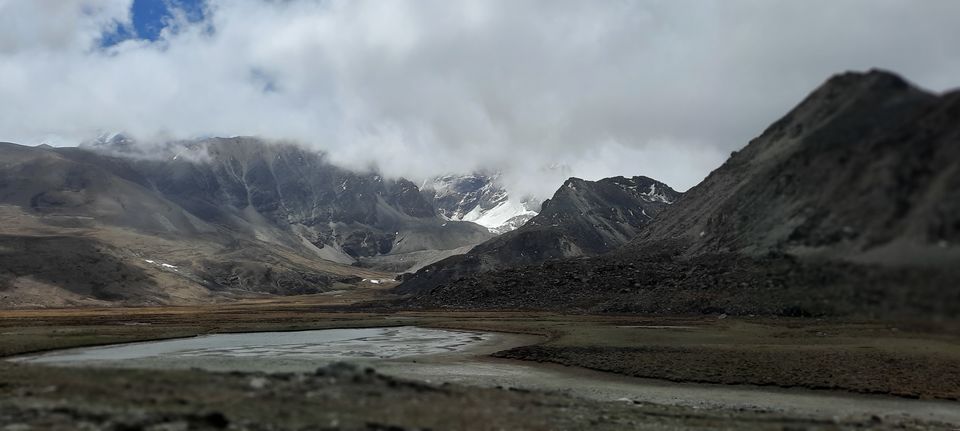 After traveling to Lachen, our first tourist spot was Gurudongmar Lake that is considered as one of the highest lakes in the world with altitude 17,800 feet. The beauty of the crystal clear blue water amidst snow-laden mountains was beyond any description and of the best Sikkim Gangtok Darjeeling trip experience. The lake is believed to be sacred by the Hindus, Sikhs and Buddhists. We took a stroll there for some time and tried to capture the scenic view for memories.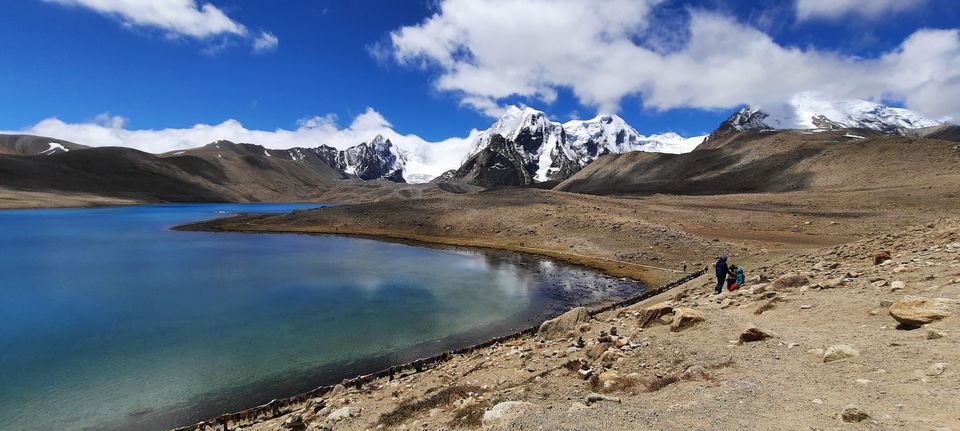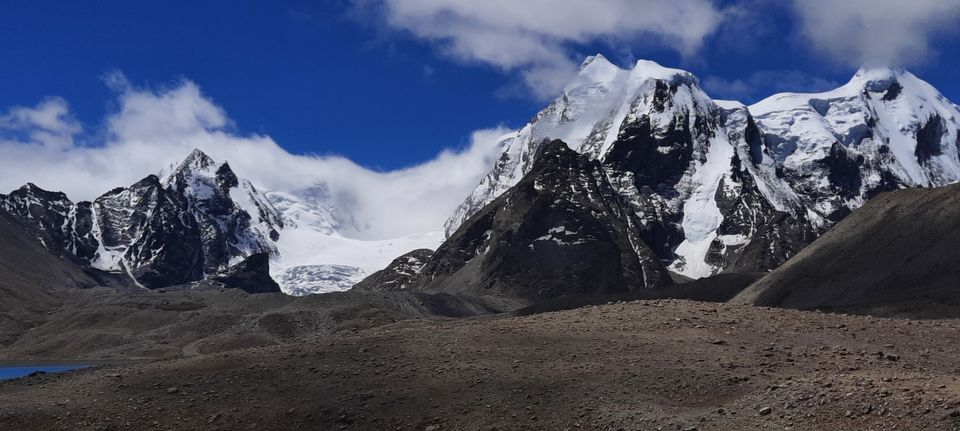 If one wants to enjoy the snow, then the best time to visit Gurudongmar Lake is during the winters which extend from November to February but it is subject to whether the roads are open or not. The Gurudongmar Lake weather ranges from 5°C to -27°C. The lake is totally frozen during this period of time.
One can also head here during the months of April and May when the rhododendrons bloom and add to the beauty of this already beautiful landscape.
The advice, as the destination is at high altitude place, one should not wait here for more than 10 min, otherwise you will have breathing issues because of lack of Oxygen.
Next traveled from Lachen to Lachung.
On the way, visited so may waterfall. @ one of the waterfall, where we enjoy eating Pakode, live Karaoke - where anyone can go and sing :), with warm camp-fire. Lots of tourists had stopped and enjoying this beautiful atmosphere. The lady was selling 1 dish of Pakoda for 100 Rs. :) Some people were also enjoying chilled beer in chilled weather:)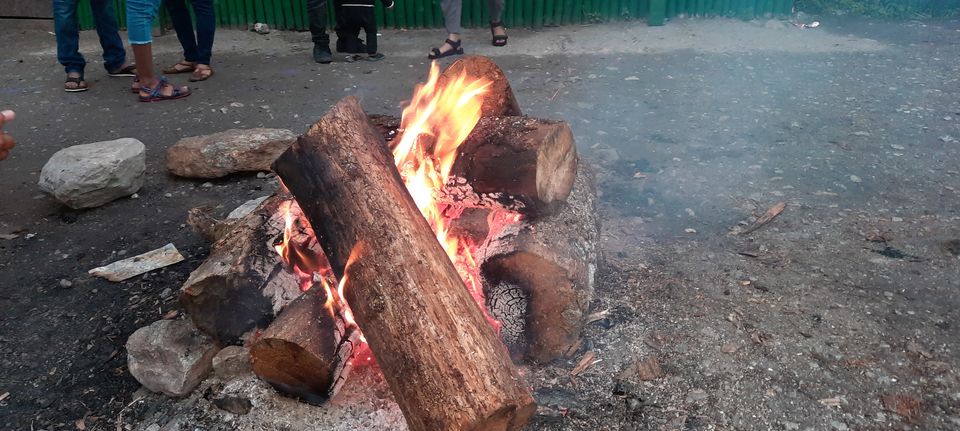 On that day, reached Lachung and stayed @ Hotel Le Coxy resort.
@ Hotel Le Coxy resort, excellent resort with very big rooms and excellent hospitality.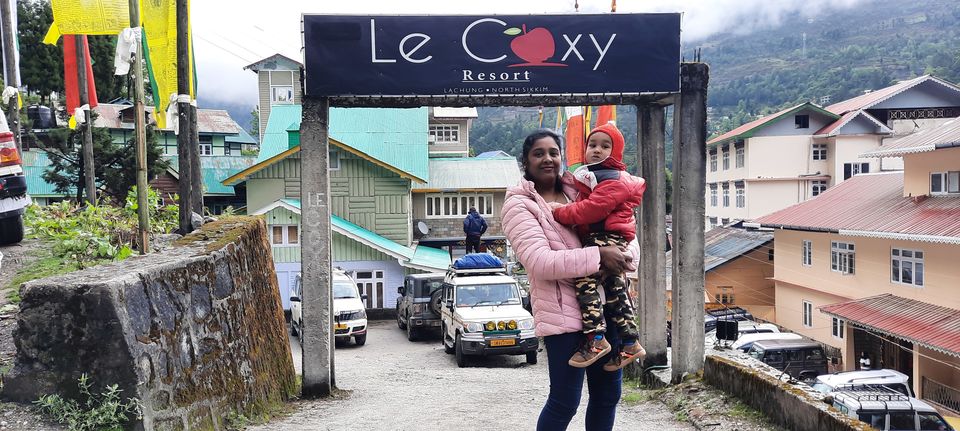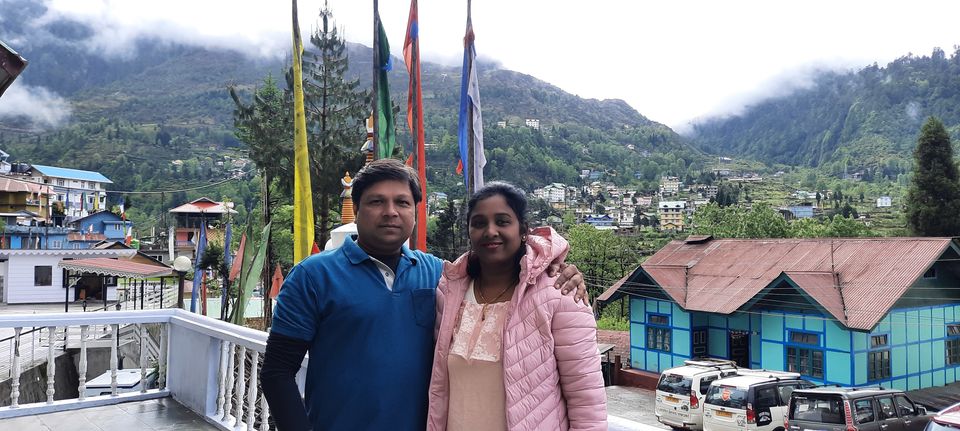 On the way to Zero point, @ Mayong waterfall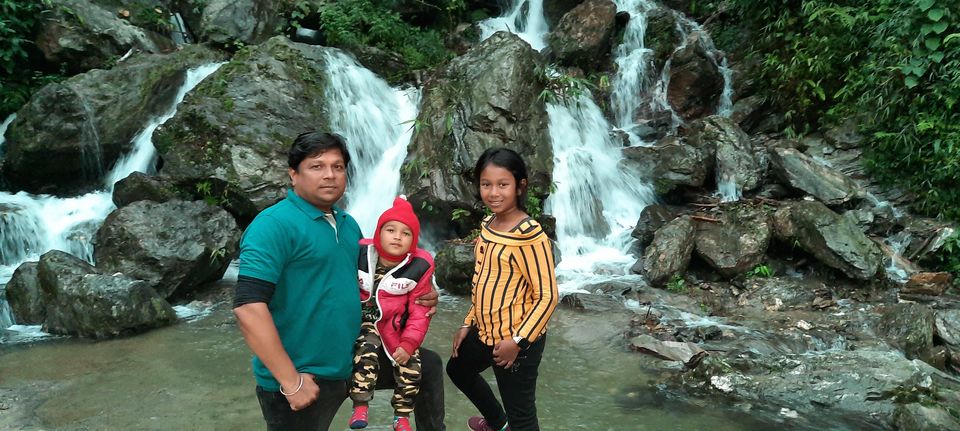 To visit Zero point-Indo - Chinese border, permit is required which is issued at the Police Check Post. One must get the permit to visit the point. It will cost you around 3.5K INR/vehicle.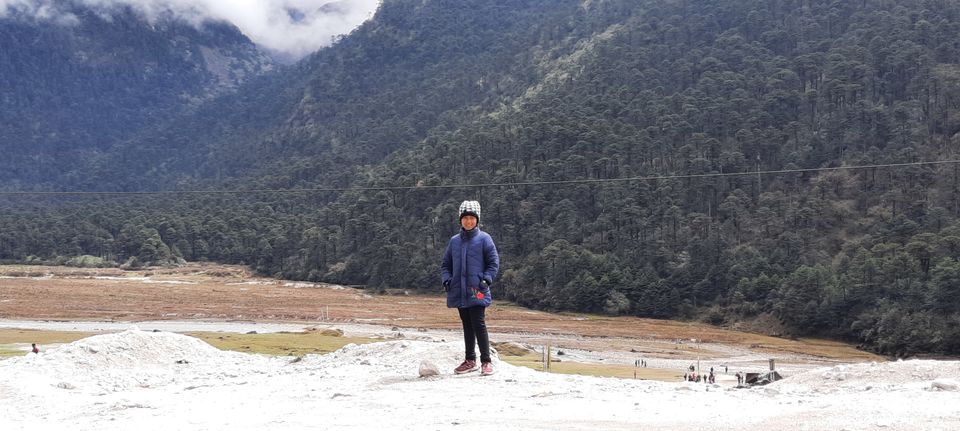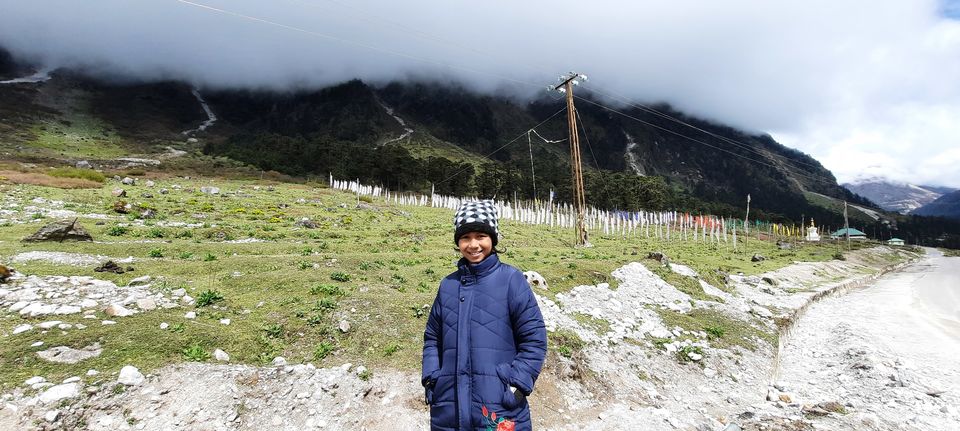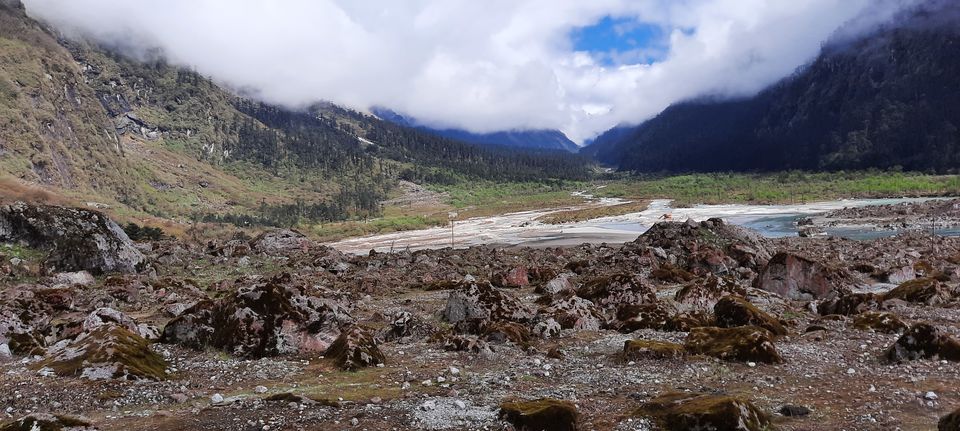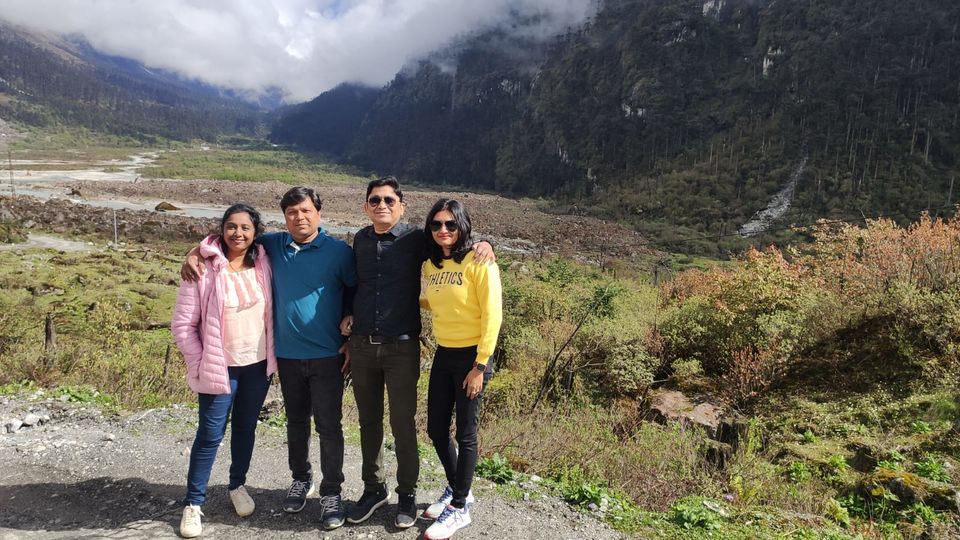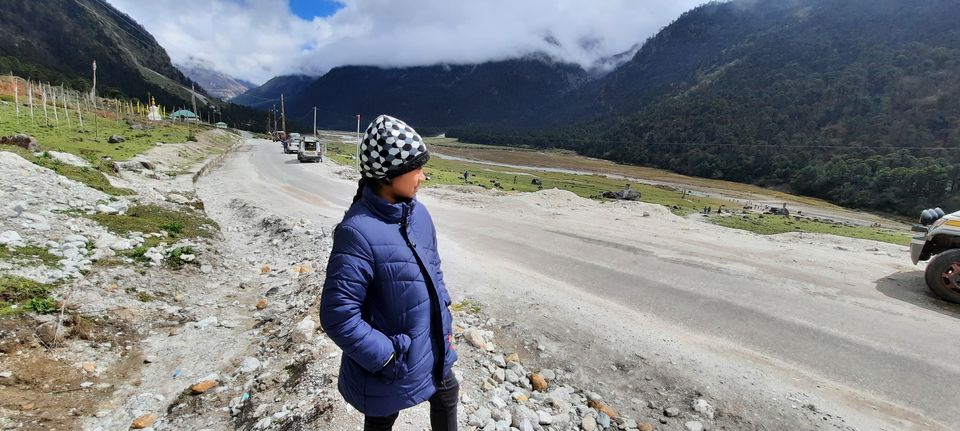 @Zero point, Sikkim - The Indo-china border:
When we reached, there was very dense fog, hardly we could see anything.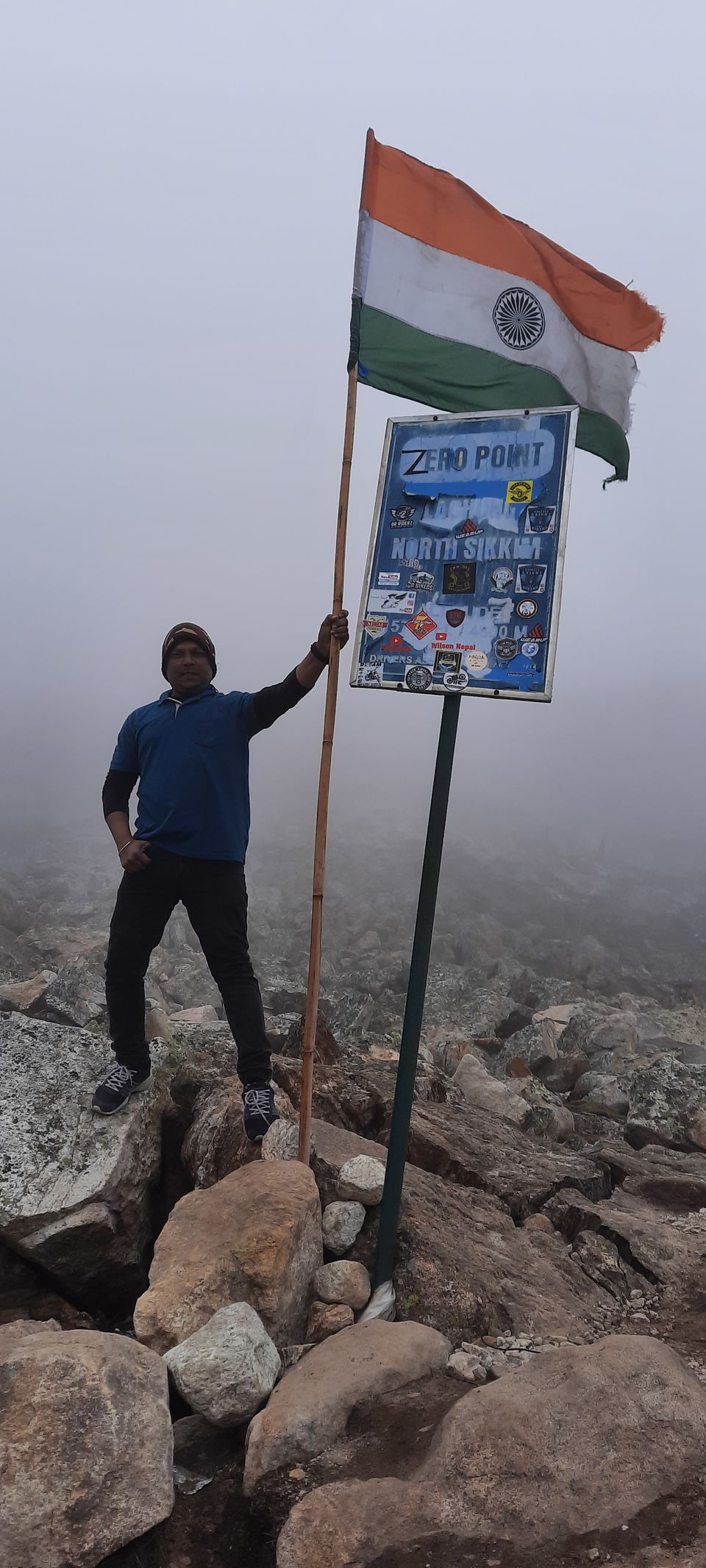 Then we witnessed the breathtaking view of the snow covered white mountains , as we played in snow with our family making a snowman.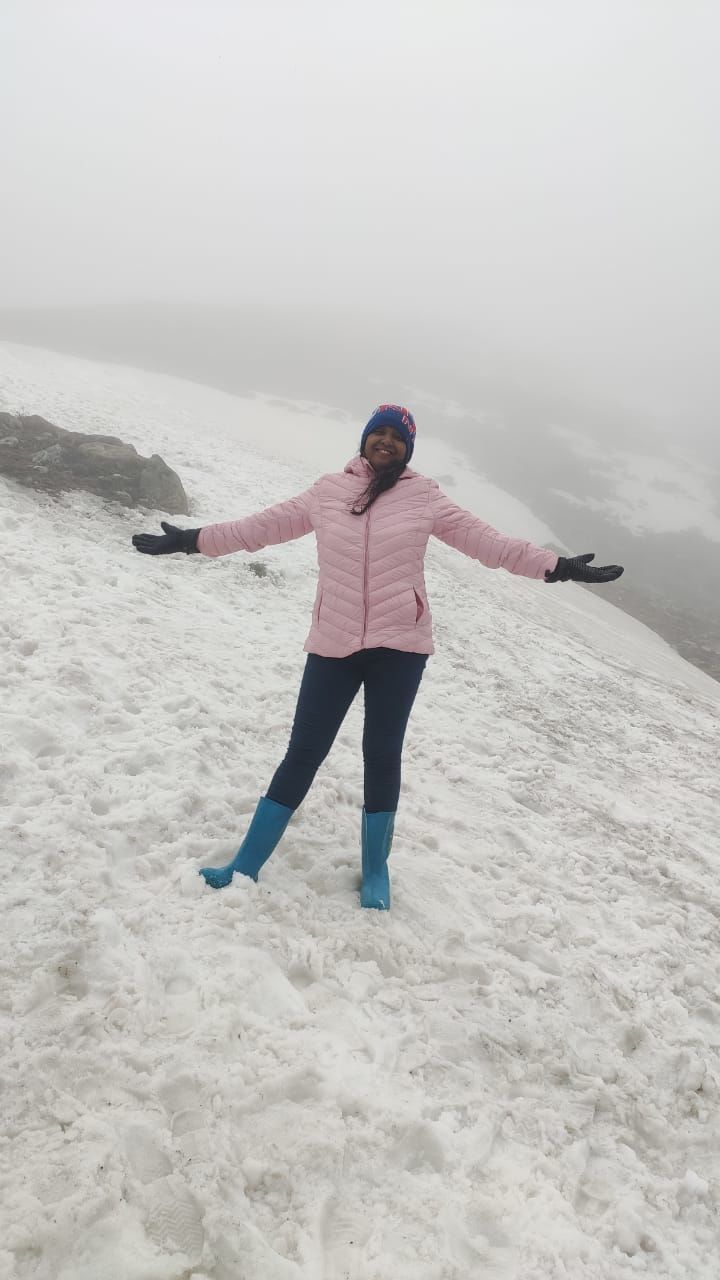 Here, is the map for our Lachen-Lachung journey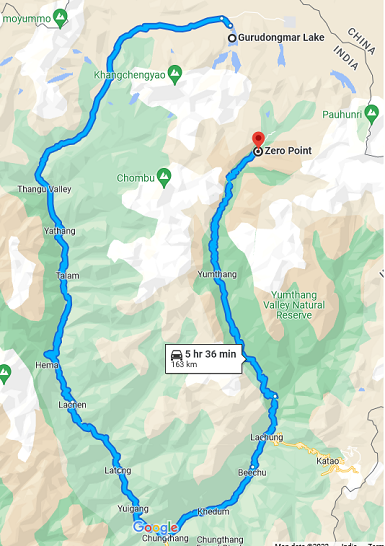 Journey back to Pune, @Bagdogra airport
We started early morning from Gangtok to Bagdogra airport.
On the way, visited 1 local restaurant "Top Green" which is like home only. That lady Molli allowed me to enter her kitchen and prepare some food for my 2 year old baby. The kitchen was very clean and lady - her family was very helpful and friendly.
Within 20 min of time, she prepared Tea, Momos, Puri-bhaji for all of us. One must visit this restaurant for breakfast/lunch.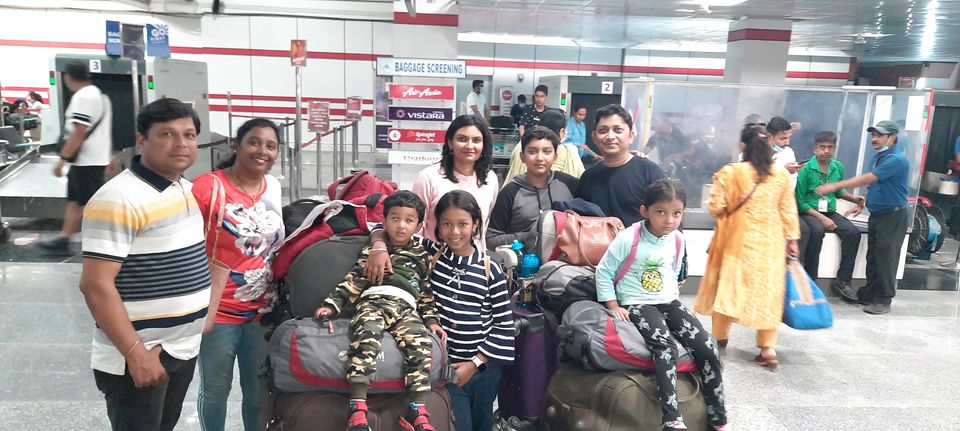 The whole journey was joyful with our driver come photographer Suku Limboo Bhaiya. On such thrilled roads of Darjeeling and Sikkim, one should need keen and skillful driver, and that's our Suku bhaiya. He drove very patiently, calmly. And finally we safely returned to airport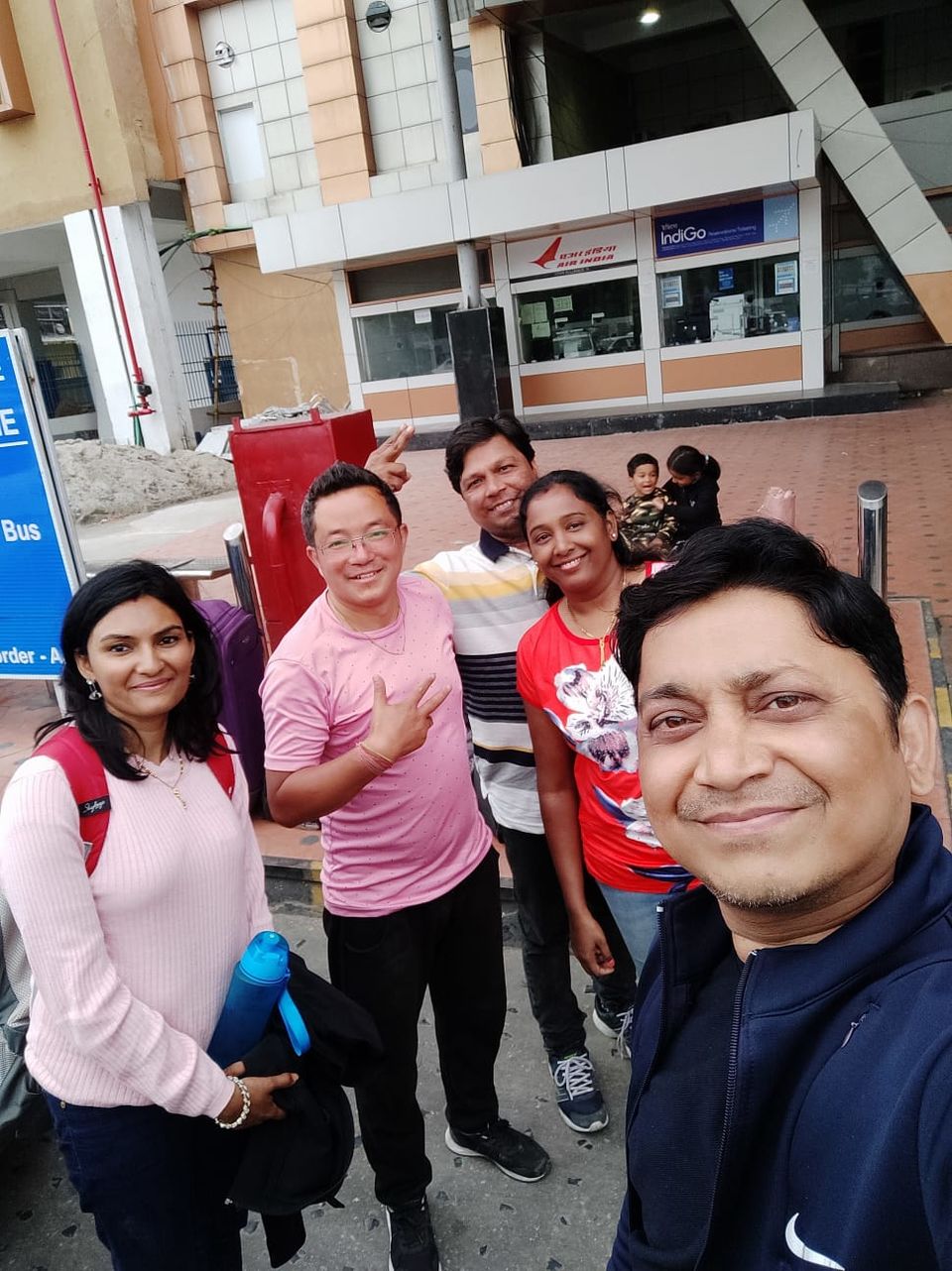 Here, the suggestion is, one can take old silk route while going back from NathuLa(Gangtok) -to Bagdogra(Siliguri) via Zuluk. You can enjoy breathtaking views of old silk route.
Tour Journey
Day 1: Travel from Pune to Bagdogra to Darjeeling
Day 2 to 4: Darjeeling Sightseeing - Rock Garden,Toy Train, Rope way, Lamahatta, Tinchuley Village - Orchid Garden/center, Lamahatta, tea plantation, Tiger hill Sunrise Point, Zoo, Simana view point, Pashupati Market-Nepal, Mirik
Day 5-6: Travel from Darjeeling to Pelling (Sikkim) and Sightseeing - Skywalk, Helipad, Monastery, Bird Park, Kirateshwar Mahadev Temple@Rangit River etc.
Day 7: Travel from Pelling to Gangtok and sightseeing - Buddha Vihar.
Day 8-9: Gangtok Site seeing -NathuLa, Ganesh Tok, Hanuman Tok, Tashi view Point, Zoo
Day 10: Travel from Gangtok to Lachen and sightseeing - Seven Sister Waterfalls along the road
Day 11: Travel from Lachen to Gurudongmar Lake to Lachung
Day 12: Travel from Lachung to Zero Point Via Yumthang valley to Gangtok
Day 13: Travel from Gangtok to Bagdogra Airport to Pune.
Tips for traveler:
1. One needs to take permits in Gangtok before going to visit some places. One can get the permits via authorized tour operators in the state. Our driver from G-cabs manage to get it in time.
2. Do not plan a direct trip to the lake from Gangtok, but stop at Lachung or Lachen, as it is important for the body to adjust to the different altitudes.
3. Pack well according to the weather during the month of visit.
4. Carry at least 2-3 copies of a photograph ID (Adhar card, pan card, driving license) and photographs as they'll have to be submitted in the tourism office.
5. The transportation system in Sikkim-Gangtok is excellent and comprises mainly of taxis (reserved and shared). There are many one way road restrictions for tourists vehicles which are not with 'Z' passing, but local taxis don't have any. Some drivers from Siliguri aren't aware of such restrictions.
My daughter was so inspired by the trip and painted a picture of Darjeeling toy train :).
Last but not the least, a few lines, (I got while surfing) on the trip inspired by the beautiful scenery.
"I wonder if the snow loves the trees and fields, as it kisses them so gently? And then it covers them up completely, you know, with a white quilt; and perhaps saying, "Go to sleep, darlings, till the summer comes again."