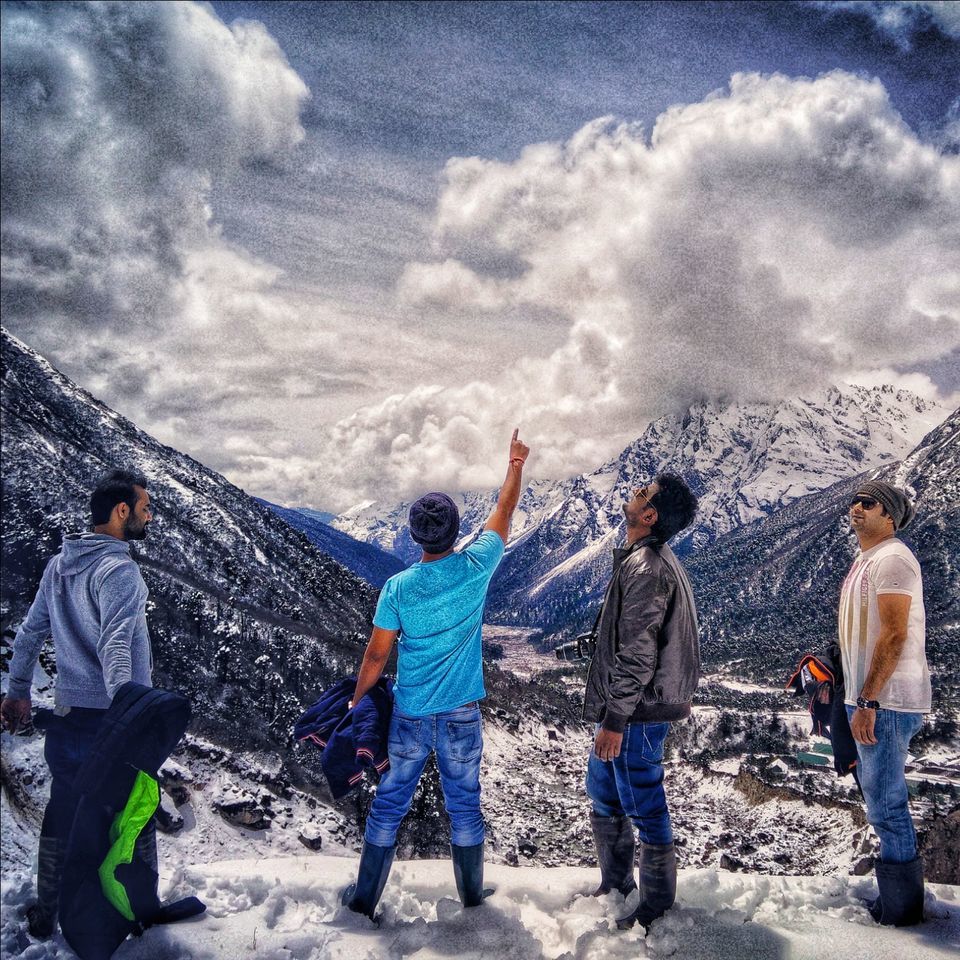 Heaven is not a place you go when you die; it is that moment in life when you feel alive. And for me, my home is in Heaven and I'm just traveling through this world !!! The gigantic peaks of the Himalayas, variegated flora and the fauna and some breathtaking views of the Mt. Kanchenjunga make Sikkim a paradise for travellers, backpackers, and researchers. This tiny yet majestic state also serves as a home to so many hidden and unexplored places. Zero point in North Sikkim is one amongst them.
With district headquarters in Mangan, North Sikkim is the seventh least populous district in the country. Most of the people of the state reside near Mangan that is about 2000 feet above sea level. The high altitude makes it hard to sustain life as we move further north.
Day 1: Arrival At Gangtok, Sikkim.
We took a flight from Delhi to Bagdogra. If you book in advance a round trip flight may cost you around 4-5K. From Bagdogra Airport you have few options to reach to Gangtok. If you are in a group I will suggest you to go for a private taxi, it will be comfortable and cheap. For solo travellers one can easily take a City bus from Bagdogra Airport to Siliguri, from where you can get some sharing cabs available which will cost you around 200-300 INR. It takes around 4-5 hours with a break to reach Gangtok.
We were four people and we took a taxi form Bagdogra and we reached around 6 in evening in Gangtok. We booked our hotel in advance near the Mall Road(preferred place for foodie and exploring). We explored few cafes in Mall road. Must try cafes: Bakers cafe.
MG Road, Gangtok.
MG Road is the heart of Gangtok and its most happening place. It is the central shopping hub of this beautiful state capital with various shops, restaurants, and hotels lined up along both sides. It's an open mall or boulevard square. The area is widely regarded to be the town centre and is the best shopping destination for tourists. This is a great place for the tourists to take a leisurely stroll or just sit on the benches and revel in the eclectic ambience.
The first thing one notices when on this approximately 1 km stretch of road is the cleanliness. There are boards everywhere which say "Welcome to M.G. Marg, Spit, and Litter Free Zone". The entire area is free of smoke, litter, and vehicular traffic.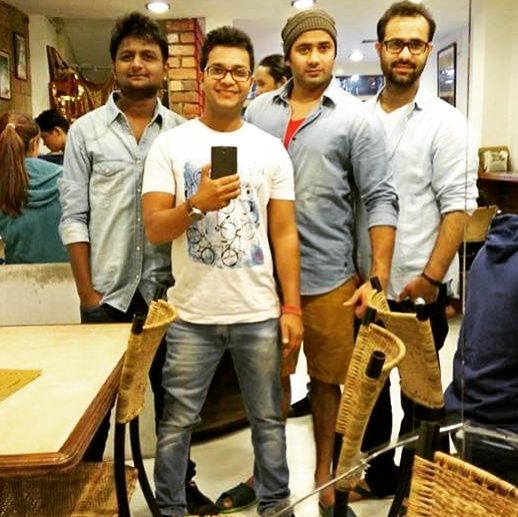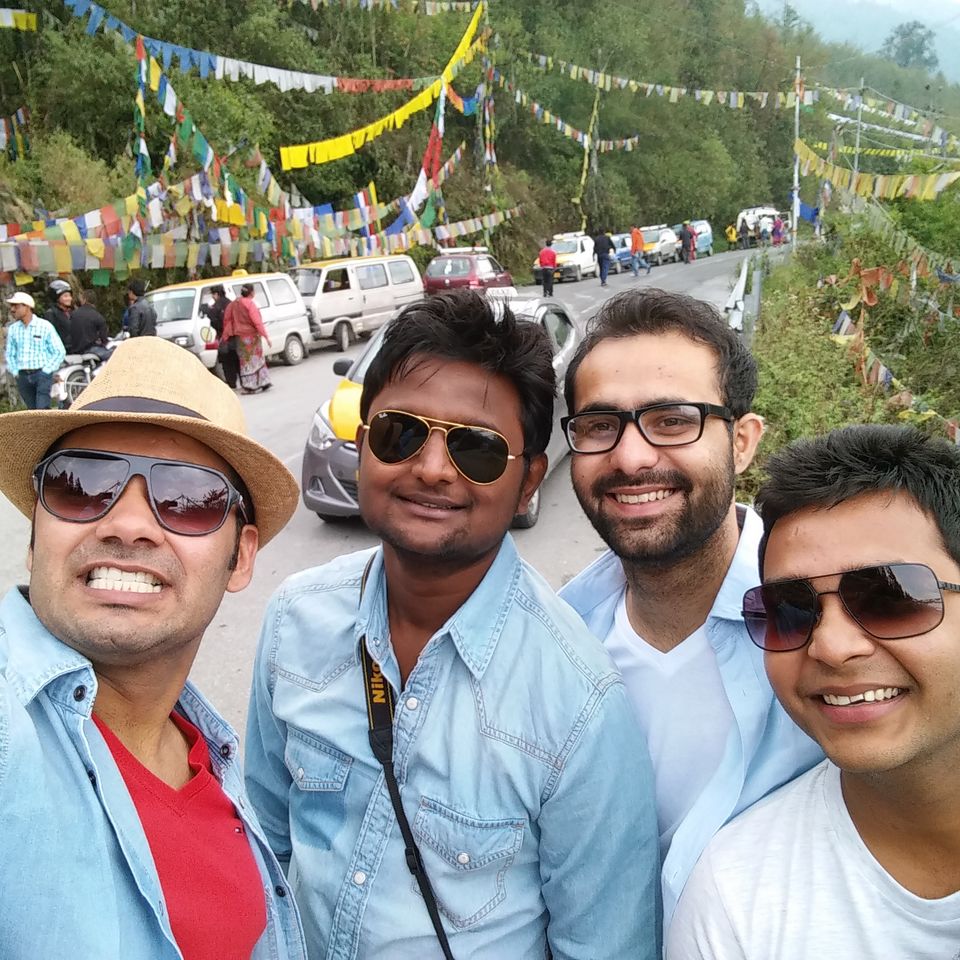 On Day2 We decided to explore the Gangtok city, we hired a taxi for the full day and asked the driver for a city guide.
The list of places to visit in Gangtok have options as diverse as ancient Buddhist monasteries, zoological parks, chortens (gompas), bustling markets of MG Marg, Ridge Park / Ropeway.
Take the ropeway (cable car) for a bird's eye view of the city. The ropeway line runs from Tashiling Secratariat near Ridge Park down to Deorali and vice versa, but as of April 2017 the top station is closed and the ropeway currently only runs between the middle station at Bidhan Sabha and Deorali. Fare is 110 rps round-trip.
After a long research, we settled for cafe Live and Loud to spend our evening. If you are a music lover and are really particular about the quality of sound, this is a must visit. They invite the best bands in town and is a feast for your ears. Other than the music scene the food is good and drinks are moderately priced. If you ever visit Gangtok please don't miss it.
Day 3: Departure for Lachung
To visit Lachung you need to get some permits. We got these permits from our hotel only. We booked our package for lachung from our hotel staff which includes the stay at Lachung(1 night) and meals(lunch, dinner and breakfast).
A hill station town with an elevation of about 9,600 feet, Lachung offers some astonishing views of the snow-clad Himalayas with Lachung and Lachen rivers in its vicinity. Located approximately 125 kms from Gangtok, it is the first night halt for the tourist as it already becomes dark until you arrive here. Most of Lachung's inhabitants are of Lepcha, Tibetan descent and the language spoken here is Nepali, Lepcha, and Bhutia. You can easily explore the town by foot, as it is a minuscule village filled with amazing people and serene surroundings.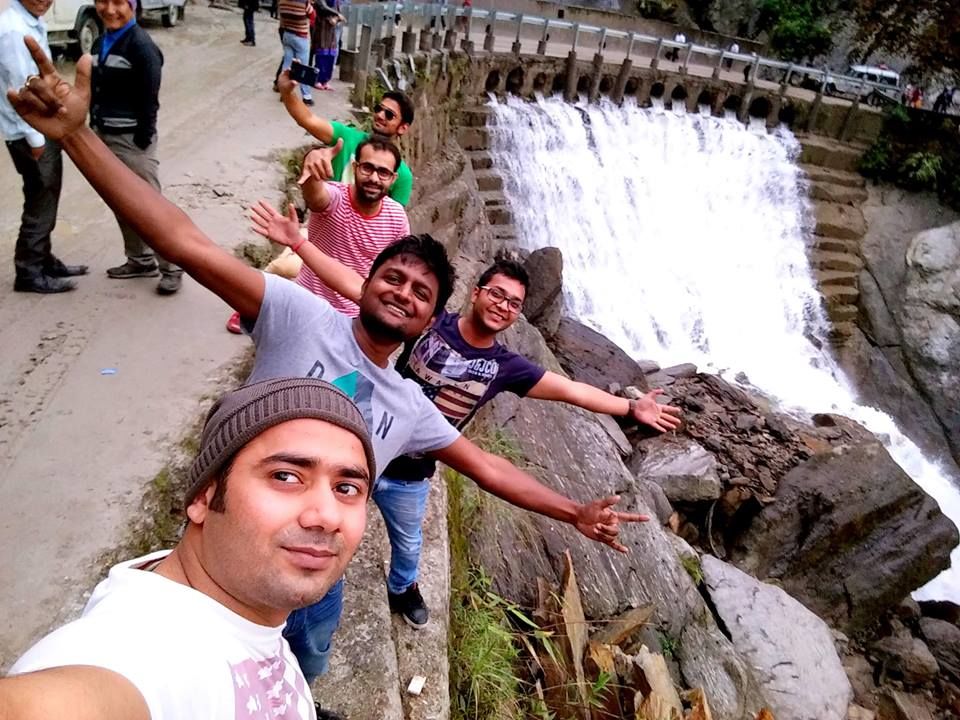 Day4 : Zero point and Yumthang Valley
Zero Point , Also known as Yumesamdong, Zero point Sikkim stands at an altitude of 15,300 feet above mean sea level (23 km's from Yumthang Valley) and is the last outpost of civilization. The road ends here!!! The drive from Yumthang Valley to Zero Point is through the curving mountainous amidst the rugged piece of land of geographic region and could be a lifetime experience.
Zero Point Sikkim is the place where three rivers meet with snow-clad mountains in the vicinity offering some thrilling views. There is hardly any vegetation in Zero Point as it remains snow covered for the most of the year but still, you can see yaks grazing in the snow in search of vegetation. Due to the high altitude of Zero Point, oxygen in the air is low and there can be breathing problems for few.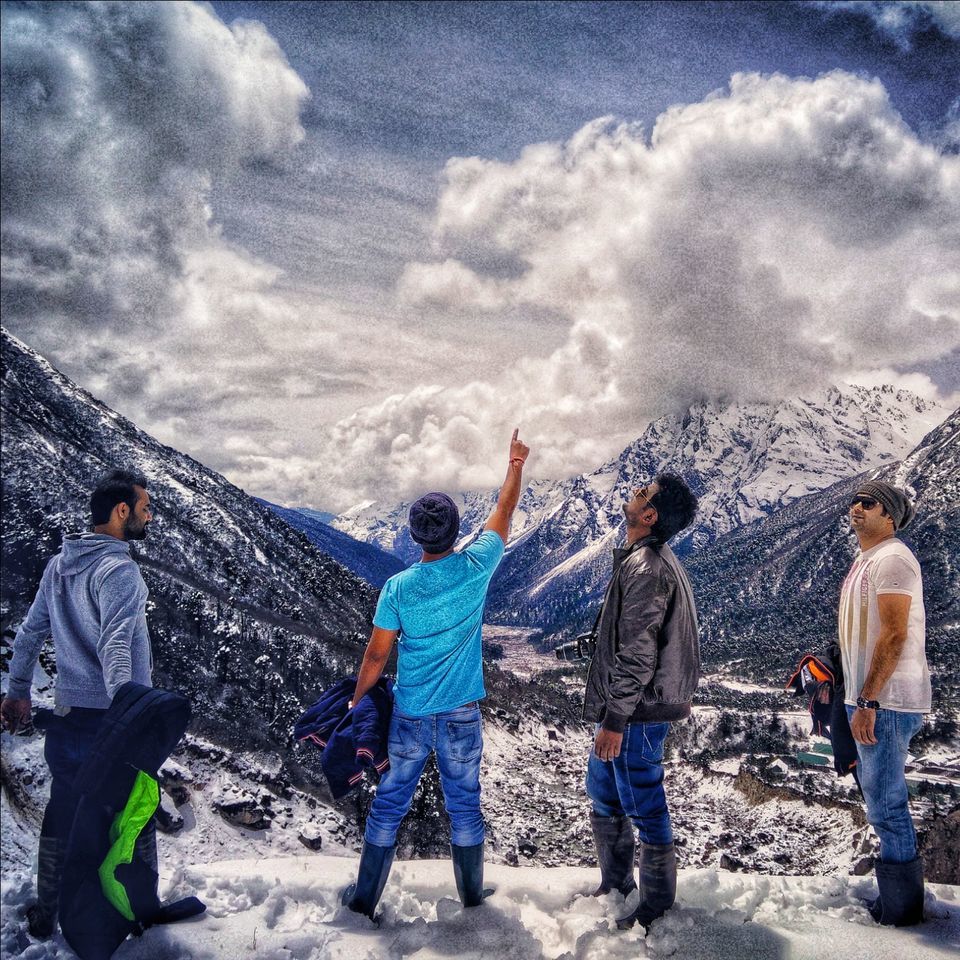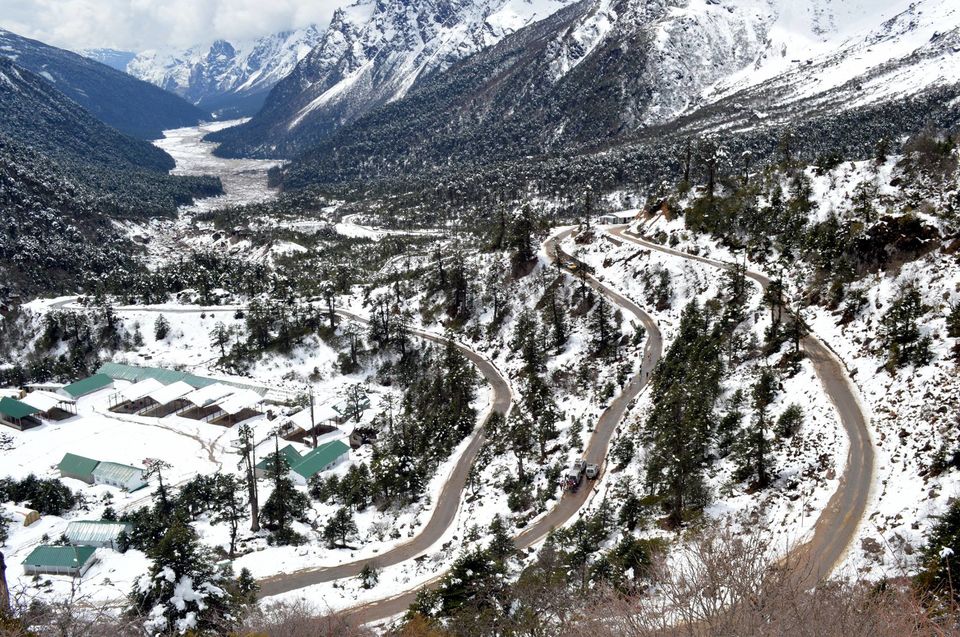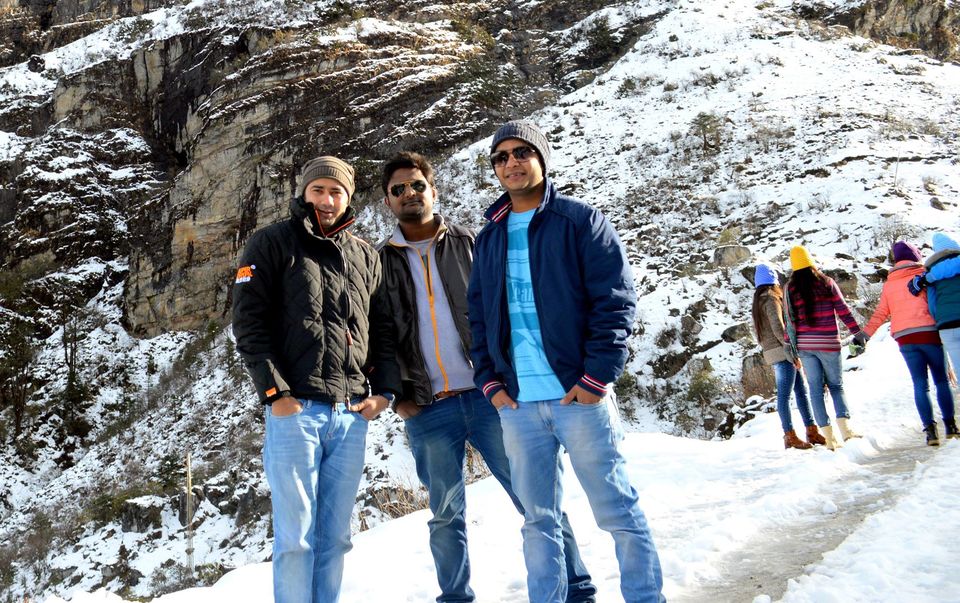 Day5: Nathula pass
An important pass on the crossroads of the Indo-China border, Nathula Pass forms a part of an offshoot of the Old Silk Road. Things haven't changed much and the pass still indulges passing tourists in pretty much the same way as it once catered to traders and merchants. Take a trip to Nathula Pass to escape the monotonous squalor of the big city life.
Only Indian nationals with a valid permit can visit the Nathula Pass. How to get Nathula Pass permit? A permit can be obtained by applying to the Tourism and Civil Aviation Department. You can apply through a registered travel agency. A photo ID proof and two passport size photographs are required for the same. The Nathula Pass permit cost is INR 200/- per person. We got our permits from the hotel staff , who also arranged the taxi for us. While visiting Nathula you can also go to famous Tsogmo lake and Baba Mandir.
We got lucky and when we reached Nathula pass, snow fall started which just made our day.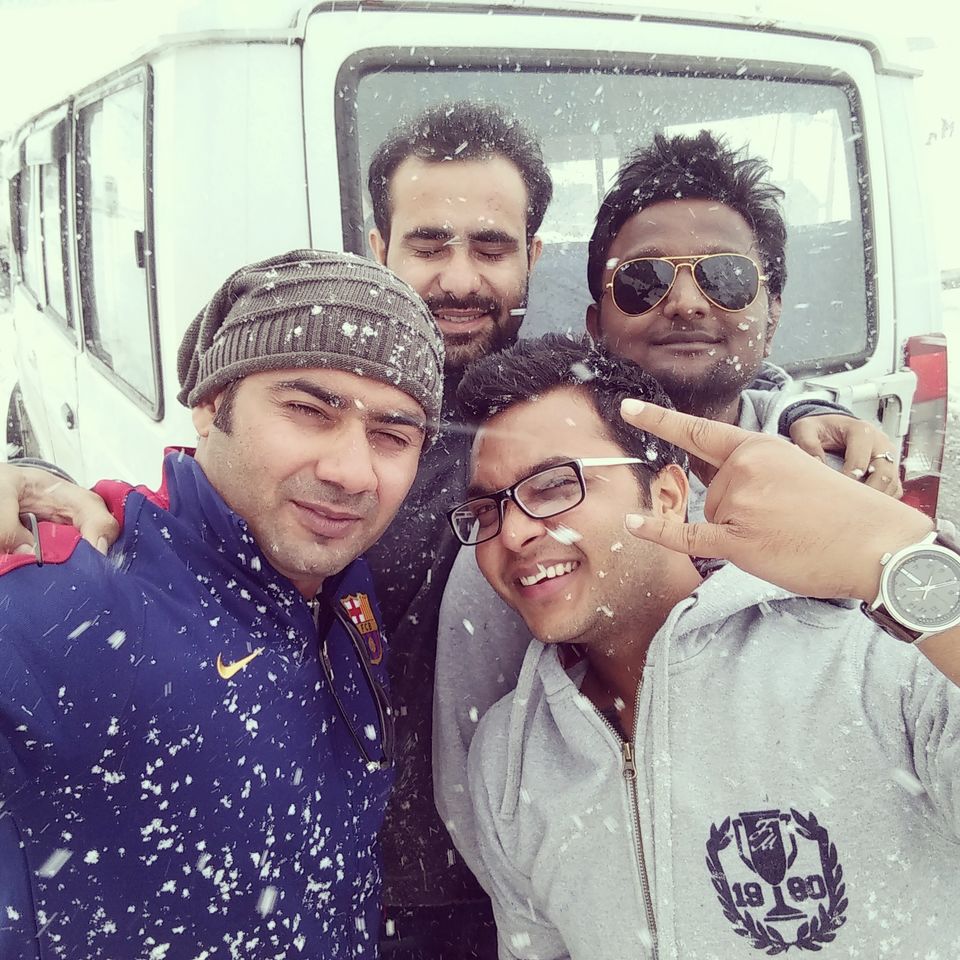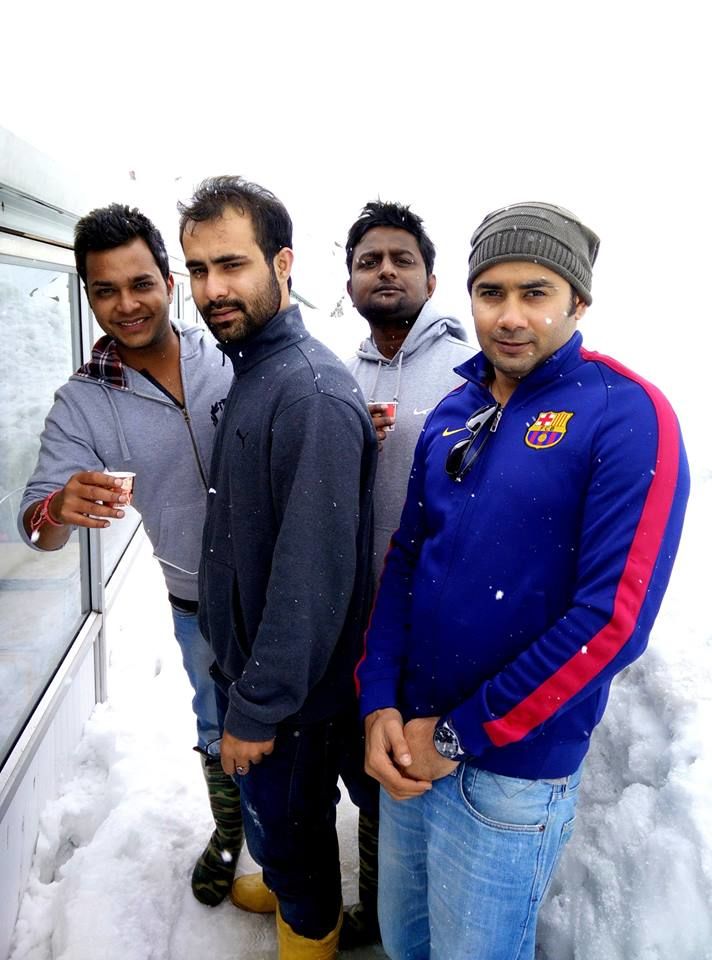 Finally, It was time to say goodbye. We took a taxi and head back to Bagdogra to catch our flight.
Frequent Searches Leading To This Page:-
delhi to sikkim travel guide, sikkim travel guide , how to reach sikkim from delhi ,  best sikkim itinerary, best itinerary for sikkim and darjeeling
We reached Lachung at around 8 PM. It was freezing cold there. We had out dinner and walked around our home stay, there was a river flowing near our stay. We saw few local people with some fire nearby and we had a great conversation about the place and its history. The silence there was so peaceful. One could hear the sounds of the water and it was a clear sky with stars. Next day we need to woke up at 4 as we need to visit zero point and the Yumthang valley.
YumThang Valley , Popularly known as "Valley of Flowers," some towering Himalayan peaks surround Yumthang Valley standing at an elevation of 3564 meters. It takes 2 hours to reach Yumthang Valley, which is at a distance of 24 km from Lachung. With over 24 species of Rhododendron, it is home to Shingba Rhododendron Sanctuary. The valley has a thermal spring, although the water can get quite dirty. A direct journey from Gangtok until Yumthang is not feasible as it becomes dark very early around 5:00 pm and roads are very foggy with almost zero visibility. Also, there is no staying option in Yumthang.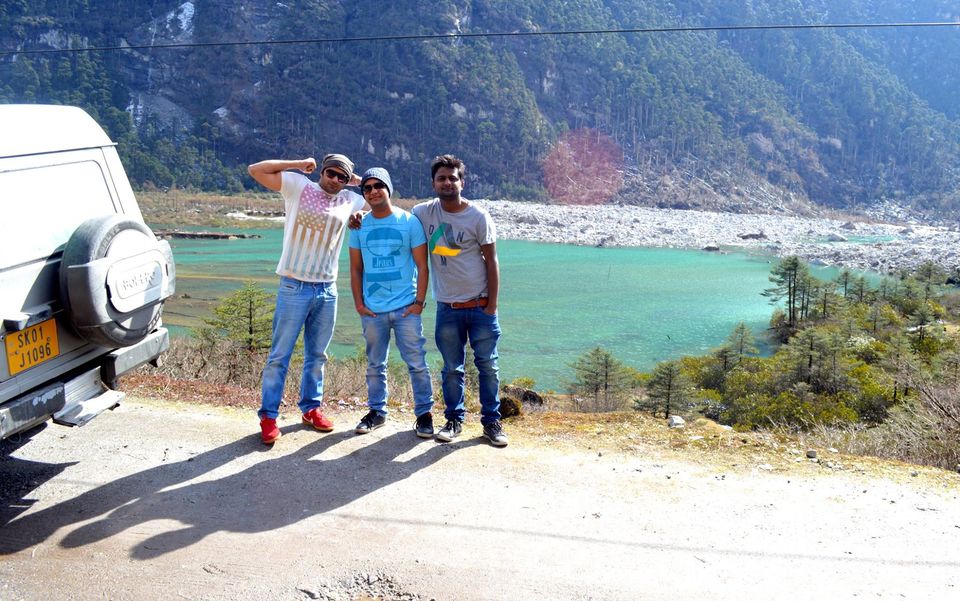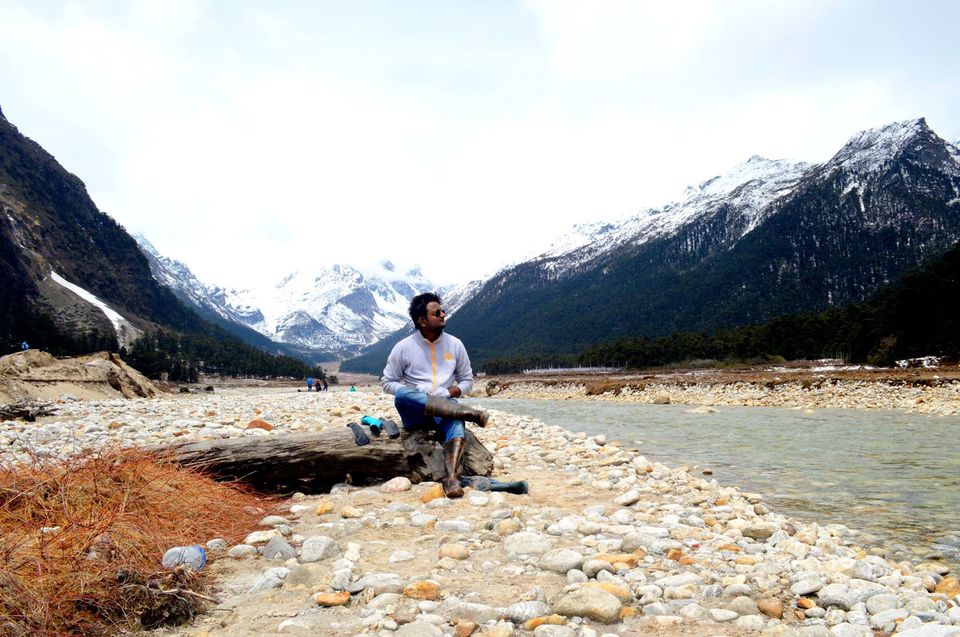 At around 12 we depart from the valley towards Gangtok. We reached Gangtok around 8. We spent our night at Cafe Live and Loud.
Baba Mandir:
New Baba Mandir is a very popular temple along the coasts of the glorious lake and is dedicated to the late and well renowned Baba Harbhajan Singh, a loyal soldier of the Indian Army. It is believed that the water kept in this shrine develops medicinal properties and can cure any longstanding diseases and ailments.
There is also a small Shiva temple that has been constructed along the banks. About ten kms from the Tsongmo lake lies the famous Kyongnosia Alpine Sanctuary. This sanctuary is home to many exotic animals like the endangered Red Panda, the Himalayan Black Bear and incredibly beautiful birds like the Blood Pheasants.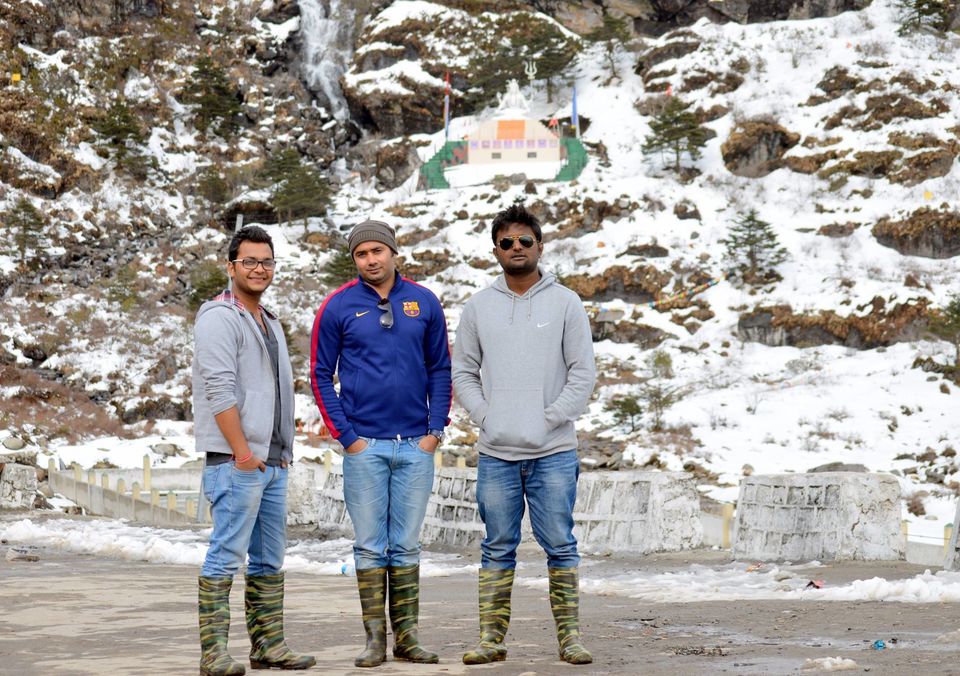 Tsomgo Lake(Changu Lake) : Perched between the mountains at a dizzying height of 12400 ft above sea level, the Tsomgo Lake is one of the few high-altitude lakes in India situated on the Gangtok-Nathula highway. This lake is a part of every tourist's itinerary and for a good reason- its overwhelming scenic beauty. Enveloped by steep snow-capped mountains and resting between a bright green carpet of alpine forests, the charming beauty of Tsongmo Lake is bound to leave you in awe. The lake's mesmerising scenic allure combined with its legendary significance to the locals definitely makes it a must visit attraction of Sikkim.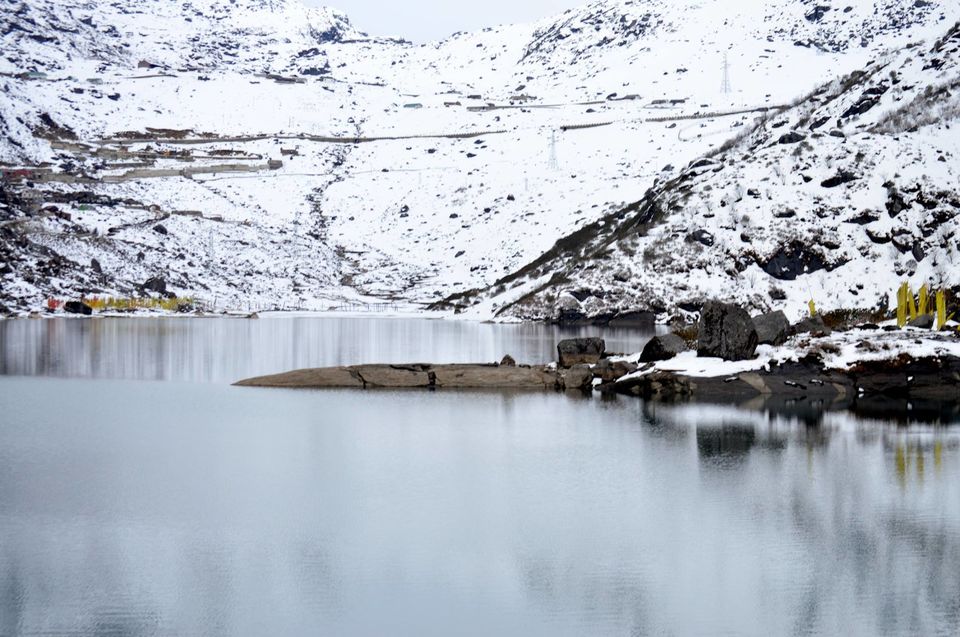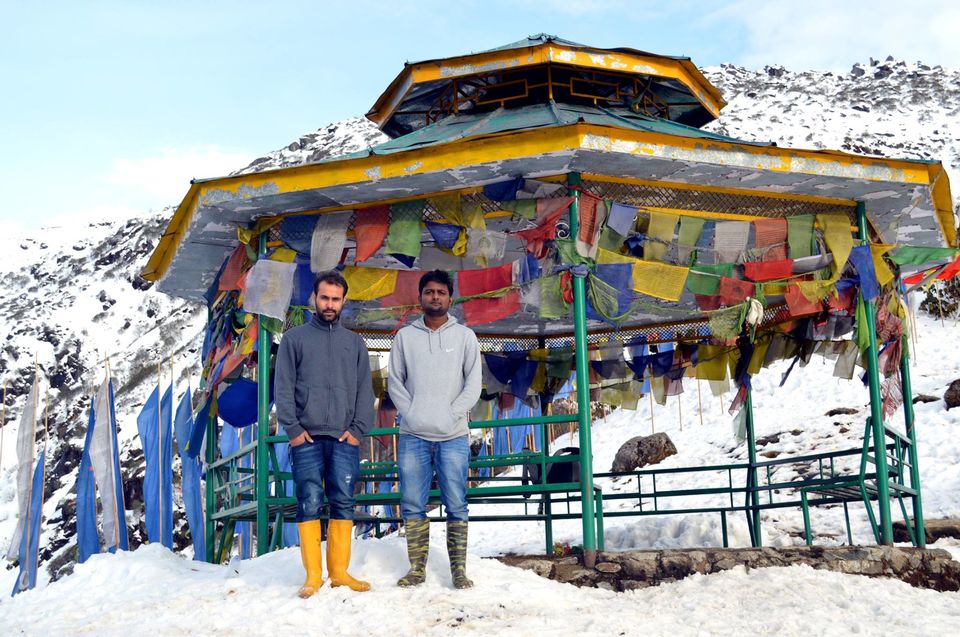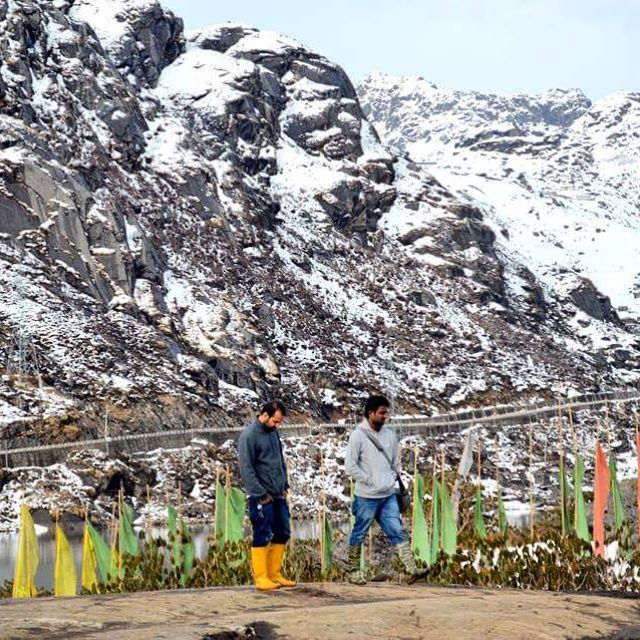 Finally after having a good time we head back to Gangtok, where we had our dinner at Mall road.