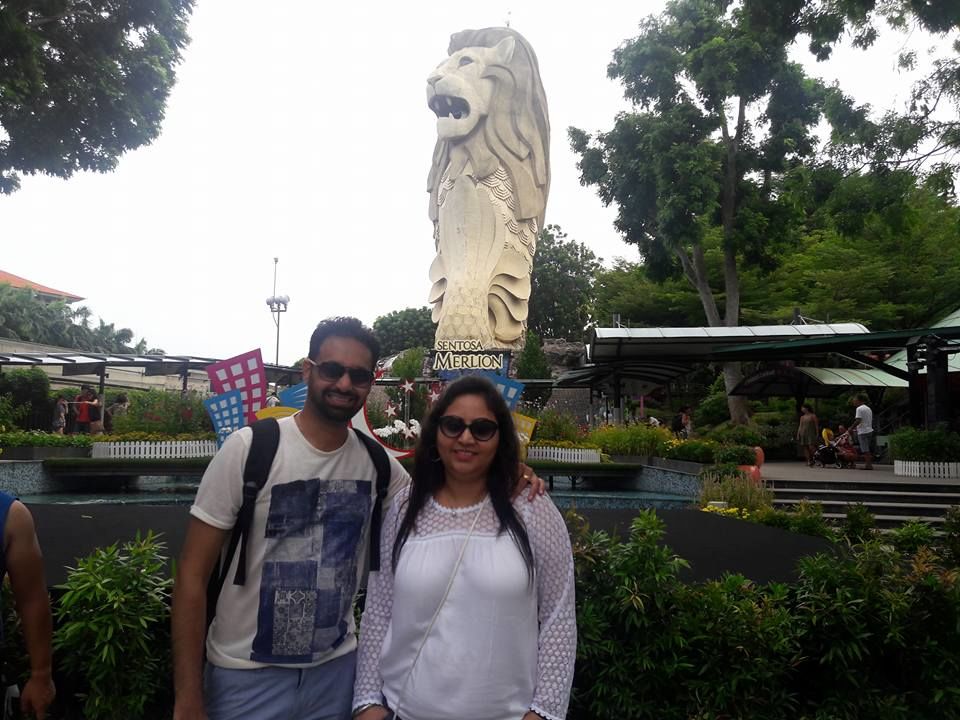 A fascinating blend of modern futuristic truly cosmopolitan amalgamation of cultures from Asia, Singapore is small yet full of surprises. A blend of Chinese, Tamil - Indian and expat population it is a shoppers paradise with street shopping to high end brands available at every corner. The "Mall Culture" seems to have originated from here - for every junction, MRT station opens up in a shopping complex. Singapore offers a wide variety of Asian food from Chinese, Hianesse, Vietnamese, Indonesia, Korean, Japanese, Indian, Arabic cuisines available everywhere to experiment with.
Singapore is a "man-made" tourist destination - Skyscrapers, shopping, dining, amusement parks, gardens, night life make up the key attractions. What you do not get is the beautiful Andaman beaches, tucked in islands or natural landscapes.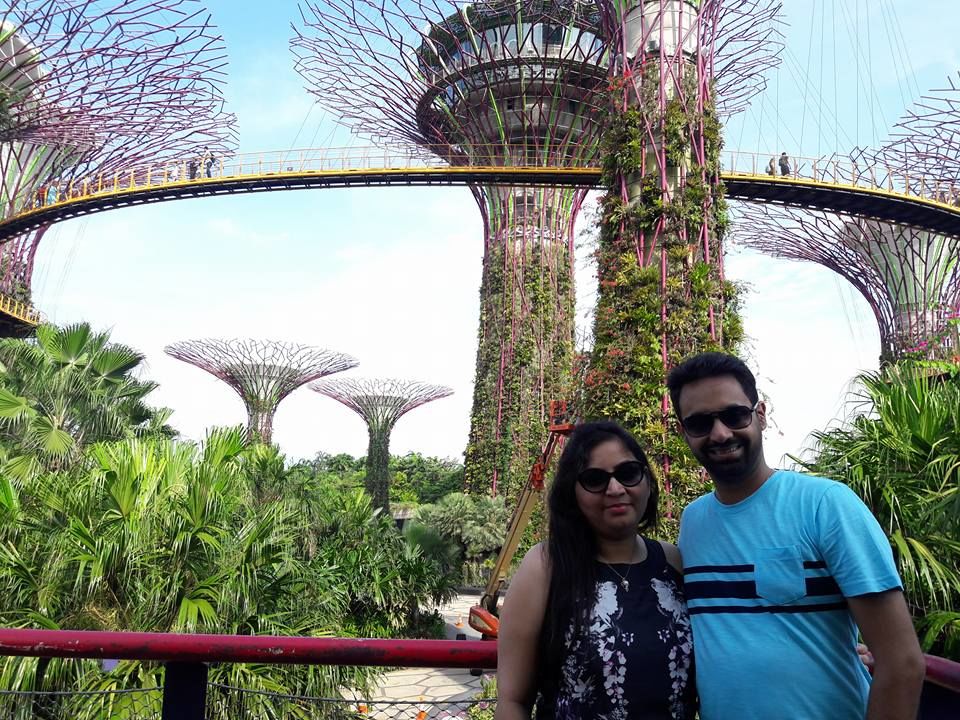 Singapore is small or more like tiny for a country. We had booked a nice condo in city centre on Orchard Road. Very accessible to MRT, buses, it made travel in the city and attractions very convenient. You have the choice of a 1, 2 or 3 Day Pass with unlimited travel. In the evening, we visited the Gardens by the Bay - a beautiful tropical landscape of trees, flowers and flora across Asia. We then moved across the street to Marina Sands hotel and shopping complex. One of the best places to experience Singapore, is a long leisurely walk on the promenade outside the Marina Bay. Sit and see the joggers zip through, the skyline gradually lit up and feel the vibe of the city. We ended the day with a rather average laser show at the bay.
For kids, Singapore offers a range of amusement parks: Sentosa, Universal Studio and Jurong Park. We had opted for the first one only. You can catch the Sentosa Express (8$ return ticket) or the Sentosa Cable Car ($33) to reach the island. You can choose from a 3,5 or 20 attraction pass at Sentosa to spend your day. We visited the SEA aquarium which hosts a beautiful collection of fishes and marine life. One of our most memorable and fun part was the Trick Eye Museum - a lifetime of memorable photographs and definitely a must try!, Spend some time at Sentosa Casino trying your luck at variety of games. The Sentosa "beaches" are extremely disappointing with oily waters and artificial sands. You can end the day with the laser show near the beach.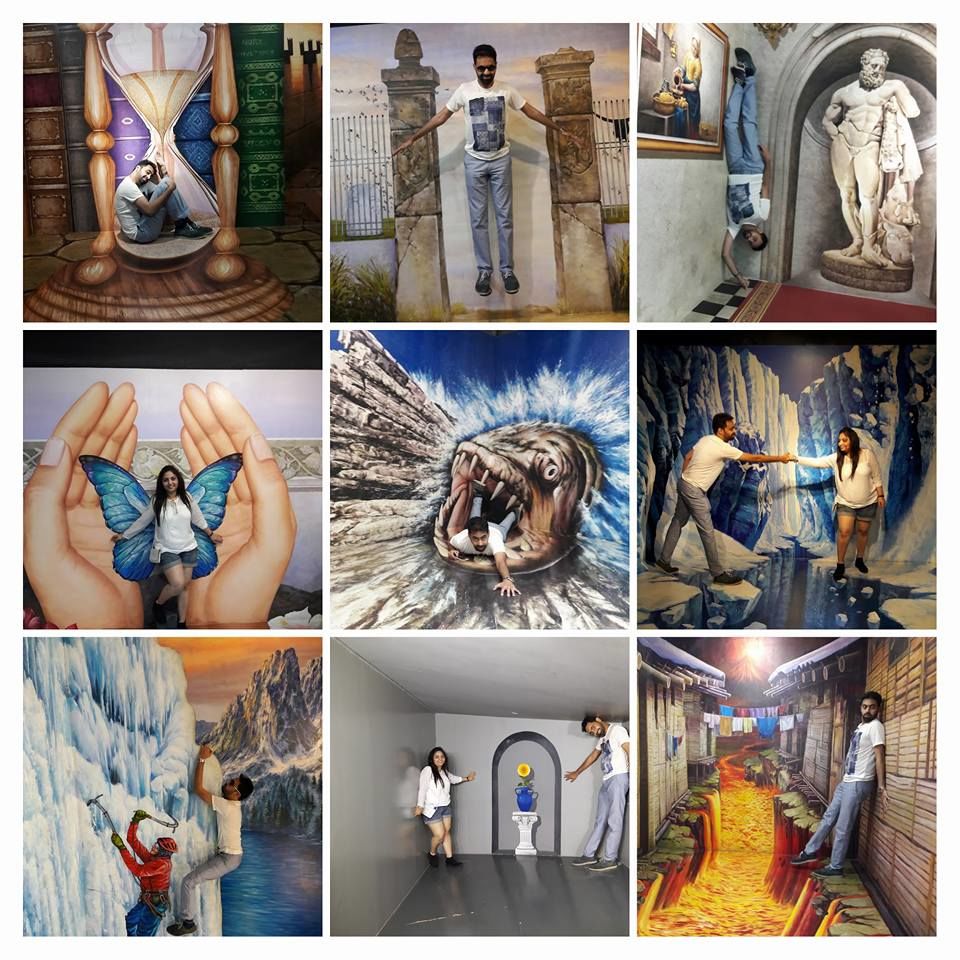 Another option is to stay one night in the Hard Rock Café and cover both Sentosa and Universal in two days.
Day 3: Little India & Clare Quay
Little India - region for the local Indian Tamil community, it feels you are actually meandering the streets of Chennai. Try having the breakfast at Tekka Centre just beside the MRT -a wide variety of multi-cultural dining options at rock bottom prices! Check out the atypical Mustaffa Market mall if you wish to pick up cosmetics and electronics.
Being a Saturday night, we headed to party and enjoy the Singapore nightlife at Clark Quay. With 50+ pubs, bars and restaurants, the best way to enjoy is hop around at random places. Cabs are easily available late at night to take you home even if you are inebriated.
Day 4: Orchard Road & China Town
We planned to laze around in the city (i.e. Malls) during the day as it was hot and humid. Hopping from one complex to another on Orchard Road, we managed to get some steal deals on electronics and fashion. Late evening we went to another cultural heritage locale - China Town. A bustling Chinese area with street shopping, souvenirs and mouth watering street food, this was a good way to end our tour.
We departed back to Mumbai next day early morning making a last minute shopping stop at the Singapore Duty Free for some good deals on alcohol and chocolates.
This blog was originally published on 'The Desi Travels'