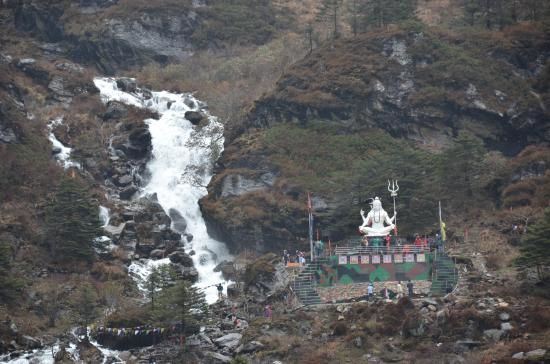 A visit to Gangtok, the capital of Sikkim, was on my wish list past many years that culminated in the month goneby. My nearest flying point (Bengaluru) had odd flight schedules to Bagdogra, the closest airbase to reach Gangtok. I mean I wished for an early morning flight so as to land at Sikkim before noon (including the 4.5 hour road journey from the airport) and see if I could visit some places same evening. But plane departures were untimely, unlike to other metros like Kolkata, Delhi, Mumbai etc where frequency is more suiting our schedules. Anyway, caught a Spicejet aircraft on a sunny afternoon (12.10 PM) and landed at Bagdogra 3 hours later. Got into a cab and started of. The vehicle passed through Mahananda sanctuary and Karni, a non descript village adjoining Kalimpong, a Himalayan hill station. The journey was pleasant with lush greenery all round. Cool breeze passing over it enthused us no end. It is such journeys in the nature's lap that I always longed for. By seven, we entered Rangpo the border village that separates West Bengal from Sikkim. Teesta river with full of water, made a beeline along the road throughout, till we reached Sikkim, We felt as if it chased us all through. The winding roads with steep curves enthralled us. As it was dark by then, we could see electric bulbs in every village resembling the shiny stars over the sky from a distance, at higher altitudes. Anyway, whole day is gone journeying, but really worth it.
As per itinerary, next morning we were to visit Nathu La Pass – optional it was, as the place is full of snow. Also, due to the altitude (14000 odd ft – almost double the elevation of Ooty), one may encounter breathing problem. We were warned about it before starting the journey. On the contrary, my friends strongly advised positively and told me not to miss the opportunity, I decided to go ahead, come what may. Nathu La Pass borders the two countries - India and China. Being a military area, one needs to take a permit to enter the area by submitting an application affixing our photographs and Adhar card copies, of course for a fee. Once paid, fee is non-refundable for any personal reasons except for landslides (which are common here) OR on any unscheduled visit of military officials / dignitaries, when entry to public is banned. It was also said that visitors' entry is limited, rather restricted to certain numbers each day, to curb crowding and avoid any eventualities. Luckily, we got the permit and started off. Entire stretch had beautiful landscapes. We could see innumerable mini-waterfalls at almost every kilometer. Once the road journey ends, all vehicles are parked almost a kilometer before, and one has to walk the distance uptill the topmost point, as the terrain is rugged and vehicles can't move over. Getting off the vehicle, I was really stunned looking at the snow all around. It made me feel as if I am in Kailash, the abode of Lord Shiva which we would have seen only in films and few photographs, never in reality. I could seldom imagine that such a scenery ever exists on earth. But it does. I could walk upto the hill top where soldiers of both the countries guard their respective borders. After sipping a steaming hot tea, walking the distance is a lifetime experience here. I took a slow skate on the ice for some distance and clicked few photographs, a memorable experience indeed. I greeted soldiers at both the borders and started the return sojourn. Way back, we stopped for a while at Baba Harbajan Singh Mandir, a memorial and temple dedicated to an Indian army soldier, who is worshipped as a Saint, and offered obeisance. One more beautiful spot there, is the white idol of Lord Eswar in the open, almost 100 mtrs away from this Mandir, surrounded by a waterfall that makes us feel as if Lord Shiv has come down to earth along with mother Ganga to bless us. But to reach the spot, we need to walk down bigger pits below, soaking our feet in the water that freely flows down the idol.
The next stop is the Tsongmo Lake (also known as Changu), a glacial waterbody. Sad thing is entire area stinks heavily with Yak animal droppings (dung) scattered all over, no cleaning. Better to skip this spot.
There is a cable car that takes visitors to a hill top, almost adjoining the lake. We get to see spectacular view of entire area from there, but if cloud surrounds, can't see anything. Fee is around Rd.400 per head. I think it is worth going, as moving up the sky (!) in a cable car is a different experience in itself.
Himalayan animal Yak could be seen aplenty in the area. If you wish, can have a ride and click few snaps. The animal almost resembles wild bison we normally see down South., They graze all around the area and can be spotted like what we see cows and goats back in our villages. The majestic animal with long hairs is giant in body structure and so built to withstand abnormal weather conditions.
Before reaching the hotel, can visit the Ganesh tok (means temple in Nepali) enroute, as if thanking God for the lovely visit sans any obstacles.
N.DEVARAJAN, MYSORE