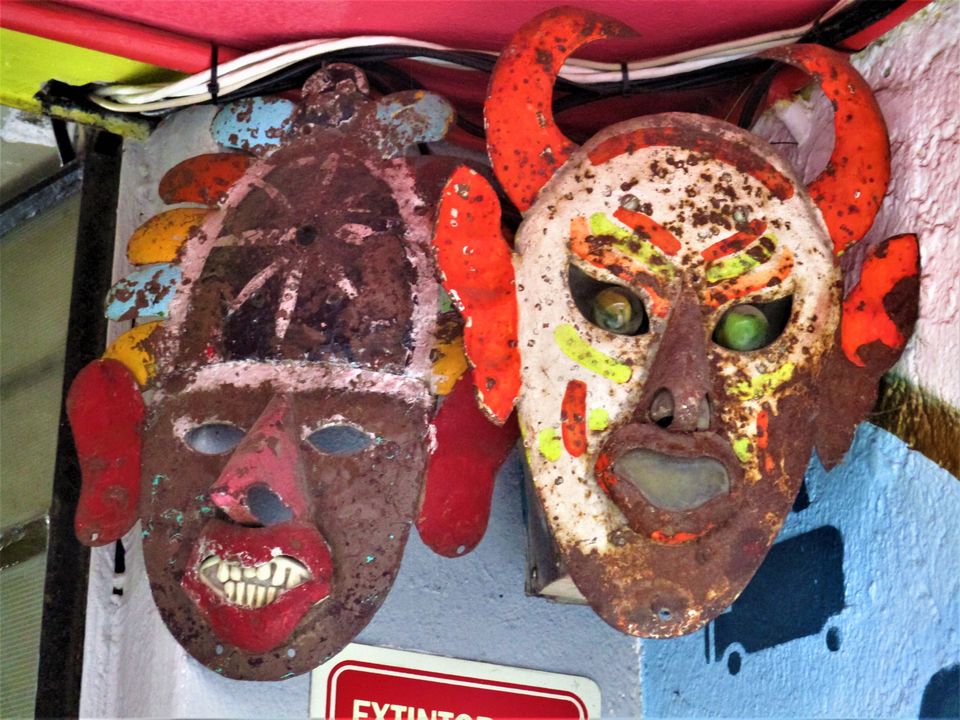 During our travels, there have been no shortage of weird and wonderful experiences. Indeed, whether a bizarre museum or a wacky art installation, the world is full of strange and enthralling diversions. Here are our top ten weird and wonderful travel experiences:
1. Mata Cave Temple - India
Mata Cave Temple is near Amritsar in India. It is a strange and bizarre place indeed. In fact, the temple is more like a fairground fun house than a place of worship. Making our way through the temple, we walked through pools of water and vibrantly decorated chambers. Additionally, there were gaudy shrines devoted to an array of gods and goddesses. We crawled through caves and climbed up and down winding stairways. And what were the pilgrims snapping pictures of? The strange western tourists who had come to take a look at the temple.
2. Las Pozas - A Wonderland in the Mexican Jungle
High in the mountains in a tropical rainforest, there is a surreal jungle wonderland. Situated near the village of Xilitla, Las Pozas is a weird and wonderful fantasy world. The project was, in fact, the concept of the eccentric English artist, Edward James. We wandered past strange indefinable structures, giant flowers and concrete cactus, not to mention huge serpents. Magical and otherworldly, mysterious paths led to who knows where. A pagoda was situated in front of a spectacular waterfall. Indeed, a stroll through the jungle was akin to being in a psychedelic dream.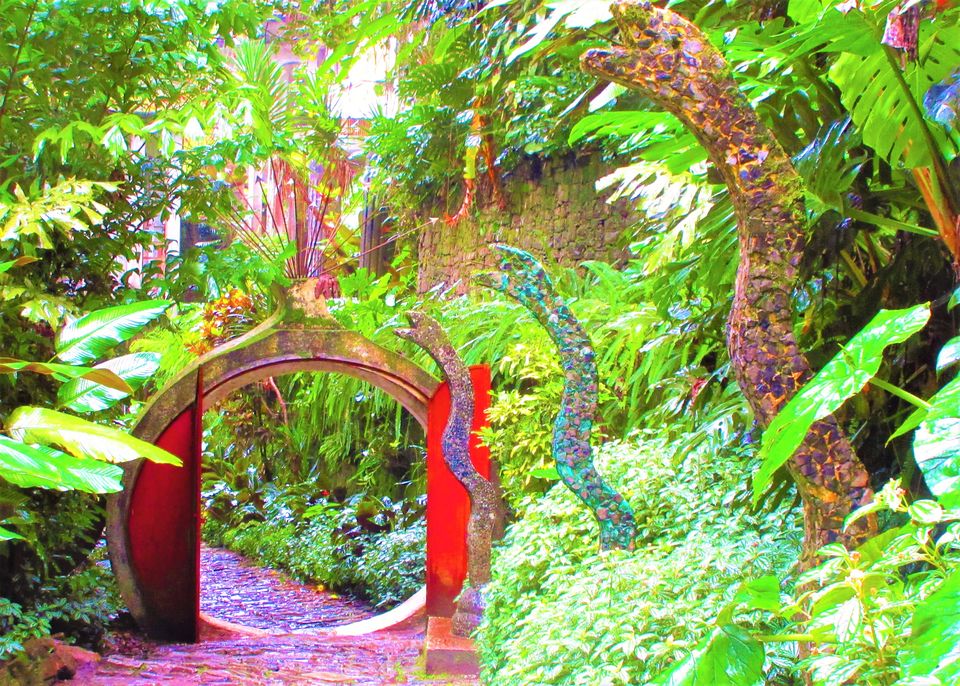 3. Cementerio Chauchilla, Nazca, Peru
When we were in Peru, we couldn't miss the mysterious Nazca Lines. These are the images of animals and plants etched into the desert. Furthermore, they can only be seen from the air. In addition to our flight, we hired a driver with a cool vintage American car to take us to Cementerio Chauchilla. In the midst of the desert, we witnessed grinning skeletons in open tombs in varying states of decay. Additionally, most of them had hair, carefully, but rather comically, placed on their skulls. In fact, the tombs had been opened by robbers who stole the treasures buried within, leaving the skeletons exposed. A surreal experience indeed.
4. Surprising and Surreal Pashupatinath, Nepal
In Pashupatinath, near Kathmandu in Nepal we wandered by the sacred Bagmati River. We walked amongst cows, pilgrims, ash covered sadhus and humans disguised as Hindu deities. We watched a funeral pyre being lit from the other side of the river. Meanwhile, the Monkey God Hanuman, in full regalia, crept up behind T. He spoke in a loud and throaty voice through a voice-changing microphone. She consequently jumped, startled by the imposing Monkey God behind her. Real monkeys ran and jumped around us. Indeed, Pashupatinath is a bizarre place.
5) The Museum of Legends and Traditions, Nicaragua
This museum in Leon, Nicaragua was used as a prison and interrogation centre between 1921 and 1979. It was then was transformed into a museum by a local woman who wanted to keep Nicaraguan legends and traditions alive. In fact, the museum is a strange combination. It tells the stories of the horrors which took place in the prison and also displays giant puppets representing mythical figures from Leon's history. Indeed, we never knew what freaky sight we would find in the next room. In all honesty, we found it downright creepy, but also strangely fascinating.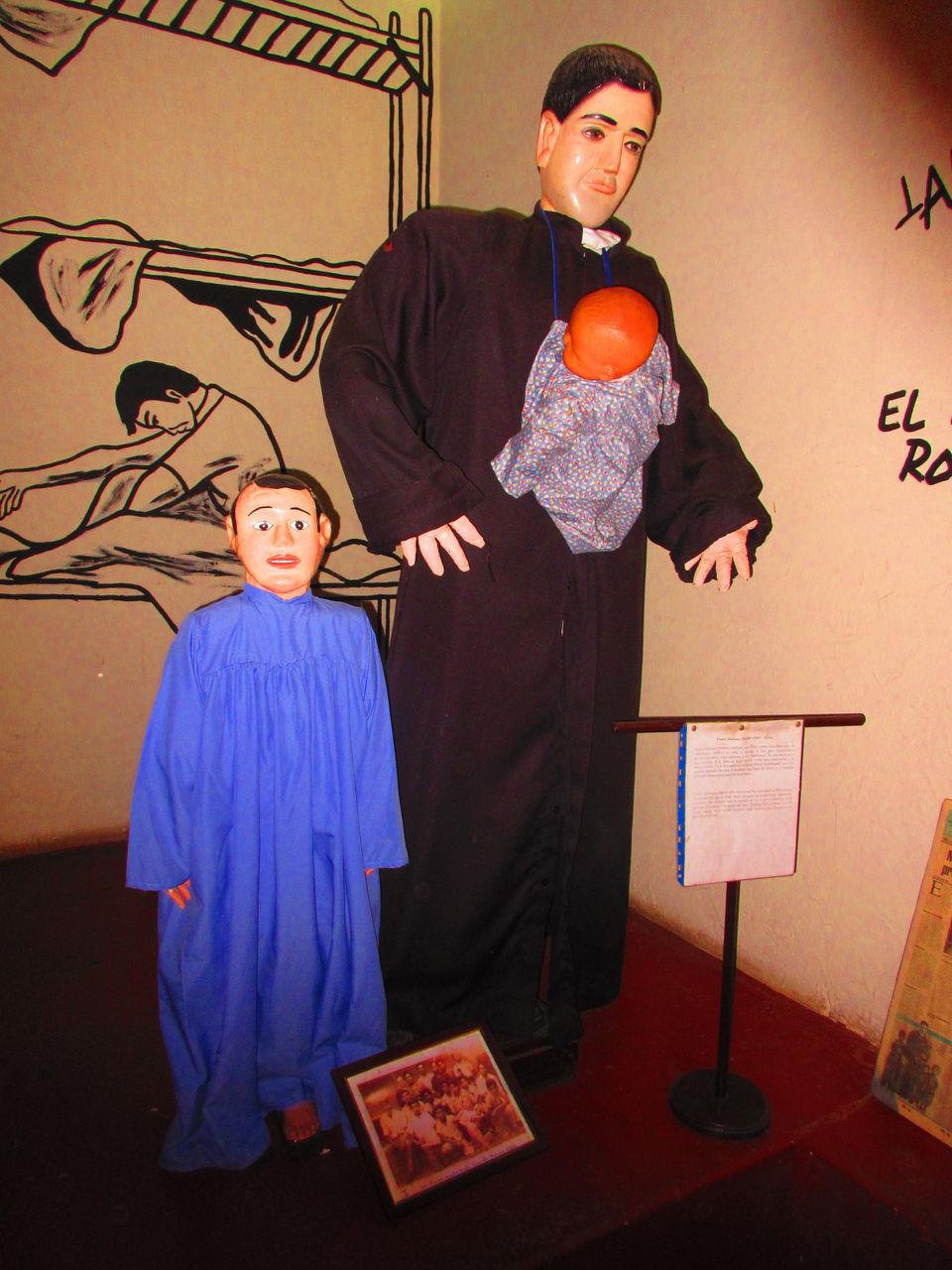 6) The Terracotta House of Colombia
The quirky Terracotta House, locally known as Flinstone House, is located just outside the town of Villa de Leyva in Colombia. It is, in fact, the largest work of pottery on the planet. What is more, it was built by hand and baked under the heat of the hot Colombian sun! It is, indeed, an amazing building made entirely of terracotta, and reminiscent of a giant hobbit house. Set in the countryside, it was enthralling to explore both inside and out. Additionally, there were also a number of wacky sculptures surrounding the house.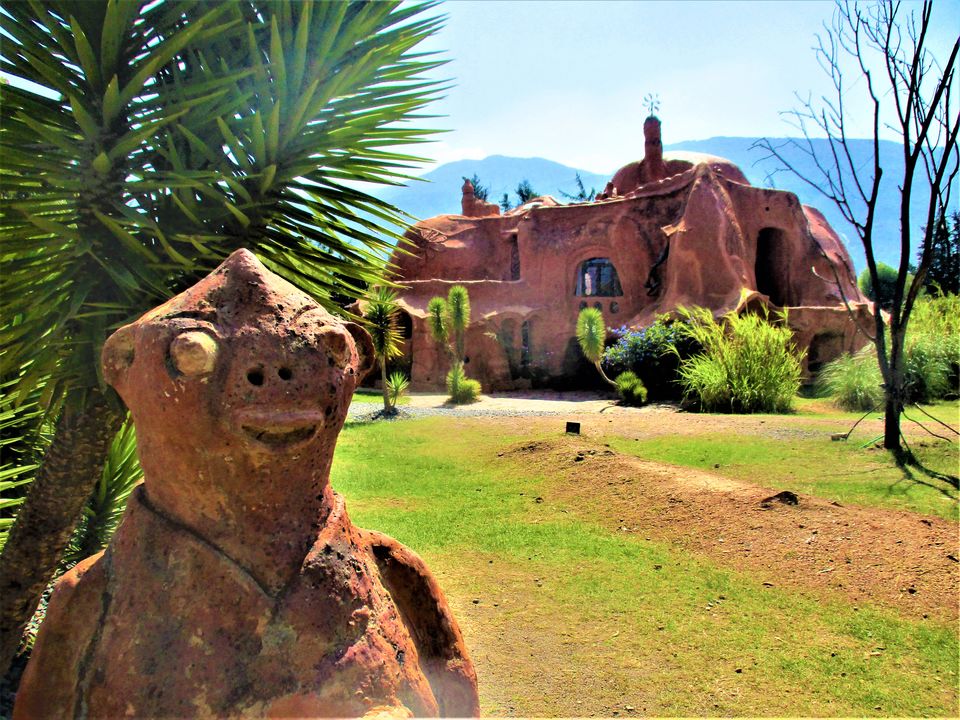 7) Fusterlandia - A Crazy Art Installation in Cuba
Fusterlandia is a Gaudi-inspired enclave situated in the neighbourhood of Jamanitas, a few miles outside Havana. It was the concept of Cuban artist, Jose Rodriguez Fuster, and has to be seen to be believed. It's a wonderland of recycled materials and mosaics. Not only is Fusterlandia itself impressive, but additionally street art and various installations have sprung up throughout the neighbourhood. We visited as part of a tour in a classic Buick and it was one of the highlights of our stay in Havana.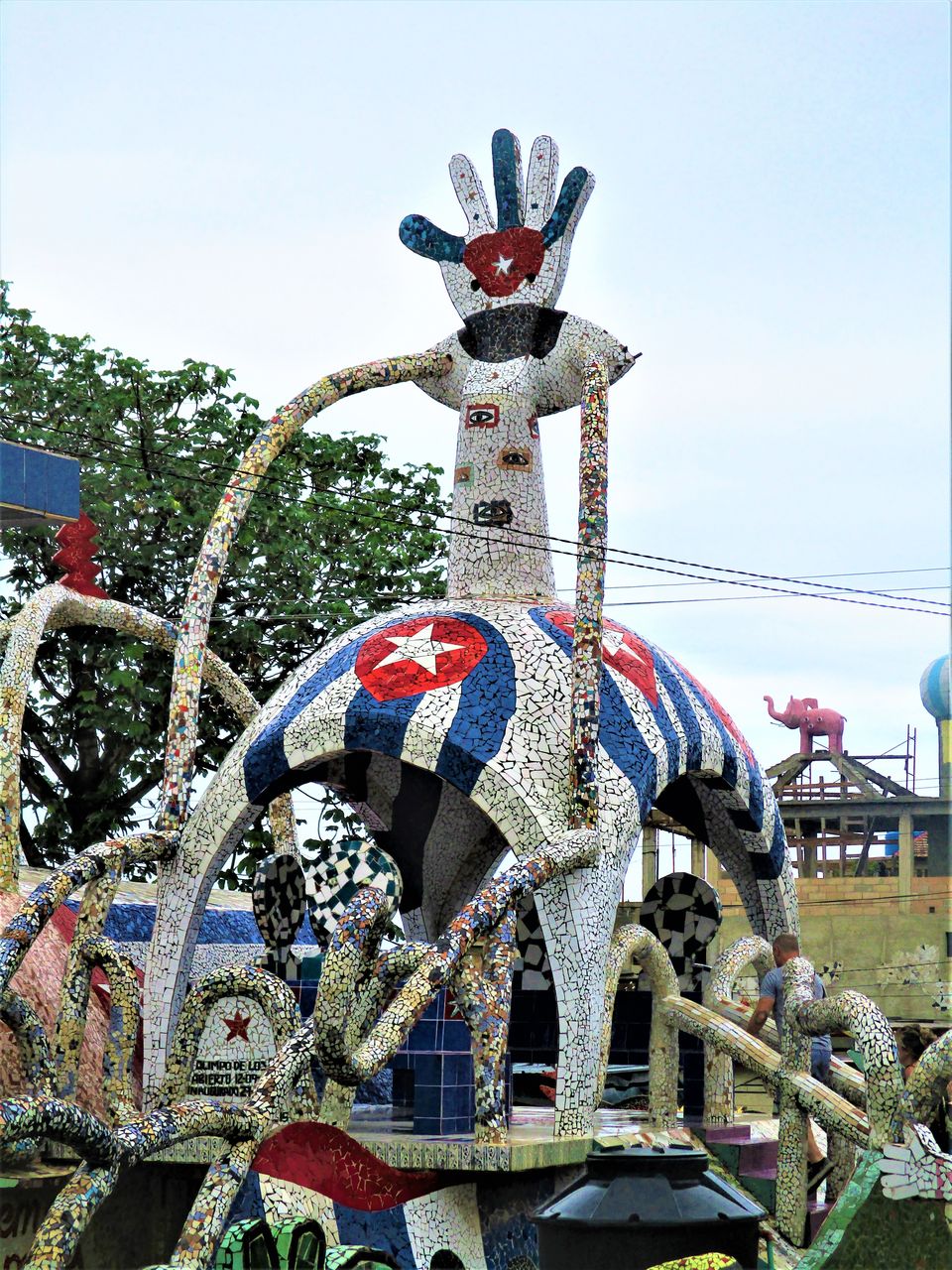 8) The Mummy Museum, Guanajuato, Mexico
From 1865 to 1958, relatives of the deceased in Guanajuato were required to pay a grave tax. If they couldn't pay, the body of the departed was dug up. Furthermore, the bodies had become mummified, due to the arid climate. The authorities accumulated enough mummies to open a museum. Many of the exhibits appear to have died in agonizing pain. There are several babies on display, not to mention a woman who had the misfortune to be buried alive. Indeed, it is a macabre museum and certainly not for the faint-hearted.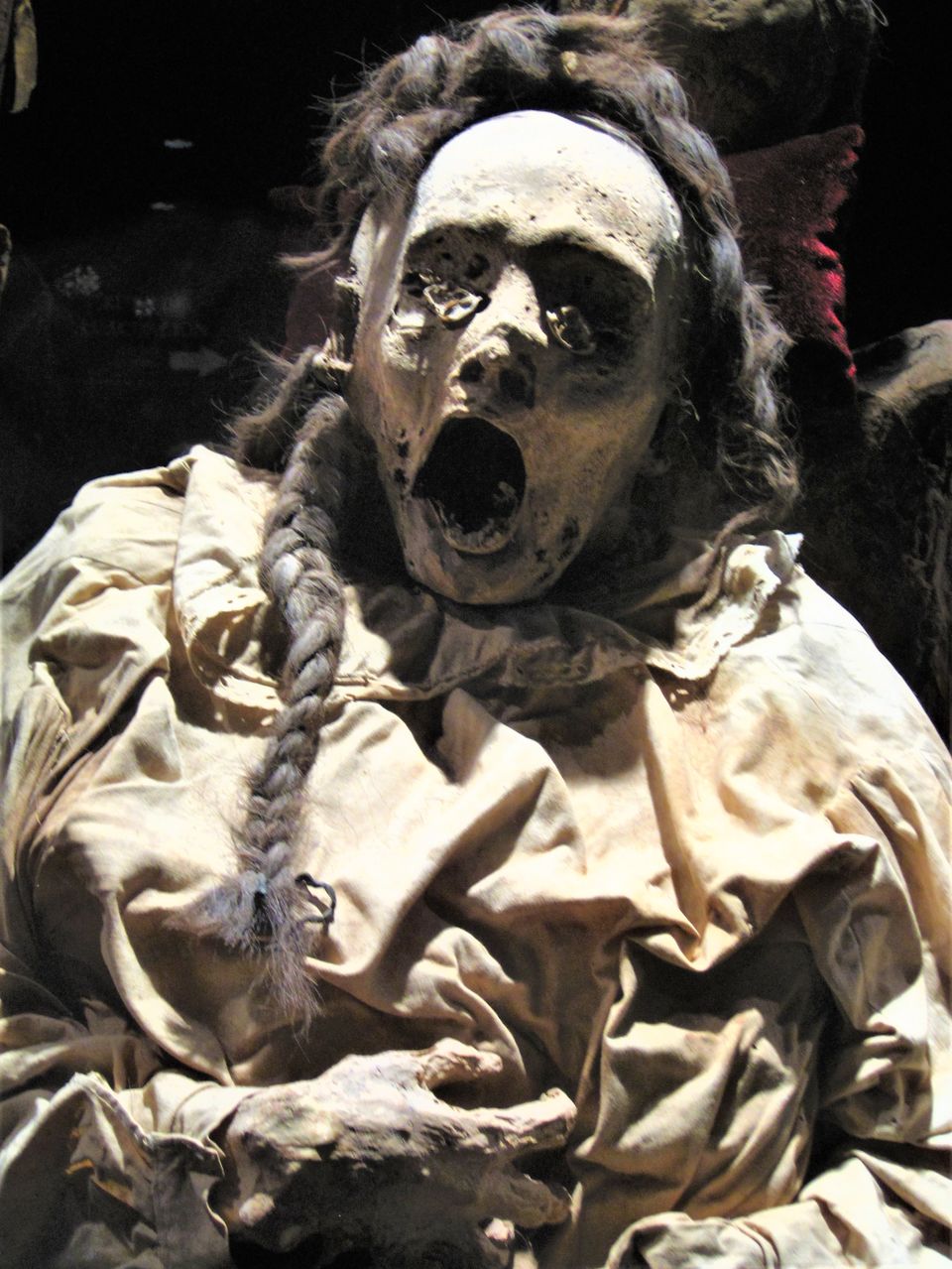 9) The Extraordinary Nek Chand Rock Gardens, India
Nek Chand was a self-taught artist. In the first place, he started to build sculptures from recycled material. These were found on demolition sights in the city of Chandigarh in India. In fact, he built illegally on government land. As a matter of fact, it wasn't until years later that his fantasy rock garden was discovered. Luckily, it was saved from destruction. The artist was even offered assistance in the shape of fifty workers who helped him to expand his magical kingdom. Indeed, The Nek Chand Rock Garden is an extraordinary place to visit. We were mesmerised by over 2000 statues, together with waterfalls and and mosaic courtyards.
10) The Bizarre Toy Museum, Mexico
Located in a slightly sketchy area of Mexico City, there is a bizarre museum. The weird and wonderful Museo del Juguetes Antiguos was created by Yukio Shimizu, who started collecting toys many decades ago. As a result, he is now the owner of the largest collection in the world. Set in a multi-storey warehouse, the museum is, in fact, a crazy combination of odd, creepy and nostalgic. Indeed, everything from Barbie Dolls to Lucha Libre wrestlers are crammed into the nooks and crannies of the huge building. Additionally, on the rooftop there is a huge display of street art. It's captivating, as well as being a little overwhelming and totally unique. We loved it.