On 18th Dec 21 at 11.00 AM we started from Dehradun for Chandigarh. Distance approximately 200 km. On the way we found a burger vehicle at the roadside. We ate burgers and french fries after so many days then after some time had tea and reached Chandigarh by 5 PM. Due to sectors, we faced some difficulty in finding stays as per our budget. Finally we searched a hotel in Panchkula and checked in. For dinner we went to hotel Chandigarh Dhaba which was unlimited buffet @Rs.99/- which includes roti, rice, dal, rajma, Manchurian gravy, noodles, raita etc. Overall dinner was good.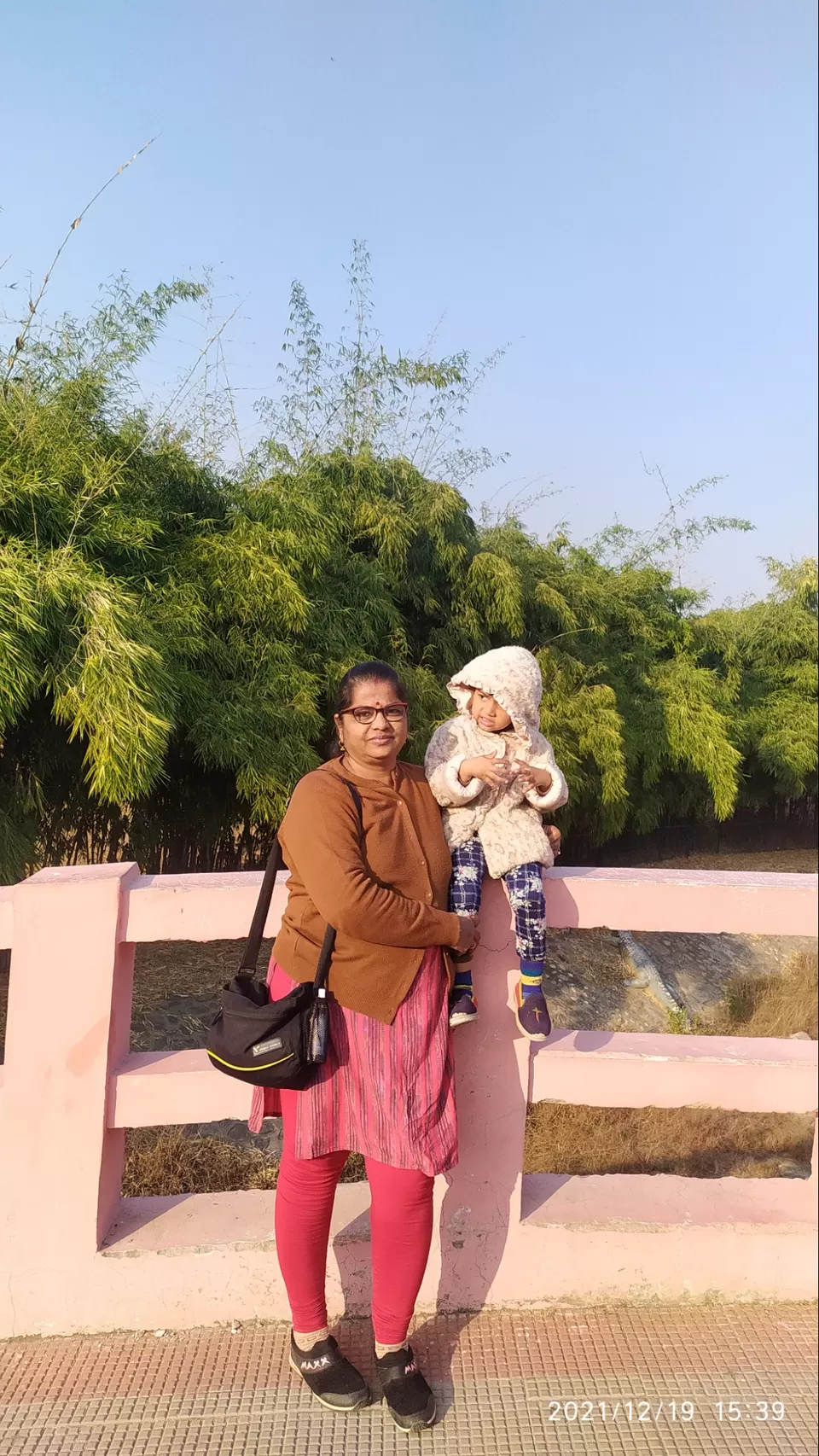 On 19th Dec 21 at 10 AM by our car we went to Rock Garden. As it was Sunday there are too many visitors, we hardly got parking space after half an hour. Then we took entry ticket. Rs 30/- per person. Had some snacks (aloo tikki, dahiwada, juice etc) at the nearby stalls of the entry point and then entered Rock Garden. The Rock Garden of Chandigarh is a sculpture garden for rock enthusiasts in Chandigarh. It is also known as Nek Chand Saini's Rock Garden after its founder Nek Chand Saini, a government official who started the garden secretly in his spare time in 1957. Today it is spread over an area of 40 acres. It is completely built from industrial, home waste and discarded items.
There is also a Dolls Museum inside Rock Garden. The museum comprises 200 rag dolls made from waste cloth. The dolls were made by Nek Chand in the 1970s. The garden is visited by over 5,000 people daily. The Rock Garden appeared on an Indian stamp in 1983. The Rock Garden sits near Sukhna Lake. It consists of man-made interlinked Waterfalls and many other sculptures that have been made of scrap and other kinds of waste e g. bottles, glasses, bangles, tiles, ceramic pots, sinks, electrical waste, broken pipes etc. which are placed in walled paths. You can see different types of installations and walking through them is a true delight. Nek Chand done truly redefined art and craft! An example of 'Best from Waste'. It took 3 hours to us for visiting rock garden. Then we went to Japanese Garden (sector 31) which is about 8 km away from Rock Garden (sector 1).
Japanese Garden - After reaching first we ate bhel and icecream at entry gate.. there is no entry fee and hence I think not maintained well. The Japanese Garden is a park located in Sector 31 in union territory of Chandigarh. Built in 2014 on 13 acres of Land, by Indian Govt. ] It consists of water bodies, pagoda towers, water falls, meditation centre, a buddha idol- symbol of India Japan friendship. This is first ever garden in Chandigarh with Japanese touch. The garden has been developed at a cost of Rs 6 crore. The garden is designed using Japanese architecture and each of the elements in the garden is given a unique Japanese touch. The Japanese garden offers a beautiful serene environment to roam around peacefully in the lap of the nature. You will not be disappointed visiting this garden even if there are no flowers. There are structures made in Japanese style starting from entry of the garden to end of the garden. It is a medium size garden with a lot of photographs to be taken. Good place to visit in Chandigarh.
Sukhna Lake - When we visited it is too much crowded, saw sunset and sat at the boating point for timepass and enjoyed other people's boating. The lake is fringed by a golf course to the south, and Neck Chand's famous Rock Garden to its west. Sukhna Lake in Chandigarh, is a reservoir at the foothills (Shivalik hills) of the Himalayas. At the Sukhna Lake - serious walkers pursue an exercise regime, families enjoy an evening stroll and nature lovers mingle with children on roller skates. Photographers and painters love to capture its scenic beauty of the setting sun, or the heavily clouded monsoon sky, or the early morning mist in winter set amidst the tranquility of the lake. It is one of the best place to visit with family and friends with kids.