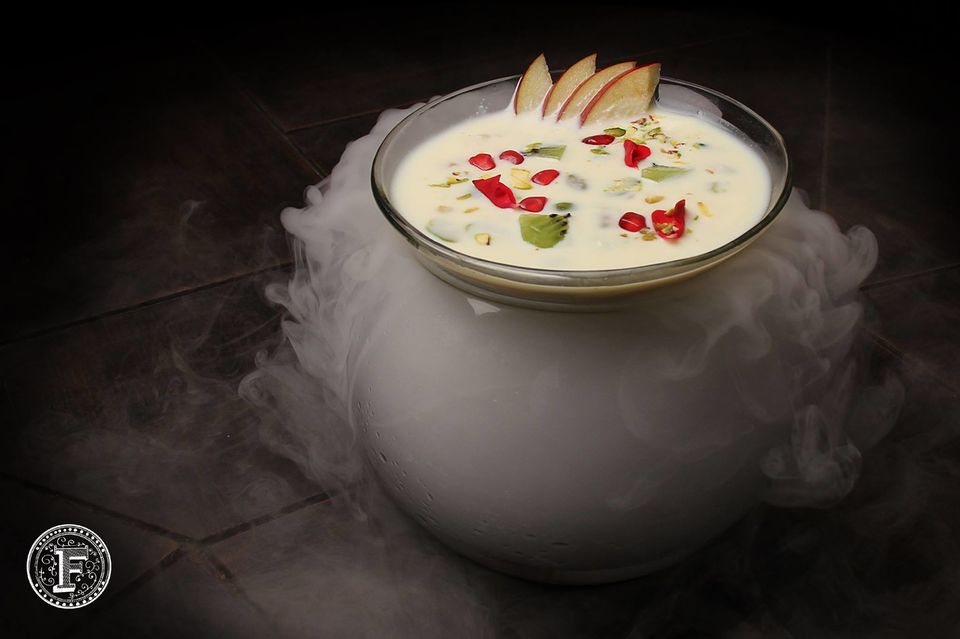 You sit down in a fancy restaurant after an exhausting shopping spree and order a glass of lemonade to cool yourself off before you jump right into the main course. What one would normally expect is a glass of cold lemon water but what you get is a beaker filled with a pink coloured drink, spewing out smoke. Welcome to the exciting world of molecular gastronomy!
Brainchild of world-renowned chefs Ferran Adria and Heston Blumenthal, molecular gastronomy is an interesting amalgamation of laboratory processes and cooking techniques. Considered to be one of the biggest revolutions in the culinary industry, molecular gastronomy involves using scientific techniques such as gelification, spherification, deep freezing and effervescence amongst others. The concept found its way to India in mid-2000's and ever since then, has taken the hospitality industry by storm. While the experimental and eccentric style of cooking was initially limited to plush eateries, it has recently become a rage all around the country with independent cafes and restaurants adopting the techniques.
If you've been living under a rock and haven't experienced molecular gastronomy yet, here's where you should be heading to next!
Also known as the 'Czar of Indian cuisine' in the food industry, Jiggs Kalra is a man on a mission; a mission to reinvent Indian cuisine like never before! The uber successful venture, Masala Library by Jiggs Kalra is the pioneer of molecular gastronomy in the country, serving ancient, traditional Indian recipes that are given a modern twist owing to the unusual cooking and serving methods. Also, you need not be in Mumbai to try this one out as Mr. Jiggs has already opened up another successful branch in Delhi!
Cost: ₹5000 for two
Cuisine: North Indian
Standout dishes: Mutton galauti kebab, jumbo prawns, sangria, rabri.
Timings and location: 12 noon to 2.30 pm & 7 pm to 11.30 pm; Ground Floor, First International Financial Centre, Bandra Kurla Complex, Mumbai.
Contact: 08454900900
When at the Indian Accent, trust the super-skilled team to make even the simplest of dishes look like a work of art. Headed by Chef Manish Mehrotra, the staff at Indian Accent, sticking true to its name, blends flavours from around the country with the most exotic cuisines in the world. Right from delectable starters to desserts to die for, a meal at Indian Accent is a wholesome experience that will stay with you for a long, long time.
Cost: Rs 4000 for two
Cuisine: Modern Indian
Standout dishes: Parsi patrani fish, khandvi, moreish galauti kebab, custard apple cream
Timings and location: 12 noon to 2.30 pm & 7.00 pm to 10.30 pm; The Lodhi, Lodhi Road, New Delhi
Contact: 09871117968
One of the earliest players in the molecular gastronomy market in India, Caperberry is nothing less than an institution in itself. Head chef Abhijit Saha helms the affair at Caperberry and effortlessly gives authentic European cuisine a molecular twist while the surreal ambience is bound to leave you in complete awe. While Caperberry has a menu that dreams are made of, try their tasting menu (which is changed every few months) and I bet, you'll be thanking me later!
Cost: Rs 2500 for two
Cuisine: Spanish, Italian, Mediterranean, European
Standout dishes: Pepitoria chicken, caviar, tomato risotto, tiramisu
Timings and location: 12.30 pm to 3.30 pm & 7.30 pm to 11 pm; 203, 2nd Floor, UB City, 24 Vittal Mallya Road, Lavelle Road, Bangalore.
Contact: 08762933355
What happens when a molecular gastronomy meets a micro-brewery? The answer is an epic eatery you call Molecule. Located in the heart of Gurugram's sector 29, Molecule is a one-of-a-kind amalgamation of a well-stocked air bar, molecular kitchen and in-house brewery that serves a mouth-watering bevy of freshly brewed beers. Spread across a massive area of two floors, the Molecular Air Bar aims at serving everyday food with a twist while the innovative theatrics and serving style of the team is what really sets it apart from the rest.
Cost: Rs 2000 for two (with alcohol)
Cuisine: Continental, North Indian, Italian, Chinese.
Standout dishes: Molecular sangria, molecular puchka shots, ghee roast soya keema, gulab jamun cheesecake.
Timings and location: 12.00 noon to 1.00 am; SCO 53, 4th floor, Main Market, Sector 29, Gurugram.
Contact: 011-33105241
Over the last few years, Farzi Cafe has not only established itself as a brand but is also India's only molecular gastronomy chain with successful ventures in New Delhi, Dubai, Mumbai and Bengaluru. The latest addition to this impressive lineup is a massive branch in the zesty city of Pune. One of the very few places offering a molecular gastronomy experience in the city, Farzi has become a local favourite in no time, owing to their experimental fusions and playful presentation, which appeals to Pune's young population in a big way. Be it the innovative cocktails or even the candy floss paan, this one will leave you truly 'farzified'.
Cost: Rs 1500 for two (with alcohol)
Cuisine: Modern Indian
Standout dishes: Tempura prawns, pork ribs, duck samosa, suji halwa.
Timings and location: 112 Noon to 12 Midnight; Level 1 & 2, Fortaleza Complex, East Avenue, Next to Golds Gym, Kalyani Nagar, Pune
Contact: 020-30162112
How crazy was your experience of a molecular gastronomy meal? Write on Tripoto and share your crazy stories right here!
Get travel inspiration from us daily! Save and send a message to 9599147110 on Whatsapp to start.