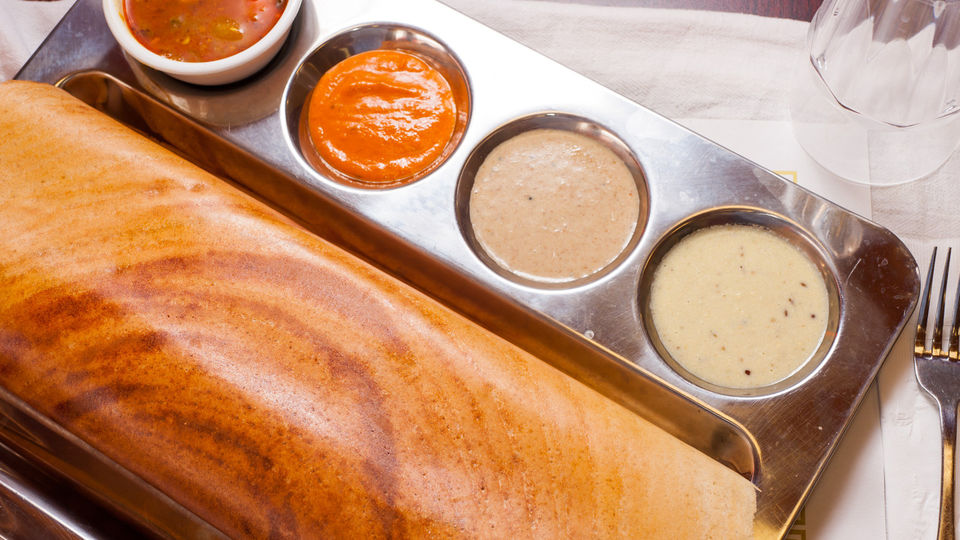 With roads bordered by gigantic lustrous green trees reaching out to the sky forming emerald canopies, and cotton like clouds peeping through them, Bengaluru's weather and greenery has been something to vouch for. But the IT hub of the country is also a melting pot of cultures with people from all over the nation and globe crossing paths. While this definitely makes it a multi-cuisine city, nothing beats the buttery crisp bites of the golden dosas hitting your taste buds. While 'Masala Dosa' continues to top the chart, there are too many varieties of this one delicacy. Finding dosa is not a difficulty in Bengaluru but not everyone can master the art of making it. So here we list 7 places in Karnataka's capital where you get excellent dosas.
Snuggled in the narrow green lanes of Malleshwaram, the historic frontward curved insignia of CTR has been welcoming Bengalureans to the close-knitted charm of the restaurant for over 20 years. Famously known as CTR, the restaurant has been recently named as Shri Sagar CTR. While he ambience is not that of the fanciest place in town, it is still the most beloved breakfast destination clustered with tables, chairs and people gathered to allow the buttery smell of the warm crispy benne dosa, that has its i=origination from Davangere.
Cost: ₹45
Cuisine: South Indian, Karnataka-style South Indian
Standout dishes: Benne Masala Dose, Crispy Masala Dose, Rava Dose, Golli Bhajji
Timings and location: 7.30 AM to 12.30 OM and 4 PM to 9.15 pM
157, Siddavanahalli Krishna Sharma Road, Malleshwaram, Bengaluru
Contact: 08023317531
Originated in the city in 1924, the iconic dining halls of the Mavalli Tiffin Room aka MTR is famous for its signature golden-brown masala dosa accompanied with a tiny bowl of melted ghee. Served with the richness of texture and a unique taste, MTR started its journey in the heart of the city at Lal Bagh and has now extended its branches at various other places across the city. With outlets now also in Udupi, Singapore, Dubai, and Kuala Lumpur, MTR is successfully taking the golden brown Indian pancakes across the globe.
Cost: ₹70
Cuisine: South Indian
Standout dishes: Ghee Masala Dosa, rava idli, chandrahara, bisibele bath
Timings and location: 6.30 am to 11 am & 12.30 pm to 9 pm
14, Near Urvashi Theatre, Lalbagh Main Road, Mavalli, Bengaluru
Contact: 08022230471 / +91 98868 41474
Keeping true to its tiffin room culture, the 52-years-old joint is known for its chocolate brown masala dosa and set dosa also known as kali. Started with the idea of offering only 'tiffin items' like dosas and idlis, the place is still famous for the 'mini' dosas it offers. The two popular ones are the mini masala dosa and the rice bath mini dosa.
Cost: ₹150
Cuisine: South Indian snacks
Timings and Location: 7:30 AM to 12 Noon; Near Ulsoor Gate Police Station, Cubbonpet, City Market, Bangalore
Standout dishes: Mini masala dosa, rice bath mini dosa,
Contact: +91 9845917991 / 080 40905389
Established in 1943, Vidyarthi Bhavan is another iconic, old-time joints in Bengaluru which is a must visit to relish large portions of chutney with crispy signature masala dosas (of both potato and sagu fillings). Vidyarthi Bhavan in Gandhi Bazaar is synonymous for the old world charm, authentic good and efficient service that attracts people all year round.
Cost: ₹ 80
Cuisine: South Indian
Timings and location: 6.30 am to 11.30 am; 32, Gandhi bazaar, near Gandhi bazaar Circle, basavanagudi, Bengaluru
Standout dishes: sagu masala dosa, benne masala dosa, rava vada, khara bath, kesari bath
Contact: 08026677588
It's not just you who travel in this city for dosa but sometimes its even the dosas on wheels. In the form of a van 99 varieties of dosas, as says the name offers sumptuous varieties of dosas with several combinations of chutneys and meals including noodles, corn, paneer, pavbhaji and more. These are made with a special helping of a tomato chutney on the dosa base, and topped with your choice of toppings (you can choose from capsicum, baby corn, spinach, mushroom, peas, cauliflower, cheese, paneer, noodles). Spinach, mushroom and cheese are a great combination, as are almost all the others.
Cost: ₹ 150
Cuisine: South Indian, Fast food snacks
Timings and location: 5.30 pm to 11 pm; Stall is set up only around 5.30 pm; 56, 9th A Main Road, Binnamangala, Hoysala Nagar, Indira Nagar, Bengaluru, Karnataka 560038, India
Standout dishes: Dosas with a twist. Schezwan Dosa, Paneer Cheese Dosa, Mushroom Cheese Dosa, Pav Bhaji Dosa, Chilly Cheese Dosa, Masala Dosa
Contact: 09844475552
It's not only the taste of dosa that oozes out legacy but also the set up and ambience of the restaurants like Hotel Janatha that have stayed untouched by the spells of modern fantasised cafes. Set again in the heart of Malleshwaram, Hotel Janatha has been catering to the citizens since decades now but its reach doesn't seem to fade. Also known for serving authentic Maddur vada and Mysore Pak, Hotel Janatha is the place if you are craving for a thick, crunchy masala dosa for breakfast while sipping the filter coffee.
Cost: ₹35
Cuisine: South Indian breakfast
Timings and location: 7.30 am – 12.45 pm (closed on Wednesday); 27, 8th cross road, Malleshwaram, Bengaluru
Standout dishes: Masala Dosa, Onion Dosa, Plain Dosa, Mangalore Bajji, crispy dosa, crispy vada, badam halwa
Contact: 08023345609
Whether you want to start your morning with a relishing breakfast or have a sumptuous afternoon meal, whether you want to grab a bite for your evening snack or need to fill your stomach with a dinner before you sleep well, Sree Krishna Kafe is your one stop destination for it all. Offering the Tamil taste, this vegetarian outlet is what you should visit when looking for a some variation for your taste buds while still sticking with the cuisine. The crisp masala dosas served with sambhar and bright-orange podi (a spicy powder) spread on the inside and the pudina dosa are unique as well as heavenly.
Cost: ₹100
Cuisine: South Indian
Timings and location: 7.30 am - 3.15 pm and 5.30 pm - 10.30 pm; 143, 60 feet road, Near Muni Reddy Kalyana Mantap, 5th Block, Koramangala, Bengaluru
Standout dishes: Ghee masala dosa, mini idlis, pongal, thaali, pudina dosa
Contact: +918197156368
If you know of more places that serve excellent dishes with the touch of vintage, share you experience here with the Tripoto community.