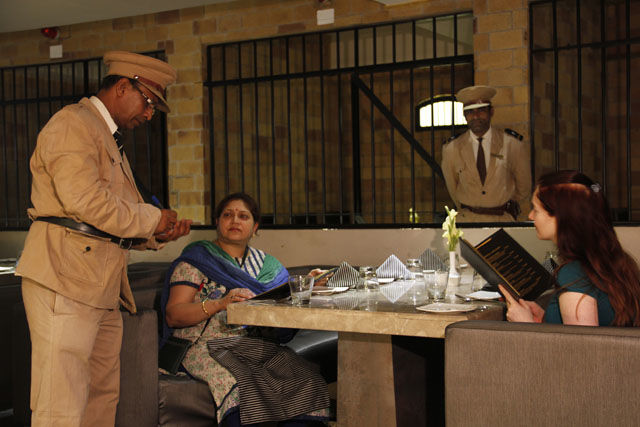 There's always a thin line that separates people who love food and people who are passionate about it. While for some hunting out and gorging on at the best eating joints is the idea of bliss, others take their business damn seriously! Personally, I believe that eating should always be an experience and not just a function that has to be carried out. For me, it's never just about the food—the presentation, the service and the ambience, all play an equally important role. Correct, ain't I?
So if you happen to be one of us and live in or plan to visit the city of joy Kolkata, congratulations because you just hit the jackpot! The city is one of the premier destinations in India where you can have a wholesome dining experience with it's various themed restaurants. From a restaurant that takes you back in time to one that puts you on the wheels to one that lands you up behind bars, the city has it all! Here's my pick of the best themed restaurants in Kolkata that'll spice up your taste buds as well as life!
You think of Oudh(Lucknow) and the first thing that pops up in your head is food! The succulent kebabs, the lip-smacking chaat and the sinful sweets, Lucknow is a foodies' delight and Oudh 1590 brings Lucknow's rich food history to the streets of Kolkata while offering a period dining setting! The intricately done interiors, the royal atmosphere and the authentic food makes Oudh 1590 a favourite amongst the people of Kolkata and thus makes it probably the most successful theme restaurant chain in the city.
Cost: Rs 1200 for two (approx)
Cuisine: Mughlai, Awadhi
Standout dishes: Raan Biryani, Galauti Kebabs, Dum Biryani, Phirni
Timings and location: 12 Noon to 3:30 PM & 6:30 PM to 10:30 PM; 23/B, Desapriya Park(West)
Contact: 033-30990404
The people of Kolkata take immense pride in their history and culture and a large part of that pride also comes from the trams of the city. It's weird how a mode of transport can become so important to city but that's Kolkata and it's people, always there to spring a surprise. When trams are being mercilessly torn down to make way for wider roads, Tram Deepo in Ballygunge is a restaurant trying to keep alive the charm of the city's favourite mode of transport by serving sumptuous vegetarian North Indian cuisine inside a tram!
Cost: Rs 1200 for two (approx)
Cuisine: North Indian
Standout dishes: Pesto Paneer Tikka, Veg Jaipuri, Dal Peshawari, Mudpie with Ice Cream
Timings and location: 1 PM to 11 PM; 23/B, 45, Fazlul Haque Sarani, Near Ice Skating, 2nd floor, -19, Ballygunge
Contact: 09830283319
Ever been high on food? Located in the heart of Salt Lake City, Fly Kouzina takes the concept quite literally! If you love flying but hate the bland, overpriced food offered by the airlines, Fly Kouzina brings the choicest vegetarian Continental, Chinese and North Indian cuisines in what is designed to look like the first-class section of a luxury aircraft. Bon apetite! Or shall I say Bon Voyage?
Cost: Rs 1100 for two (approx)
Cuisine: Continental, Chinese and North Indian
Standout dishes: Minestrone Soup, Orange Mojito, Crepes
Timings and location: 12 Noon to 10:45 PM; AD 73, Near BD Market Bus Stop, Sector 1, Salt Lake
Contact: 033-30990345
Lush green trees, small bridges across streams, tree houses with birds and monkeys on the top and then a warm courteous staff member comes up with a plate of piping hot and juicy Tandoori Chicken. Even though my dreams are usually made of eternal peace and Tandoori Chicken, this one isn't a dream! A one-of-a-kind jungle themed restaurant in Kolkata, Machaan blends your dining experience with wilderness and does it with great style! The extremely well done up ambiance transports you to a whole new world and the Mughlai delicacies only adds fuel to the fire!
Cost: Rs 1300 for two (approx)
Cuisine: North Indian
Standout dishes: Tandoori Chicken, Dhania Chicken, Multani Parantha, Malpua
Timings and location: 12:30 PM to 3:30 PM & 7 PM to 11 PM; 4th Floor, Mani Square Mall, 164/1, E.M. Bypass, Kankurgachi
Contact: 09330627504
First there was crazy. Then there was insane. And then, there was Kaidi Kitchen. This quirky eatery in Kolkata's Camac Street Area takes the concept of theme restaurant to the next level. If you thought eating in a jungle was weird, here's to being served in a prison! But don't be mistaken! The cordial staff serves out the best curries and biryanis in town which makes Kaidi Kitchen a prison you'd never want to leave!
Cost: Rs 1300 for two (approx)
Cuisine: North Indian, Chinese, Italian, Mexican
Standout dishes: Paneer Kebab, Paneer Roganjosh, Hyderabadi Biryani, Crispy Babycorn
Timings and location: 12 Noon to 11 PM; 41st Floor, Usha Kiran Building, 12A, Camac Street, Camac Street Area
Contact: 033-30088880
What has been the craziest and quirkiest dining experience you've ever had? Write in to the Tripoto Community and tell us about your favourite theme restaurant in India!