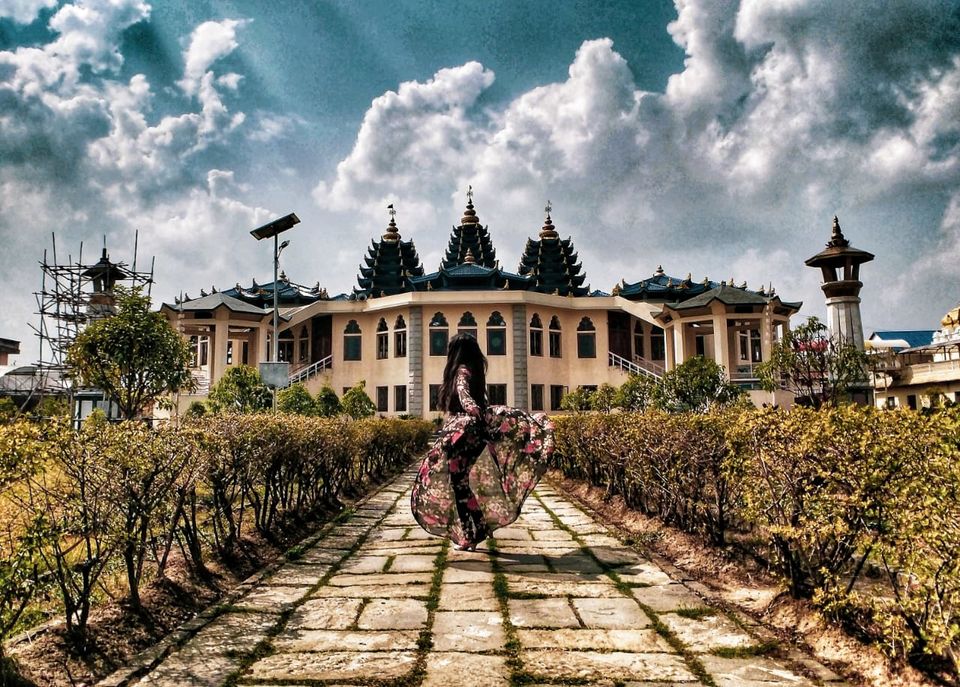 When I started writing this blog, I promised myself I wouldn't start again by saying how I hated this place when I first landed here and how I have fallen in love with this place and people over the last two years. Now that you all are so aware of my love for this beautiful little state in the northeastern part of India, I am going to talk about Imphal and only Imphal and nothing but Imphal.
I stayed in the hills of Manipur, in a little village near Tengnoupal. I was alone, if not lonely and there was nothing around really. Even for daily groceries, veggies or fruits, we had to get it either from Imphal or Moreh. And Imphal was my place for rejuvenation. Only two hours from my home, I kept running to Imphal for getting a feel of a town if not a city. I had seen Imphal grow from that dull and disturbed place to a place with some fantastic shopping areas and stunning little cafes with their finger-licking food.
And one day when a friend asked, "What are the places to see in Imphal city?" I realized I hadn't explored Imphal city even though I was visiting it every month. And so, I sat down with a map and google, ticked all the places that were in the touristy lists, packed some food and water, and I was all set.
The first place in my reasonably long list was The Kangla Fort, the most popular tourist place in Imphal.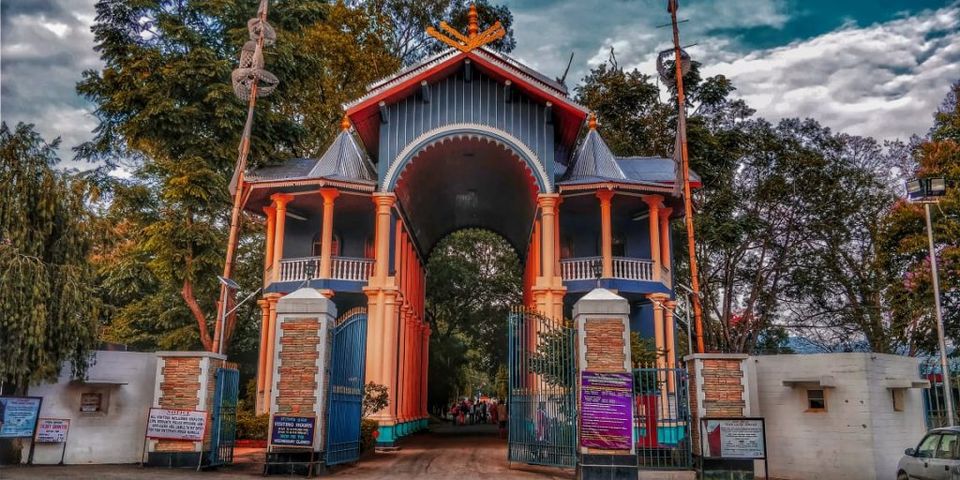 KANGLA FORT
A 10/- INR ticket to enter a place which speaks volumes about the rich culture, history, and heritage of Manipur.The Government has declared it as 'Ancient Historical monument, and an Archeological site.' If you ever visit Imphal, the glorious gate of Kangla fort right at the center of the city is hard to miss. A man-made canal surrounds the area of the fort. There is a massive map of the Kangla Fort right at the entrance which suggests there are around 16 places to visit inside, the Fort itself!
It has the King's residence from the British time, a polo ground, a museum, lots of temples, holy ponds and a lot more. There are cycles and golf carts available to explore the vast complex. However, I chose walking down the fort campus.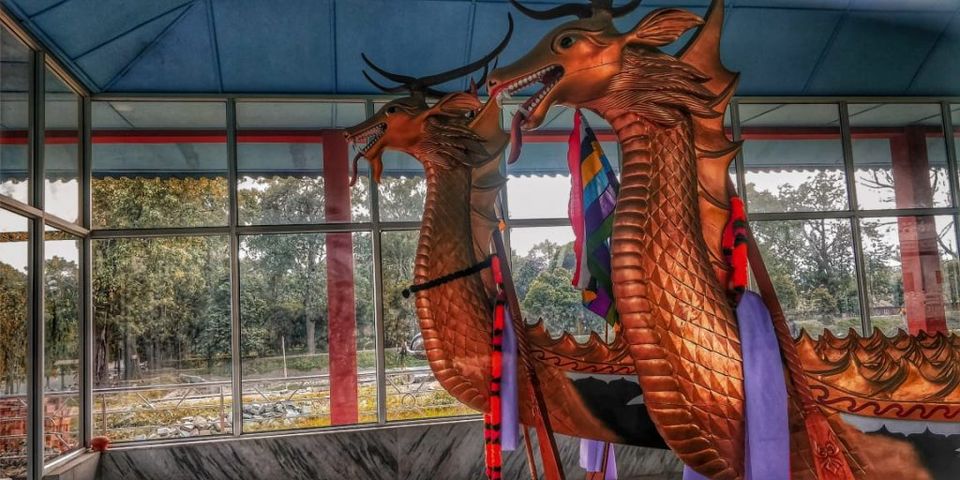 I was there at the fort at around 9 in the morning, and there was no one except the gatekeeper. I took my time walking around the beautiful campus, read every signboard, visited every little temple inside and the museum. The museum, even though small was informative. I especially loved that the museum had one full wall dedicated to explaining how the flag of Manipur evolved. I had always been curious! The museum tells the history of Manipur from the 15 th century to the 20 th century. The place also has some ancient books, manuscripts, and handicrafts.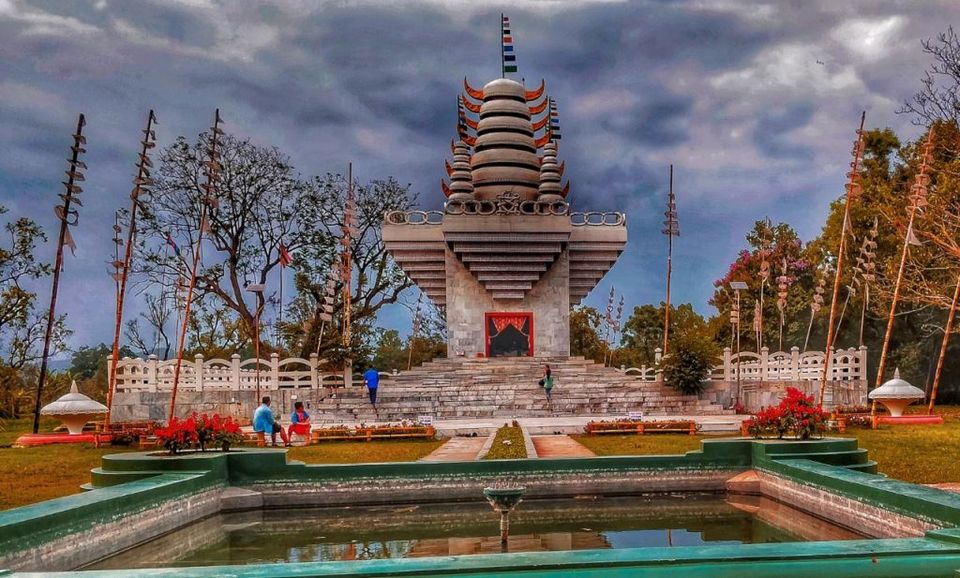 Then there's the Pakhangba Temple of the ruling deity of Manipur, that caught my eye. Other than the beauty I was awed by the story behind the ruling god.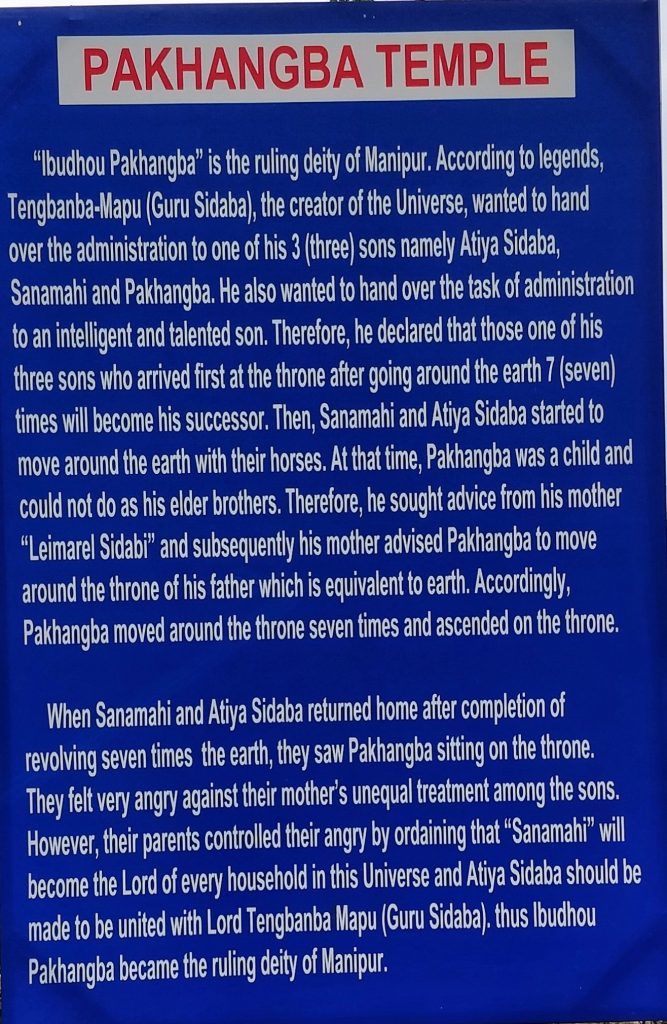 Even though historically very rich, very little of it remains visually. A lot of it had been destroyed in air strikes during WWII. The fort also witnessed the Anglo-Manipur war before being captured by the British. Till 2004, it was occupied by the Assam Rifles.
Now that it has come under the Archeological Department of Art and Culture, there might be some exciting discoveries.
I spent two and a half hours in Kangla Fort. It is enormous, and there is a lot to explore but, I had a list, and so I headed to my next destination -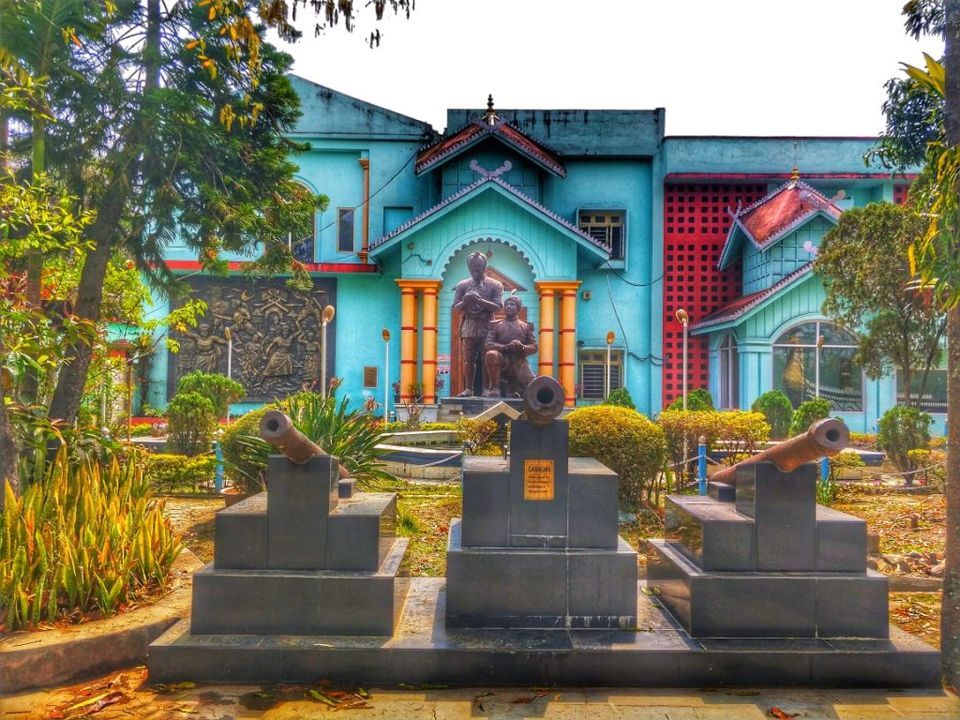 MANIPUR STATE MUSEUM
Call me old fashioned, but I love visiting museums! No matter how small the place, if it has a museum I make it a point to visit it. And I think everyone should do it. You might be surprised how much you can learn about a place with these visits!
Manipur state museum was nothing extraordinary but it is informative and well maintained. Though a small one it has a lot of things to offer. Photography is not allowed inside, and the entry ticket is 20/- INR per person.
From the museum, I went to one of the most beautiful and vital temples in Manipur -
SHRI SHRI GOVINDAJI TEMPLE
Poised and graceful, this Temple is of great importance, spiritually and historically. Built in the 1846 AD during the reign of Maharaja Nara Singh, it was severely damaged in the earthquake of 1868 and was rebuilt keeping in mind the original design. It is located next to the palace premises. The temple is held in high regard by the Vaishnavites. Pilgrims from all over the world come to visit the temple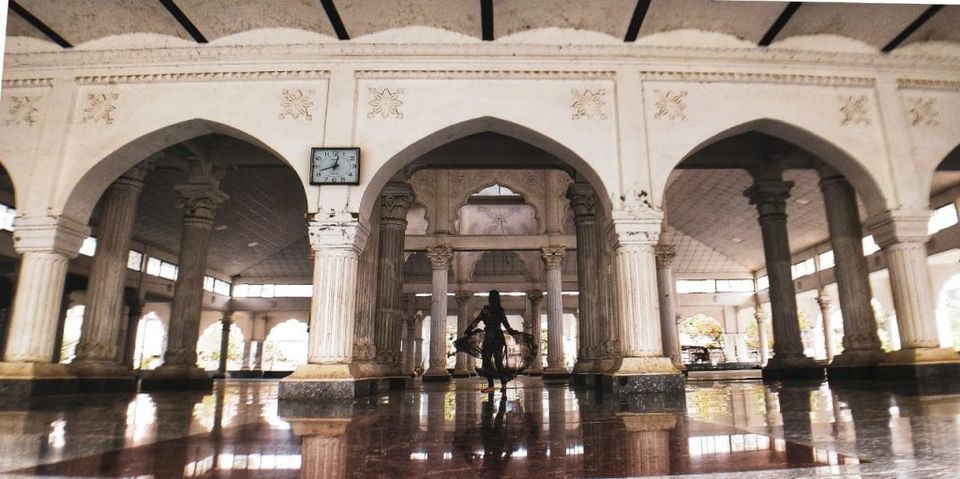 The temple has dedicated times for each prayer, and there is a dedicated team of musicians who play during these prayers. There are special performances during festivals that include traditional Manipuri dance and Raas Leela. One such spectacular time to visit the temple is during Holi.
I spent a little time watching the devotees, loitered around the temple complex and clicked some pictures. And it was finally time for lunch. I headed to the Lakshmi Kitchen to have the traditional Manipuri Thali.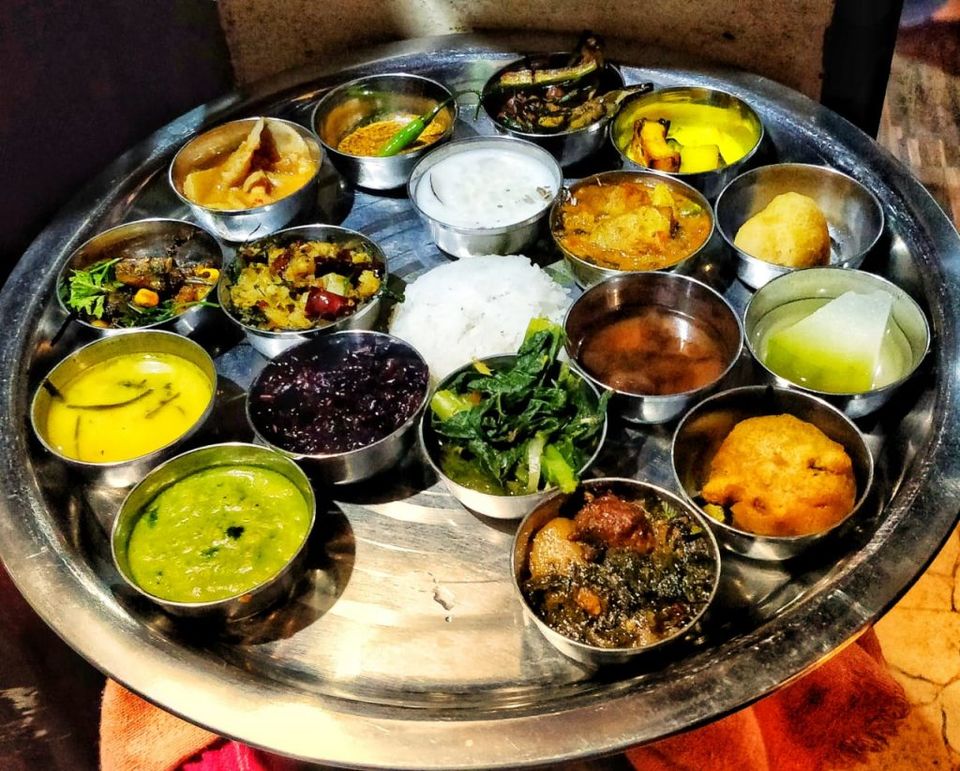 After lunch, I headed to the IMA market.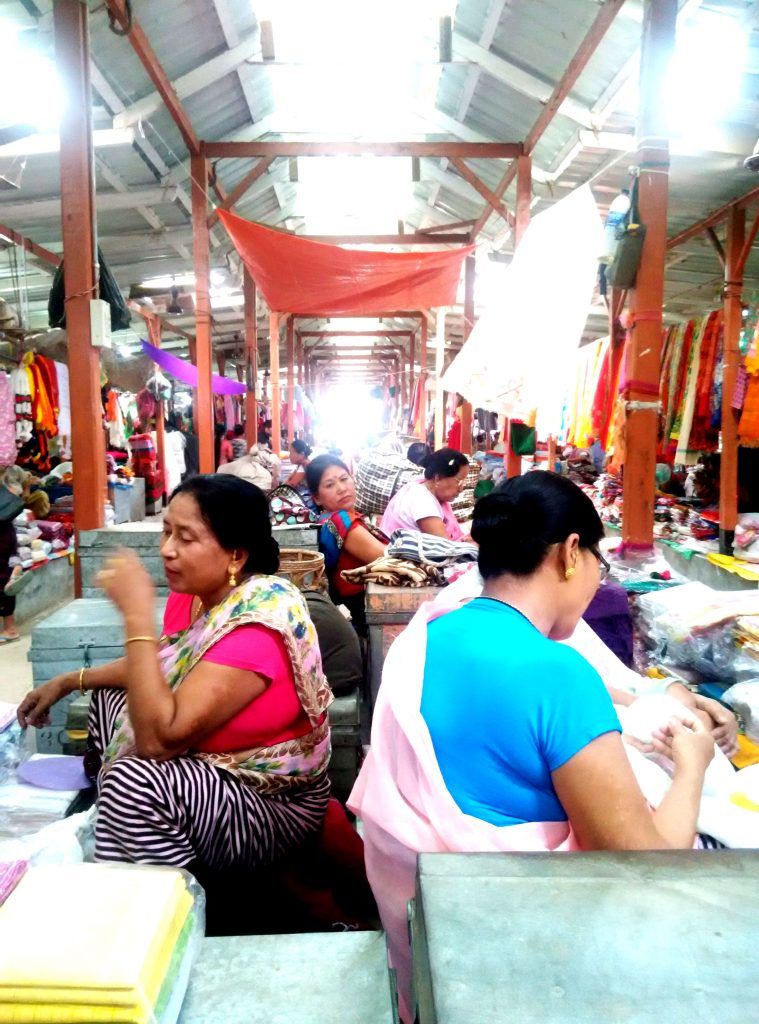 IMA KEITHEL
I have visited this place several times just for the vibe if not for shopping. I love how vibrant and colorful this place is. Ima translates to mother in Manipuri. Ima market or the Ima Keithel, is more than 500 years old and is managed entirely by women. It is also the largest all-women market in Asia! And I have a blog written on it do check it out!
From the IMA market, I went to the Three Mother's Art Gallery.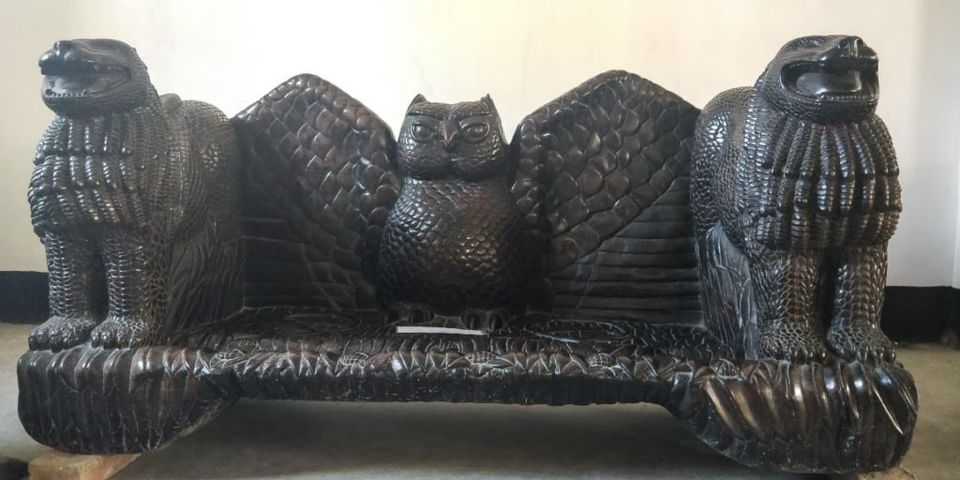 THREE MOTHER'S ART GALLERY
The artist Shri Gurumayum Shyamsunder Sharma made sculptures carved out of a single root of a tree. The structures find inspiration from the history and mythology of Manipur. The artist who is no more amongst us had single-handedly built this art gallery, and each sculpture is unique and a masterpiece. Sadly, after his demise, the family struggles to preserve his art, and I fear if the Government does not take necessary steps the work of an incredibly talented artist will go unnoticed
I was visiting The Three Mother's Art Gallery for the second time. I had already taken lots of pictures here and asked about the artist on my first visit itself. But this time I was visiting to meet the lady, the wife of the artist. I somehow remembered her face and wanted to meet her before I left Manipur.
I had already written a blog about this art gallery, and it's a worth visit place. Please do read the blog and decide for yourself.
From there I headed to RKCS Art Gallery
RKCS ART GALLERY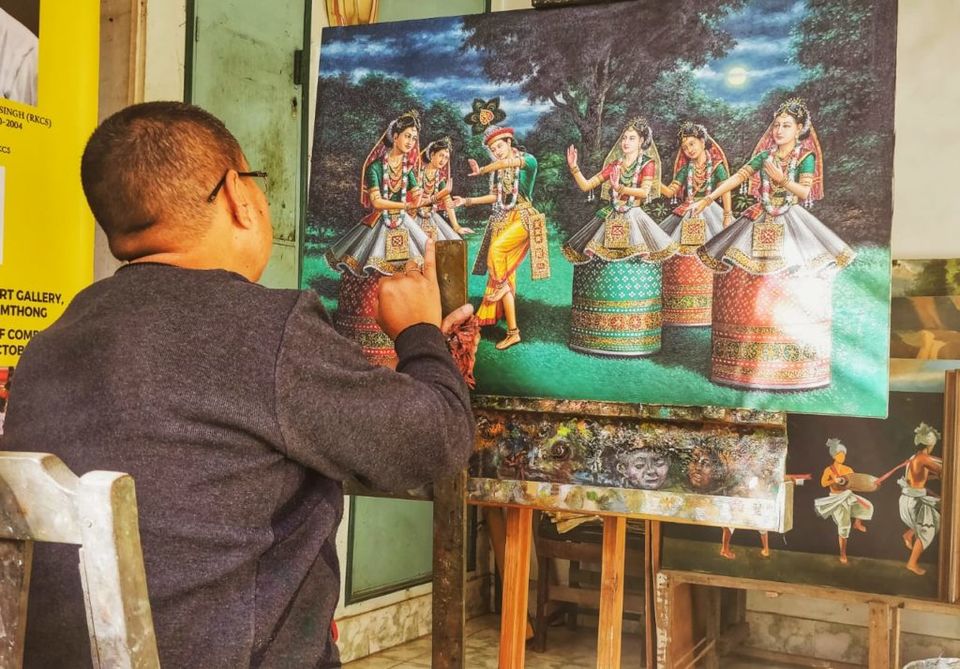 Rajkumar Chandrajitsana Singh(RKCS) - " I have lots of things to do. I dream of restoring the lost culture through paintings. I dream of recording of such events for prosperity"
A man of his words, the brilliant artist takes you on a ride to witness the history, heritage, myths, and culture of Manipur through his painting. With more than 10,000 works to his credit, he is still one of the most celebrated artists of Manipur and his family takes the name ahead with much panache!
Once again my second visit to this beautiful art gallery. This time I went to buy a painting for the mess. But I have everything about this beautiful art gallery written in a blog. And it's worth checking out!
By the time I came out of the art gallery, it was already getting dark. And I was glad I did tick the best places I could in a day. As I leave Manipur, I will be coming up with more blogs on the different areas and experiences I had. And I shall repeat it... Manipur shall be special to me always for reasons I have ever mentioned and much more!