Two years in Manipur and I cannot help but stay in awe of this little state. And I must tell you its not just the place that fascinates me but the people too! From the simple Kuki tribes in the hills who will amaze you with their skills with a bamboo, the glorious Thankhul Naga in Ukhrul who gave the world their unique black stone pottery or the multi-talented Meitei of the plains. Culturally rich and blooming with talent, this state is indeed the "Jewel of India".
And if you plan on visiting this beautiful state and you really want to visually experience the culture, art and history of this unique and unexplored part of the country, RKCS Art Gallery and Three Mothers Art Gallery, is something you should not miss!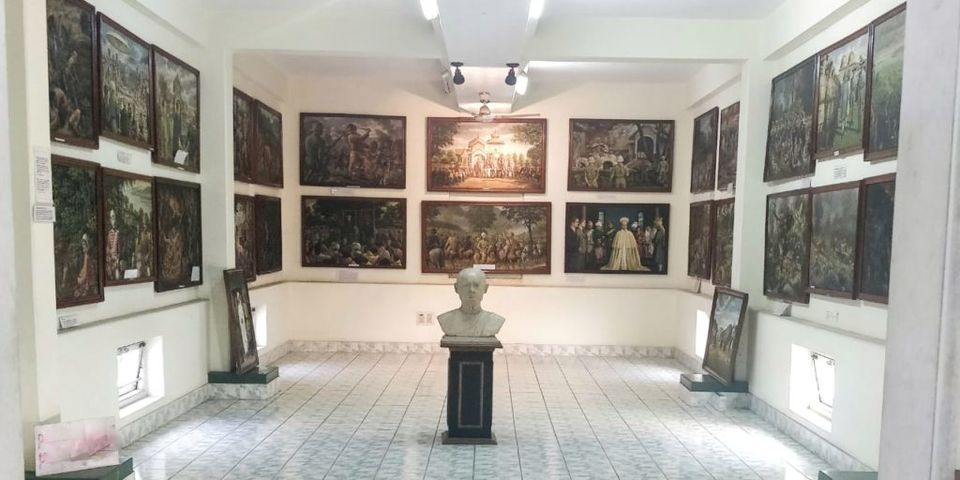 RajKumar Chandrajitsana Singh(RKCS), was born in the family of pioneer artists in Imphal in the year 1924. Being born in a family where, his father RajKumar Yumjaosana Singh and his grandfather RK Gour Singh were both extremely talented artist from 19 th century, it was natural he would join the clan and the blessed artistic genetics only bloomed with his age.
In the year 1947, he established his first art studio under the banner "RKCS Chitralaya". And gradually the dream of RKCS for a full-fledged art gallery was formally inaugurated on 5 th May,2003. His work has been loved and laureled with many prestigious awards such as Shilpa Bhushan in 1981, Award of Fellow by Manipur State Kala Academy in 1989. HE made it to the Limca Book of Records in 1994 for exhibiting highest number of paintings by a single artist. He also received Chitrakala Ratna by Manipuri Sahitya Parishad in 2005, posthumously.
RKCS Art Gallery is now being maintained by his son, Mr RK Budhimanta and grandson Mr RK Busho.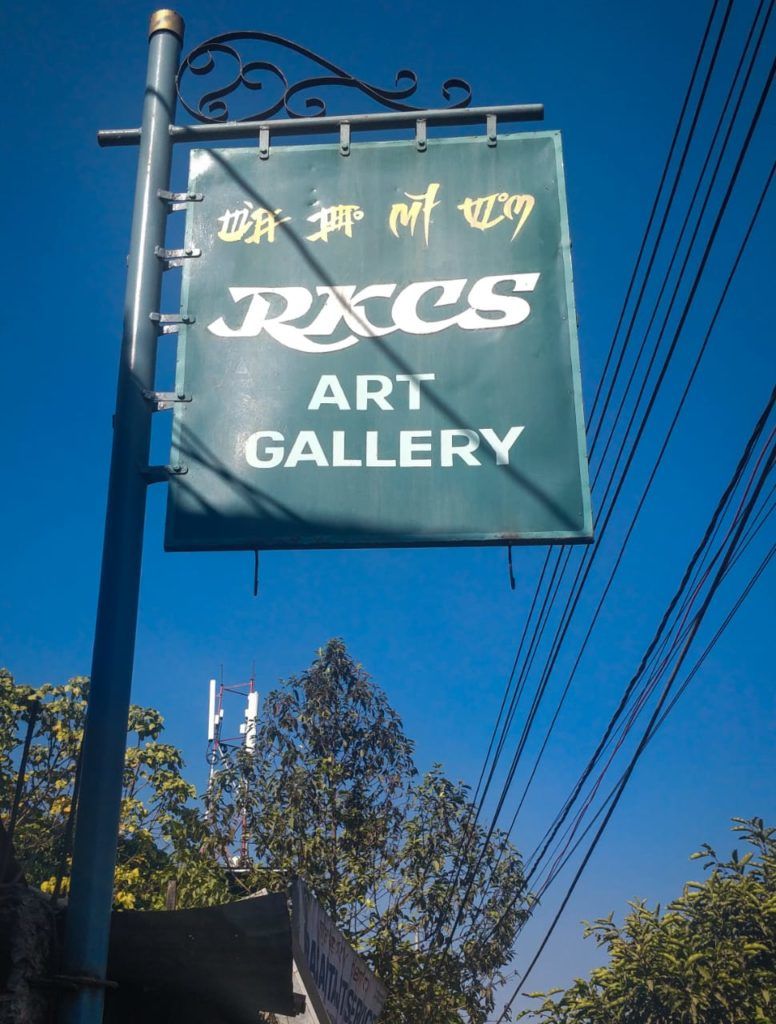 The sign board
Being on every list of "touristy" places to visit in Imphal, this place is not difficult to find. I however, am not a tourist, and I found out about this place for a totally different reason. The day we first reached Imphal, I stayed at an army guest house and the mess had some stunning paintings depicting different dance poses from Manipuri cultural dance "Raas Leela". I couldn't take my eyes off them and kept asking everyone, where did you get them from? Most of them did not know. I saw the signature"RKCS" and googled about it. And it was only a few months back that I had the opportunity to visit the art gallery.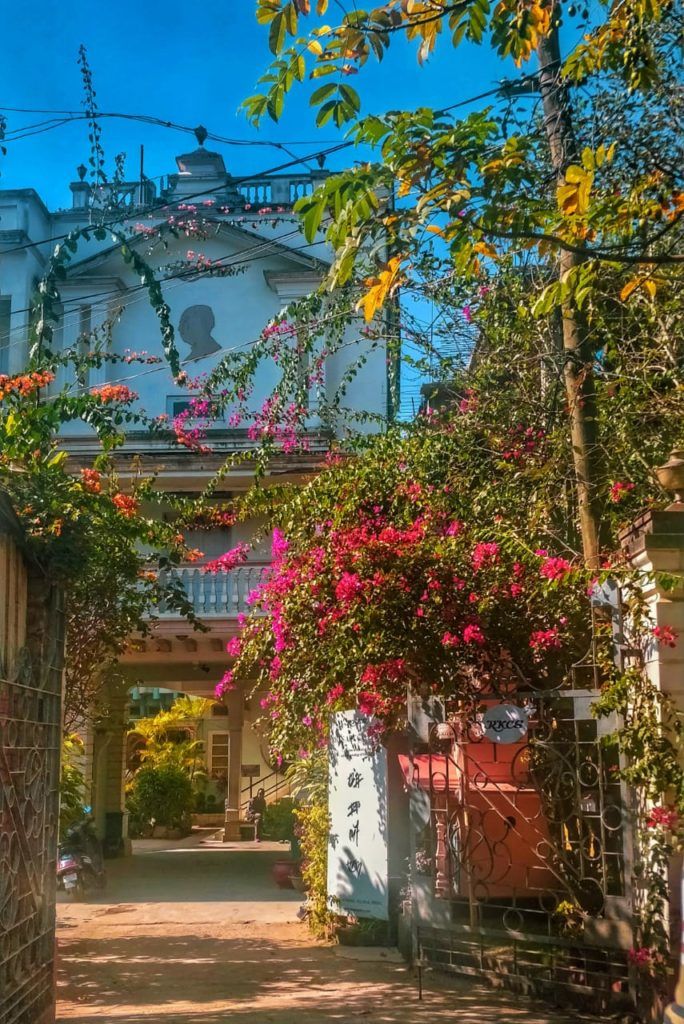 The beautiful entrance to the gallery and their home!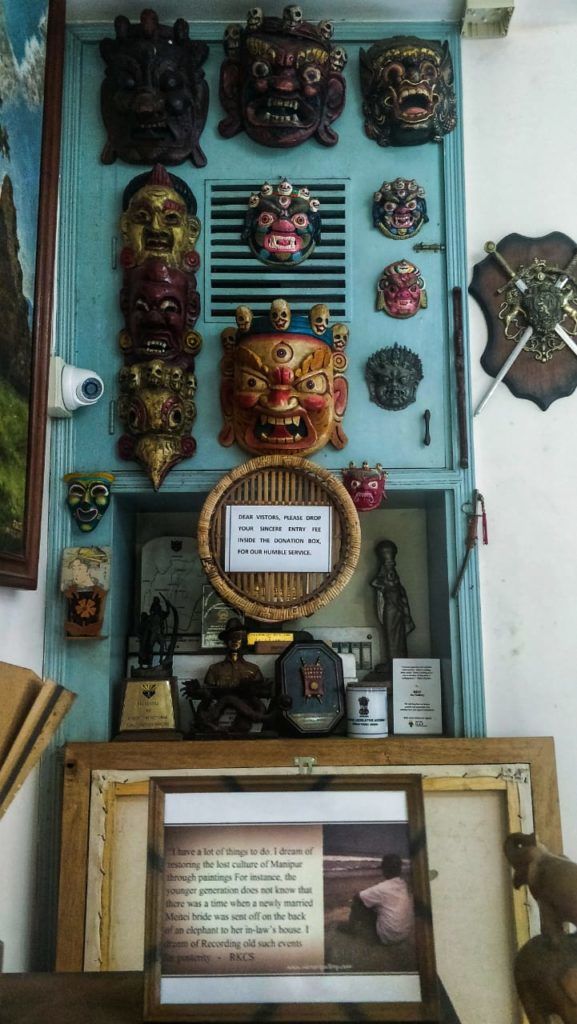 Entrance to the gallery
A friend was visiting from Bangalore and it was the perfect opportunity and time to make this visit happen. Though there was a strike in Imphal, Mr Busho was kind enough to open the gallery for us that day. We were the only guests in the gallery and I couldn't be more happier. Mr Busho is a delight to talk to... he not only showed us around but his knowledge about Manipuri history and culture is envious. I had one of the best conversation and time here discussing art, history and culture of this state I have fallen in love with in the last two years.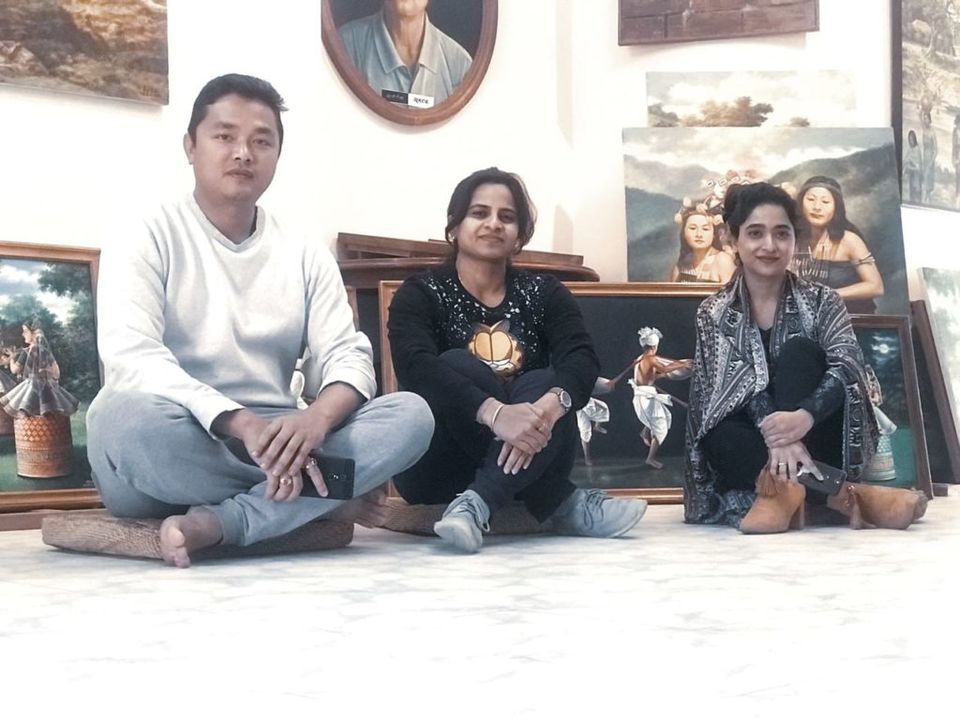 With Mr Busho
" I have lots of things to do. I dream of restoring the lost culture through paintings. i dream of recording of such events for prosperity" ~ RKCS
A man of his word, this ambitious project of depicting the history of Manipur through his paintings took 10 years of hard-work and dedication which included vast and in-depth research with the scholars of Manipur.
And the hard work and dedication of the legendary artist shows in each and every work of his. And his family has been doing a tremendous job in restoring his work and adding more charm to the gallery! Mr Budhimanta, his son is not only a painter but also a sculptor and artist. He creates his own paintings to express his thoughts and messages. While Mr Busho, RKCS's grandson is into restoring, his unique creativity is breathtaking! From restoring every brush and empty paint tubes that has been used by his grandfather and father to portraying every art in a artistic way, his work is unique.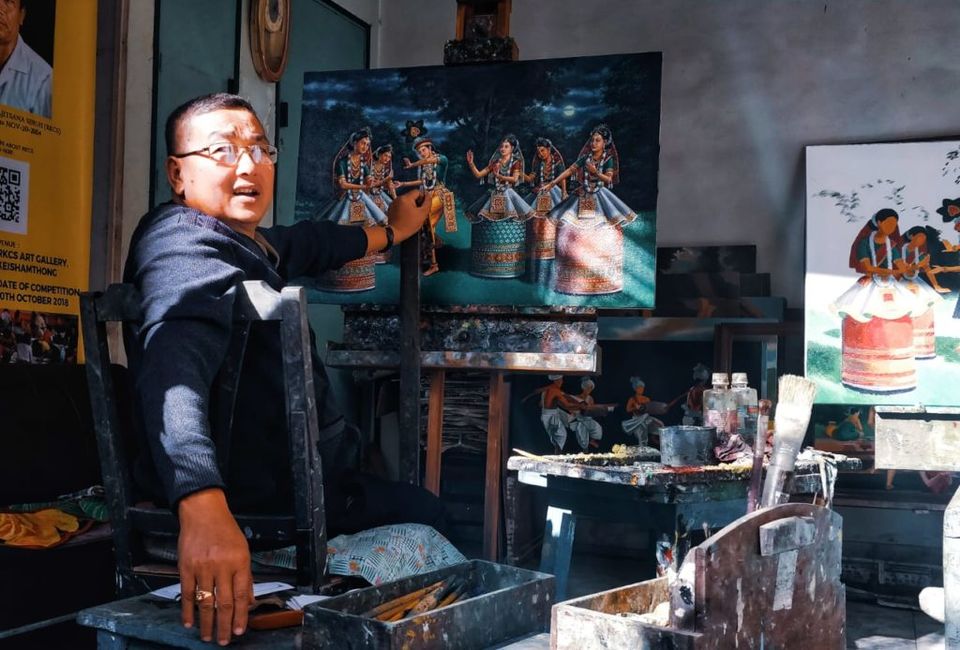 Was lucky to meet Mr Budhimanta too!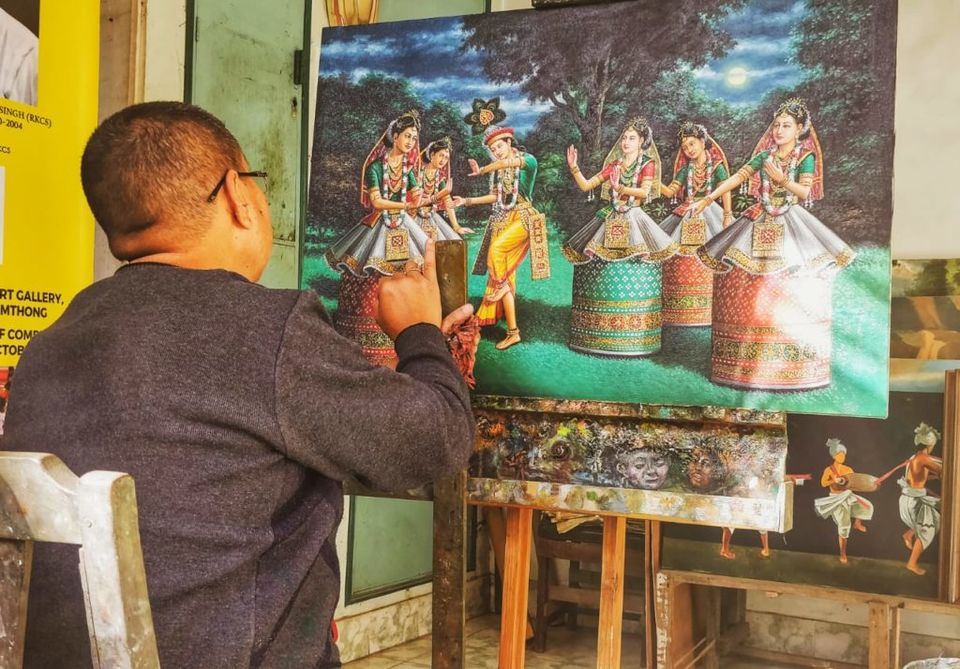 The artist at work! And a glimpse of his stunning work.
A must visit if you are planning a trip to Imphal, you can check them out in the links below and follow them to stay updated -
On that very day I also planned on visiting the Three Mother's Art Gallery.
Three Mother's Art Gallery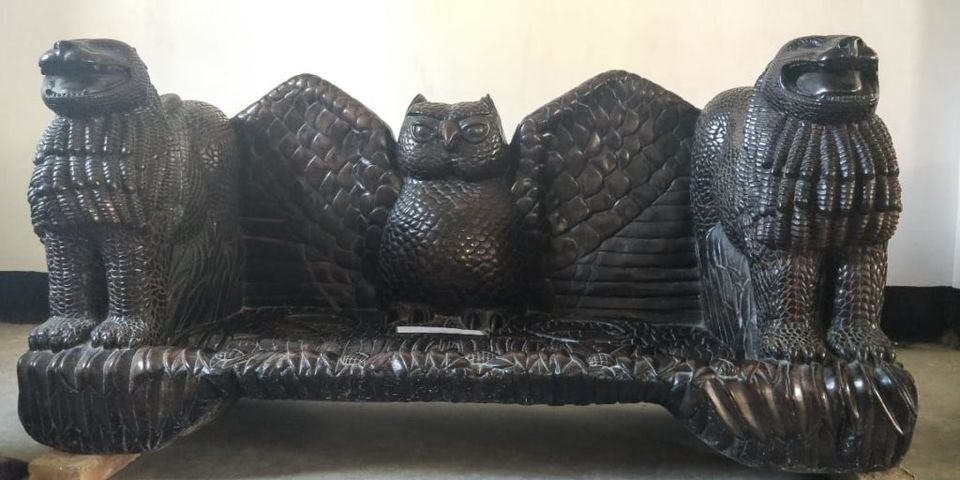 A visit to this gallery was just because I saw it in Google when I searched for RKCS. I had no idea what this gallery was all about nor did I read about this artist or his work before landing up there.
Difficult to find I never thought this art gallery would leave such a deep impact on me. I returned from this gallery stunned by the talent of the artist who is no more, and a heavy heart feeling ashamed that, I had never heard of him or his gallery and contempt for the Government, for neglecting such talented artists and their work and leaving them to die a slow death.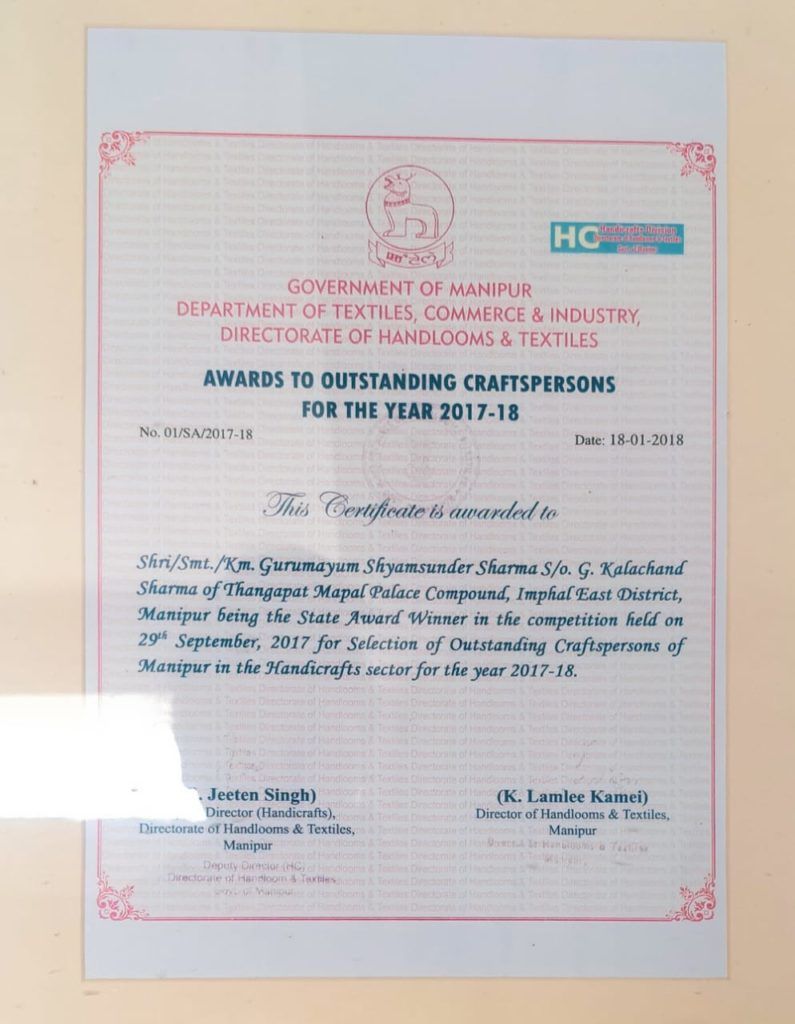 Mr Gurumayum Shyamsunder Sharma started with his art of word carving from the age of 10. He practiced his art on mud and later on applied them on wood stem.According to the artist, the name 'Three Mother's' symbolizes the three mothers in a person's life. the first is the woman who gave birth, the second is mother Earth and the third is the mother-tongue of the person. Though I could not find much about the humble artist on the internet but its a shame I could not meet the artist in person. We lost him to illness a few months back I was heartbroken for not making to the gallery before.
I tried talking to his wife to know more about the artist but language was a barrier( she did not speak hindi or english). I had taken a local with me and of all that I could understand from the translation... she kept on talking about how her husband's art is dying a slow death. Short of money and resources, the pieces of art lies in a damp and dark hall which leaks when it rains.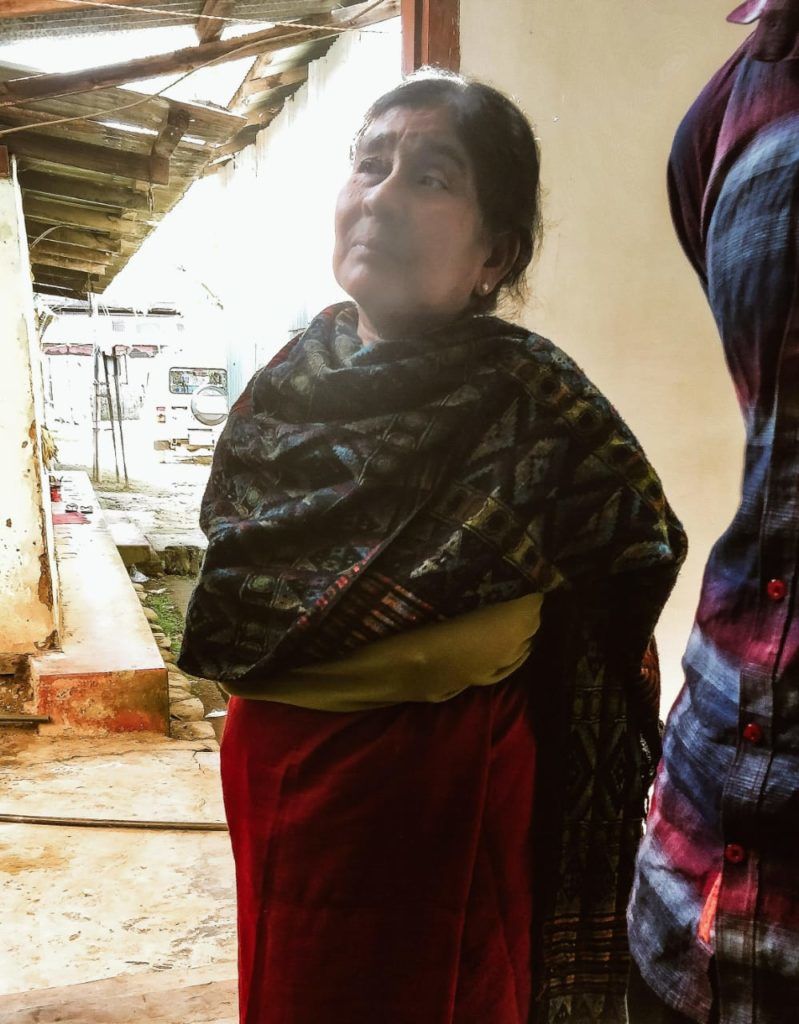 The entrance to the gallery looked shabby and if you do not take the help of locals, its difficult to find the exact location. At the very entrance, below a open tin shade, which looked more like a garage, my eyes fell on something that was stunning! Something I had never seen before... A whole wooden piece that was cut and carved into something extraordinary... as if it was depicting some mythological tale. But it was unfinished, it was the last work of the talented artist... lying there in the dust, sun and rain with utter neglect.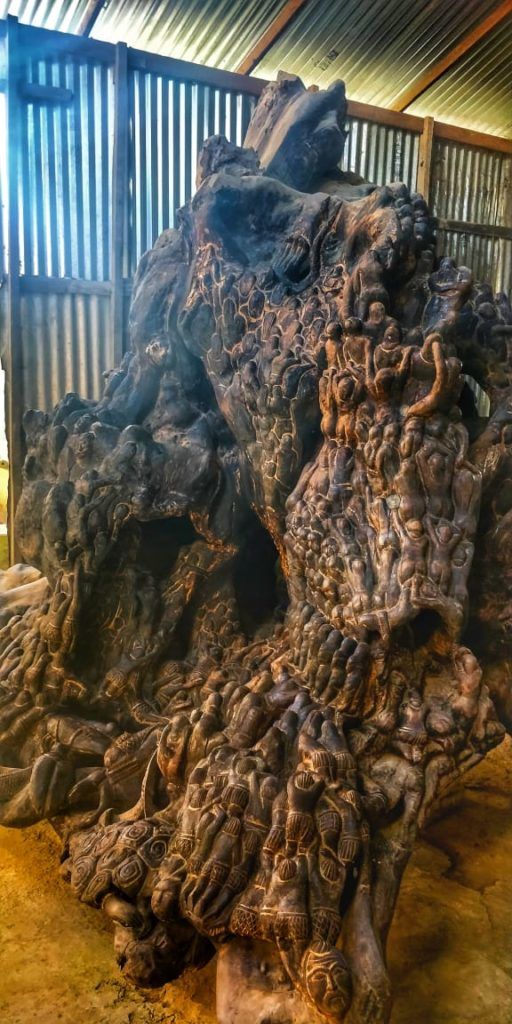 An artist with such calibre whose hardwork shows in each of his sculpture was a true gem and its a regret that the state failed him in recognizing his talent and the support that he needed. And still his family struggles to restore his art in a proper way with no money and no support.
His wife says, Shyamsunder was a true artist, he had visions of what to carve. He did not have any model, it was all in his mind and he would work all night on that vision! I could sense she was trying to depict the kind of passion the artist had for his work. And it was all visible in his work.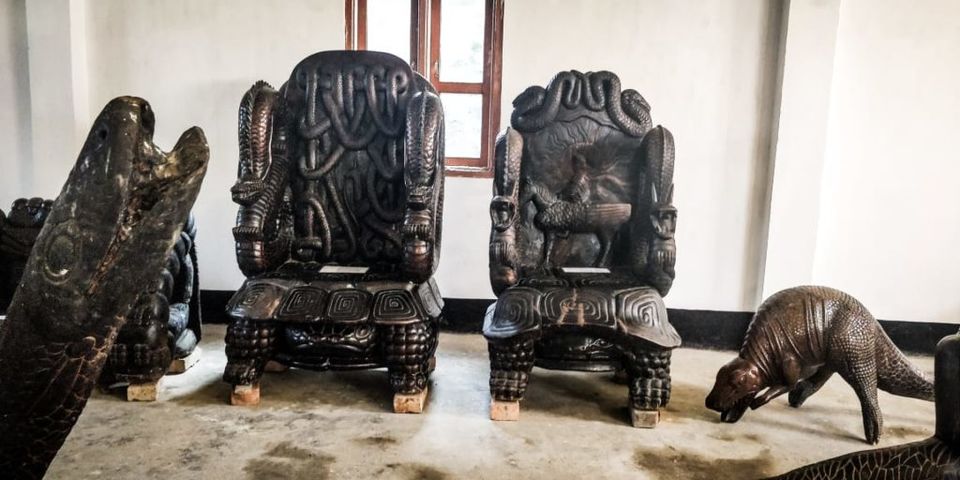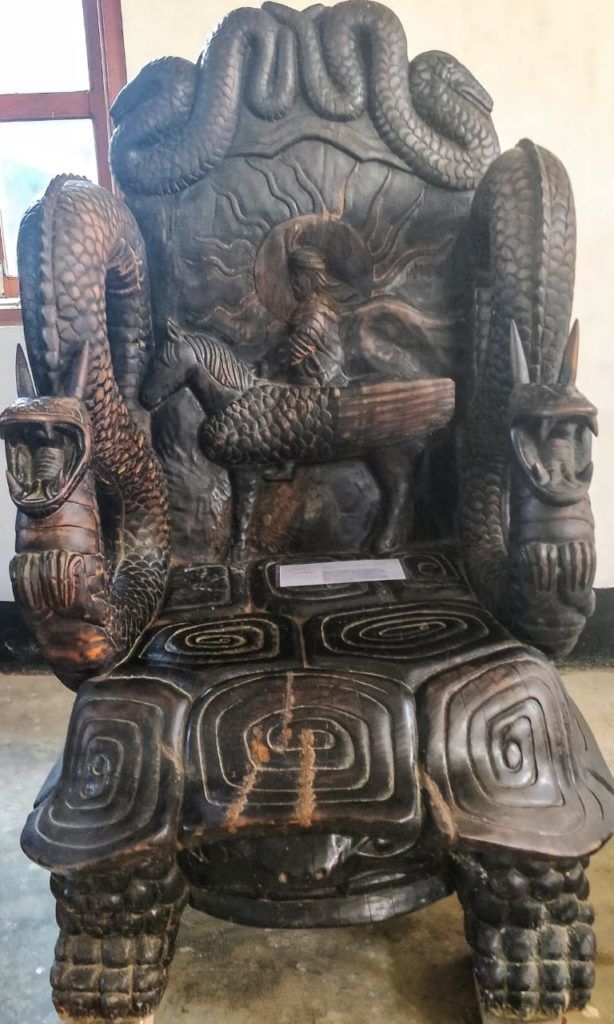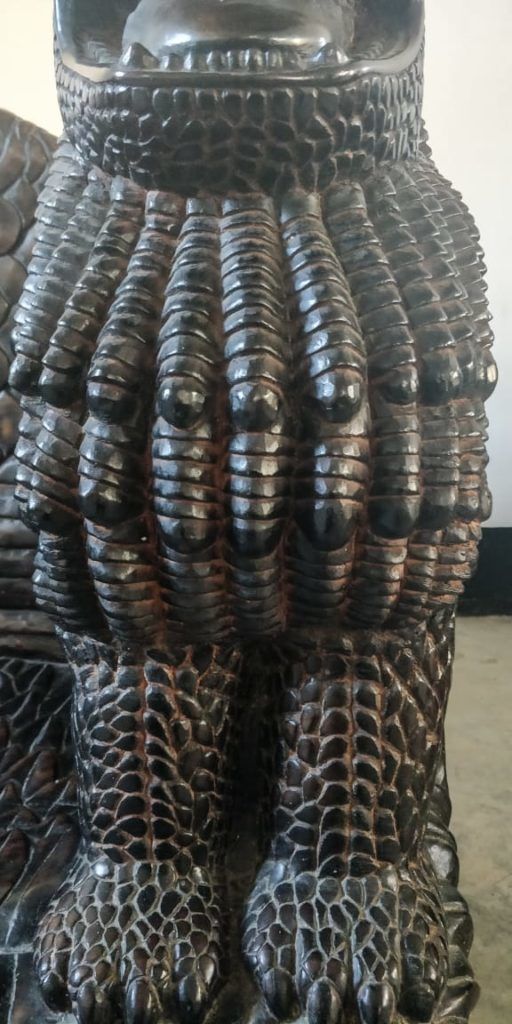 The details put in every piece.
The specialty of all his work is they are all carved in a single log of wood. The artist used to specially find the log himself that would depict the vision that he had. His work on a single piece took months of hard work and dedication.
In any other place this work would have been kept with a lot of value, boxed in glass containers in a art gallery that had visitors from around the world and appreciating these unique pieces of art. But here... they lie on the ground of a dusty hall, that leaks when it rains.
It breaks my heart to say this, that we have failed him. The people of Manipur have failed him. Manipur have failed him. India have failed him. And if the government and people do not take proper measure to restore his art... his work would vanish unknown and its sad to even think about it.