Travelling abroad is definitely a passion for me and my better half , and we amazingly compliment each other on various aspects, while travelling to an alien land. This May - June , 2019 we thought of travelling to Russia, but unfortunately, I was having some debit card issues in the air flight booking in Aeroflaut. Seeing this, my better half in her instinct, told me to scrap off the Russian Vacation and plan for something different, and she suddenly uttered, "Why not Turkey!"
Well, we mutually trust our instincts a lot. Moreover, we have been travelling to European countries for quite some years, and hearing the words of my better half, I felt , maybe it would be a better choice that way, to travel to some altogether different place. I had heard some really wonderful reviews about Turkey from one of my classmates, who had travelled there a few years ago, and so making a choice for Turkey instead of Russia did not mattered much for me. The only thing was that, there turned out to be some dedicated time loss, in my involvement in planning a Russian Vacation.
Anyway the first thing first. For any foreign vacation one needs to optimise one's resources and find out the best possible deals as of one's abilities. Return flight tickets are a must for any vacation and making the diligent choice saves a lot of money. As I was looking through Skyscanner app for the best choice , I found a very attractive price in our stipulated dates, in Indigo Airlines, which had actually started a new flight route from New Delhi to Turkey only a month before.
I generally always buy my Air Tickets from the original site of the respective airline, and this time too I followed the same rule of thumb. This definitely gives some added advantage which a seasoned traveller only understands. We had our return flight tickets from Kolkata - NewDelhi - Istanbul and back the reverse way within 68,000 INR ( all inclusive with food and soft drinks as well as extra baggage charge) for two adults , which was actually a very good deal.
Thereafter I took a fortnight to plan the entire itenary as well as the respective bookings for a two weeks Turkey Vacation. Believe me guys, if you need to make the best vacation with limited resources and maximize your travel itenary at bargain prices, you ought to do a heavy research. I don't boast, but I had been seriously quite good in planning our European travels in the past, and this time too, it was not an exception.
All versatile aspects of a country and all prominent places of visit can never be actually done away with in one go. We had to compromise a few places, though the route I chalked out was optimally the best ( as we were travelling in public convence and never prefered private vehicles at any instant, for the sake of cost optimization).
So in brief I can round up my itenary as follows:
May 25, 2019
Flight from Kolkata to Delhi by Indigo Airlines at 16:50 hrs.
Arrival to Delhi at 19:20 hrs.
May 26, 2019
Flight from Delhi to Istanbul via Doha (by Indigo Airlines) at 10:25 hrs.
Arrival to Istanbul at 18:20 hrs.
May 26 to May30, 2019
Confirmed hotel booking at Just Inn Hotel, at Fatih, Istanbul
Visit city of Istanbul from May 26 to 30, 2019.
May 30- 31, 2019
Overnight bus journey in Metro Turizm bus( confirmed booking) from Istanbul (Esenler Otogari) at 21:00 hrs to Bergama Otogari .
Arrival to Bergama at 07:40 hrs on May 31, 2019.
May 31 to June 01, 2019
Confirmed hotel booking at Serapion Hotel at Bergama .
Visit city of Bergama.
June 01 to June 02, 2019
Travel from Bergama to Selcuk
Confirmed hotel booking at Urkmez Hotel at Selcuk. Visit city of Selcuk.
June 02 to June 03, 2019
Travel from Selcuk to Denizli
Confirmed booking at Yildirim Hotel at Denizli.
Visit city of Denizli and Pumakaale.
June 03, 2019
Bus journey from Denizli at 13:30 hrs to Antalya with confirmed bus tickets in Isparta Petrol Turizm bus.
Arrival at Antalya at 17:00 hrs .
June 03 to June 06, 2019
Confirmed hotel booking at Start hotel, Antalya.
Visit city of Antalya.
.
June 06, 2019
Confirmed air tickets for flight from Antalya at 14:40 hrs, to Kayseri,in Sun Express.
Arrival to Kayseri at 15: 55 hrs
June 06 to June 08, 2019
Confirmed hotel bookings in Goreme Cave Rooms at Goreme ,Nevsehir
Visit city of Goreme.
June 08, 2019
Flight from Nevsehir at 22:15 hrs, to Istanbul in Turkish Airlines. ( Confirmed Flight tickets)
Arrival to Istanbul at 23: 30 hrs
June 08 to June 09, 2019
Confirmed hotel bookings in Bella Vista Hostel at Beyoglu, Istanbul.
Visit city of Istanbul.
June 09- June 10, 2019
Flight from Istanbul at 20:40 hrs, to Delhi.
Arrival at Delhi on June 10,2019 at 05: 05 hrs.
Confirmed flight tickets in Indigo Airlines.
June 10, 2019
Flight in Indigo Airlines from Delhi to Kolkata at 09: 45 hrs. Arrival to Kolkata on June 10,2019 at 12 : 00 hrs.
Once the respective bookings are done ,the next issue is applying for the visa. The e-visa which is in place for Turkey, is not applicable unless one has a Schengen Visa or an US Visa valid during the respective time of travel. Otherwise the sticker visa on passport is the only option to be be sought out for. I and my better half had to go for the sticker visa only, applying them in Rene Towers, Kolkata. Along with the visa charge, the processing charge at the Turkish Embassy is really expensive, but one is left over with no choice.
Once the visa was confirmed, we bought a few necessary titbits for the journey, and went on with our tour . Actually to be precise, I had a herculean task of carrying a dogbite injection with me in the flight, as my better half was bitten by a dog 10 days before our journey. But I successfully carried it ( a Rabipore injection which needs to be maintained at a specific low temperature) and my better half could successfully raje the vaccination in Istanbul on the 3rd day.
I will hereof now describe our Turkey tour in the successive content starting from our flight boarding.
Travelling from Kolkata Airport to NewDelhi and an amazing overnight stay:
25th May, 2019
A common ancient saying goes on like this:
Expectations Reduces the Joy.
But then if the happiness comes in a spontaneous manner, without the least expectation , then it procreate a lasting impression in the mind.
We are indeed fortunate enough, to experience this great saying on this night in real life.
Reching New Delhi from Kolkata in the Indigo Domestic flight, we were initially thinking to spend the night at the Indira Gandhi International Airport T3 Terminal in the most stressful manner, before boarding an International flight the next day. But then, Nature had an altogether different plan in its mind.
After landing in T1 Terminal in New Delhi Airport, as we were supposed to leave the terminal, my better half, Mitali took a chance and went on to the Indigo Help Desk at the Airport and clarified the goofup, which was actually made by the Indigo Airlines itself, in making us force to accept a prebooking cz of a flight cancellation on their behalf. The officials at the Indigo Help Desk in the New Delhi Airport heard her plea seriously and thereof took a prominent action after making a quick through enquiry .
We were transferred to a small yet an elegant air conditioned hotel in Gurgaon for an overnight stay, along with an all inclusive luxurious dinner and a breakfast for the next day. Further, we are supposed to be transferred to the Airport itself the following morning, as of the arrangement by the Indigo Airlines.
This small spontaneous outcome of life, makes one atleast believe, that there is definitely much more in life if we just be with the flow, for a mesmerising tomorrow .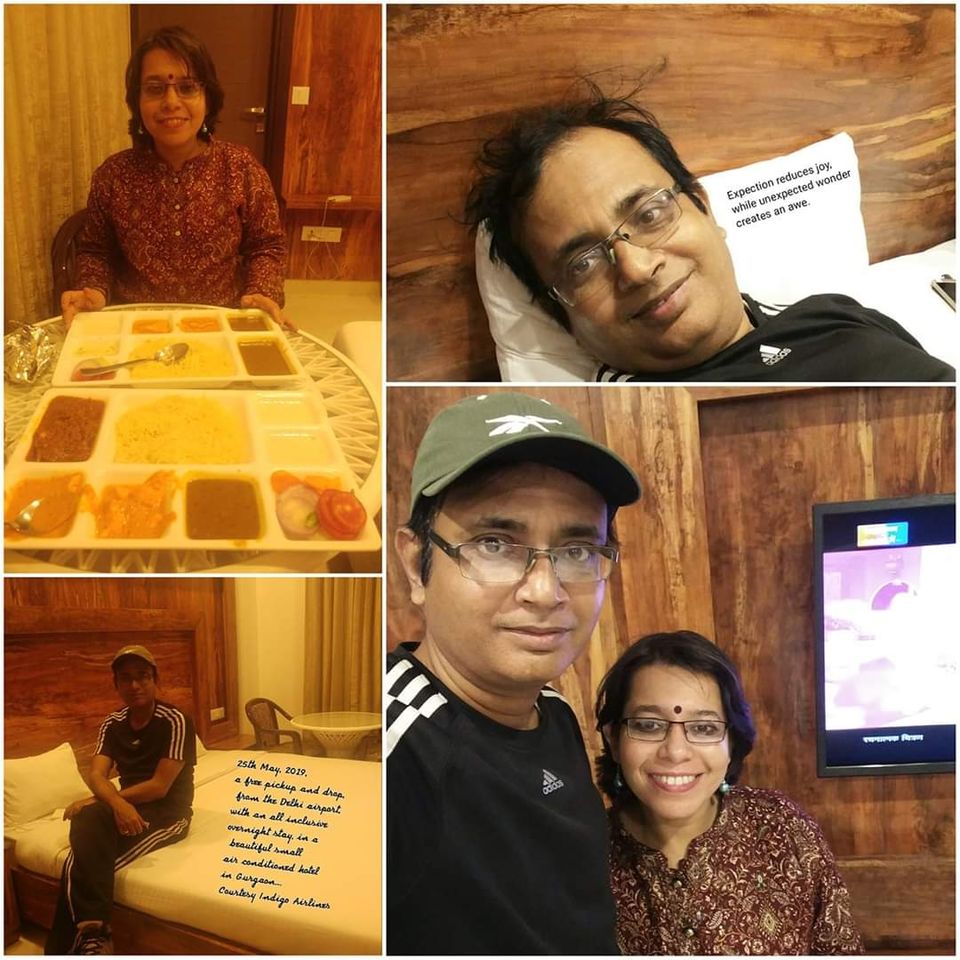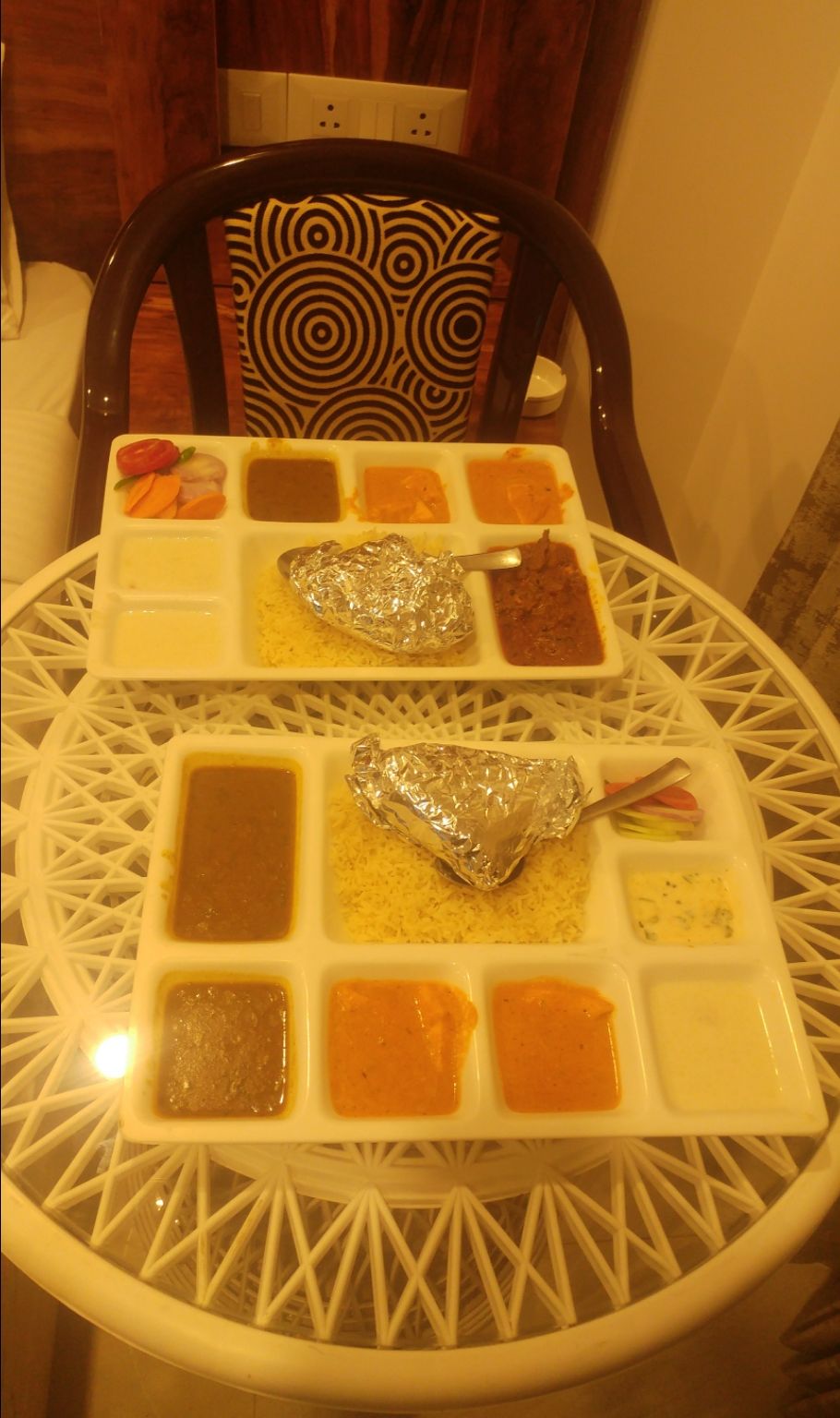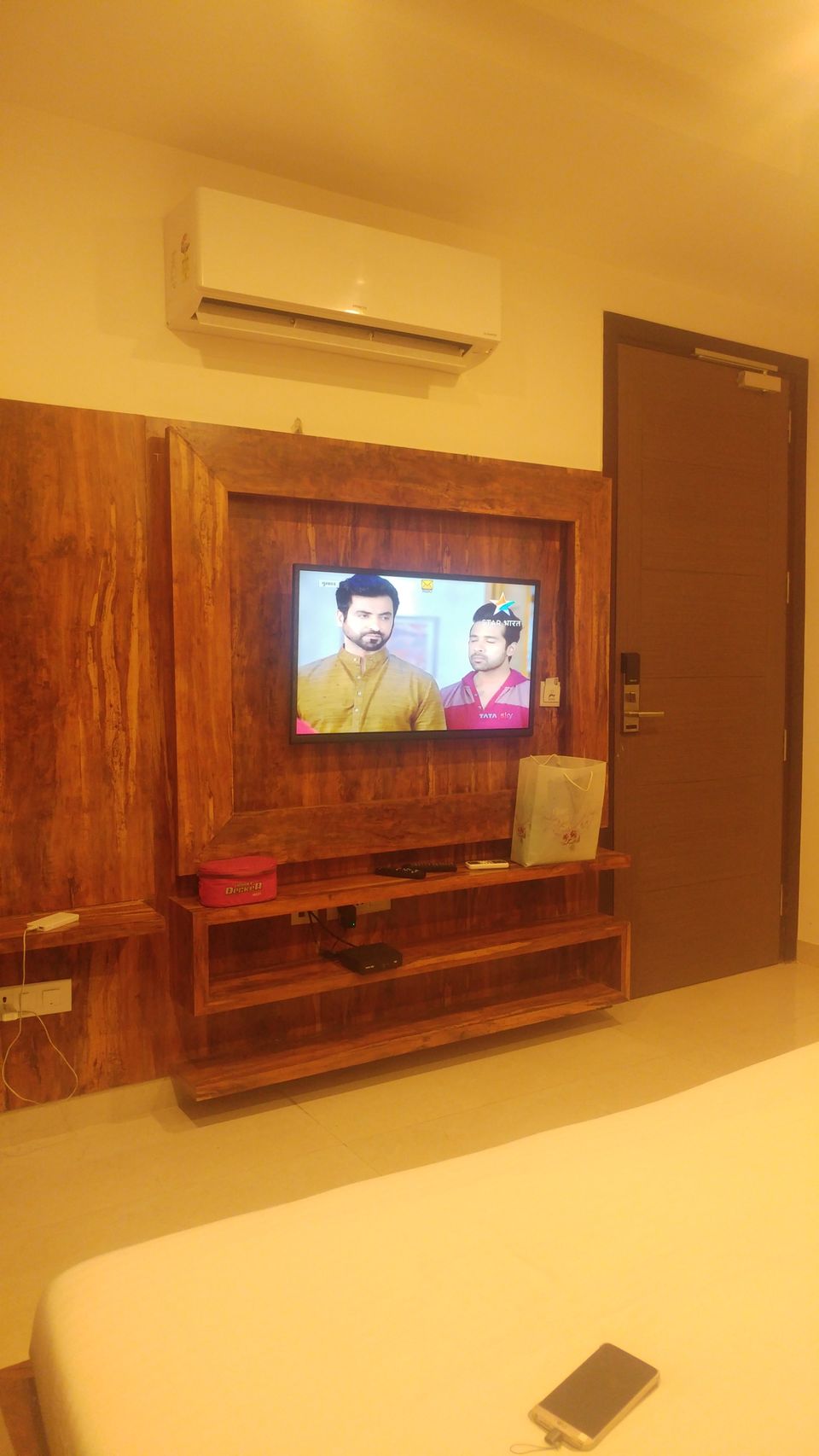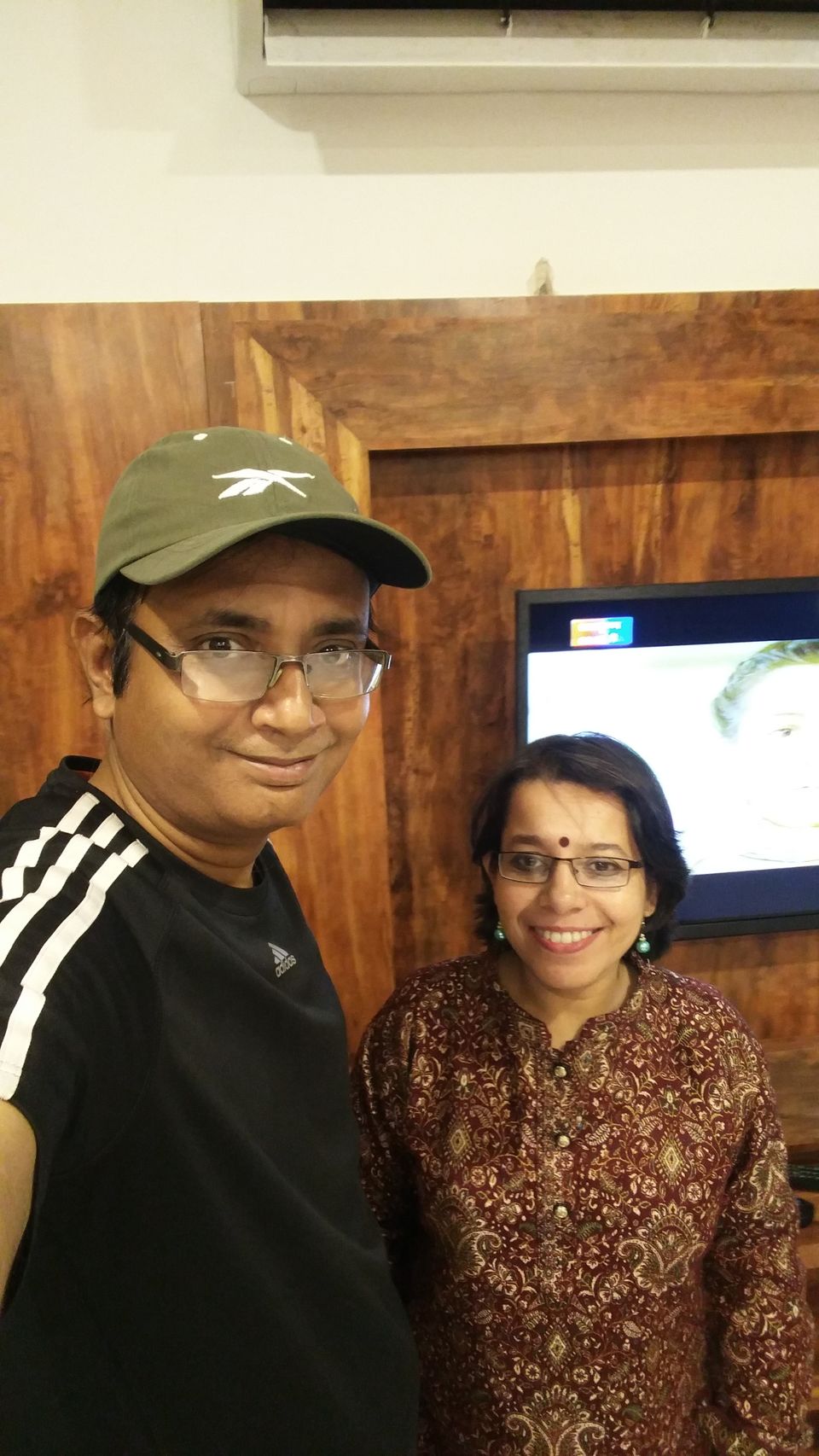 26th May, 2019
In the morning, after having a delicious breakfast along with hot coffee in our room, we were transferred from the hotel to the T3 International Terminal in NewDelhi, by a Private AC Car, courtesy Indigo Airlines.
Thereof we boarded our Indigo International Flight and finally reached the New Atatürk International Airport (IST) in Istanbul, Turkey at around 7 PM. Actually this airport is 23 km (14 miles) west of the city center at Yeşilyurt on the European shore of the Sea of Marmara.
The airport is simply mesmerising in its grandeur.
After the entire checkout procedure, we proceeded inside the airport to make a bit of currency exchange ( around 50 Euro to TL), which was sufficient enough to ultimately reach our hotel , as well as have a decent start the next morning . It's always better not to make a lot of currency exchange inside the airport, cz one can find much better conversion rates, anywhere in the city centre in Istanbul.
Proceeding inside the airport through Level -2, enroute which we bought a transport card and thereafter coming out of the airport we loaded the card with 70TL from the automated machine. Thereof we took the Havabus and reaching closer to Faith, we took a cab and reached our hotel.