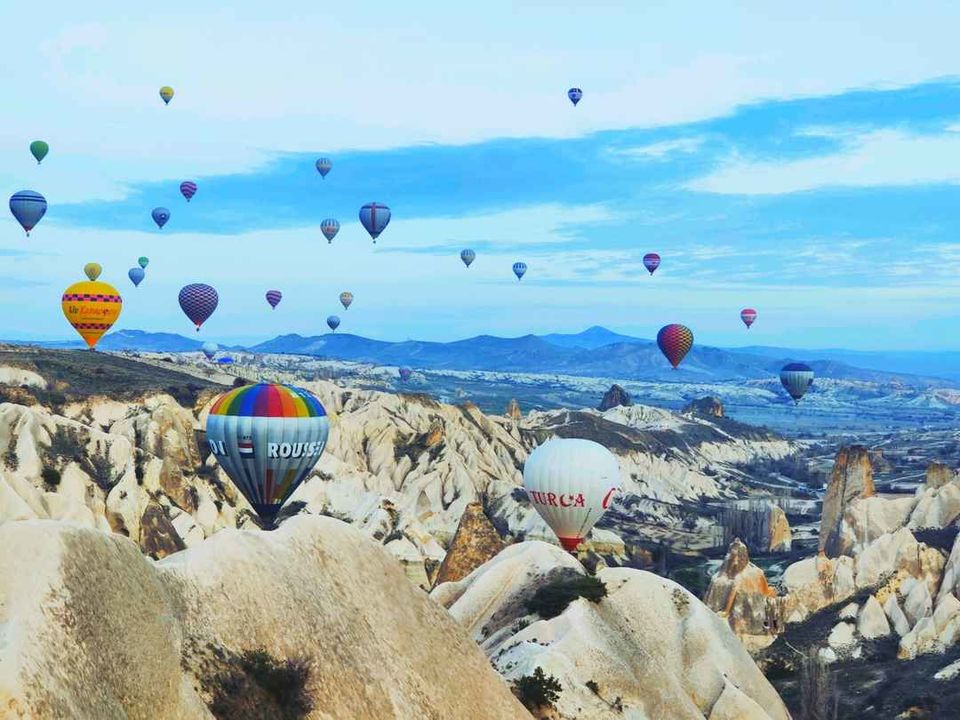 Turkey, a country that occupies a unique geographic position, lying partly in Asia and partly in Europe. Throughout its history it has acted as both a barrier and a bridge between the two continents. The historic city of Istanbul carrying the footprints of Byzantine and Ottoman Empire, the fairy chimneys in the semi-arid region of Cappadocia, The Mediterranean coast of Antalya , the limestone formation of Pamukkale -Turkey has so much to offer. We took a 5 days trip to Istanbul and Cappadocia which turned out to be one of the best experiences of our lives.
Travel tips:
1. Visa : Tourist Visa can be obtained from Embassies/Consulates of Turkey or via the Electronic Visa Application System (www.evisa.gov.tr). It is possible for Indian tourists to obtain an e-Visa approximately in three minutes online through the Electronic Visa Application System. A valid US visa (B1/B2) or UK/Schengen tourist visa is necessary for applying for the Turkey e-Visa. We had valid US visas(B1/B2) and got our Turkey e-Visa in minutes.
2. Currency : The currency of Turkey is Turkish Lira (TL). 1 Turkish Lira is equivalent to 10.75 INR or 0.12 Euro. We had a forex travel card and some Euro with us. But, we noticed, in most of the places Euro is not accepted. We converted the currency from local exchange counters. In some places we noticed extra 4% is charged if you are paying from cards. We would recommend carrying enough Turkish Lira and the rest in forex cards.
3. Transport : The public transport in Istanbul is super affordable and extremely travel friendly. There are mainly 4 kinds of public transport available - tram, bus ,ferry and train. All the touristy points are well connected through the network of public transport. You can buy a travel card named Istanbul Cart in 7 TL, which can be used in any public transport . You can buy, recharge or surrender and get a refund from any tram station. We relied on hotel arranged trips while we were staying in Cappadocia.
4. Mobile connection and wi-fi : There are free wi-Fi zones in Istanbul but to get the OTPs one must have a Turkish mobile number. We got a Turkish SIM card for 110 TLs from a local store near our hotel. That got us covered throughout our trip for all the navigation and google search.
5. Food: Turkish food is a celebration. We tried various kinds of street food, Testi kebab, Donor kebab, Gozleme, Turkish delight, Baklava, Turkish wine, Turkish chocolates.. the list goes on. There are hundreds of good restaurants in Istanbul and Cappadocia. Our favourites are 360 Istanbul in Taksim Square and Old Cappadocia Cafe & Restaurant in Göreme.
Day1: Reach Istanbul
We travelled from Spain to Istanbul with a long layover in Berlin. We would highly recommend taking the early morning Turkish Airlines flight from New Delhi, which reaches Istanbul in the afternoon. After reaching the new Istanbul airport, there are multiple options to reach the main city. Taxis are quite costly and the long drive from Airport to Sultanahmet Square takes around 170 TLs. There is bus service available from the IST airport as well, the 100 minutes of Havaist bus ride (https://hava.ist/en) to Sultanahmet Square takes only 18 TLs per person. There are plenty of hotels available in every possible range near Sultanahmet Square , where most of the tourist attractions are situated. Our hotel was at 7 minutes walking distance from the famous Blue Mosque. After checking into the hotel, we went for a walk in the locality, had some Turkish tea and kebabs while enjoying the night view of the gorgeous city from a terrace restaurant.
Day 2: Bosphorus ferry trip, Galata tower , Taksim Square
It was a windy chilly day. We had a delicious Turkish breakfast in our hotel and got ready for sightseeing. We took a tram ride to Eminönü ferry station from Sultanahmet square. Eminönü Sehir Hatlari ferry station is in the European side of Istanbul from where one can take ferries to go to the Asian side. We took the ferry and fed the flocks of seagulls who accompanied us during the joy ride. If time permits, it is worth taking the longhorn boat ride which takes you across the Bosphorus for 3 hours with several interesting stops.
We took another ferry from there to go to Kabatas, and went to Dolmabahçe Palace. It is a beautiful palace, situated in the European side of Istanbul. The ferry tickets for each ride were less than 3 TLs.
We took a tram ride again to go to Galata Tower, it is a 10 minutes uphill walk from the tram station. The entry fees to the tower is 45 TLs. There is a restaurant and café on its upper floors which have views of Istanbul and the Bosphorus. We took our time to rejoice our cup of coffee looking at the magnificent views of Istanbul from the century old watch tower.
The next and final stop for the day was Taksim Square. It is the heart of the new age Istanbul. There are hundreds of shops, food joints, bars in the street named Istiklal Kadessi, we reached the place and it seemed like the city was ready to party all night . We took a long walk through the street and had a romantic dinner date in one of the best restaurants - 360 Istanbul. The food was great and the view of the city from the open air restaurant was unforgettable.
Day 3: Blue Mosque, Hagia Sofia, Topkapi Palace, Basilica Cistern
After enjoying our lavish breakfast spread , we headed towards the top attractions of Istanbul - SultanAhmed Square. The first destination is the Blue Mosque also known as Sultanahmet Camii. The mosque is closed during the prayer time for the non worshippers , so we planned our timings accordingly. The elaborate blue tiles work inside the mosque blew our mind.
Next stop was Hagia Sofia also known as Ayasofya Muzesi. It is situated right opposite to Blue Mosque and there was a long queue to enter the museum. The entry fee was 100 TL per person. It was built during the Byzantine Empire as a cathedral and later on converted to a mosque during the Ottoman Empire. It has been open for public since 1935 as a museum. Undoubtedly it is the most famous attraction of Istanbul.
We took a 8 minutes walk from there to the Topkapi palace , the centre of Ottoman Empire for hundreds of years. The entree fee again was 100 TL. There are a number of instagram friendly spots in the palace where you can take hundreds of photos.
We rushed to Basilica Cistern as the closing time approached. There was a long queue but once we entered, we realised the wait was worth it , I relived every moment of the climax of the movie Inferno. The entry fee was 30 TL.
We so wanted to watch the whirling dervish dance show in Hodjapasha Centre, but gave it a miss to sit back, relax and soak in the flavour of Istanbul. As the sun set, we sat down in a local restaurant, tried different types of kebabs, sipping the Turkish tea and hookah.
Day 4: Grand Bazar, Chora Church , Leave for Cappadocia
It was our last day in Istanbul. After breakfast , we started our day with a visit to Arasta Bazar which was just a few minutes walk from our hotel. Then we took a tram ride to Grand Bazar . It is one of the world's oldest and largest covered markets . It has more than 4000 shops, no wonder we spent more than 3 hours in the market itself. Being the foodie that we are, how could we miss the Doner Kabab? Donerci Sahin Usta outside the Grand Bazar offers one of the best Doner Kababs in the city.
After Grand Bazar we took a long tram and bus ride to Chora Church also known as Kariye Muzesi.The entry fee to Chora Church was 65 TL. On the way we saw the remains of the Walls of Constantinople standing with its full glory for ages.
We came back to Sultanahmet square and took a long walk to Eminönü to bid Bosphorus a final adieu. The beautiful long walk through the pebbled streets and thousands of local shops is something I would cherish forever. We collected some souvenirs and some Turkish sweets. We sat down across the blue water of Bosphorus and enjoyed the magical sunset with the view of Galata Tower on one side, Asia on the other side.
We had a late night flight to Cappadocia that night from Istanbul Sabiha Gokcen International airport. We took an airport shuttle arranged by our hotel to reach the airport. We had our hotel booked in Göreme, which is 1 hour 15 minutes drive from Kayseri. We reached our hotel in Göreme by airport shuttle arranged by our hotel around 2 o'clock in the night.
Day 5 : The hot air balloon tour - once in a lifetime experience
We hardly slept for 2 and a half hours as we had the hot air balloon tour booked the very next morning. The balloon tour can be booked online or from the hotels in Istanbul or Cappadocia directly. We got our tour booked from Viator.com for INR 9000 per person. The one hour hot air balloon tour during the sunrise over the mysterious valley of Cappadocia is one of its kind experiences.
After the balloon ride, we came back to our cave hotel and had breakfast. We took a long nap to compensate for sleep deprivation and travel fatigue. In the afternoon , we booked an ATV and went for a 2 hours long guided ATV ride through the valley of Cappadocia. Watching the sunset in the rose valley was nothing less than magical.
As the sun sat in the valley, we took a stroll across the Göreme town and explored the local Carpet shops, collected some souvenirs and had a mouth watering Turkish dinner with Pottery Kebabs and Turkish wine.
Day 6: Travel Back to India
The next morning, we planned to wake up before sunrise and see the balloons from the terrace of our cave hotel. But due to heavy winds, the balloon trips got cancelled for the day. We packed our bags and left for the Kayseri Airport after breakfast. We had our Turkish Airlines flight to Delhi from Istanbul on that day itself. With countless memories and a life changing experience we landed in Delhi IGI airport.