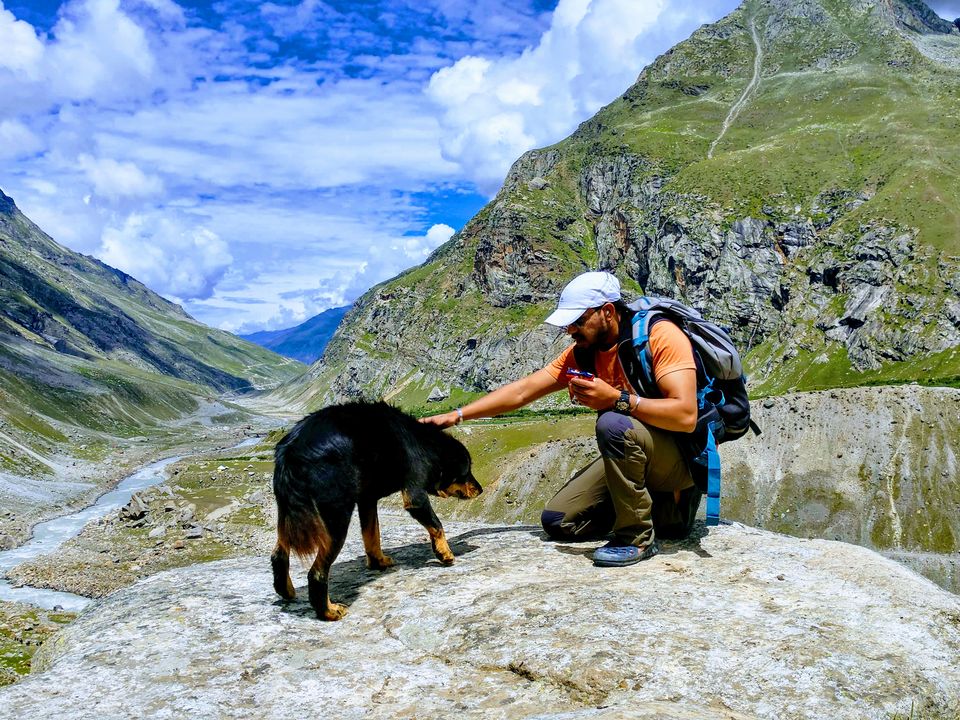 You need mountains, long staircases don't make good hikers.

check out full video of this trip on youtube
Trekking is an adventure that once you are into it you cannot get it out of you. You lure more and more of it. It's even more adventures when its Himalayan one,because neither you predict future nor Himalaya
lets begin adventure with slow pace.we packed our bags fill with excitement,left behind office Id and daily schedule of boring life.
"We travel not to escape life, but for life not to escape us." – Anonymous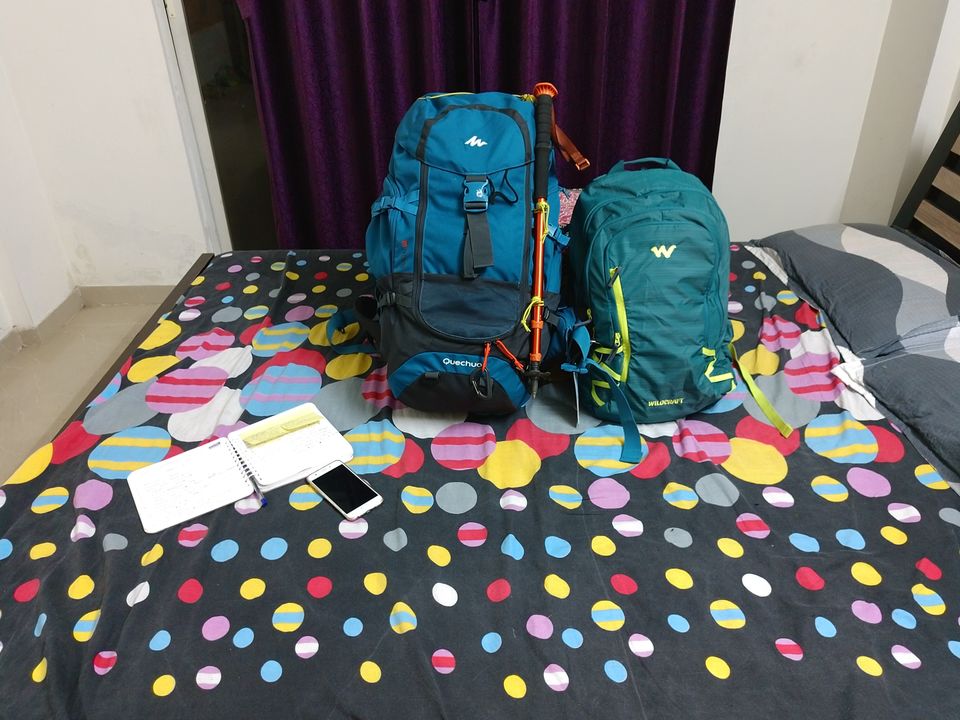 "Remember that happiness is a way of travel – not a destination."
we started journey from Pune to another world(Hampta in Himachal pardesh).The flight was late night tooks (2hr) and cost us around 3000Rs per person (pune to new delhi).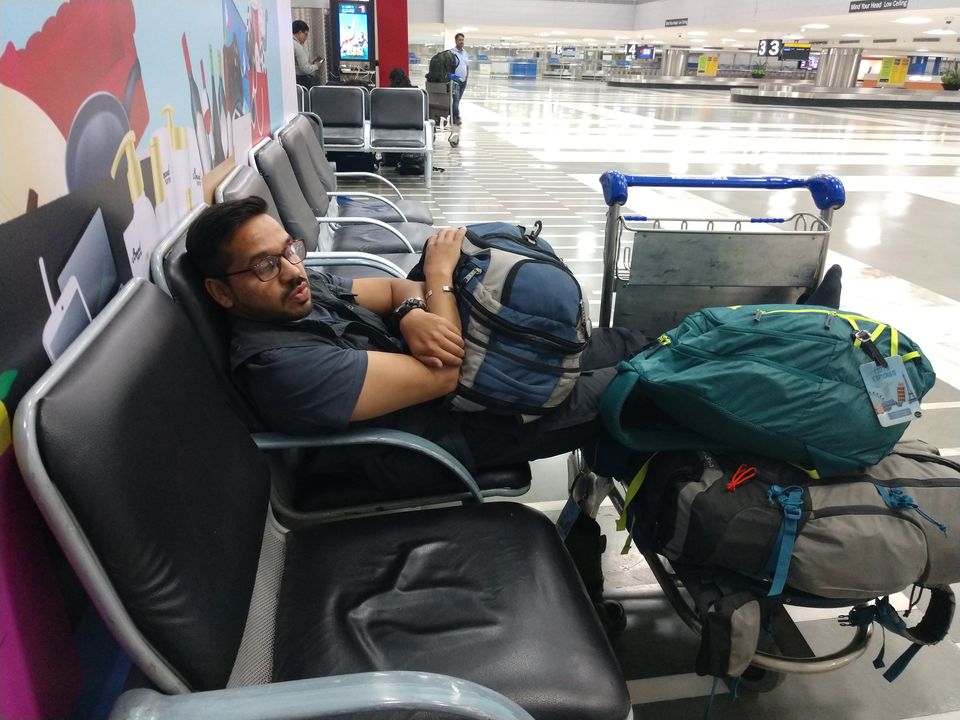 we had almost 12 hr to explore Delhi,so no Doubt to grab this opportunity.its Delhi time ...Chalo Delhi.....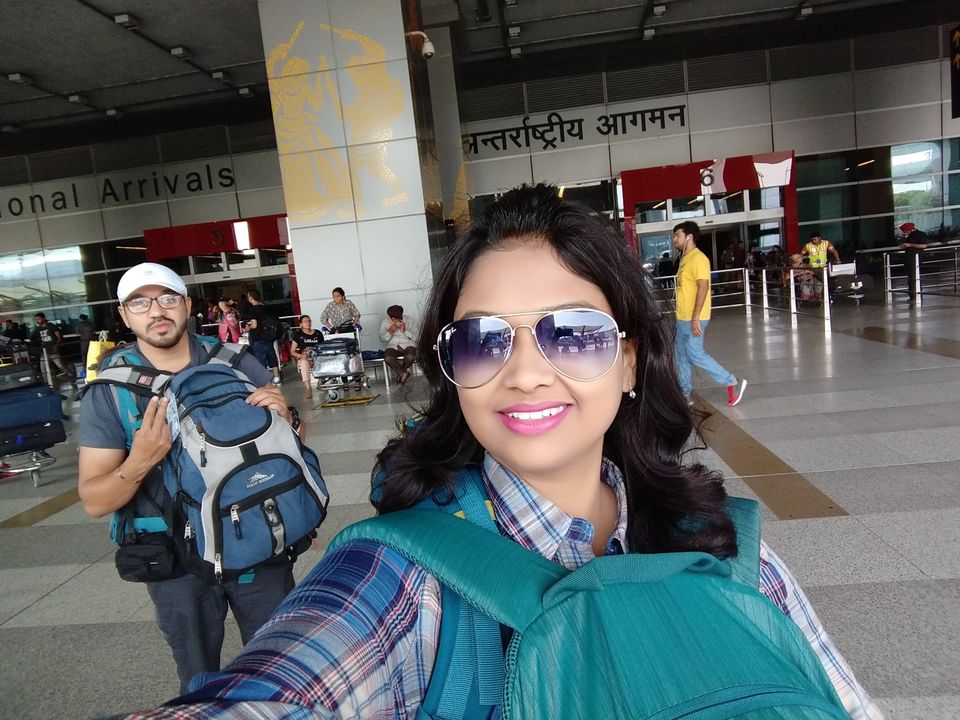 "I asked my soul: What is Delhi? She replied: The world is the body and Delhi its life. Mirza Asadullah Khan Ghalib"
the best and cheapest way for traveler to take Delhi metro,located near by the Airport of New Delhi, few meters Away.Ticket cost around 60 Rs per person to reach new Delhi metro station.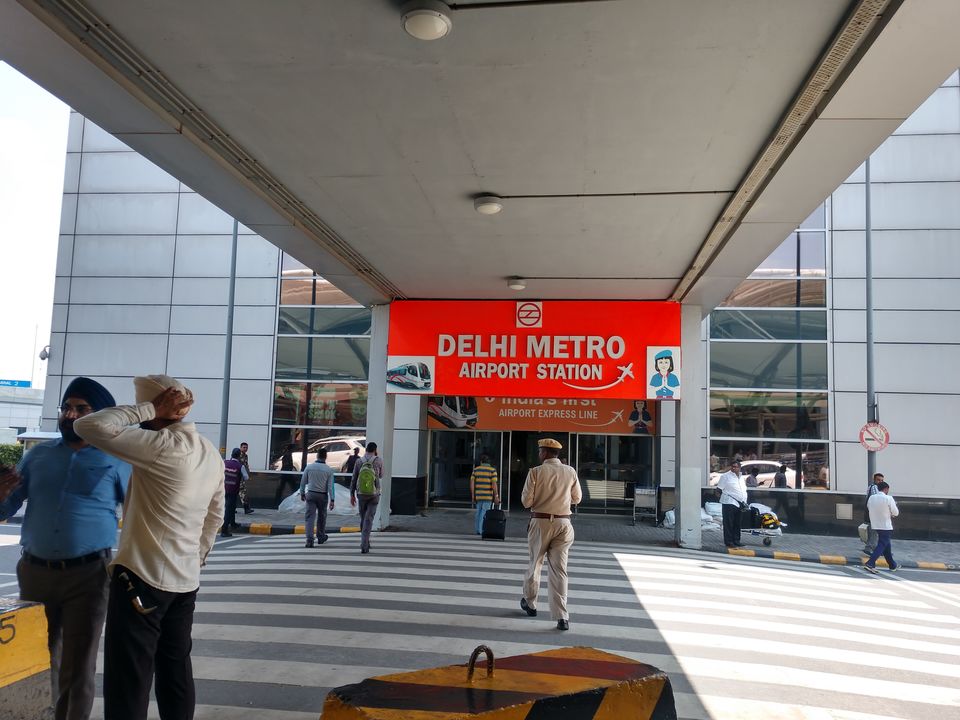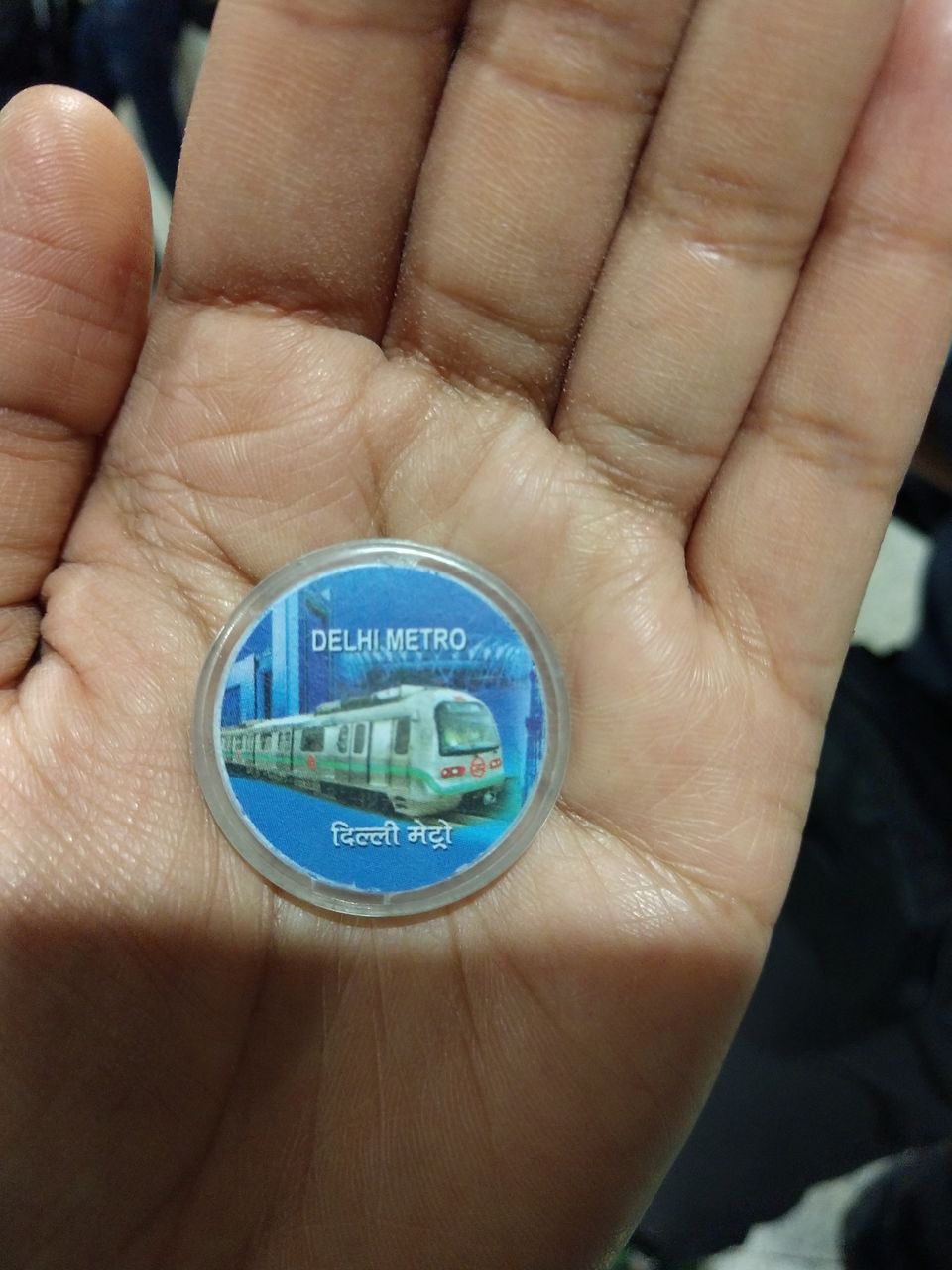 The Taj Mahal of the 20th century
we started with Louts temple of Delhi,The Lotus Temple also known as the Bahai House of Worship or Bahai Mashriqul-Adhkar Temple is one of the best architectural marvels in the county in modern times. The white marble structure is also called the Taj Mahal of the 20th century but it is so much more than just a splendid piece of architecture.
way to reach louts temple is very easy.
Things you should know about visiting the Lotus Temple:
Where: Lotus Temple Road, Shambhu Dayal Bagh, Bahapur, Kalkaji, New Delhi
Contact: 011 26444029
Timings: Lotus Temple opens at 9.30 am for visitors and shuts down by 5.30 pm in winter, and in summer the timings are 9 am to 7 pm. It remains open from Tuesday to Sunday and is shut on Mondays. There are 15-minute prayer sessions held in the temple at regular intervals every day.
Entry fee: There is no entry fee or any restriction for anyone to enter the Lotus Temple. There is space for parking which is free too.
How to reach: You can reach the Lotus Temple by taking a metro. The nearest metro station is the Kalkaji Mandir on the violet line. From here you can take a rickshaw or cab(30 -40 Rs only or by sharing its cost 10 Rs per person). The temple is close to Kalkaji Park and public transport is easily available to reach it.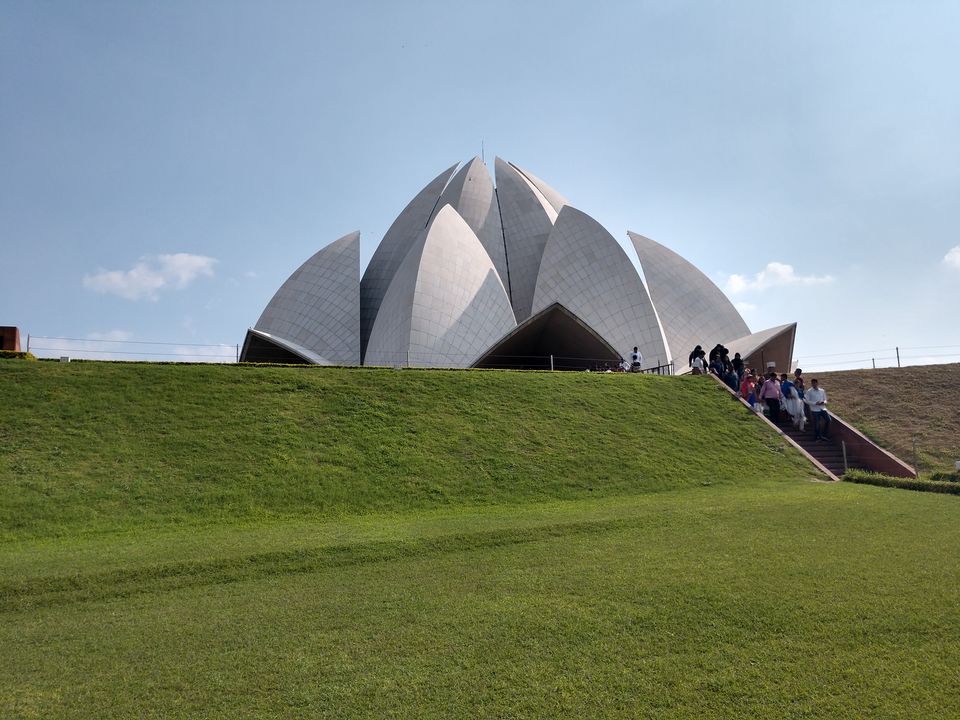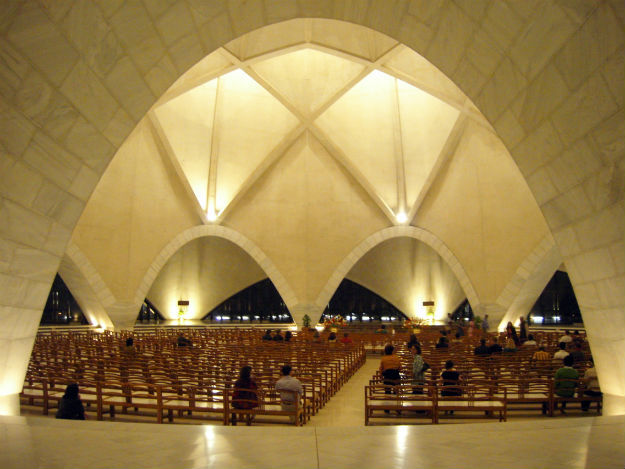 Next destination INDIA GATE.
The India Gate (originally called the All India War Memorial) is a war memorial located astride the Rajpath. India Gate is a memorial to 70,000 soldiers of the British Indian Army who died in the period 1914–21 in the First World War.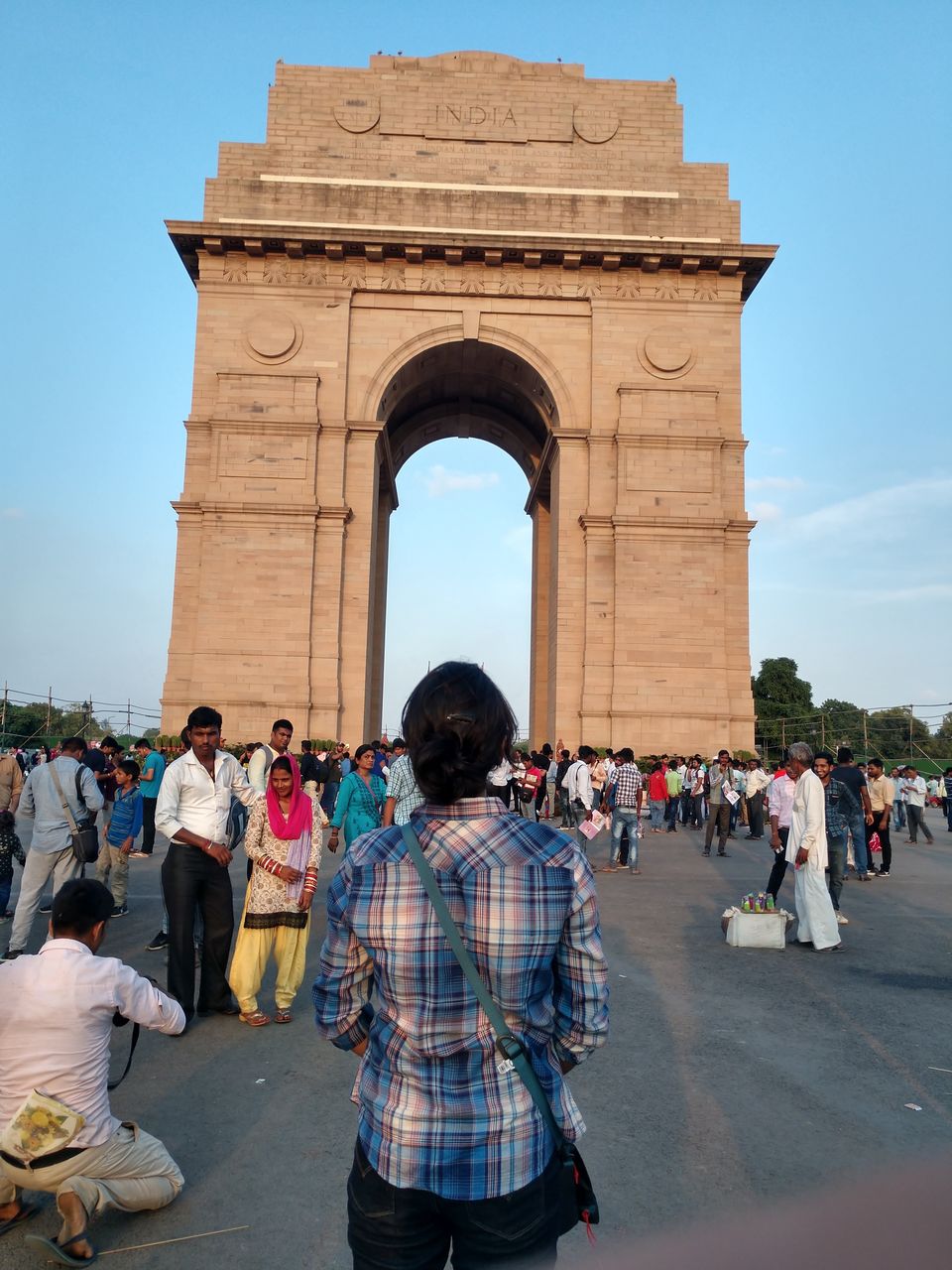 Take Delhi metro Train to reach here,The nearest metro station to India Gate is the Central Secretariat.
Now Time for Qutb Minar
The Qutub Minar is the tallest minaret in the world made up of bricks.
Location: Mehrauli.
Nearest Metro Station:Qutab Minar.
Open: All days.
Entry Fee: 30 (Indians), 500 (foreigners).
Days Closed: None.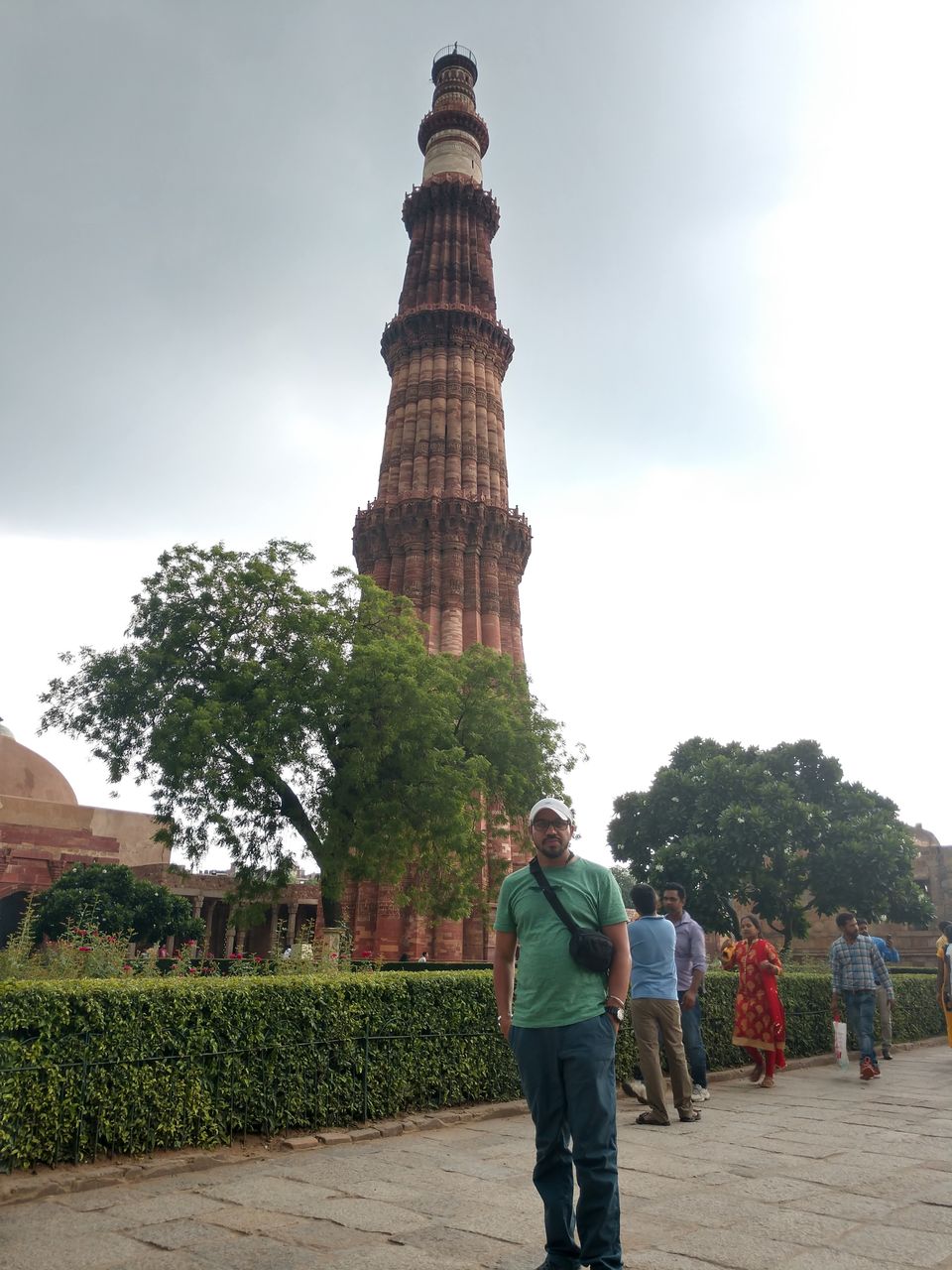 after exploring Delhi, its time to go Manali off course for trek.
we had bus from Maharana Pratap Inter State Bus Terminus (ISBT Kashmere Gate) around 10 Pm from delhi and reached to manali around 11:00 Am.Bus fare cost in between 700 rs to 1500 rs.
i suggest to go by HRTC Volvo cost 1500 Rs per person.you can do online booking.
ISBT bus stop is near to Kashmere gate metro station just 5 min walk.
http://online.hrtchp.com/oprs-web/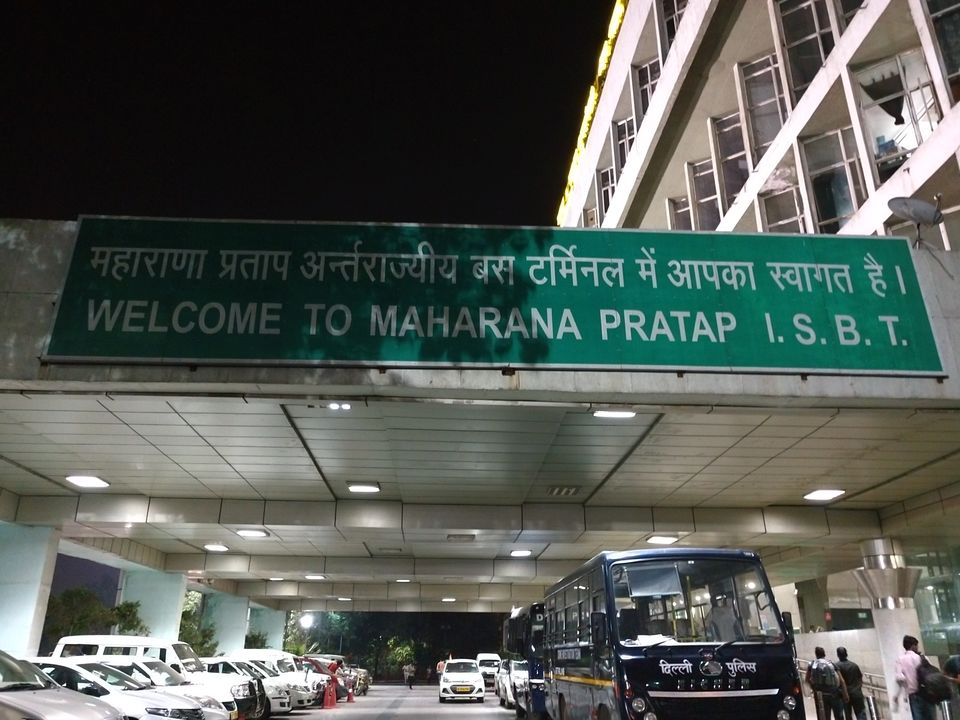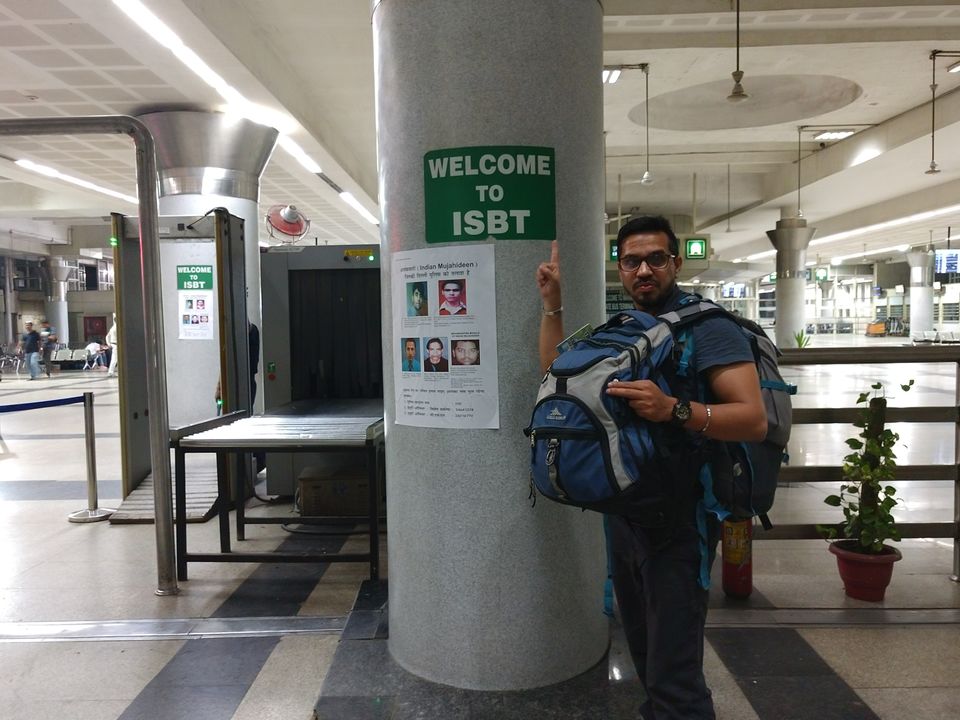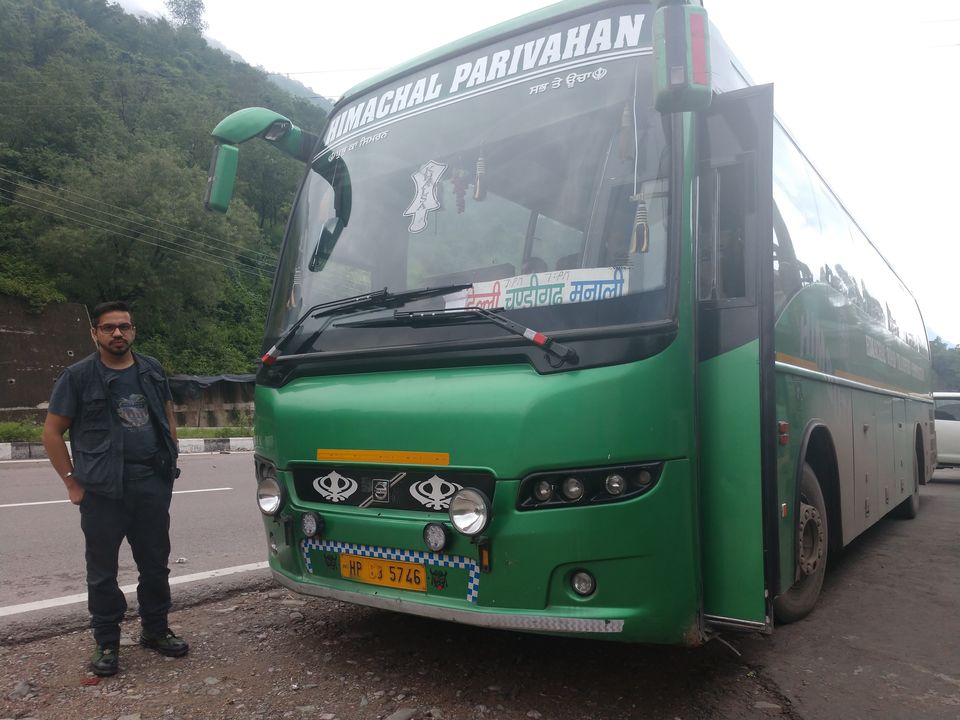 Ths trekking Expedition begins at the starting point of Manali. Manali is easily accessible by rail, road and air. Fly into the Bhuntar Airport, located 52 kms from Manali with regular taxi services available to reach your stunning destination. The Bhuntar Airport is well connected by major cities such as New Delhi and Chandigarh. If you instead choose to travel by road, the beautiful curvy roads leading to Manali from Delhi will take you around 12-14 hours.
Best Season To Visit
Located amidst the mountain ranges of Himachal Pradesh, The best season to engage in this trekking expedition is during the months from June to September as the weather is suitable for high altitude trekking. Although other months still facilitate trekking, it is not recommended due to the varying and unpredictable weather conditions. Temperatures here fall below freezing point in winters and thus with relatively warmer days between June and September.
So after spent 12 hours in Delhi, then hopped on a bus to Manali for 12-14 hours of journey. I arrived in Manali around 11 am which was perfect as I was meeting the rest of the trek group around noon.
If you need to withdraw money before the trek begins, do so at Manali or Prini.
There will be no mobile network beyond Prini.
Things To Carry
– Durable good-quality trekking shoes
– Camping shoes for crossing streams
– Thick woolen socks
– Thermal innerwear
– Heavy fleece clothes
– Torch
– Whistle
– Covers to store used/wet clothing
– Winter jacket and water proof coat
– Trekking pants
– Woolen cap, gloves, etc.
– Sunglasses
– Sun screen lotion and other toiletries
– Water bottle
– Trekking pole
– First aid kit
– Personal medication
– Swiss knife
"Life is either a daring adventure or nothing at all." – Helen Keller
Day 1: Pick up point: Manali Mall Road.
Started with a sumo journey to reach the base point.i.e. (Jobra).The car ran round and round like a roller coaster ride. The weather was beautiful. The picturesque drive from Manali, along with 42 hairpin turns, has panoramic views of Kullu valley. which passes through Prini village. After what seemed like a never-ending cycle of taking turns and ascending up the mountain, we had arrived at Jobra. The view while going up was spectacular, and I could see Manali shrinking in size the higher we went up. Lush green mountains, streams, and the cool air welcomed me for my week-long trek in the Himalayas. At this point, we were at 9,800 ft., and ascending to 10,400 ft.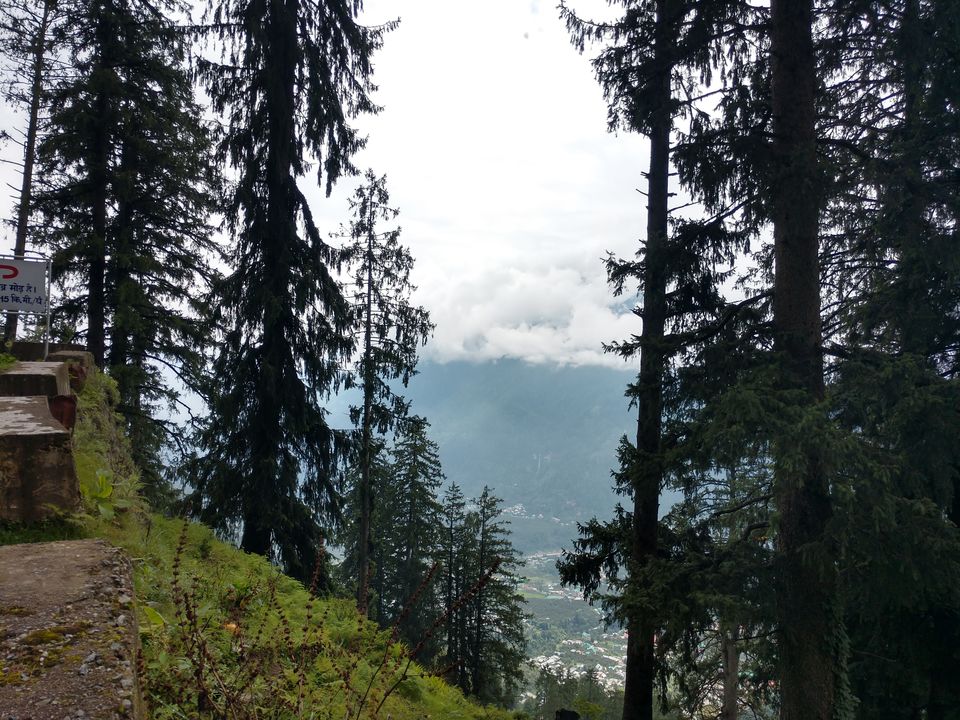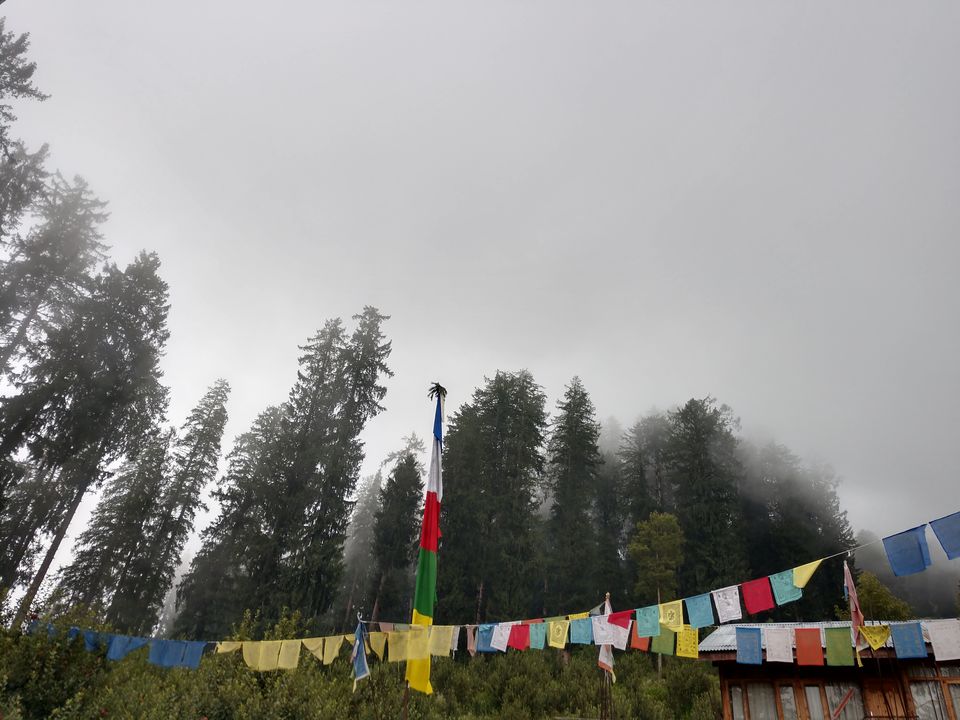 We got introduced with other trekkers, realized many of us were not first time trekkers.
"It is not down in any map; true places never are."
Day 1: Reach Jobra
we Started for Jobra immediately (2 hours drive). Trek to Jobra campsite (30 minute trek).Easy to start with. The view was mesmerizing. The Rani Nallah, which you will trek alongside.
Cross the road where you get off from the vehicle and take the small path into the forest. The forest is mostly Pine with an occasional Maple tree with its new lush green leaves – a pleasant change in the vegetation. It's an easy slope and after 20 minutes into the forest, you come to a bend with a huge rock which overlooks a meadow strewn with small rocks.
Altitude: 9,800 ft (2,987 m)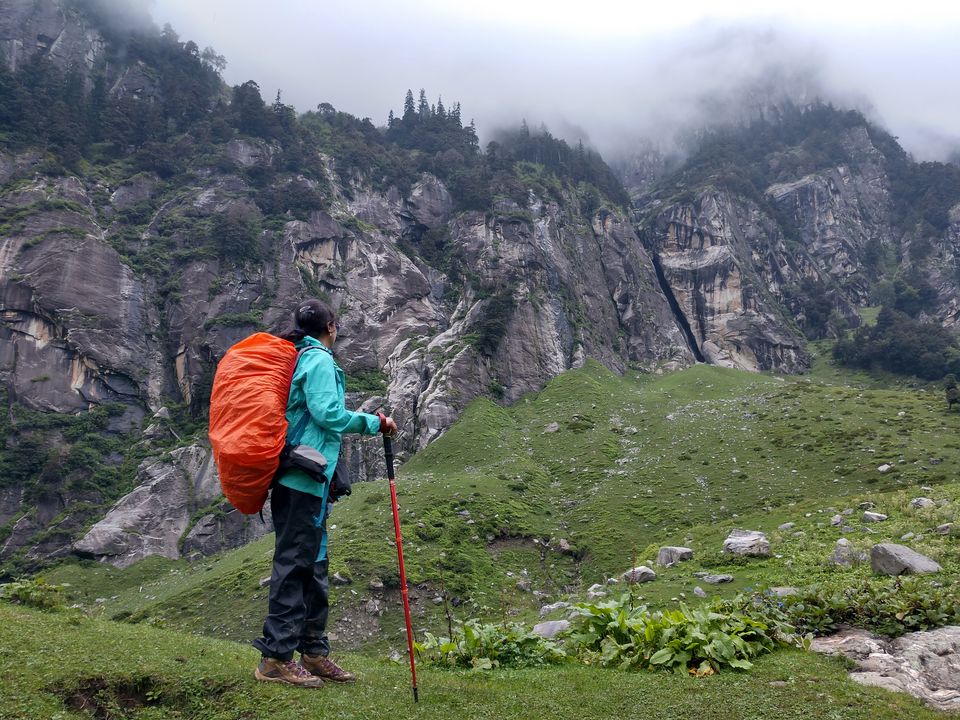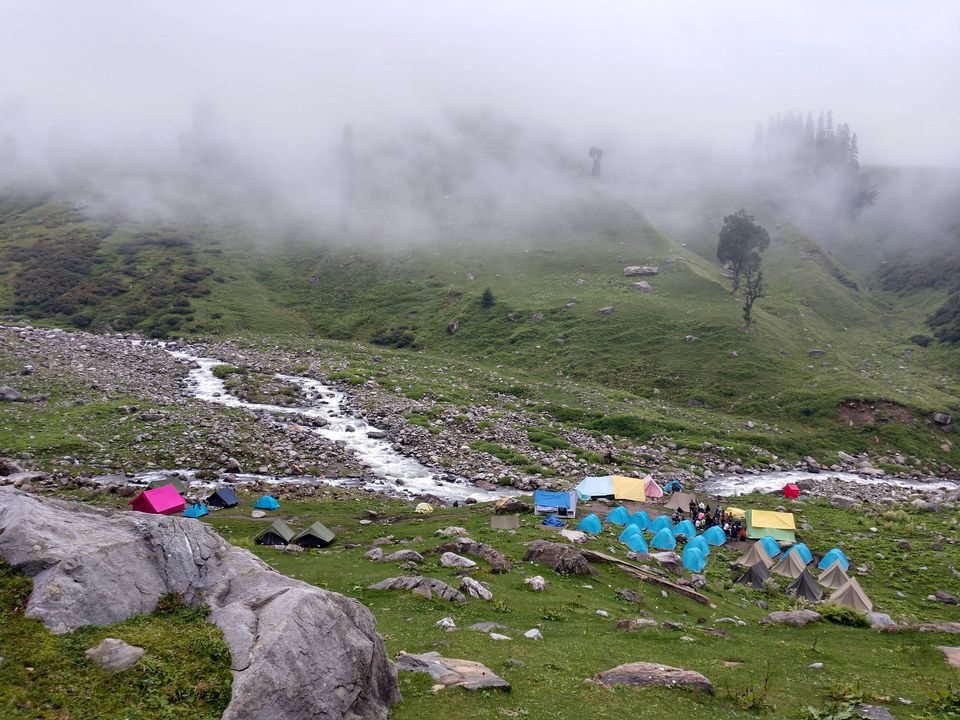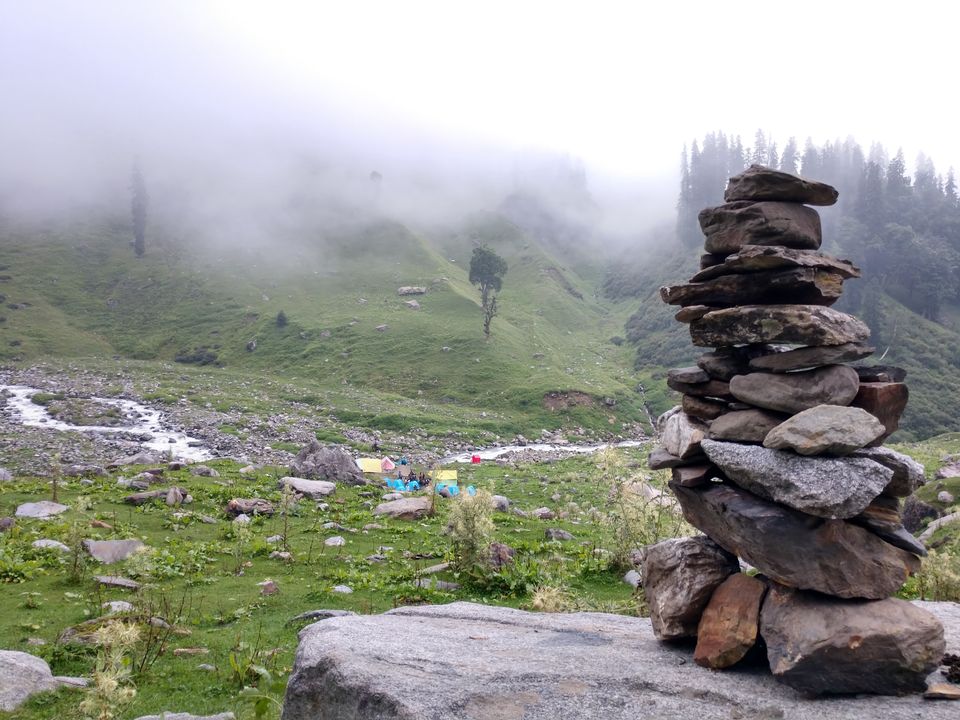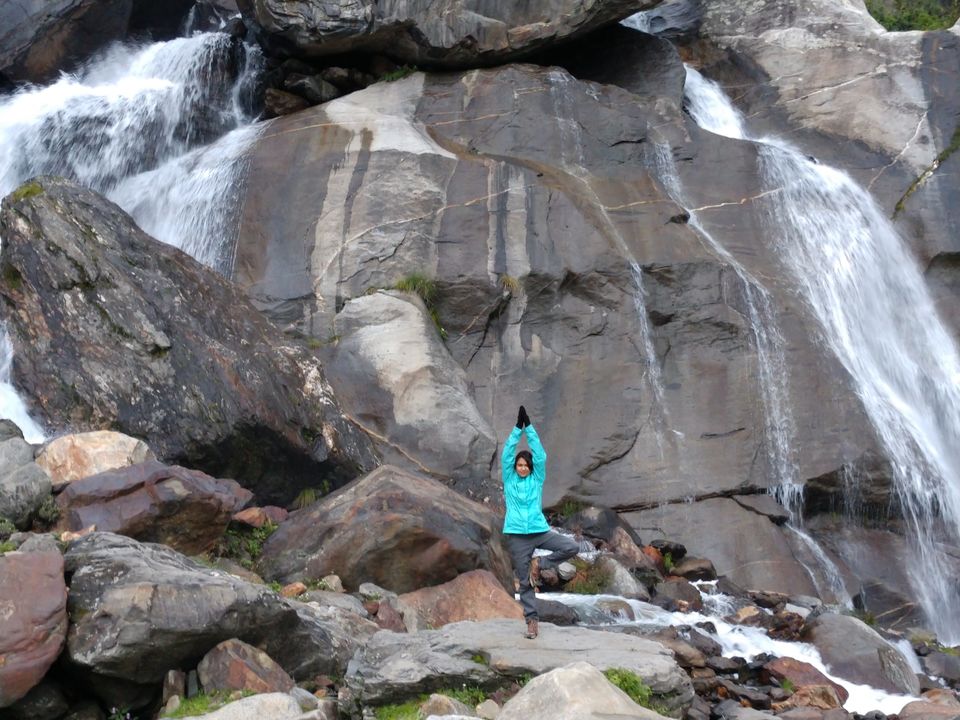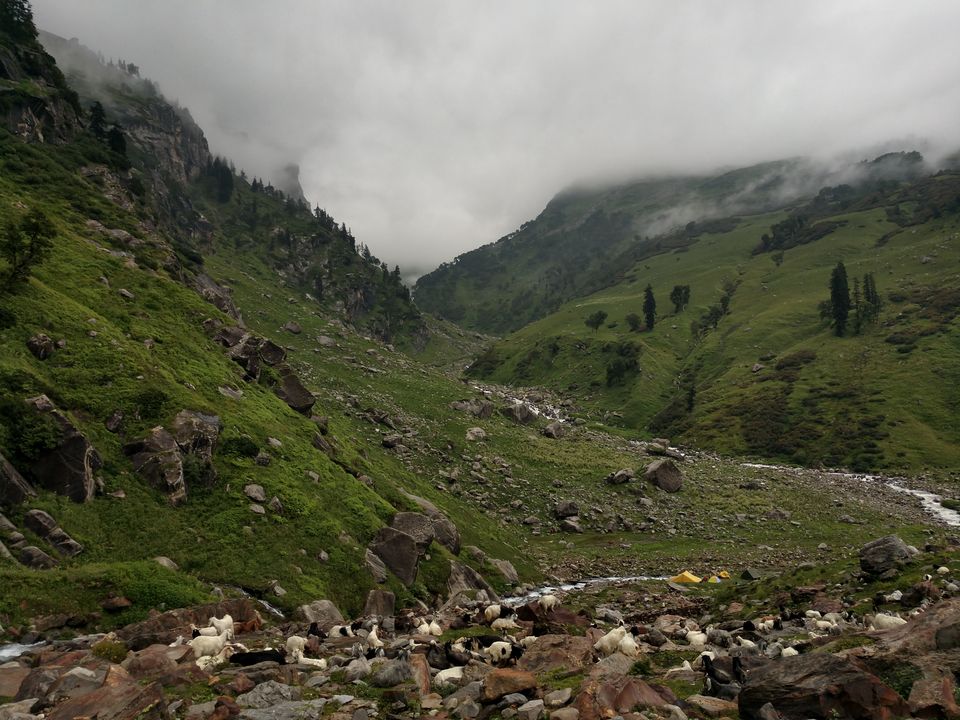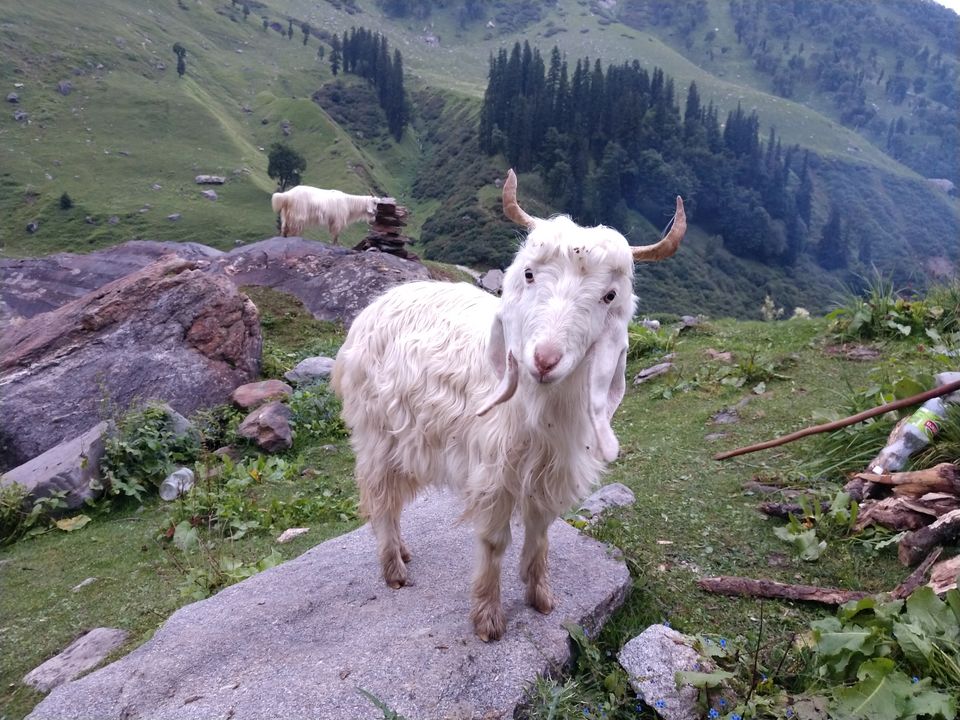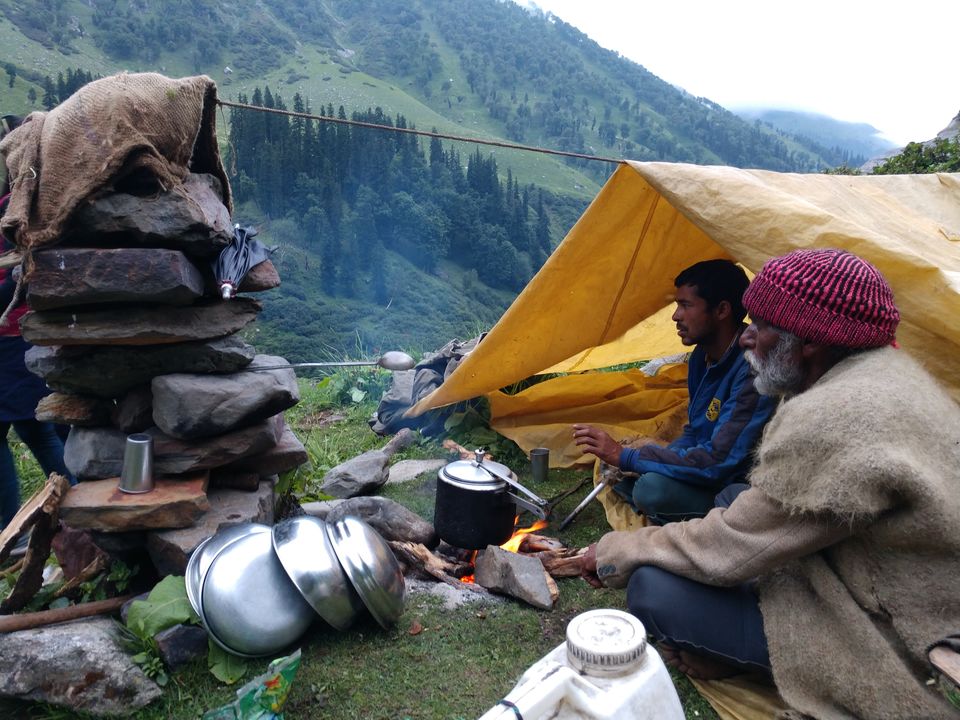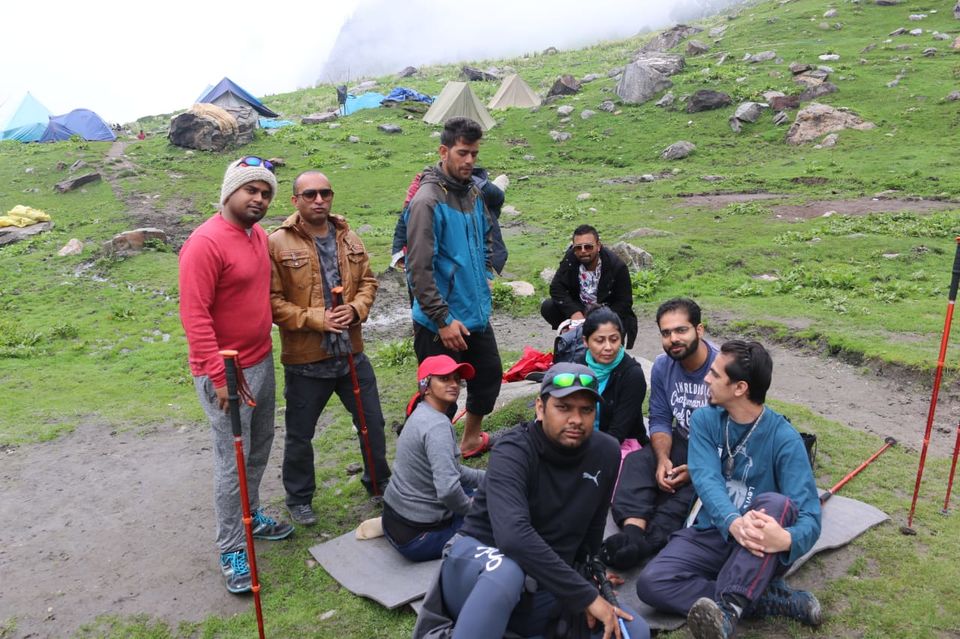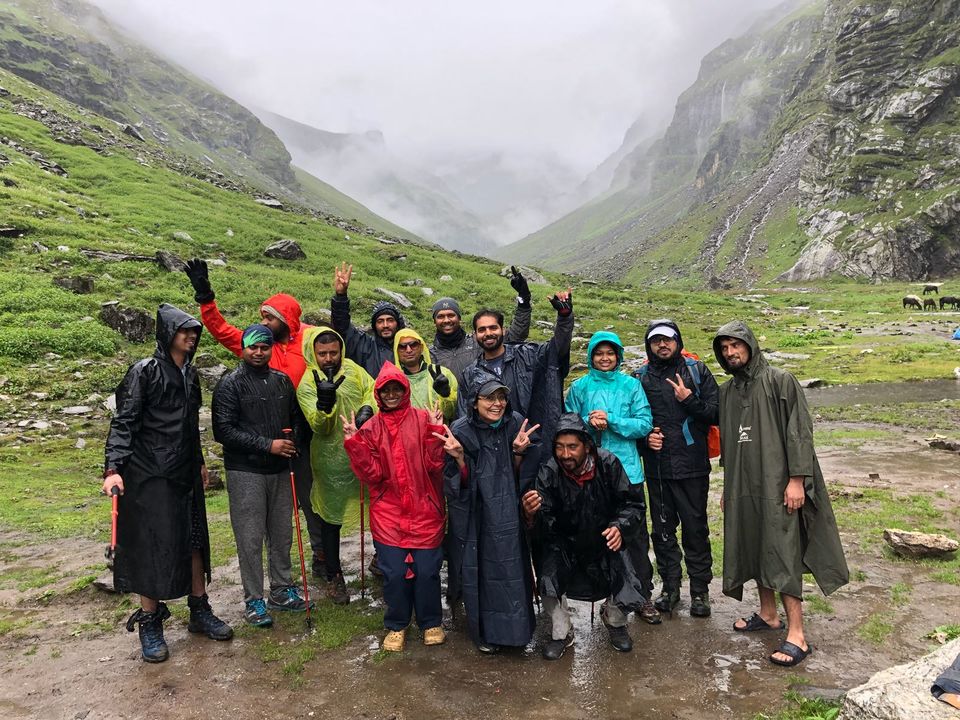 "Better to see something once than hear about it a thousand times"
Day 2: Jobra to Balu Ka Ghera
Altitude: 9,800 ft (2.987 m) to 12,411 ft (3,783 m)
Time taken: 10 hours, 12 km
The day started with a cup of tea. Get ready and we are served our nashta. We wrap our tent and leave for the trek.
we were told that we have a river crossing today.After the waterfall, you move towards your right, heading towards the river, which has a lot of boulders around it. Take off your shoes if you wish and jump across the rocks on the Rani Nallah. The water is icy cold as one would expect. You are now about half way through your trek as you enter a walled valley. On one side of the valley are the rock faces and on the other end is the river below. Once you cross the river, you are at Jwara where nature is at her dramatic best.
So when I reached near the river, some fast trekkers had already done their river crossing. Its a task to cross the river when the river is freezing cold and yes the fast flow of river can take you along. But the trek leaders do their job just perfectly.
river crossing was so much adventures for all of us.
To cross, we had to hold hands and face the current while shuffling sideways among the rocks underneath all while lugging around my 7 kg backpack and keeping balance.
Walk along the Rani river heading into a rectangular valley. On your way you will find a variety of tiny flowers – purple, yellow, pink etc. The trees are now left behind. You won't find them anymore for quite some time. It takes about half an hour to cross the valley. After you come out of Jwara, you need to walk further along. The terrain flattens as you reach Chota Balu ka Ghera where you can rest for a bit and have a quick snack. Then continue further along the river,and jumping across rocks.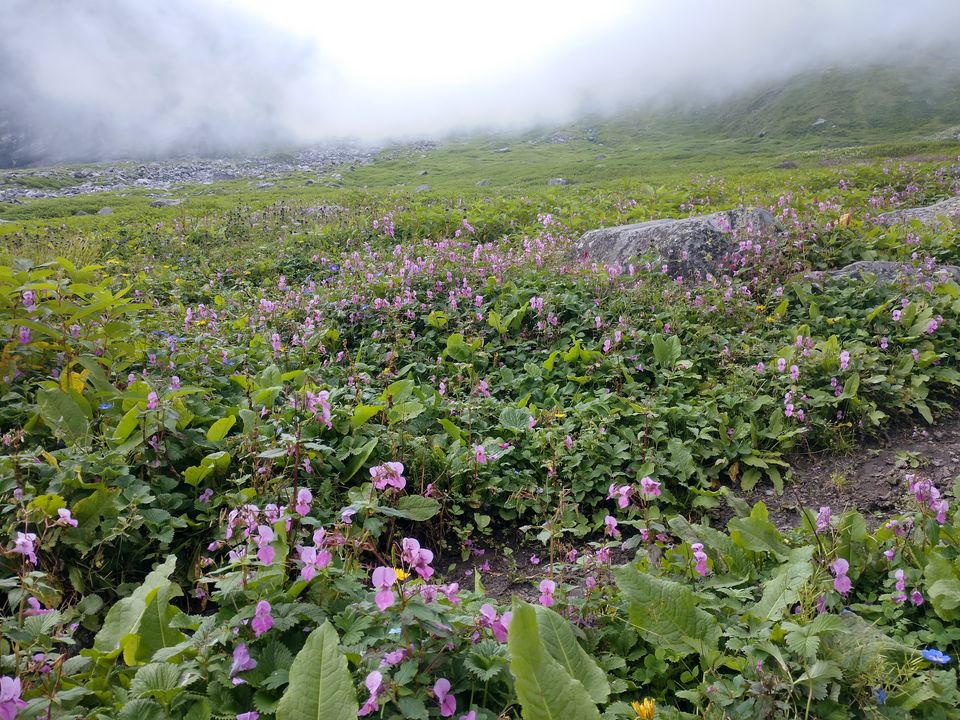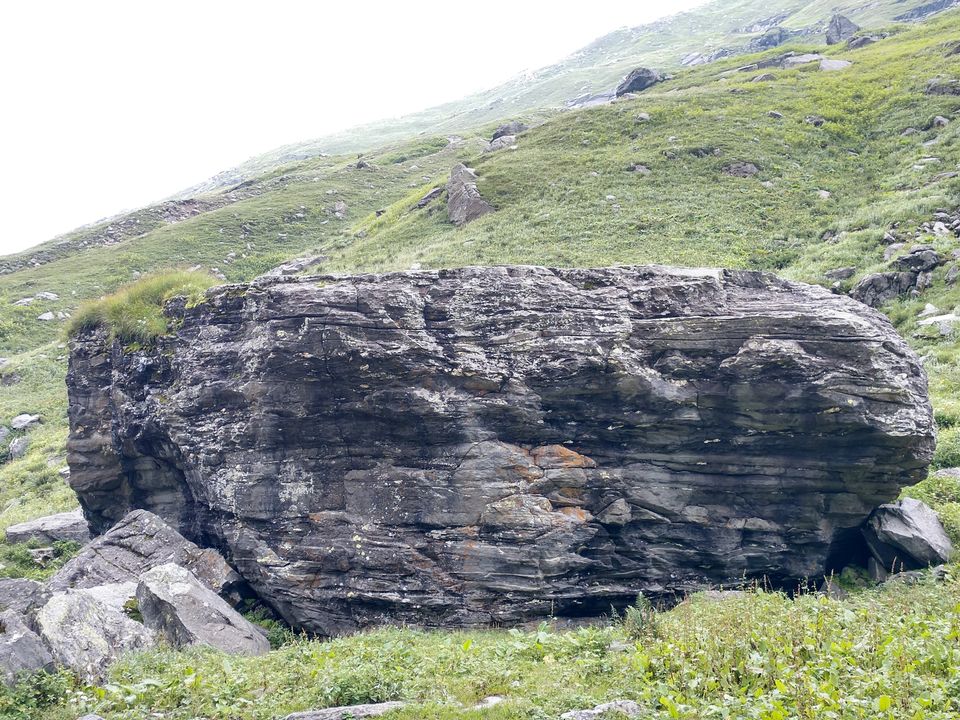 Towards the end, the rocks are quite far apart and jumping across gets tricky. Soon after, you will reach the destination for the day – Balu Ka Ghera or the bed of sand. The ground is formed mainly by the sand and dust brought down by the river.
When we arrived at the camp site, we were served steaming chai , and then later served dinner (consisted of sabzi, daal, rooti and rice, and a sweet dish). The porters and kitchen staff were great, and food was delicious That night it was really cold, and I got a terrible headache – it was just a headache that could be cured with painkillers.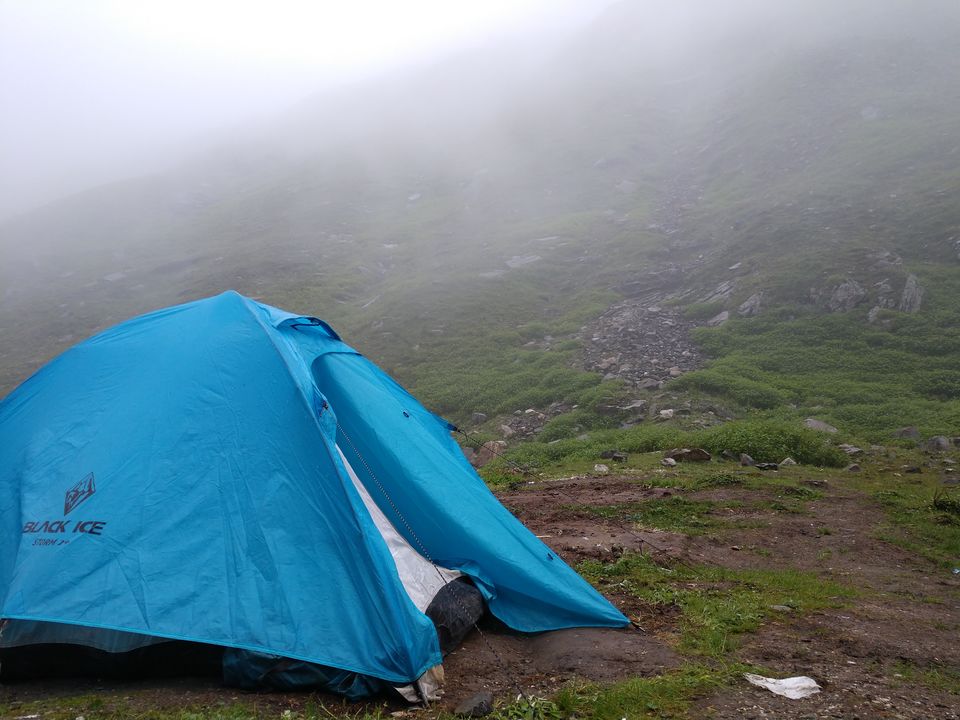 "Dare to live the life you've always wanted."
Day 3: Balu Ka Ghera to Shea Goru via Hampta Pass
Altitude: 12,411 ft (3,783 m) to 12,254 ft (3,735 m) via 14,035 ft (4,278 m)
Time taken: 9 hours, 6.65 km
Water sources: None. Carry 2 litres of water from Balu ka Ghera.
we begin day by heading towards the mountains from Balu Ka Ghera. the longest and most tiring of all, we were going conquer Hampta today!! It was difficult and steep, not mountaineering experience required as such but climbing and gaining altitude is difficult for the not the best fit ones. . And I was catching breaths every now and then.
And finally we reached, was very misty up there and we did not stay there long. Then began the descent it was quite steep, but I liked the descent; was less tiring. And then we did slide through
You may get a pleasant surprise with lots of tiny pink and yellow flowers growing by the side of the river. Move along the river for an hour after which you will be above it. At some points the trail may fade out so be careful not to get lost. Stay with your team. After an hour of gentle gradient in a rock fall prone area, the climb picks up. This is the first serious incline you will encounter. Half an hour into the climb, you will reach the first plateau.
Take a breath, wait for your team to catch up and begin the next ascent. This is another inclined part which has two stages to it and finally ends at the ridge. The climb will take you 20-30 minutes. From the top of the ridge you will see another parallel one, which is your next destination. Hampta Pass is a bend away from the top of the second ridge.
Before descending down to the side of the second ridge, continue walking on the first ridge for a small distance to get a 360 degree view of the intriguing mountain peaks like Peak 5260 surrounding you. This is a good spot for a panoramic shot. After descending down and 15 minutes of going by the side, you begin the vertical climb which gets over in 20 minutes. You may be panting at the end of it but you are almost there at 14,000 ft, atop the Hampta Pass.
The descent is slightly trickier than the ascent. From the pass, take a turn towards the right. You can see the Lahaul side of the pass below. Go down in a zig-zag route and then stick to the right flank of the mountain. You will have to walk over slippery soil and stones too. In half an hour the first downhill run is done.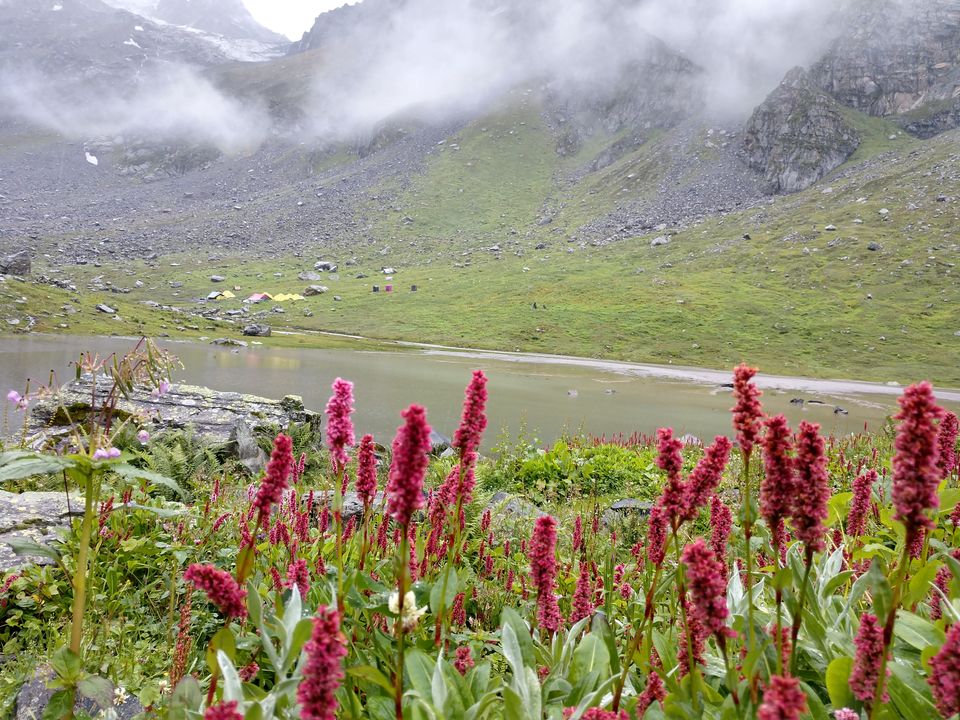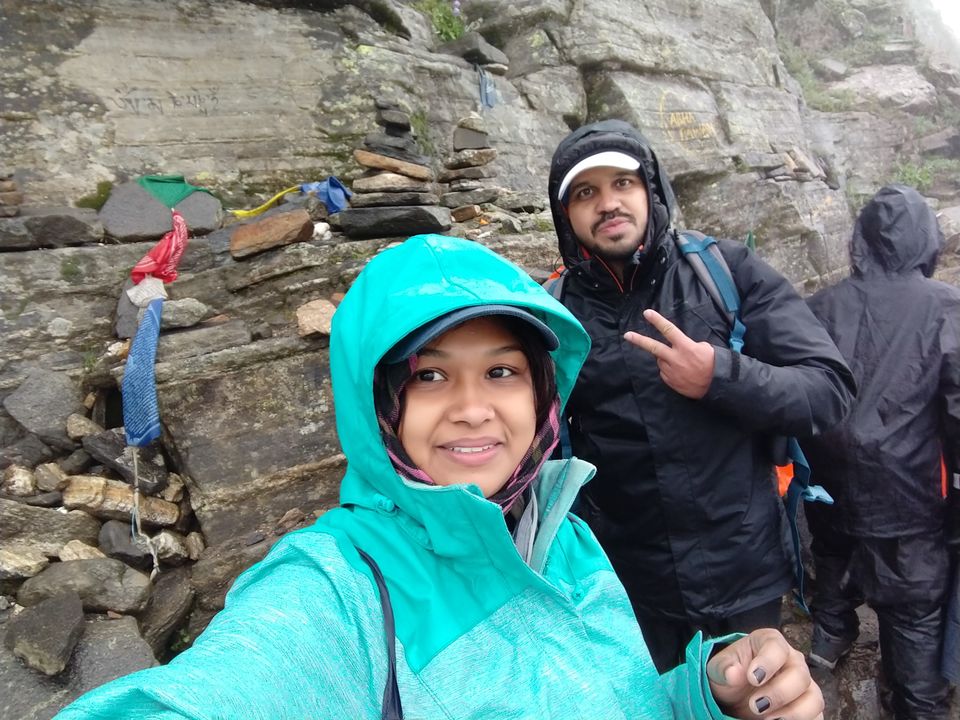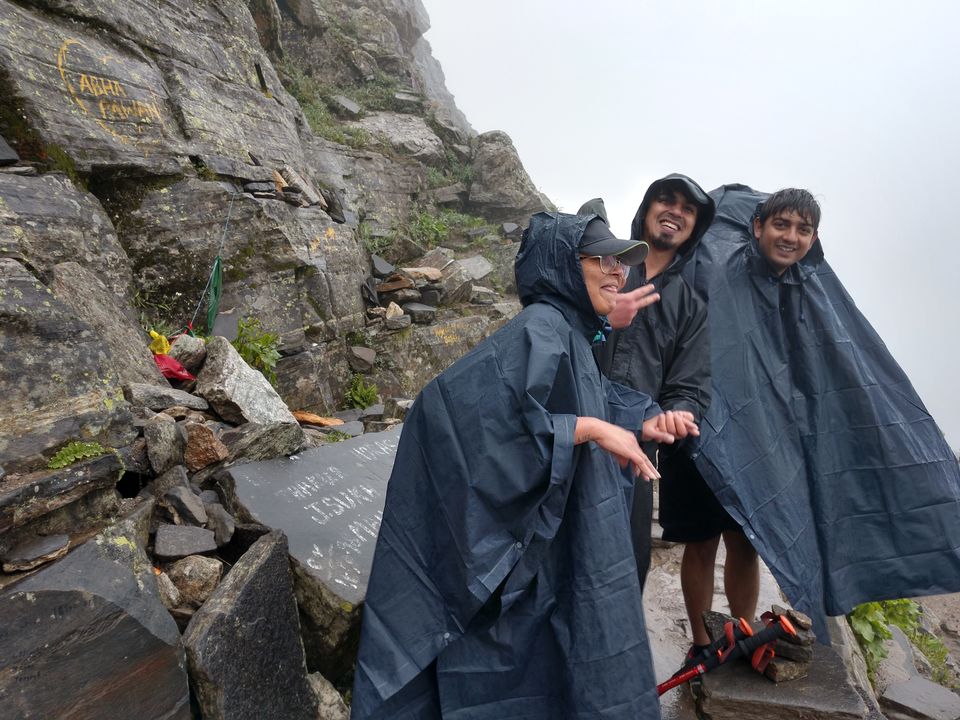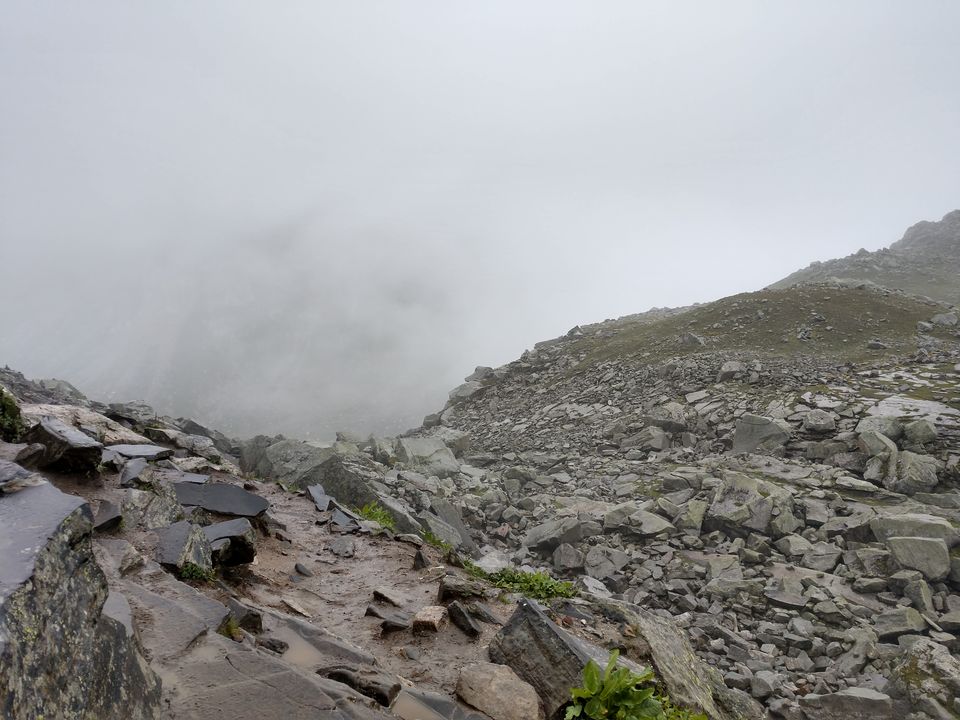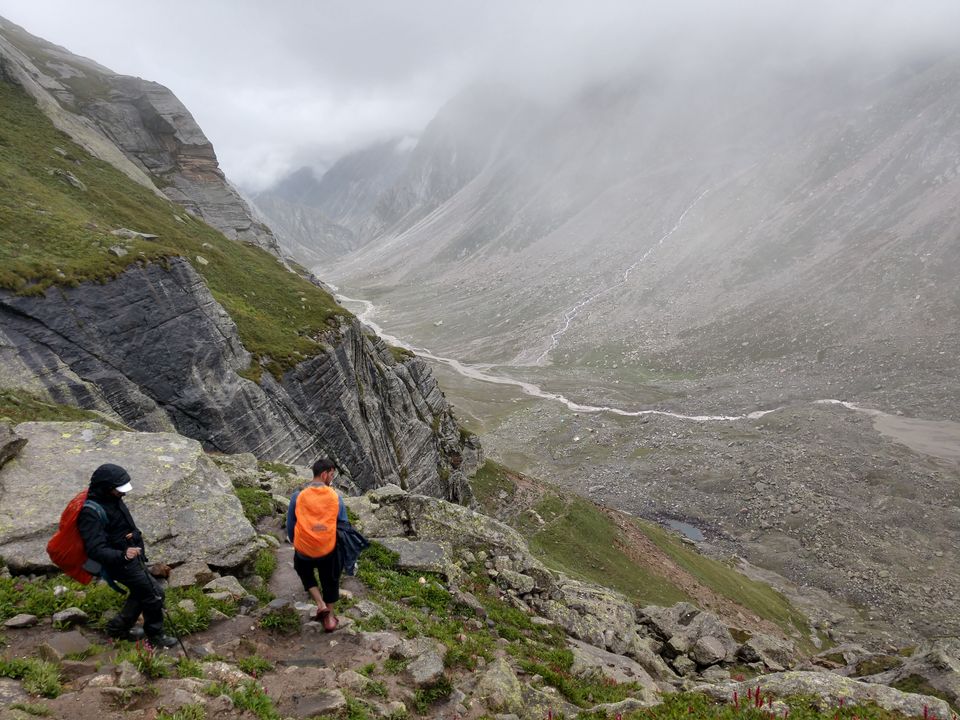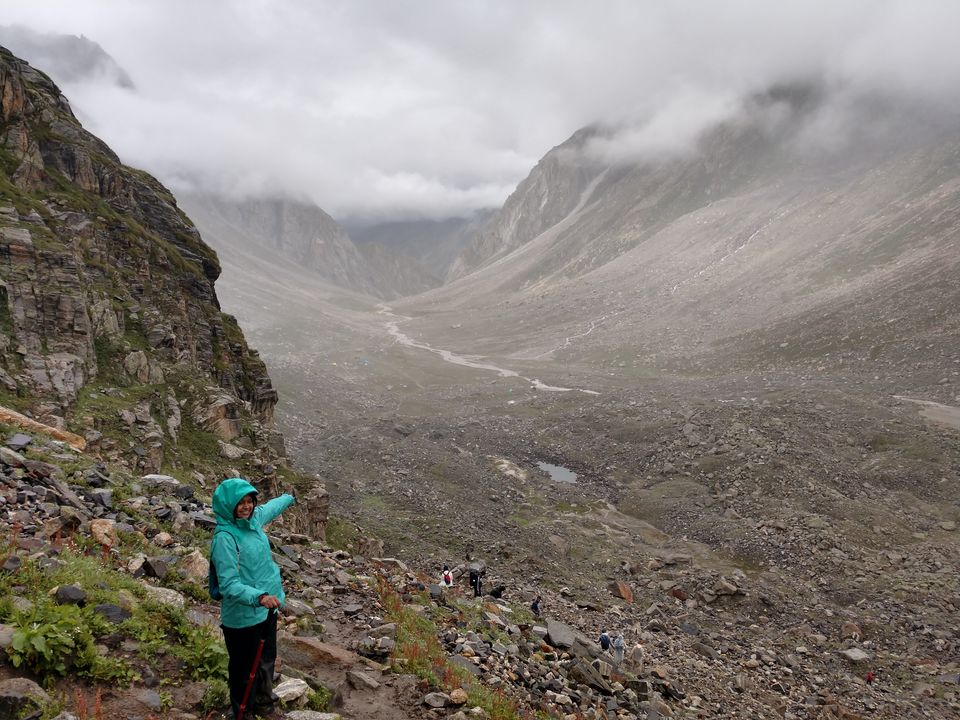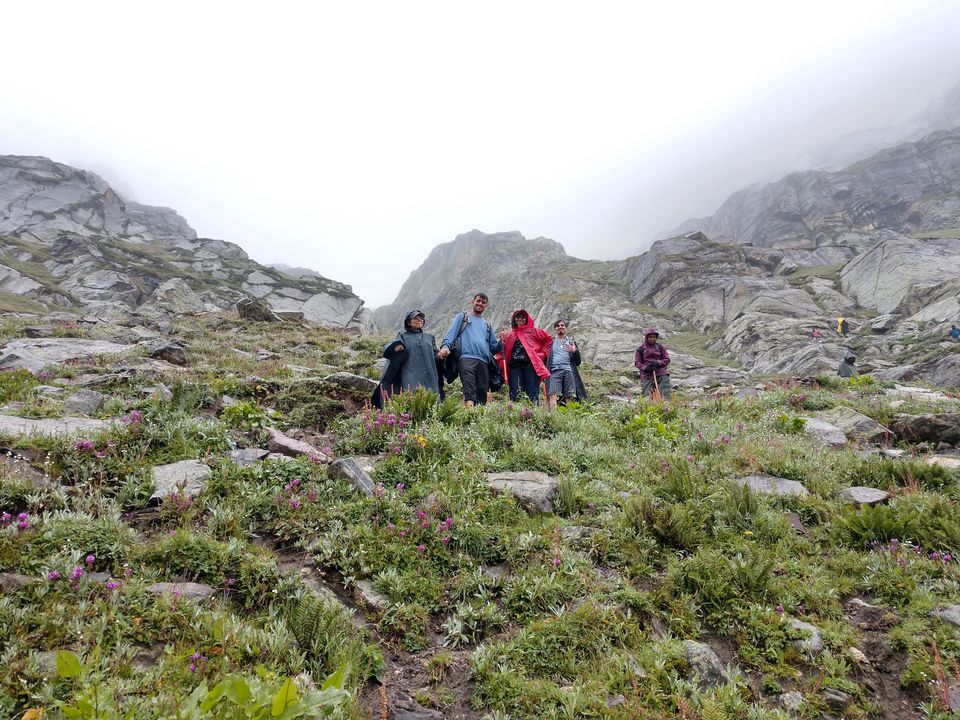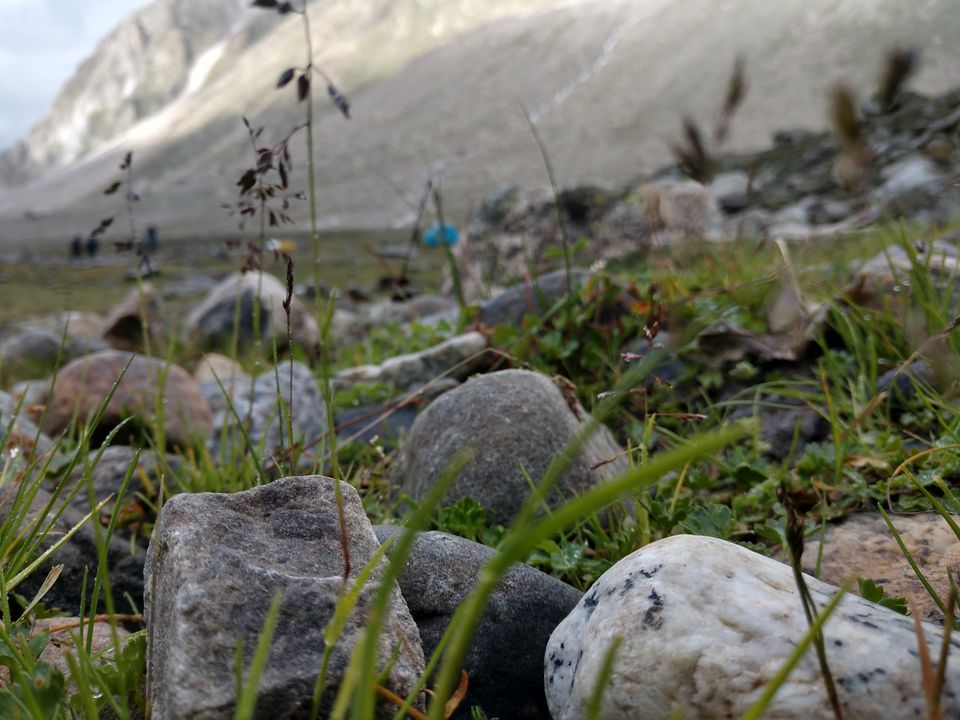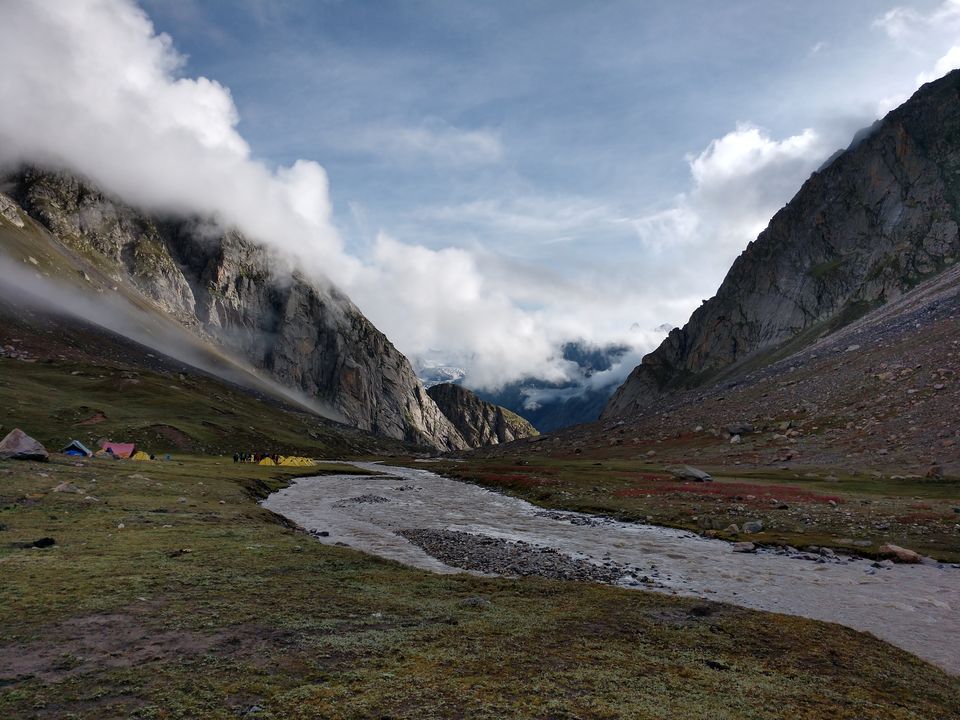 Everyone was tired but we were served soup, tea. the kitchen staff was so nice to serve us Milk with Bournvita. Some of them did another get-together for the day,the ones who were not tired. This was the most chilling day of the trek. I can say that this was one trek wherein one can see all kinds of weather. One can experience snow, pure green mountains, rocks, water flowing from the rocks, a line up of forest kinda trees, everything summed up in a trek.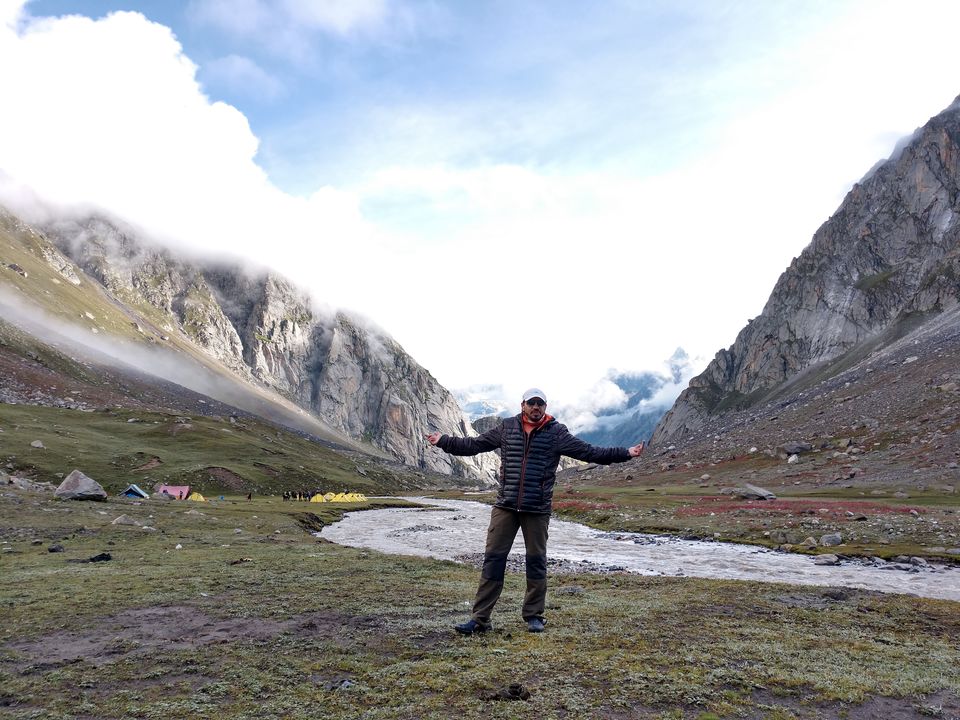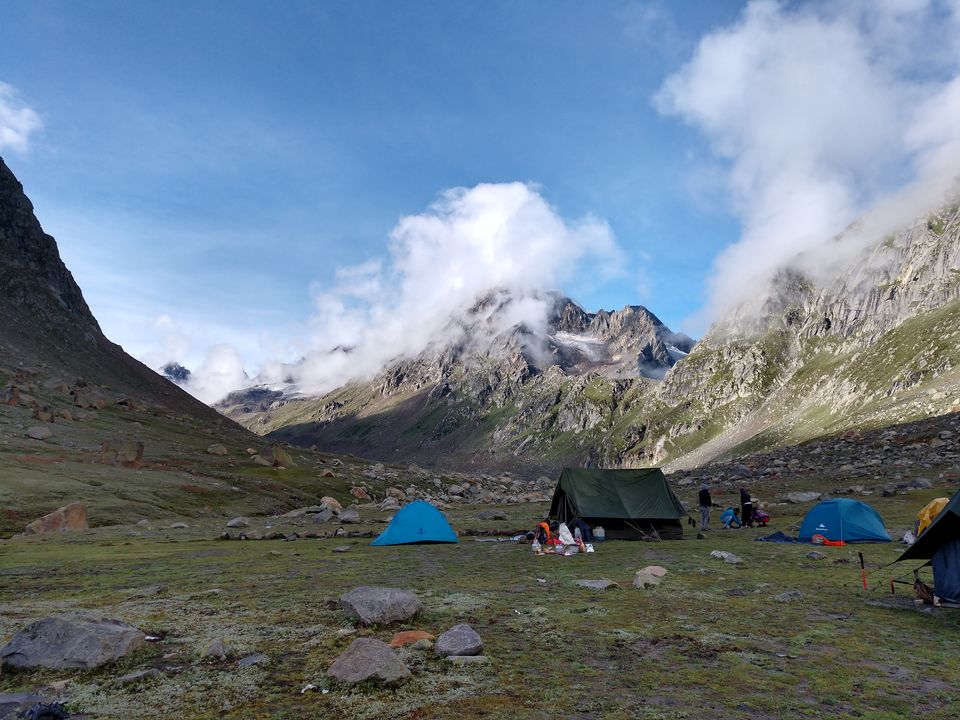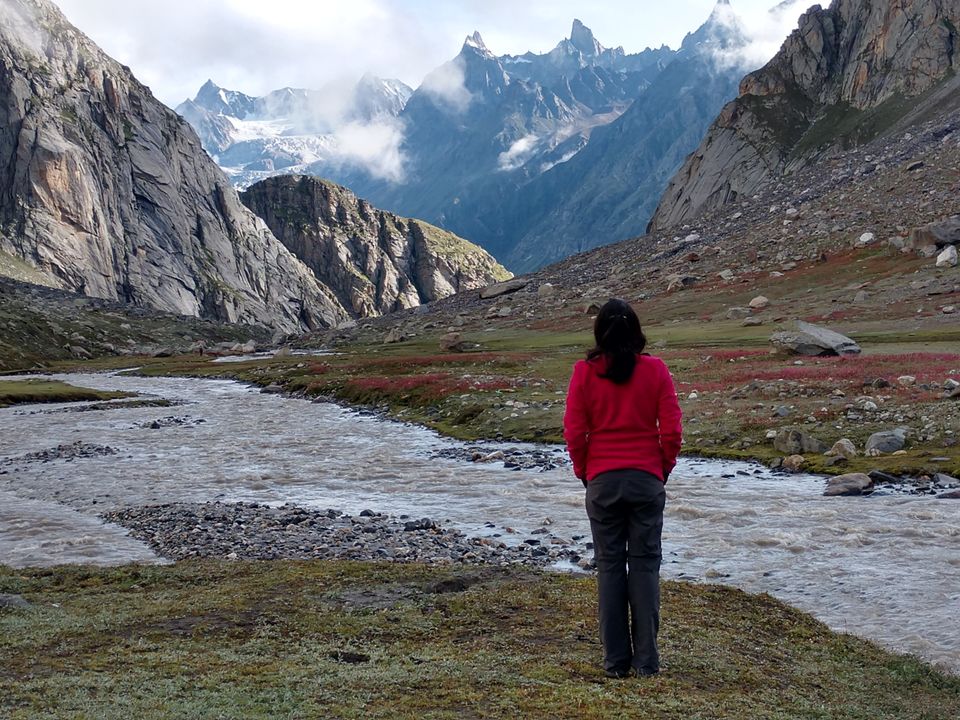 Shea Goru is an almost level walk from here. It should be an easy walk though some may find it tiring after the long day traversing the pass. You will find the river again, flowing to your right. retire happily for the day after crossing the Hampta Pass.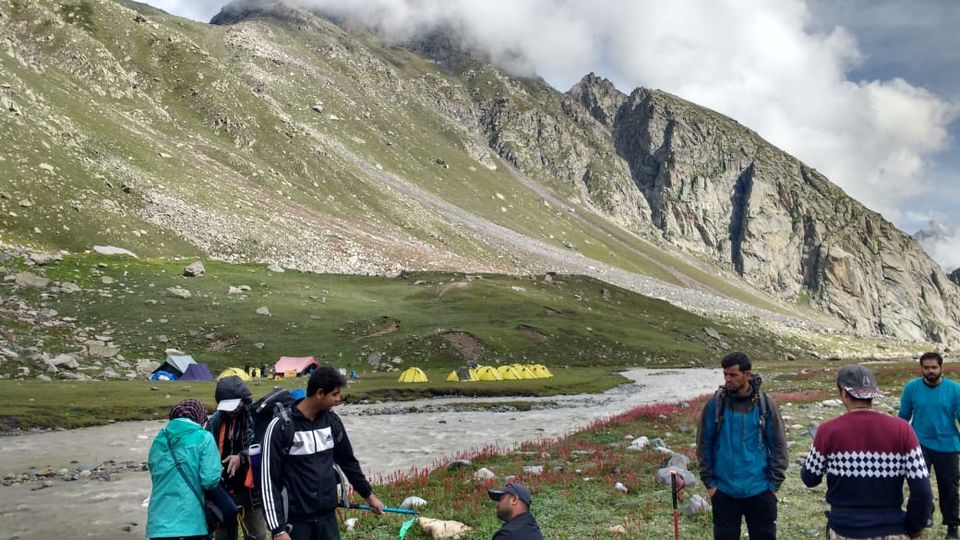 This section would take 2½ – 3 hours when you are out of the mountains. You are still at a height but you have the road right across and the Chandra river separating you from the road.
Two to three huge glacial flows come down from the mountains on the side to the Chandra river.
You will need to cross these streams to reach a camping spot which has water.
Chhatru is a lovely camping site. You get lovely views of the different mountain ranges. The Chandra river flows in speed right below.
The long view of the surroundings. By afternoon we had reached at the base camp.i.e. Chatru.
Day 4: Shea Goru to Chhatru; drive to Chandratal and back to Chhatru
Altitude: 12,254 ft (3,735 m) to 10,898 ft (3,322 m) to 14,100 ft (4,298 m)
Time taken to 4 – 4.5 hours; 6.87 km
This day we had to descend. Not too tiring day but yes definitely hard day to descend. The mountains had different color during descend. A completely different scenarios. No snow, no trees. But still a beautiful view while climbing down, which was no less than the previous day. The best part of descend is that one can have full panoramic view.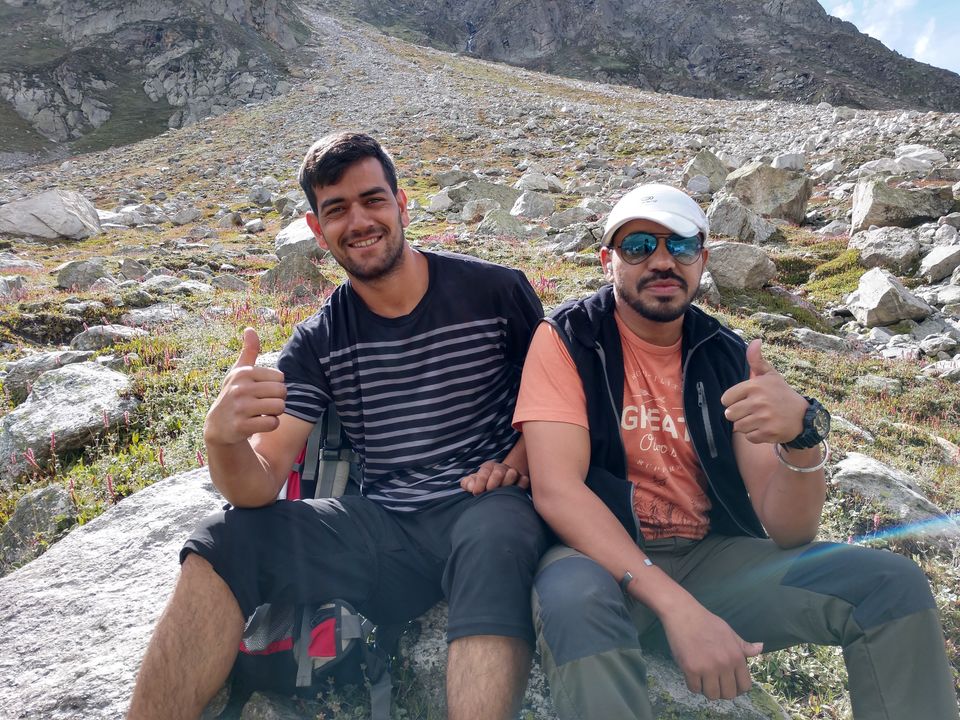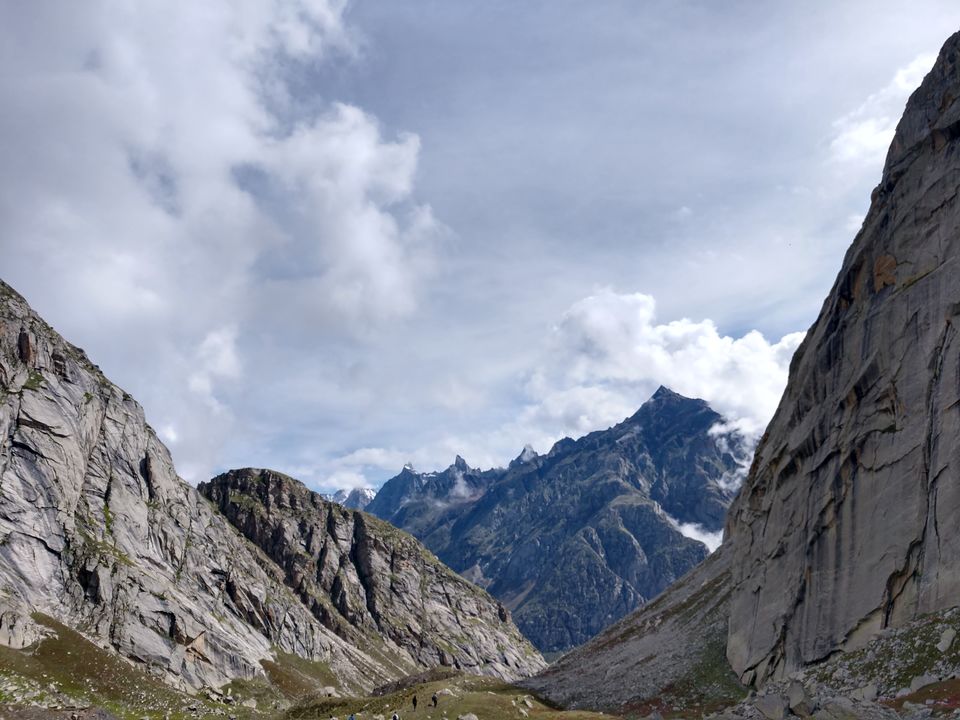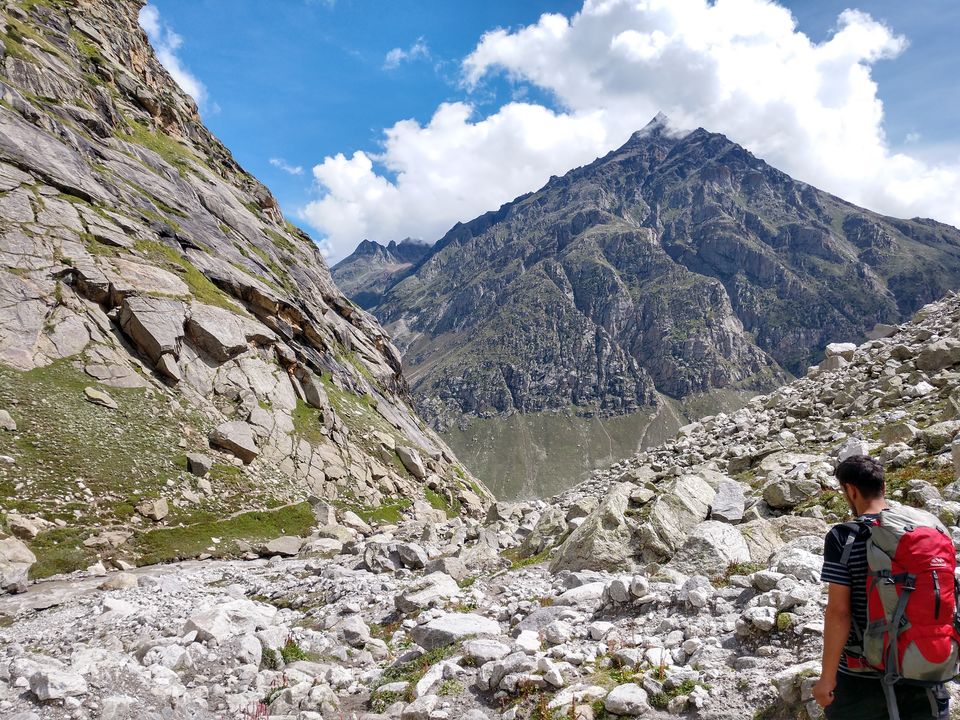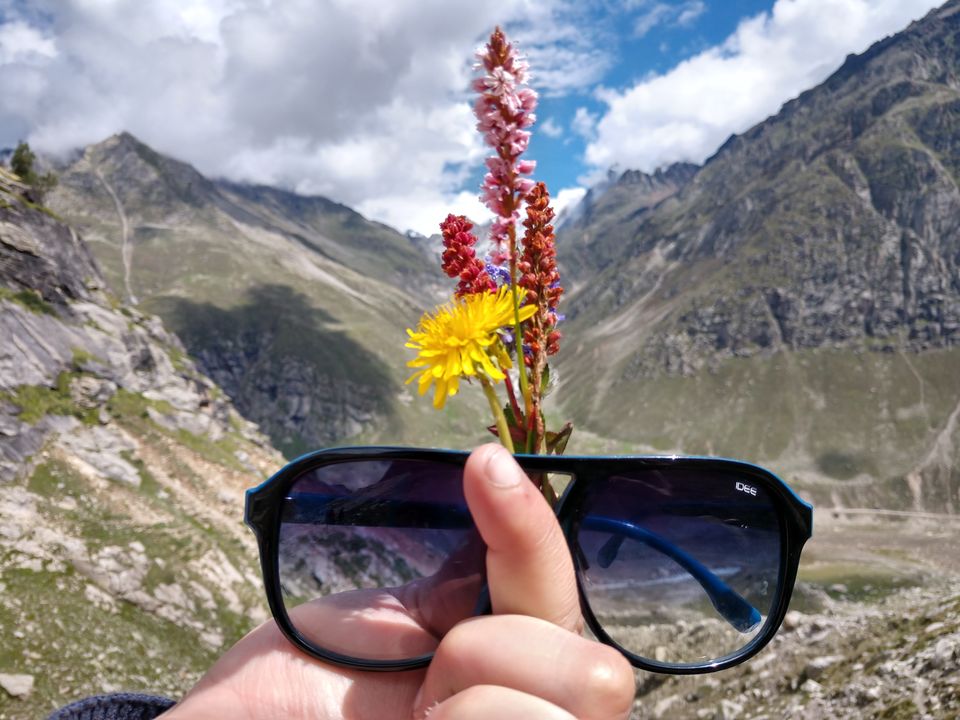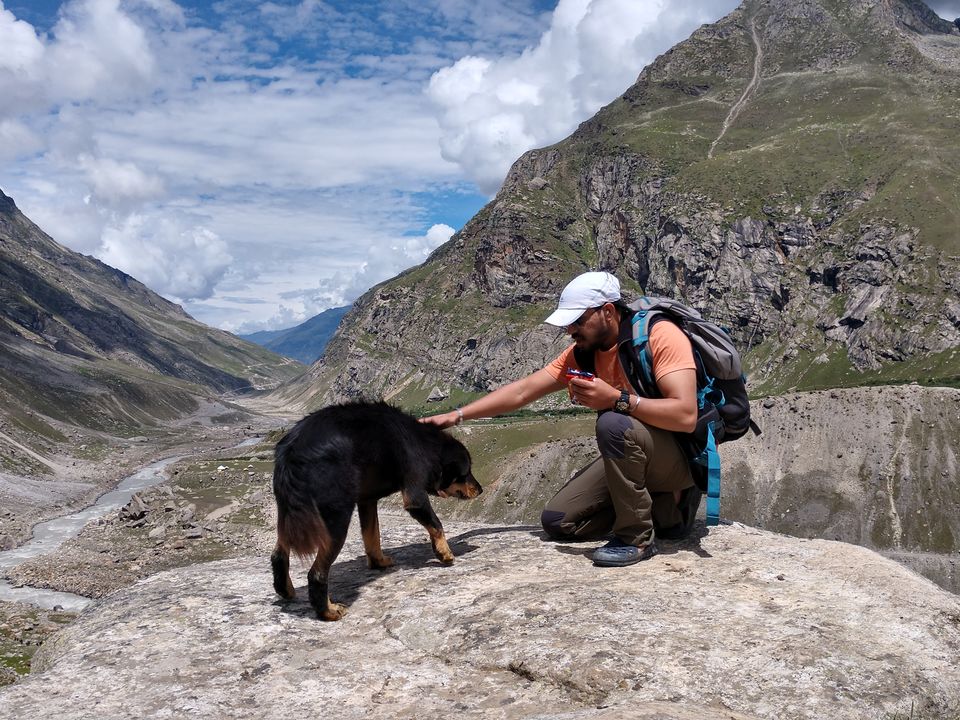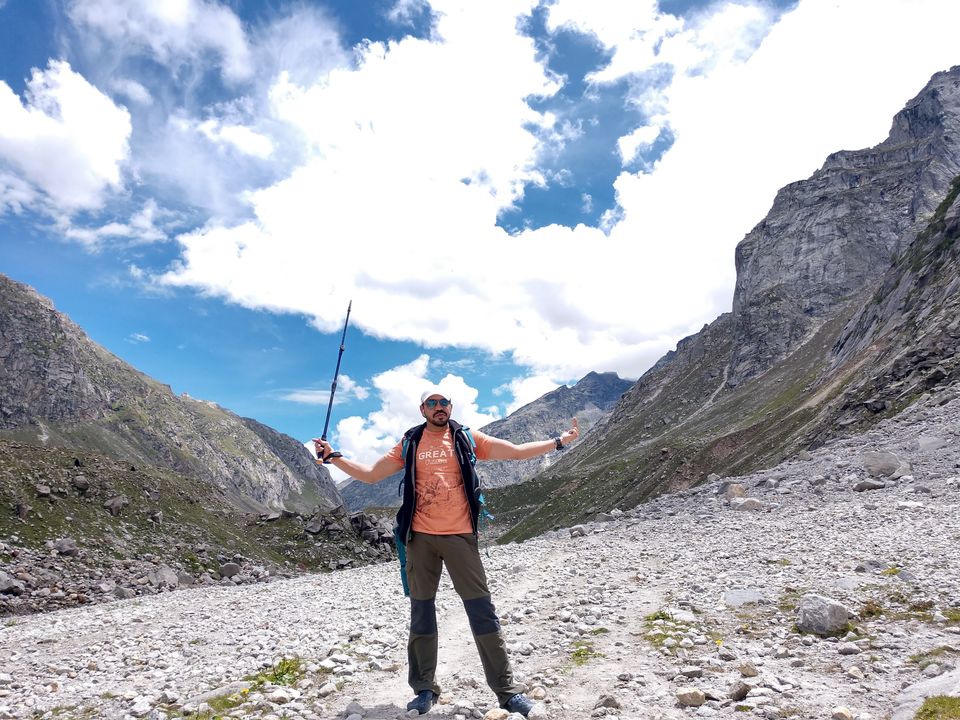 "We travel, some of us forever, to seek other places, other lives, other souls." – Anais Nin
In noon we moved to chandratal Lake : the beauty at the best
a visit to Chandratal, the moon lake is a must when you are in Spiti. Chhatru is about 70 km away from Chandratal. You will take a vehicle to Chandratal from Chhatru. The journey takes about 3 hours and the road is quite bumpy, so it is advised that you start well before 3:00 PM. Those who have motion sickness, don't forget to take Avomine tablets.
Since Chandratal is at an altitude of 14,100 feet there are good chances of being hit by Acute Mountain Sickness
How to Reach Chandratal Lake
The nearest large town near Chandratal is Manali. The easiest but the most costly way to reach is to hire a Tata Sumo from Manali and reach Chandratal. The distance between the two is 140 km. You will pay more than 10K rupees for a private jeep hire. It helps if a few friends are sharing the cost of hiring a jeep.
After you cross the Rohtang Pass there are just two spots where you can get things to eat Chhatru and Batal. There are small dhabas at both the places.
The road to Spiti has more mud and rocks than anything else! There is hardly any tar to be seen anywhere! You can find waterfalls, pagal nalas all on the road!
There are no phone services or electricity both at Batal and Chandratal. In the Spiti Valley only BSNL phones work.
If you do not wish to hire a jeep, there is a bus to Kaza. Get down at Batal and stay there at Chandra Dhaba run by Chacha and Chachi. By staying you will acclimatize better to the high altitude. Chandratal Lake is a 14km trek from Batal. So option one is to trek! Chandratal Lake is at a height of 4300 meters.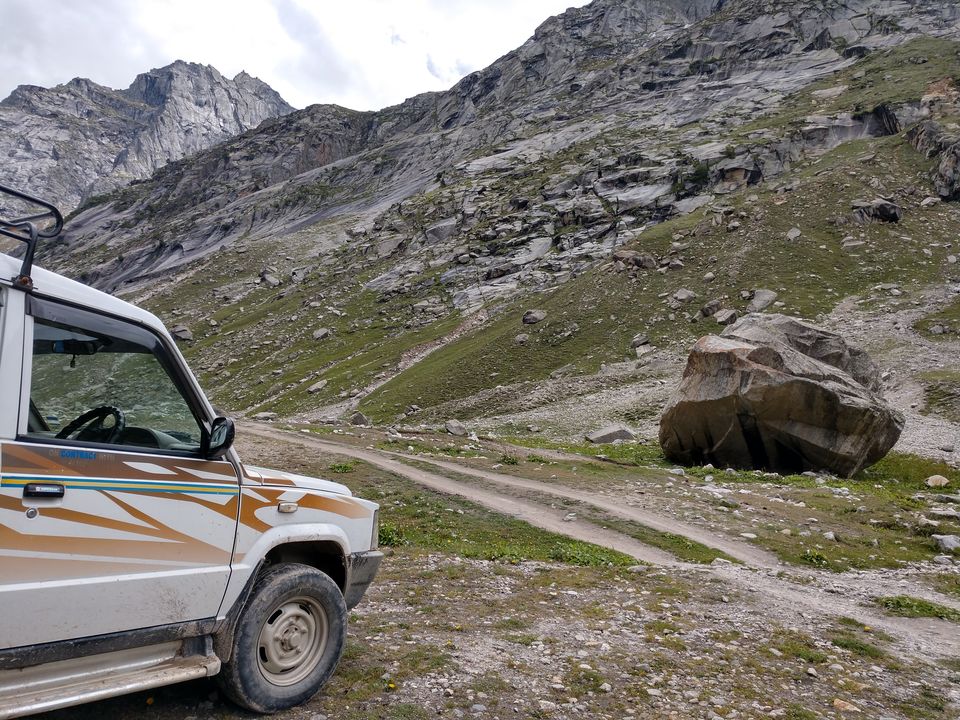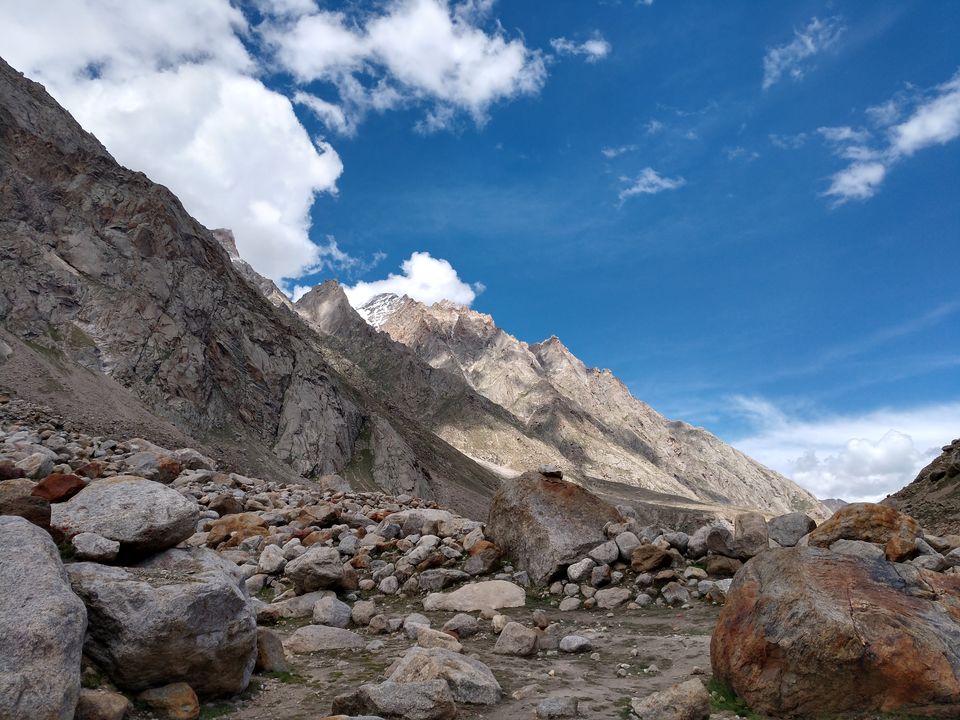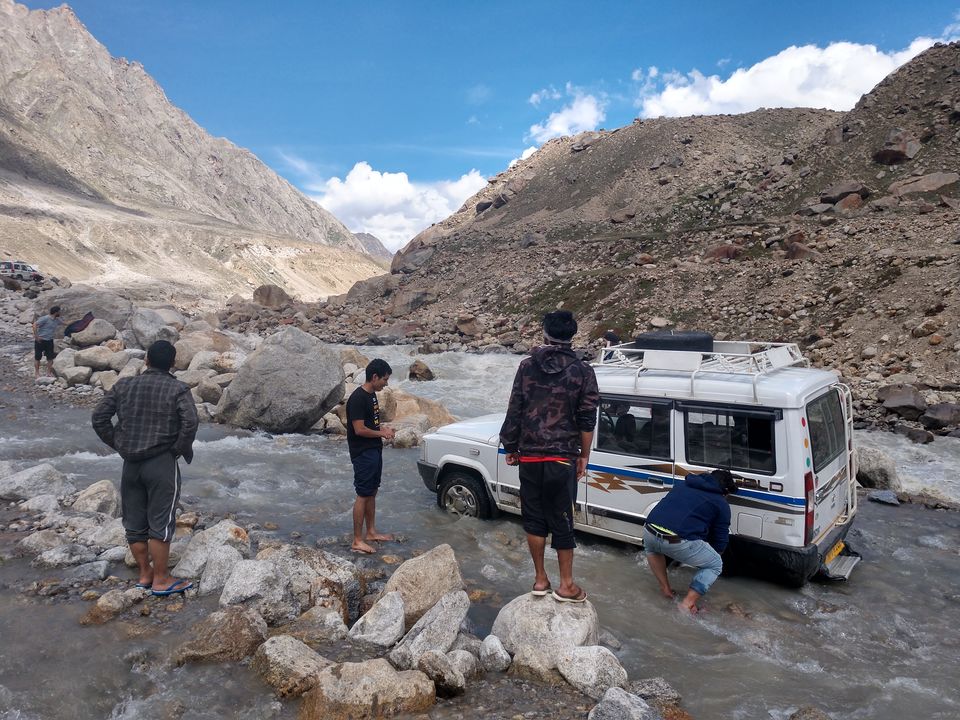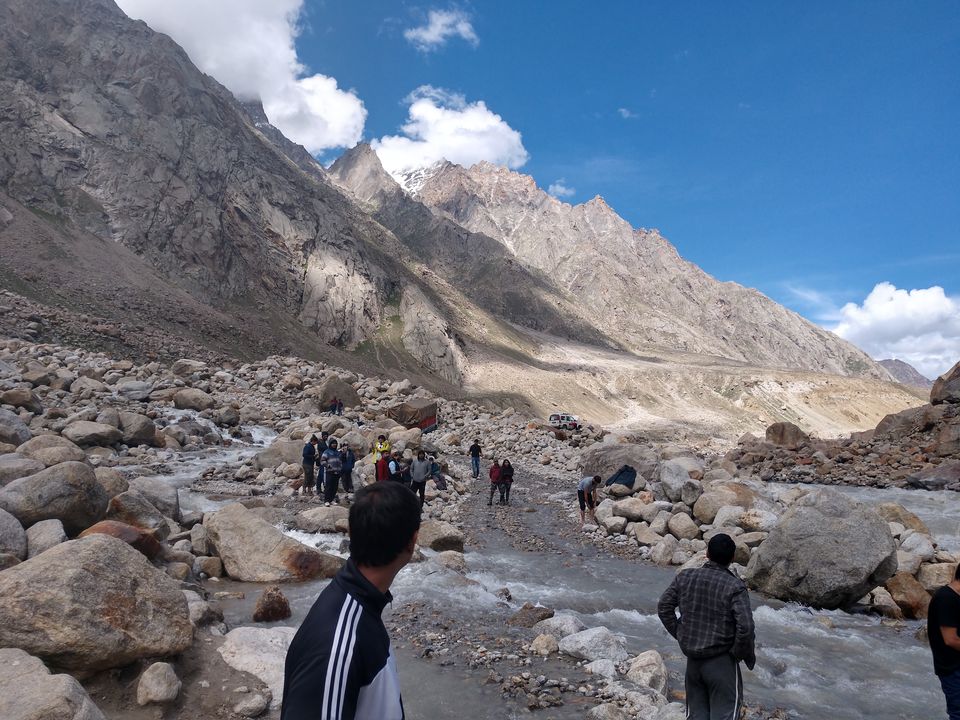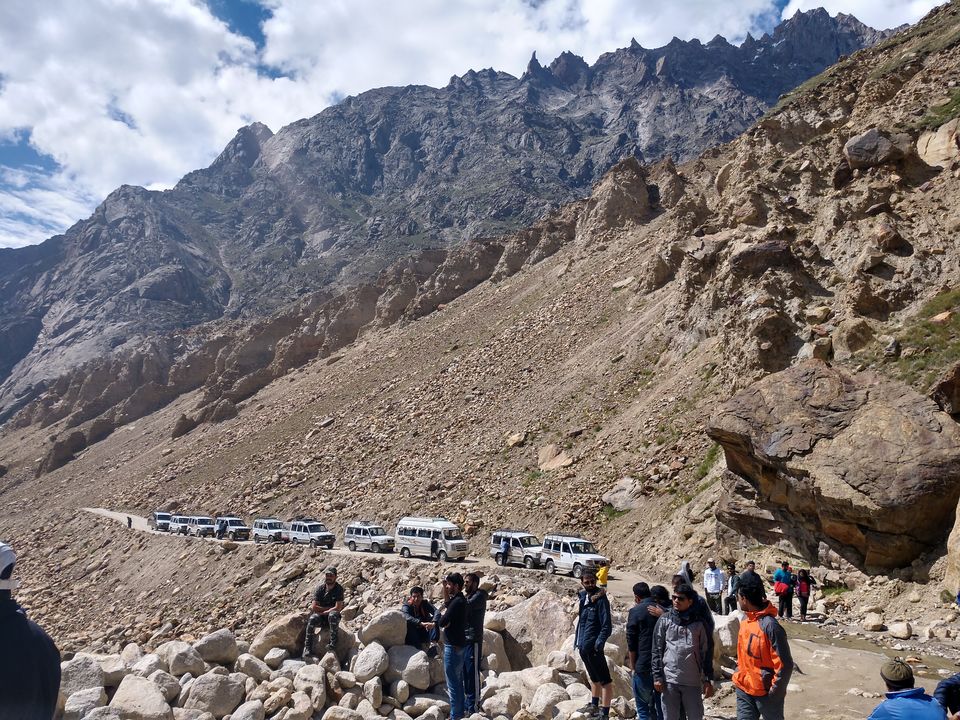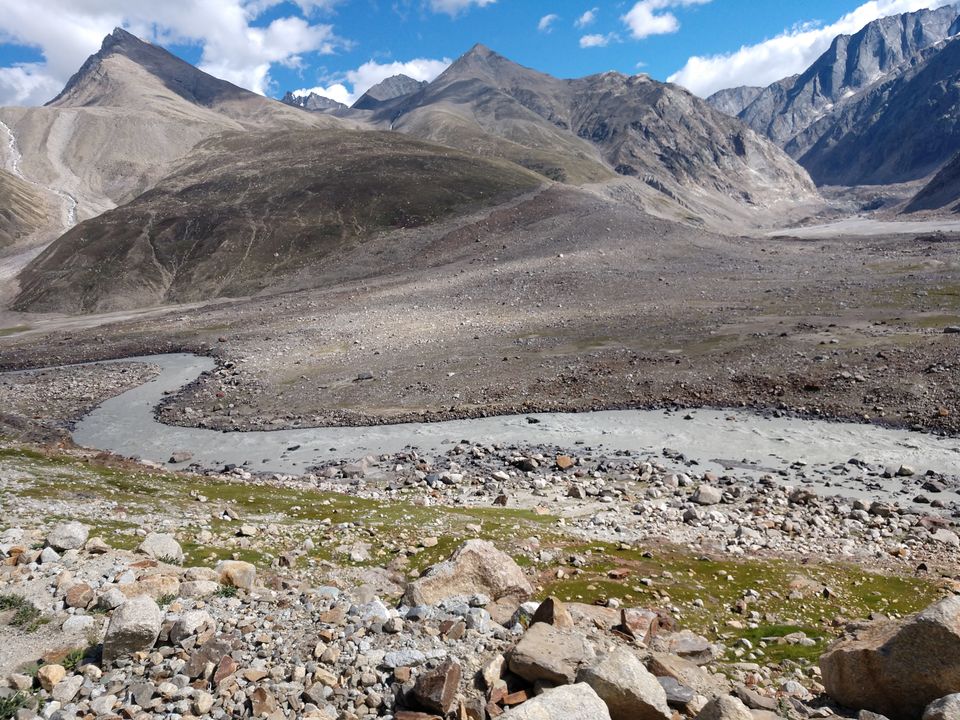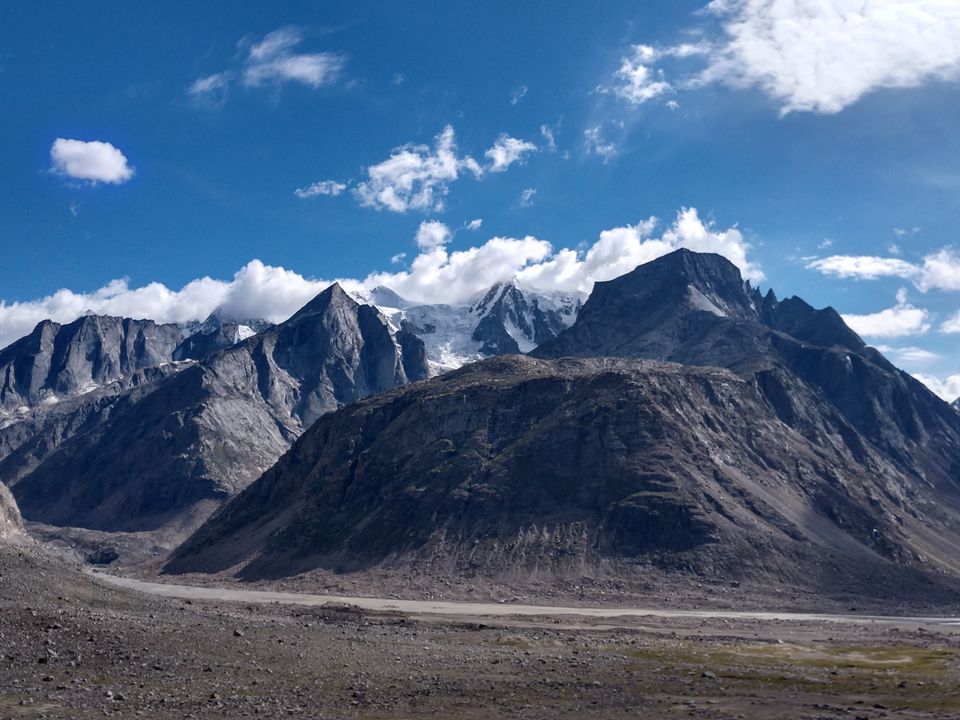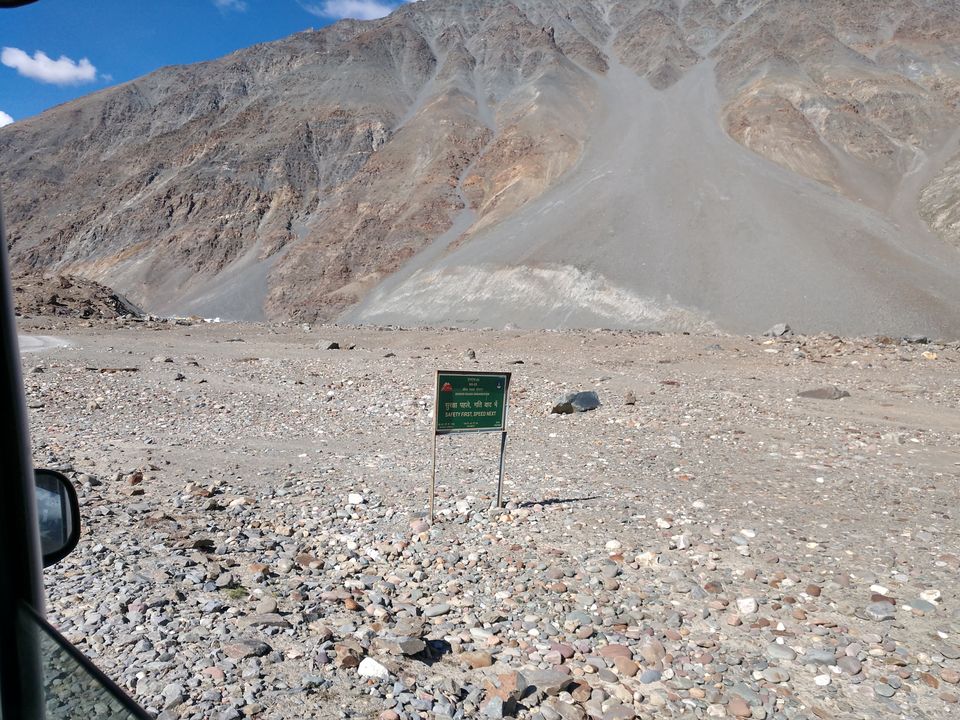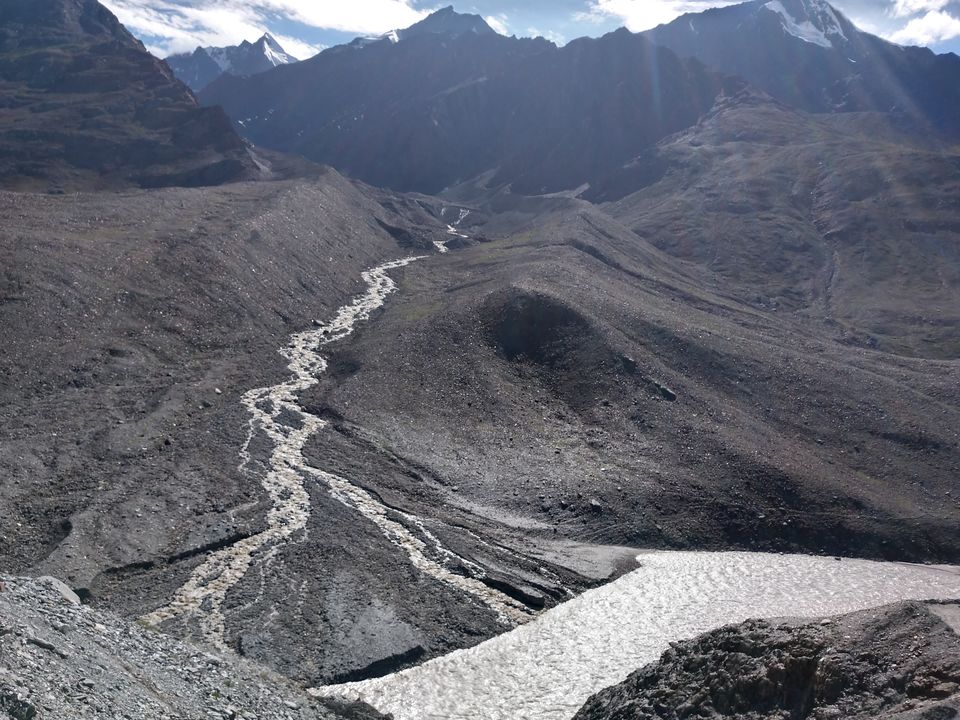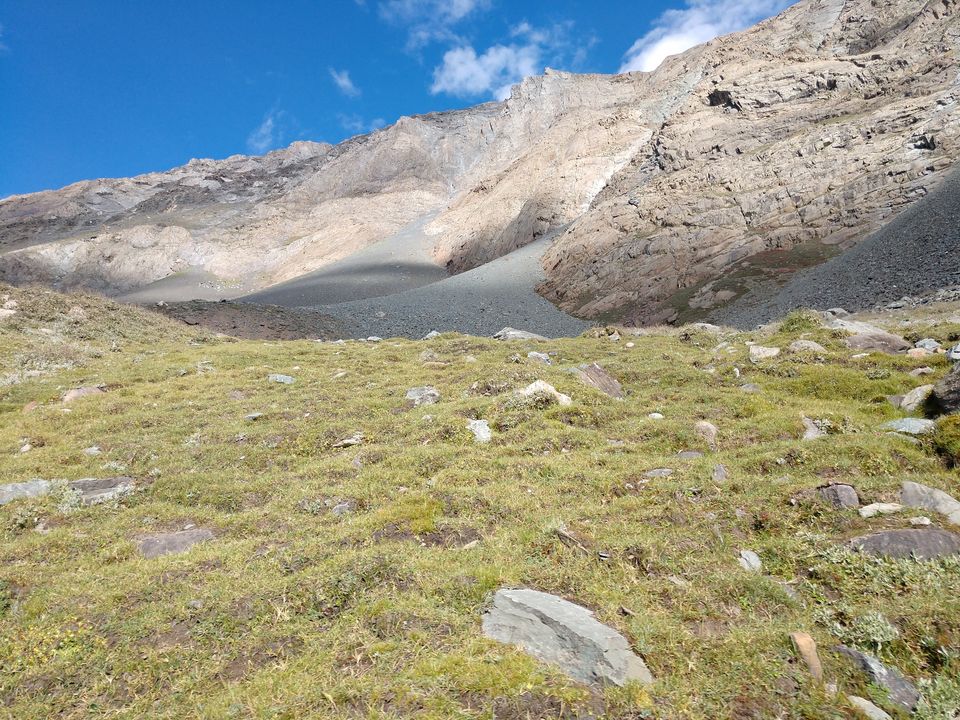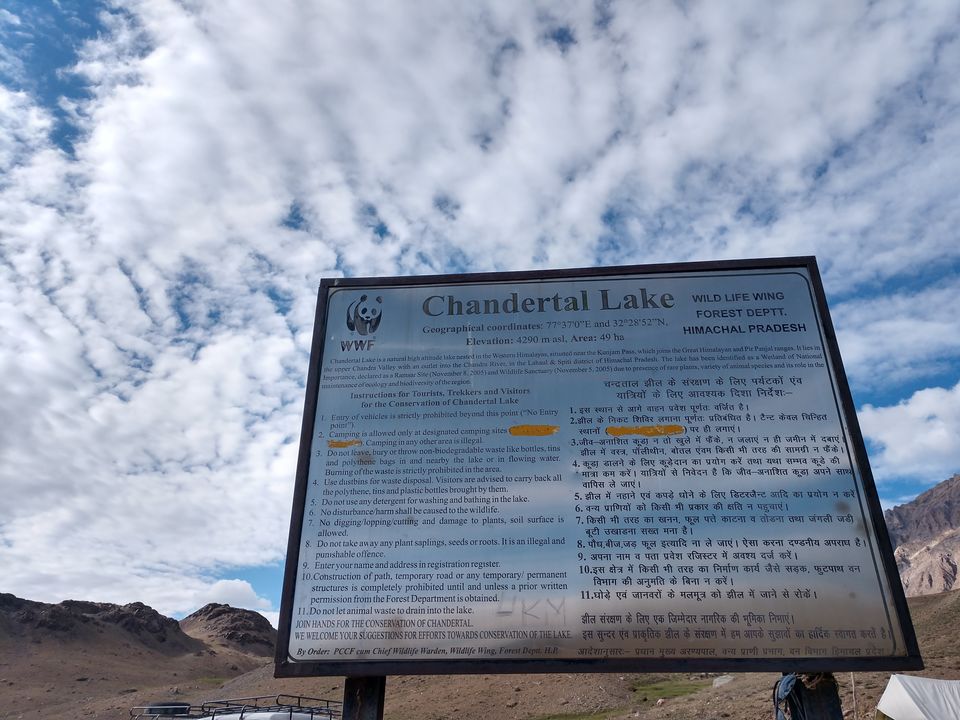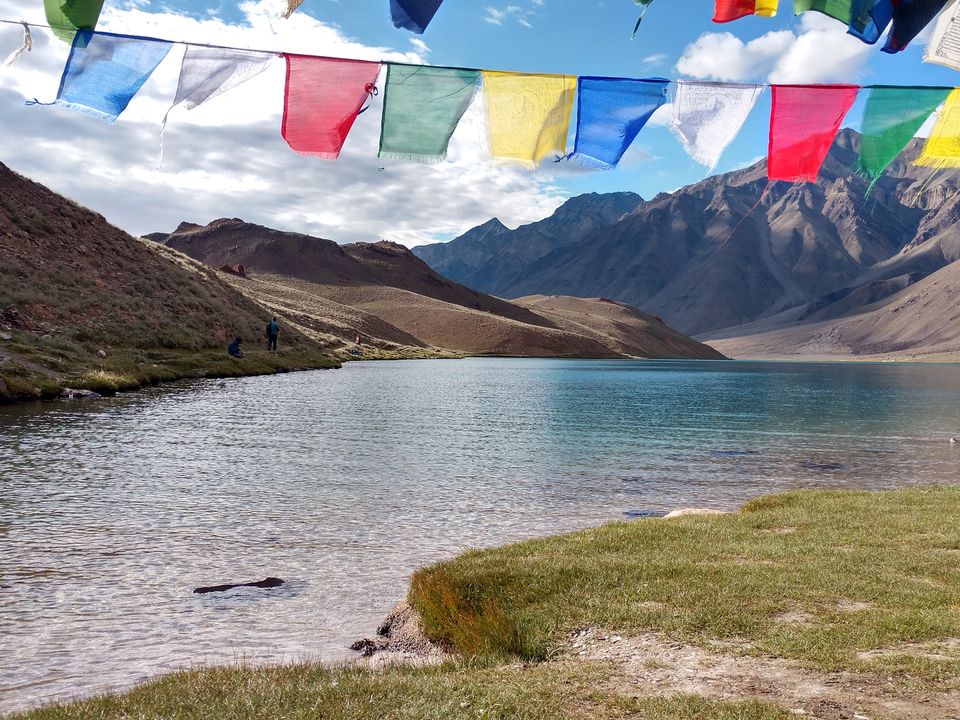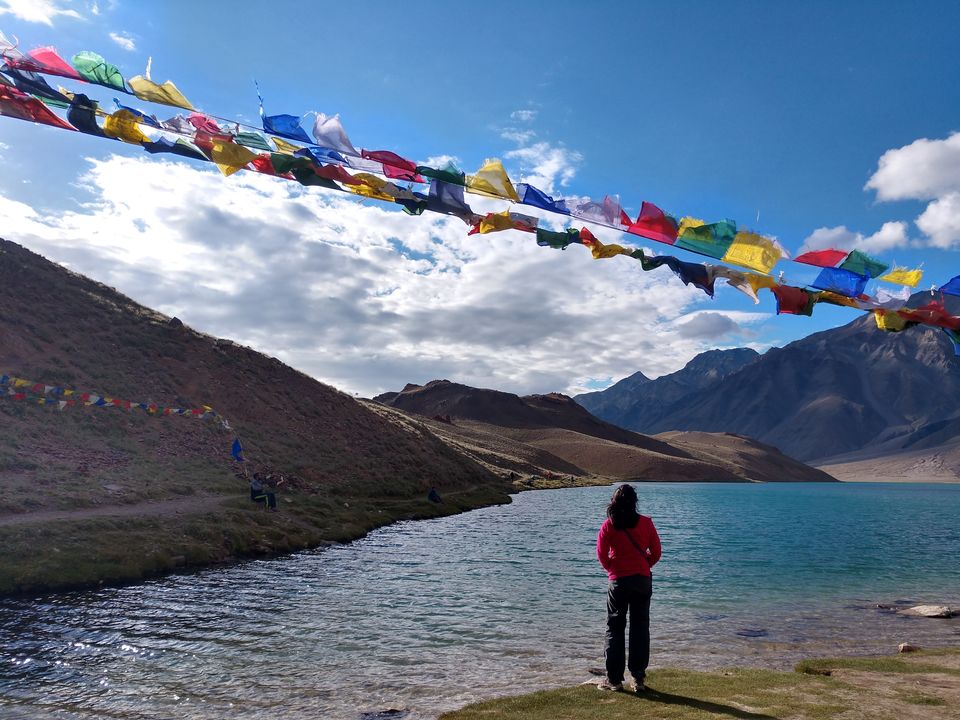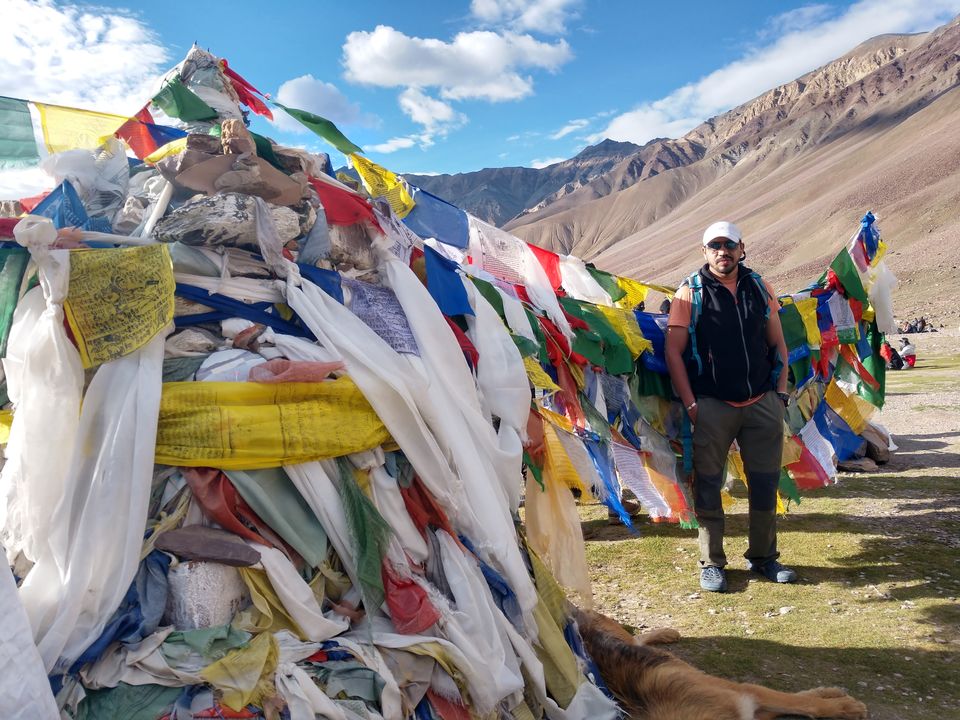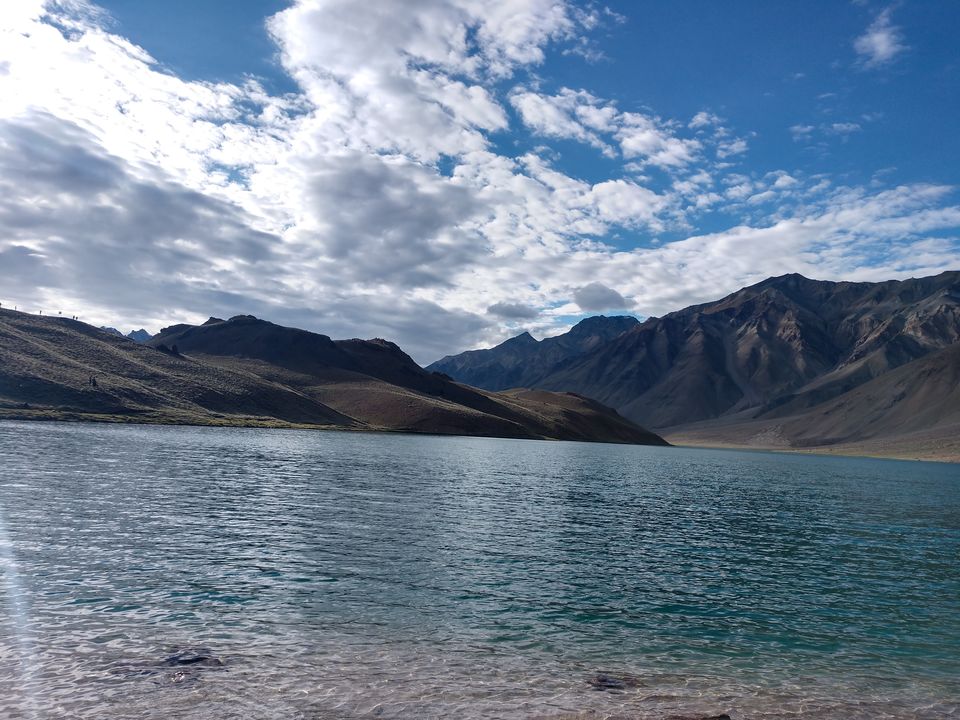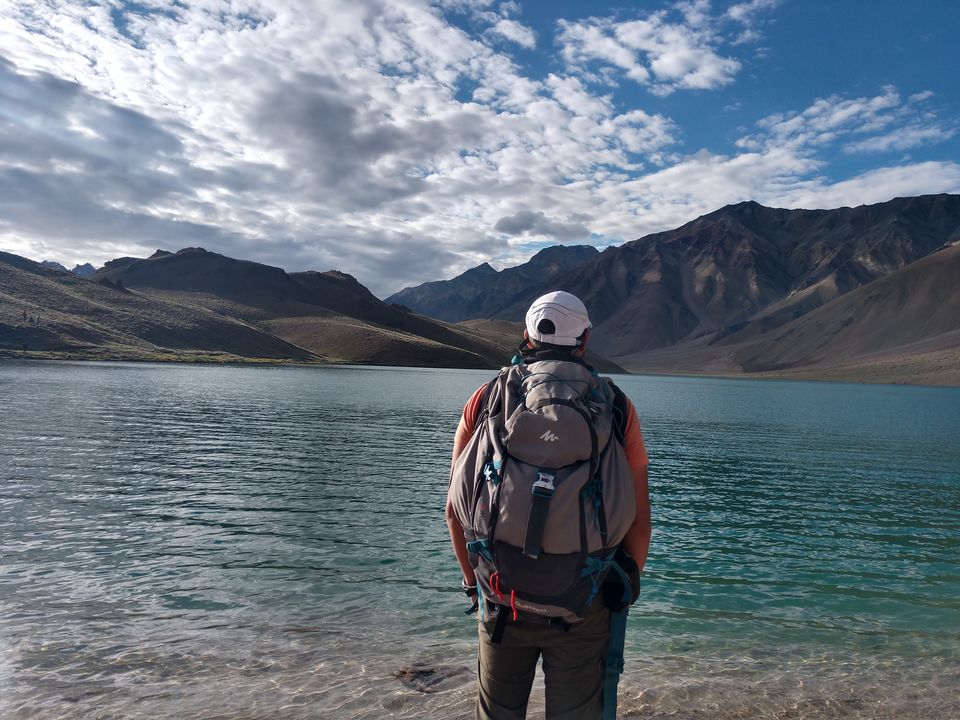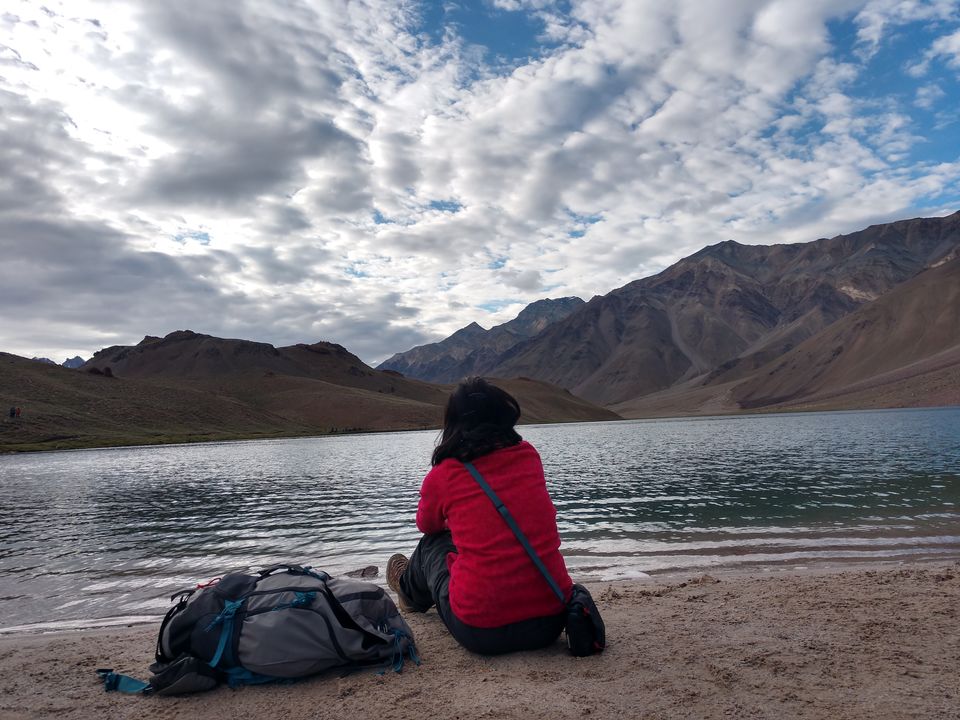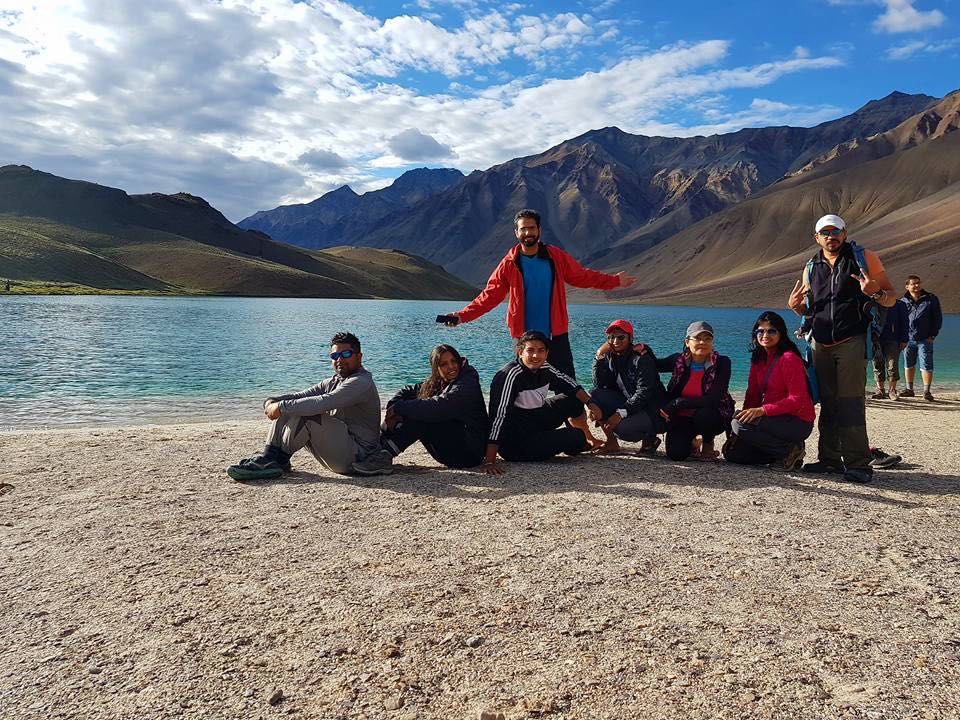 same day we back to Chatru from chandartal.
In night we celebrated the birthday of one of our trek mate,everything was unforgettable for all of us.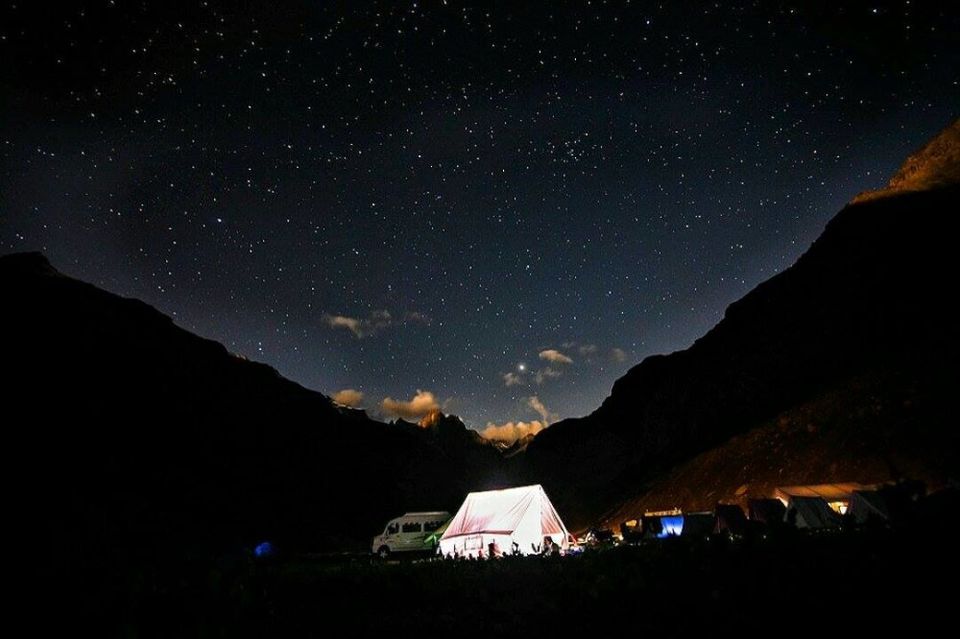 Day 5 back to Manali
The first thing in the morning was receiving our certificate. It was an amazing feeling to complete the trek and hold the certificate.
We said our goodbyes, I met really nice people on the trek. And then hit the road back to Manali. After seeing the nature in its pure form unadulterated, The road is really difficult but scenic.
The beautiful view did not end till the trek, the jeep took us on and off the mountains. While getting down to Manali, we saw yet another beautiful scenery, water running down through the roads. Climbing one mountain and getting down to climb another one. We also passed the famous Rohtang pass. The feeling while descending was inexplicable. Amazing is the word.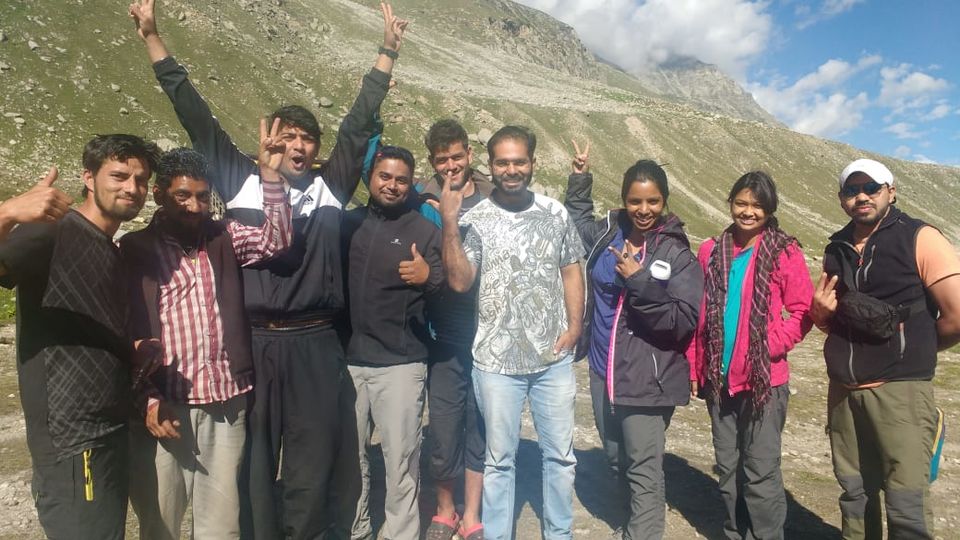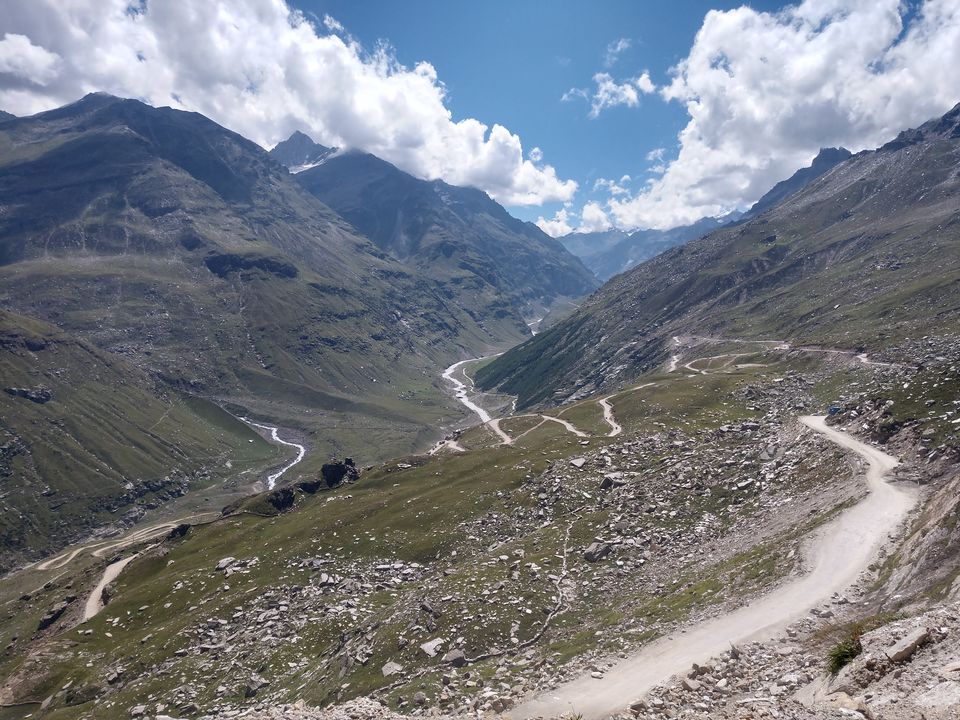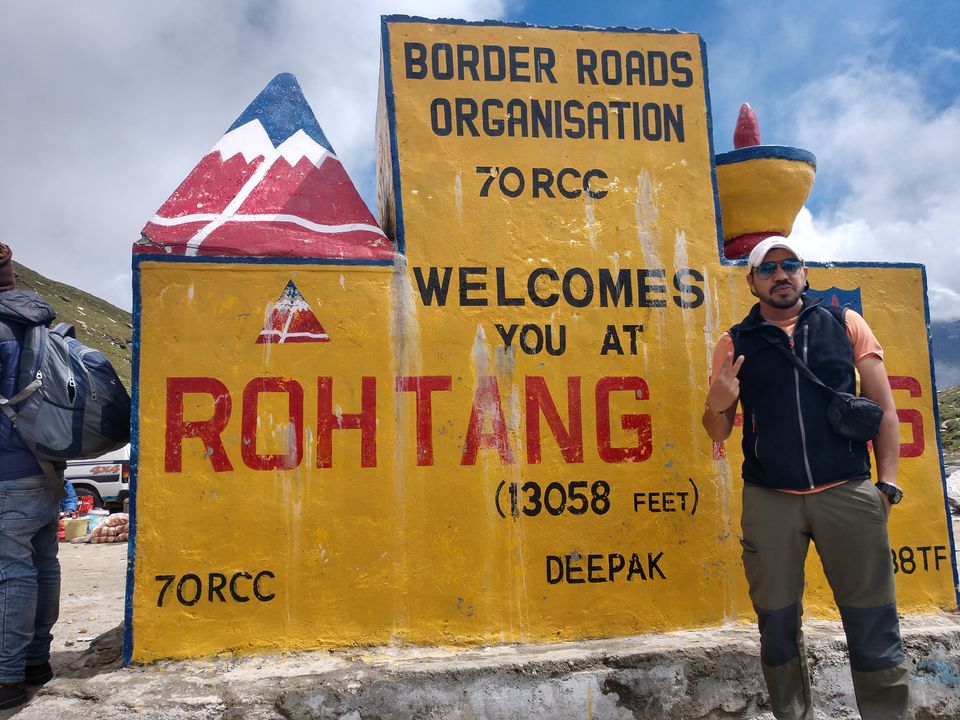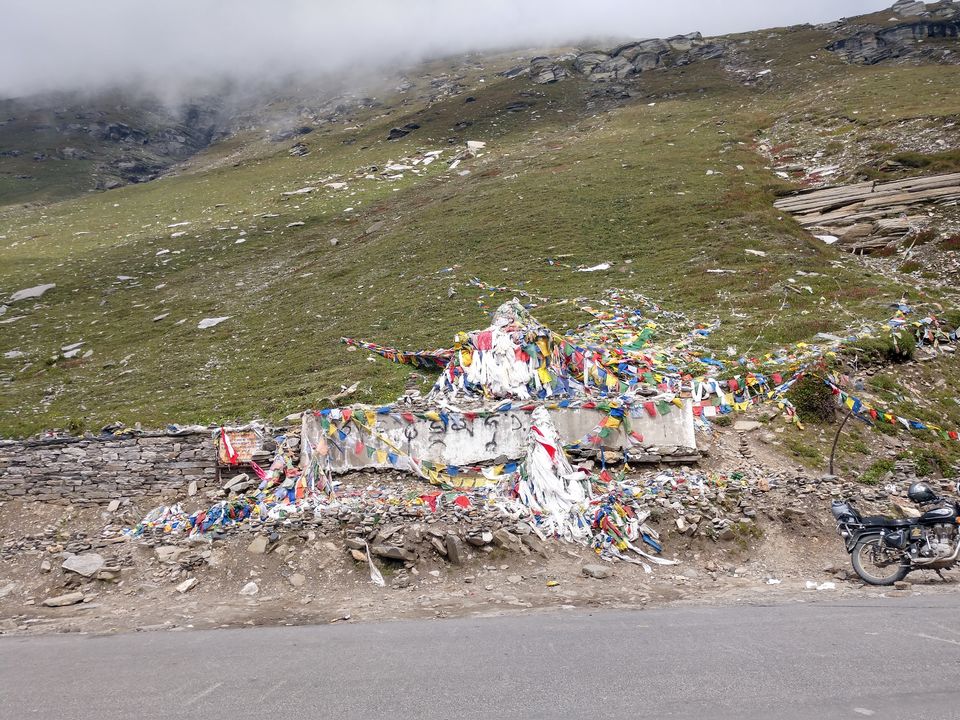 Finally, we are at the Manali.
full video blog of this trip on youtube on HD:
https://www.youtube.com/watch?v=_Lg-EyEfJ8o&feature=youtu.be
"Traveling – it leaves you speechless, then turns you into a storyteller." – Ibn Battuta
i will come back again with new story.
for more trek details and travel updates find us on facebook and instragram.
walking sherpa
https://www.facebook.com/walkingsherpa/
Frequent Searches Leading To This Page:-
hampta pass trek from delhi, A detailed Hampta Pass Trek Guide, How to Reach Hampta Pass Trek, hampta valley snow trek, Winter Hampta Valley Trek