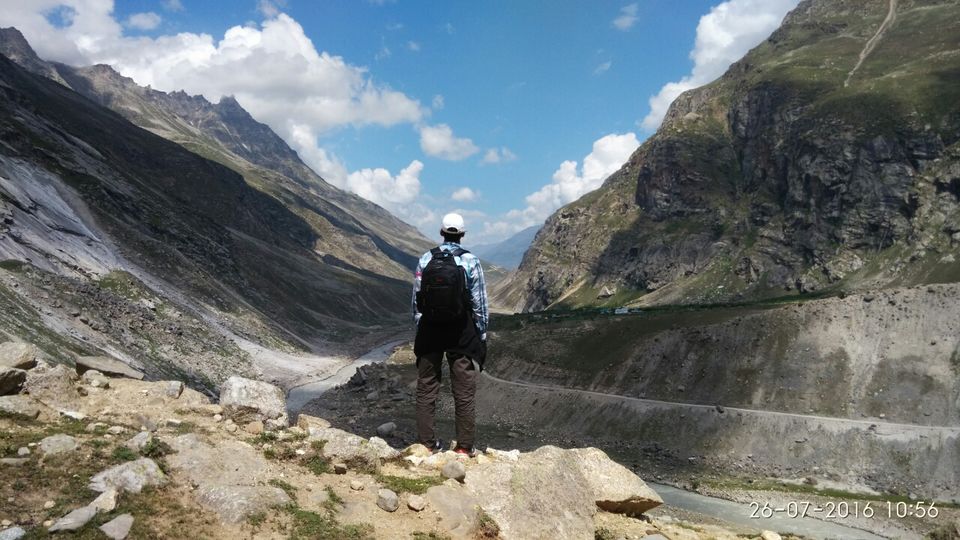 This was an impromptu plan made by my friends and a rather pleasant one. This was my second trek and the first with a large trekking company (Trek the Himalayas TTH) and group of 27 trekkers. In hindsight, it was one of the best experience of my life..!!
Chandigarh - Manali (22.7.16)
Our journey started with a gruelling car drive from Chandigarh Airport to Manali, which took about 11 hours due to the road widening work at Sundernagar and our novice driver. We reached early morning at 3a.m. and had pre-booked a dorm in Zostel, Old Manali. We caught on some sleep and had to report for the trek at 10a.m. in Nehru Park,  Manali.
Manali - Chikka (23.7.16)
Our trek briefing started an hour late at 11am, which by the way gave us much needed time to hog some breakfast. The briefing was basic, after which we got into their jeeps. We drove from Manali to Prini to somewhere near Sethan.
That day we had a small trek of around 3-4 hours from Prini to Chikka (Our first campsite) It was more of a walk for acclimatisation for everyone. There we were taught to setup camping tents from scratch and we setup tents ourselves. We were sharing tents in pairs of two. We had to sleep by 9o.m. because next day we had an early rise at 4:30 a.m. The day ended peacefully with the view of a nearby waterfall and the play of sunlight and clouds on the mountains.
Chikka to Balu ka Ghera (24.7.16)
The early start to the day was a wonder to me because by 6a.m. we had already packed our sleeping bags and tents and were ready to start. We had breakfast and got started by 7a.m. The trek leader insisted to have an early start because we had to cross a stream and should not take the chance of weather change and the water level rising.
The trek was a beautiful terrain with lush green meadows on one side and high mountains on other side. There were many beautiful flowers for all the 'dslr' enthusiasts. The terrain then changes from lush green meadows to sandy areas. This sand is brought down by the streams and is called 'Balu' on which place is names 'Balu ka Ghera.'
The temperature at this camp started dipping in the late afternoon and with the sun playing hide and seek in the clouds, it becomes quite chilly at times.
Balu ka Ghera - Hampta Pass - Shea Goru (25.7.16)
This was our summit day. We again started early. The terrain changed on this trek completely. The trees, grass and flowers were gone. We had to trek on moraines and snow now. Also the increasing altitude made it a little exerting on the body. Some of the group members were experiencing head aches, but nothing to worry about as it happens on higher altitudes.
The last 500 metres were the most difficult for me because I was in the middle of the group and I couldn't see anyone, either before or after and I had gone off the trail for a while. Luckily, it didn't last long and after I kept going on I could see my group sitting at the summit - Hampta Pass!!
We all clicked some group photos there and had our lunch. It was one of the best feelings because I was having food at the highest place I have been in life till date and we were literally in the clouds. We could also see the 6000m peaks of Indrasan and Deo Tibba. We were told that the Indian Army trains on these peaks during certain seasons!!
After an hour or so, we started out descent to Shea Goru. Descent was quite easy and we headed to our next camp. The name Shea Goru means windy place or something. And the name perfectly suited the place.
This camp was very beautiful. The camp was right in the valley and surrounded on three sides by mountains. We could see Indrasan on one side. The place was very windy and I was scared of my tent coming down in the night.
Shea Goru - Chatru - Chandra Taal - Chatru (26.7.16)
We now only had descent on the last day. We entered Spiti valley and were greeted by a altogether different terrain. It was more of like a dry desert type terrain in Chatru. The view we had while the descent was speechless at times.
After the descent was completed at Chatru, we then had a very bouncy car drive to Chandra Taal. Very rough, bumpy, dusty and at times risky drive. But the view from Chandra Taal all made it worth. Those who had been to Pangong said it was a smaller version of it. The place was serene and peaceful and very pleasing for my mind. I loved the peace over there.
We again came down to Chatru at our river side camp. During the day, we saw many bike riders and respected them for making such enduring trips. Maybe even someday I could do one biking expedition in the region.
This was our last camp. Next day we headed for Manali via Rohtang Pass, a 5-6 hour ride and there our trek ended with all the good byes and reminders to all for sharing photos with group members.
After a much needed freshening up and resting in Zostel, we roamed around Old Manali and Manali. We shopped for a few souvenirs and hogged food. We then got to listen to the awesome 'Rudra - The Band' at 'Lazy Dog Lounge' in Old Manali. One of the best dinner night with live music. Just the perfect end to an already life long experience.
Over all a very pleasing, amazing, challenging and peaceful experience for me. I thanked my friends for forcing me to come on this trek, even in July, which is a super busy month for me. I could have this experience only because of them. I thank the Himalayas also because it keeps calling me back and I believe they will for the rest of my life!!