This is the second and final part of the Siachen March article.
"Mountains so steep and passes too high that only the best of friends or the worst of enemies visit us"
Day 1: It was D-Day. All the ragada and today were the day everyone was waiting for. I woke up early, it was still dawn with a strange chill in the air. I sorted my stuff and started wrestling with my rucksack to fit all the stuff inside it. A half hour crazy battle with first the sleeping bag and then the rucksack, I was finally ready to go. We loaded our rucksacks on the truck and jumped on it which would take us to our staging area from where we would start our trek. That staging area is the O.P. Baba Mandir. It is believed that O.P. Baba protects our troops against any mishaps in the glacier and would also slap a soldier if he gets drowsy or sleeps while he is on guard duty. Hence nothing moves on the glacier without taking permission from O.P. Baba and for that very purpose, our starting point was the mandir.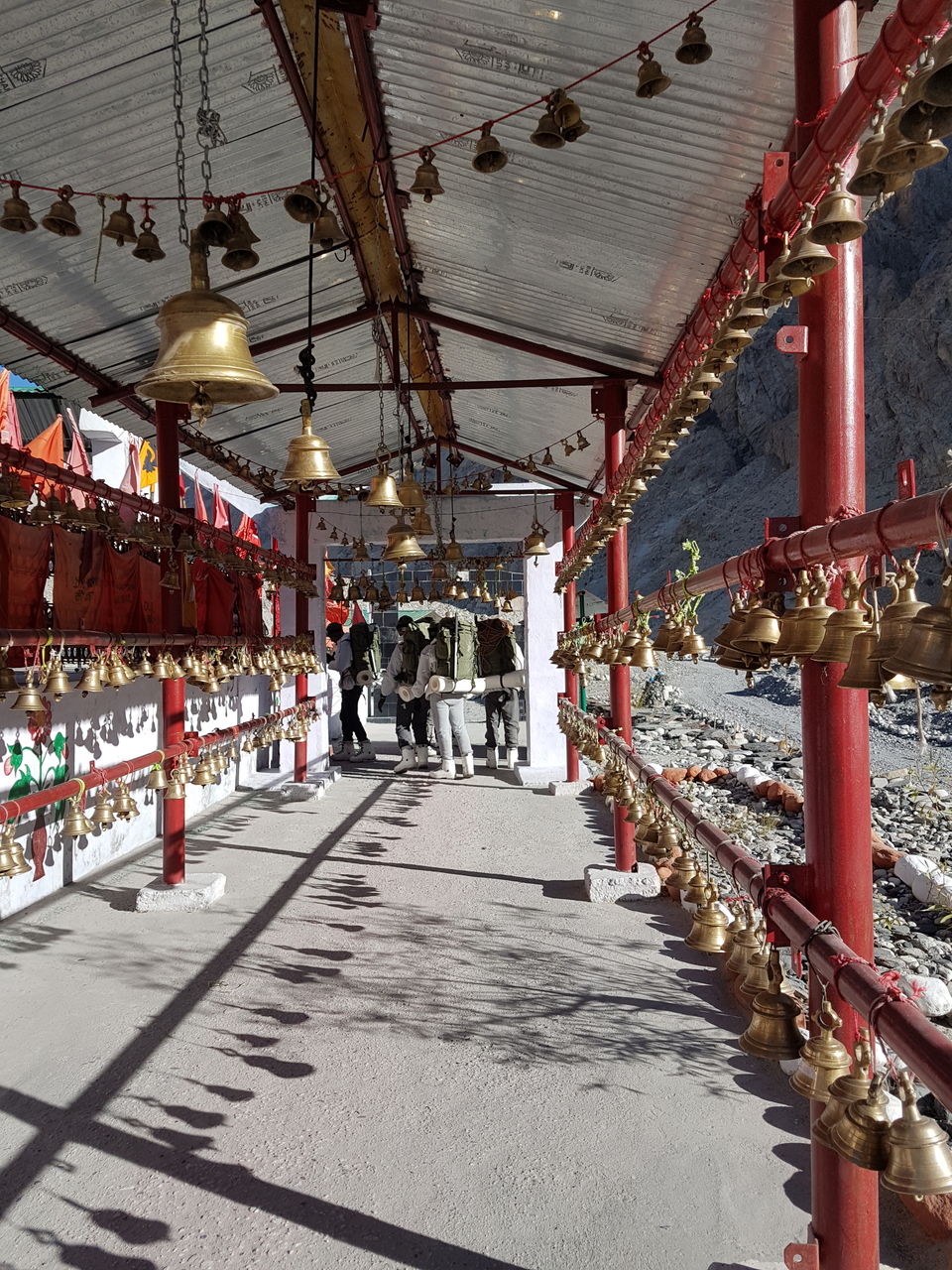 The base commander along with other heads of department was there to see us off and to wish us for a safe journey ahead. After a light breakfast and a small photo session, we took off. Base Camp to Camp One is 12 km and we covered that distance pretty quickly. We started at the snout of the glacier and it was mostly moraines that we were walking on for the large part, we encountered snow only when we reached Camp One. The climb was a little steep at some points but it was fairly easy to negotiate. There were a few who slipped during the climb but nothing major happened while we made Camp One.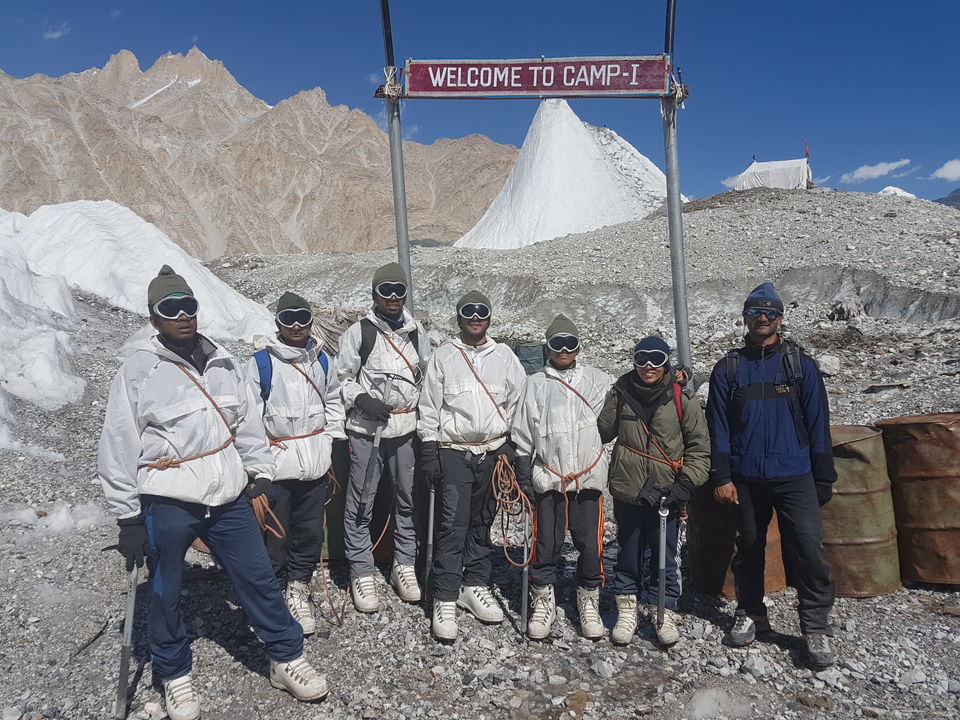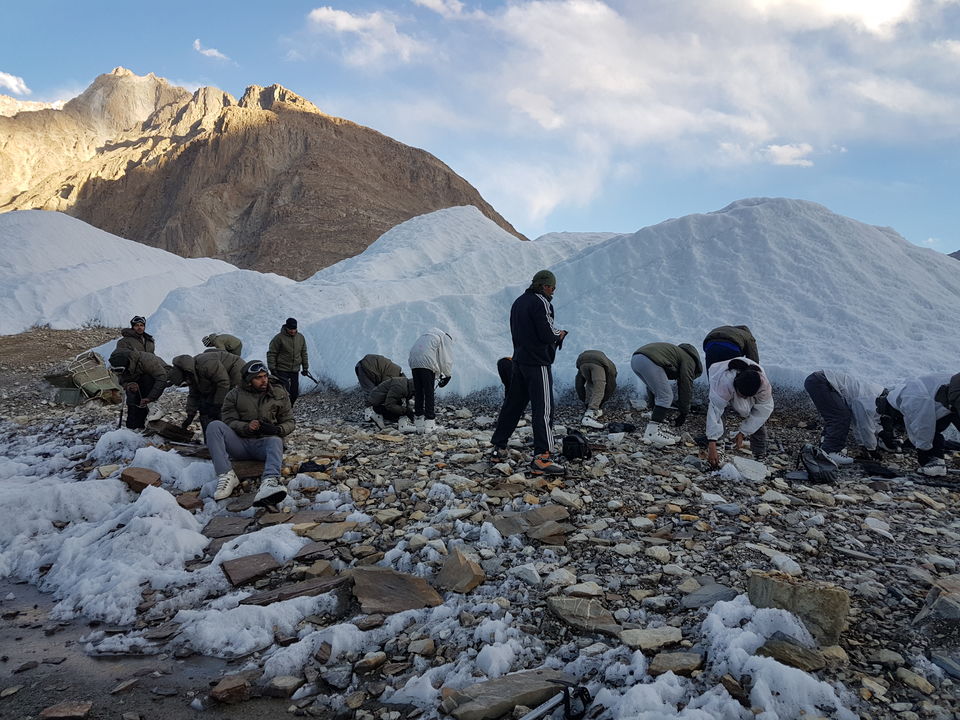 Around 5 in the evening we were told to fall in with our "crampons" and we had no idea what it was for. Following our ustaads, we put on our crampons and marched. Only after a while did we got to know that it was for an informal photo session and to have a bit of fun in the snow after a tiring first day. It was all going merrily when we got to know that one of our guys(read Shaurya) had fallen into a crevasse and was neck deep in ice cold water before one of the ustaad rescued him. My buddy(Jovi) and I rushed back to camp to check up on him and the doctor assured us that he was not in any kind of danger. We got to meet him after a while and he seemed fine, enjoying all the comfort and the warmth of the bukhari. We even got him his dinner. Lucky bastard.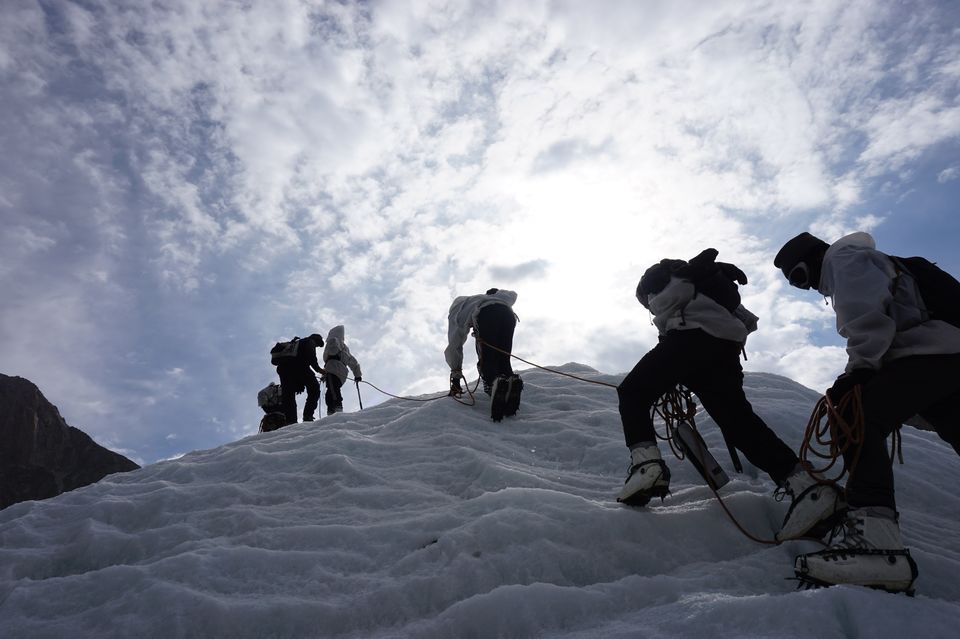 Day 2: With everyone worried over yesterday's incident I was a little skeptical whether Shaurya would trek today or not. We did our same morning routine as we've been doing since past three weeks with the only difference being that this time we woke up in a Russian tent. I loaded my rucksack and went to the chow tent to have breakfast and there he was, all geared up, ready to go. I was thrilled to see Shaurya back in the team, after all, he was the strongest in our rope. We shared a good laugh over how he fell in that crevasse and that he would have to pay for the ice axe that he lost. With our bellies full and our teammate back in our rope, I was raring to go. As usual, the temperature was below freezing and the winds were a little on the higher side today. In conditions like these, it's generally the wind chill that gets you rather than the cold itself. I could feel the wind piercing my skin right to the bone which made it difficult to walk.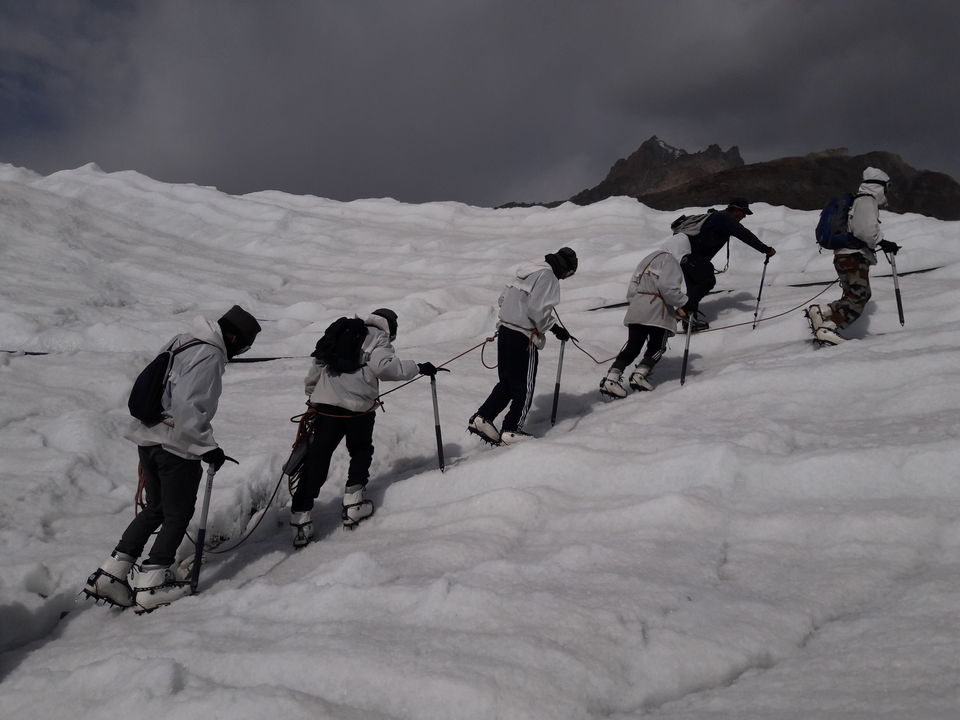 It was all going well when I noticed something unusual. I was walking right behind Shaurya in our rope and he seemed disoriented at times. We were stopping a lot due to another one of our team member(read Prabhjot) not being able to breathe and because of that nobody actually took notice of Shaurya. He was groggy while he was walking and I could notice that he was having an issue. I checked up on him to make sure he was okay and he said,"I missed a whole step while I was walking". Alarm bells ringing I informed our Doc. He checked up on him and put him on oxygen. Shaurya was now walking with a small oxygen cylinder on his back and the extra oxygen should have helped him but I could still feel he was having problems. Somehow we made half link ( the midpoint between camp one and camp two) and both Shaurya and Prabhjot were rushed inside the tent. By now Shaurya had already emptied the first oxygen cylinder and he was put on a second. It became clear after awhile that both would be unable to continue the journey forward and that a Heli evacuation would be needed to get them down to the hospital.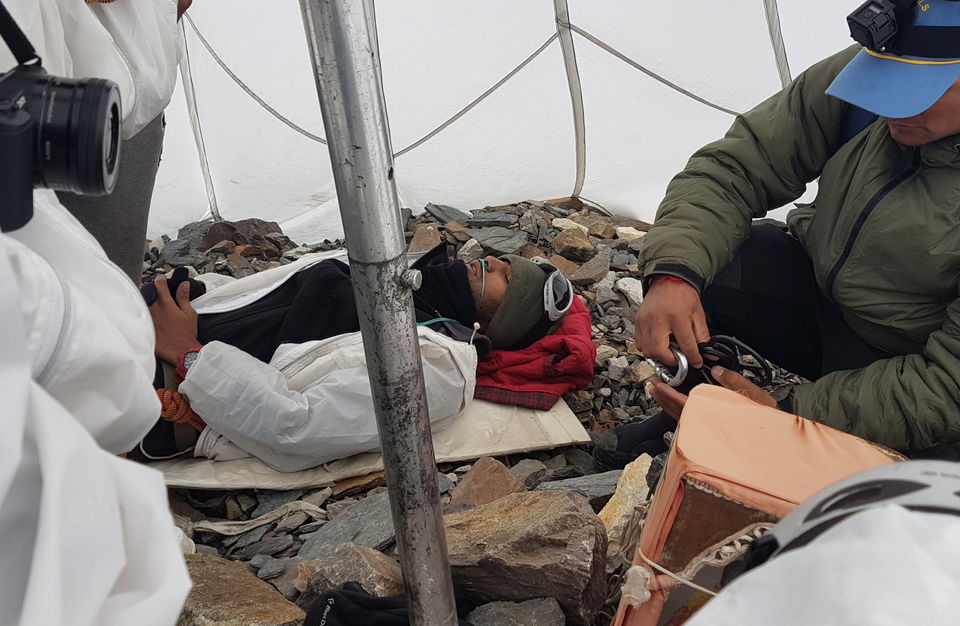 It was a huge blow as two of my very close friends would not be able to finish the journey together like we planned. I was genuinely distraught. But like its said,"When the going gets tough, the tough gets going" we continued our trek, minus two people. Since we were holed up at half link for quite some time, Camp Two arrived late in the afternoon. Exhausted and hungry, I quickly finished my chow as soon as possible and headed for the tent to rest. After an eventful day, the olive green sleeping bag felt like heaven and I slept like a baby that day.
Day 3: The next morning greeted us with light snowfall as we made our way to the chow hall. There were talks that we wouldn't proceed further if the intensity of the snowfall increased. Luckily it didn't and we began our trek towards Camp Three. Our rope was now down to just three members from a previous count of five.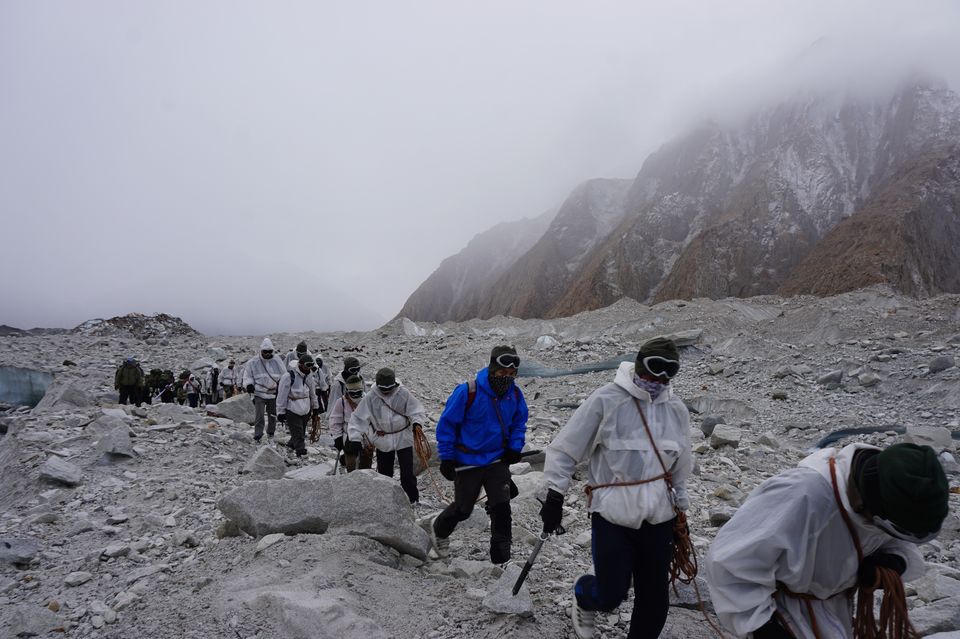 I decided to wear my own wind cheater today instead of the white one that was issued to us. The bright blue windcheater immediately made me pop out in the white surrounding and I could immediately sense a few jealous souls around me. I was like a walking practice dummy for any enemy sniper in the area. YOLO. News about Shaurya and Prabhjot were scratchy, to say the least, but we were relieved that they were at least safe. We started our trek towards Camp Three amidst a light white blanket of snow with the weather playing hide 'n' seek with us. One moment it would be all clear and within minutes it would feel as if all hell is going to break loose. This cat 'n' mouse game continued the entire day. Since we were just three guys left in the rope we stepped on the accelerator pedal and zoomed ahead of everyone. There were no unnecessary breaks and it was our rope who was setting the pace, a pretty good one too. So much so that we had to be halted quite a few times because the rest of the team was being left behind. The terrain was easily the toughest today if you ask me. Steep climbs, loose rocks, and large crevasses were plenty and it made for an exciting walk. Sitting bang between the Saltoro Range and the mighty Karakoram, Siachen Glacier was there for us to see in all its glory.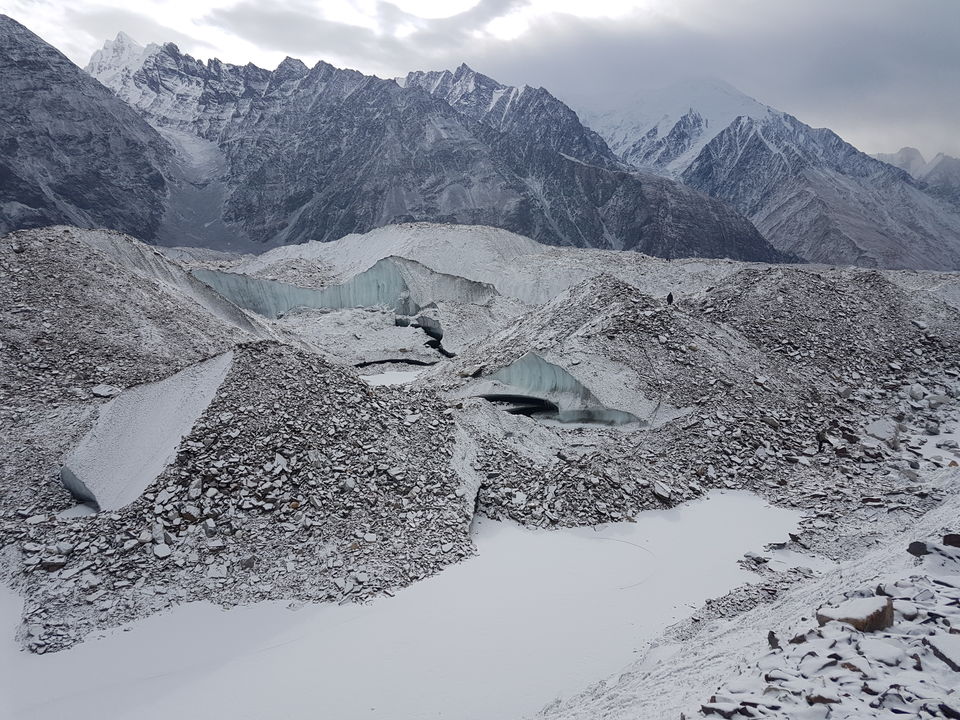 With our rope setting the pace for today's trek, we completed our 16 km stretch in record time and reached Camp Three with plenty of time to spare. So much time that I and Jovi went looking for a bidi, which we eventually found with one of our porters and he was kind enough to spare one for us. In the evening we got news about Shaurya's condition and found out that he had HAPO(High Altitude Pulmonary Oedema). Though he was stable at that point, it was only sensible to descend him more to a comfortable altitude. We all slept a little better knowing both our teammates were doing good.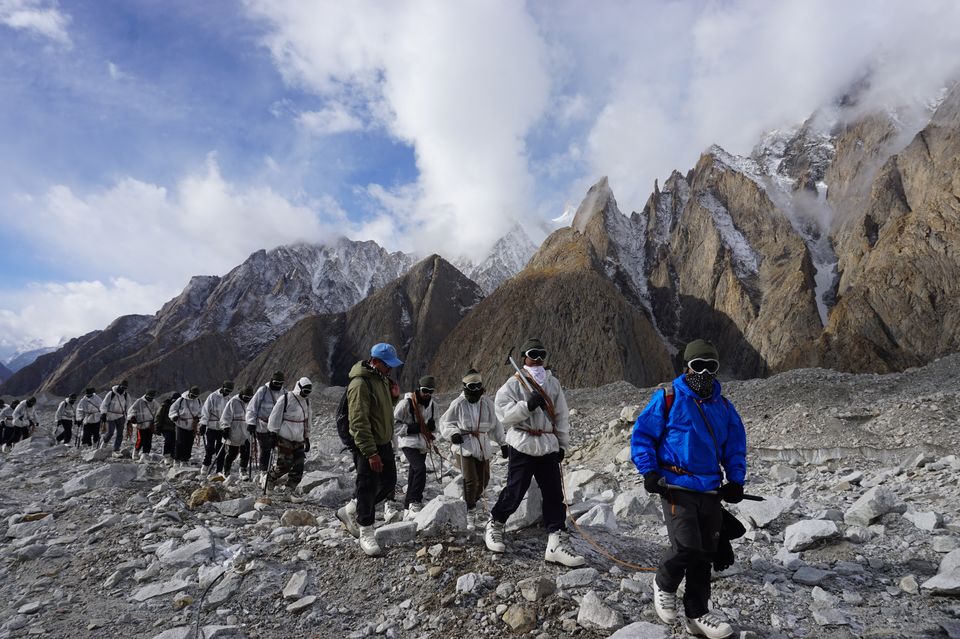 Day 4: The longest stretch to cover today. 18 km of glacier between Camp Three and Kumar Post. Kumar Post, made famous by Colonel Narinder "Bull" Kumar of the Indian Army, who led an expedition to Teram Kangri, and subsequently whose efforts would decide the future of India's strategic outreach and establish a critical wedge between Pakistan-Occupied Kashmir and the swathe of Indian territory the Chinese had occupied in the aftermath of 1962.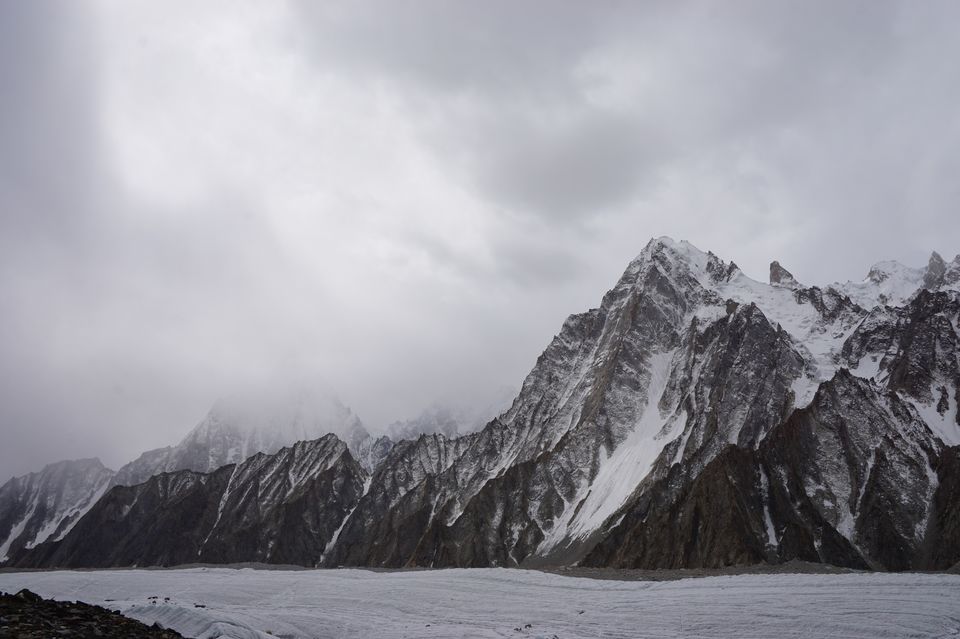 So that was where we were going today. This last stretch was relatively easy as far as the terrain was concerned because most parts of the ascent had been completed in the earlier stages and all that was left was just a long walk towards Kumar Post. We could even see the post from Camp Three and it looked like a small blip on the horizon. Worst (or best) part of knowing where your destination is that it never really seem to arrive. The trek really got monotonous after a while and now we were just begging for it to come. After hours of walking first on the moraines and the last bit on snow, we finally arrived at Kumar Post. It was a sight to behold, a huge forward logistics base camped on top of a massive ice feature overlooking the entire glacier. We had to climb the last part to actually reach the post as it was at a height and on the top, there were soldiers waiting eagerly for us and cheering us on to finish the last bit of the leg.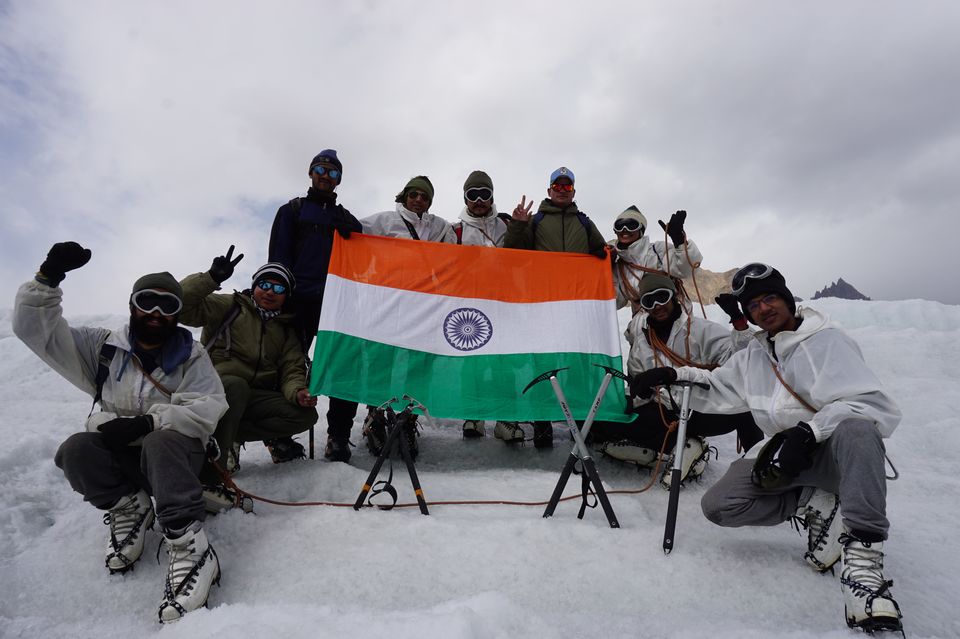 4 days and 60 km of arduous trekking and here we were, a place which only a handful of civilians get to see, experience and admire. As the team entered the mess compound there were cheers of jubilation and hugs all around, I can bet I even saw a few faces with teary eyes. And why wouldn't it be, the trek meant so much to them and to reach Kumar Post was an achievement in itself. Amidst the shouts of 'hip hip hurray' and 'Bharat Mata ki Jai', I sat down quietly wondering how awesome it would have been if Shaurya and Prabhjot had made it with us. I thanked our ustaads first, who were such great mentors to us and it was because of their ragada that we were able to complete the trek. It was all fun after this, taking photographs, making poses, acting as sponsors for their respective companies and holding the company's banner, it all happened and it was amazing. Moreover, the cherry on the cake was meeting the Kargil war hero Col. Balwan Singh better known as the Tiger of Tiger Hill and whose role was played by Akshay Khanna in the blockbuster movie L.O.C. Kargil.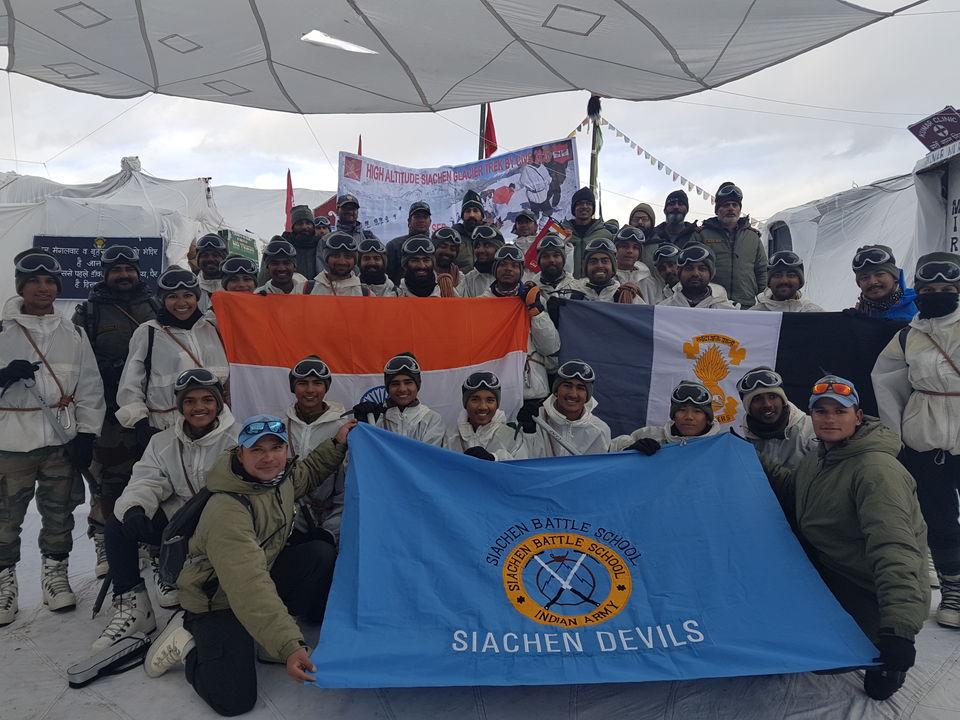 There was more, we finally got a tent which had a Bukhari to keep us warm, stocked with all kinds of eatables and the best part was having an attached bathroom with it. It even got better in the evening, while everyone was having their dinner in the mess hall, Jovi and I decided to go and explore the camp. We were walking by when suddenly a sweet smell took us by surprise, it was as if someone was frying fish. And who doesn't love fish, we followed that scent and ended up in the soldier's lines (accommodation). They were more than happy to see us and there was an instant connect since both of us are fauji kids. Turns out it was paranthe and not fish whose aroma pulled us there. They made aloo ke paranthe for us and it was the best paranthes that I had in a long while. That wasn't it after we were done with the paranthas they prepared hot cardamom milk with so much cream, it was heaven. We chatted with them for a long time and it was nice to hear their stories, the harsh conditions they live in and to still have a smile on their faces. Soldiers are like that, happy-go-lucky and sometimes people fail to understand that they are also human. My salute to them. After all, this was the whole purpose of the trek, to have a small glimpse into a soldier's life who are out there on the border, battling inhospitable conditions and asking nothing in return.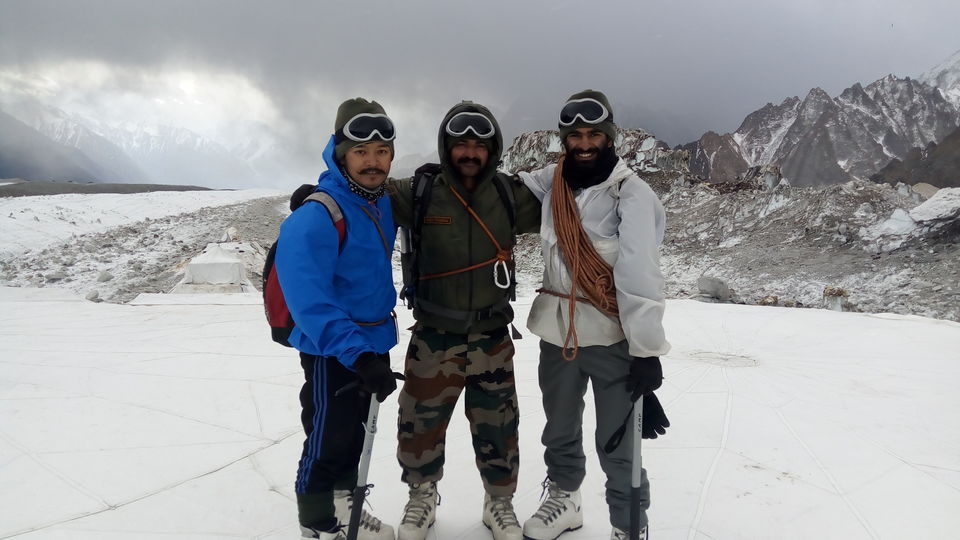 Our stay at Kumar Post was short, we started our return trek the next day (not before I took plenty of pictures) because a company of troops who had completed their tenure in the glacier was returning and we had to empty those rooms. It took us another four days to return back to Base Camp, so in total, we covered 120 km of the glacier in 8 days which I think is pretty cool. I'm only covering the first four days of the trek because that is where the fun part is, rest, as they say, is history.
I would like to thank our ustaads and the officers who trained me fed me and accompanied me during the entire duration of the trek. Huge thanks to the Army for providing me with such an opportunity and to have a small glimpse of a soldier's life. To the achhos(porters) who carried our stuff and to being such important buddies to our soldiers in the region and finally our jawans, for allowing us to share a part of their lives with us so that we could at least try to understand what it takes to be a soldier of the Indian Army. Jai Hind!
Julle!