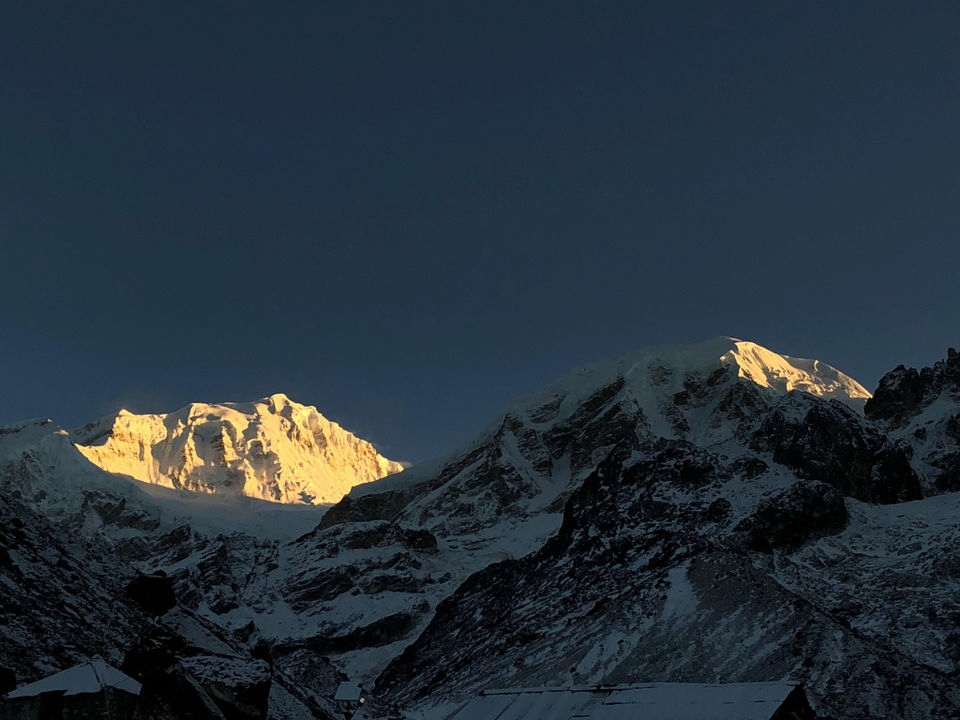 The crushing sound of ice must be the most satisfying sound at 14600 ft, be it the hitting of ice axe on ice wall, walking on crispy snow with snow boots or breaking the ice layer on frozen water drum ….. when the clock used to hit 4 in the morning, we, with some efforts and gut feeling, used to manage to draw some water from the frozen water drum by breaking the upper layer of thick ice. The touch of water used to crush and numb our fingers, which was breathtaking. The drama of toughness had become a daily affair for us after spending a couple of days there.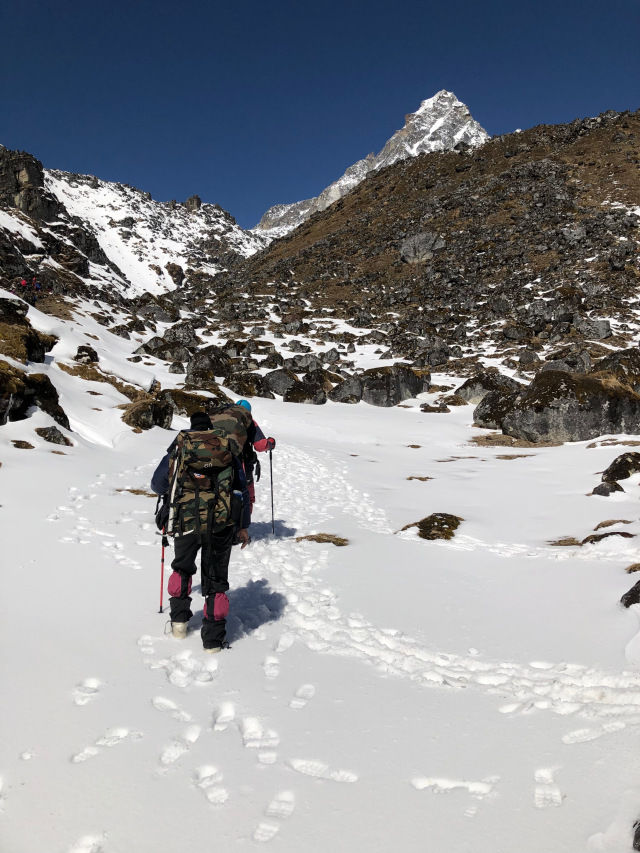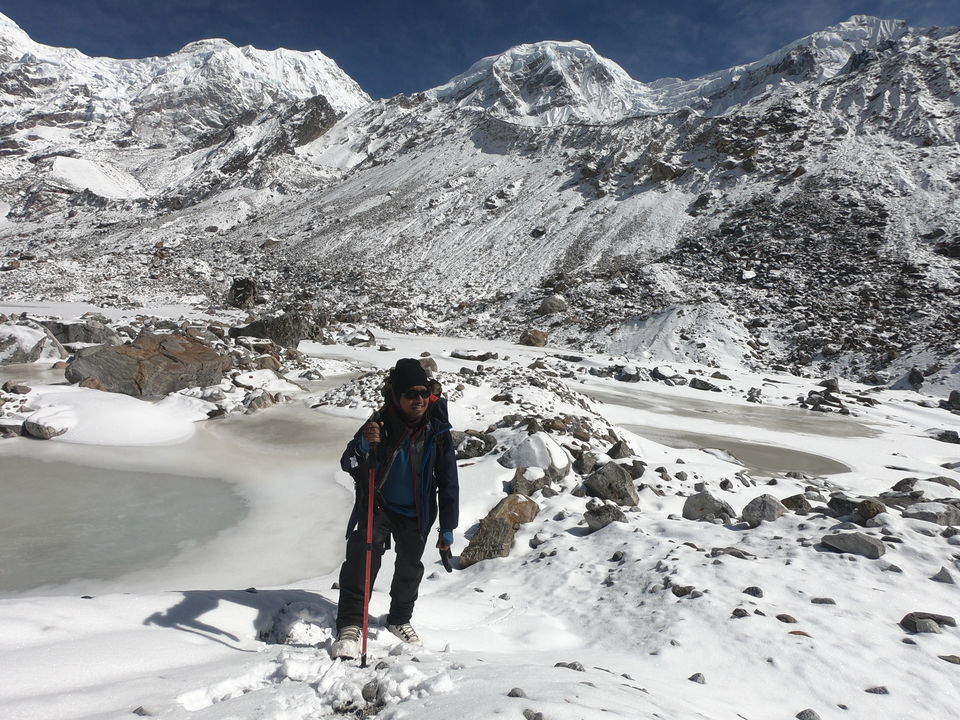 Snow fall – day in and day out, snowy walk, tiring treks, height gains, unbearable weights & the touch of chilly wind – all together these harsh conditions transformed me like an iron man, when I dared to spend few days on the lap of white world..
The touch of thin air feels me the livelihood of soul in mountains and reminds me the quote – "I am at war with myself, and it seems like I am winning"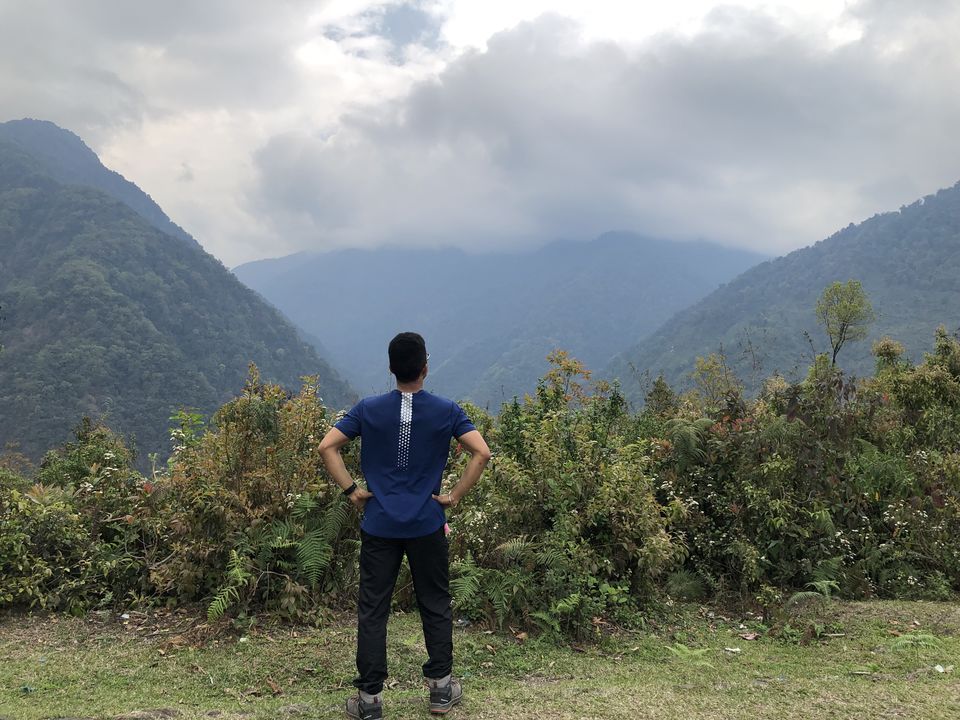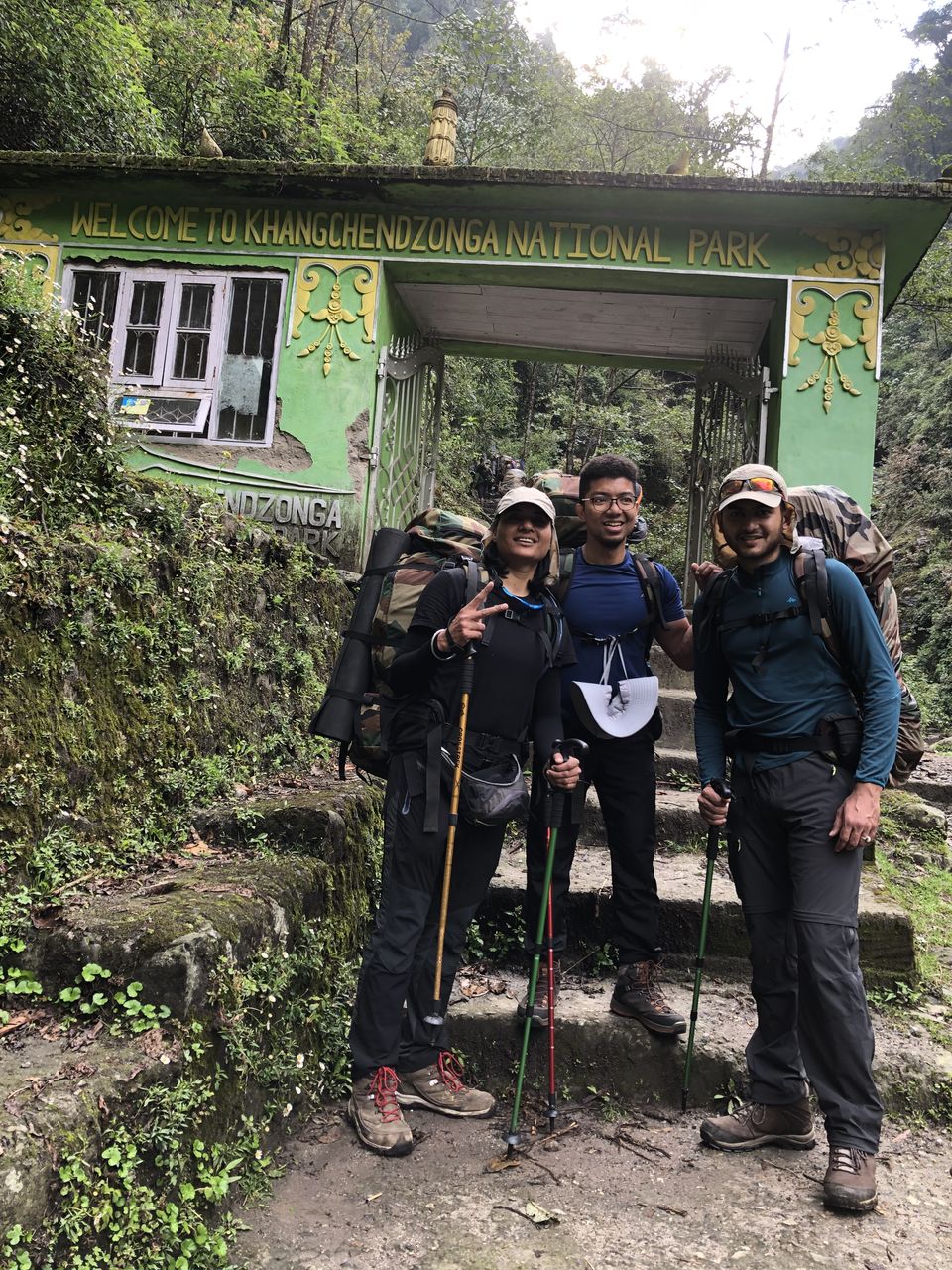 The love affair with nature actually started from Yuksom (a beautiful place in west Sikkim) which is considered as a gateway to Kanchenjunga National Park. The agenda for next few weeks were supposed to be all trek for 80 kms on a rough terrain with 18 kgs of load, which we all were unaware of and blank. After spending few days of honeymoon period in beautiful city Darjeeling, by now, we had witnessed the change in behavior of mountains at Yuksom (@5K feet). No network, dense forests, deep valleys, chill breeze, floating clouds and dramatic sun – all were enthralling us in the middle of nature. After staying a camp night at Yuksom, we woke up at 04 in the morning. The schedule was very tight, so we had to wrap up the things in less time. Yuksom's first morning didn't welcome us well. The last midnight's rain had made many stuffs of ours wet and we had no option but to pack the rucksack anyhow.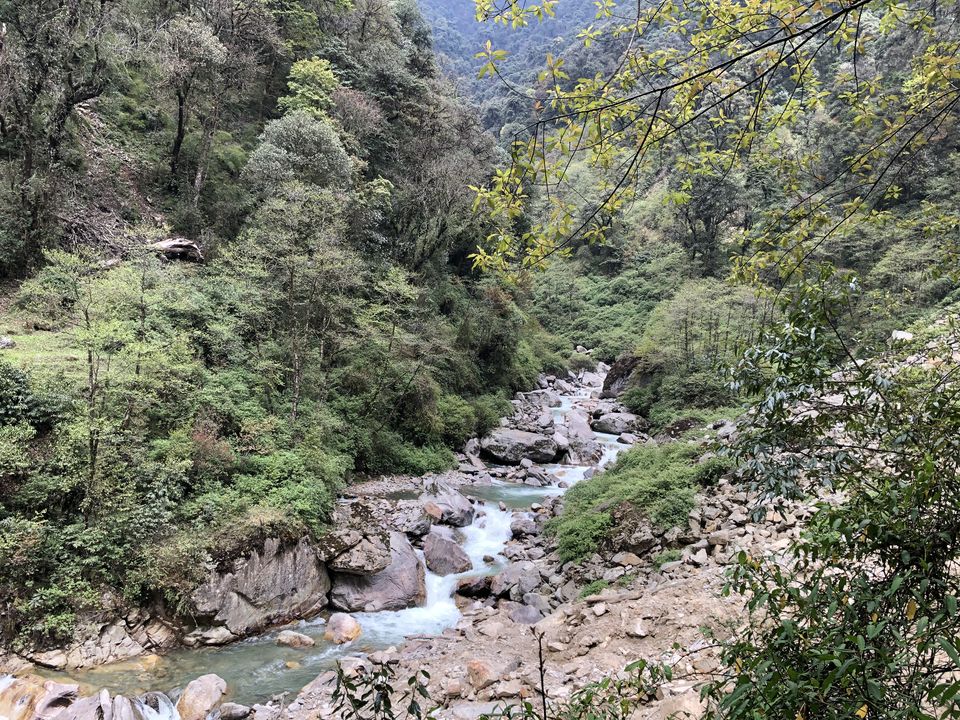 "Before writing further, let me recall you the bloody wrestle with rucksack. Down in Darjeeling, we had been instructed to pack your rucksack with the most important items which are useful at the height up to 14600 ft. With only mountaineering equipment, our load was touching close to 13 kgs, then we had our personal clothing, snacks, toiletries and all. It was all up to us. The more the luxury we will think of, the heavy the weight we will have to carry. After unpacking and adjusting the bag more than 10 times, the weight didn't go down from 15 kgs. By and large, when the items were shortlisted, the rucksack was weighted 18 kgs. No options but we had to struggle with the bag during mountain journey."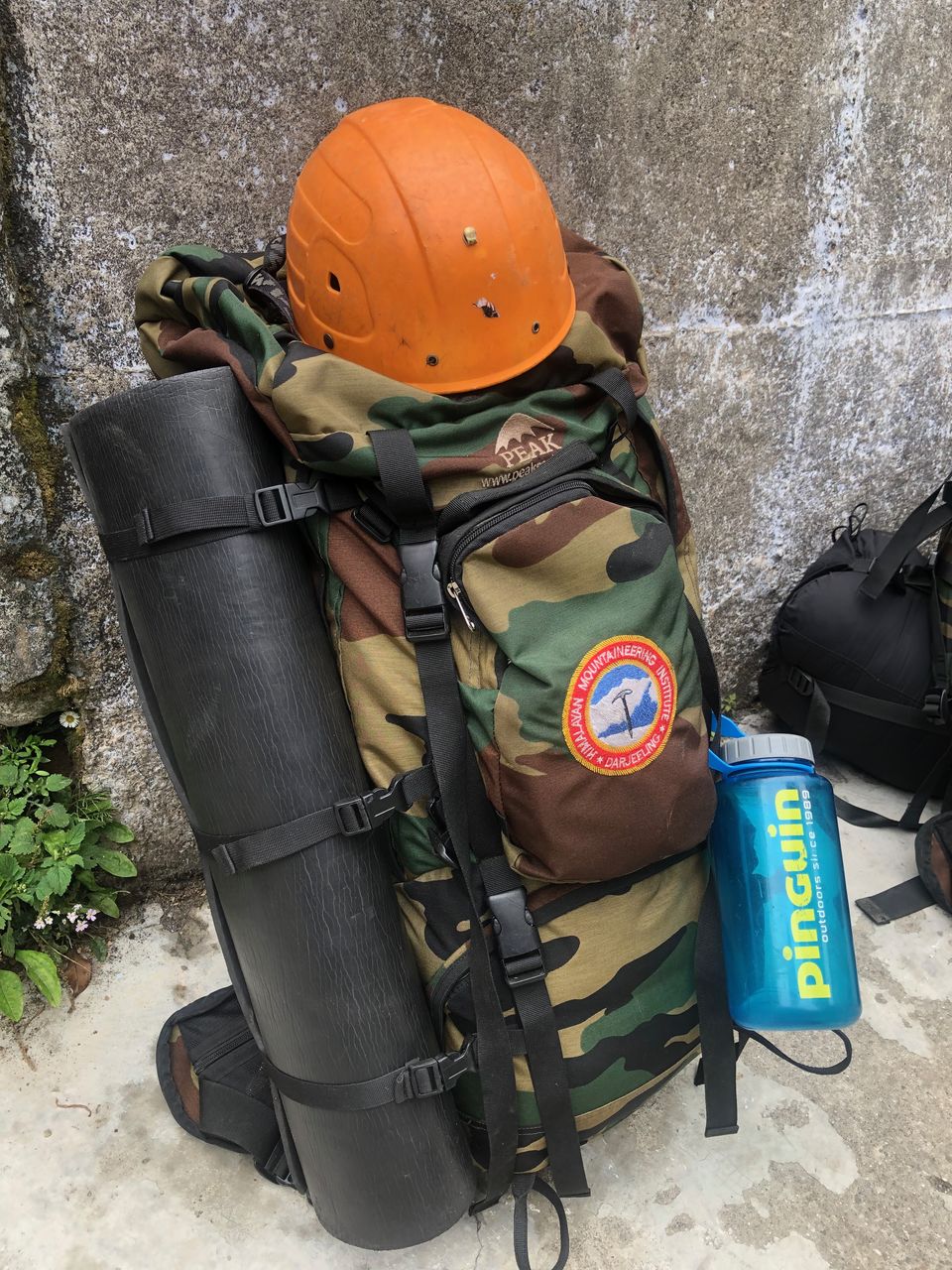 After a last bath of the month & king breakfast, we packed our bags, unpitched the tents, filled our water bottles, packed our lunch. We (group of 90 – would be mountaineers) were now ready for the long trek, which was going to stretch for minimum 04 days. The best part of this trekking (on third toughest trek in Asia) was the change in terrain – from tree lines to ice capped cold desserts. It was 07 in my watch, the weather was sunny. We had been briefed that our first stretch will be for 16 kms till Tshoka and we will cross 4 hanging bridges. Omgggg the load of bag on our shoulder was hell. I thought of slop inclination but the route was full of steps. The serene beauty of nature was above all. We were penetrating the thick jungle where sunlight was bare minimum and fear of leaches was hitting our mind , the countryside sound of floating river & chirping birds were remixing the phenomenal music. The journey of jungle was full of elevations, river crossings, rain, risky rocks, deep valleys and music of rivers. My body was sweating like anything and fully exhausted. Sometimes rain and sometimes sunny weather were great challenges on our way. After a tiring trek for 10 hours under harsh condition, we reached Tsokha at 04 in the evening. We all were totally exhausted and broken up.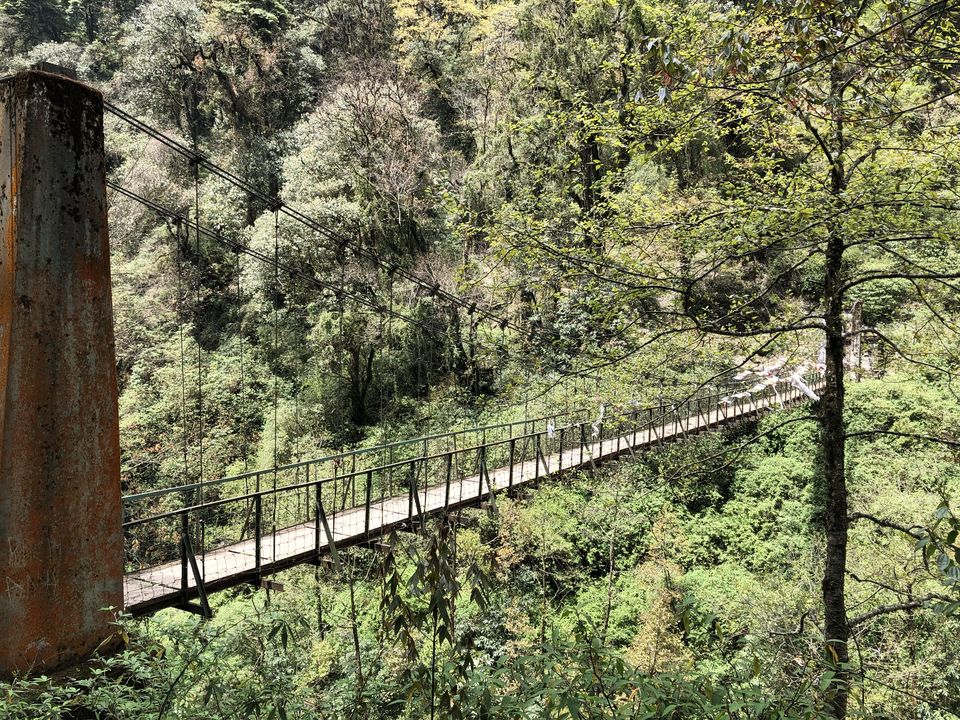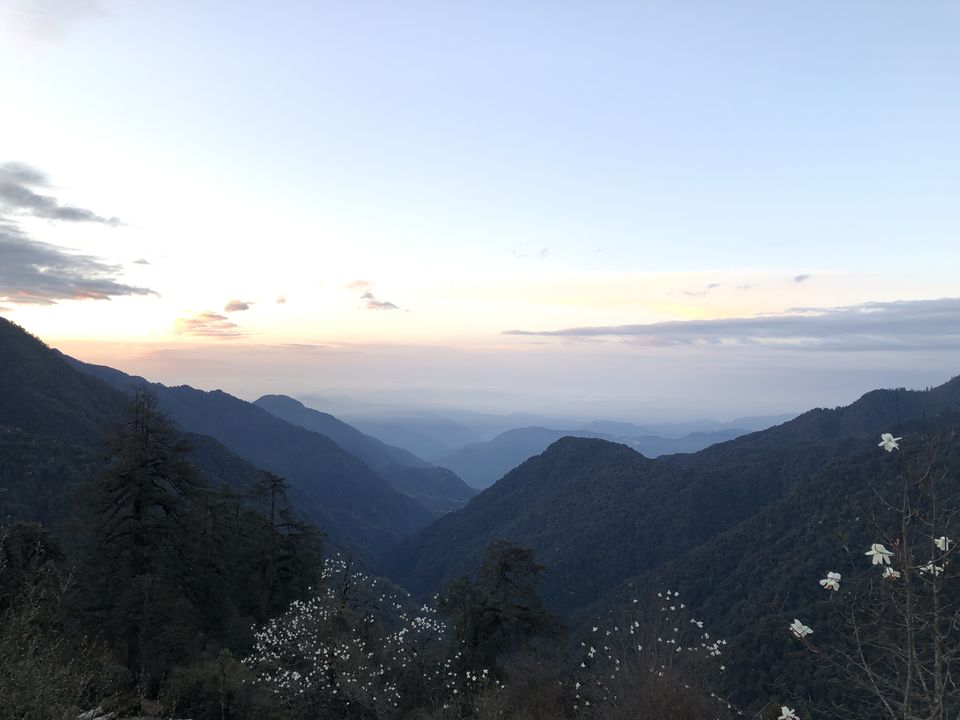 Tsokha, at 10K feet, sits on the lap of ice capped mountains with a series of pine trees on edge lines. The chain of valleys gives you an open canvas of Darjeeling hills. Sipping a cup of morning tea from that sundeck, beside our tents, with visible golden peaks was reviving our soul. With full body rest last night, we went up for an acclimatization walk next day. Tsokha was the second beautiful place in the whole course, where we were connected by heart with no virtual world at all. That phase made us realize about the beauty of human connection. By passing lots of smiles & chit chatting, sharing teas, happiness, adversity and comfort, our day went off.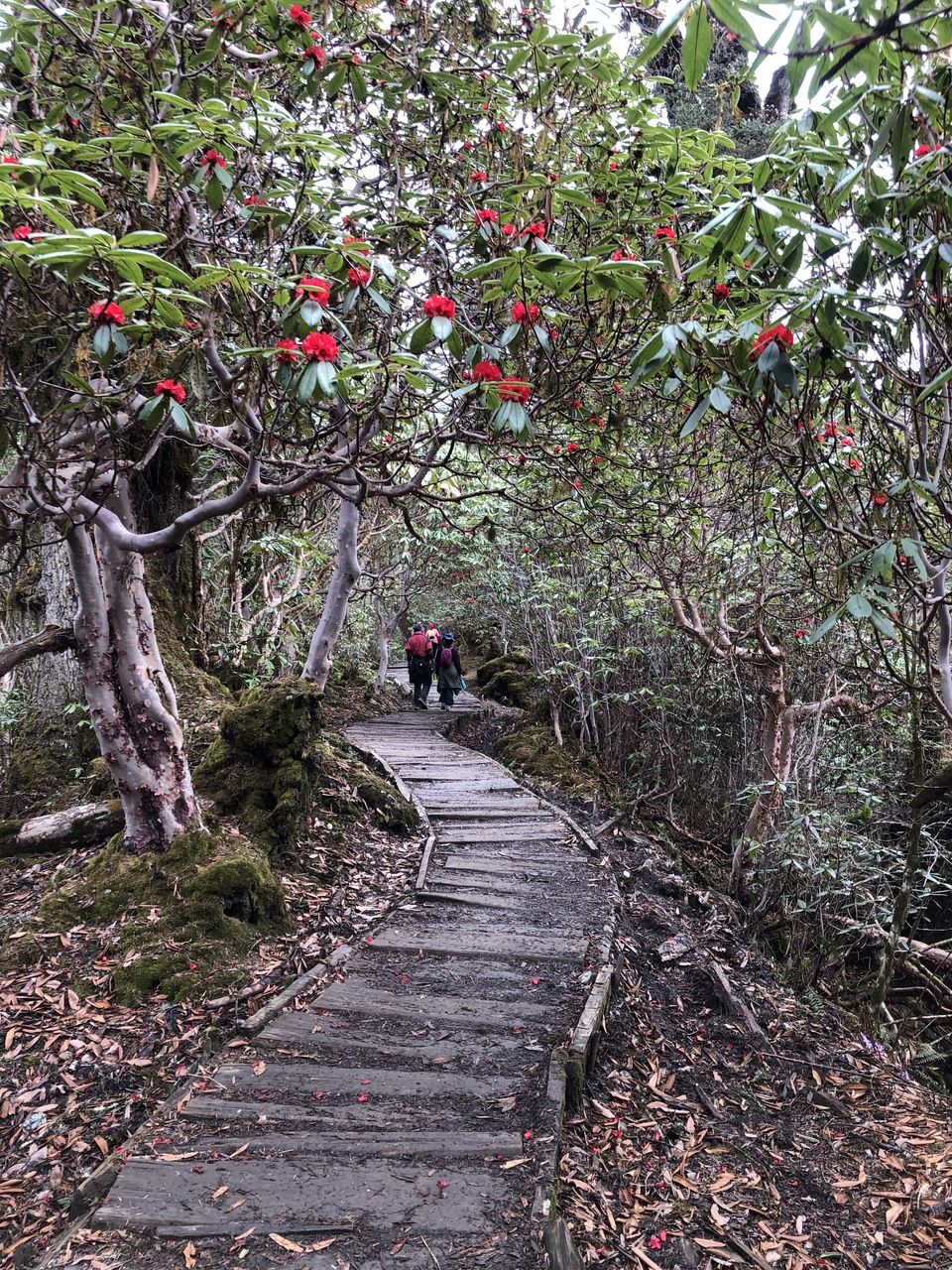 Next day with shinning peaks around, warm gesture of dense forest, soothing music of river and stomach full of breakfast our day started off. Today we had to trek to Dzongri, which was 9 kms from Tshoka. The main challenge in this stretch was the sudden height gain and extreme cold weather under subzero temperature. From the wet and muddy route under the shed of trees to crusty ice on the route , this mother earth showed us all its strata. The initial phase of trek was next level. Gaining height never be easy. With self-load of 18 kgs, keeping your body balanced on the ice is very much similar to walking on a hanging rope. Clouds were passing through and the touch of clouds made us feel like flying above the sky. All in all, we were smelling the fog, feeling the rain, tasting the cold and suffering the pain. The climb from Bakhim to Dzongri is very challenging but effort is worth the excellent view one gets of Kanchenjunga along with the colorful Rhododendron flowers adding a romantic touch to the magical world of Dzongri.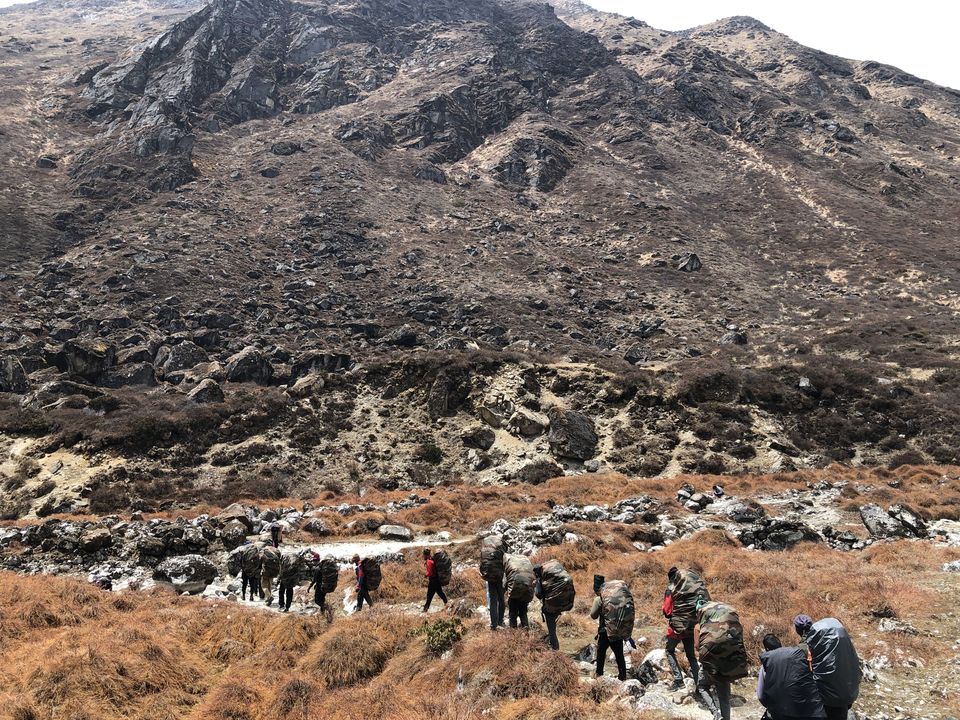 When our life assorted into this white world, even we didn't get to know. By and large, the more we were scaling up, the gigantic white mountains were appearing more taller. There is no cap on the height of six thousander plus literally. With the flow of clouds and change of landscape, our life was on its way like the same. After pushing us hard, finally we reached our base camp – Chowrikhang @14500 ft. We could see the yellow tents from 100 meters far. It was a feeling of winning our self in the battle of Nature vs us. Pouring claps, cheering words, backing up by Advance Course seniors, who hit the camp one day ahead us, at the entrance of base camp made my eyes wet. "Yes we did it" I yelled loudly. We, a group of 90, made it to the base camp with no injuries. The aged ones, young bloods, professionals, Sherpas, pacers all were on the same platform. Each one of us supported and bucked up which helped all of us to push beyond our physical and mental limits.
It was 05 in the morning, I opened my eyes and found myself wrapped under the sleeping bag. It was warm inside the Tisco hut (Stay arrangement). I uncovered my feather jacket (which had contributed in gaining our rucksack bag's weight….heeeeee but very useful under subzero temperature). I stepped out and was shocked. It was snow falling and almost 05 inches snow all around us. What a welcome given by base camp. "Welcome to the frozen world" I murmured.
The crushing sound of ice while walking was more satisfying. The weather was packed with fog and hence it was unpredictable about the surrounding. The very first day of base camp basically was for the familiarization of the area and snow around us was fascinating our soul and rejuvenating our mind. I had not been to any snow world before. We trekked to nearby hill for the class and acclimatization. It was good to feel the knee full of snow while walking. We had given the timing for the next day which was going to be same for next 15 days. It was around a week without network. There was only one network which was working there brilliantly and that was the connectivity of heart. We were issued the snow boots, ice axe and crampons in the evening, same day. Wow … what a feeling !!!! first time with full gears, we were being trained in glaciers. Still many of us were feeling mild headache. I was one of them. We had a daily practice of monitoring our blood pressure. I was normal for a couple of days and feeling good appetite. With the same time in the morning, when the clock hit 4, with all my self-motivation & mental toughness I woke up and unwrapped myself. It was slight bluish sky with glittering moon in the west, the weather was clear. Good to know stuff, the window of clear sky and weather in high mountains generally opens for a couple of hours in the early morning, later on the chances are high for cloudy and whiteout condition. The touch of ice and tapping of chill wind shattered half of my patience there only at the time of brushing my teeth. What a fucking cold. I felt all my fingers numb and stopped working because of freeze. It was bloody pain like hell on my fingertips. I rubbed my palms madly to make them warm but failed in my two attempts. Somehow I managed to cover my palms with gloves. I ran to my hut and remained there for next few minutes.
After an hour, when I showed some guts to come out again for a tea, I saw the other part of coin. Sun had shown its presence by now and glowed all the peaks around. What a collection of peaks – standing bravely and covering us like palms around the flame. The tips of white mountains were glittering like gold. It was appearing like you are surrounded by the golden walls. We had our breakfast and took lukewarm drinking water (A liter of lukewarm water is only source of water for 8 hours glacier training). Let me tell you we were authorized to take only 05 liters of lukewarm water in a day and it used to be logged. You had to preserve it like a diamond – No other options.
Mt Fork peak – 1, 2 & 3, Mt Kabru and Mt Rathong (All are more then 6 thousand meters) were placed to our south, Mt Frey and Mt Renoke to our west and Mt Black Kabru to our North and if you are lucky enough you can witness the golden peaks at 05 in the morning.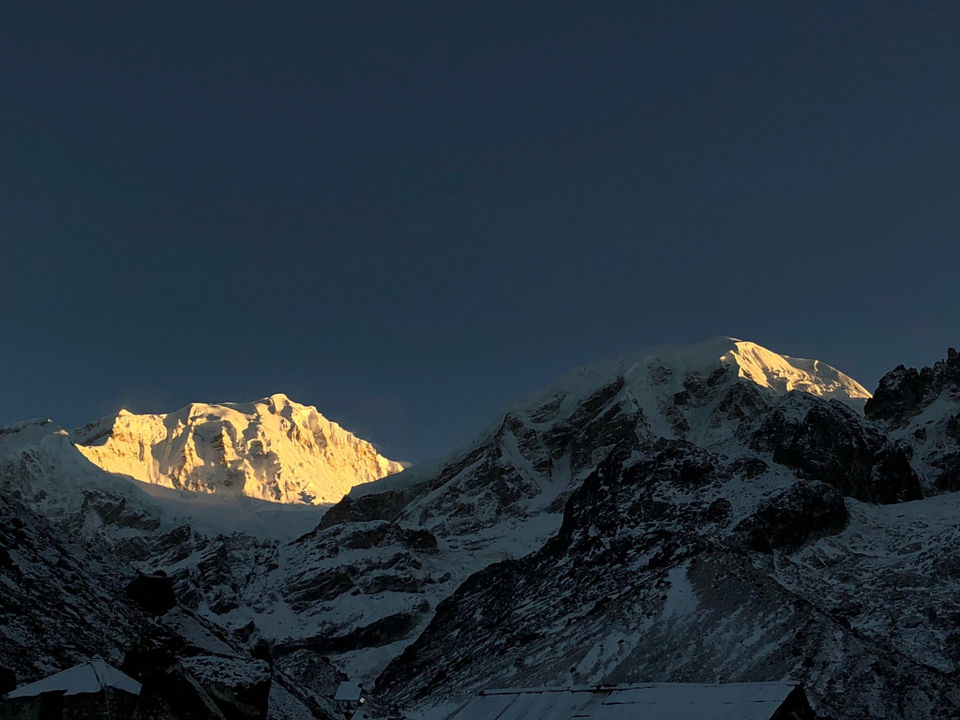 Right after breakfast, we lined up for fall in for next course of actions/plans for the day. It was 07 in my watch. By now, the weather was too sunny. Two thick layers of suns cream with 50 SPF on our face was the first layer of defense from sun burn and we were bank on it as no one wanted to be suntanned. Rucksack with hanging Snow boots tied on both the sides, ice axe twisted and tied under it, feather jacket, crampons, climbing equipment and the only life savior – lukewarm water bottle, on our back, we marched for Rathong glacier – (Situated at an altitude of 15700 ft, Rathong Glacier is an important glacier of West Sikkim. It is fed by the Mt. Rathong (6678m) and ice falls of Kabru group of peaks. It's a playground for trainees to practice ice crafting here).
Journey till base camp was the soft touch of our experience till now. But life beyond it was going to be stiff. White mountains may attract and enthrall your eyes, but spending a day there demands all your patience and guts to challenge your body. As you gain height on mountains, body gets various changes and if you are not fit to adopt those, you may die. What possibly a physically and mentally weak person can diagnosed with is HACE (High altitude cerebral edema – condition in which blood accumulates in brain when cerebral brain vessels break due to excessive pressure and thin air), HAPE (High altitude pulmonary edema – fluid accumulates in lungs), Altitude mountain sickness with vomiting & severe headache, sleeplessness, snow blindness and many. Ideally it takes minimum three hours to reach glacier from base camp. The route is full of boulders covered with snow, frozen river beds, verglas, ice slopes and if weather turns bad, the route under covers in whiteout. We reached glacier at 10 in the morning. My body was wet with sweat. And the irony was I could not remove my warm cloths. We were surrounded by ice all around, the wind was chilled which was enough to freeze the beer. This thin air might weakened me. We put on snow boots, crampons and ready for the classes. The two and a half hours class session was more tiring than the three hours trek. Vertical ice wall climbing with ice axe, learning crevasse rescue methods, self-arrest techniques, usage of knots, pitons, crampons, rope up techniques, climbing methods with jumar and so on were on our plate to learn for next 15 days. The good thing at 14600 ft height was that we used to get good quality of food with many options in it. After a full day of exhaustion, we used to take a heavy lunch at base camp. Evening was the only hangout time for us where we used to chit chat, enjoy soup. Some of us used to play football. The day used to end with memorable hot Horlicks drink. This routine went up for next 14 days. In between, the time cycle never left any stone unturned. Like many, I got some level of sickness. One day, while descending to base camp from glacier, I got vomit sensation. The headache which was mild shifted to severe. I was weak enough to carry out my daily chorus. Meanwhile I hit MO (Medical Office) thrice for high BP (crossed 150). I was struggling a lot to walk for few meters and dying to cover normal slopes. I never felt this bad feeling in my past mountain experiences. I was very disappointed with the body performance. I doubled the intake of water and was exactly going as per doctor's prescription. As per mountain norms, high blood pressure patient can not stay for long at high altitude. In that case, if BP touches the mercury level beyond 150 for the fourth time consecutively, doctors recommend the patient to go down. I was in the verge of same and scared from going down. I could not let my family and friends down. Yes I am brave to fight against odds. These challenges could not cap on my limits and passion for mountains. Like my other batch mates who were suffering from sickness, I fought against all those hurdles, never missed any glacier classes, insulated my body from cold as much as I could, walked in open as long as I could so that my body could acclimatized soon. As the days were passing there, I had come in my daily routine and my body was in flow with the climate. It was 8th day of glacier, still it was hard to get up early and fight with cold.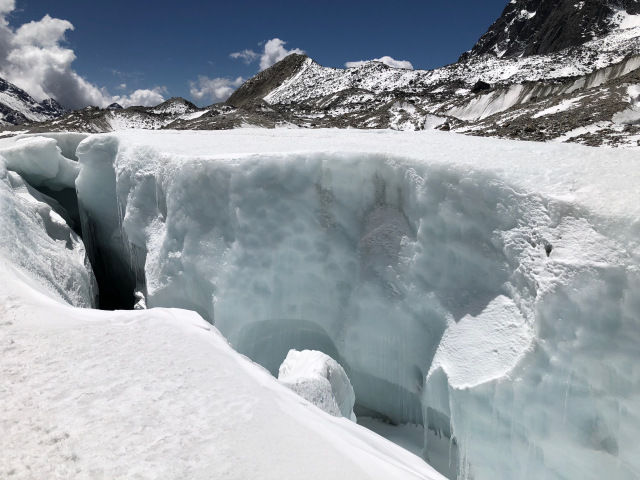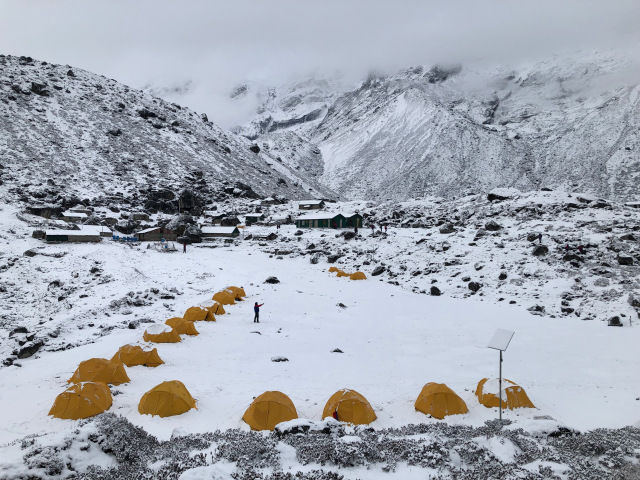 7 days left, 6 days left……2 days left…..our countdown was running at the backdrop of our life. I knew we are the only one who will miss these days a lot, the moment we will lost into the concrete jungle. The toughness of today becomes the most memorable and cherish time tomorrow. By the time when our glacier training was closed to end, we had been attached with the thin air, touch of killing cold water, the glittering mountains under moonlight and sun, the snow covered trekking routes, the isolated life of jungle, the music of river and echo on rocky hills, the network of human connections and yes off course the sweet pain of load on our shoulder throughout the days we spent there. Now we were into love with these mountains and its beauty. In the final day, we had height gain in our curriculum in which, we had to summit Renoke peak (16600 ft) and applying all our learning. It was 25th April, our journey was supposed to start by 7 in the morning. Luckily we all were fit to scale the height. With all dry fruits, given by institute, and equipment, we started off our journey to peak. For two hours, the journey was normal and smooth with full of boulders and grass lands. Later part of the route was converted into complete white zone with deep ice and snow. At 09 am, we reached at the foothill of Renoke. We could spot the base camp and the huge landscape of glacier & peaks of Rathong, Kabru, Frey and Fork. Now the next challenge in our plate was to face the 70 degree slopes of ices. Generally, in sloppy zone of ice and snow more than 60 degrees, you can not go alone. You have to rope up for support. In which, all climbers are attached with a common rope, so if any mishappen happens, one will get the support of others and his life can be saved. We were divided into 10 teams with 09 candidates in a team connected with a rope by carabiner and harness. I was lucky enough to be in the team who was going first. I along with my team, was going to scale the peak first. This was the first peak in my life I was going to summit. We all were fully loaded with zeal, enthusiasm, josh. It was a remarkable feeling to feel the air, the displacement of clouds, the shinning mountain tips, the changing weather, the thin snack like appearance of river and an open horizon of nature from the top. It took 45 minutes to hit the summit.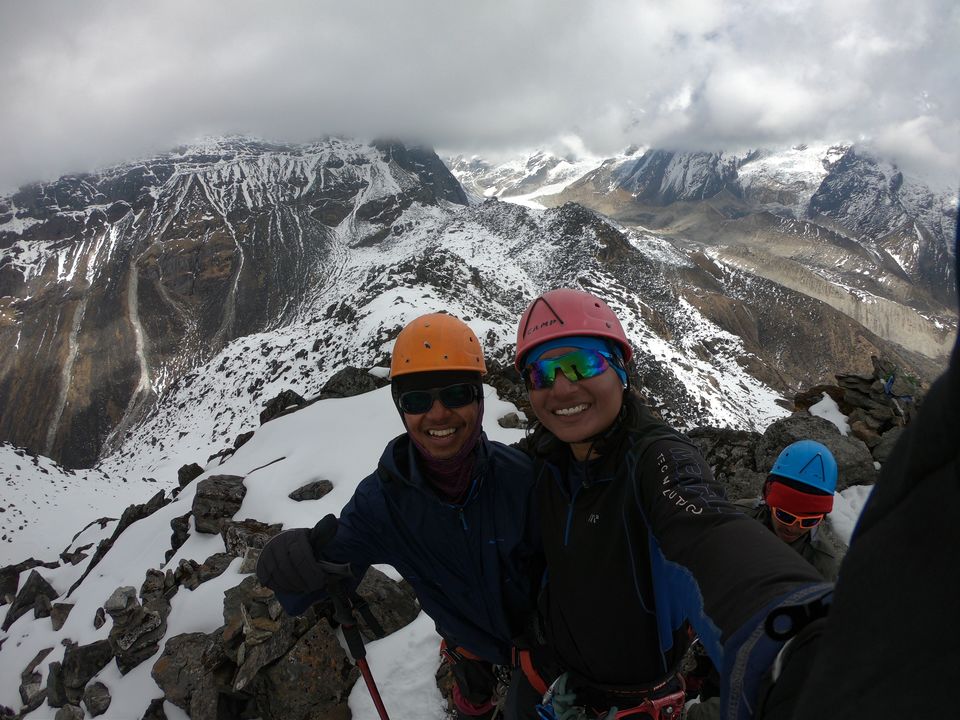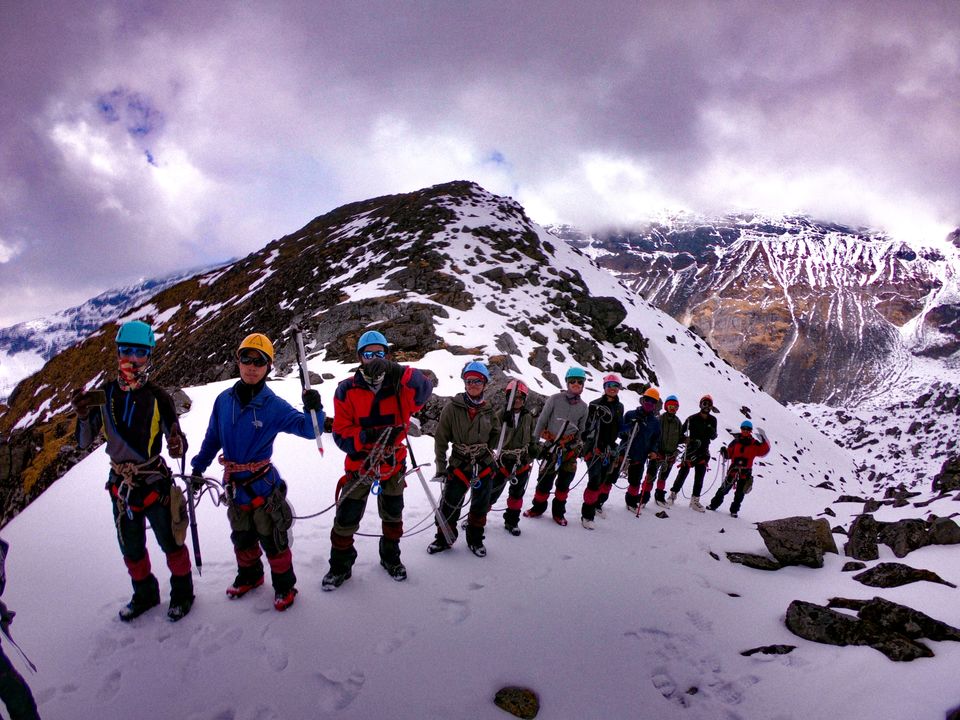 Yeeeaaaaaahhhhhhhhhhhhh………I shouted like a kid from the top. I got goose bumps. I did it. My eyes were wet and I was feeling very proud. At time, when people start and rush into daily routine down there in cities, I was on the top of the world. I won my fear, my heart, my soul, my confidence. It is incredible feeling being on the top which can not be expressed and pen down. It can only be felt there on the spot. Mountaineering is all team work, without which its closed to impossible to achieve the heights.
Finally, the day had come when we had to go down to Yuksom. Spending almost two weeks here, some of us were happy and some sad. We were wrapping up our backpacks devotedly. It seemed like we are being freed from the cage. Down there in Yuksom, we will get network, choice of food, greenery, roads, cars, human beings and so on…we will get back to our normal life again. The excitement of returning to our civilized world was at par. Next day with the same bright light of sun on peaks, freezing life, our day started with a hot cup of tea. With the same timing we had breakfast and packed our lunch and lined up for briefing.
It was 06 in the morning, the day was bright enough. We were not expecting any sign of rain or snowfall. Unlike coming to base camp, the trek of 41 kms to Yuksom was of two days with one night halt at Toshka. We had an advantage of many down slopes this time. The first part of the trek was of 19 kms. The down journey was covered by sharing and remembering all moments we enjoyed up there.

The experience of golden time during the past journey of 28 days has now changed us completely. From comfort to deadly zone, from human rush to isolated heaven, from hazy view to clear stars, from the shadow of building to the first ray of sun, from easy parallel concrete roads to beautiful and sexy curves of treks and from hot air to freezing cold, the life in mountains cannot be imagined inside the cocoon. To feel the real touch of heavenly nature, one has to break the bed and put the feet on the fire and learn to enjoy the sweet pain.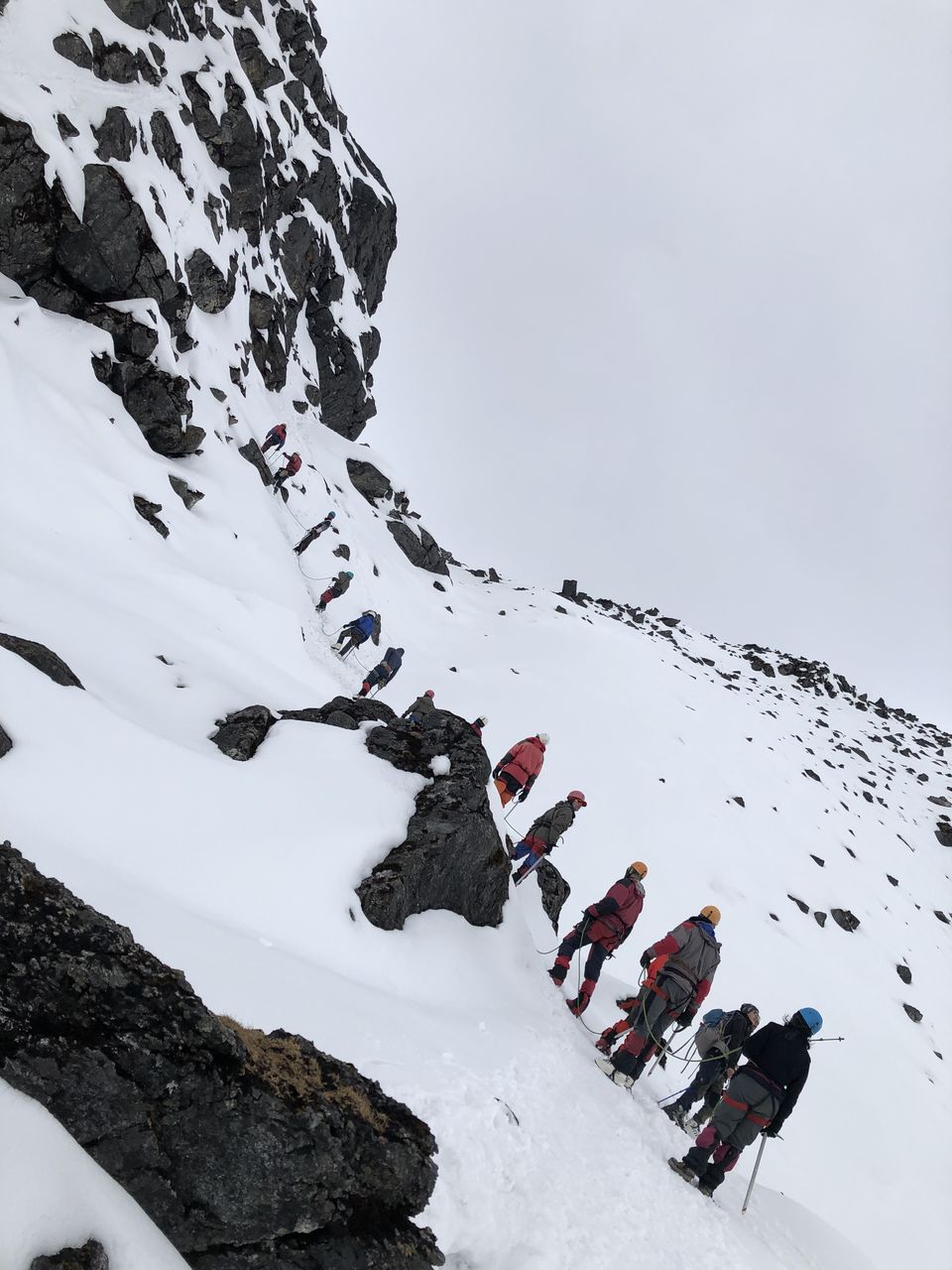 With the sweetness of this pain, I have been moulded not only physical, but my mind and soul are also into new avatar. I wish to continue with the learning of this roller coaster ride for whole rest of my life. The closeness of the mountain relationship will be forever. I have many peaks in my mind before hitting for Mt Everest. All the great learning from HMI will be applied soon and will celebrate the success together. I, from the deep of my heart, am very thankful to all my faculties, peers and family who helped me to push myself beyond my all limits.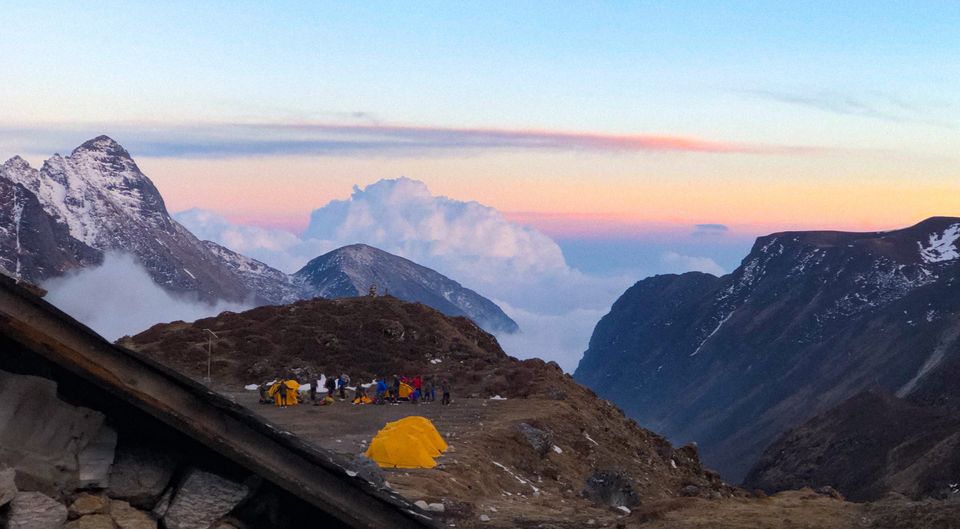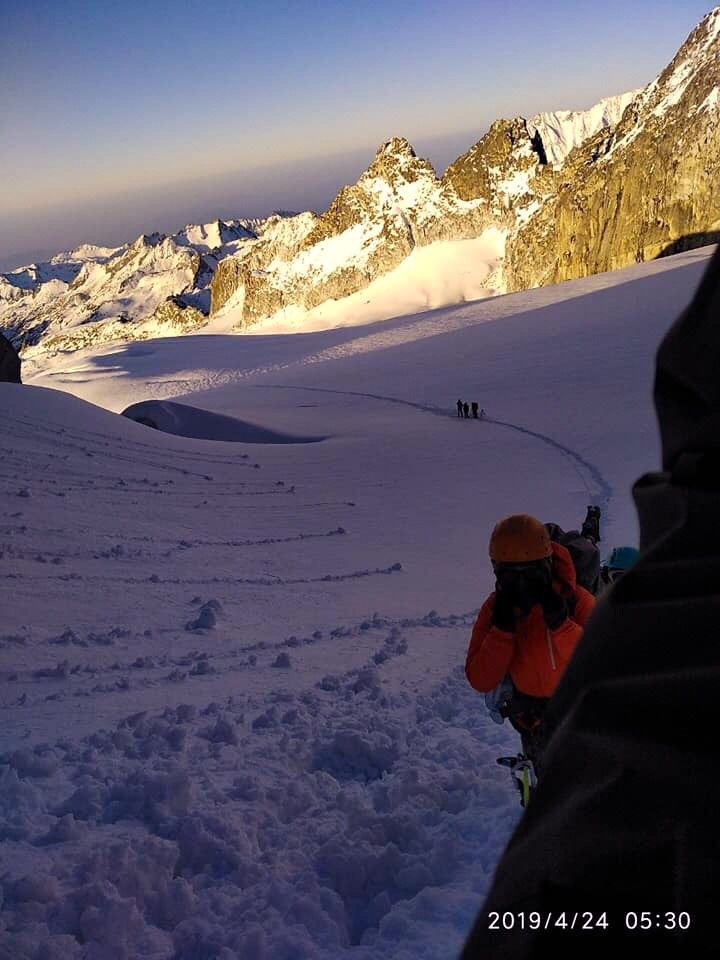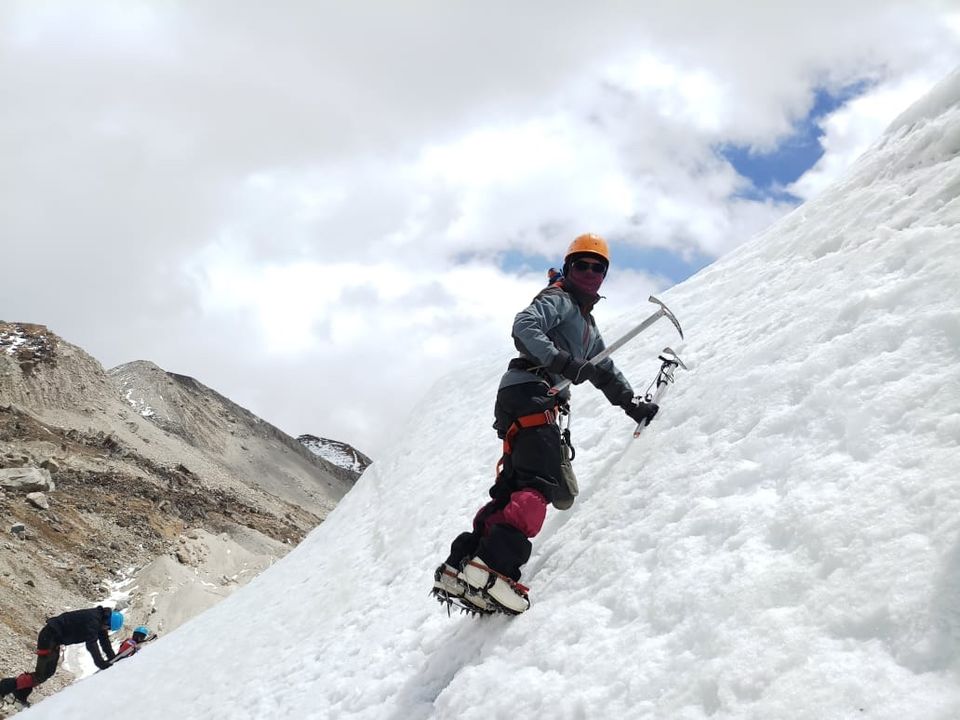 We were left with two more days to finish the course. It was very hard to apart now. After a final evaluation, we started practicing for graduation ceremony. I was quite upset with the detachment. I know its very hard to say good bye, but we cannot do anything. I made many friends and collected lot of stories & I believe in collecting stories not money. By now, one more story has been added in my book called "LIFE". It would make me happy if after 20 years from now, someone will open this book and read, he or she will definitely cherish the beauty of life stories and it will make me so happy to be in someone's heart and mind like a superstar.

Finally, we deposited all our equipment. I got A grade in certificate and most awaited Ice Axe badge in Basic Course . Some of us did manage to get A grade and some not, but what I believe, it's a matter of time. Getting A grade does not mean that he will be surely survived in his dreams and passion of mountains and the one with B or C grades will be crashed. It's all up to an individual who will continue this journey of passion towards mountains throughout his life.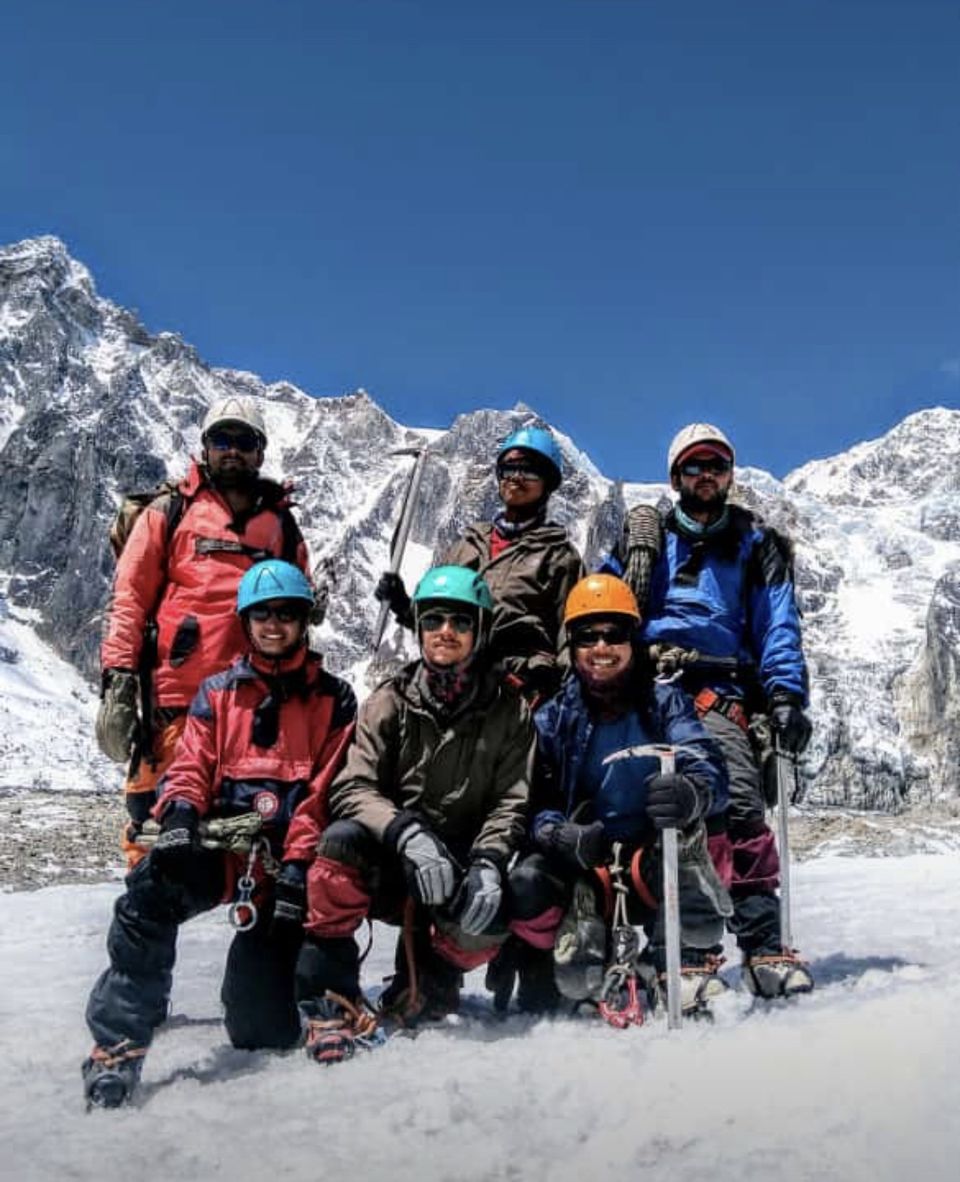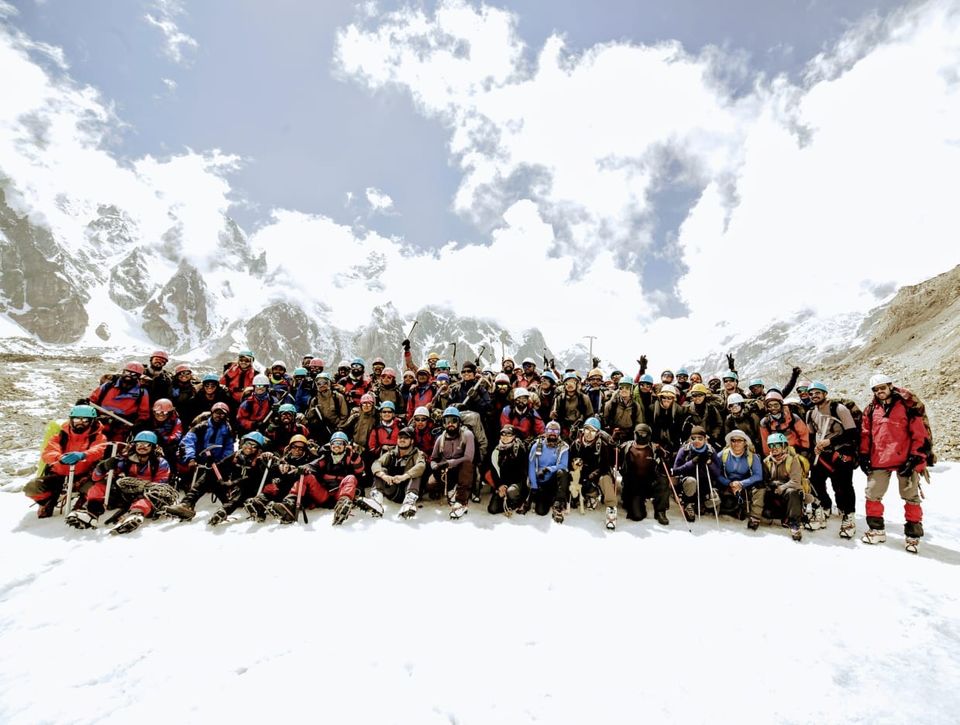 The course was completed and we all dispersed like a smoke. I still remember those days. The moment a cup of tea comes to my office table with creamy biscuits, it reminds me my craving for Parle G which is hard to replace by any one. I thought of writing my experience someday when I will be back from course. I am writing this while sitting near to my window, with a cup of tea beside me. Whenever I look out of my window, I see the busy roads, crowded streets, shouting people, I simple turn to sky and enjoy the love affair of stars, sun, clouds and moon. I miss my course days.