Siachen Glacier or The Third Pole as some may have come to name it is a vast inhospitable terrain. Add to the fact that this glacier is flanked on either sides by Pakistan and China takes the danger meter to a whole new level and for this very reason you wouldn't have heard about any civilian expedition taking place here ................................because there isn't!!
The only way you get to witness this place is if you join the Armed Forces and even then only a lucky few serve here. Does that mean a civilian with a strong sense for the outdoors and adventure can't witness this beauty?? Well your prayers are going to be answered.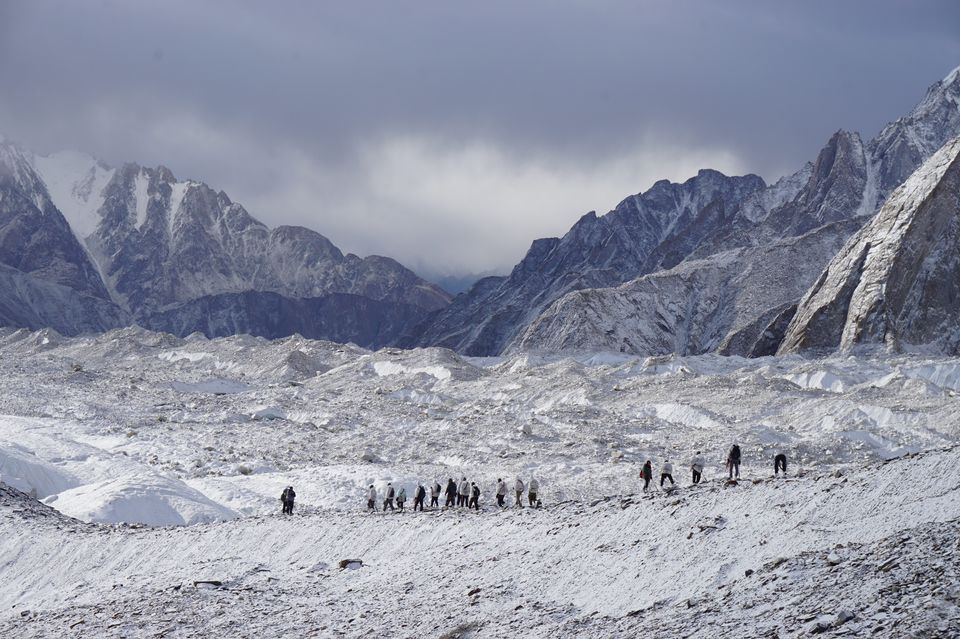 But before that you need to know about the training that we went through in the days leading up to the trek. I hail from an Army background dating back to WWII, also I'm a Himachali and a Gurkha, so a heavy dose for adventure and the mountains has always been there. It was one fine day when my father rang me up and said, " Son, there's a trek being organized by the Army for Siachen Glacier. You wanna sign up?" And without any hesitation I said," YES!!" And just like that I had initiated myself in the unknown. I wouldn't go into details about the days leading up to the point where I reached Leh because there is really not much to it, other than just preparing yourself for the gruesome 120 km long trek. Lets go ahead and skip to the essentials. First stop. Leh.
With my rucksack all loaded with the essential clothes and whatnot I reached Leh on 15th September. 11,000 feet. This was also to be our reporting day so I had no intention of missing this date. During the flight I witnessed an unusual amount of Ladakhi people and monks flying to Leh. Upon some queries I came to know that something called "The Naropa Festival" is being celebrated. Its a festival held once in 12 years, rich in tradition and history, steeped in religious mythology and beautiful rituals, and fervently attended by people from across the globe. They were dressed in their beautiful religious attire and the atmosphere in the flight itself was very lively. Young and old, everyone was thronging to attend the 'The Kumbh Mela of the Himalayas' and this put me in a very positive mood for my journey ahead. I reached Leh and since this was my first trip here, I was left spellbound at the beauty of the place as soon as I got off the plane. It was jaw dropping to say the least. After a fair bit amount of being in a trance like mode, I checked myself in with the people who were there to receive the "Trekkers" for the Siachen Trek. Now since I'm a Fauji kid I was bunked up in Leh Transit Camp along with other fauji kids and cadets, other trekkers were bunked up in a fancy hotel. We were briefed here about the process that would take place and about things we can do and cannot. Of course, being in an Army trek there has to be some discipline in it. Our acclimatization week started with doing nothing for the first three days. Yeah! You heard that right, complete and absolute rest. We were told not to over exert ourselves and also to drink tons of water. During this rest period we managed to have a sneak peak to Spituk Monastery and a place called 'Sangam' where the Zanskar and Indus river meet.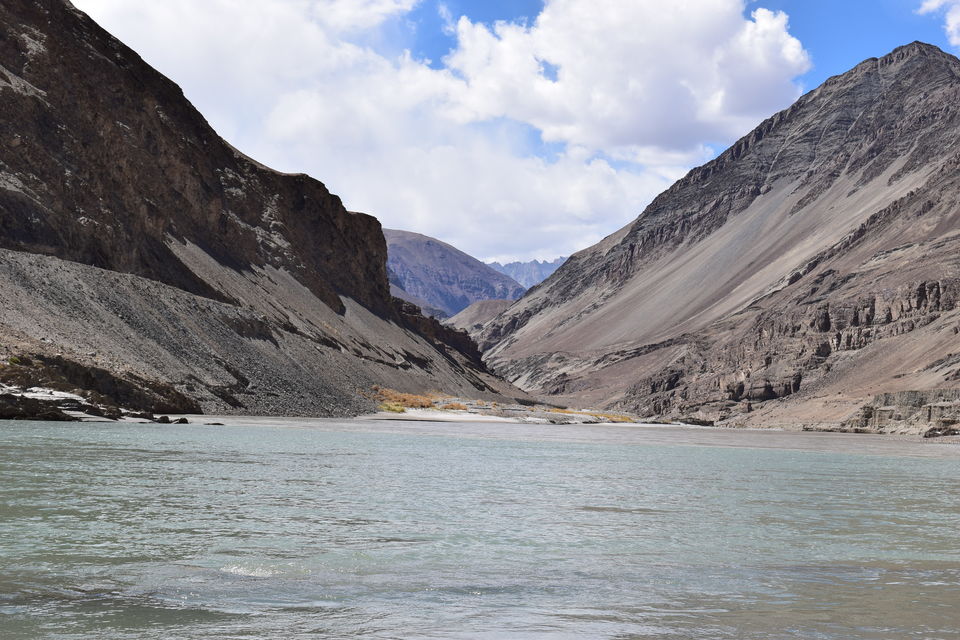 After the initial rest of 3 days the following days were anything but rest. We started with light walks of about 3 kms which graduated to jogs and then into sprints. Our morning schedule comprised of running and strengthening exercises with all the fauji flavour. Rolling, crab walks, pushups, crunches, jumping forward and back in a plank position and stuff that I haven't even heard. It was pure 'ragada' as in the Army lingo and it felt like we had enlisted for an Army boot camp and that we were going to become soldiers. The "Ustaads" were strict with the routine and were very punctual about timing. Twice a day everyday we had our regular medical check ups and this went on for a week. Our time in Leh was the first stage of acclimatization and based on our medical condition no one got dropped out from Leh.
Second stage of acclimatization started with us being sent to Siachen Base Camp which is at 10,000 feet for further ragada. This word 'ragada' is going to come a lot many times because that is what actually happened, there are no two ways about it. Coming back, we reached Base Camp after crossing the famous K-Top or KhardungLa Top and eventually reaching the staging area from where our trek would start. This is also the place where we would be getting our Army issued clothing and equipment that we would be wearing during the trek. The training at base camp comprised of long 5 to 7.5 km walks with and without load; learning ice craft skills like 2 point climbing and fall arrest techniques; learning to tie different knots on ropes and making yourself a makeshift harness. Apart from outdoor lessons we also attended lectures on various illness associated with high altitude and to how to prevent them. The ragada that we received here was taxing on some and by the end of our second stage of acclimatization there were a few people who were dropped either due to medical or physical reasons. The herd was much smaller now.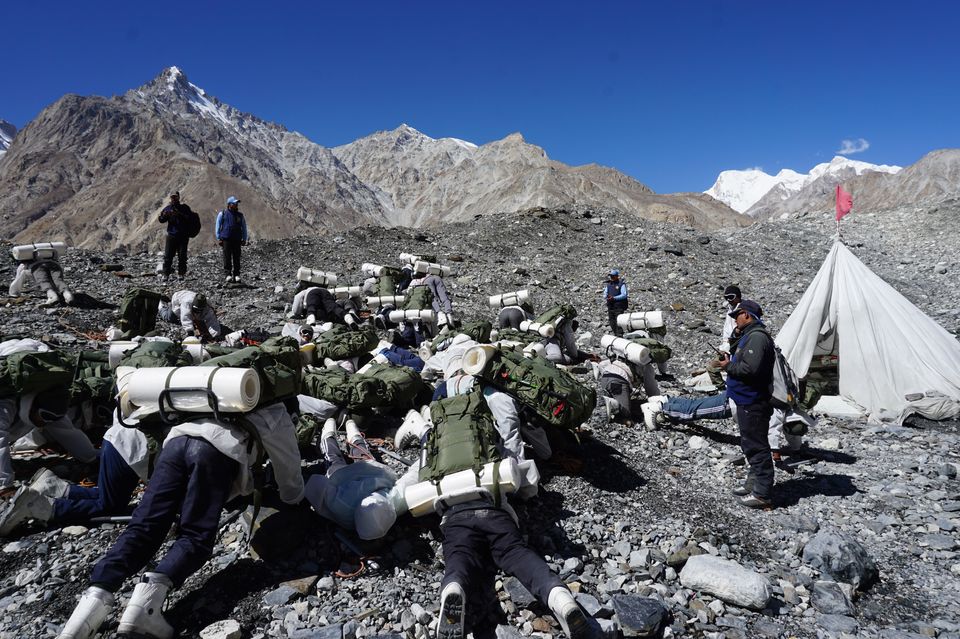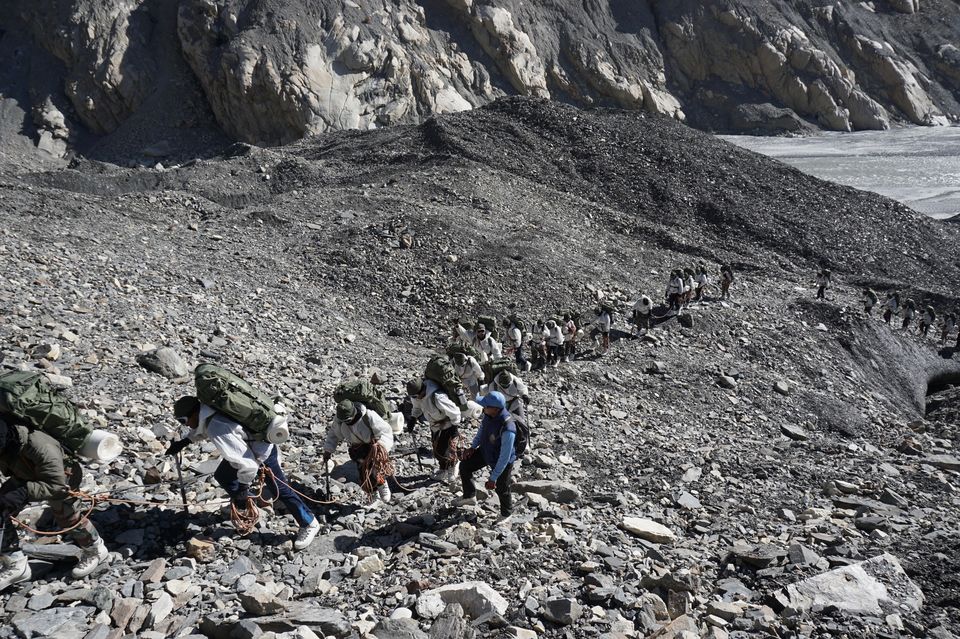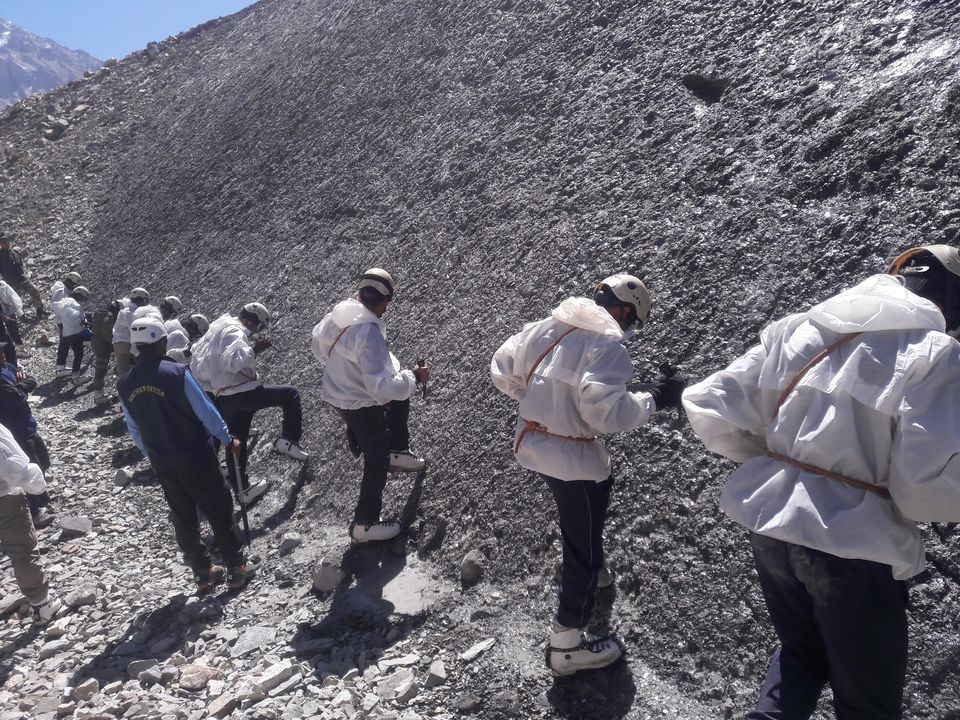 Third and final stage of acclimatization started when we reached a place called North Pullu. The reason for coming here was this place is roughly at the same height as that of the Kumar Post which was our final destination of the trek, some 15,000 ft. We needed to perform well in this kind of altitude to be finally be able to take on the trek and it was paramount that we finished this phase. After just a days rest we were back climbing the steep heights of the mountain face with our heavy army issued olive green "rucksuck". I can genuinely assure you that this phase was the most difficult one because we were climbing with our load which would have been around 8 kilos but seemed much much much heavier. The altitude and the cold chilly wind also didn't help much. On top of that the whole area was on high alert due to the Uri incident and everyone was on edge. There were even talks of the trek being cancelled but thankfully for us it didn't happen. Early morning fall-ins, long climbs, medical check ups, a yoga session and endless bend-stretches later we had finally completed our final stage of acclimatization and were now ready to take on the glacier. Needless to say some more were dropped at this point as they were unable to cope with the training and were sent back. By the end of our training period only 26 trekkers were left from a batch of 38 who first reported at Leh. Ragada at North Pullu ended with a sweet note where the whole group got together and had a party of sorts with hot momos being served and people singing and joking around. It was one of the high points of the journey.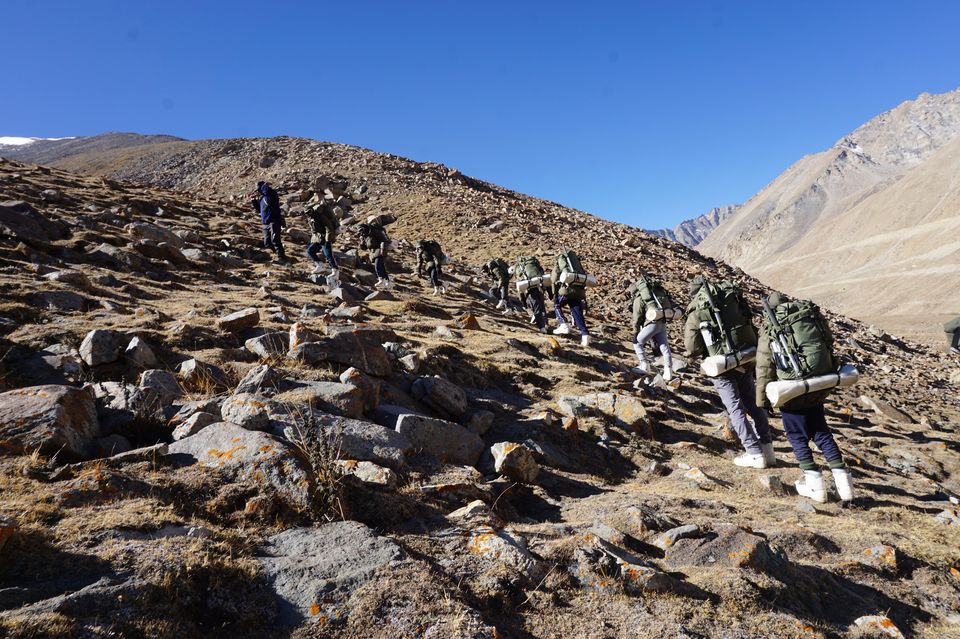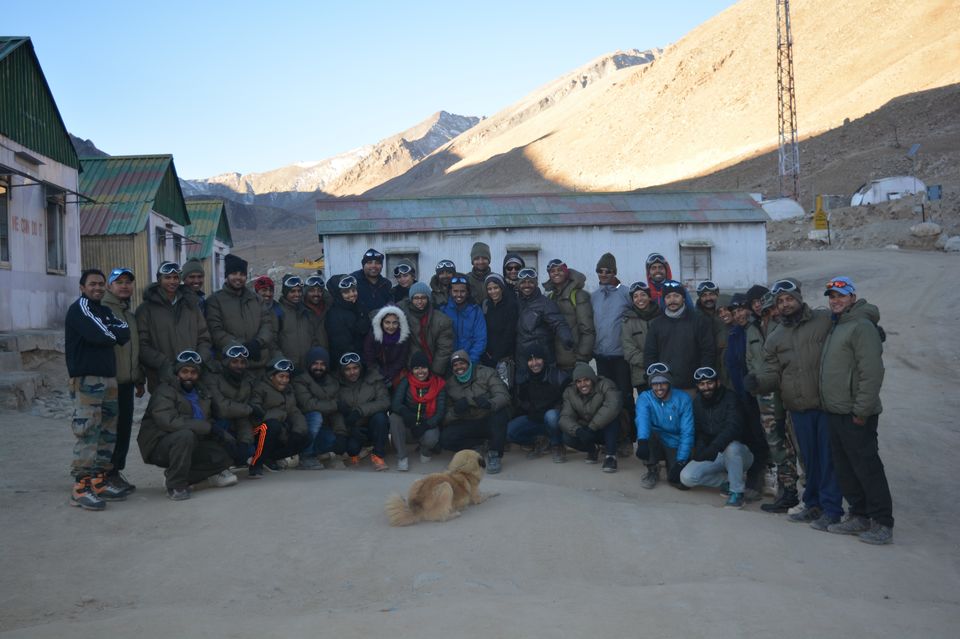 By this time we had already spent a good 20 days in high altitude and were now totally acclimatized to the condition. All that was left now was the trek itself. Since this article has now become a long one almost bordering boring I have decided to write it in two parts. The second part of The Siachen March will have the details on the 8 days of the actual trek that took place and the challenges we encountered. It will be covered in the next post that I publish so stick around if you guys like this read and let me know what you think about this.
Here's the link for the second part
https://www.tripoto.com/trip/the-siachen-march-the-trek-58c809d4e911b