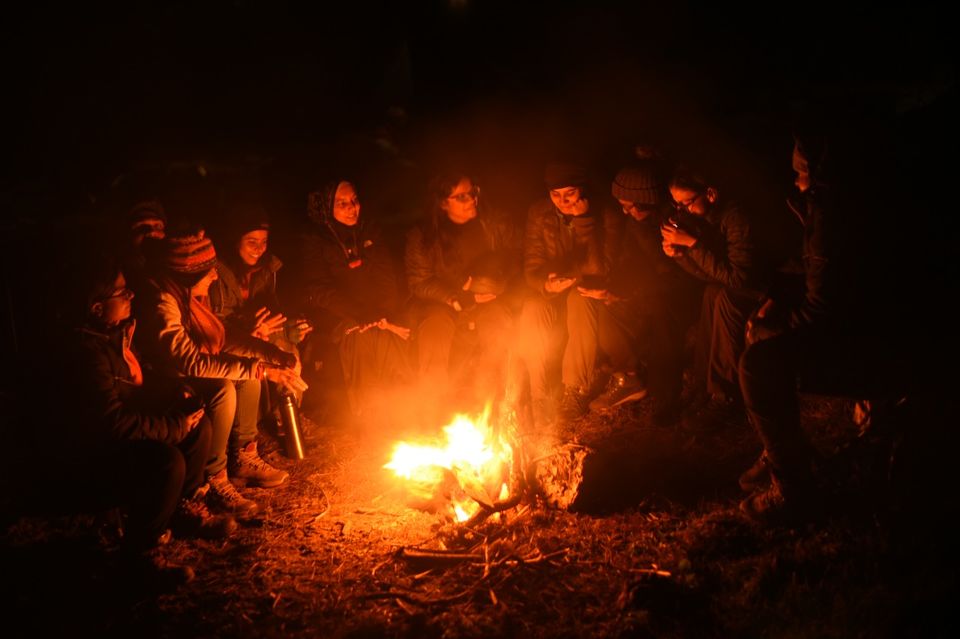 Don't find the title misleading because while the trek itself may include climbing up mountains, clearings in Kedarkantha Trek during winter will explain what I mean by snow desert. Considering my plans for a winter trek, after a little bit of research, I came across Kedarkanth Trek which was a moderate-level trek with magnificent views in the winter. When I planned it out with Ghoomophiro and realised our group was an all-girls one, there was just no stopping the excitement.
Day 1 –Jammu to Dehradun
Living in Jammu has its pro and cons. The biggest con is that unlike Delhi, you don't immediately connect with other places. Driving to Dehradun would have had its own charm but instead I had to take a train, travel 8 hours, research the Kedarkantha trek to stay prepared for what was to come before I finally reached the beginning spot of the journey. Now I have been to Dehradun plenty of times and every time it is a new experience and I am amazed by how beautiful the place is. Starting your trek from Dehradun makes you feel like the trek has already started once you reach there. There, in Dehradun, I coordinated with my Ghoomophiro group and started interacting with them. It is better to break the ice on the first day itself, so you have a smooth journey afterwards. I realised I was not the only solo woman traveller in the group, so it wasn't hard finding a chatting buddy.
Day 2 - Dehradun to Sankri (2,000m)
Driving across Dehradun to reach Sankri meant incredible scenic views along the way along with the stunning sights of Mussoorie, Yamuna River and a lot of fun in the bus. Throughout the journey, we were surrounded by pine forests, snow clad peaks and chatter of us travellers. After reaching Sankari, we checked into a hotel and decided to relax for the day. It was not only necessary to recuperate from the constant travelling but also because during the trek, temperature gets to a bare minimum. It is quite important to get acclimatised to the temperature. The overnight stay in hotel did that and the hotel booked by ghoomophiro was also quite nice.
Day 3 - Hike from Sankri to Juda-Ka-Talab (2,700m)
I was really excited about the first day of the Kedarkantha winter trek, thinking about the walk and all the sights I would get to see. So, after eating a light and delicious breakfast, we left the hotel to begin a hike towards Saur village. The village was like any other village except for how much it had been made comfortable for tourists. From there onwards, we started walking upwards towards Juda-ka-Talab. I interacted quite a bit with the trek guide provided by ghoomophiro asking about the trek and what was the best time to visit, which place would be most beautiful and what not. He told me that any time between December to April is wonderful for visiting Kedarkantha.
After walking for long, we reached the small pond named Juda-ka-talab. It was completely frozen and therefore wonderful to look at. But our journey for the day didn't end there, we had to walk further towards the Shepherd Camp where we would halt.
Juda-ka-Talab to Shepherd Camp (2,900m)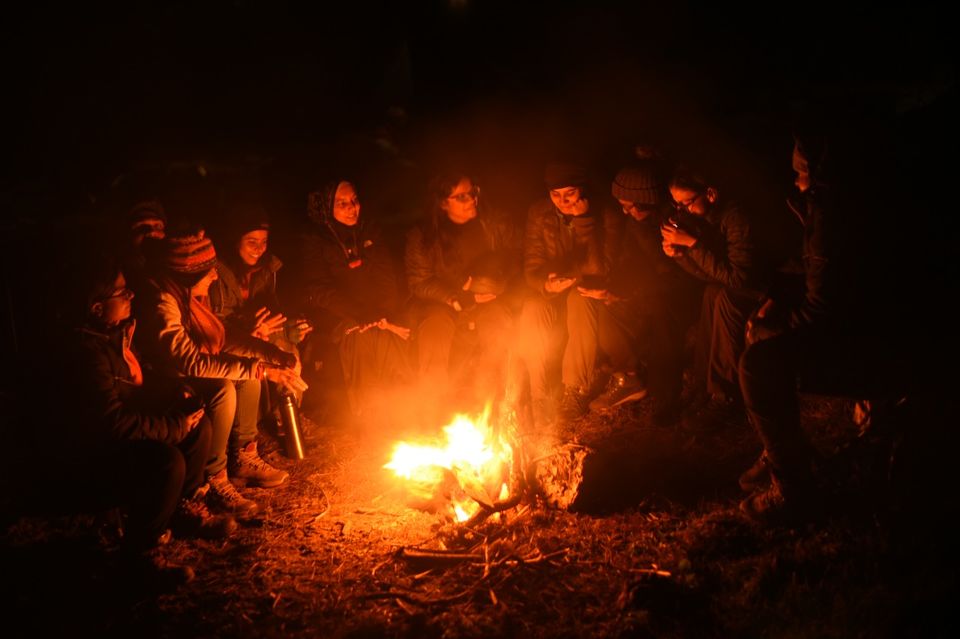 From the lake-side I saw magnificent views of the snow-clad Himalayan mountains. The peaks of the mighty Himalayas are breathtakingly beautiful. We continued to hike while enjoying the panoramic views until we reached Shepherd Camp. That was the campsite where we would stay for the night. The guide told me that the campsite was called shepherd camp because the local shepherds grazed their sheep and cattle on that ground when the meadow flourished during summers. We spent the night in tents, relaxing and since I had walked through the day, I immediately fell asleep.
Day 4 - From Shepherd Camp to Kedarkantha Basecamp (3,400m)
I must say that this was the most memorable day of the entire trek. We had breakfast at the Shepherd Camp and then began the trek through lush snow clearings with pine trees and green patches in between. It is this day that inspired the 'snow-desert' feeling because as the sunlight fell on us, the snow beneath our feet and throughout the clearing looked like glistening white sand. The hike consisted of so many picturesque moments and it was probably the day I remained the quietest, murmuring to myself how lucky I was to be there.
Hiking through those snow clearances, we finally reached the base campsite where we would be staying for the night. The base camp was at the base of Kedarkantha which had trees covered with snow and panoramic views of Swargarohini, Kalanag and Bandarpoonch peaks. We slept for the night in tents after having dinner.
Day 5 - From Base Camp to Kedarkantha and back (3,800m)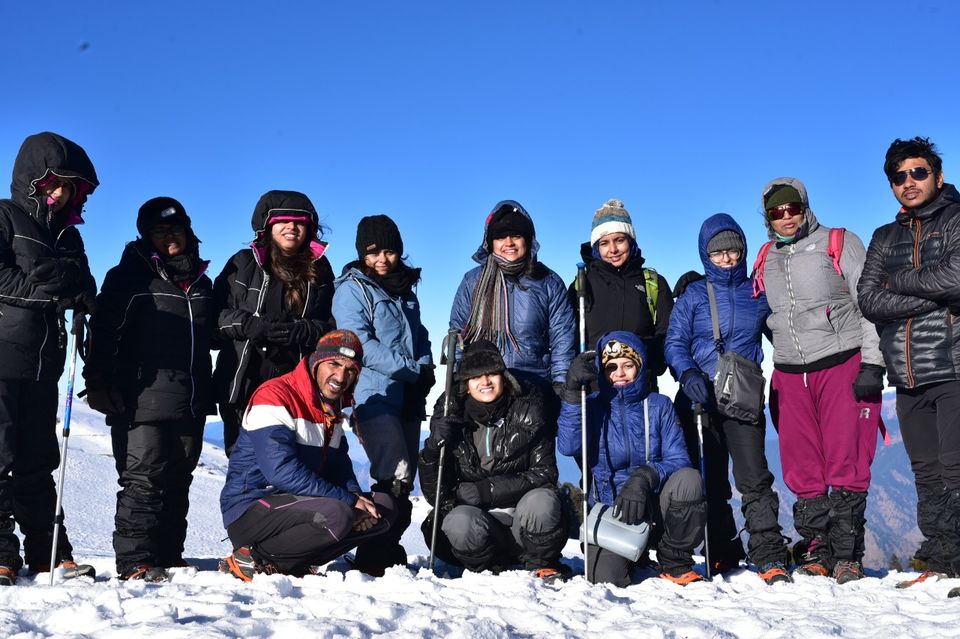 When I woke up that morning, thanking ghoomophiro for ensuring that we got to stay in comfortable tents and had the best time through the trek, I didn't know that the day was going to be an exhausting one. When I found out that we would be hiking to Kedarkantha and back in the same day, I was surprised. Fortunately, the trek was not a long one, but it was quiet tiring and hard.
It took a lot of time and hell lot of strength to keep walking forward. Since we had to make it to the Kedarkantha top and back to the basecamp, we started the hike early in the morning. We had to trek over snow for 4-5 hours with only small breaks in between till we reached the peak.
The view from the top of the peak covered sights of Yumnotri, Kinner, Gangotri, Kailash and other Himalayan peaks. We spent an amazing time at the peak, clicking pictures and just enjoying the fact that we had made it to the top. The entire ghoomophiro group broke into smiles, talking about how we all thought we wouldn't make it plenty of times during the trek. Yet, there we all were. The walk back consisted of the feeling of being drained, not only because I was tired but also because it was finally time to go back.
Day 6- Kedarkantha Basecamp to Sankri (2,000m)
It was the last day of trekking and from there onwards it would be another long drive and a train journey back home for me. So, I ensured that I take in as much beauty as many astounding views with me when I go back, keeping them, all stored in memory. I balled up some snow in my hands, just to throw it around so I could remember the feel of it. The trek back was comparatively easier than what we had faced while trekking uphill. The descending slopes required that we be careful to not fall because of a slippery slope. We checked into a hotel after reaching Sankri and slept.
Day 7 – Long drive from Sankri to Dehradun (6-7 Hours)
I said goodbye to my ghoomophiro group as it might be the last time, I met them. We enjoyed our ride back, still amazed at the wonderful views.
Frequent searches leading to this page:-
best hotel in dehradun with swimming pool, dehradun tour package for friend, places near dehradun, best places to visit in dehradun, dehradun attractions