PM Narendra Modi, with his penchant for nature, and adventure aficionado, Bear Grylls recently went on an 8 km trek through Jim Corbett National Park's wilderness which was aired on Discovery Channel's 'Man vs Wild'. With an abundance of diverse foliage, the trail will now be developed by the Uttarakhand Tourist Department as the Modi Trail to attract more wildlife enthusiasts.
According to HT, tourism minister Satpal Maharaj commented on the move optimistically,
"The trek where PM Modi and Grylls visited during the episode inside Jim Corbett National Park would be developed as Modi Trail. The trekking route will be publicised as a separate identity in the famous national park.
The visitors of the park would surely be excited to visit the Modi Trail also. The move will make it more popular which is already world-famous for its rich wildlife, especially the tigers."
Crossing a chilly river on a makeshift boat through rain, rambling in forests and sharing neem tea are some of the things PM Modi and survivalist, Bear Grylls indulged in on the episode which was aired in almost 150 countries. The show saw the Indian Prime Minister extolling on the joys of nature and sharing a childhood anecdote in which he brought home a baby crocodile from the pond he bathed in. Topics like the importance of wildlife conservation, the PM's childhood, the country and life popped up in conversation while they hiked around wielding a spear made out of bark.
The host of the show was left impressed with Modi's love for nature and described him as 'a great sport'. The episode was a roaring success with over 3.6 billion social impressions.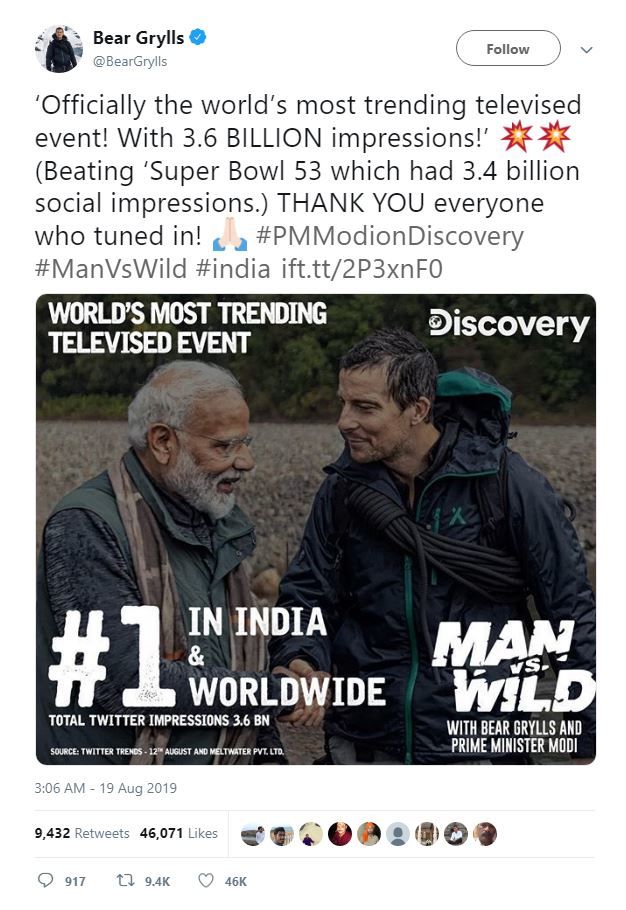 The Modi trail will be promoted as a separate attraction in the famous national park and hopes to bring in more wildlife enthusiasts from all over the world. The move is expected to help the local economy as well as boost tourism in Jim Corbett National Park. You never know, the Modi trail might just give you a glimpse of a striped feline or two!
Fancy a hike on the Modi Trail? Tell us in the comments below!
Narrate your own stories full of travel and adventure here!