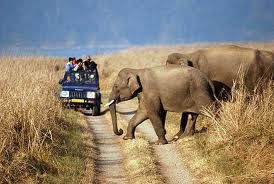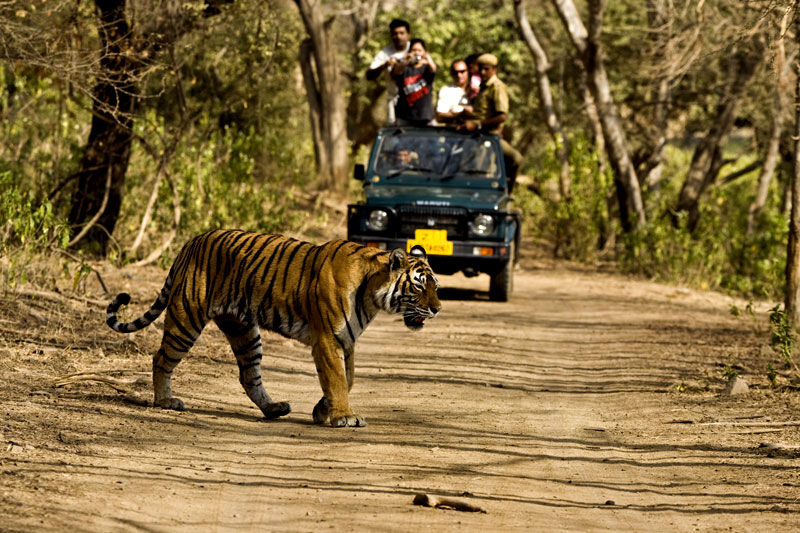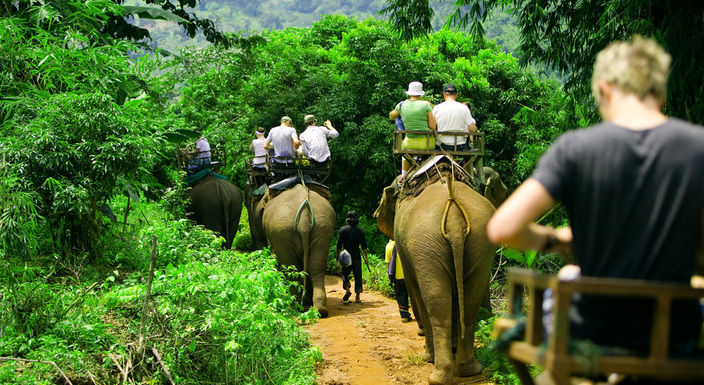 Located in the foothills of Himalaya, Jim Corbett National Park is in the closest proximity of Ramnagar an small Town. Corbett National Park is the oldest national park of India, Situated in Nainital district of Uttarakhand State.
Altitude: 385-1100M Above MSL.
Rainfall: 1400mm-2800mm
Temperature: 4 degrees C to 42 degrees C

As the reports say,
probably the second largest population of free living tigers in the world
are found in Corbett Tiger Reserve
The
reserve
is thus one of the last
remaining strong holds
, which holds a
potentially viable population of this majestic and critically endangered field.
Nearly 600 Asian elephants (Elephas maximums) also have a home in Corbett tiger reserve
,and can be seen wondering leisurely along its length and breadth.
Corbett National Park
, along with the
Raja ji National Park
also represents the
North-western most limits of Tiger and Elephant Distribution in the Indian subcontinent.
It
is also home of about 600 species of resident and migratory birds.
This amazingly rich avifaunal diversity represents nearly 6% of the total birds species represented in the world and is more then the total bird diversity of Europe.

The 49 species of diurnal raptors found here are characteristic elements of this avifauna. The avifaunal diversity is at its peak during winters in Jim Corbett National Park India.
As stated above, the Jim Corbett National Park is a dream destination for wildlife lover and thus, in every year it is flooded with tourists from different nooks and crannies of the world. Considering the inflow of tourists, Corbett has been divided into four safari zones, namely:
Dhikala Zone
Jhirna Zone
Bijrani Zone
Durga Devi Zone
This division helps the authorities in the easy administration of the park. Now, let's have a little detailed look of these five zones of Corbett.
Dhikala Zone
Entry Gate: Dhangadi Gate
Best time to visit: Mid of November to Mid of June
There is a reason so as to why the Dhikala Zone is mentioned at the first place. Dhikala is the largest zone of Corbett National Park and it has various comfortable forest lodges that allow the tourists to enjoy their stay amid the wilderness of Corbett. Besides this, the zone is famous for its enchanting natural beauty as well as for providing the sight of several exotic fauna species like the Bengal Tigers, Elephants, Deer, Chital, Vulture, Teal, Dove, Crocodile, Cobra and so on.
Jhirna Zone
Entry Gate: Jhirna Gate
Best time to visit: October to June End
Included in the tiger reserve area in 1994, Jhirna is another very import tourist zone in the Jim Corbett National Park. This zone is located 16 kilometers from Ramnagar and this proximity makes it easy to access by tourists. For accommodation rest house facility is available for tourists in this zone. Moreover, Jhirna is famous among the wildlife lovers for providing the sight of the wild bear. While an enormous bear appears from nowhere, the tourists are forced to skip a heartbeat.
Bijrani Zone
Entry Gate: Amdanda Gate
Best time to visit: Mid of October to June End
Lush Sal forests, swaying grasslands and various other diversified flora species define the Bijrani Zone at its best. Bijrani Zone is just 1 kilometers away from Ramnagar and it brings the wildlife lovers face to face with numerous wild beings like Elephants, Monkeys, Tigers, Chital and Deer. Further, tourists also enjoy the view formed by the beautiful birds flying high in the sky. It is easy to avail forest rest house accommodation at this zone.
Durga Devi Zone
Entry Gate: Durga Devi Gate
Best time to visit: Mid November to End of June
Durga Devi Zone is the best place for those who are fond of bird watching. Be it a Grey Headed Fishing Eagle, Black Chinned Yuhina, Maroon Orile, Crested Laughing Thrushor a Long Tailed Broadbill, you name it and the Durga Devi Zone has it. Besides this, it is the very zone in Corbett where the endangered Mahsheer fish come for breeding.
Note: Along with these zones, there is one more area that catches the eyeballs of tourists.
Sitabani Buffer Zone
Best time to visit: October to June End
Sitabani Zone doesn't fall under the Corbett Tiger Reserve; it is actually just buffer forest area. This zone is famous for its temple and various avifauna species; thus, visitors enjoy great birding experience. One doesn't need any prior permission to enjoy jeep or elephant safari in Sitabani.
Start your wildlife experience and leave for Jim Corbett National park, India's oldest national park. The drive takes you through the towns of Kashipur, Ramnagar and finally you reach the lush green and beautiful surroundings of the Jim Corbett National Park. Built to protect the endagered Bengal Tiger, the park is home to a variety of wildlife species. As for ourselves, once we reached, checked-in to the hotel Aamod Resort & SPA which is situated in the midst of the picturesque forrest views.We then enjoyed the evening at leisure and a comfortable overnight stay at the hotel. After a delicious breakfast the following day, we chose to do a safari of the Jim Corbett National park . Home to a large variety of flora and fauna, Jim Corbett National Park is the perfect destination for wildlife and adventure lovers. The famous royal Bengal tiger's home, here you are sure to catch a glimpse or two of the "hunter of all hunters". Corbett hosts Dhikala Zone, Jhirna Zone, Bijrani Zone, Durga Devi Zone for tourist safari. One can opt for any of the zones depending on the time of visit to experience the true essence of wildlife and nature. After the safari, enjoyed a relaxed evening and a comfortable overnight stay at the hotel. The following day, we left for Delhi.