Prerna Dangi climbs frozen waterfalls for a living. When she can't find one, she overcomes snow-covered mountains instead. She has already scaled Stok Kangri, alpine-style of course, and even climbed Denali, the highest mountain peak in North America, without any guidance. She is the first, and possibly only, woman ice climber of the country.
A star-struck me got a chance to interview her and she turned out to be a grounded, self-assured woman who started as a literature graduate and got into climbing waterfalls, well, just by chance.
Here are snippets from our talk.
On a scale of 1 to 10, how scared are you before you begin climbing a frozen waterfall? Has there been a time when you've thought, "Nope. That's a step too far"?
I think I don't begin with the idea of fear, at least not when I am right under a frozen waterfall. Mostly because I have taken all possibilities into account and am now committed to the physical act of doing it. But that does not mean that the climb is free from scary moments. If it were, I probably wouldn't be doing it, because where's the fun in that? Overhanging pillars of ice can be scary, brittle ice that looks like it won't hold is a nightmare, pumping out while placing protection after a long run out makes my palms sweaty and forearms pumpy. But all these aspects are an inevitable part of an unknown challenge. The whole process of registering, gauging and efficiently managing all these fears is my only job when I am on that climb. So yeah, calm and composed is the name of the game!
So what goes into ice climbing. Can you describe it for us in detail?
Ice climbing is essentially an extreme sport where we climb vertical ice, which is formed either when waterfalls freeze or is found on glaciers. It involves two people. One is a climber, the person who attempts to scale the ice-wall, who moves ahead by securing her/ himself with a rope and by placing ice screws at reasonable gaps. The other person is a belayer, the person who provides belay securing the rope of the lead climber, from below till a safe point has been reached and then follows after. Like most other extreme sports, this is tricky because we are relying on the elements of nature that are dynamic, so the most imperative step is planning out the climb well in advance and being prepared.
We assess the weather conditions and characteristics of the ice that we plan to climb, to be able to trust its compactness. We use sharp tools such as technical ice axes and crampons to hit and pierce through the ice apart from other safety gear such as ropes, ice screws, and others. This prepping gives us the leverage to reduce risks. Once on the climb, we have the freedom of movement because we have to create our own tool (ice axe) placements... Imagine the icefall to be a blank canvass and you have to perform a delicate dance on the curtain of glass vertically.
Wow! But why did you pick climbing? Why not choose something less risky?
Growing up, I was a hyperactive kid and needed a heavy dose of jumping around. Sometimes I would watch TV upside down with my feet up against the wall, for no rhyme or reason. Unless the tasks before me were borderline crazy (challenging and totally unnecessary at the same time), they did not interest me. I think risk taking is a phenomena that has grown on me over time. In a way, taking risks allows us the chance to improve. Overcoming a challenge where there is something to lose, we are naturally forced to try harder, become a better version of ourselves. My travels revolve around seeking out challenges because they help me nurture mental and physical growth. And climbing is such a unique amalgam of power, agility and grace.
Where did this begin? How did you get into something as unconventional as climbing in a country like India?
In January 2015, Karn Kowshik, Bharat Bhushan and I drove to Spiti in the dead of winter in search of frozen waterfalls. We had seen our western contemporaries doing it in pictures and videos and had read articles so now it was only a matter of finding ice to climb. It turned out to be a bigger challenge than we thought because snow was heavy in that particular season and roads were packed. The locals directed us to the Shila Nallah, one of the most prominent nallahs ahead of Kaza with the certainty of it being frozen. On that 10 day trip, we got to climb 2.5 days in which we also faced an avalanche. We realised that the snow conditions were dangerous to explore further and decided to turn back. But the potential of that place became clear to us and we promised to return. That was the beginning of ice climbing in India and did indeed set off the sport, opening the scope for and eyes of other enthusiasts in the country.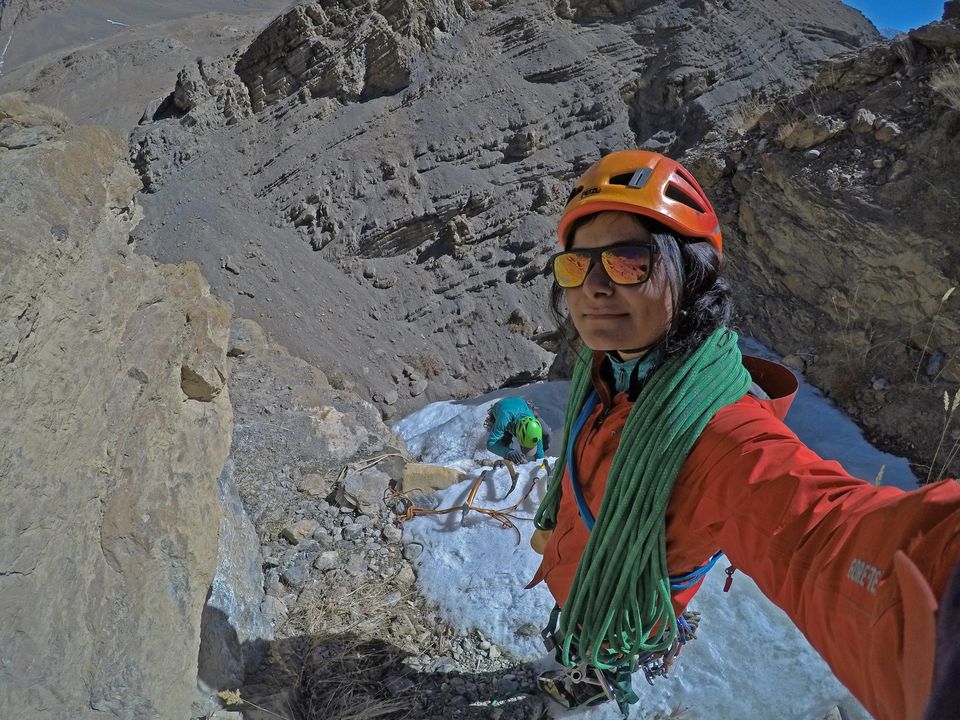 Of all your amazing adventures, which did you find the most challenging? And what was the most rewarding?
I think climbing Denali, the highest mountain of North America right out of college was the biggest adventure I could have undertaken. It comprised of a series of firsts – first time travelling abroad, first solo trip, raising money through sponsorship and trying to climb this massive mountain completely by ourselves (my partner being another woman from Brazil) in what turned out to be the worst season ever! I think it was very brave of me to have had that vision, to make my way up in a continent across the globe, and to have worked hard to accomplish it. That was the first time I really walked the talk. It was definitely very challenging and rewarding.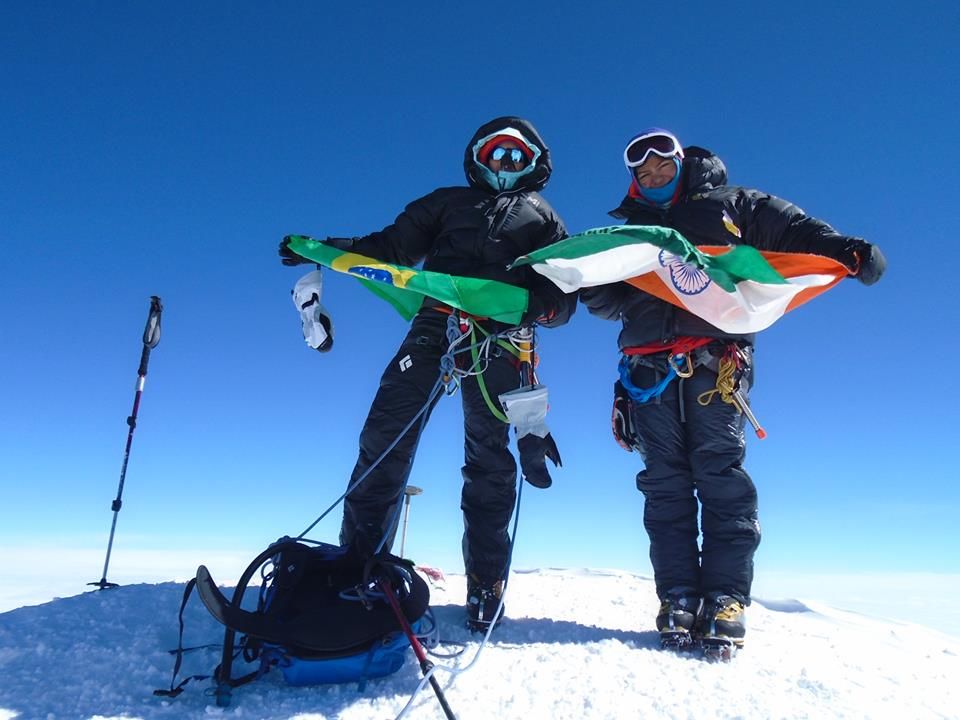 But how do you make money and keep afloat? Do you consider yourself to be in the race to be a travel influencer?
I work as a mountain guide in the trekking season, and the rest of the time I take up freelance content work thanks to my degree in literature. Staying afloat is not hard for an "outdoors woman" because there is a dearth of our kind in the industry, but I would like to be sailing this boat soon. That means having support from sponsors so climbing can be the focus. About being a travel influencer, the nature of travels I have chosen are not something you can just run into. They take time and therefore there is no scope for a race there. Experience is the most important tool and I am just trying to gain as much of it. Inspiring people along the way to get outside and out of their comfort zones is something I feel good about.
Are your parents on board with your career choice?
My parents are extremely supportive, but would love to see me get a "real job".
How do you deal with periods while you're climbing?
Just like I do when I am not climbing. I try not to think of them as an obstruction, but it does become slightly tedious since we go into the mountains for long days with very few clothes. As long as there is water, one can easily maintain good hygiene. I use a diva cup, which creates less trash than I would otherwise have to carry back with me from the mountains. I recently bought the sustainable cloth pads made by Eco Femme, in an effort to lessen my menstrual carbon footprint because of the amount of plastic used in sanitary napkins. One important and often ignored aspect of women's menstrual cycle is how it affects our muscular and cardiovascular strength. During the initial days of the period, women run very low on muscular endurance. I have to be mindful of timing the power-intensive activities around my non-period days.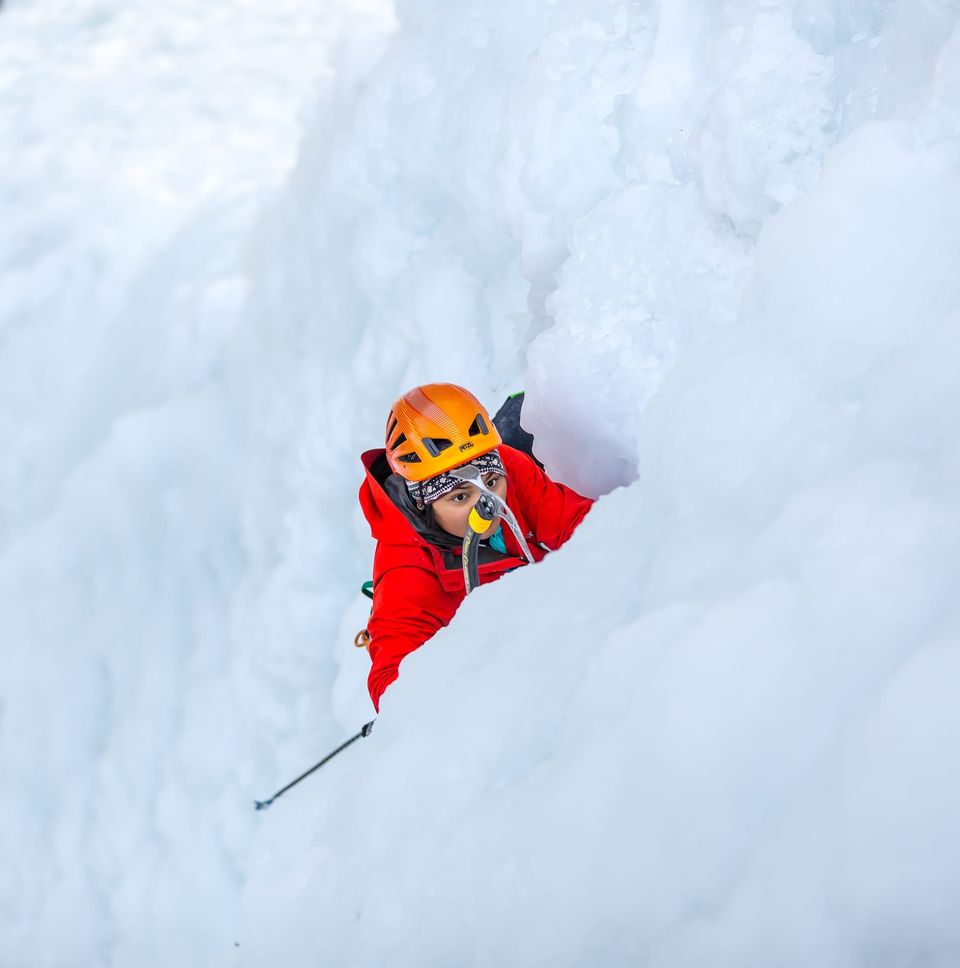 What's your next big adventure?
I am going to be attempting a beautiful peak called Papsura, locally translating to the peak of evil, ahead of the Tosh Valley of Himachal Pradesh. It rises to a height of 6,451m and has a slightly notorious reputation. I am very excited to attempt it.
Is adventure travel the only kind of travel you do?
Adventure is the main fuel to my travels. It gives me an objective and a chance to learn something new, or face something that scares me so I always come back somewhat evolved. The best part is definitely that along the way of achieving that objective, I get to experience so much more. I get to see life at grassroots, mingle with locals in the remotest of places, eat the most delicious and authentic food and really get a feel of the place I am in. There's no better package really.
What are your favourite destinations and why?
Himachal because of the proximity to high snow clad mountains, Meghalaya because of all the amazing ways in which water collects in the porous rocks there, Hampi and Badami because it has some of the best climbing spots in the country, Coorg and Udupi for the most delicious food and landscape, and finally Spiti because it is just so far away.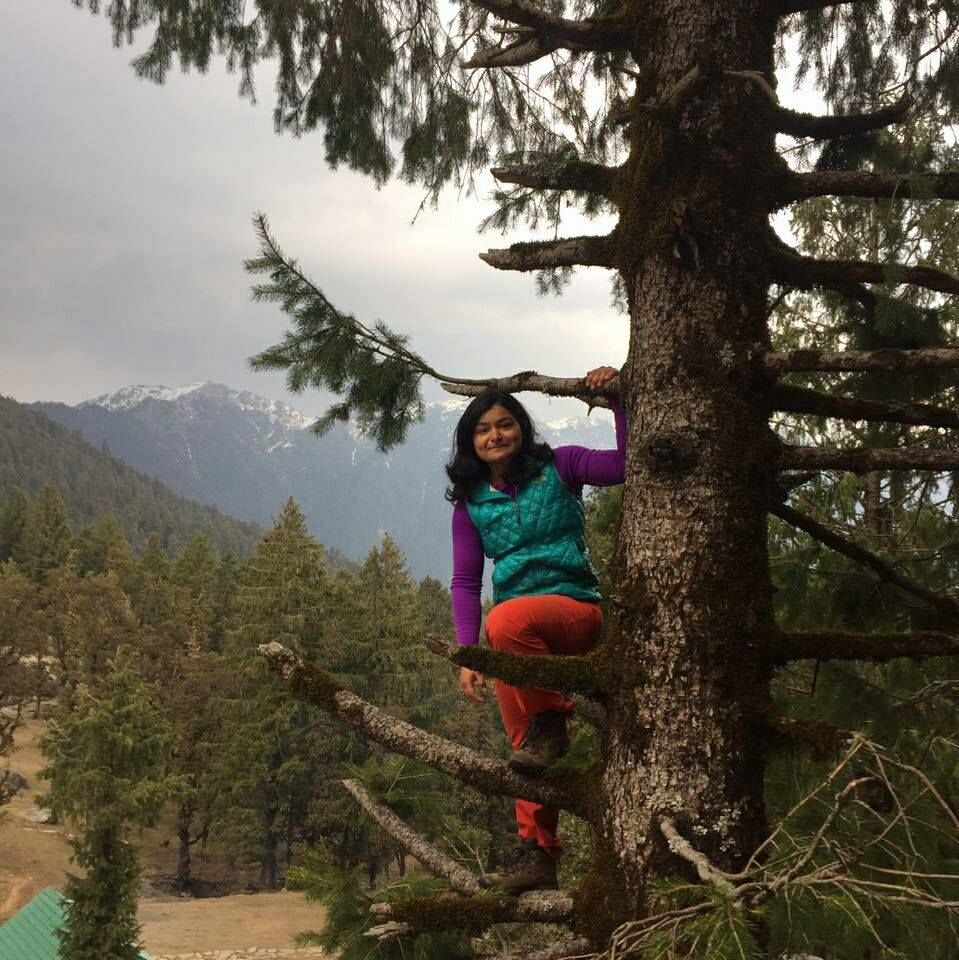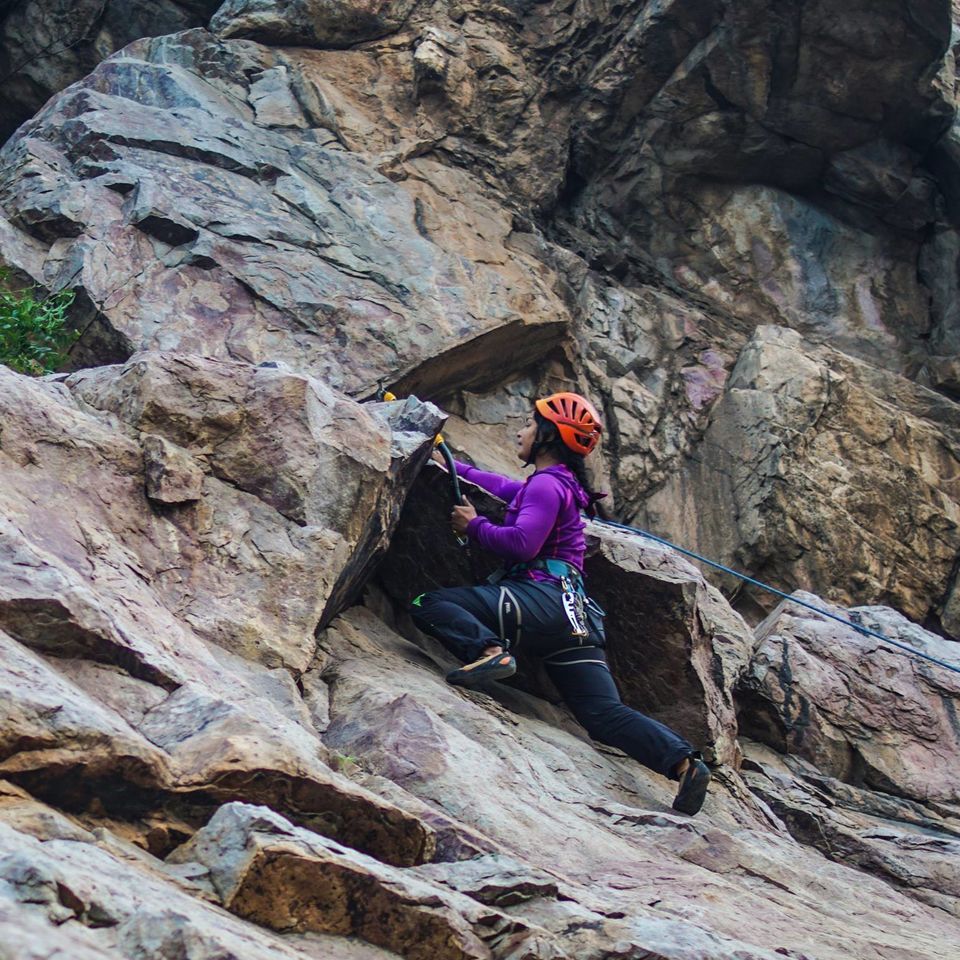 Follow Prerna's adventures on Facebook and Instagram.
Know of another cool traveller who makes you feel like anything is possible? Write about them here and inspire the Tripoto community.
Frequent Searches Leading To This Page:-
pahadi girl, pahadi girl climbs frozen waterfall