"After walking for 6-7 hours, we felt like we'll never reach this place. Carrying heavy load and hunger was killing us. Then after few more KMS, i looked back... and there weren't anymore trees."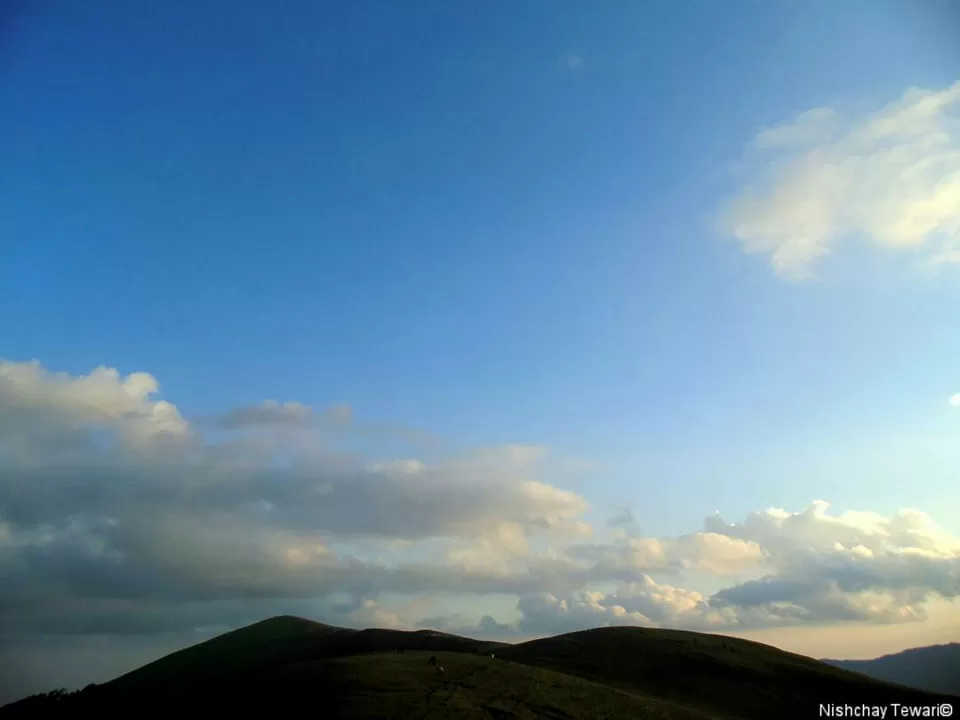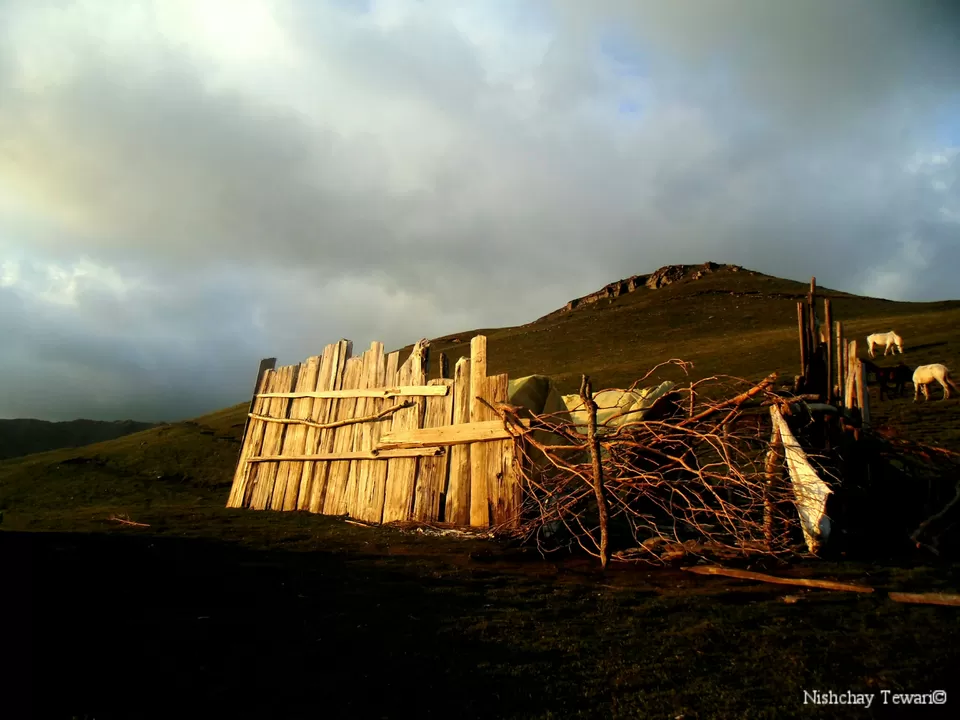 Ali Bugyal - Pathar Nachuni
After a grueling 4000+ft climb, the third day was pretty much easy. I woke up around 4am, the weather was really good. Climbing huge meadows early morning and all by myself was something that i was doing for the first time ,but after witnessing Chaukhamba Massif (7,138m) , Trishul Massif (7,120m) and Nanda Ghunti (6,309m) , infront of me, i knew that this is something that i want to do for the rest of my life. So, i came back down and we started moving again. We crossed Bedni and after a few KMS reached Pathar Nachuni.
Pathar Nachuni was one of the most beautiful sights that i have ever seen. On a clear day, one can see snow capped peaks and the Kalu Vinayak trail that we were supposed to take the next day which was partially covered in snow.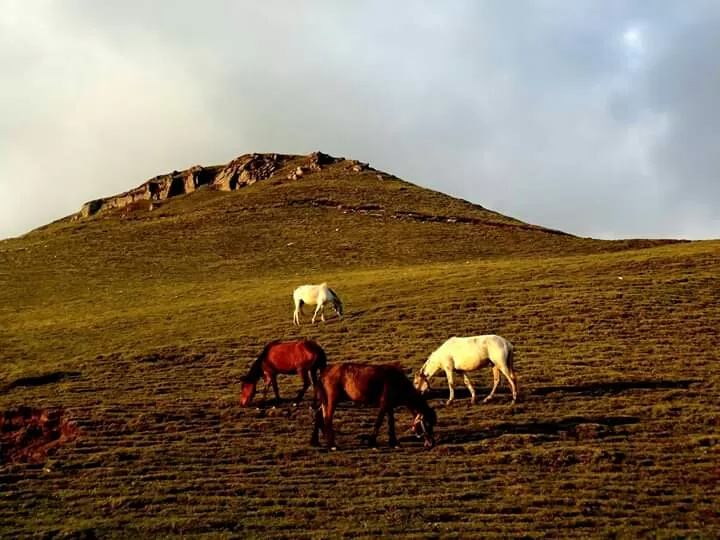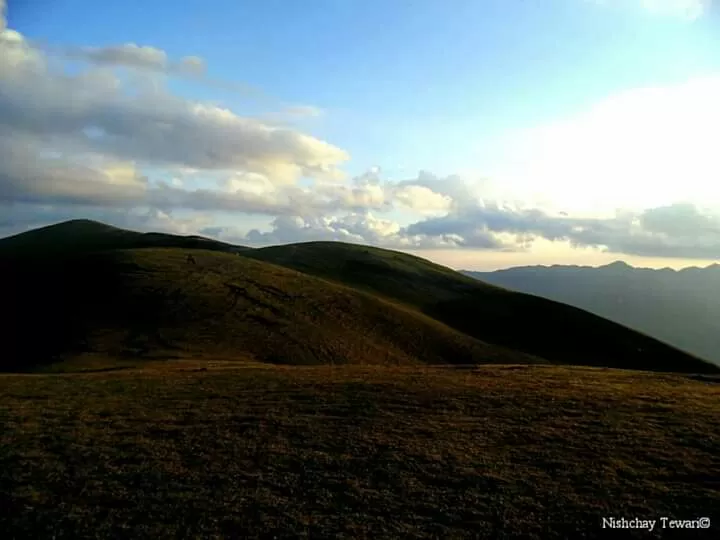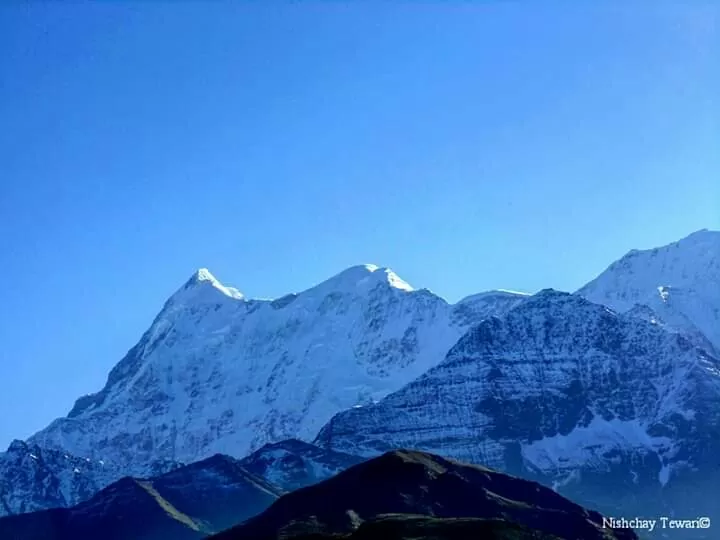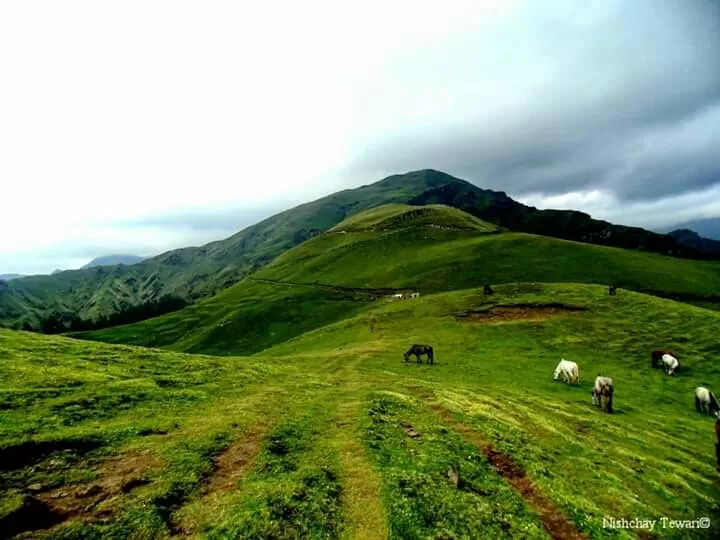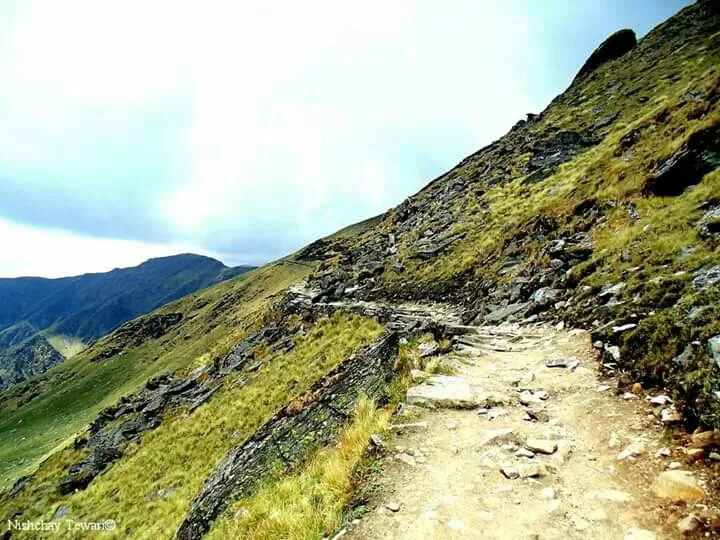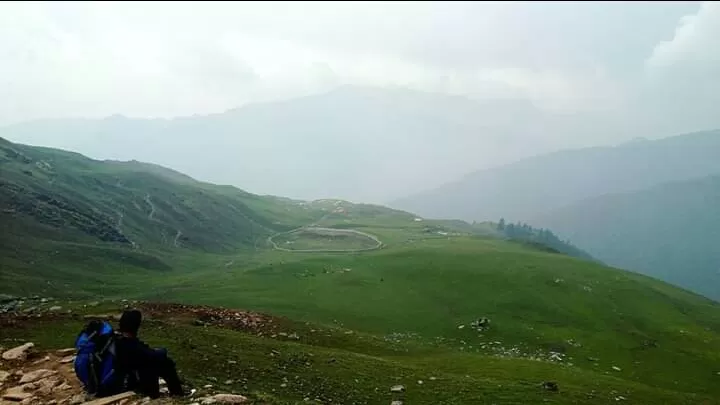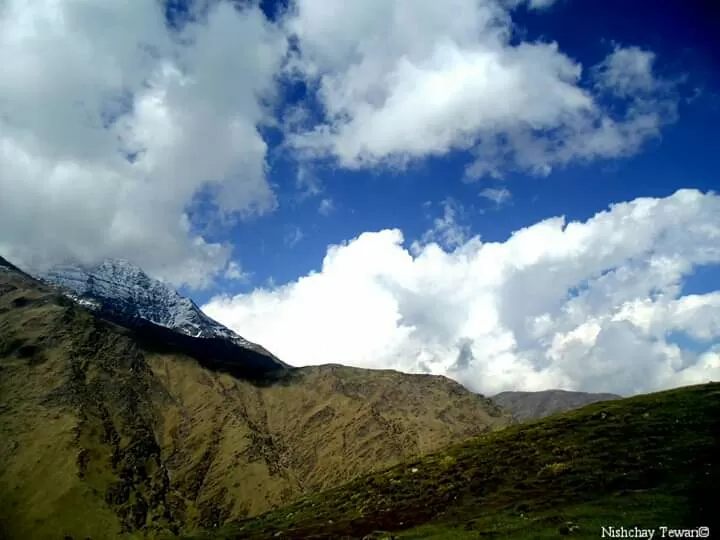 Pathar Nachuni - Bhagwabasa
It was at Pathar Nachuni that i realized that cannabis really helps you in making good friends and in return those friends provided us with the most delicious dinner that i ever had in the Himalayas.
After a great sleep ,we woke up to a sunny morning again but the winds were pretty strong now. We packed up our tent, said goodbye to the friends that helped us over there and left for Bhagwabasa.
The trek was pretty easy and i was loving it as we were moving towards the snow capped ridges. We crossed Kalu Vinayak and this is where we hit the snowline. After about another KM walk from Kalu Vinayak, we reached our basecamp Bhagwabasa (14,100 ft).
Bhagwabasa is basically abode of goddess Parvati's tiger. The campsite was totally on a bed of rocks. It was a site to behold. I had never seen such huge mountains soo close to me ever before. The trek wasn't really tough but the rocks were slippery at some places.
On my way I met Mr. Vinod Singh Kalakoti, he was working as a trek leader over there for an organization and climbed those ridges numerous times. We had a little talk and he invited us for lunch at his campsite.
As we reached Mr. Kalakoti's campsite, we were served with numerous cups of hot masala tea and i realized that as altitude increases ,people actually help you with whatever they have.
It was around lunch when i was shown the massive ridges that we were supposed to climb the next morning...papers were rolled, bottles were opened and we went inside our tent!!!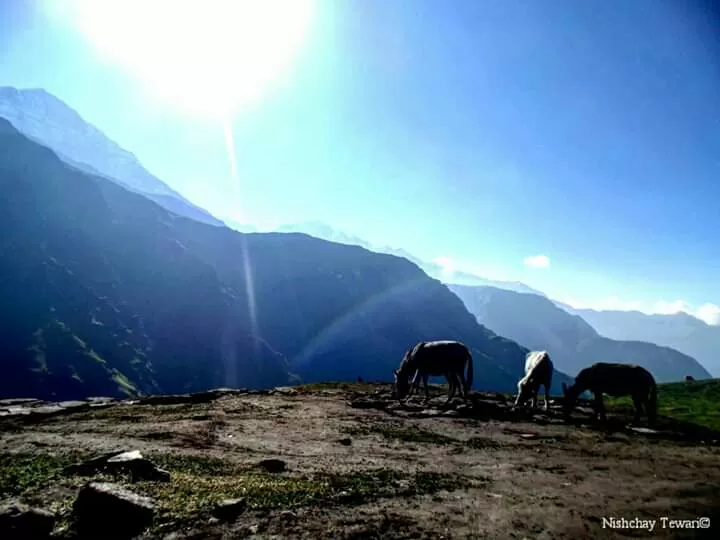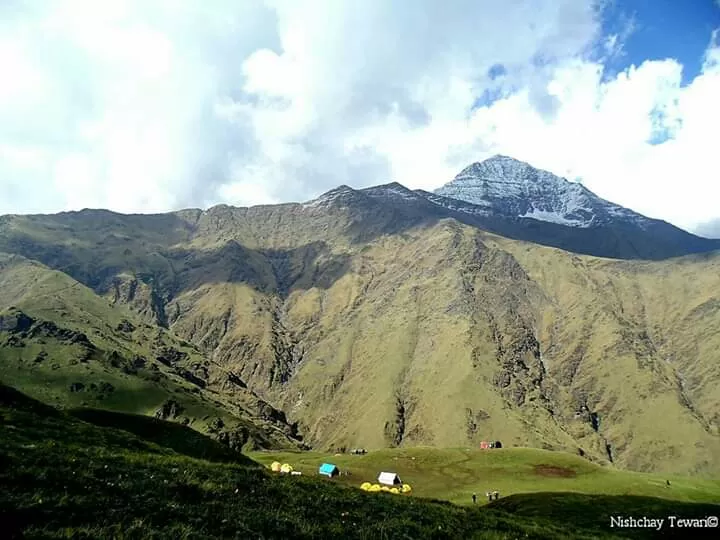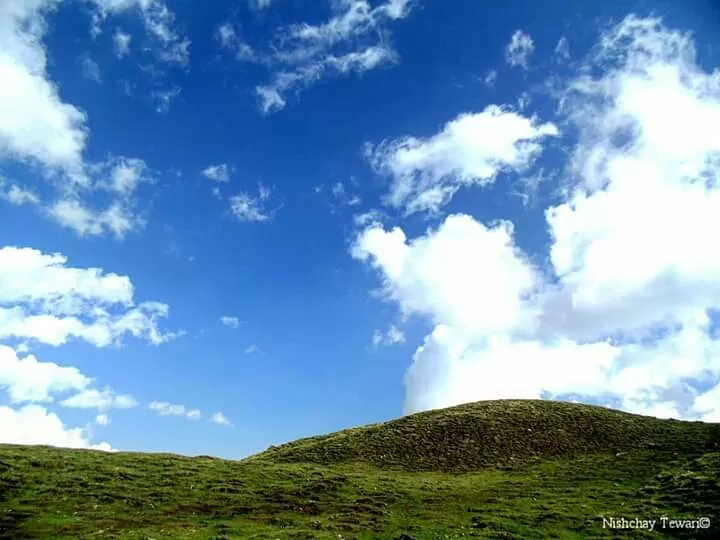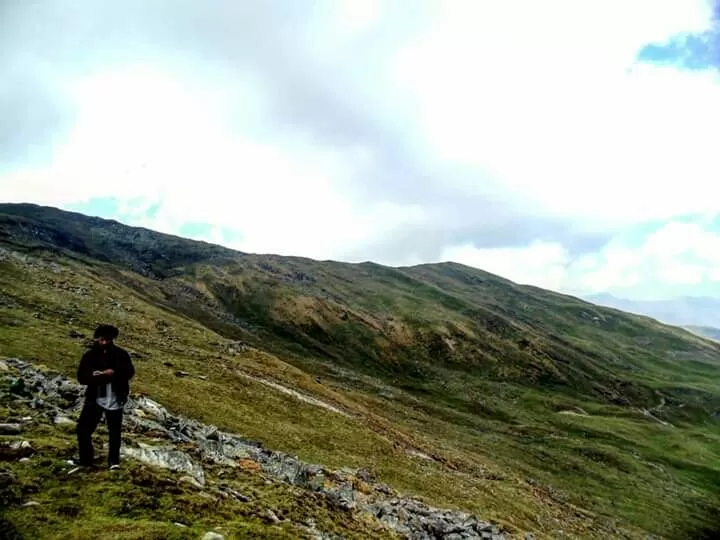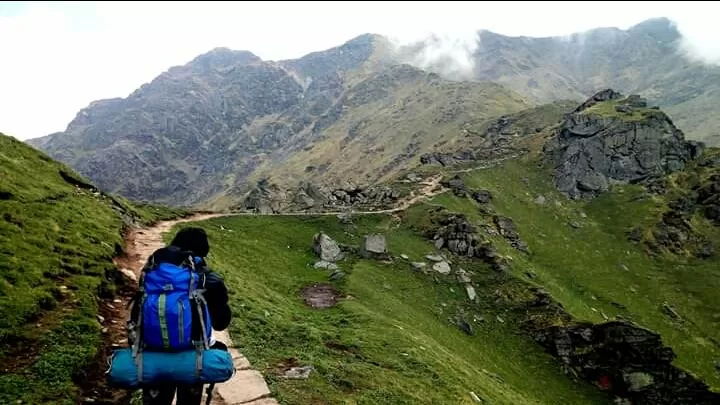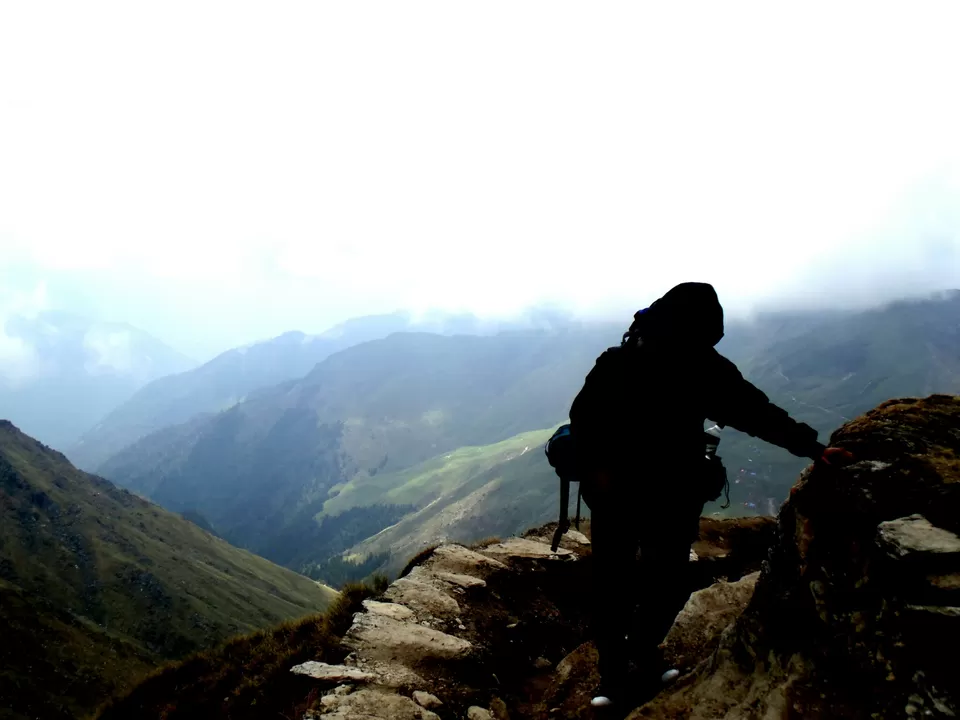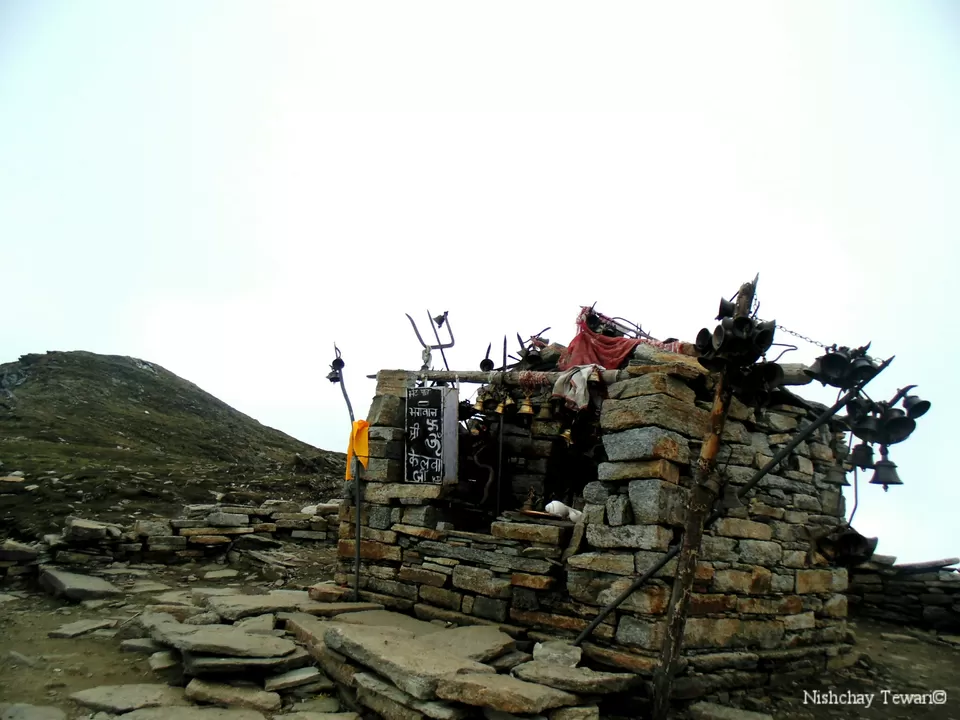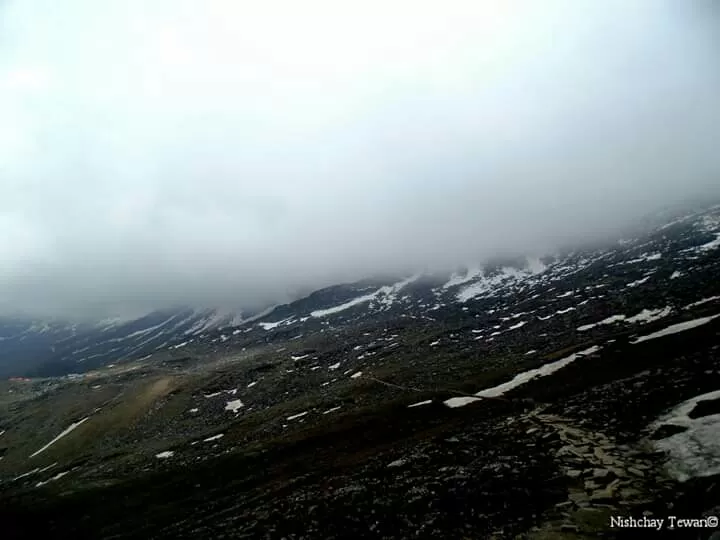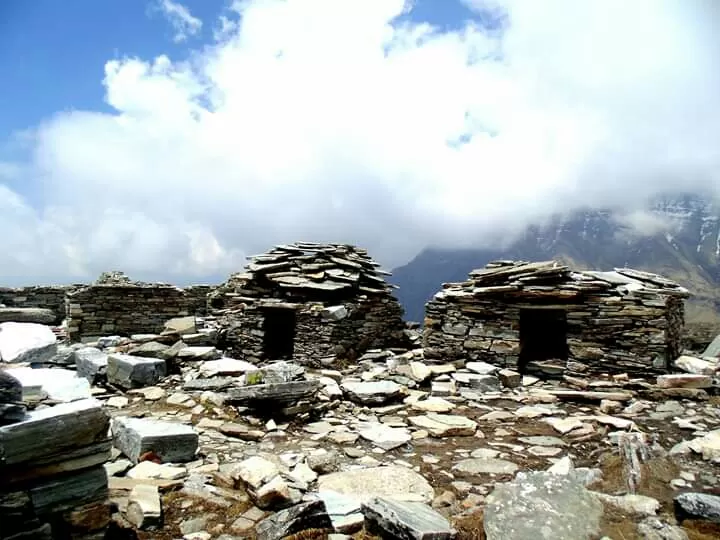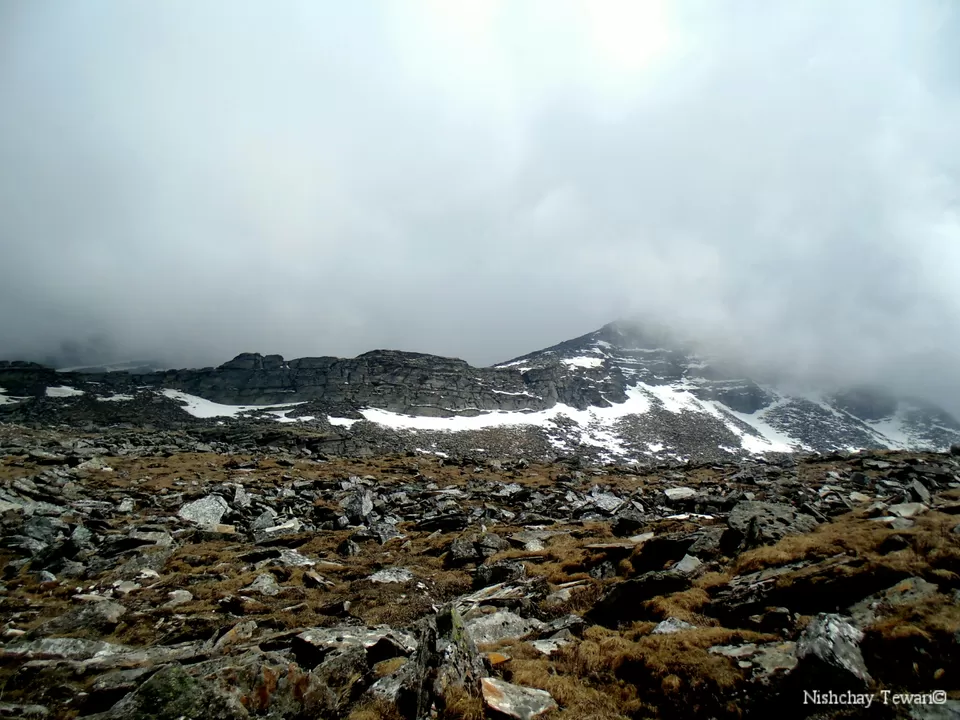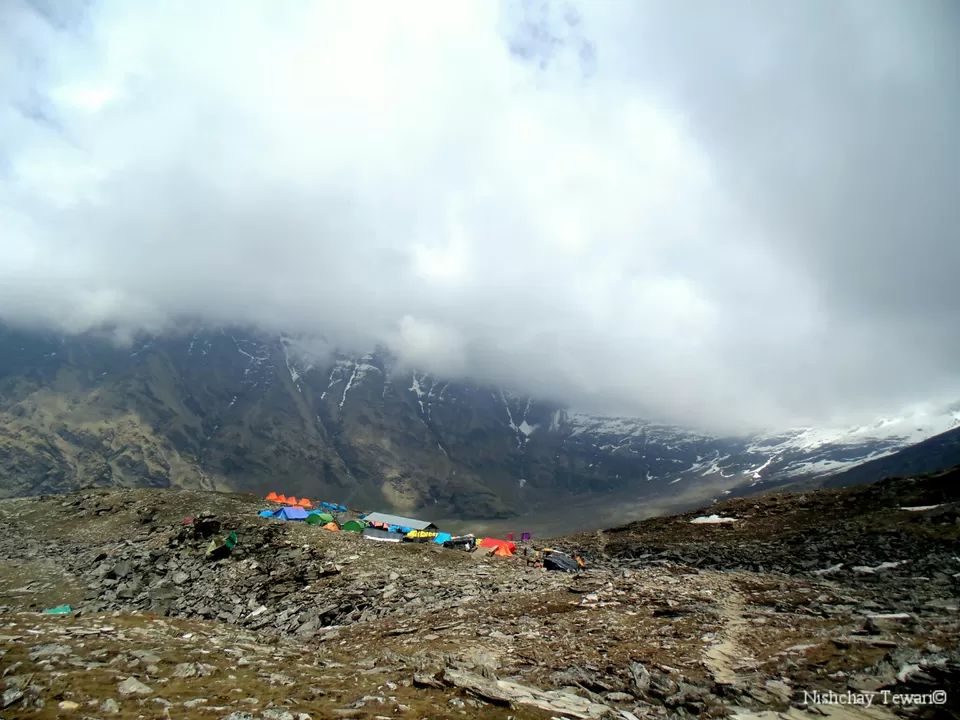 Bhagwabasa - Roopkund
Finally, it was the day we had been waiting for, preparing for and dreaming off.. It was the summit day. We had to start climbing early in the morning while the snow was still hard. As the sun comes out, the snow melts and becomes soft and your feet start sinking in. Also, as it gets warmer, the hard ice gets slippery and it slows you down.
After a night of tossing and turning, we woke up at 3am to a complete whiteout, we couldn't see anything. We somehow managed to come out of our sleeping bags, out in the freezing temperature, gobbled down some breakfast and strapped on our bagpacks and crampons. We weren't carrying anything much today - just some chocolates and water bottle.
We started moving at 4am but it was getting really difficult to see anything. It was dark and cold and we were not very sure of what lay on the path. The first KM was not very difficult. As we were climbing higher, the altitude did hit us and we saw some climbers returning back as it was getting difficult to take deep breaths. Then we reached the patch where a climber lost her life the previous day and it did scared the shit out of us. There were crevasse on our way and crossing them was really tricky and scary. There was no route, no road. The snow had covered all tracks. The last stretch was the most exhausting but as we reached at the top, everything cleared up and now we could see the mighty Himalayas all around us. It really felt like we're at the top of the world. I know this ain't no Everest but it still is a summit of reckoning and one we were proud of having climbed. We stayed up there for quite sometime and as we were coming down, i looked at my friend and we weren't feeling scared anymore...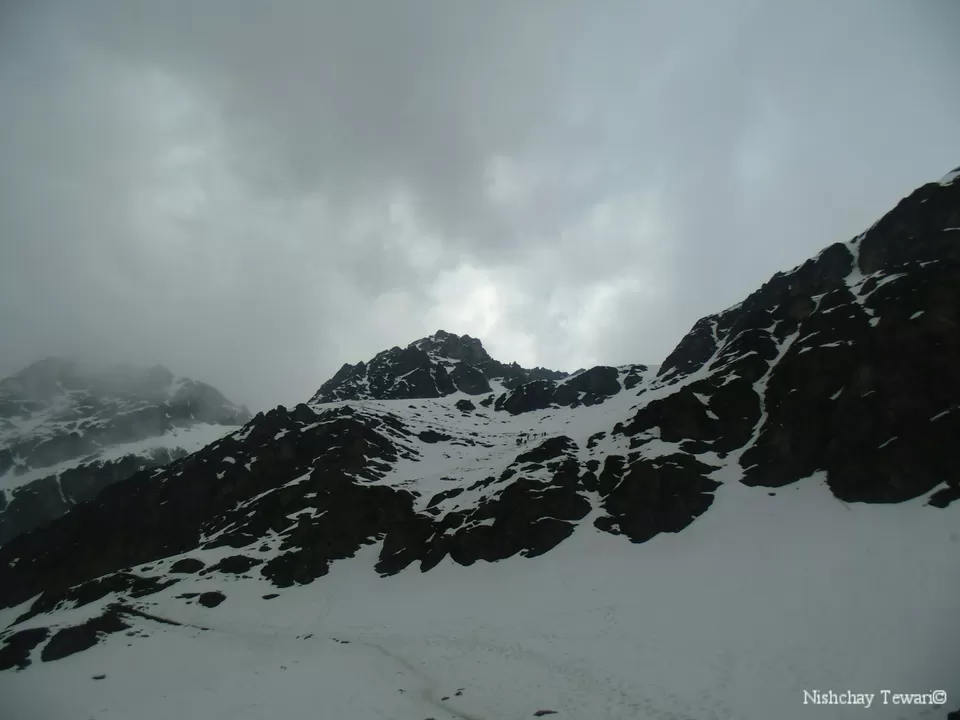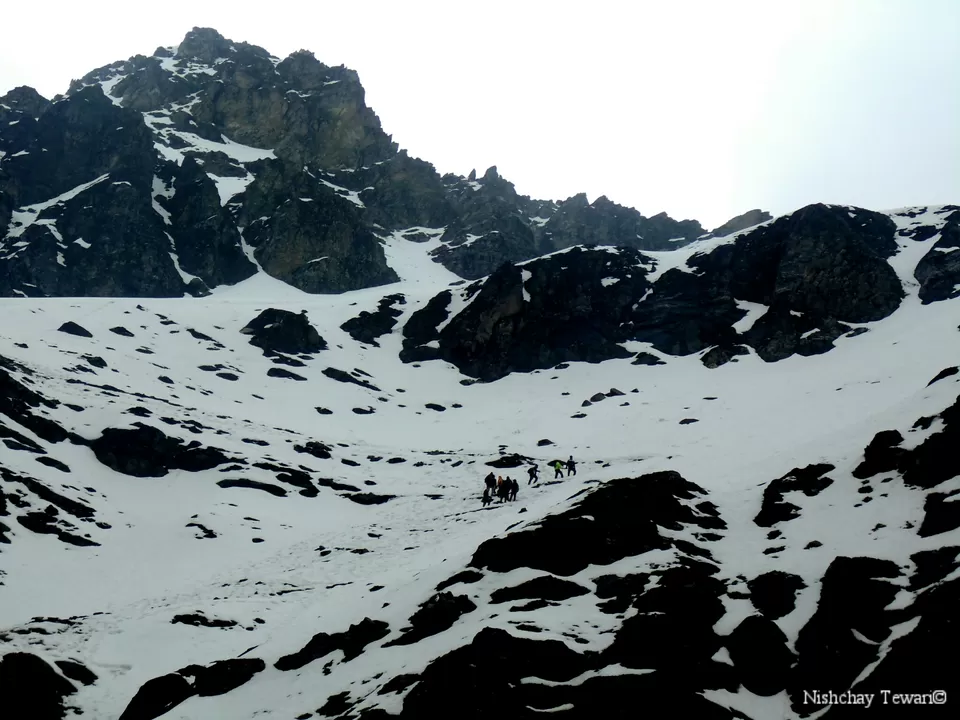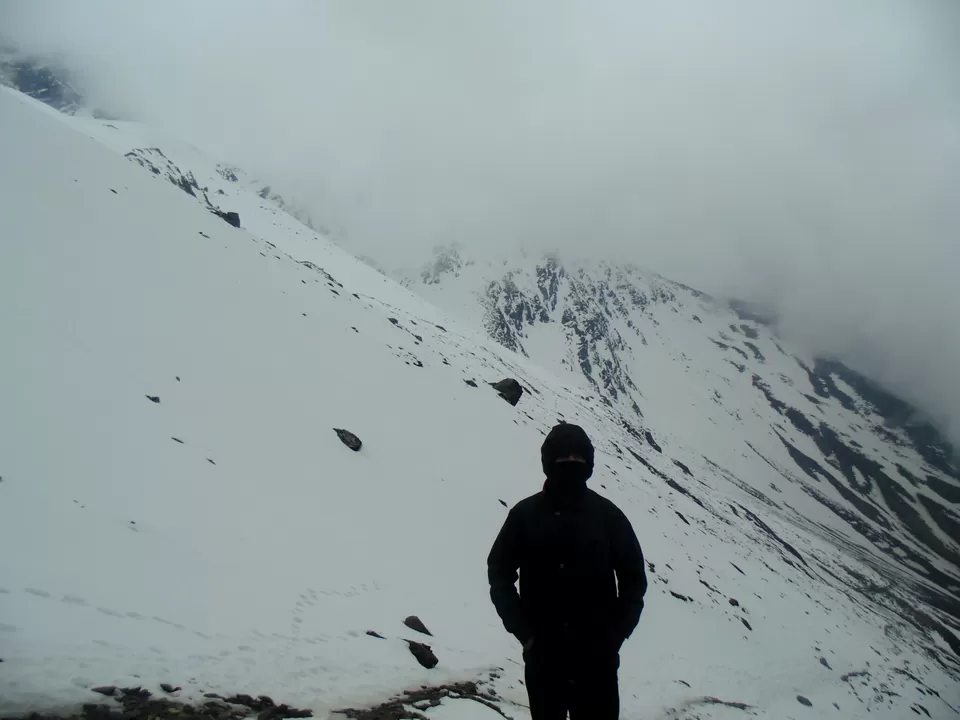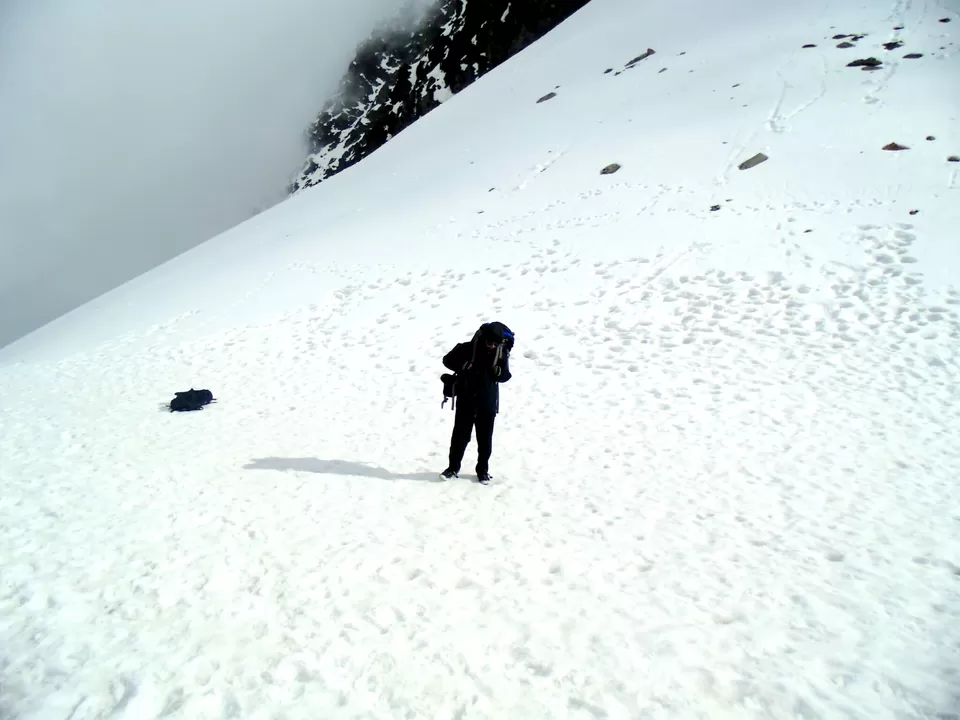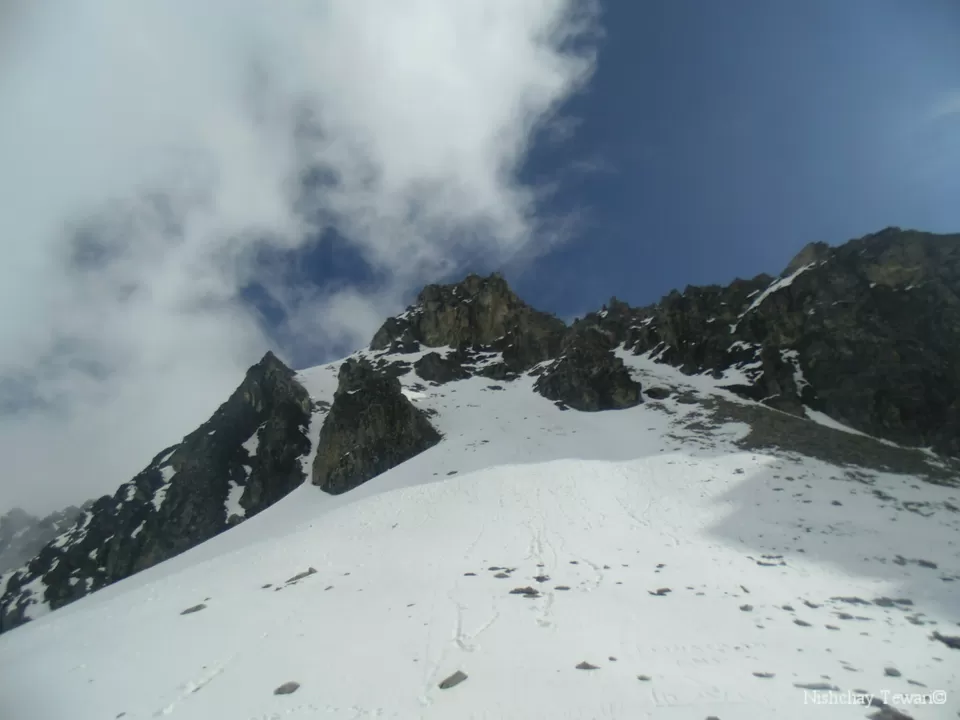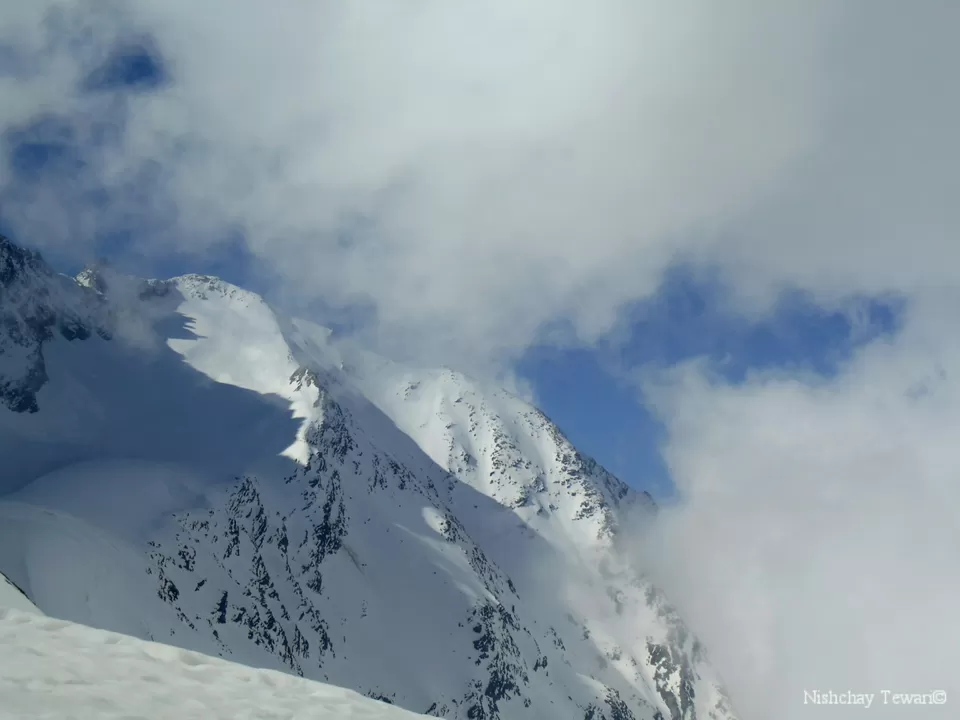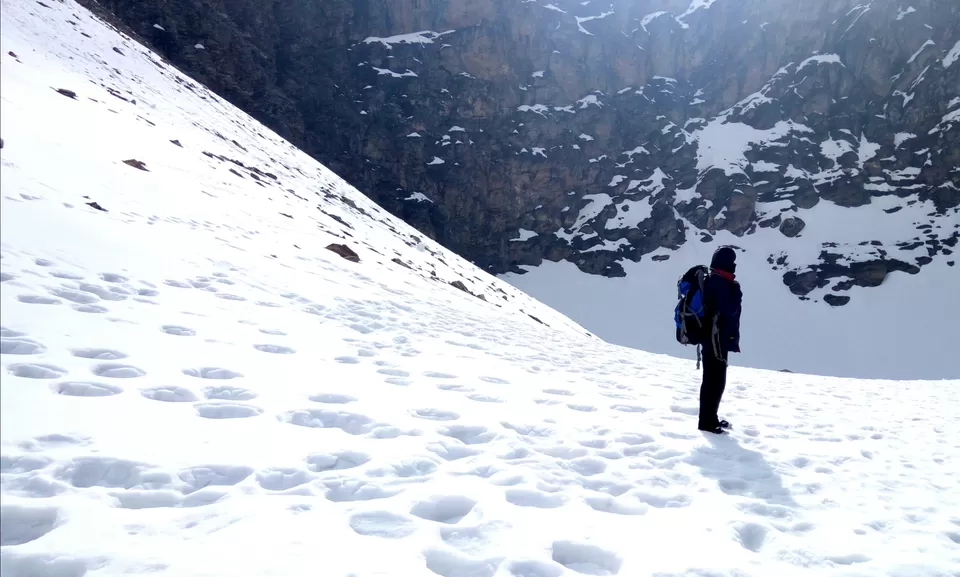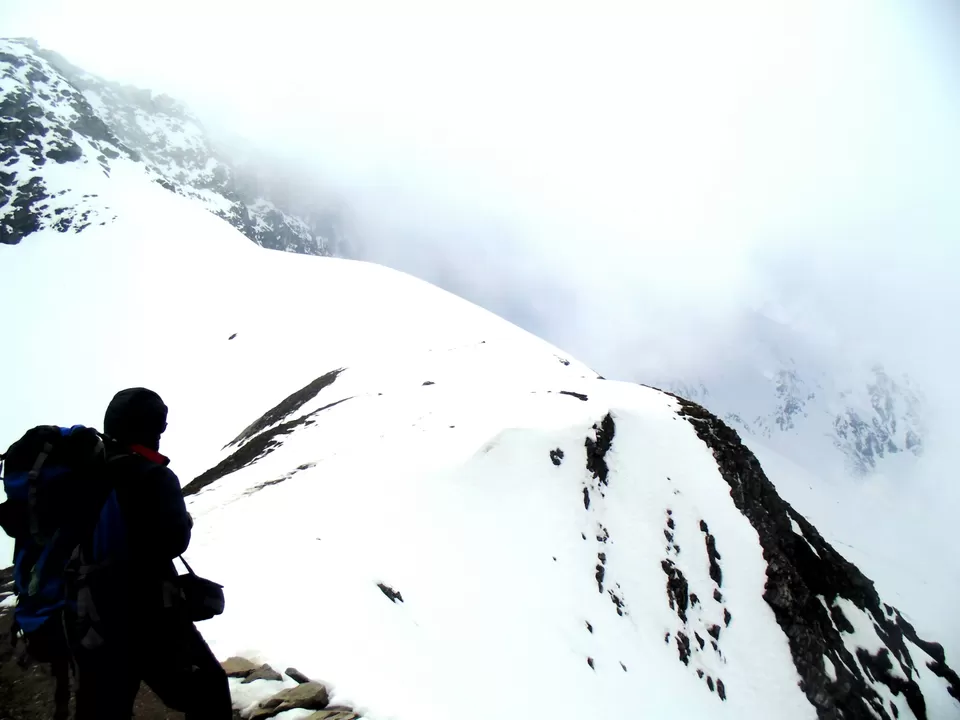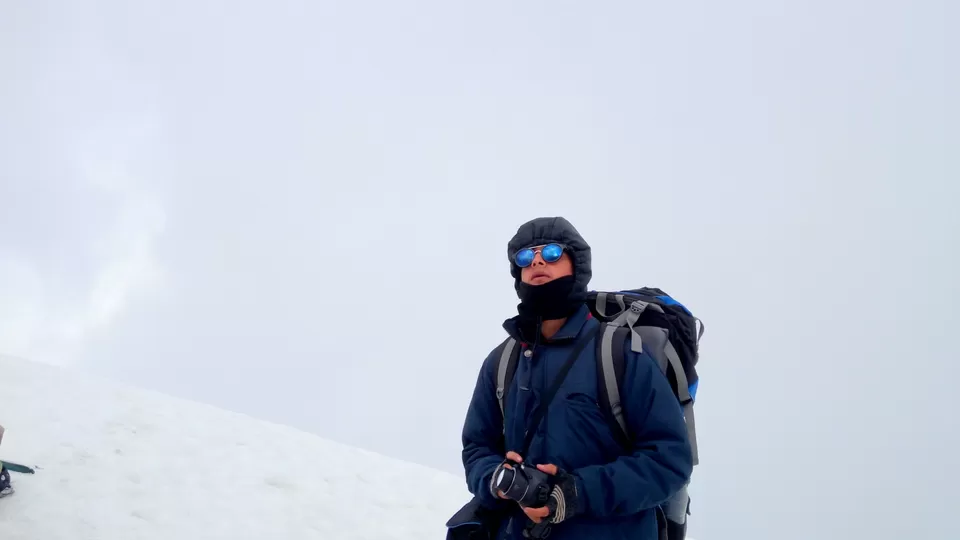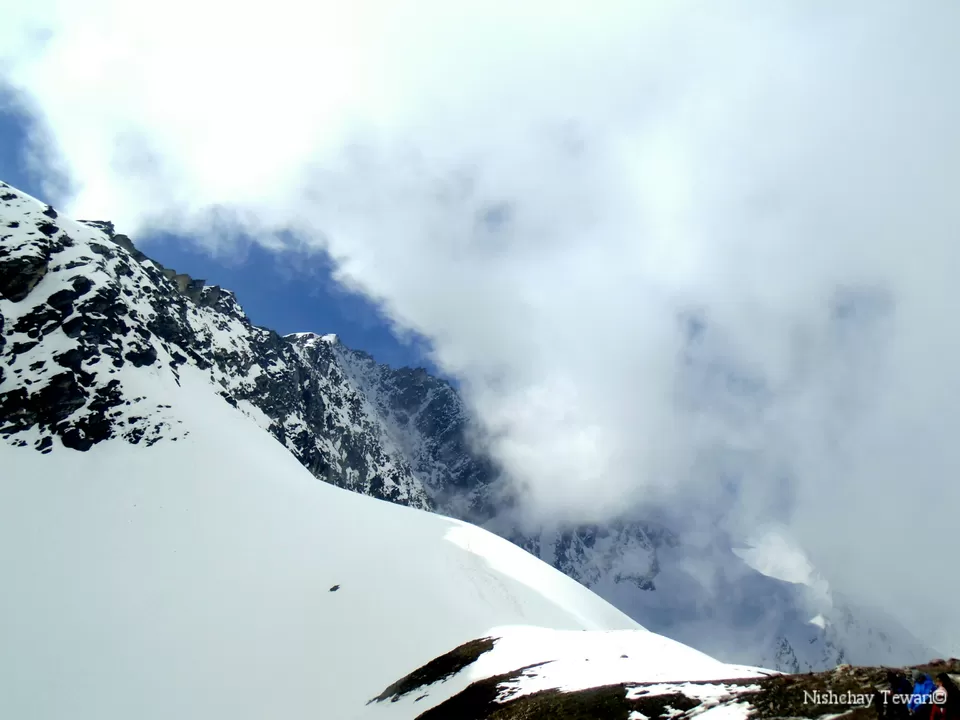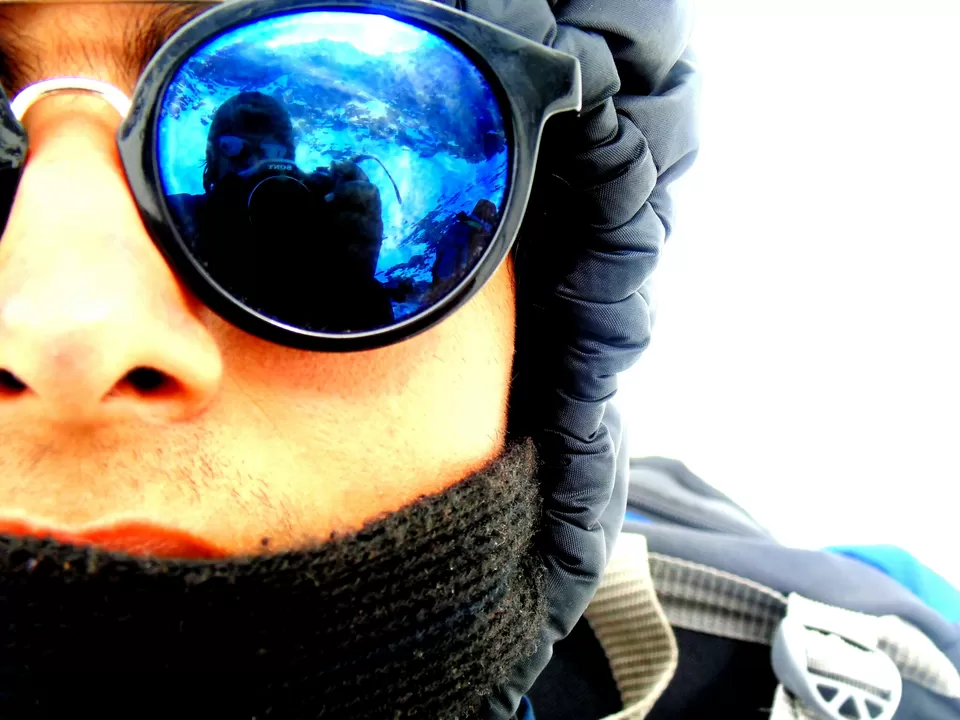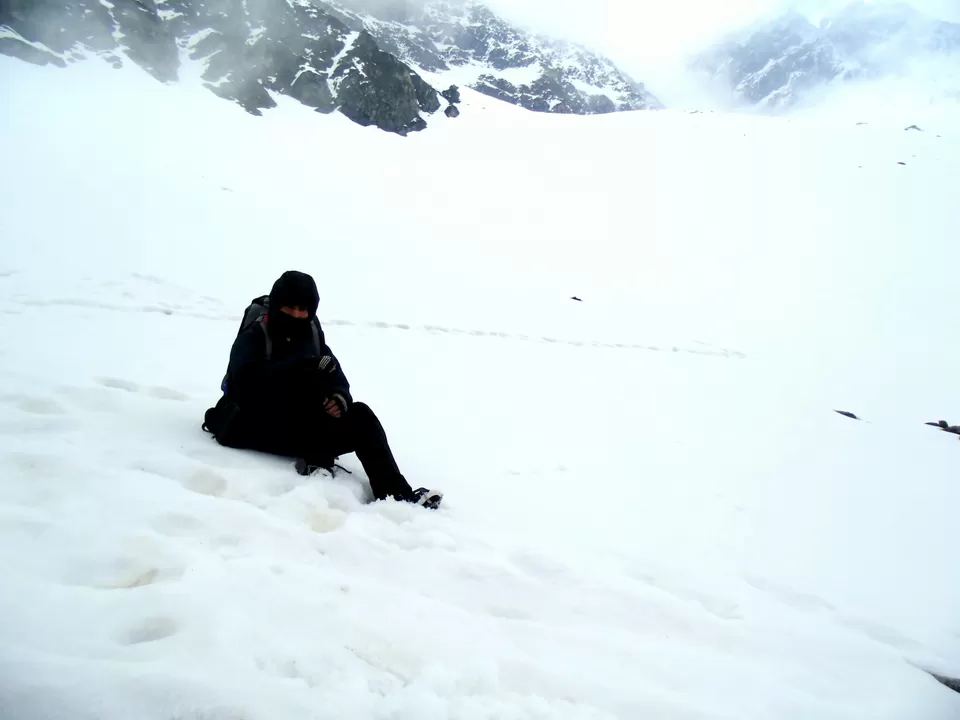 ...The descent was a beautiful experience for me with some renewed self belief. We then had our early lunch at Bhagwabasa, packed up our stuff and raced towards Kalu Vinayak. The weather was already turning bad so me and one of my friend didn't wanted to camp another night up there in freezing cold, but our fellow trekker was behaving differently as altitude increased (maybe the altitude was playing with him!), so after a long discussion we made up our minds and parted ways with him. Now, we were left with no tent and a 30KMs long road ahead of us to the nearest village. The weather was turning really bad and slowly we started to run. Those clouds looked formidable and daunting. We were trying to descent as fast as we could. We reached Pathar Nachuni in just 30 minutes, we ran for another hour and reached Bedni Bugyal and stopped, there we met a young Garhwali woman with her two little daughters. She said she could accompany us to the nearest village i.e. Wan but she wanted to know if we could match their pace while moving down and damn!!! those girls were fast as hell, they were literally running downwards and we were running too. We crossed Gharoli Patal and few hours later finally the race towards Wan ended and we stopped at a tea shack just before Wan.We thanked the young woman & her daughters for guiding us. As we entered the shack, it started to rain which felt nice after the long harsh descent. There at the shack, an old man invited us to his home for dinner and stay and that was all we needed at that moment. We followed him and reached Wan at around 6pm. I remember we felt like we actually achieved something because up there at Bhagwabasa everyone told us that you can't reach Wan in just one day and that too after completing the summit the same morning, but we weren't able to feel our legs anymore... we reached at the old man's place which was really comfortable. His nephew prepared mutton for us. It was already dark, everyone outside joined us, glasses were filled, dinner was served and we ended up staying at that house for the next 2 days.