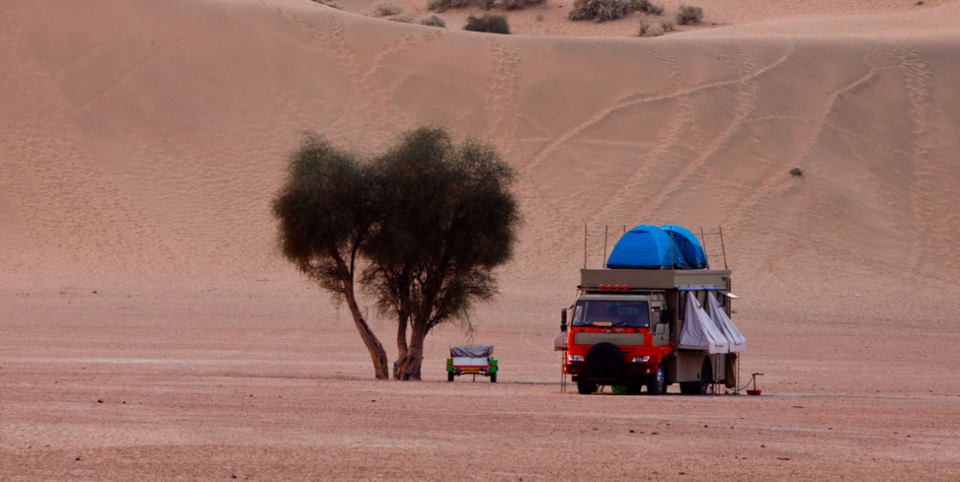 Wandering about without a care in the world, unearthing new possibilities and not knowing what to expect at the next step—if you call yourself a traveller, it is most likely that you too have been fascinated by the nomadic life at some point or the other. Just the very fact that a nomad is constantly on the move and has no clue about the next destination is an idea glorious in itself. However, in the age of blogs, vlogs and online bookings, the art of travelling like a true wanderer seems to have been long lost, that is, until now.
A Chandigarh-based adventure company named Green Dot Expeditions has set out to change the way we travel forever. The company has converted their truck, Taurus, into a fully-equipped luxury camping truck that is driving to remote locations across India. So not only do you get the experience of camping across multiple pristine locales, you get to do that in utmost style and comfort! Say hello to the beast, say hello to Taurus.
What is luxury truck camping?
Taurus, India's first luxury truck stems out of the basic concept of truly living the journeys. The venture is the brainchild of Captain Suresh Sharma, an ex-Army person who firmly believed that taking business class flights is just not how one should travel. He pitched the idea of building a fully-equipped truck to his family and they immediately agreed! After putting in months of hard work in designing and furnishing the truck, Taurus finally reached its present form. The family is now driving Taurus to untouched places across India, offering a maximum of 8 travellers to get on board and experience what it is like to camp in a luxury truck against scenic locales.
Why is it so special?
For starters, Taurus rejigs the entire concept of camping by offering travellers an unmatched luxury experience. The Sharma family has carefully designed the truck, keeping in mind all the needs of a modern day traveller. Taurus comes with its own well equipped kitchen and clean washrooms apart from comfortable beds to laze about while on the go. Additionally, the camper also carries all basic supplies such as outdoor chairs and tents for a seamless travel experience.
If you happen to be someone who takes their love for nature seriously and believe in responsible tourism, a holiday in Taurus must be on your bucket list! Captain Sharma and his family have specially designed Taurus in such a way that it leaves no waste behind. Since the entire family is extremely passionate about environment conservation, the ideology finds its way into Taurus as well. The staff accompanying travellers in Taurus makes sure that they bring back all the non-biodegradable to Chandigarh rather than littering it away.
Finally, the team behind Taurus has planned every package in such a way that there's always something to do for travellers on board. The Taurus staff integrates local towns and villages by taking travellers to these remote places, encouraging cultural exchange and in the process, promoting local tourism. In addition, one can also take part in a range of exciting activities such as photowalks and star gazing sessions during the course of the trip.
What all places does Taurus cover?
During the summer months, Taurus travels to the Spiti Valley, Leh region and other places up in the hills. On the other hand, one can book a package for Rajasthan, Gujarat and along India's coastline during the winter months.
How much will the experience cost?
Taurus' packages will cost you anywhere between ₹15,000 to ₹65,000 per person depending on the destination and the duration of the package.
How can I book a holiday?
You can book your own luxury truck camping experience by simply visiting Green Dot Expedition's official website.
What are your fondest memories of a camping experience? Where was it and what was it like? Write in here to share your interesting stories with the ever expanding Tripoto Community. Also, don't forget to check out Tripoto's YouTube channel for videos that will fill you up with major travel inspiration.