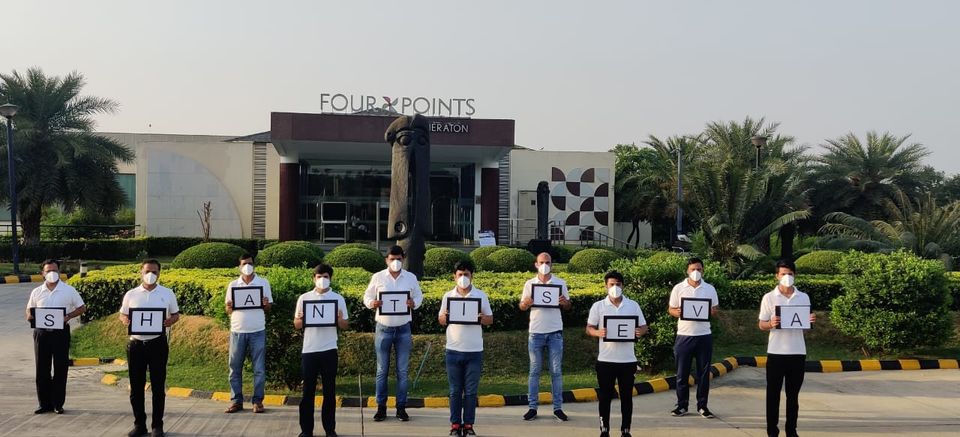 The ongoing global pandemic has not only challenged the entire world with its fatal medical consequences but also posed a grave humanitarian crisis in countries with a lack of adequate resources. With the economic activity shut down, millions have lost their livelihoods and are left stranded without access to even the most basic necessities such as food and hygiene equipment like soaps and masks. Amidst all the darkness, however, there are some initiatives that are proving to be the silver lining due to their efforts to safeguard the vulnerable. One such glimmering hope is Shanti Seva, an initiative by the Shanti Hospitality Group Ltd.
As the name suggests, Shanti Seva initiative centers around 'service' and has been playing a pivotal role in providing relief to those who are gravely affected by the ongoing pandemic – local communities. The hospitality group, which has 39 hotels in multiple countries across the globe, has taken many steps in order to provide aid against COVID-19 not just to its guests but also to the local communities and the environment, in an effort to live up to its core philosophy of 'selfless service'.
COVID- 19 relief efforts so far
The hospitality group has been actively providing coronavirus-related support in the form of meals, raw material and Personal Protective Equipment (PPE) across eight cities in India including Ahmedabad, Amritsar, Bangalore, Dharamshala, Hyderabad, New Delhi, Pune and Vadodara.
Going beyond the call of duty
The team working as part of Shanti Seva has not just been empowering communities with the physical means to protect themselves but have also taken upon themselves to educate people about personal hygiene and the proper use of PPE. They are implementing this through audio and print material, ensuring thorough dispersal of the message.
Making a difference where it counts the most
Following the motto of 'Humanity above all', the group aims to inspire action in support of the community while making a positive impact on the environment.
In order to reach the remotest of communities who need the most help, the Shanti Group has pierced through the hierarchy to serve over 95,000 people from the weakest sections of society like migrants and daily wage workers who had been stranded without any meals or earnings. They also provided aid to orphanages, old age homes, hospitals and local authorities to help them fight the difficult times.
There's a lot to learn from such initiatives especially for hotel chains and organisations working in the travel and hospitality industry that have the means to make a difference. As for individual contribution, Shanti Seva is currently raising funds to procure essential items for those in need. You can check out details about the fundraiser and contribute to the initiative here.
In association with Shanti Seva
Chat with us on Whatsapp to help us plan your next trip!

Watch travel stories come to life with Tripoto on Youtube!