What could be a better way to spend your summer months than doing your favorite activity? My experience suggests that an investment into exploring oneself can be the best alternative to one's favorite endeavor during his or her summer months. My excursion to Bhtuan's Tiger Nest Monastery, better known as the Taktsang Palphug Monastery, proved itself to be an invitation for a journey of self exploration.
As I sit to write this article, I skim through all my memories of the place that I have. Like nostalgic pictures from one's childhood, these memories help me relive one of those few ecstatic moments that gave me a glimpse into the oneness between the external and the internal worlds. My excursion into the isolated Himalayan Mountains turned out to be a test with a lesson on integrity, mental composure, and serenity.
"Tiger's Nest Monastery, Bhutan: A Journey Within"
I started my journey flying from Kolkata to Paro with Bhutan's own Druk Air airliner services. Taking me an hour and a half to reach the place, I was awed when peeping out of the window I discovered that the airport was surrounded by dense pine thicket and high Himalayan Mountains. The airport stood at an elevation of 2,235 meters (7,332 feet) and had only some eight to nine pilots certified to commence an airplane landing, making it one of the most dangerous airports of the world. As I proceeded out of the customs, I hired a cab to take me straight to my hotel where I could plan for my excursion, and collected brochures that described the Tiger's nest monastery, its significance for Bhutan and its people, and the legend that accompanied its establishment.
History, and significance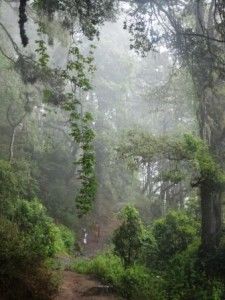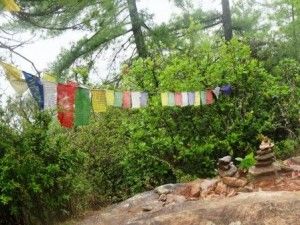 According to various sources, Yeshe Tsogyal, former wife of an emperor, willingly became a disciple of Guru Rinpoche - an eighth century Buddhist master from India - in Tibet. She transformed herself into a tigress and carried the Guru on her back from Tibet to the present location of the monastery in Bhutan. Legends suggest that the guru performed meditation, emerged into eight incarnated forms, and the place became consecrated. It is believed that this process served as a milestone in spreading Buddhism in Bhutan - a land originally governed by Bonism and its rituals. The original caves, dating back to the 8 th Century AD (the time when they were consecrated) were built into a monastery in the year 1692, and the monastery was renovated back in the year 1958 and again in 2005.EW
TREK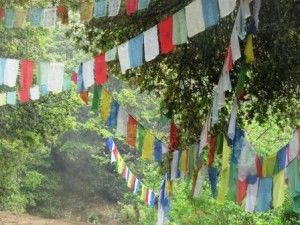 On my trekking day, I woke up early in the morning to witness Himalayan mist that allowed me with no more than 10 feet of visibility. My cab ride was ready, and it took me to the base camp from where I was supposed to hike the mountains. There I was at the starting point with a small backpack packed with fruits, a water bottle, and a raincoat; my trekking shoes with deep crest and trough pattern bottom; a camera; and a journal to write anything that I experienced. I was all set and ready to take the trip up the mountains.
As I began to walk the path, I was accompanied by groups of Buddhist pilgrims, monks, and tourists from various parts of the world. Amidst the dense pine thicket covered in mist and dew, we made our way through cliffs, ravines, mudpools, and high elevation. We went round the steep mountains, and for every turn we took, we hoped for the monastery to come into sight. The path had small pebble made pyramids made by men of faith in search of good luck and wisdom. As we started ascending the mountains, we could feel the air getting thinner. We had to stop frequently to extinguish our oxygen demands since a higher elevation meant a lesser availability of air. So had the vegetation changed with scrubs and shrub plants at higher altitudes, and dense pine thickets covered with ferns and climber plants at lower altitudes. With every turn around these cliffs, one could view the panoramic thicket that these valleys harbored. Accompanied with mist, the journey was more of an introspective exploration than a vacation hike. The moist cold breeze that accompanied the awe of getting lost in the mist sketched itself as a portrait of serenity and stillness.
After some six to seven hours of hiking, we arrived at the monastery nested on a steep cliff that would otherwise be virtually impossible to climb. And with the thin air surrounding the place, rock path made slippery by freezing water from nearby streams, and all the fog that clouded the region, it became harder to comprehend that this Buddhist architectural treasure was built back in the 1690s. The landscape was dotted with Buddhist prayer flags that devotees and saints believe to be responsible for spreading wisdom in the environment as wind and breeze played with it. We entered the monastery building, gently walked the squeaky wooden floor of its campus, and headed to the temple room which housed Buddha's statue in all its glory. The ornate Tibetan paintings in vibrant colors depicting mythical Tibetan stories with lessons, wax and earthen lamps lighting the complex with a golden hue, colorful strips of curtains and flags that hung from the ceiling, and Vajrayana Buddhist statues that celebrated culture and religion in a meaningful manner made the temple complex a world separate from the one where we live. It had its own spiritual characteristic - one that a silent soul always seeks in a chaotic world -and a silence that spoke a thousand words.
After a meaningful conversation with the self, I took a five to six hour steep descend down to the base camp. Now, I had stories to tell, experiences to share, and memories to cherish. Certainly, it was investment better than my favorite summer month endeavor.
Travel and accommodation:
Visa requirements:
Bhutan requires most foreign nationals to have a visa before a visit. However, citizens of India, Bangladesh, and Maldives are exempted from this rule, provided they have a passport valid for at least six months from the date of entry. Indian citizens may also use their Voter ID to obtain entry into Bhutan.
How to Reach:
Reaching Paro by Air Druk Air operates regular flights to / from Paro to Delhi (India), Kolkatta (India), Gaya (India), Kathmandu (Nepal), Bangkok (Thailand) and Dhaka (Bangladesh). Paro is the only airport connecting Bhutan with rest of world. However it is advisable to book your air tickets well in advance to avoid the tourist season rush. For detailed information about airline, schedule and tariff, please visit Druk Air.
Reaching Paro by road
One may enter Bhutan through Phuentsholing, the southern Bhutan frontier town. This place is five hours away from Baghdogra airport in Siliguri, West Bengal (India).
Best time to Visit:
One may visit the place throughout the year, but the best season for one to visit begins from March, and ends in November. In the winter months temperatures may fall below 0c, and may remain around 10 - 15c during daytime. The place witnesses Indian Monsoon (Seasonal rain) starting from mid-June to September.
Hotels to stay: