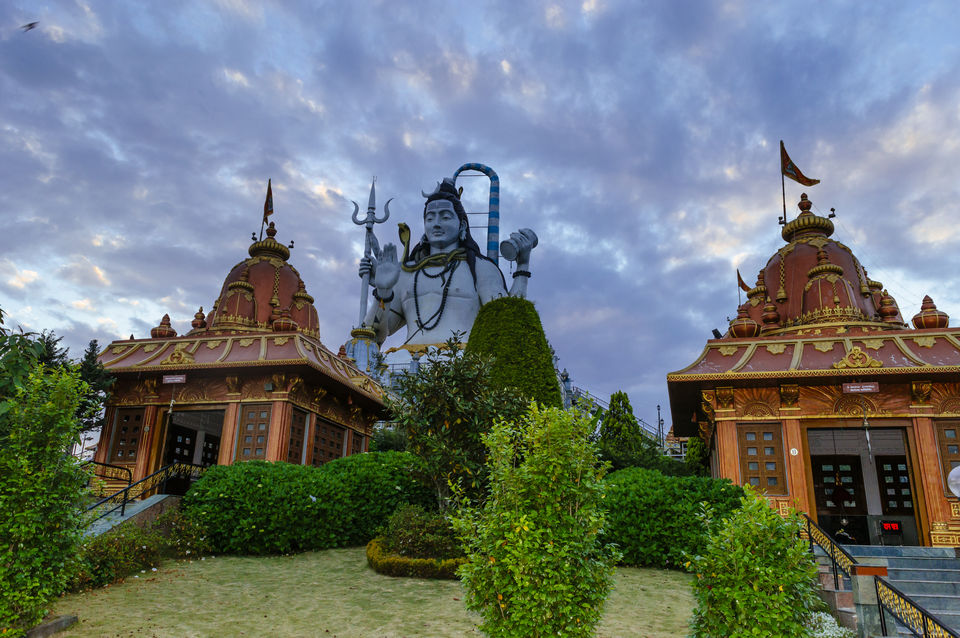 Char Dham in Sikkim is a newly developed Pilgrimage-cum-Cultural Centre constructed on top of the Solophok Hill with an aim to promote Religious Tourism in the state. The main temple consists of the 26½ meter high statue of Lord Shiva in sitting posture.
The temple also consists of replicas of twelve Jyotirlingas and the four Dhams; Badrinath, Jagannath, Dwarka and Rameshwaram are also installed in the complex that sprawls across 7 acres. This stunning imitation of Char Dham has quickly become a major tourist destination in Sikkim.
What's Special
The main Shiva temple is 108-feet high and atop that sits the gigantic 87-feet tall statue of Lord Shiva. Replicas of twelve Jyotirlangas are constructed around the Shiva temple.
As the name itself reflects, the complex consists of replicas of char dhams including Badrinath Dham, Jagannath Dham, Dwarka Dham that are dedicated to lord Vishnu and Rameshwar Dham which is dedicated to lord Shiva.
It is believed by Hindus that one needs to do pilgrimage at each of the four (char) dhams in order to attain salvation and emancipation. While the original char dhams are located in different parts of the country, devotees can at least visit their replicas at one place here.
Where
Char Dham or Siddheshwar Dham is located atop Solophok Hill amid serene views of nature in Sikkim's Namchi. Situated about 78 km from Gangtok, Namchi houses world's largest statue of Padmasambhava or Guru Rinpoche, the patron saint of Sikkim. Literally translating to 'top of the sky' in Bhutia language, Namchi offers panoramic views of the mountain ranges and the valley below at about 1,675 m above mean sea level.
Legend Has It
Solophok Hill in Namchi has a special historic and mythological significance. It is believed to be the same place where Arjun did 'Tapasya' to obtain Pashupatastra from Lord Shiva in Hindu mythological epic Mahabharata. It is said that the Char Dhan complex celebrates the appearance of Shiva on this hill.
Getting There
Solophok Chardham is situated 5 km away from Namchi. One can take regular state transport buses or shared taxis from major cities of Sikkim to reach Namchi. From Namchi one can hire a cab or get onto a bus to reach the hill.
Best Time To Visit
It is an all-year-round destination with pleasant weather and beautiful views. However, the best time to visit is between March and May and September and January when Mt Kanchendzonga is at its best and colorful flowers blossom around the complex.
Where To Stay
The best accommodation option is Yatri Niwas, which is a nice budget hotel. It has over 96 spacious rooms equipped with all basic felicities. The hotel also a restaurant that serves vegetarian dishes.
Cost: ₹1,920 - ₹1,989 per night excluding breakfast.
You may check more accommodation options here.
Have you ever been to Char Dham in Sikkim? Share your experience with Tripoto community here.
Meanwhile, watch some amazing travel videos on Tripoto's YouTube channel.