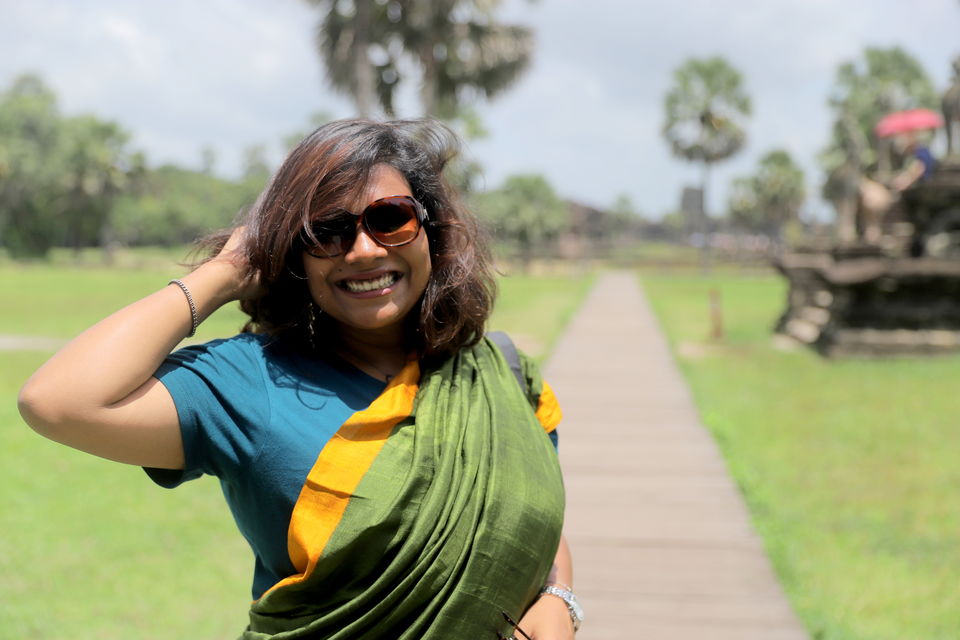 In today's date, travelers are more keen on following the mantra of 'Pack Light' and it's surely a good practice, especially while traveling abroad ('coz who would want to pay for extra baggage!). But being a Bong who loves to drape a saree, I prefer to carry a saree along with me, on all my trips - and you can say that it's #MyTravelRitual which I abide by! Saree has become a more formal outfit on today's date, something that we tend to choose for a wedding or a celebration, or at best, the office ethnic day! 
However, a couple of years back during my trip to Cambodia, I thought to explore the ruins of Angkor in a saree (you can't wear shorts or dresses above the knee length!). Needless to say, it turned out to be one of the most beautiful experiences! Not only was I feeling wonderfully confident about carrying the 9-yards, but also, I was amazed to see the reactions of other travelers, who approached me to click photographs & initiated conversations, letting me know how they connected my attire to what they see in Bollywood movies (you really get to know what impact Bollywood has!).
I've grown up in a typical Bengali family where I've seen my mom in sarees, and she would never wear Western clothes or Salwar kameez, emphasizing that she felt absolutely comfortable in a saree. Amongst other things, she inspired me to carry a saree in the most elegant manner (though I still goof up at times!) and over time, I fell in love with it.
For me, it's more fun when my friends also agree to be a part of this! During a trip to North Sikkim, I convinced Deepa to carry a saree. I still remember that the day we were going to Gurudongmar Lake, we woke up at 4'O clock in the morning, it was freezing cold and Deepa asked me, "Ri, are you sure you want to do this?"
I asked her, "Are you planning to come back here again??"
"Guess not," she said. With layers of thermal and a heavy jacket, we did put on our sarees and happily hopped around, at an altitude of 18,500 ft.
While it might seem difficult to drape a saree or walk around in it, it's actually not. And I'm sure that no one would deny the fact that it's the most graceful attire. Also, I feel that it makes me stand out of the crowd, if I'm differently dressed. After all, who doesn't like to get that extra dose of attention!
Last December, I was attending the Hornbill Festival in Nagaland, with 2 of my friends from college. Being super-enthusiastic Bongs, they also agreed to carry sarees! While the Naga women walked around in their traditional costumes, we were there in our traditional attire.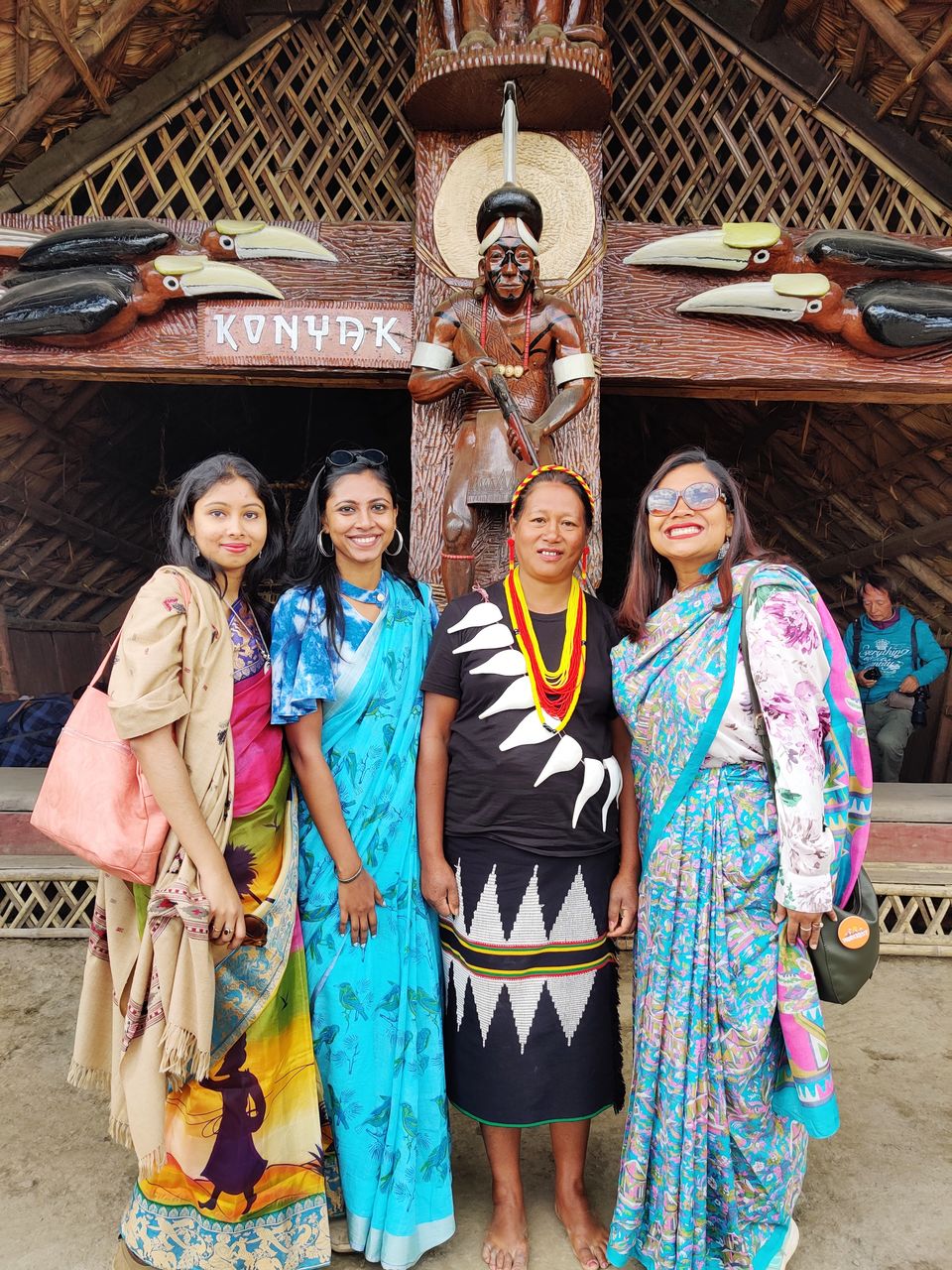 Walking around the Linh Phước Pagoda in Da Lat, Vietnam, I was approached by 2 young men who were shooting a Vlog. They asked me if I would like to be a part of their Vlog - all they wanted me to do was walk down the gorgeous staircase as the models do! I'm not a model neither am I good at such stuff, but it was fun & they were so happy with 5 seconds of that video.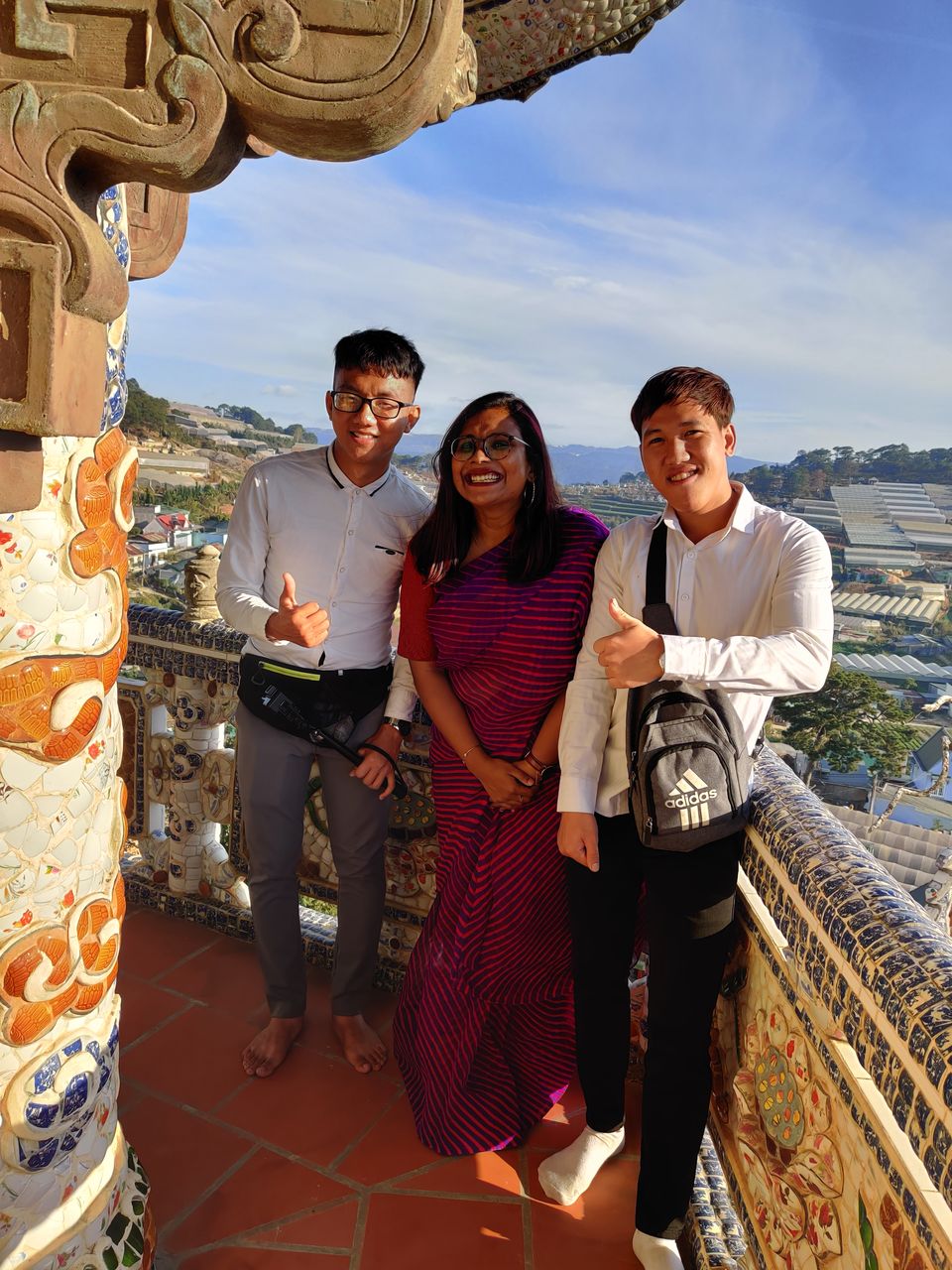 I've actually had some amazing experiences while exploring places in a saree. I made friends with random people, bagged discounts as cafes, got free photographs at places where others had to pay, and what not! Well, these little things afterall makes our journeys more beautiful, right? Here's to all you female travelers reading this, pack a saree for your next trip and give it a try - you'll also figure out that #SareeIsCasual :)