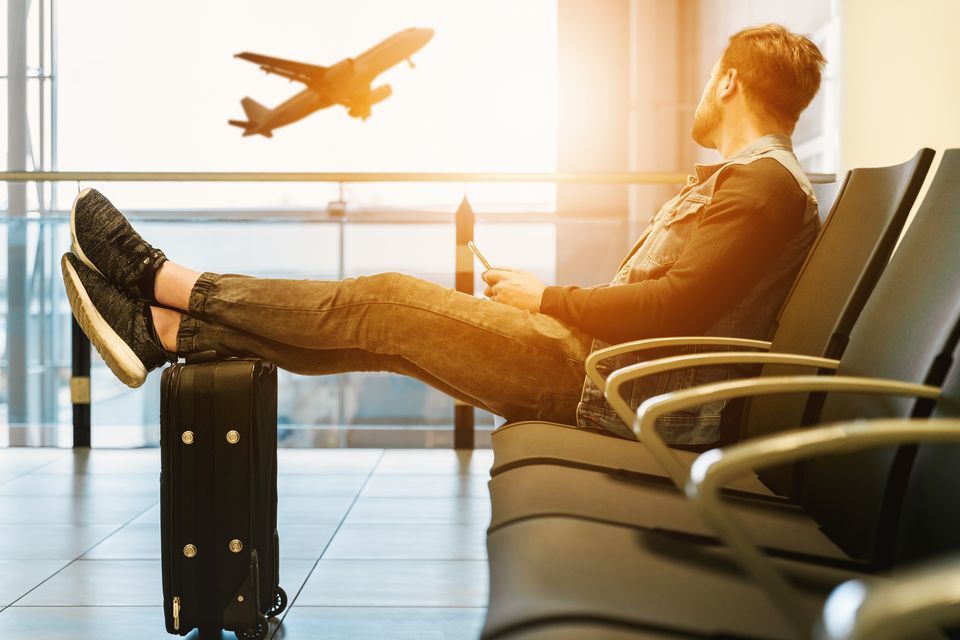 Missing a flight may happen, and does happen, even to the most 'punctual', seasoned flyers. And when an official actually tells you, "Sorry, but we can't let you board the flight now", reality hits hard, like a punch on your nose. Requests don't work, and you blame everything and everyone apart from yourself. Interestingly, a missed flight can be the end of the world for some, and a just-another-miss for others. It mostly depends on why you missed it, who paid for it, and how well you got compensated.
So, we thought of asking Tripoto wanderers to reveal how they felt the first time they missed their flight. Here's what they said:
1.) The one that got away
"I've always been someone who likes to be on time for any event. It may just be the good ol' 'fear of missing things out', or simply about maintaining my ever-so-punctual reputation. So naturally, the first time I missed my flight it was an emotional disaster. I was supposed to go on a work-related trip to Mumbai and my tickets were paid for by my employer, I felt extremely bad. I kept on thinking how easily I could have avoided it as the day's events continued to play in my head on loop.
Thankfully, I was over it soon, but since that episode, I always arrive at the airport at least a couple of hours early." – Mahima Agarwal
2.) Found better ways of getting compensated

"I had booked a flight to Bangalore to attend a very important event on a popular airline. Just 4 hours before the flight, I got a text from the airline saying that the flight has been cancelled due to a technical snag. I was engrossed in getting ready to leave and didn't check the text. An hour later, I found myself at the airport, only to be informed about the cancellation by an airline official, who also cared to inform me that the next flight to Bangalore would be when the weather clears up.
With no cab in sight, stranded with my luggage at the airport, a wave of annoyance took over me. And it was not a case of missed flight. So, I called the airline and yelled at them to my heart's content. A few days later, a friend of mine suggested me to get TravelCare 360 subscription. Surprisingly, it not only helps me plan well but also rewards me with cashbacks whenever my flight is delayed or cancelled." – Sreshti Verma
3.) A lesson learned
"All was well until severe flu got me a few hours prior to my flight to Kochi. Left with no other option, I had to cancel my trip because I just couldn't feel better. Later, I was shocked to know the airline charged me such a hefty cancellation and convenience fee that all I got was ₹900, a mere 10% of my total trip cost! I felt I'd been ripped off. After a few days, a friend of mine suggested me to opt for Arvi subscription which protects and even compensates its users against flight cancellations and delays, no matter what the reason is. I learned my lesson the hard way, but I am glad I somehow found Arvi". — Rohit Kumar
4.) Lavish compensation for a missed flight
"I once missed a connecting flight on my way to the US from India. The first flight took off late, but the airline refused to delay the connecting flight to accommodate us once we landed in Kuwait. They did, however, give us a free stay at a 5 star hotel there with a ₹10,000 concession fee plus loads of extremely delicious and free food. I would have liked to reach Boston on time, but an all-expenses-paid day at a luxury hotel didn't feel too bad either." – Himani Khatreja
5.) The only consolation
"I had an important event to attend in Trivandrum and as per the availability, I had to fly from Delhi, catch a connecting flight in Mumbai to reach Trivandrum. As usual, I was at the airport two-and-a-half hours before the scheduled take off. And then the worst happened when I got to know that the flight has been delayed due to bad weather. The distressing realisation of missing my connecting flight from Mumbai overwhelmed me.
Between all this chaos of waiting and boarding the flight, I remembered that I had Arvi where I can upload my boarding pass and get cashback for the delayed flight, which I did. When I eventually reached Trivandrum, I got a cashback notification from Arvi. Well, that was the only consolation as I missed more than half of the event." – Kanj Saurav
6.) And the drama paid off
"This happened when I was 17. I was travelling back after 1st semester break of engineering from Jaipur to Kolkata via Delhi. I arrived at IGI domestic and the lady at the terminal said that the gates were closed which was an alien concept to me. Drama was the only resort I had. I started crying loudly. Thanks to how well I imitated an innocent crying teenager who was not aware of the gate-closing rules and to the support of fellow passengers, I got a free upgrade and access to Jet Privilege lounge. Embarrassing as it might seem now, but drama paid off that day." – Sneha Chamariya
So, how did you feel when you missed your flight for the first time? Let us know in the comments below, or you can share your experience with Tripoto community.
In association with TravelCare 360.