India is a land of diversity; yet each region is associated with a particular community, terrain and flavour. It is easy to forget that even the states and union territories are microcosms of the country's cultural potpourri. That is why, it came as a surprise that 66% of Goans are Hindu and as per legend, Lord Shiva was the first real 'tourist' to visit India's smallest state. These facts became apparent during my bus ride from Ibis Styles Goa Calangute to Sahakari Spice Farm in Ponda. There, we were to have an authentic Saraswat lunch and get acquainted with a plethora of herbs and spices. "The houses become smaller and more Hinduised as they move away from the coast," our guide Jerome informed us, holding on to both sides of the bus to keep from falling. Typically, the Christians have a cross in front of their homes and the Hindu homes have a tulsi plant in their courtyards.
Spice plantations in Goa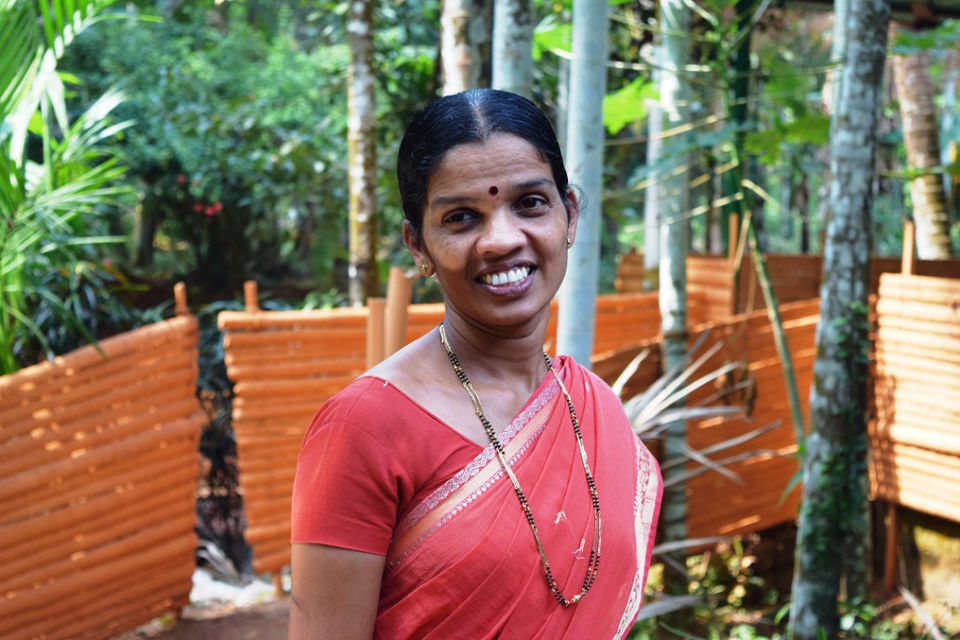 Goa's climatic conditions favour the growth of spice farms and there are a few of them strewn across the rural areas of the state. They are known for their natural beauty and organic plantations and Sahakari Spice Farm at Curti, Ponda was no different. Our visit to this green enclave where coconut trees lined the sky and silence carpeted the fragrant woods began with a traditional Hindu welcome of aarti and tikka. We moved on to the restaurant area to sip on a welcome drink of warm ginger water. And then the half hour long tour of the spice farm began, courtesy our enthusiastic guide.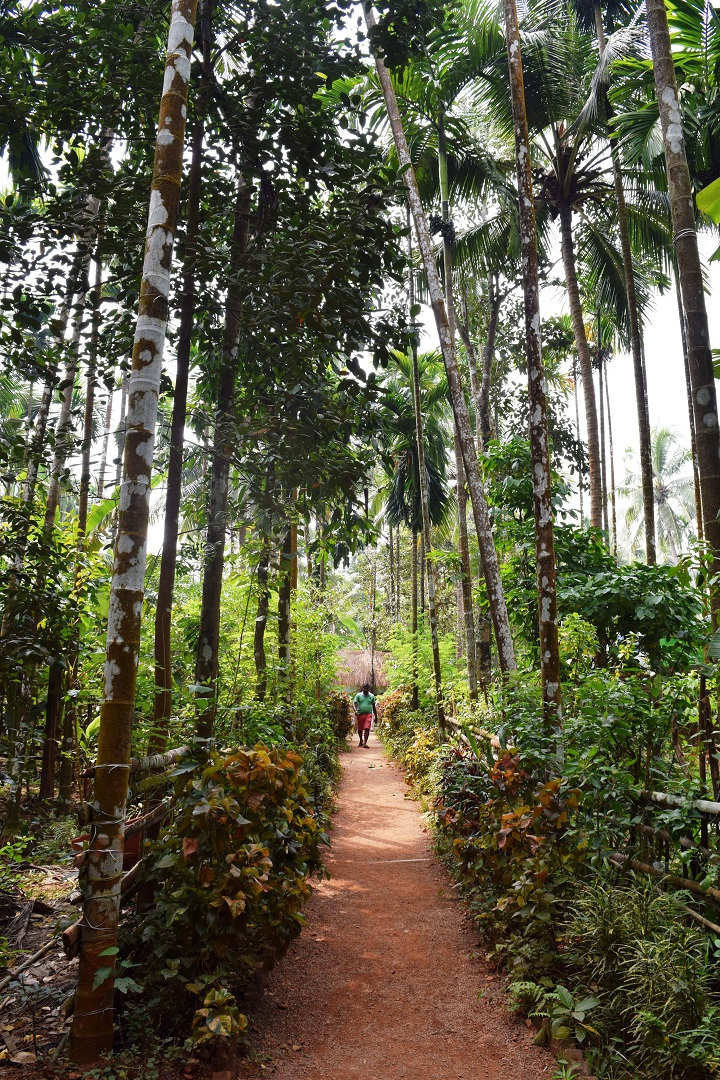 We glimpsed what seemed to be turmeric but turned out to be cardamom ( elaichi). Each bush yields only 30-40 grams of cardamom, making it the third most expensive spice in the world (saffron is the most expensive). "Being sweet, cardamom is known as the queen of spices while black pepper is the king of spices for it's spicy like a king!" our guide joked. Then we moved on to cacao beans in green pods (each pod contains 35-40 beans), nutmeg ( jaiphal) fruits which also yield mace and turmeric ( haldi) roots. According to our guide, applying a paste of nutmeg powder, lemon juice and ginger can relieve joint pain due to excess uric acid.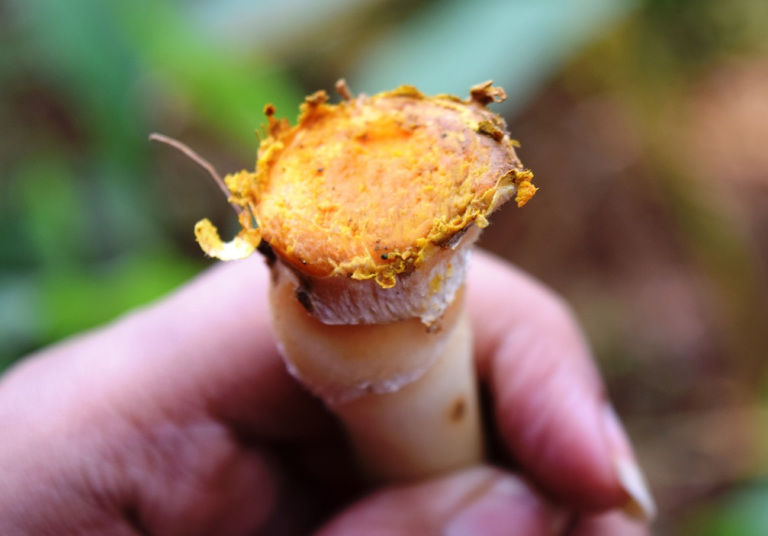 I'll let you in on a secret - adding turmeric to cardamom can give you the colour and fragrance of saffron! Next, we stumbled upon intoxicating betel nut palms (which could get us dancing faster than 30ml of whiskey according to our guide!) and pepper creepers. Red, white and black peppers are all a product of the same plant; only the process differs. But if it's constipation you want to cure, black pepper is your best friend! We also saw aromatic orchids of vanilla, the second most expensive spice in the world, harvested in February. 30,000 vanilla pods yield only one litre of the delicious spice, costing around 11,500 dollars! Interestingly, the biggest consumers of vanilla are pharmaceutical companies, French perfumers and wonder of wonders, Coca Cola and Pepsi. These drinks apparently taste vile without vanilla to mask them. And yet we continue chugging them down! For genuine vanilla flavour, ditch the synthetic variants in the market and steep vanilla pods in a jar of sugar instead. In a few weeks, this sugar will be pure vanilla goodness without the exorbitant costs.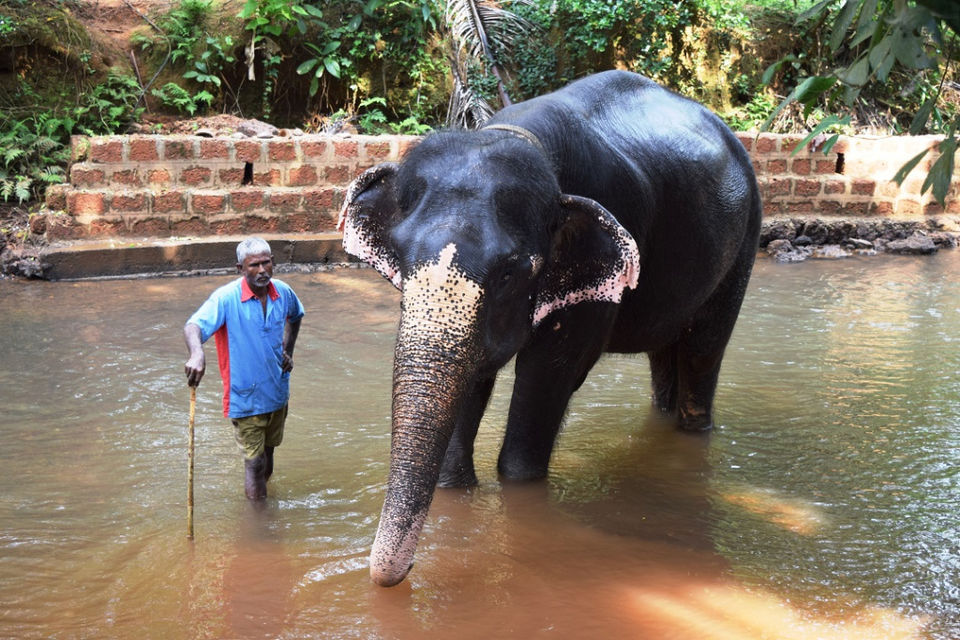 We even encountered hybrid berries that possess the taste and fragrance of five different spices - clove, coriander, nutmeg, pepper and cinnamon - a real shortcut to making garam masala (a staple in many Indian curries and gravies)! We also got a live demonstration from a nimble coconut tree climber.
Exhausted from the walking and peering, we were gratified to see the locally sourced and prepared Saraswat spread laid out for us in the eating area. Lunch consisted of rice preparations, salad, curries, pav, prawns, papad, dal and orange coloured sweet rice for dessert. I supplemented the meal with some bananas from a bunch hanging under a tree, free for plucking. We cast a brief glance at the oils and spices being sold at the adjoining shop but decided to reserve our wallets for the market outside Mangeshi Temple. The organic products here range from Rs 100-600.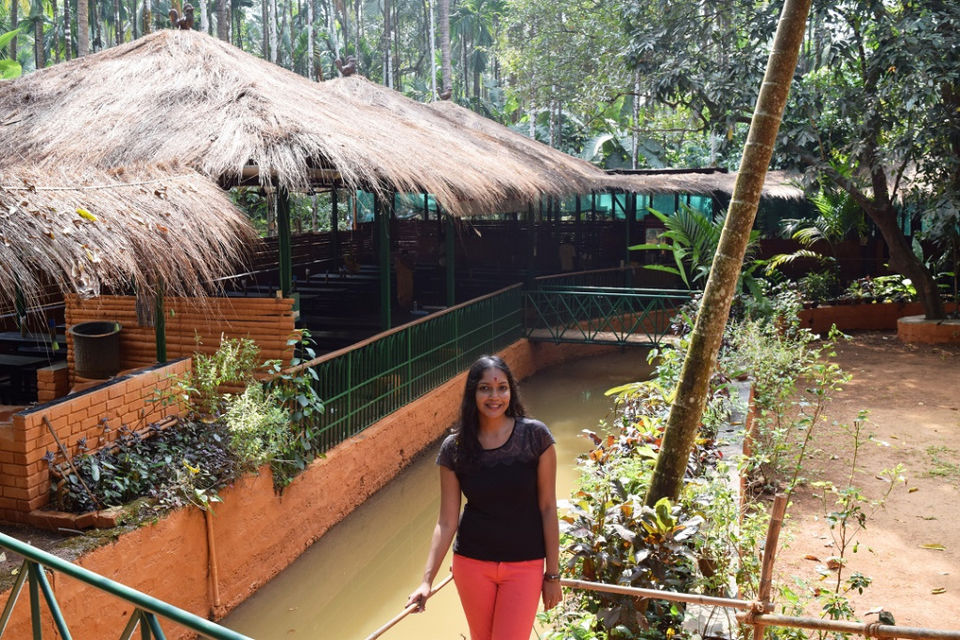 Temples of Goa
There are twice as many notable churches in Goa as there are temples but that's still more than I would have estimated. At first glance, these temples seem different from traditional Hindu temples. To understand these variations in architecture, one has to delve into Goa's history. After tucking into the Saraswat delicacies at Sahakari Spice Farm, we decided to go to the nearby Mangeshi Temple. It is located in Mangeshi Village, which is the hometown of celebrated songstress Lata Mangeshkar's late father.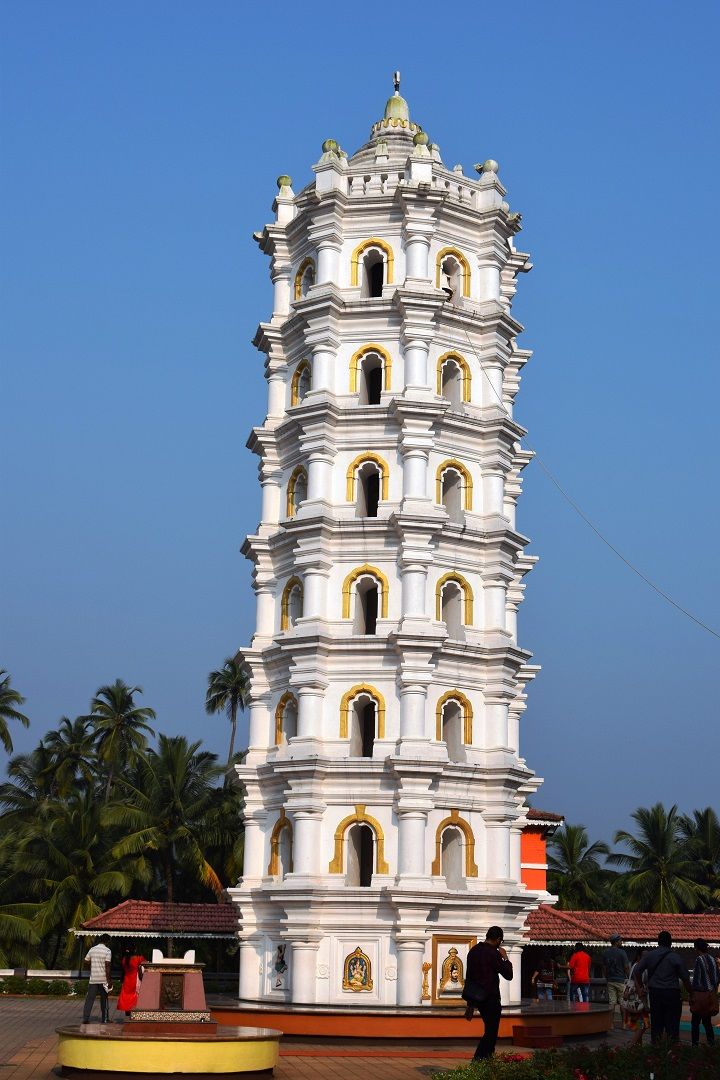 The six-storeyed tower is pristine white with gold-rimmed windows and has spaces for lamps on either end of each storey. I could visualise its stunning splendour when all the lamps are lit at night during a festival. The 450 year old temple is dedicated to Bhagawan Manguesh, an incarnation of Lord Shiva and the kuldevta (family deity) of many Goud Saraswat Brahmins, a prominent Marathi community.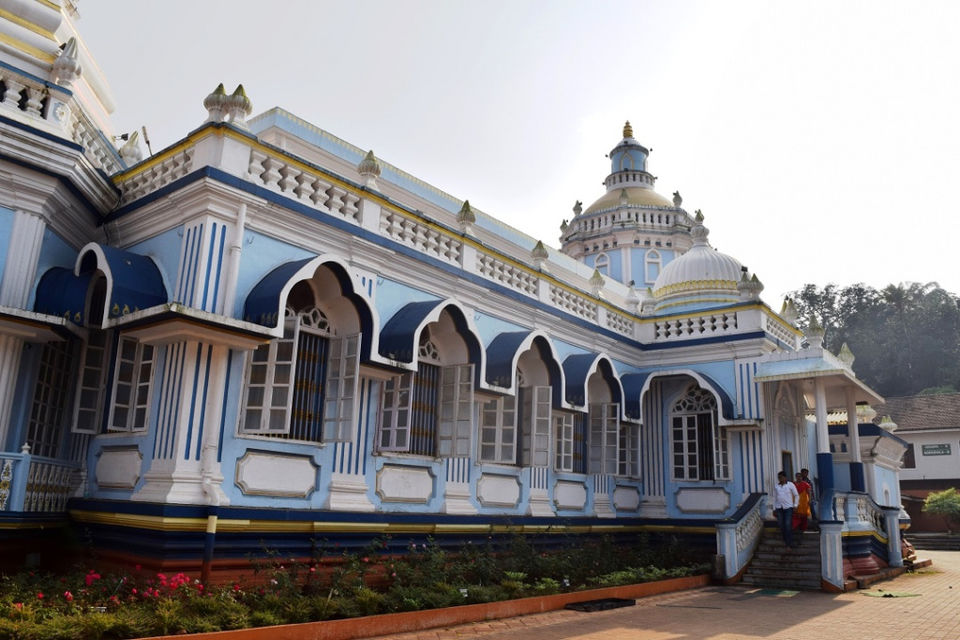 Under the Portuguese reign, Goa lost many of its best temples but a few new ones were built after much opposition in the 19th century. Apart from modern Portuguese influences, Goan temples also sport Mughal-style domes instead of the customary shikaras (source: Goa Tourism). Old Goa was established as a trading capital by the Adil Shahs of Bijapur.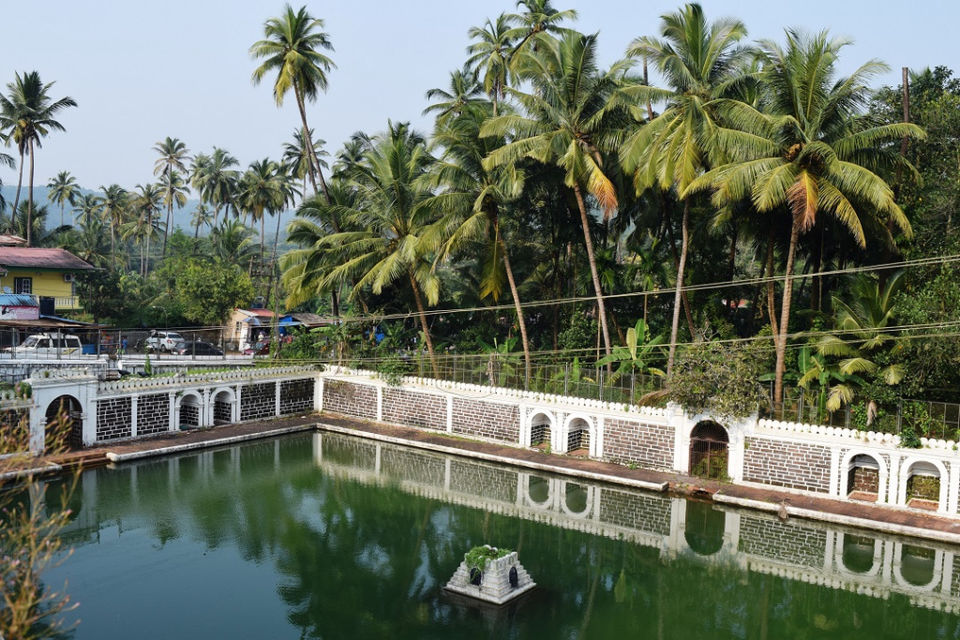 Don't forget to examine the temple chariot on a visit to Goa's oldest Hindu Temple.
Markets in Goa
Flea markets are one of the biggest attractions of North Goa. Both affordable and alluring, you can get everything from bikinis to summer dresses, shorts, flip flops, chunky jewellery, bags and sunglasses. But did you know that flea markets in Goa were first started by hippies who didn't have money to go home? Tired of India after the sheen of the Hippie Movement wore off, these vagabonds began selling second-hand foreign goods to the locals. We encountered beautiful lamps, mugs, tea cups and leaf-shaped Ganesha figurines in the row of shops outside Mangeshi Temple.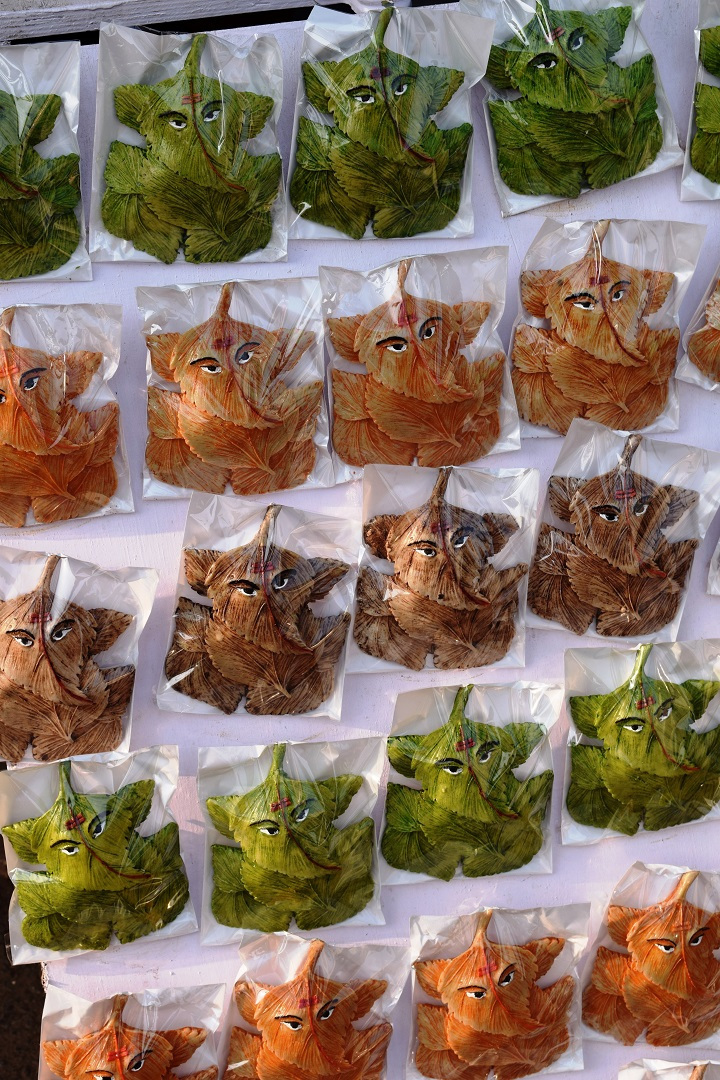 The wares were refreshingly different from the other more popular flea markets.
Next on my Goa wishlist is boating in the backwaters and visiting Dudhwa Waterfall post monsoon. What about you? If you enjoyed this post, check us out on Facebook, Twitter, Instagram and subscribe.
This blog was originally posted on Trail-stained Fingers.