Hello travelers, it's my first blog, please pardon for any gaps. Do leave your views.
Once I heard about the snow fall, around the holi time 11 mar 2017, the travel bug inside me was panting to go out for some fun in snow.
I and one of my colleagues had been planning for Triund since last 2 months, but couldn't execute the plan. We had a destination in mind and we both were definitely going for the trek.
I discussed the plan with other colleagues and in no time we were a count of 5. Everyone being from same office and same department we couldn't get a leave. So we decided to cover the trip over the weekend. Plan was to leave from Gurgaon on Friday noon (17 mar) and return by Sunday night(19 mar).
The day arrived and we were all set for the trip. All 5 of us reached office with our backpacks. We had plans to go via XUV 500, but at the last moment we found that there is a leakage in steering oil and mechanic advised not to take a chance, so we had to accommodate in a Vento being the only option available with us at that point of time.
We were lucky enough to escape from office at 2PM on Friday i.e 17 Mar 2017. It was a brand new Vento with odometer reflecting just few kilometers over 300. We were all excited to venture out in a brand new vehicle. As soon as we got in the vehicle we brutally tore all the plastic covers - whether on headrest or on seats, door handles etc.
Being lunch hour everyone was hungry, so we stopped at Delhi Cantt to have some Samosas and Pakoras along with Tea.
Our next stop was Motel Golden Saras, Kurukshetra. We reached there around 5:30PM - had some food, tea lovers had tea and sutta lovers had their sutta. Everyone was set in vacation mode by now, we had crossed NCR and traffic had got smoother and faster. We took a slight wrong turn at Una crossing but were back on right track in no time. It was around 9 PM and the 3 in the rear seat were already feeling jammed and wanted to stretch. The incline had just started. We halted around 9:30PM at a road side dhaba for dinner. As we stepped out of the vehicle the icy winds forced us to put on some woolens. After enjoying our not so tasty dinner we moved further and decided to stop at the guest house. Guest house had been booked just behind the bhagsu-nag temple. We selected this spot as the trek starts just from bhagsu-nag temple.
We reached the Mcloedganj at 12:30AM and parked our car at the parking before the waterfall. It was too windy and cold. It took us couple of minutes to adept to the icy winds. We called our guest house guy and he came to receive us. Given the location of the property and hour of the night it would have been impossible for us to track the place. We settled down in our rooms, one on ground floor and one on 1 st floor. We hesitantly inquired from the staff if we can get something to eat or drink. Only option available at the point of time was hot milk so we ordered for the same. While we were enjoying the cold weather in green area suddenly an idea popped up to go to waterfall right at the bottom of night to which everyone agreed. We also asked the guest house staff to accompany us who first refused, but subsequently agreed. We gulped the hot milk, which was even a pleasure to hold as our fingers were freezing due to cold winds. Soon all of us go ready with an extra layer to cope with the wind, a torch for the dark. In no time we were on our way to the waterfall, completely deserted, except 6 wandering souls, only hoping there is no wild animal following us. While we were walking the guest house staff again warned us that we should not go at this hour, as a dead body was found at the waterfall in winters. As per him the body lied there for a long time and decayed in water. Each one of us stopped there for the moment trying to be adventurous and courageous at the same time.
We managed to convince him to go further, though by now everyone had developed a fear somewhere in their mind. After a 10-15 minutes' walk we reached the waterfall. Tried to take some pictures through our mobiles, but it was either too dark without flash or too bright with it.
We sat on the rocks at the waterfall. Sutta guys rolled up cigarettes and enjoyed. The sound of gushing water was piercing the silence of the night and the moon light was reflecting its charm on nature's beauty. While the 5 souls were relaxing in the lap of nature, the guest house guy had to hurry. So, we spent around 30 minutes there and then headed back to guest house. We reached the guest house around 2 AM, sank into our beds, decided to wake up at 7:00 AM and start the trek by 8:00AM. Everyone silently agreed, only thinking if it was realistic.
There are two way to reach Triund top - one via Galu temple and other one via Bhagsu- nag temple and waterfall. Galu temple trek is more of paved and cemented, while the bhagsu trek is paved till waterfall only, which is hardly 10 minutes form the temple. We started at 11AM ???? which was far behind the scheduled plan. We crossed the waterfall from the top and reached the other side of the valley. There is Shiva café on the top of the waterfall (It has some rooms also if one wants to stay close to the falls). The real track starts from here. There is no marked or paved way, but a trail goes through the forest. We followed the trails and at times foot-marks where the trail disappeared.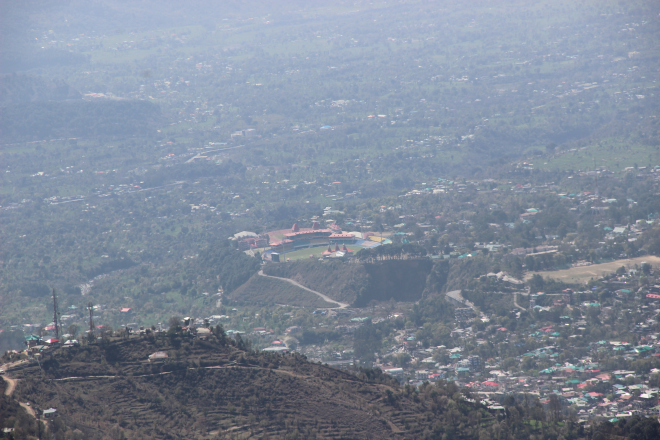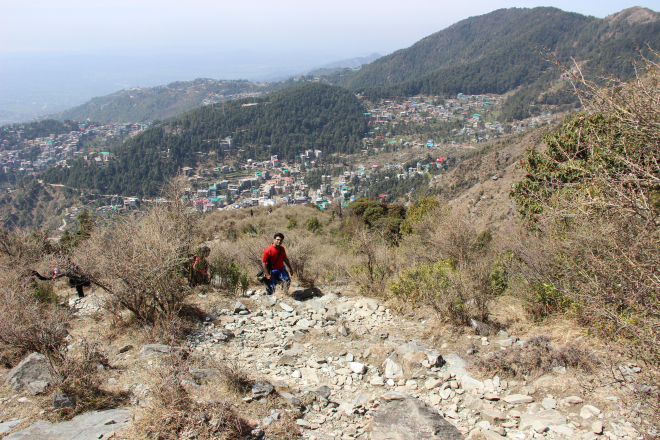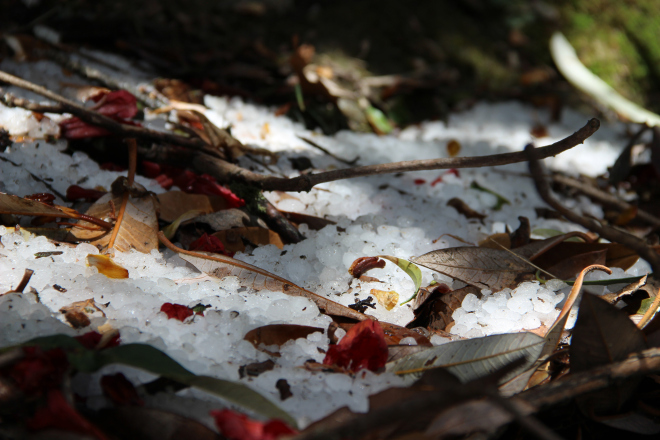 We took a guide with us as we were going through the less travelled route. It had rained a day before, there were large patches of hail, looked like it had also hailed heavily. Also took some shots of the hail covered with fallen leaves, a beautiful color contrast created by nature, now in our cameras.
Our campsite was half way to the Triund top. The trail till the camp site was a mix of easy and moderate trek. Once we reached the camp site we unloaded ourselves and relaxed in the sun. All 5 of us enjoyed basking in the sun with a cup of hot tea. We had met a group of other trekkers on the way, whom we crossed and our guide was waiting for them to arrive so that we could together head for the top. But after waiting for half an hour we insisted our guide to proceed. As we started the trek we realized that it was almost like climbing the mountains. Guide advised us to locate the best possible route for ourselves where we could find grip and support. We literally made our own way crossing 5 mountain tops. Last one hour of the trek was filled with snow and it looked like we were the first ones to step on it. On the way there was a flat land with patches of snow and a large partially frozen pool of water. We did a small session of photography over there.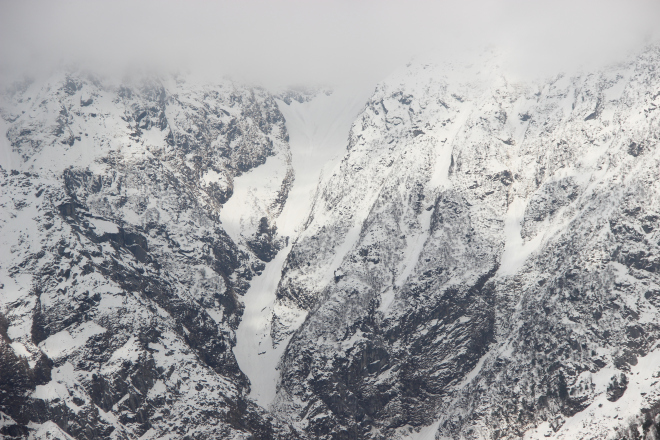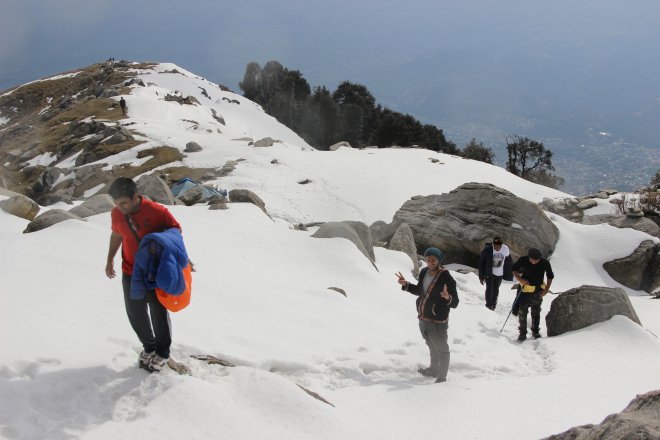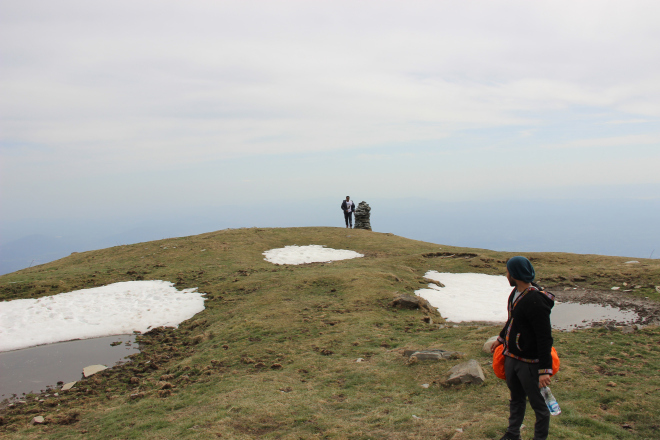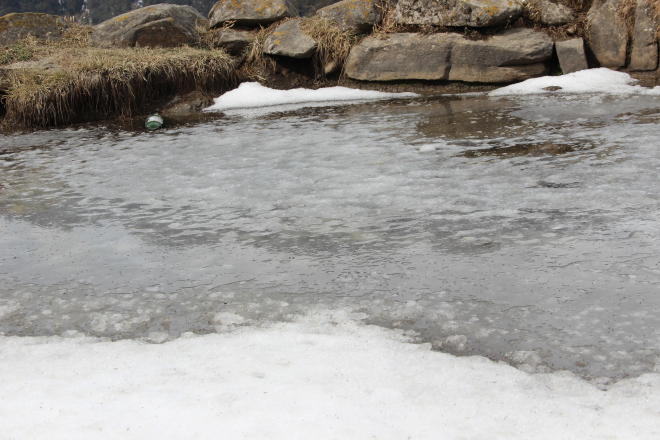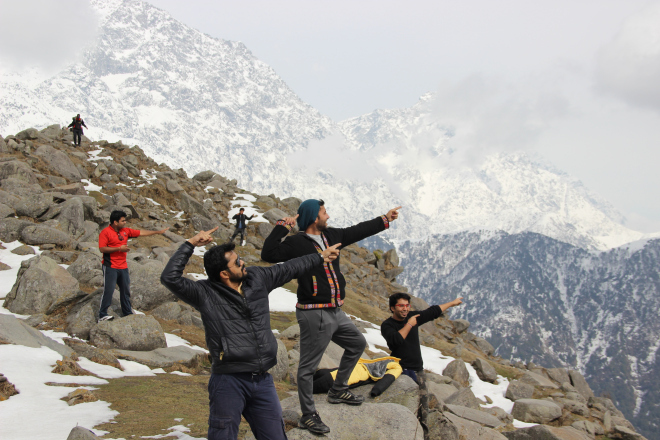 As we further started our ascend to the top we met a group of ITBP soldiers who went to the top in the morning and were returning to base. We had a small chit chat with them and they told us it was part of their daily routine. We took some pictures with them and thanked them for being there for us, the citizens of India.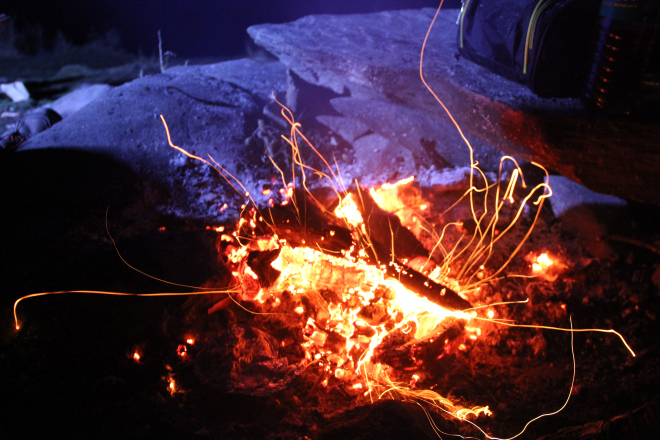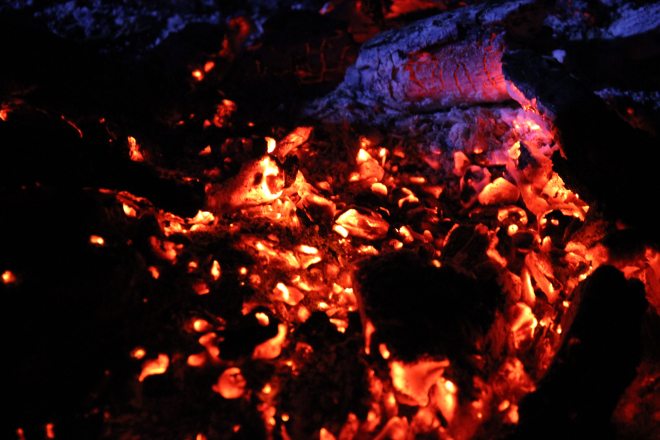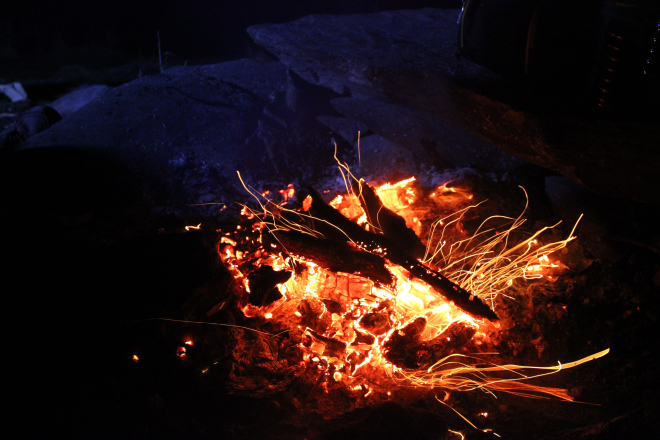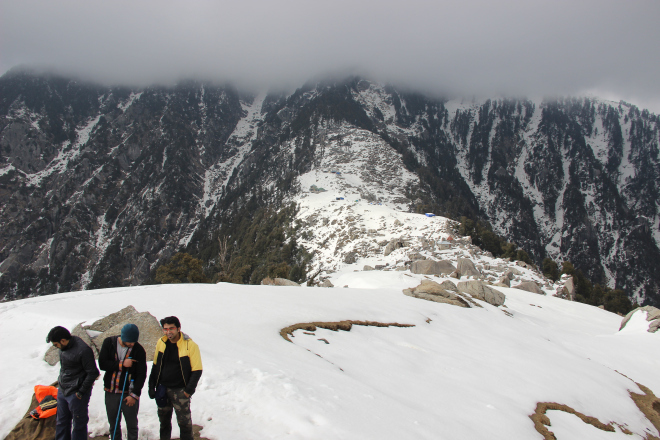 From there started the real snow trek. It was around a foot of snow in between huge boulders and it was really difficult to assess the stepping points. Trekking poles which earlier seemed to be burden became everyone's requirement. It was fun and adventurous spotting our way to the top. Our guide being a local was hopping on huge stones which we couldn't, and helped us whenever we needed him. Once we reached the top it was a mesmerizing sight and a treat for the eyes. We all felt like we had accomplished something great. But the struggle was not over. As we walked farther from the forest guest house the depth of snow increased and it was more than knee deep at places. Curious and tired at the same time, we spotted a small tent after a walk of 15 minutes, which was someone's house. There were some huge rocks on which we rested, clicked photos and had fun. We could clearly hear the sound of snow sliding down the mountain tops. (Avalanche)
We cleared out the snow from our shoes and clothes and decided to head back to the base. During our ascend journey we had inquired about the availability of tea and maggi at the forest guest house. We reached the guest house now and ordered tea and maggi twice. The warmth of tea took over the taste and as we could feel some warmth seep through our bodies. Honestly, taste didn't matter at that time.
Post that we started our descend to the camp site. We met the other group on the same flat ground while returning. Unfortunately, the day was getting dark and due to which they could not go up any further. Our guide joined the other group to help them climb and descend while we moved down on our own. We were at our camp site in daylight and rested for some minutes on the ground. As it started getting dark we all got settled and made arrangements in the tent, so as to have our beds ready at the time of sleeping.
After some time the bonfire was lit and we were enjoying the cold night rolling and sipping. We had a long conversations on multiple topics. Gradually everyone but we and a few dogs had not slept. One by one we all went and picked some woods to keep the bonfire alive. There was no sign of stars and galaxy as it was too cloudy. We checked the clock it was past 2AM. We decided to sleep as we had to reach Gurgaon the next day. The dogs followed us to our tents and slept near our tents.
We all got up early in the morning and started our descend without having breakfast. We reached McLoedganj before 10AM and straight away went to the same guest house in which we stayed the previous night. We freshened up and headed towards the main square for breakfast. After breakfast we visited the monastery in Dharamshala. The main monastery was closed, but we roamed around the whole place as it was very calm and peaceful. Once out from there we headed towards home. On the way back we stopped for lunch, tea and dinner. Luckily we didn't find any traffic jams on the way back as well. We reached Gurgaon around 1:00AM. We all were tired by the time we reached our home but it was definitely worth the fun.
Friday - Gurgaon(2:00 PM) to McLoedgang (12:30AM)
Trek: around 4.5 hrs to the top and 3 hrs for descend.
Roads were in good condition. We didn't roam around the MC Loedganj as we all had been there multiple time before so there was nothing new for us to explore.
Next write up coming soon....