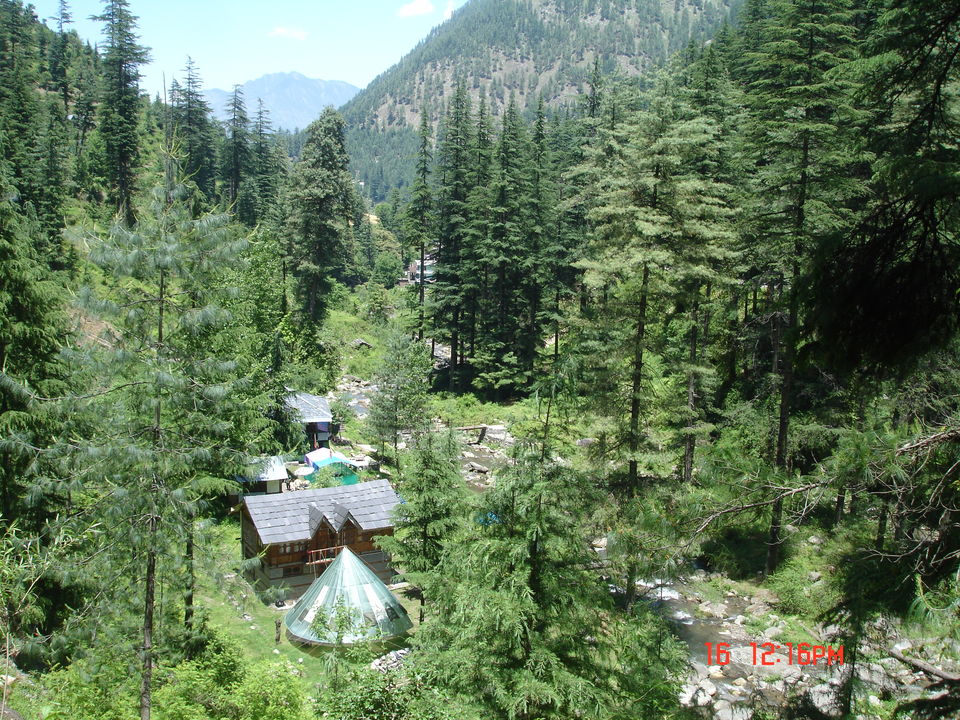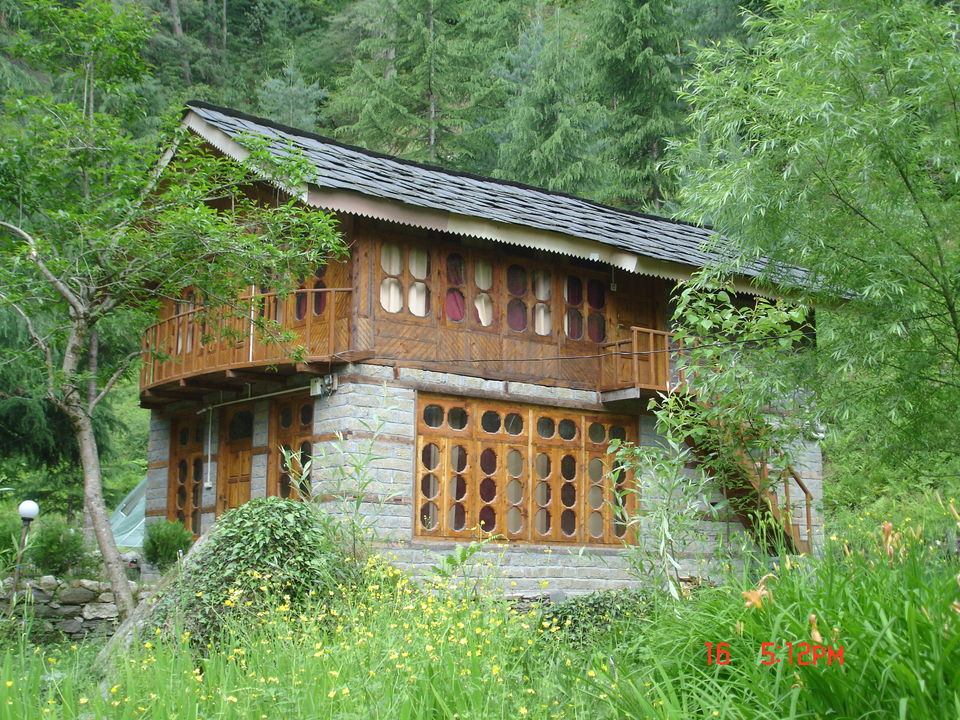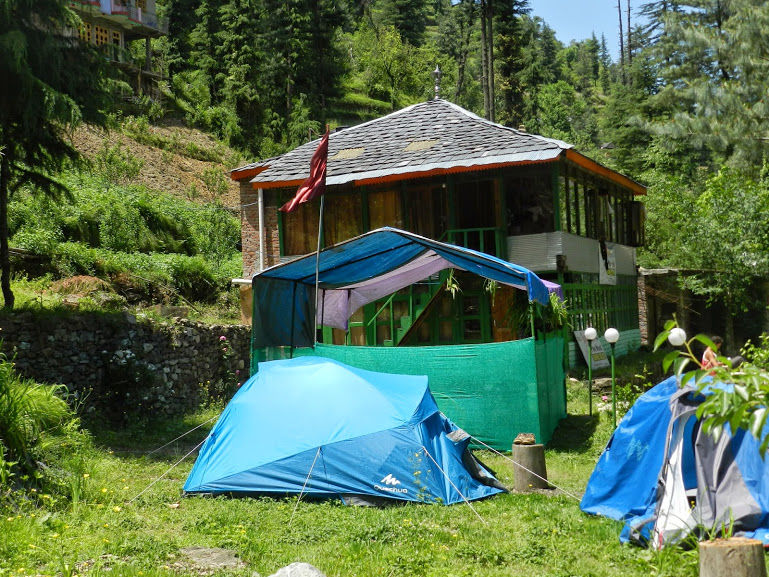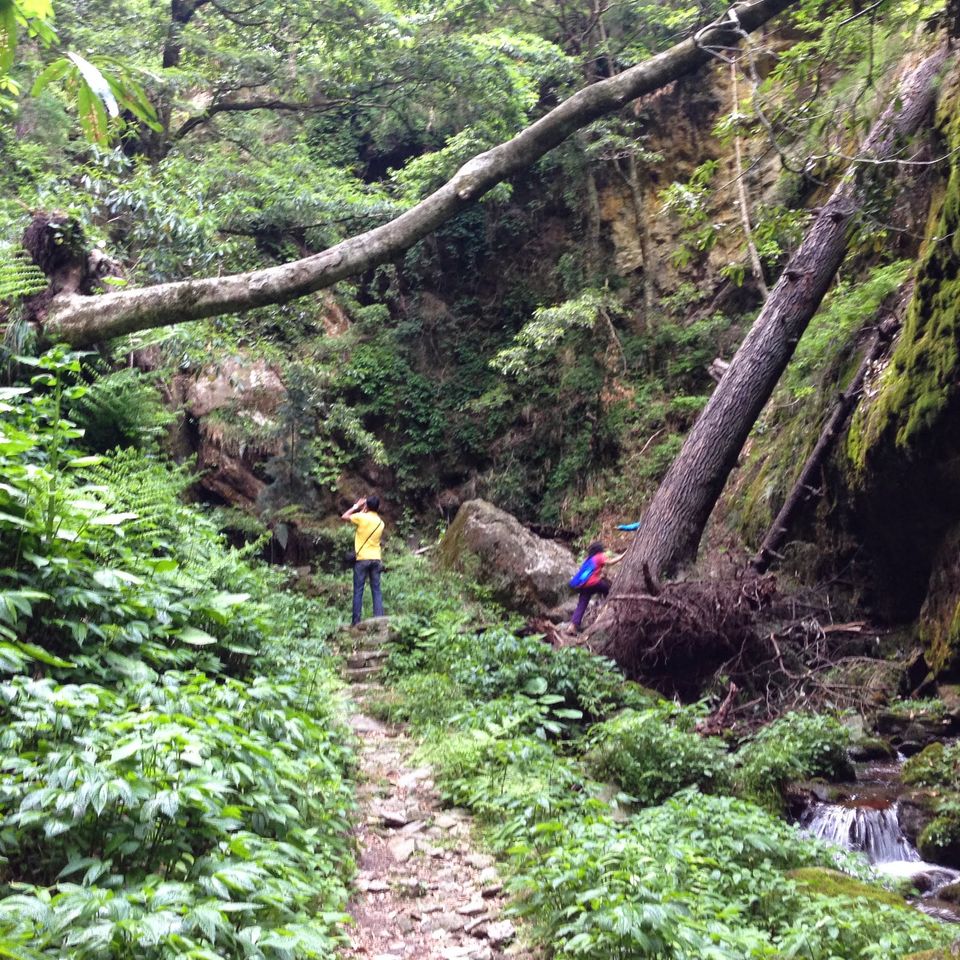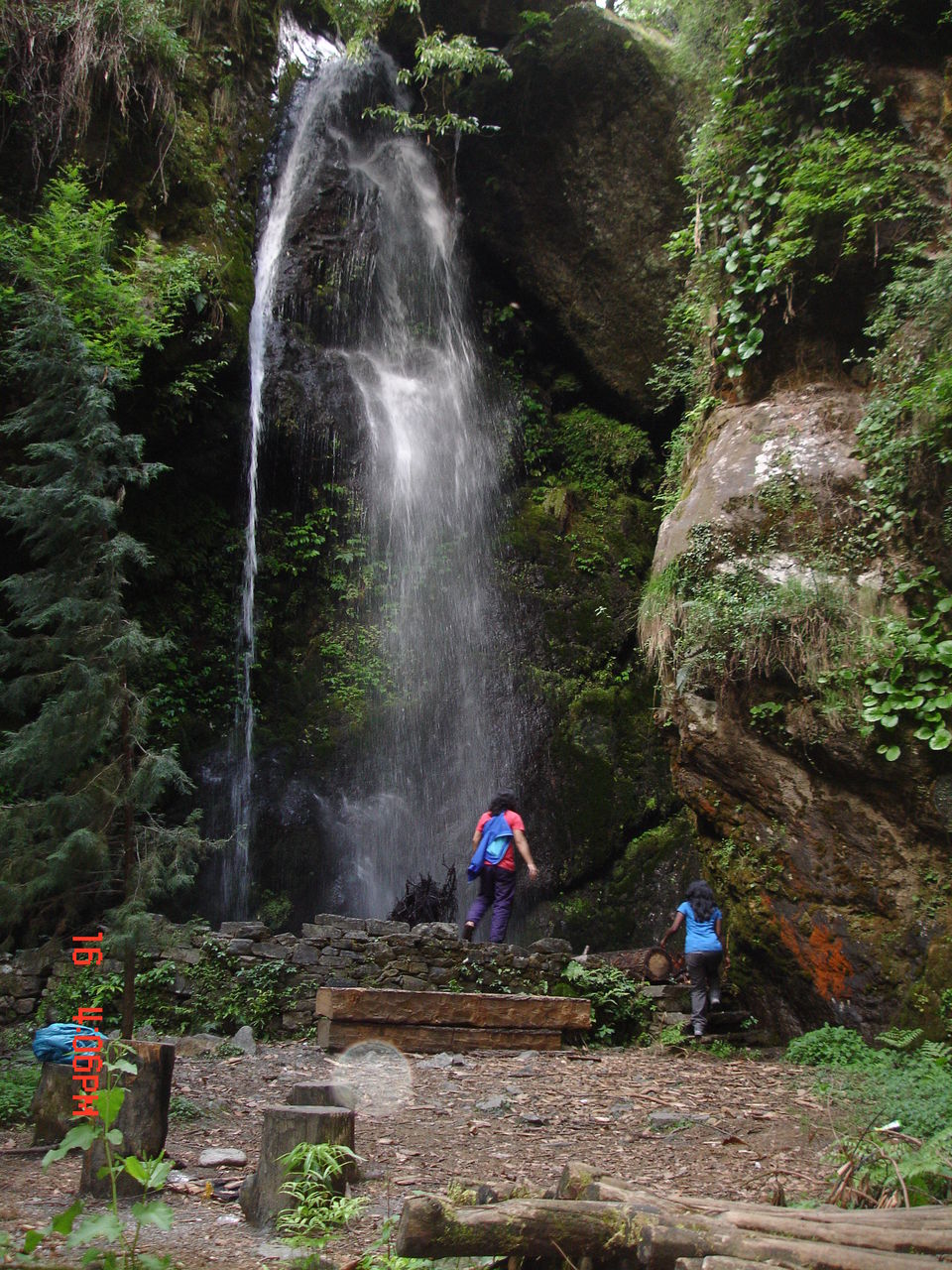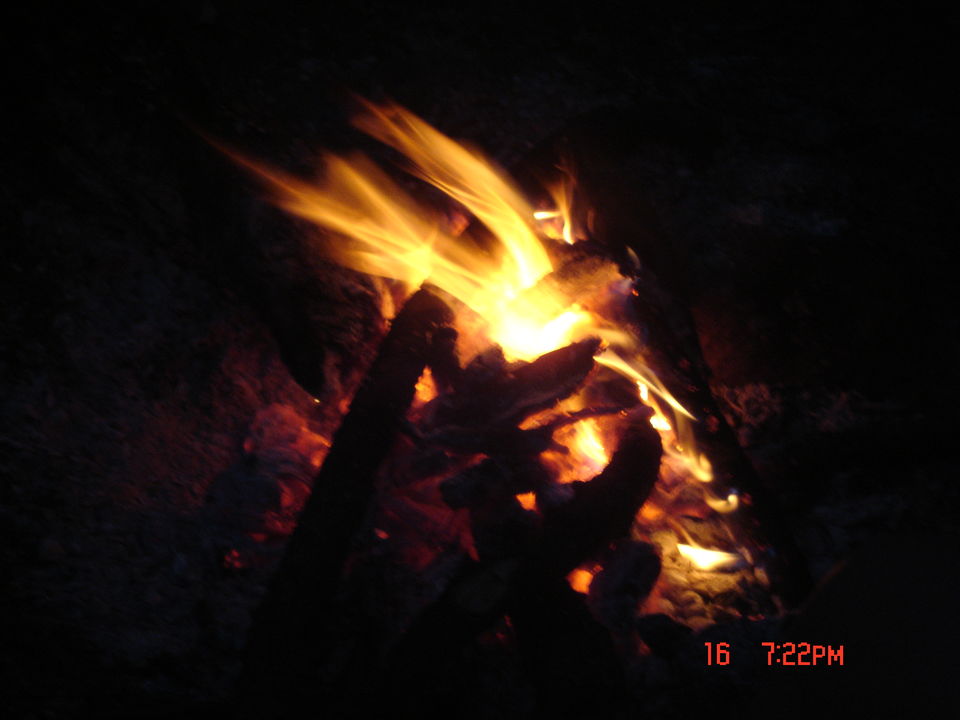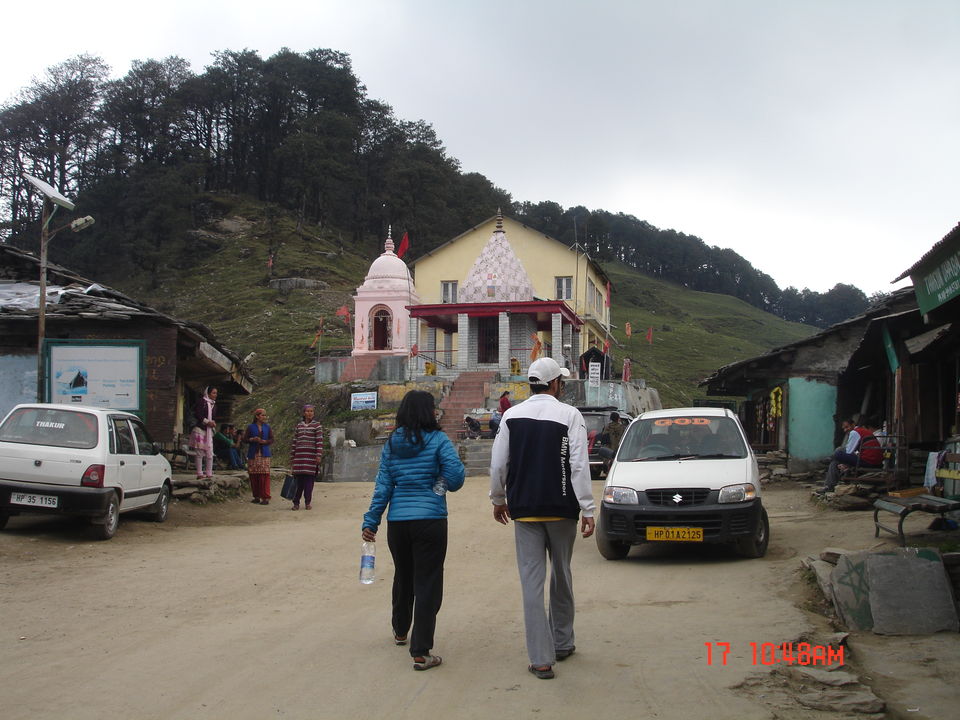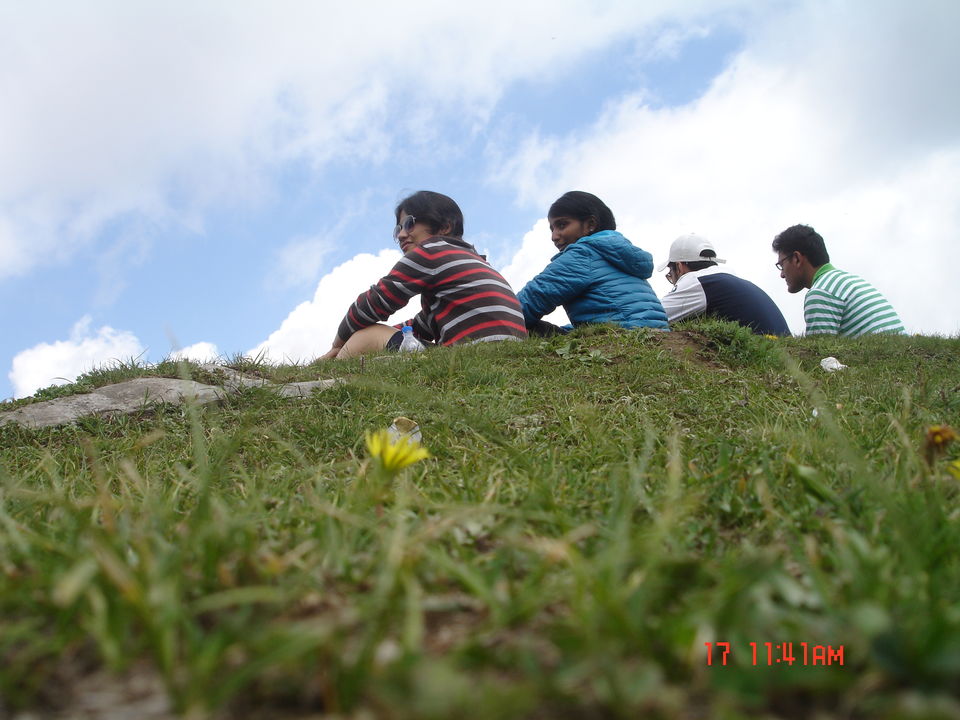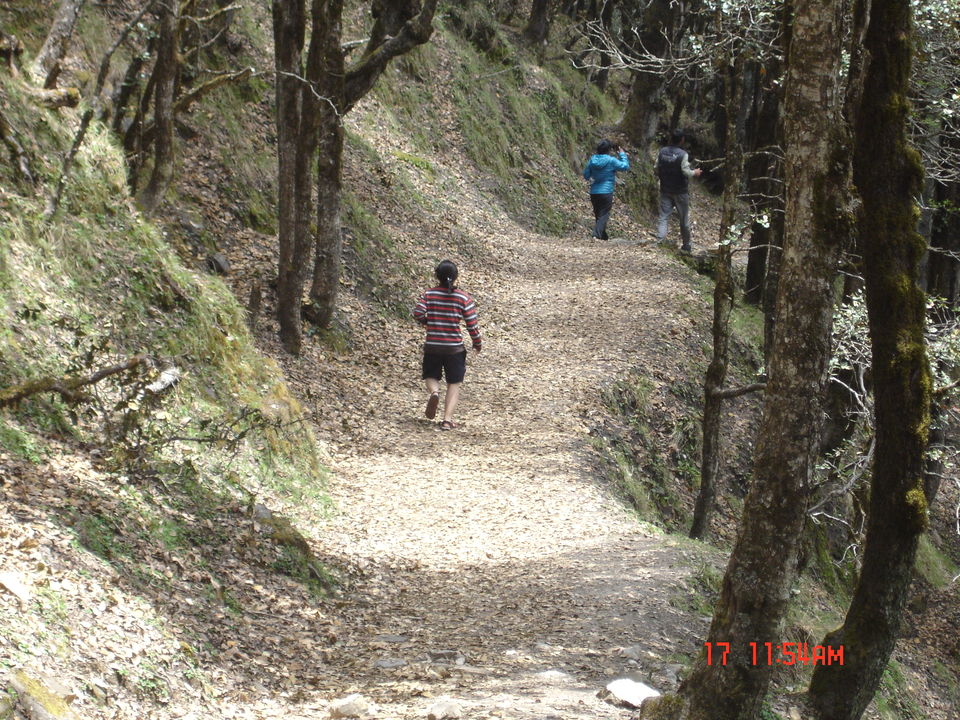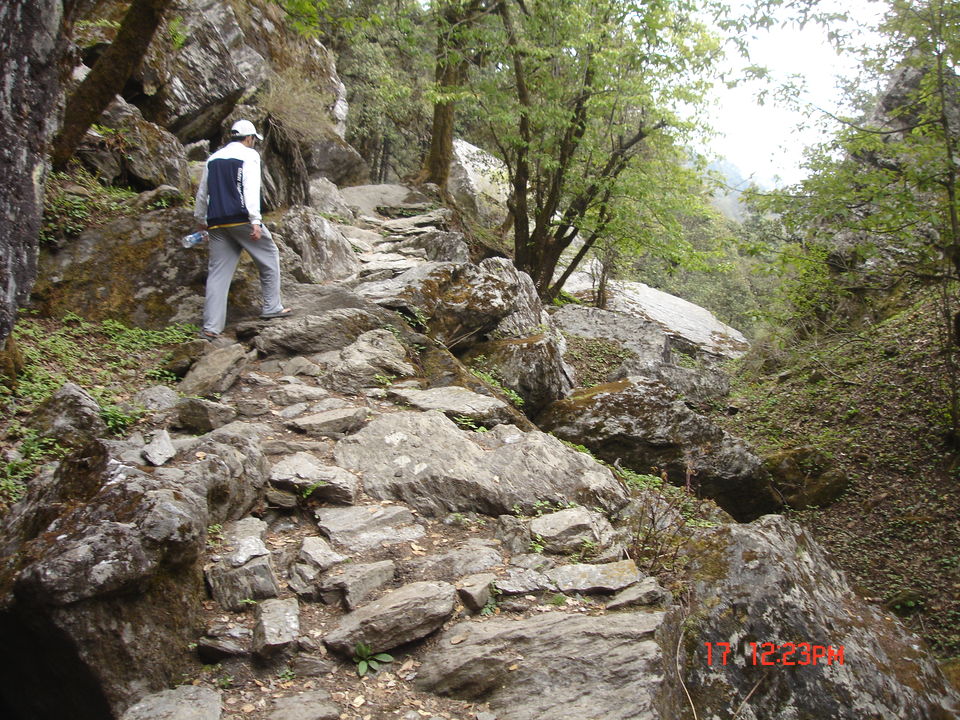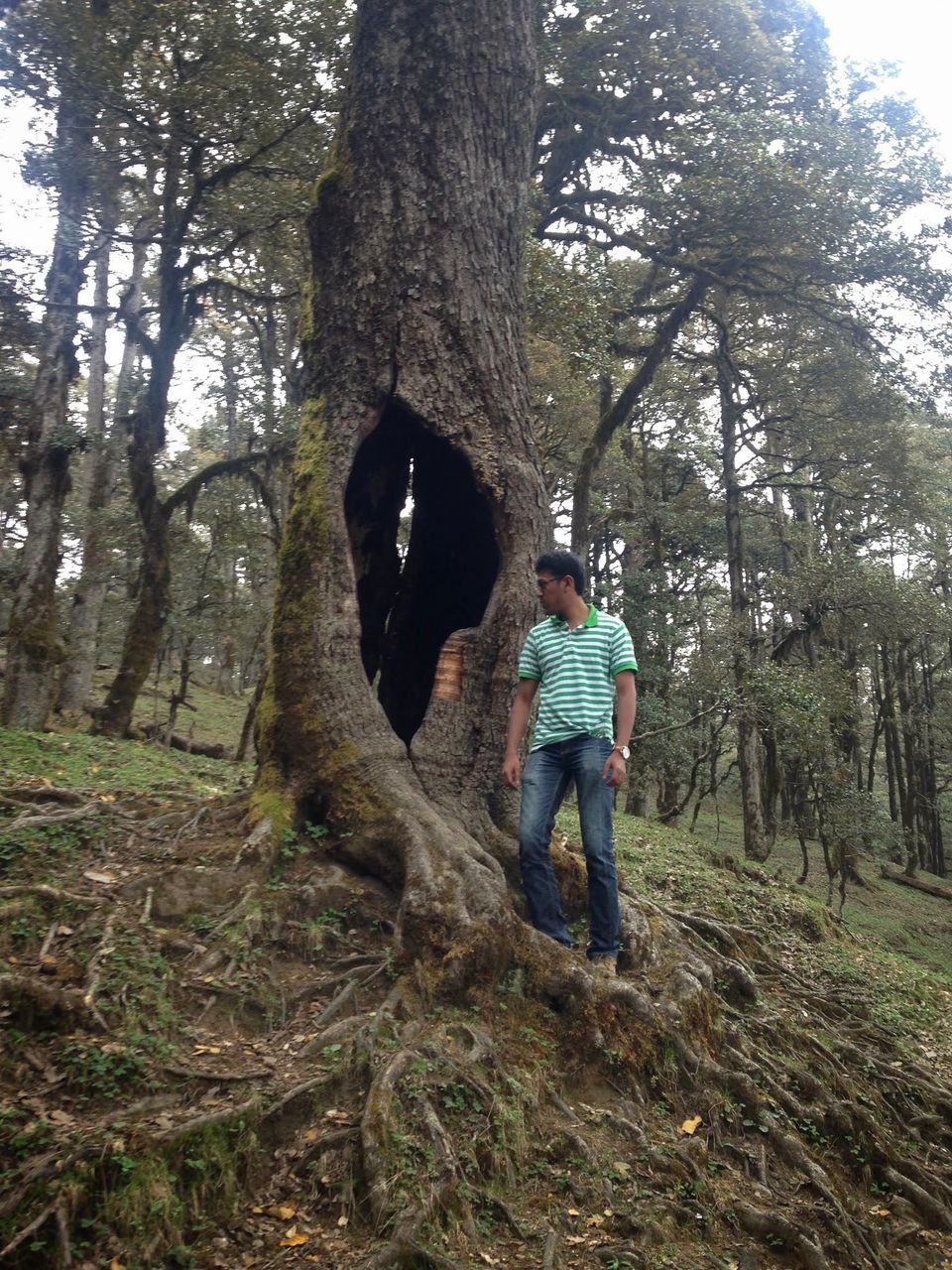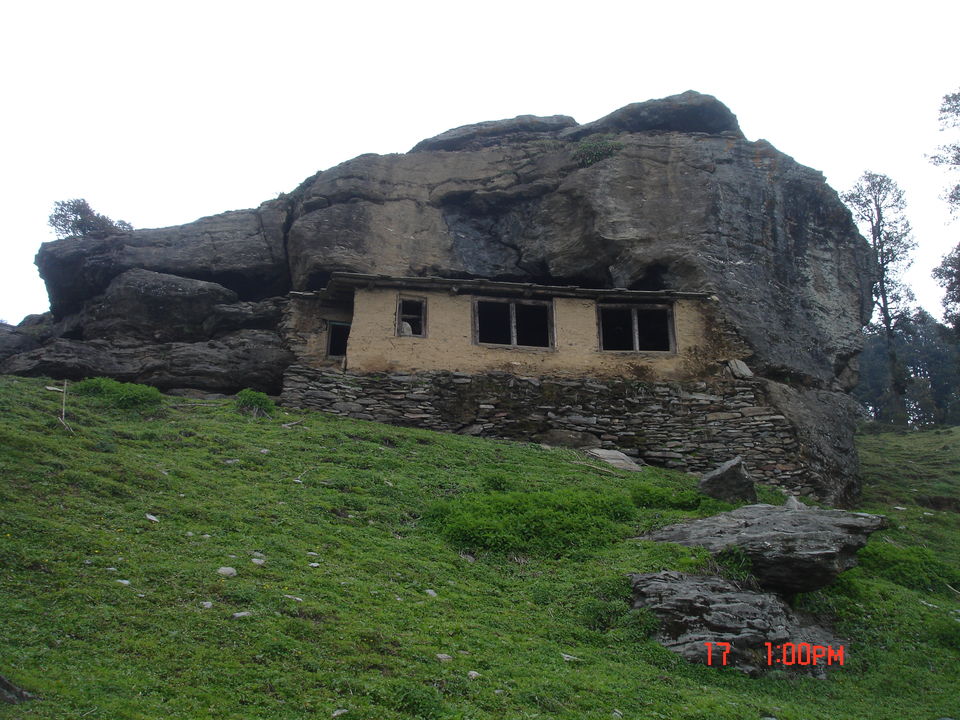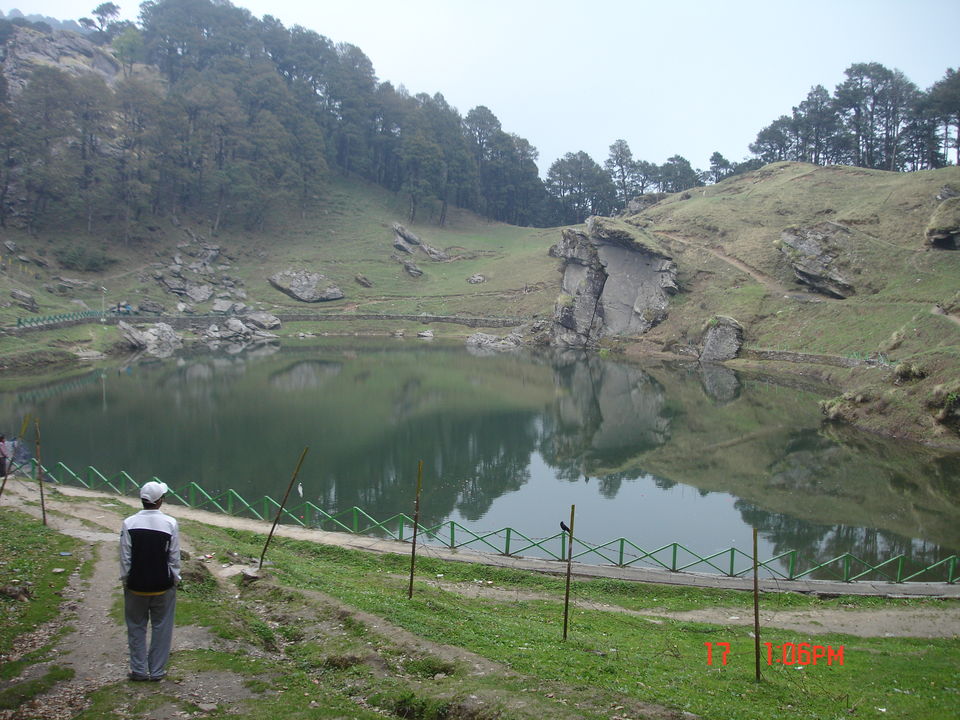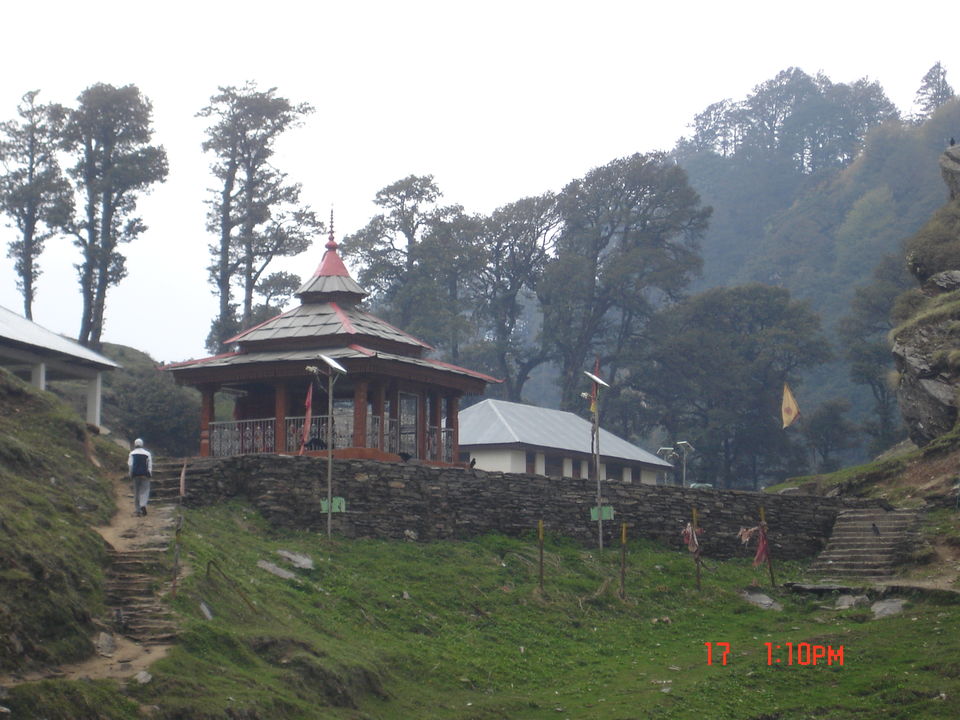 Don't we all wish to seclude ourselves from the chaos once in a while and relax, immersed in divine nature. Jibhi happens to be one such offbeat destinations in Himachal Pradesh where you can surround yourself in utmost tranquility amidst panoramic linage of pine trees, while Pushpabhadra river flows by.
The camp, Latoda Hut offers two identical cottages and is managed by Jagdish (or JD). Both cottages were pre-booked when we reached so he arranged tents close to the river which was rather exciting for us. For lunch a simple meal of dal/rice was arranged. We were amazed to see a video he showed us how the place turns surreal during December/January being covered in snow.
We had few hours of daylight left JD suggested we head to the waterfall nearby, "follow the river upstream once you reach the main road". To avoid walking the winding roads uphill we did some crazy climbing which would have been like 10m high, bloody steep though. Luckily we all did accomplish this foolish endeavour although badly bruised in the process. We proceeded to the waterfall. All around logs of wood lying, rich green flora, birds chirping, insects buzzing. The constant sound of the stream kept us going. The roaring sound kept increasing as we approached closer. Woah! We were overjoyed by the very sight of that beautiful waterfall in it's full glory. I got so excited I went under and everyone followed suite. Buoy was it exhilarating to go under the fall! The water was brute, doesn't let you stand for more than 10-15 seconds. Felt like big hailstones hitting you. That was a good one hour we enjoyed, so fulfilling, it made the day. There are tree trunks cut out as a sitting arrangement. Would've been nice had we carried our rum. Drenched in water we headed back to our camps feeling the overwhelming cold. JD had arranged a big bonfire with snacks and tea. He happily took our request for dinner to be served outside instead of having inside big dining tent. It feels so good to able to enjoy simplest of joys; delicious food, friends, ambience of the wilderness, and the glistening stars above. Just love it. We had platters of chicken and special trout fish. You should inform JD for the trout fish early in the day as they have to go long way to other town. We were lucky that JD could somehow arrange it in short notice. Next day, we had maggi and paranthas for breakfast & left for Serolsar Lake (even packed some paranthas). For Serolsar lake one has to go till Jalori pass and trek ~5kms to reach the magnificent lake. The road to Jalori pass is a bit too steep at certain stretches that we had to get down. On the way lies another great place Shoja (or Sojha) on the edge of the hill facing the valley. The hotel 'Mountain View' captivated my attention and I made a mental note to make a sequel trip here. After an hour drive from Jibhi, we reached Jalori pass (altitude 3550m). There is a Mahakali temple also. The flat meadow here is renowned for a scene from the movie 'Yeh Jawani Hai Diwani', that camping scene where Deepika makes paranthas. At the top of the hill just in front, I spotted some structures. Some locals said it is Raghupur fort. Though the board says that the fort is only 3kms from Jalori Pass I found it hard to believe to reach such height in a short trek. Maybe only when I visit will I be assured. Our trek to the lake resumed. If you are on car, you can take it to about 750m ahead and park where there is HP Forest Development accommodation. Bikes can tread 1km further up ahead. The trek to the lake is an easy one with relatively flat ground. Somewhere you have to climb rocks, somewhere walk down a narrow staircase; that's pretty much the difficulty you are going to encounter. Certain stretches are dotted with beautiful cherry red rhododendron trees on the way. There are big oak trees some of them with such wide holes in their trunk. En route there was a small café where we had a nice cup of tea; met a solo traveler from Israel, along with her guide. The guide told us about a marathon that is organized here every year around this time (May) and invited us all to be a part next year. They went ahead while we took our time. After a while we reached the zenith of the trek route from where we had a complete view of the Banjar Valley. You get some stunning vistas. We sat for a while and ate those paranthas. As we walked ahead, we came across a house built inside the carving of a big rock. There was no one though the conditions appeared as if a family had been staying. People say it had been the home to a retired army officer for 15 years who then became a sage and devoted his life helping the village people and preaching about God Shiva. And suddenly he just vanished and no one ever saw him. JD claims he met him once when he was very young!
Soon we reached the vast lake. There's a small rock by the fence where people stick a coin or put a dab of vermillion (tilak) as a homage. Faith! There is also a temple in the vicinity, if that's not enough. At one edge of the lake, there's a hillock to enjoy the view of the entire area. Sitting on the top of the hillock and looking below at the lake was very scary; it is very high. My friend joked – how about we jump from here as in cliff jumping in Rishikesh. "ARE YOU MAD!!!" The very thought of this horrified me.
We joined the Israeli girl near the temple and shared a couple joints with her. Sunny told us that till date, the exact depth of the lake is still unknown. He shared a story. The locals once tied 60 knots of 10m each and dropped it into the lake with a boulder tied at one end but even that fell short. But they say it's only near one corner. Near the temple there is one staying option where there is no rent except you'll have to pay 20Rs for blankets. Upon asking about the washroom facilities, the guide waved his hand around and said, "yeh poora pahadi ilaka apka hai, kahin bhi karo" (this hill is yours, do your business wherever you feel like). We said goodbyes to them after a few smokes. Returning back to Jalori, we filled our stomachs and waited for our driver to show up. We started our return journey by 4pm taking the Shimla/Kalka route, recollecting the whole trip and good times we had. Planning for Shoja already started in the back of my mind.
Getting to & Moving around Jibhi
Take any bus from Delhi ISBT towards Kullu/Manali and get down at Aut before entering the tunnel. Take a cab (should charge around 1000Rs) or get one arranged by the Guest house. Local buses also ply every half an hour starting at 6am & should roughly take ~2 hours (40kms) and 50rs to reach Jibhi. From Jibhi, there is a fantastic place Shoja at 8kms. From Shoja it's ~4-5 kms till Jalori pass. Local buses ply every two hours or so from Jibhi for Jalori pass, starting at 9.30am and charge around 18Rs. The last bus from Jalori Pass leaves for Jibhi at around 3pm.
Contact Latoda Camps – Jagdish Chand Thakur urf 'JD' – 09418691868.