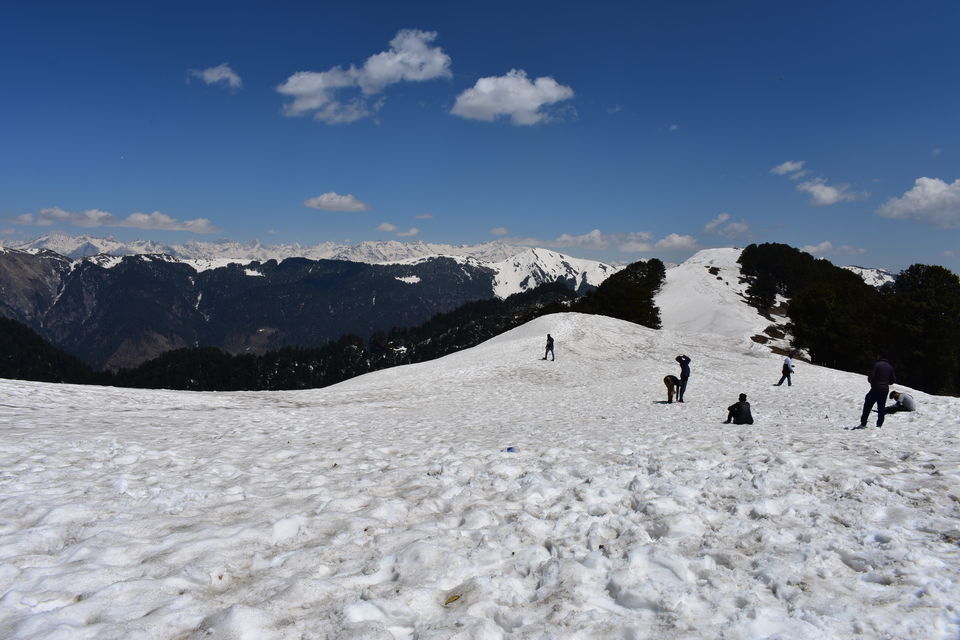 I first came to know about Jibhi from a friend who was planning a vacation there. The name was new to my ears, and the description was enticing. Having never visited Himachal Pradesh-was another lure to go and explore this place.
Hence the moment I set foot in the North of the country, I decided to give in to the temptation.
Saying goodbye to the searing heat of Chandigarh, I and my uncle boarded the Chandigarh-Manali HRTC Volvo.
Hello Himachal, We are here!
Among all the hill states of India, Himachal Pradesh is a popular choice of tourists and backpackers alike. It goes without saying that the state is immensely beautiful. Its proximity from Delhi, safe and stable political environment (unlike Kashmir), warm and welcoming people- have made it a sought after destination.
I had booked tickets for a morning bus, as I wanted to admire the Himachali landscape while traveling to Jibhi. However, I was unaware that a drive through the Chandigarh-Manali highway meant traversing populated hill towns, like Mandi and Bilaspur. In my imagination, the entire route was supposed to be mountains, valleys, and river. Moreover, there is an ongoing expansion in order to make the highway four-lane. This meant that JCBs and people busy cutting rocks and mountains were a common sight.
If your starting point is Delhi/ Chandigarh, board a Himachal Road Transport Corporation bus going to either Kullu or Manali. HRTC AC Volvo bus is available for overnight as well as day-journeys. However, you do not have to go all the way to either of these two places- in order to reach Jibhi, we disembarked at a small town called Aut (around 80 km before Manali) on the Chandigarh-Manali route.
After disembarking at Aut bus stand at evening at 5 pm, we looked around for share cabs to Jibhi. We only found some empty cabs plying there. Wondering where the cab drivers were, we enquired in the nearby shops and decided to board the bus to Banjar. In one hour we had reached the town of Banjar. From Banjar, we were easily able to hail a cab for Jibhi for 300 bucks. The entire journey from Aut to Jibhi is very serene, and the route passes through pretty Himachali villages dotted with apricot trees in full bloom.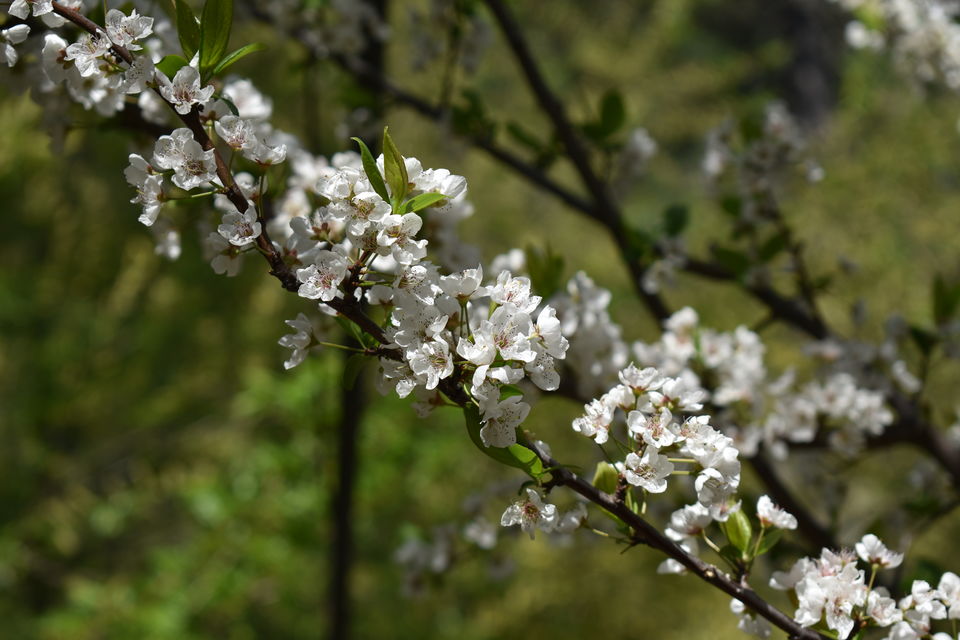 Where to Stay?
Our cab driver was well aware of the place we had booked for our stay- Doli Guest House- owned and managed by Mr. Rana's family. Mr. Bhagwan Singh Rana is the man responsible for developing Jibhi as an eco-tourism destination. He started the guesthouse way back in 1992. For many years all his guests were foreigners, who would spend a long time in Jibhi trekking, meditating or just being one with nature.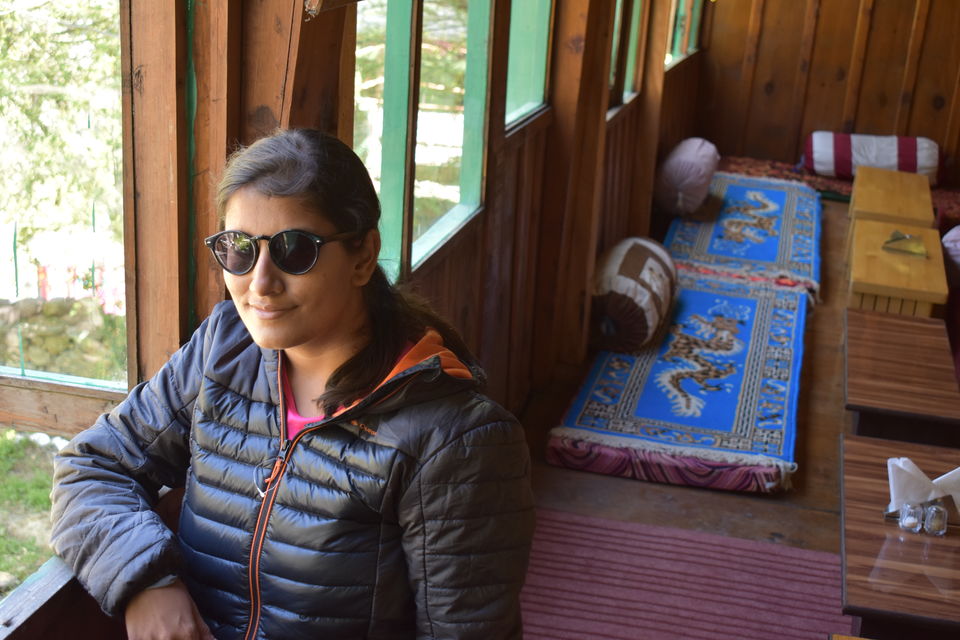 Thanks to the advent of social media, Jibhi has gained popularity among Indian travelers as well.
A a good number of stay options have sprung up in Jibhi, that can be booked in advance through various online booking portals. The choices range from a cozy cottage to campsites near the Jibhi river, hostel or a homestay.
However, Jibhi is not a crowded hill station like Shimla or Manali. When you are in Jibhi, expect yourself to be away from the hustle and bustle of such popular tourist places. This is a place where you can take a break from the maddening pace of your hectic life...lie on a hammock for hours or just sit near the flowing river as the cool air caresses your face!
Day 1- Sliding down the snow at Jalori Pass
The next day, we decided to visit Jalori pass and Serolsar Lake. We waited outside our guest house for the public bus to arrive, after enquiring about the timings beforehand. After waiting for an hour, the bus didn't turn up and we ended up getting a cab for a round trip (through our guest house) to go there.
We were in in April first week, but this being a heavy snowfall year, high altitude places like Jalori pass were still under a thick blanket of snow.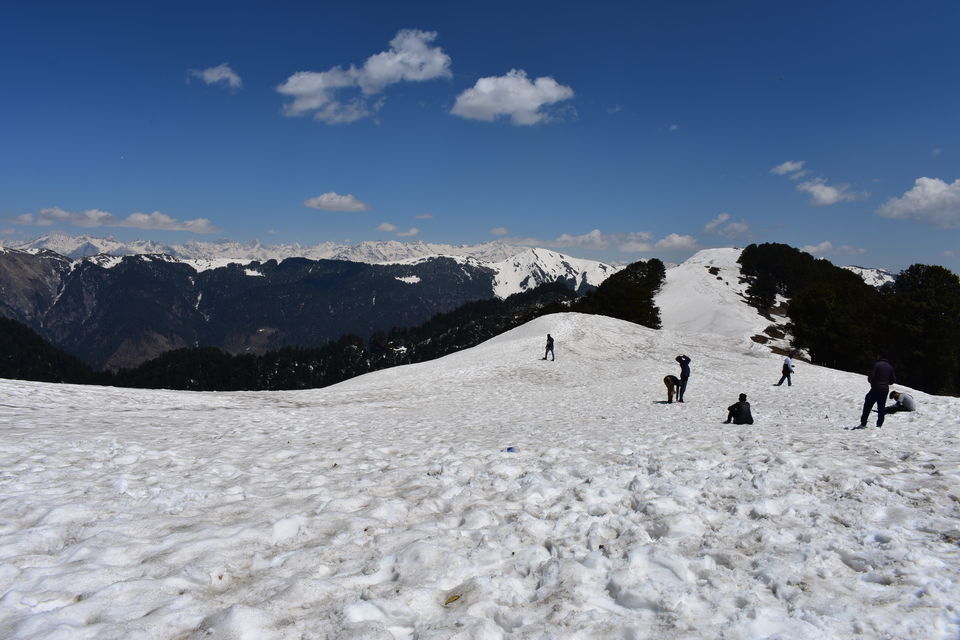 Due to the accumulation of heavy snow on the trails, our driver Sanju advised us not to trek to Serolsar lake or Raghupur fort. We had no experience of walking on the snow, so we decided to pay heed to his advice. We chose not to trek and enjoy the snow at Jalori pass.
Our driver Sanju also accompanied us on Jalori pass so that we don't slip while walking on snow. He took us to this temple on the pass and said that locals call this place 'Shooting Point', as a scene of the Bollywood movie Ye Jawani Hai Diwani was shot here.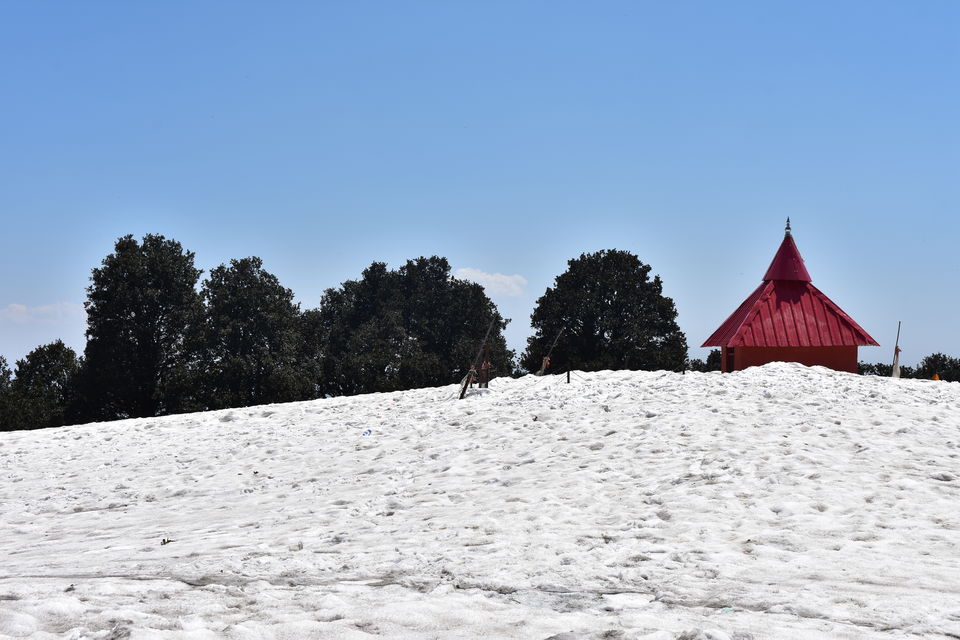 We did not regret missing out on Serolsar Lake, as the panoramic view of the snow-clad peaks all around us, gave us more than what we could have asked for.
Sliding down on the snow added to our cheer.
Soon, our gloveless hands went numb from playing with snow, and we headed downwards from the pass. We had a sumptuous lunch of Rajma Chawal, Kadhi Chawal, Maggi along with cups of hot piping tea a nearby dhaba.
Our tummies were full and our hearts filled with contentment!
After the tummy filling lunch, we drove to the village of Chehni, where a short but steep trail took us to Chehni Kothi.
A short while after walking on the trail, we reached a plateau where there was a temple. The priest of the temple told us the history of the temple, which linked the place to the epic Mahabharat.
After paying our reverence to the deity, we continued on the trail- with the lovely fragrance of Deodar lingering heavily in the air.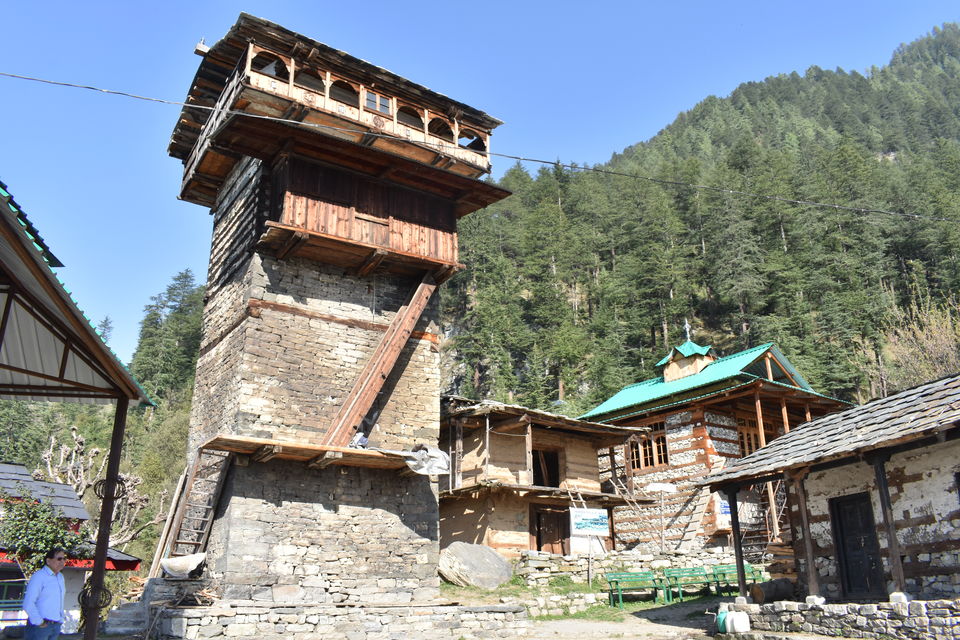 The Chehni Kothi is a surviving symbol of the ancient Himachali architecture. Entry inside the structure is not permitted though. There are one-two shops nearby, where you can get some refreshments to energize yourself after the hike.
Descending down, was of course, easier than climbing up.
And I also met this cute doggy on the way back ????
Day 2- A short trip to Tirthan Valley
Having heard about it from fellow travelers we met in Jibhi, we decided to head to Tirthan Valley for a day excursion. We drove from Jibhi to Tirthan valley, crossing the town of Banjar in the midway.
Tirthan Valley is basically a low lying area where the river becomes wider and more approachable. After obtaining necessary permits, one can enjoy angling/ fishing here, as trout fishes are available in plenty. In fact, the area is a hub for angling enthusiast, and there are stay options in Tirthan as well.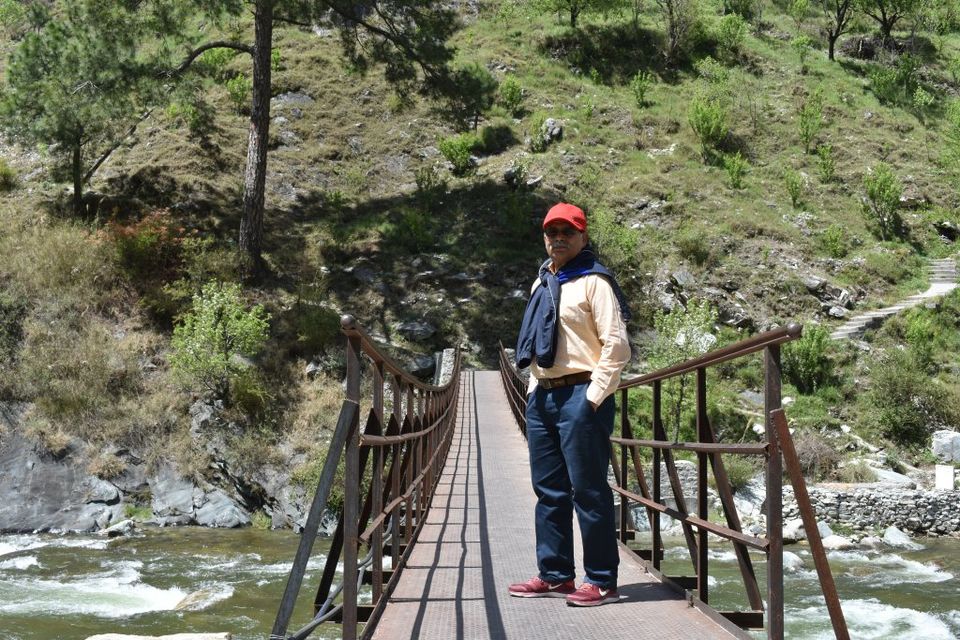 However, Tirthan being a valley is warmer as compared to Jibhi (which is higher up). The heat became a bit tiring for us to cope up with. It had also something to do with the heavy breakfast we had indulged ourselves in (parathas+omlets+lots of tea). Dipping my feet in the river and splashing my face with its icy cold water gave me some respite, but it was not possible to indulge in something demanding. We had initially decided to hike up to a nearby waterfall, but instead, we choose to have hot cups of tea at a place nearby.
(Our trip was peppered with many cups of tea!).
Tirthan valley also serves as the entry point for The Great Himalayan National Park, but the place needs 3-4 days to be explored in a true sense (camping and safaris).
We came back and spent the rest of the day walking in the village. The cool climate and quietness of Jibhi make it an ideal place for long walks.
Day 3- Long walks and Jibhi Waterfall
This was our last day in Jibhi, we were set to begin our return journey in the evening.
We decided to visit the Jibhi waterfall. We visited the nearby Sheshnag temple and asked a girl for directions for Jibhi waterfall. She mistakenly told us the way to another waterfall which was located in a faraway village.
After a while, we felt that we are walking in the wrong direction. Asking a few people for the directions, we came back to the main road, realizing that our actual place of interest, was quite close to where we had started from!
Jibhi waterfall is a charming place, and the villagers and authorities deserve appreciation for its maintenance. There is not much walking involved in reaching the waterfall from the entrance. There are some small, beautiful wooden bridges built over the flowing water where you can get those 'insta-worthy' pictures clicked.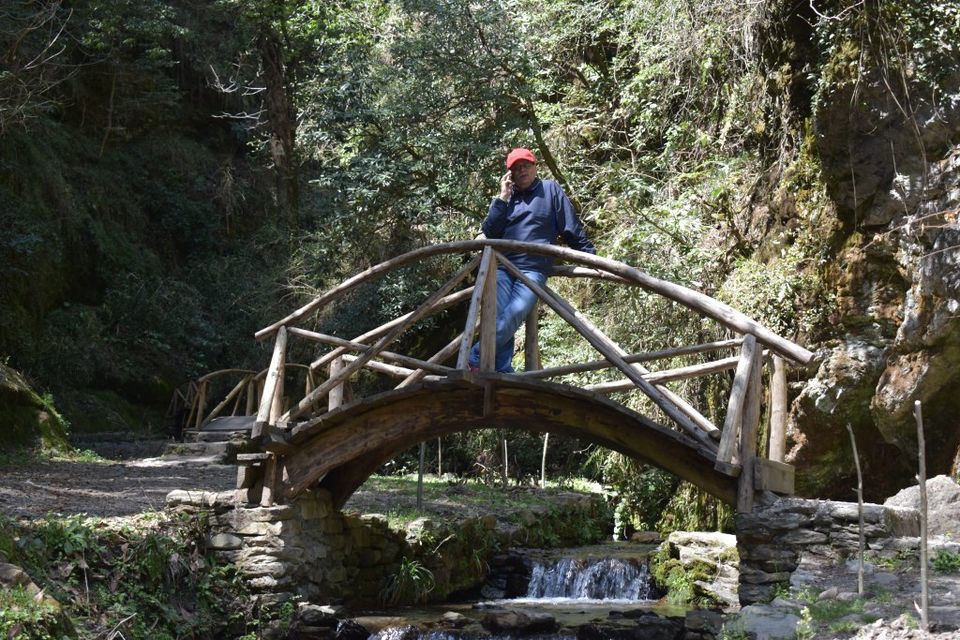 The entire area and the waterfall are very clean, and there is no crowd or hooliganism here.
A great place to just sit by and listen to the sound of flowing water and rustling leaves!
The Food in Jibhi
The people of Himachal are famous for their kindness and hospitality, and it is rightly so! Everyone we met, from Mr. Rana's family to our cab driver Sanju, and all the locals- they were very welcoming, kind and considerate.
I want to give the sumptuous food of Jibhi a separate mention here.
Most of the meals we had, were at our guest house itself. The lip-smacking parathas, omelets, tasty vegetables, dals, tea and coffee...we never felt the need to eat somewhere else.
Deliciously cooked fresh catch of trout fish is a must-have delicacy that everyone should enjoy when visiting the Jibhi-Tirthan area. I ended up having it twice in three days!
Laafi was a local Himachali dish I tried and enjoyed! (To a North Indian a bowl of Laafi would be something like halwa made of some local millet.)
Recommendations
Visit Jibhi in spring and summers to beat the heat of plains and enjoy the smell of flowers and deodar in the air. Hikes and treks are possible at this time after the winter snow has melted away.
Winters in Jibhi are for those who can bear the chill, as Jibhi wears a heavy blanket of snow at this time.
Avoid the monsoons, as the heavy rains reduce visibility and hamper travel plans.
Prefer HRTC buses to travel in Himachal wherever possible. They depart and arrive in time, are comfortable and can be easily booked in advance through Redbus or HRTC app.