I started from delhi early morning for kalka which is about 30 km away from kasauli. I took kalka shatabdi(train fare 800 pp) from new delhi station at 7:40 and reached kalka at 11:45. I then took a ticket of himalyan queen express(toy train) to dharampur(fare 30 pp) which is around 20 km from kalka. It took me around 1:30 hours to reach dharampur from kalka. The route was filled with tunnels and beautiful bridges. The curves were sharp which made the experience more exciting. At around 1:15 I got down at the dharampur railway station. The station was very clean and the scenery from the station was beautiful.
I then climbed my way to the main road from where i got a bus to kasauli. It took me only 5 mins to reach the main road from dharampur railway station. These are mostly private buses and the frequency is around 15 mins. It took me 30 mins(10 kms) to reach kasauli from dharampur (fare 15 pp). I had my accommodation booked at a hotel in mashobra which is only 2.3km( 25 mins walking) away from the kasauli bus stand. The trail from the bus stand to my hotel was beautiful. I was in the middle of the clouds most of the time. There was mist all around and i could feel the freshness and calmness of that place. There were not many people on the road and i walked my way to the hotel.
I had my lunch at the hotel and then again took off to explore the village. From the local people i came to know that there is an off road path to the mall road from mashobra which cuts the distance of 2.5 km to around 1 km. This path was desolate and the trail was tough, the reason why i chose this path was because i did not want to repeat the same path i took to come to the hotel. I found pine tress on my way along with some of the best sceneries the village had to offer.
Mall road in kasauli was very different from its counterparts on other popular hill stations like nanital, shimla & Mussourie. There were not more than 70-80 shops and the the whole stretch of the road was less than 700-800 mts. The variety of shops were very well balanced. It was a mix of local eatries, dryfruit vendors, gift shops, local textile shops, general stores and cafes. Things to try include bun samosa, aloo tikki and momos. One can also find shops selling local wines, apple vinegar and handmade dryfruit chocolates.
There are churches on both end of the mall road. One end has kasauli church and the other has christ church(timings 7am to 7pm) which is more famous. Without any doubt it was one the best churches i have ever been to. It was build way back in 1853 and is the oldest church in Himachal Pradesh.
It started to get dark by the time i left the church so i decided not to go to gilbert's trail which is a canopy path as it has tall trees on both side of the road blocking the sunlight and giving a sense of calmness and peace. The route which i took to reach the mall road was similar so it was no longer an attraction for me. Other local sightseeing points include sunrise point, monkey point, sunset point which are not very far from the mall road( Around 2km from Christ Church).
I had my dinner at the Mantra Cafe which was on the mall road. The interiors of the cafe are worth a description. It had a ground floor seating and there was also a machan which had floor seating and mall road view. To my surprise the cafe was not much crowded, the lights were dimmed as there were only hanging lampbulbs which were covered in jute threads resembling a bird's nest. The entire roof of the cafe had a neon painting and the music also went very well with the ambience. The food that they served was good and the prices were competitive. I ordered myself a hot chocolate and crispy potatoes and both the things were very good.
I again decided to walk my way back to the hotel. The village was safe to travel alone even at 9 pm. If not walking there was also an option to take local taxis which were easily available on mall road to mashobra(200 bucks for around 2-3km).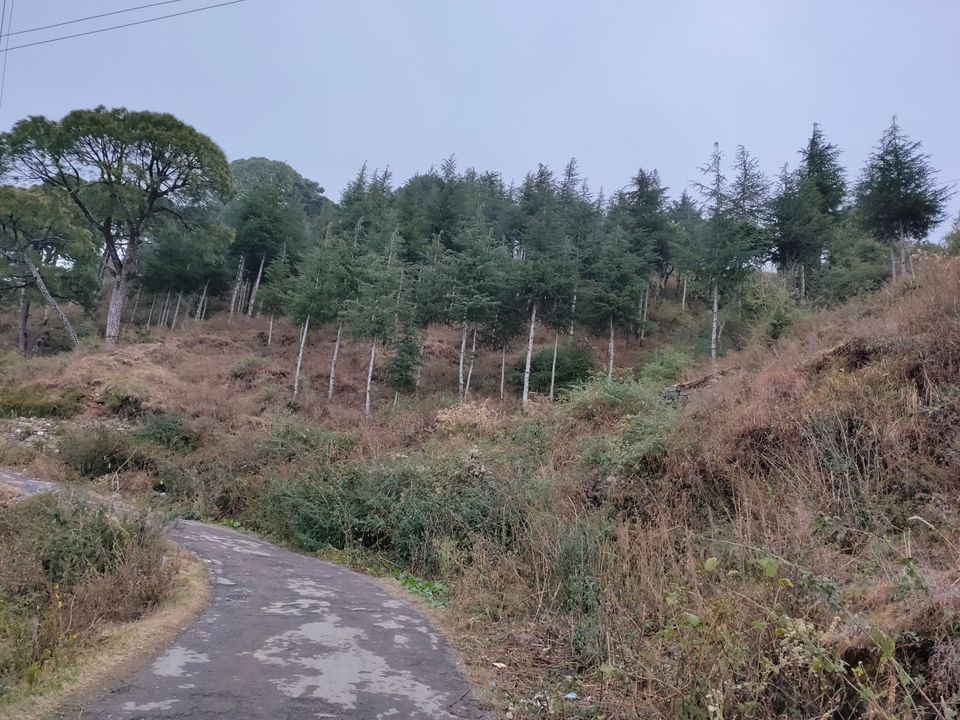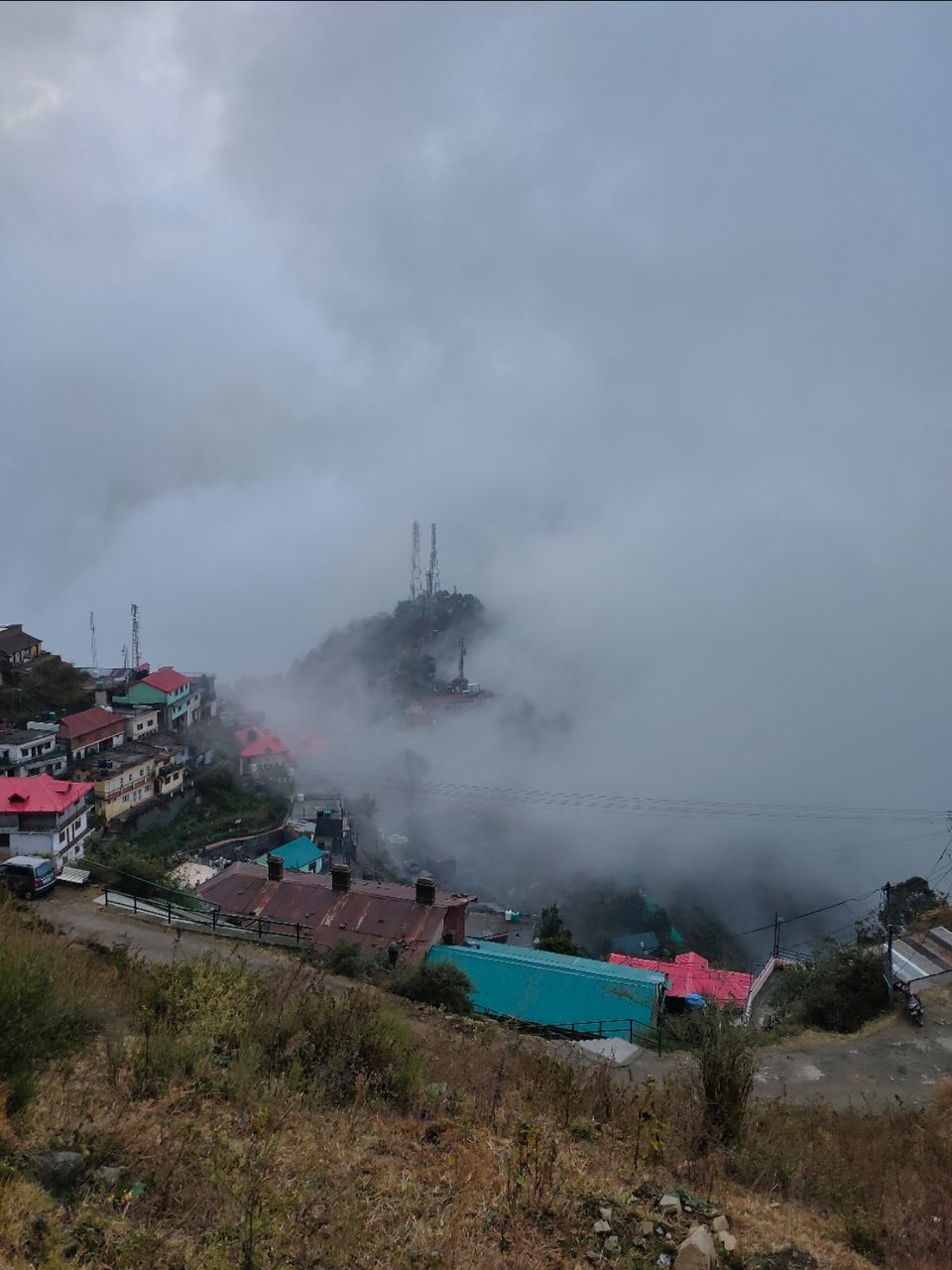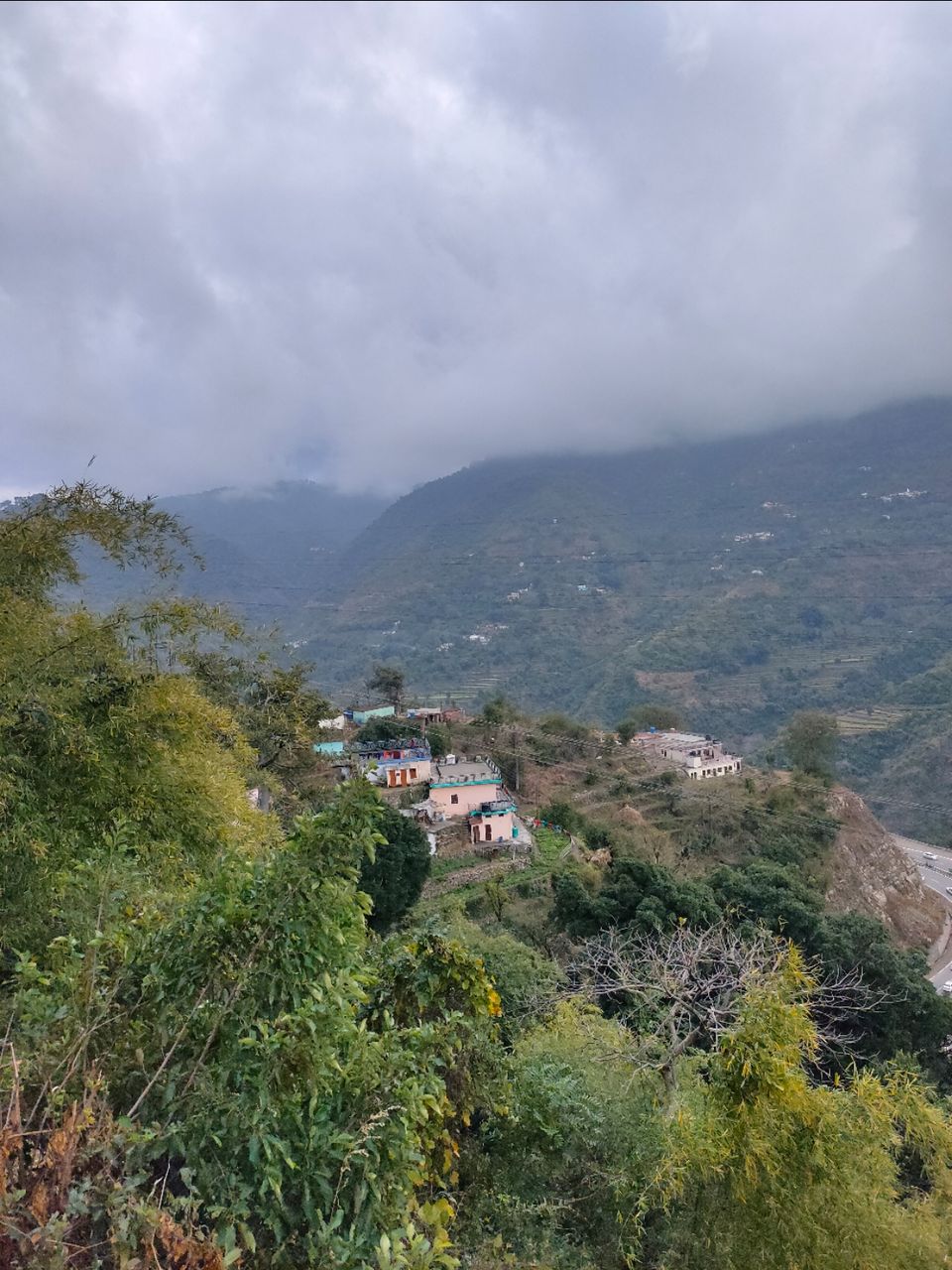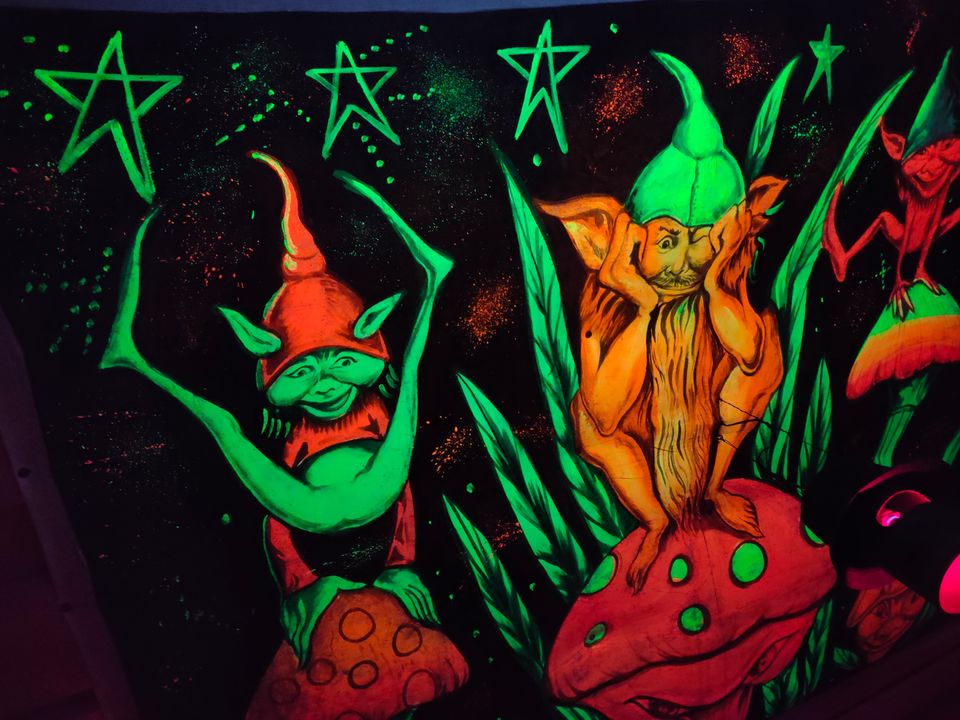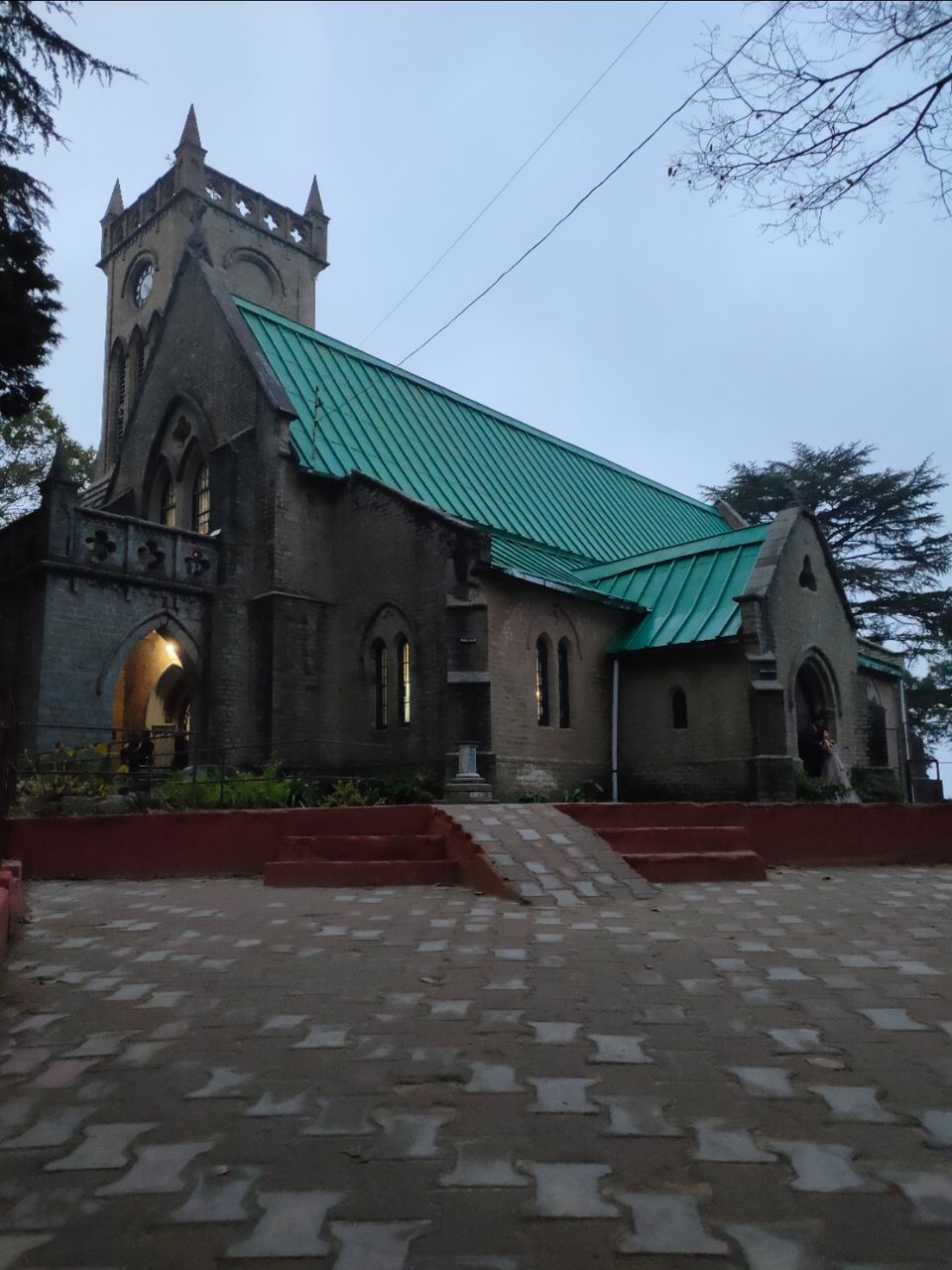 I got up early next morning and left my hotel after having breakfast. I decided to go to shimla which was around 80 km from kasauli. There were no direct buses from kasauli to shimla and one has to go to dharampur to catch a direct bus to shimla. I left kasauli at around 10:30 and reached dharampur at 11:30. The route had a little traffic this time so it took me 30 mins more than the normal commute time. From dharampur one can easily get himachal roadways bus to shimla every 5-10 mins. The distance is around 70 km(fare 115 pp) and it took me 2:15 hrs to reach shimla.
It was around 2 when i reached shimla and the weather was cloudy. On my way to the mall road it started to get dark. Soon it started to snow and the people could be seen dancing and enjoying the snow near the ridge area. It snowed for a good hour and a half and the entire mall road got covered in snow. The roofs of the houses turned white and I concider myself lucky to witness a very rare event which takes place only once or twice in a year in Shimla. The trees on the jaku temple hill also turned white and so did the hill on which there is a big lord hanuman idol. It was like heaven on earth. There was very cool breeze and i decided to take shelter in one of the fine dines on the mall road. I decided to eat masala dosa this time but since it was not available I ordered hakka noodles.
It had stopped snowing by the time i left the restaurant and there were loads of people enjoying on the ridge. The view from the ridge was one of its kind. One gets the entire mall road view from the ridge and it was all covered with snow. I decided not to go to kufri which is around 25 kms from shimla and boasts of a zoo, adventure park and sightseeing points as i had already witnessed snowfall in shimla. Other places to visit include jaku temple by car or by trekking, Green valley view point, horse riding in kufri. Narkanda is another small village which is around 60 km from shimla and is famous for snow activies like skeeing, snow views and has way more snow as compared to shimla and kufri.
I then went to the shimla theatre where a cultural program was going on. The theatre artists gave dance performance on local himachali songs and it was a very new experience for me as i had not seen anything like this before.
I had a train back to delhi from kalka which is around 90km from shimla at 11:55 the same night so i decided to leave shimla at around 6. I got a bus from the famous Lakkad Bazaar (Wood Market) to the new Shimla ISBT. I boarded the bus going to Kalka from the shimla ISBT(fare 160 pp) at around 7:15. It generally takes around 3 hours to reach Kalka from Shimla but i took a good 1.5 hrs margin in hand as it had snowed and things can turn tricky in no time on hills when it snows.
I reached kalka at around 10:30 and had dinner at the IRCTC canteen at platform 1 of the Kalka ralway station. I then boarded Kalka Mail which runs everday from Kalka and reached Delhi(fare 550 for AC 3 Tier) early next morning at 6:30.
Overall it was a great experience. There was not a single moment when i felt bored or regretted my choice. One can definitely plan this trip when they are short of time or short of budget. It will only take a weekend and 3-4k out of your pocket and in return you will have memories for a lifetime.