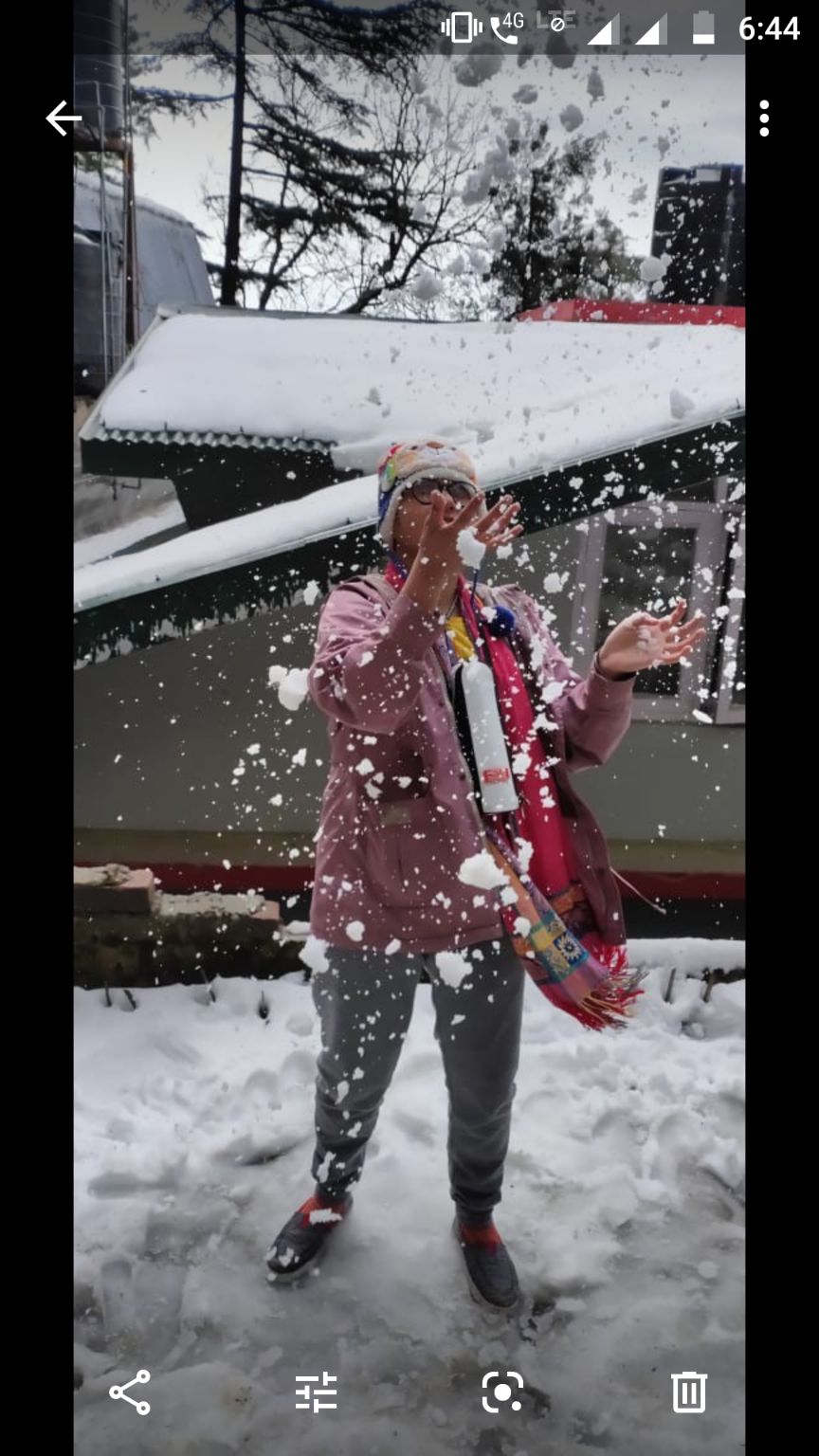 I had never seen the snow before in my life.
My friend also wanted to see snow. So,we decided to move to Shimla,the capital city of Himachal Pradesh.Shimla is popularly known as the queen of hills.
We planned our trip with the help of a travel agency.The trip was planned on second week of January ,i.e.9 to 12.
We packed our luggage full of woolens because in snow,clothes get wet very soon.
My friend lives in Delhi. So. I reached Delhi at 9:00p.m. I got my bus from majnu ka tila.
We started our journey at 11:00p.m. The only stoppage in our way to Shimla was Chandigarh.We reached there around 2:00p.m.
We took a thali there which was around Rs 100.
Day- 1
After the whole night journey,we reached at Solan around 7:00a.m. Due to heavy snowfall,the buses were not going after Solan.
So,we called our booked cab.Which took us to our hotel. There was very traffic on road. Due to this,we reached our hotel at 1:00p.m.
It was very fresh snow on the roads . But we didn't get irritate to this. As we were enjoying the beauty of Shimla covered with snow. This made us overexcited. I and my friend got off from car in the mid-way and started playing with snow. We were playing with snow as kids do. We were making balls and throwing it on one another.
On the way to hotel,we walked on snow covered roads. We watched the beautiful scenes,snow covered trees. We got fresh at hotel. We took our dinner and took rest. Our room was on first floor. We walked on the stairs covered with snow.
There was very chilli weather. So, we got room heater from hotel which was charged around 100 RS per day.
Actually I prayed God to show me snow. I saw so much snow first time in my life .Even the roads of Shimla were got blocked.I thought that God was very happy with me. I asked him for snow but not so much the roads might blocked(*happy face for snow).
Day-2
We got ready and started our journey towards mall road. There is lift to go to mall road. As there is wavy paths and hills in Shimla which make it the unique hill station. We talked to some locals there.I think that the people of hills are so sweet and very helpful.
We were walking on the wavy path to mall road. On the way,we had water balls(Pani k batashe). They were very yummy although the water was chilli.
There was sitting place of hotel at below the road. There was very snow seemed that the chair and table would fixed in snow.
After that,we moved towards mall road. We heard that the mall road looked beautiful in night.As it gets illuminated with many golden lights. We went to the famous church named Christ Church. It is beautifully designed inside out. We lit candle there as per rituals. Then we started to go to Jaku Temple. It is said that the Lord Hanuman was kept his leg at this place.
The statue of Lord Hanuman is so big that it may be seen from the mall road.
The roads were full of snow.The greenery around us were amazing. I was just feeling the atmosphere,the energy, the purity of that place.
As we were moving ahead , our journey was getting little bit difficult. But we were enjoying.It took around a hour to reach. I advise u not to run on hills because my friend was fainted there as she was running.
We took parsad around Rs40.
#Tip-Do not keep Prasad or any eatables open because there is so many monkeys.
Even I was advised to keep my specs in pocket.
After spending half an hour,we started moving back to hotel.
This time we took ropeway. The view was beautiful from this.
The last ticket of ropeway is of 6:00pm in winter. After this ropeway doesn't available.
After the temple,we again back to mall road.
We did nothing there. I think it is good to do nothing for some time. We just roamed here and there.
We back to hotel.
Day-3
As it was our last day there,so we decided to shop. We checked out from hotel around 1:00 p.m. We kept our luggage in car. We again went to mall road.
The Shimla is famous for its woolens and wood work. So,I took sweater for my mother. The market is a little bit costly there but the quality of goods compensates this.
We can get woolens of every price range there.
From there we started our journey to Toy train station.
The Shimla-Kalka toy train is the UNESCO World Heritage. It is the feeling to me to travel in this.
We booked our toy train tickets online around Rs 800 per person.
We started our journey to kalka. We reached kalka at 11:00 pm.Our train was at 11:30 pm to Delhi. We reached Delhi at 6:00am.
The total expenditure of this trip is around 8 k per person.