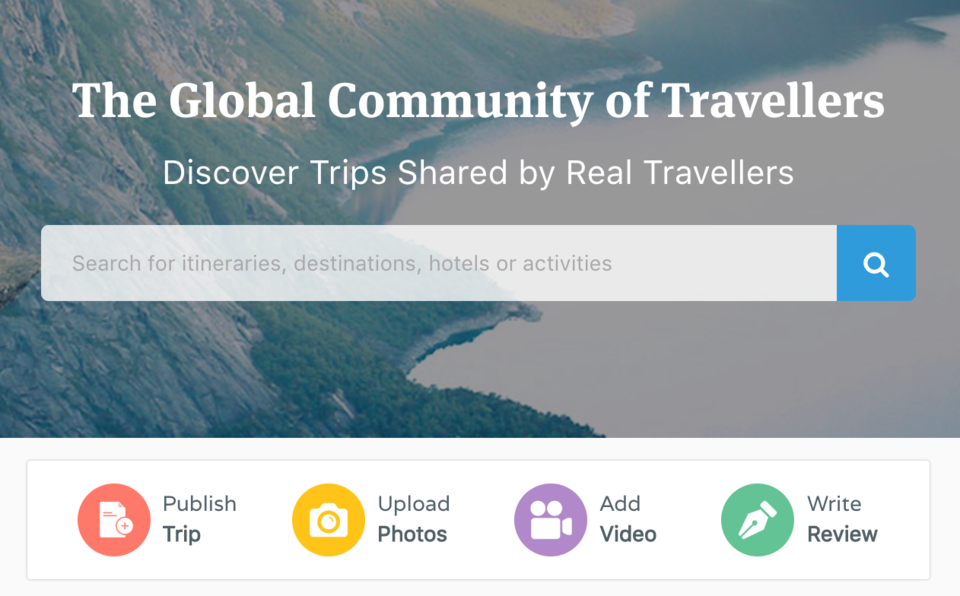 What is Tripoto?
Simply put, Tripoto is a global community of travellers. It is the world's largest UGC- (user-generated content) based search portal on everything associated with travelling with a unique user base of 25 million+ people in the community. Tripoto is collectively (via its website and mobile app) visited by 2.5 million unique users every month to read content generated by fellow real travellers, share their own travel experiences with them, and plan their upcoming trips.
Essentially, there are three things that render Tripoto in a league of its own:
1. It's a platform to share travel stories.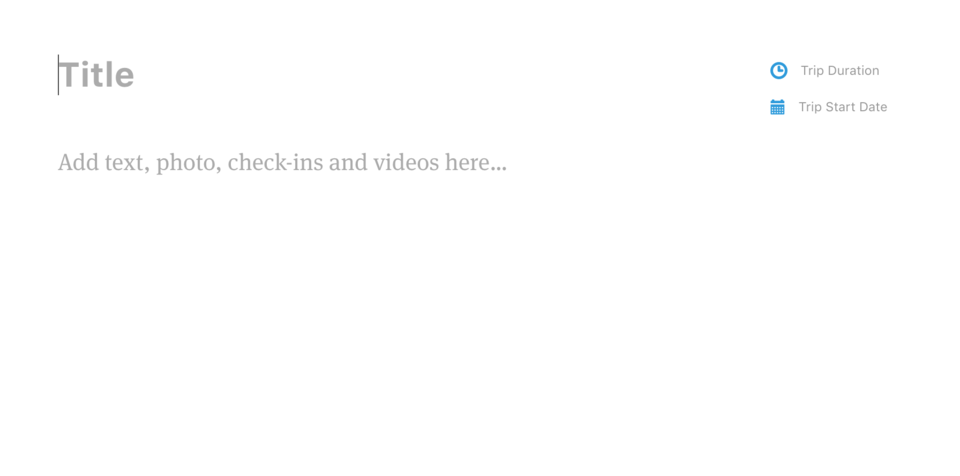 Here you can share your unique travel experience in the form of a story, itinerary, review, photos, videos, or a collection of any of these.

2. You can plan your trip.

On the homepage, there are four buttons on the top right corner. If you click on Plan Trip, you will be redirected to Tripoto.AI.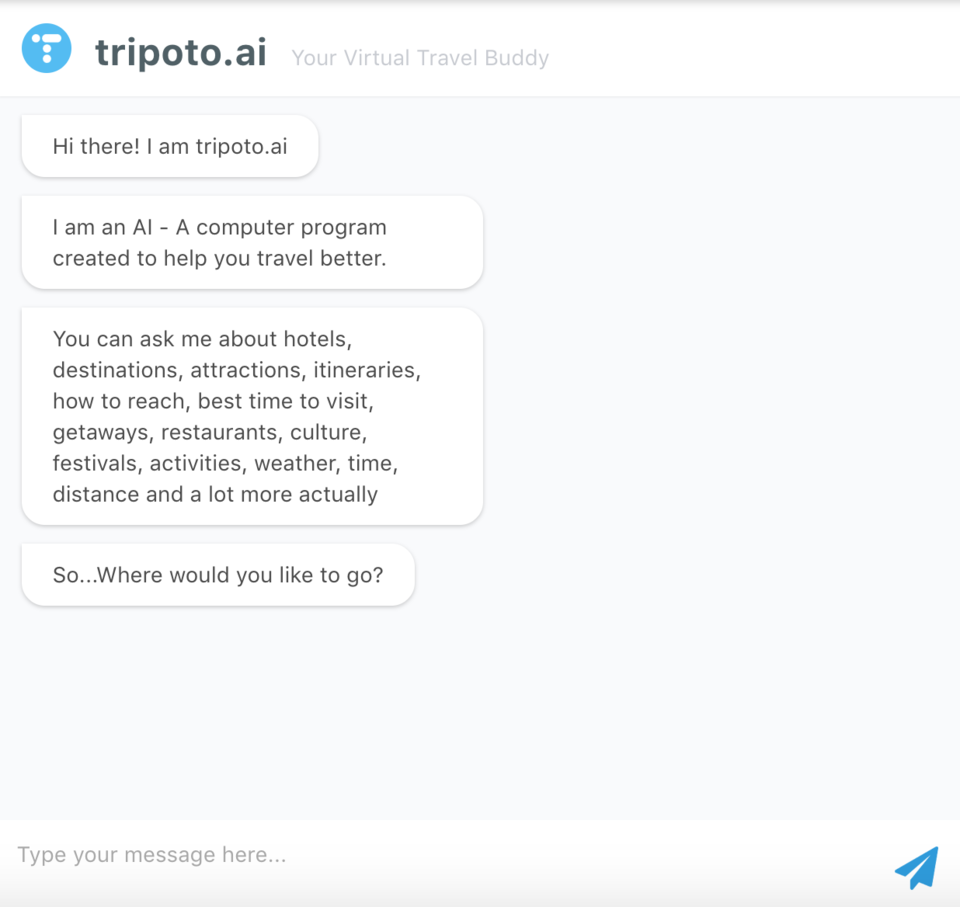 This is an artificially-intelligent chatbot designed by Tripoto that helps you to plan and finalise your trip from scratch. You can talk to it, and it'll respond almost instantly.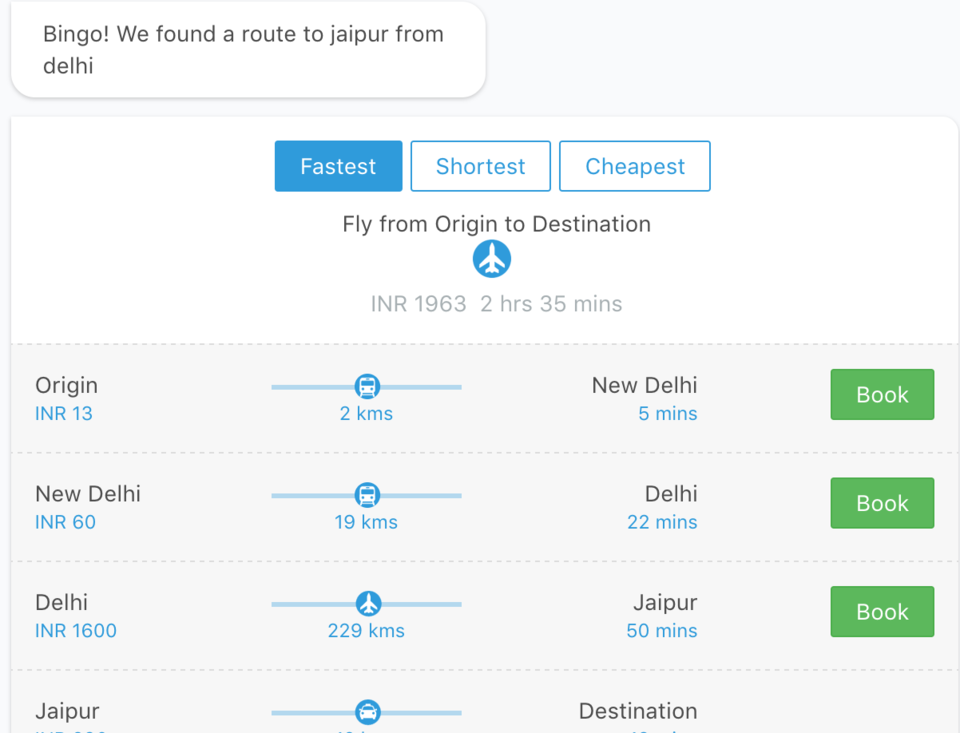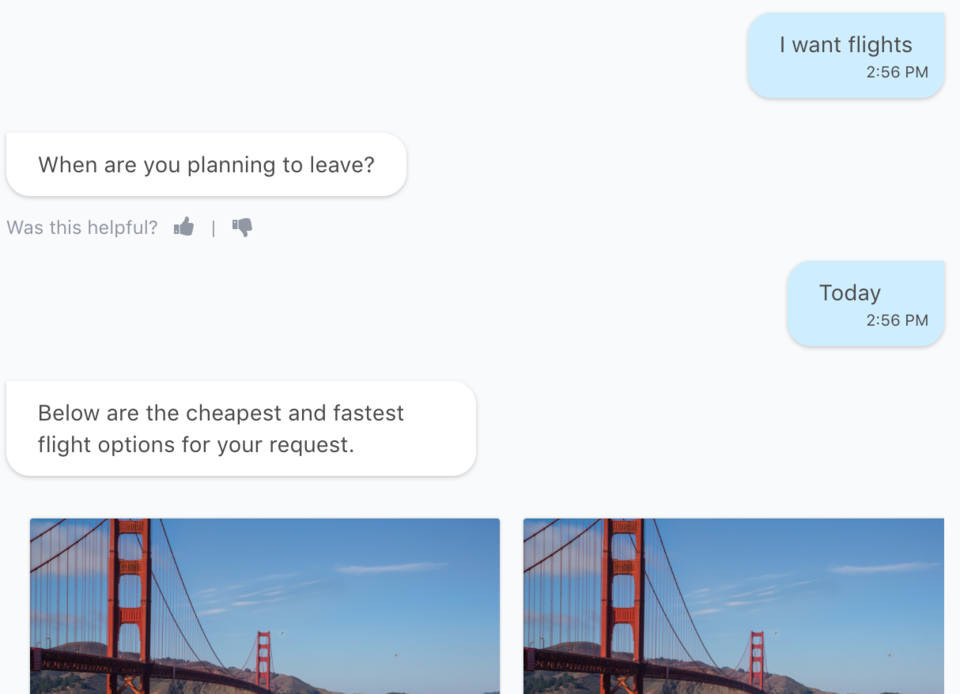 You can talk to the Tripoto AI without signing up as well. Using this service, you can book hotels, flights, packages, understand the shortest routes, and anything under the sun. Try it, it's fun!

3. You can connect with fellow travellers.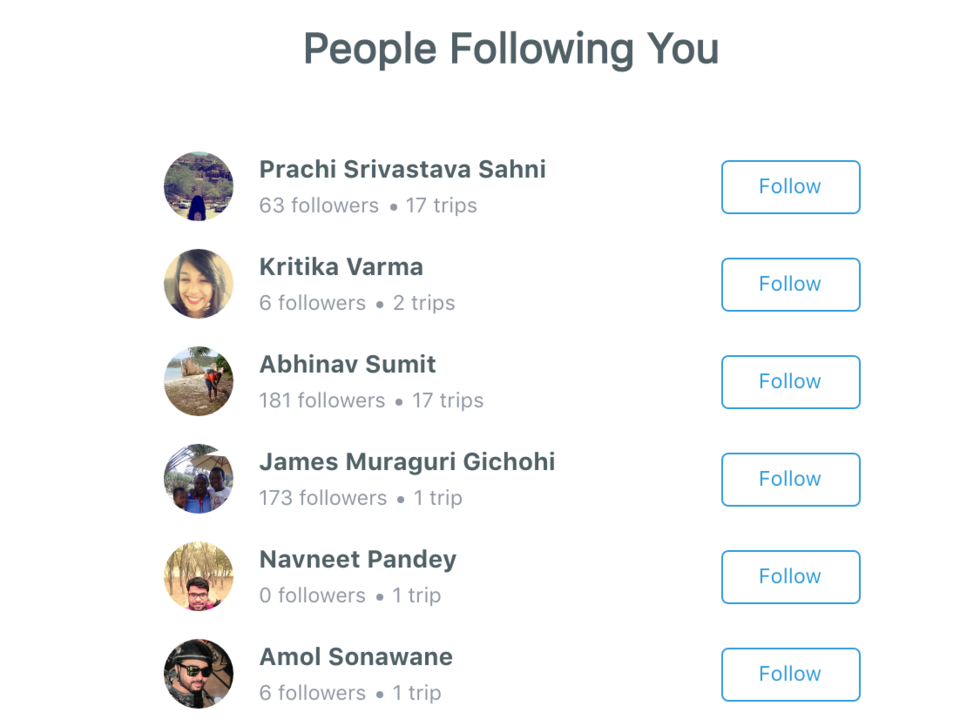 Tripoto is the one-stop social media platform for travellers. Here you can consume the content shared by travellers all across the globe, follow like-minded travellers to be the first ones to know what they've shared, and even message them personally if you wish to ask them anything about their trips. Unlike most other social media platforms, Tripoto continually keeps track of any fake profiles on this platform and removes them if there's something fishy. Hence, all the profiles you see here are of real travellers with flesh and blood and not just random names with photographs.
How do I use Tripoto?
Tripoto can be operated on the web as well as on the mobile. One has to log on to www.tripoto.com on the web, or download the free Tripoto app from Google Play or the App Store.

Once you're on Tripoto, you can sign up using either your Facebook or Google account or make a completely new Tripoto ID altogether. The entire procedure takes around 2 minutes.
Once you're signed in, you can do a lot of things based on your travel requirements.
Features in a nutshell:
Your travel feed on Tripoto will be personalised based on your searches and your personality.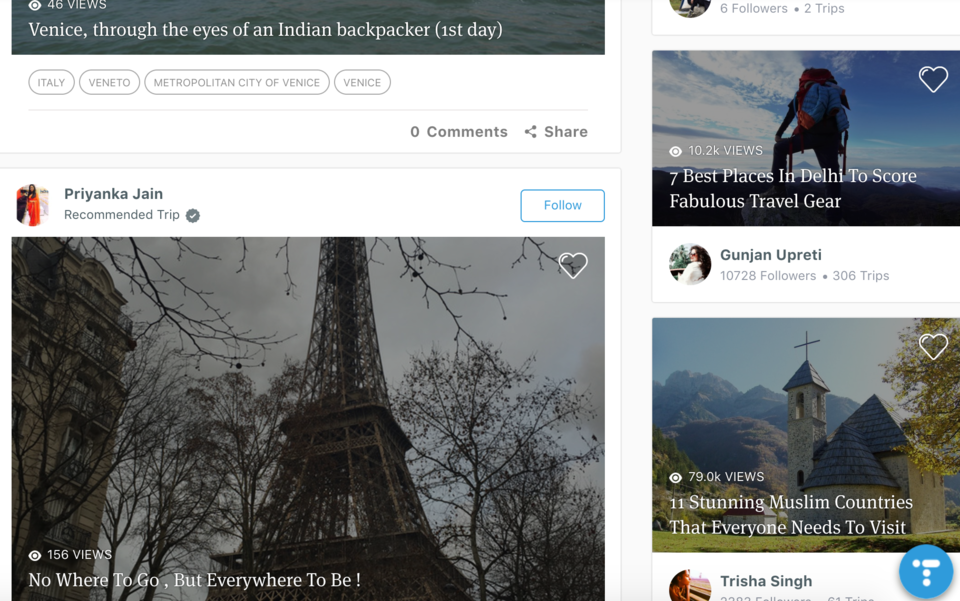 This way, you can discover other like-minded travellers' content without having to lose a sweat. You can read authentic itineraries on any place you're planning to visit next and plan accordingly.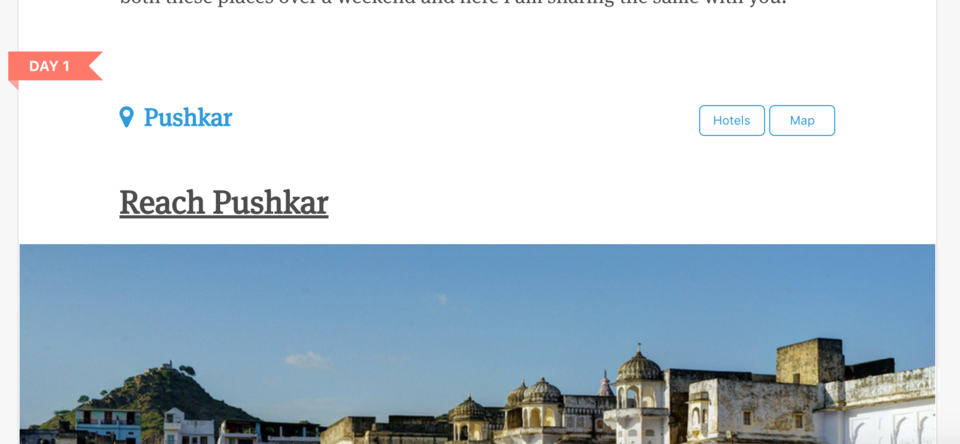 The above picture is a screenshot from a weekend itinerary to Pushkar and Ajmer, and it is divided into days and what to do in each one of them. There are even location tags for you to click on them and immediately let you know where exactly that particular place is located via maps. All these features are exclusive to Tripoto and even you can share your own itineraries in the same fashion by customising it as and how you wish. Tripoto's trip format makes one instantly seem like a seasoned travel blogger.

Since Tripoto is a social media platform for travellers, one can share photos and videos as well. If you're a travel photographer who wants to share his photo or video blogs on Tripoto, here's a great example of how to share photos and what your trip will look like.
If you need to share a video, just copy the Facebook, YouTube or Vimeo link of the video, paste it in your Tripoto trip, and press enter. Here's how to do it:
1. Copy the video link from YouTube.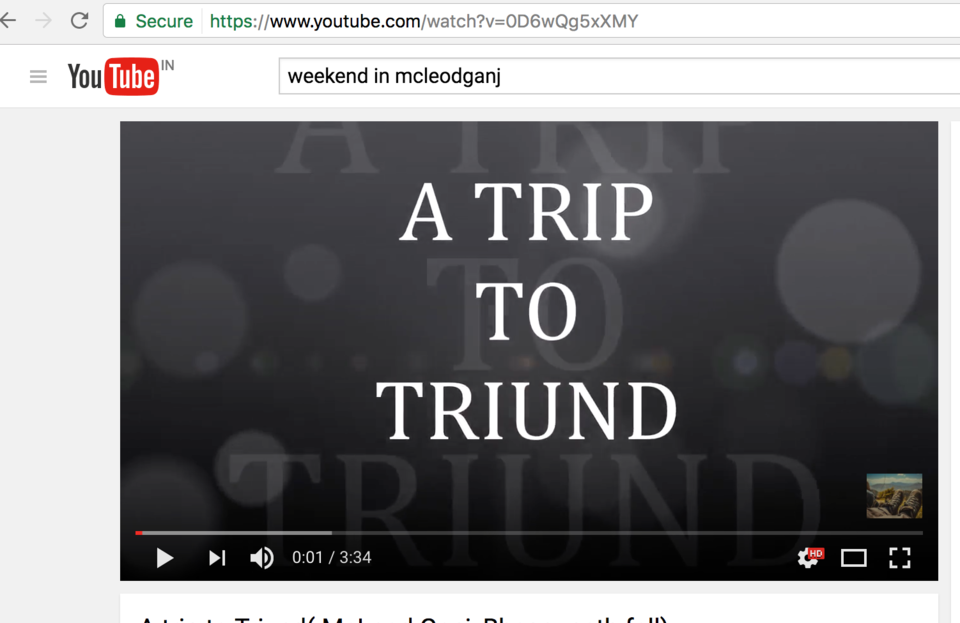 2. Click on the Plus icon that you see on the page while sharing a trip. You will see three icons. Click on the second icon that shows a video camera.

3. Now paste the YouTube link here.

4. When you press enter, your video will appear on the screen.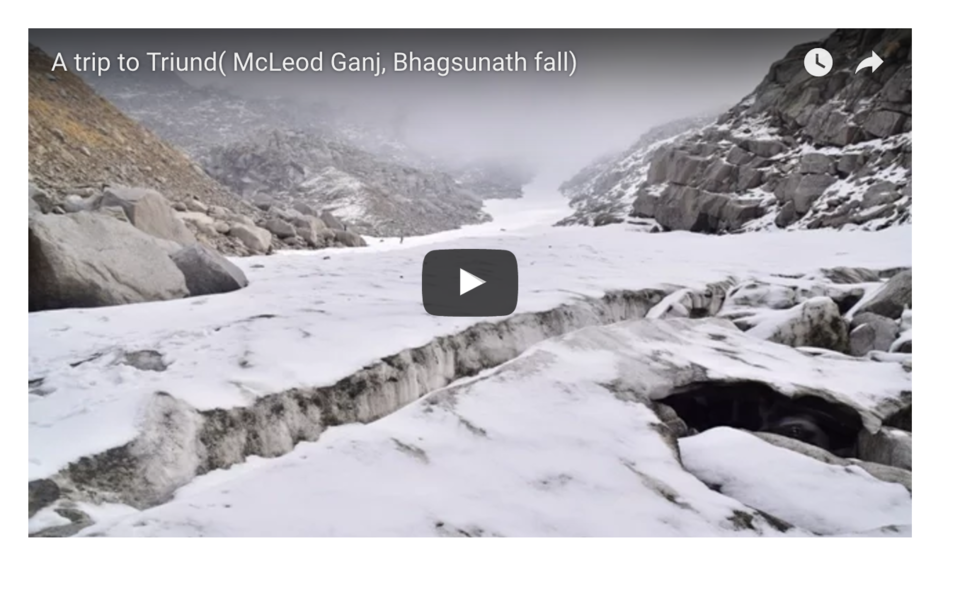 Unlike other travel websites and mobile apps dealing with selling hotels, plane tickets and then asking the people to review their experiences, Tripoto works in a completely reverse manner. Here, the trips and experiences are voluntarily shared by real travellers in order to extend a genuine helping hand to enthusiastic travellers. Hence, the content here is reliable and authentic.

Why share on Tripoto when I've got my own blog?
This is the most relevant question that travel bloggers ask before writing on Tripoto. If you have your own blog, why would you feel the need to switch to writing/sharing on Tripoto at all? Well, the most valid answer is the astonishing amount of exposure you'll get from like-minded people. As mentioned earlier, Tripoto is visited by 2.5 million travel buffs every month. This ensures that the "trips" you share on Tripoto are read and shared by your target audience only.
If you're passionate about travel and write on your own blog, or share pictures and videos on Instagram and Facebook, or write hotel/location reviews on third-party sources, your content may be falling onto deaf ears. But on Tripoto, you can achieve all of the above on one platform and it'll be read and respected by people who share your passion.
I had the same inhibitions, but here is how I overcame them via Tripoto.
Also, if you're already maintaining a travel blog, you don't have to start afresh on Tripoto. Just share your blog's link and we'll convert your entire blog into a Tripoto blog ourselves.
Since Tripoto is a sharing platform, you can obviously attain a good number of followers here and become a social media celebrity. Well-followed travel bloggers get approached by many private organisations and brands to engage in paid services for them.

Tripoto also understands the importance of the time and effort you put in, so we also reward the top two contributors on Tripoto at the end of every month. We maintain a Tripoto Leaderboard, which displays the top contributors and where you stand on the list. Apart from this, we always have travel contests running, so you can win by sharing even your first trip here. You can check out the ongoing competitions right now to participate.

Phew. If this doesn't convince you to switch, consider the fact that Tripoto has a very proactive interface that actually allows you to publish your travel content while you're on the go. If you have our mobile app installed and are on the move, the app automatically collects the pictures (if you've allowed it to) you've taken throughout the journey and asks your permission to share the same on Tripoto via your profile. So, you can actually preserve your travel memories on Tripoto forever by the click of a button.
The content you share on Tripoto is your property alone. Even though everything shared on Tripoto goes through a rigorous approval process, but our editorial team never edits your content. Your content remains absolutely how you mean it to be.

How do I plan a trip on Tripoto?
As touched upon above in the section 'What is Tripoto?', in case someone gets sufficiently inspired after going through a particular itinerary or experience, he can plan his entire trip on Tripoto, which includes booking hotels and flights, or buying complete travel packages. All this can be done using the much-loved Tripoto.AI, or individually.
Tripoto's interface and advanced tools make booking a hotel look like a cakewalk. Here's how to do it:
1. Click on "Book Hotels" on the top right corner of the home-screen.

2. Here you can type in the location of stay, the duration, no. of guests, and search for the relevant hotels. You can even select from our pre-assorted lists of best hotels.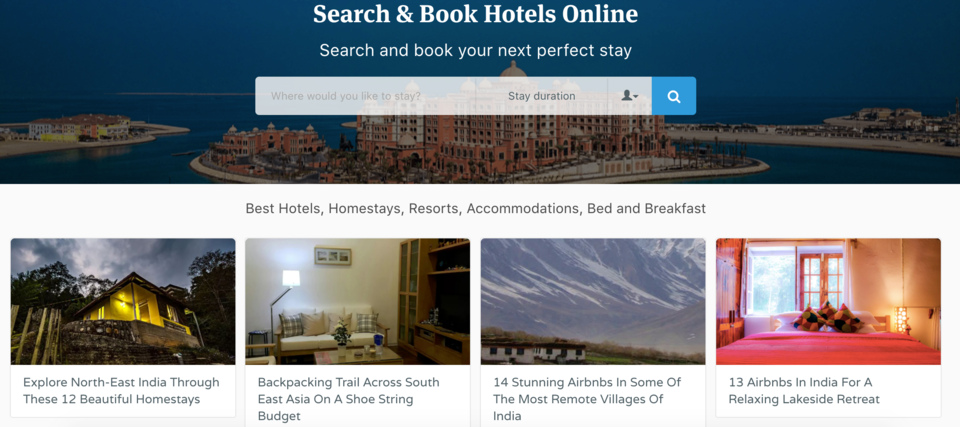 3. Once you put in your specific requirements, you'll see a list of best suited hotels available for the dates. Eg: Below you see a list of all the hotels in Goa between the dates Feb 21 and 24 for two guests.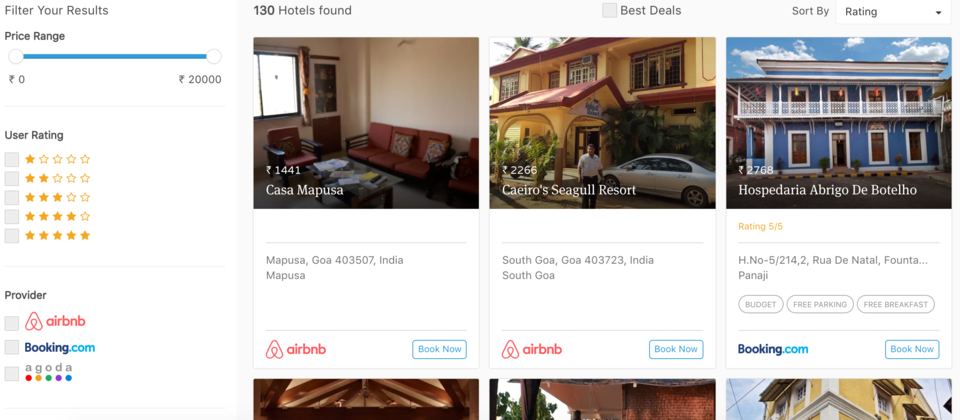 4. You can narrow down your search even further according to very specific requirements. Eg: Below you see a list of three guesthouses from Booking.com which are user-rated either 4 or 5 stars and cost between INR 0 and 7900.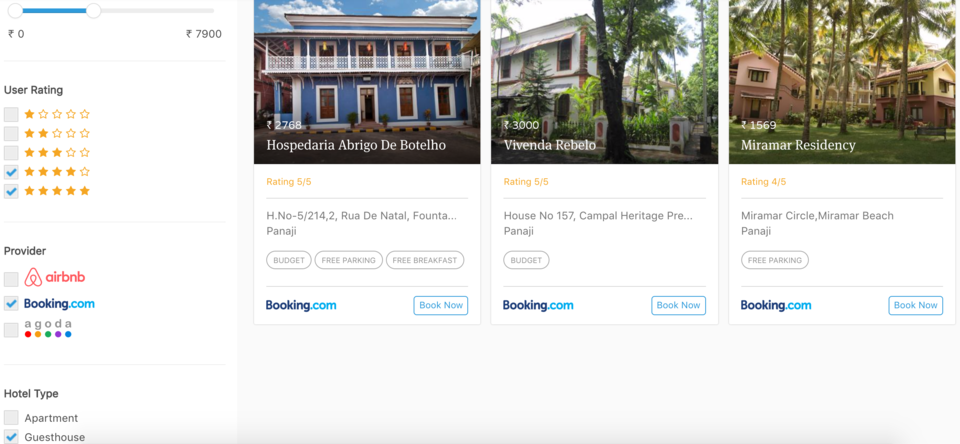 5. You can even customise your search several notches further by searching a specific hotel or a neighborhood to zero in on the most perfect stay possible. Eg: Below you see all the hotels in and around Connaught Place, Delhi, available on the required dates. The power is completely in your hands.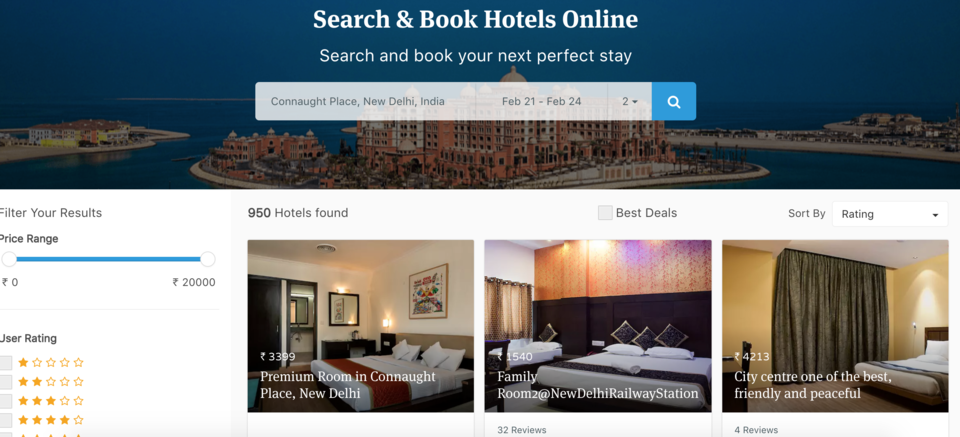 You can book hotels using our Tripoto.AI as well. In fact, you can plan a complete trip talking to our beloved chatbot, which includes reading itineraries, booking flights, and buying suitable packages (through our partner vendors).
Tripoto's content is written by passionate travellers and not by brand promoters, hence it is the most reliable source of travel information on the internet. From backpacking itineraries to luxury travel options, you'll get all of it here under one roof.
Where to follow Tripoto?
To keep abreast with all the inspiring travel content and regular contest announcements, you can follow us on Facebook, Twitter and Instagram. We don't spam your timelines, but are approachable 24x7.

Other FAQs
For many other questions, you can refer to our FAQs section.

If you still have any doubts or clarifications, you can always message me here or drop us a mail at info@tripoto.com.
Frequent Searches Leading To This Page:-
tripoto travel leads, tripoto travel packages