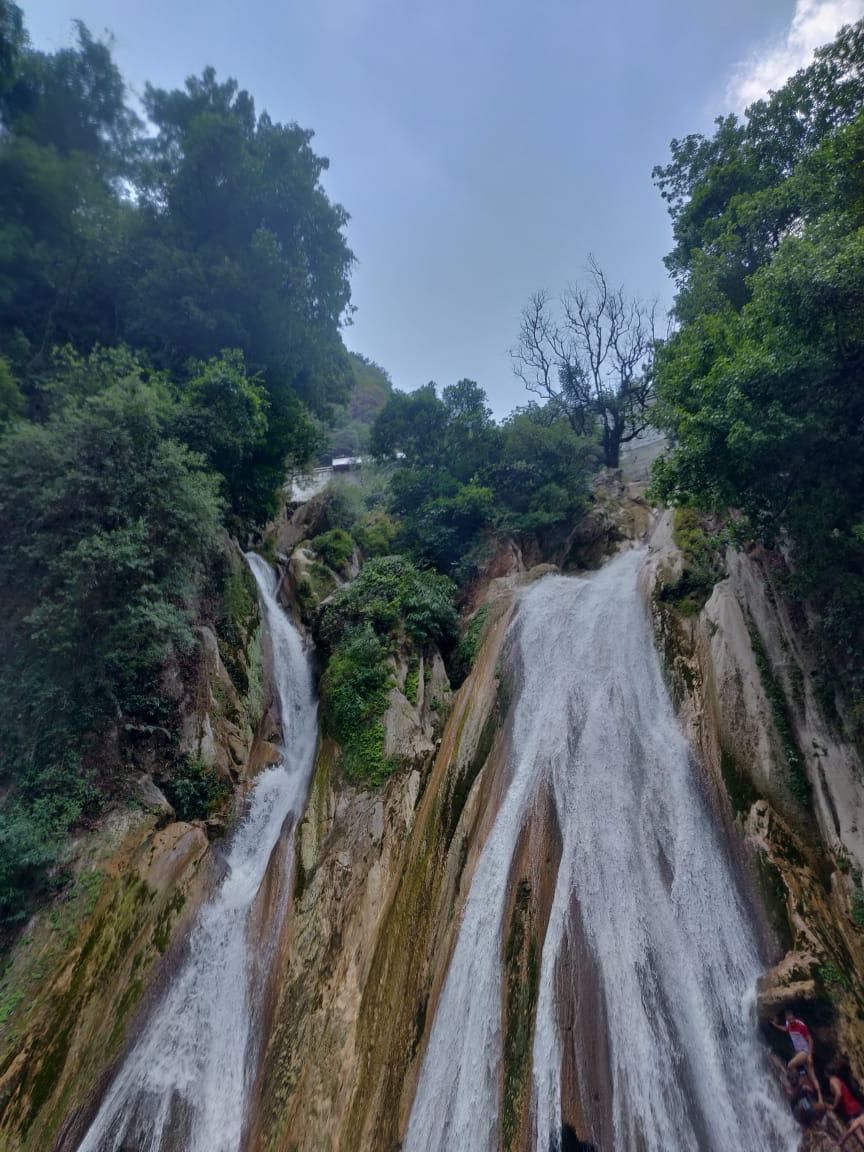 Everyone has a different desire rite? So do I have mine own and mine is to travel and travel and travel.
After becoming a mother the world changes. I heard this from many but really believed when I became a mother.
My duo trip happened with my friend who was also my ex colleague, as we wanted to do a budgeted trip and that too over a weekend.
It was all of a sudden, while I was dying with 100 of questions in my mind on how will I leave my daughter and go without her, how everyone will react at home and these were like never ending thoughts in my mind.
We booked our ticket in Nanda Devi Express, after office on Friday I did my packing and decided to meet her direct at the station.
Reached Dehradhun around 6 am. We could see next to the railway station was govt bus stop of Uttrakhand, from where you can take bus directly to Mussorie and which will cost you just 60 bucks.
Unfortunately we could not board in this super budget bus as we wanted to save our time, rather than money as one has to stand in a long queue to get the ticket and then only you can board in this bus. This was almost waiting for an hour.
You will find on the other side of the road several private taxi stand, from here you can take a private cab to Mussoourie, this cost us around 1500 Rs
Gazing at the mountains and the never ending forest in 45 minutes flat we were at our destination Mall Road Mussoorie.
Cab might not go to the door-step of your hotel room considering Mall road don't allow vehicles to come there.
We reached to hotel, freshened up and we were ready in 1 hour to explore the Queen of hills Mussoorie.
Our first destination was Kempty Falls
Yay! Kempty falls!! Who have not heard about this fall right.
We wanted to explore the street and hence we walked the mall road, though being in Gurgaon we hardly walk and the walk here was really making us breathless but our josh pushed us to reach the bus stop.
Small buses runs from bus stop to kempty falls after every 1 hour to 30 mins of time, this will cost you 250/- per person. Yo! We both waited impatiently to get our tickets and board the bus.
45 min of time you will reach the destination, from here at a distant you can see the Kempty Fall, but yes you need to walk down to reach the fall it will take almost 25-30 minutes if you are a good walker.
We went on a peak summer season when every Delhi people visit the nearest destination and make it extremely crowded.
What's the fun if you have come to see this fall and don't get yourself completely wet with this chill and fresh water of fall. So we came prepared, you will find many lockers to keep your bags and clothes and also few changing rooms, though changing rooms were really unclean and smelly, we managed to quickly change and landed under the fall.
Oh yay!! The chilling water from the fall gave us a real chill in the month of May, will never forget this!.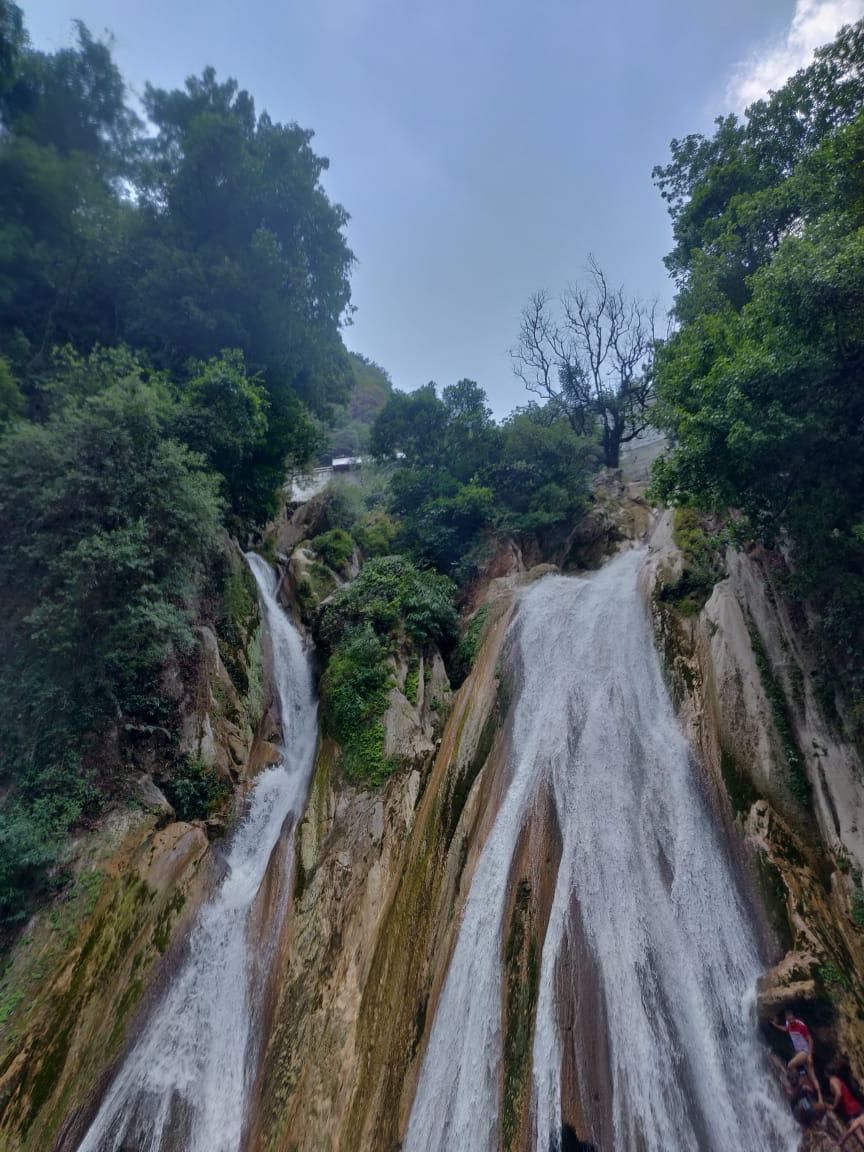 After spending around 30 minutes under the fall, we were back to catch our bus to dehradun.
By 4 pm we were in Mussoorie. As we both were not foodie we grabbed some street food and decided to explore the other places.
Cable Car From Mall Road to GunHill
Yes, we wanted to experience cable car ride, though they have only two cable cars running from mall road to gun hill, for your turn if you have to wait for almost 30-1 hours depending upon the crowd and yes we waited for more than 1 hour. This will cost you 250 bucks.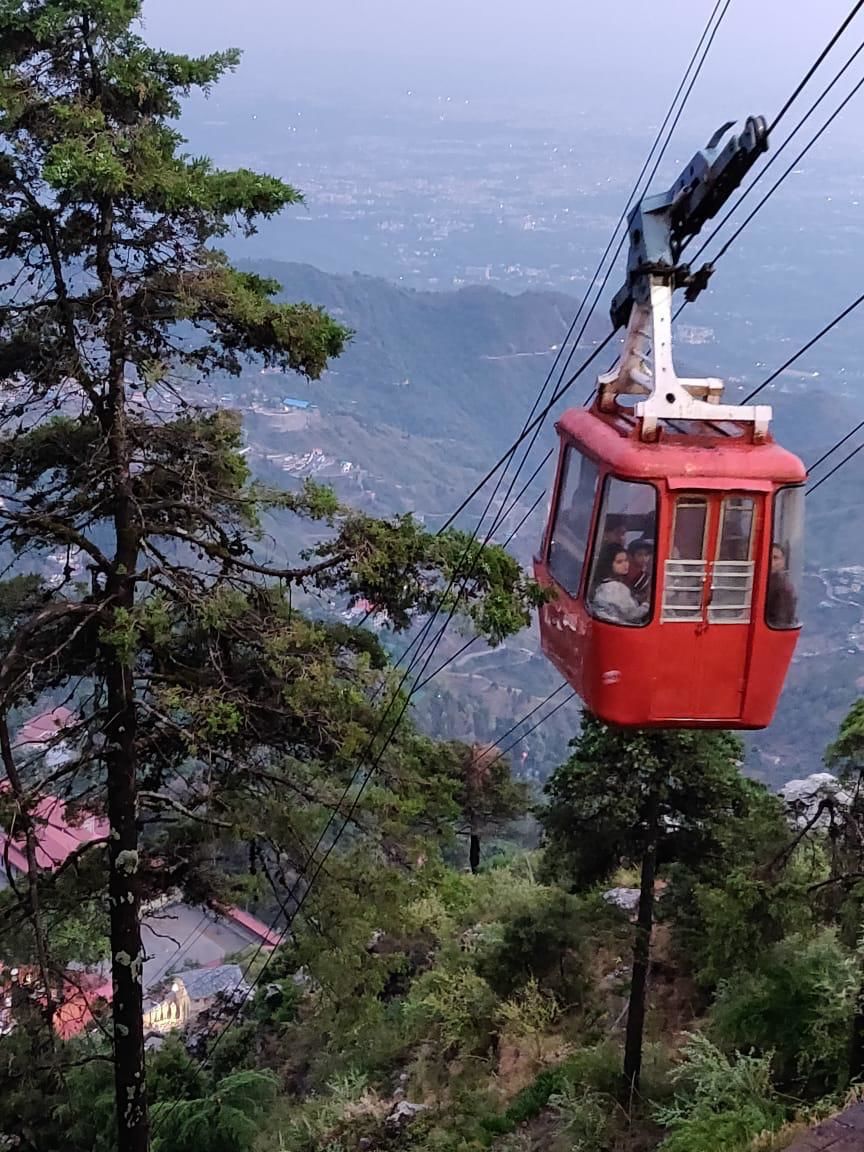 We decided to spend this one hour by strolling through the mall road and yes there we go. One guy caught our attention and asked to get some picture through him in the traditional pahadi dress and we crazy both could not say a NO and here below is our pic! Lovely rite? Yes we loved it!!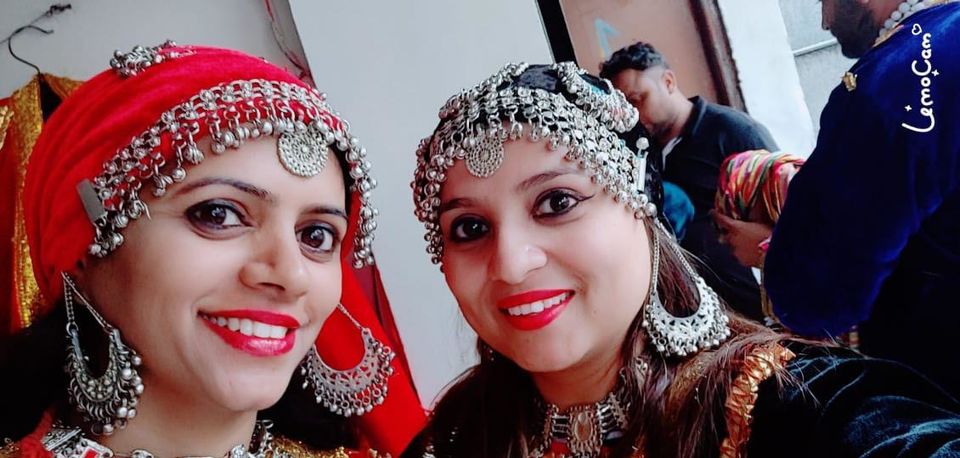 All of sudden the downpour started and we heard someone saying "madam yaha pata nhi chalta pahado mai kab baris ho jaye" (you never know when it will start raining here in mountains).
Here's the view at the mall road.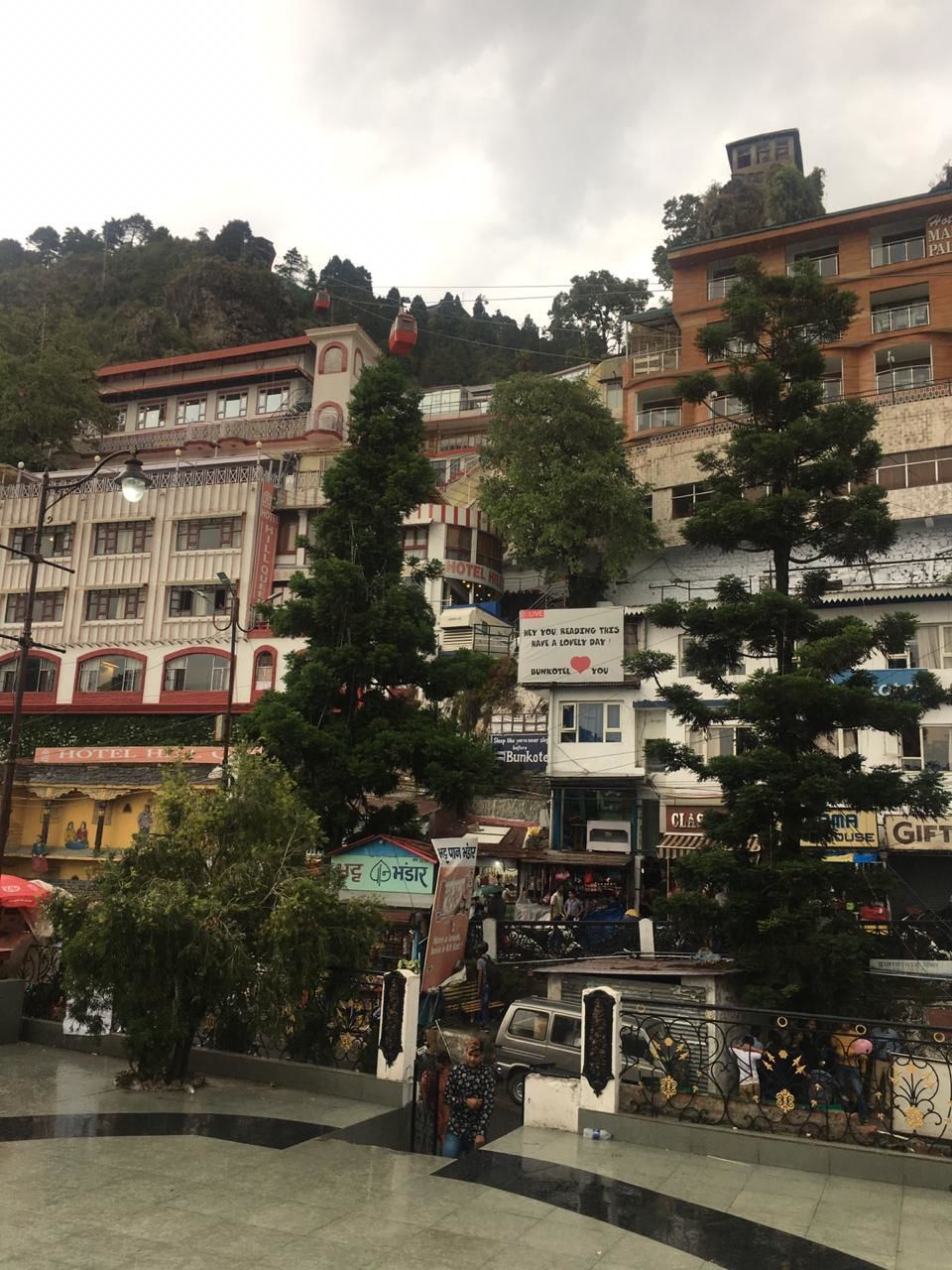 We stopped in a small road-side tea stall and enjoyed tea and some pakode, by the time the rain stopped, we came back to take our cable car ride.
Trust me the wait was worth! We could see the entire doon valley and picturesque view of mussoorie from a height of (2,024 mt) which can only be reached via a cable car. This is the second highest peak in Mussourie.
At gun hill view, you will find many small shops which will be selling handlooms, souvenir and food stalls.
After 15-20 minute viewing the entire valley from this altitude we decided to go back and enjoy our second ride of coming down in the cable car and just in 5 min we were at mall road.
At this point of time 5:30 pm we were freezing in the peak of summer season just after 20 mins of sudden downpour.
We spend some more time strolling in the mall road, doing some window shopping and then by 7 we went to have our dinner and were back to our bed by 9. Never to say our back were giving us a tough time after all the walks in the road of mountains.
Day 2:
As we were not interested to explore the garden, we skipped these places
Camel Back Road
Company Garden
But you should visit this, if you have time.
We checked out from the hotel and with our back pack we reached to bus stop to catch a bus to Dheradhun, this time we wanted to save our money and hence picked the bus and trust me in flat 60 rs and 1 hour of time you can be in Dheradun from Mussoorie.
Yes by 12 pm we were in Dheradun, and our next destination was Rober's Cave.
We Booked an auto without wasting any time paid 700 buck and he took us to Rober's cave.
Yes you need to walk almost 2 km to reach the cave and need to park your vehicles and walk.
We were ready for another adventurous walk to Rober's cave!
Need to take ticket to enter the cave and it is just 50/-per head and then you start your walk to the Gucchu pani also popularly known as there in local.
You must have a normal sandle or you can walk with bare feet, we started our walk here.
Through the caves over your head and your feet under the chilled water will give a thrilling experience, especially in summer.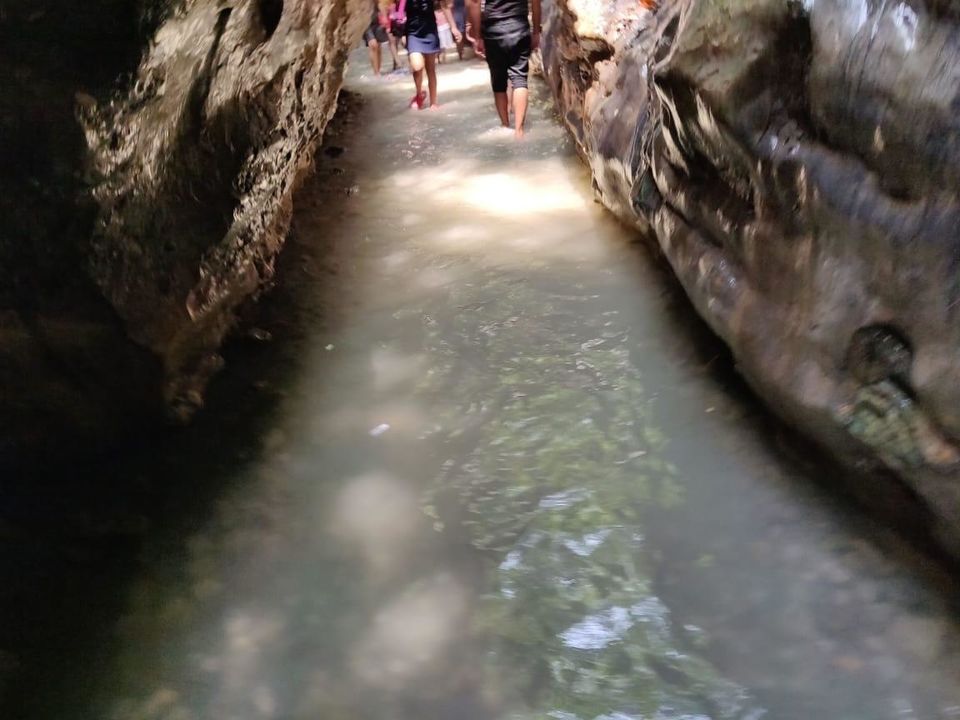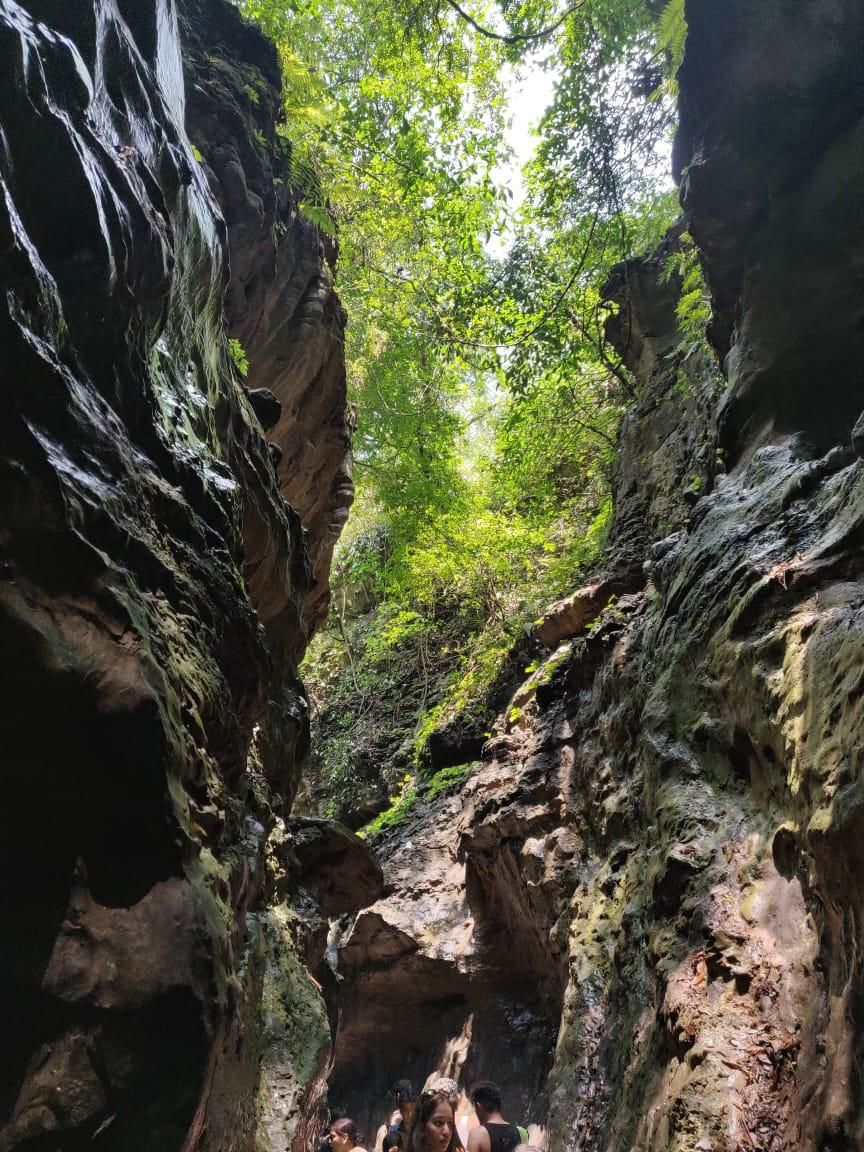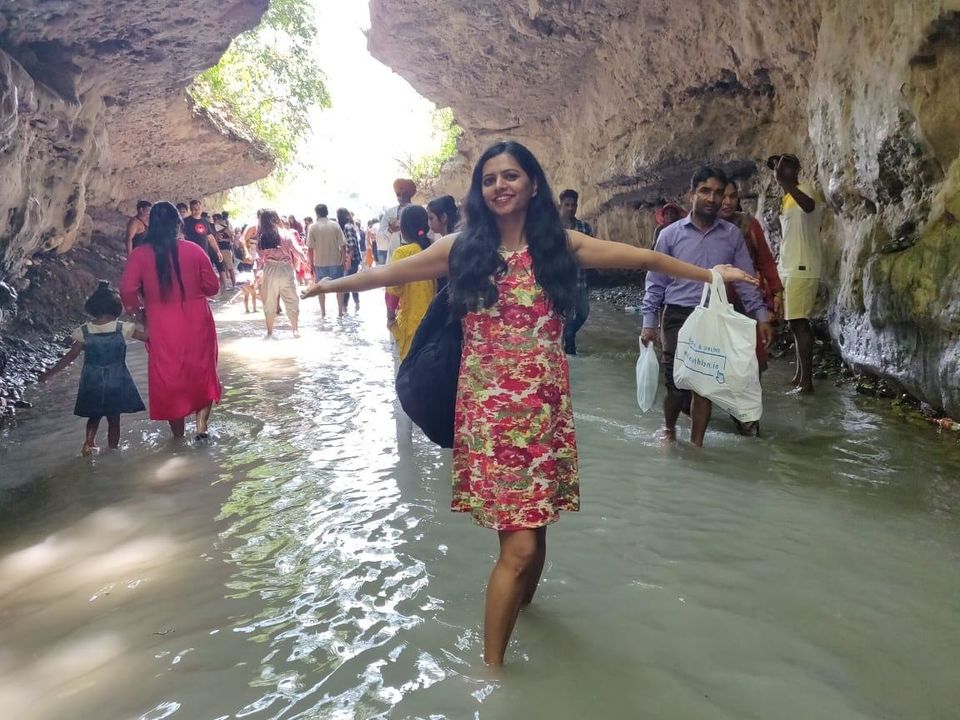 We spend one hour and went till the end of Cave and came back.
Half drenched we came and sat for our lunch peacefully as we did not had any other destination in our mind to cover.
After a relaxing lunch near the Robber's Cave and never ending chit chat of where we should go next. We headed to our auto, Oh yes do not forget we need to walk for almost 2 km and sure this will help us burning all the calories which we just had.
No matter I was enjoying this girly trip but my mother instinct too was working at the same pace by keeping a close check with hubby dear to find out what's going with my little one at home and yes the thought which came 10000 times, what if little one was with me, she would have asked this that and her never ending questions which comes from her mind..
There we reached our auto, our auto wale bahiya mam would like to visit clock tower etc, we - no bhaiya now just take us to railway station we have Shatabadhdi to catch.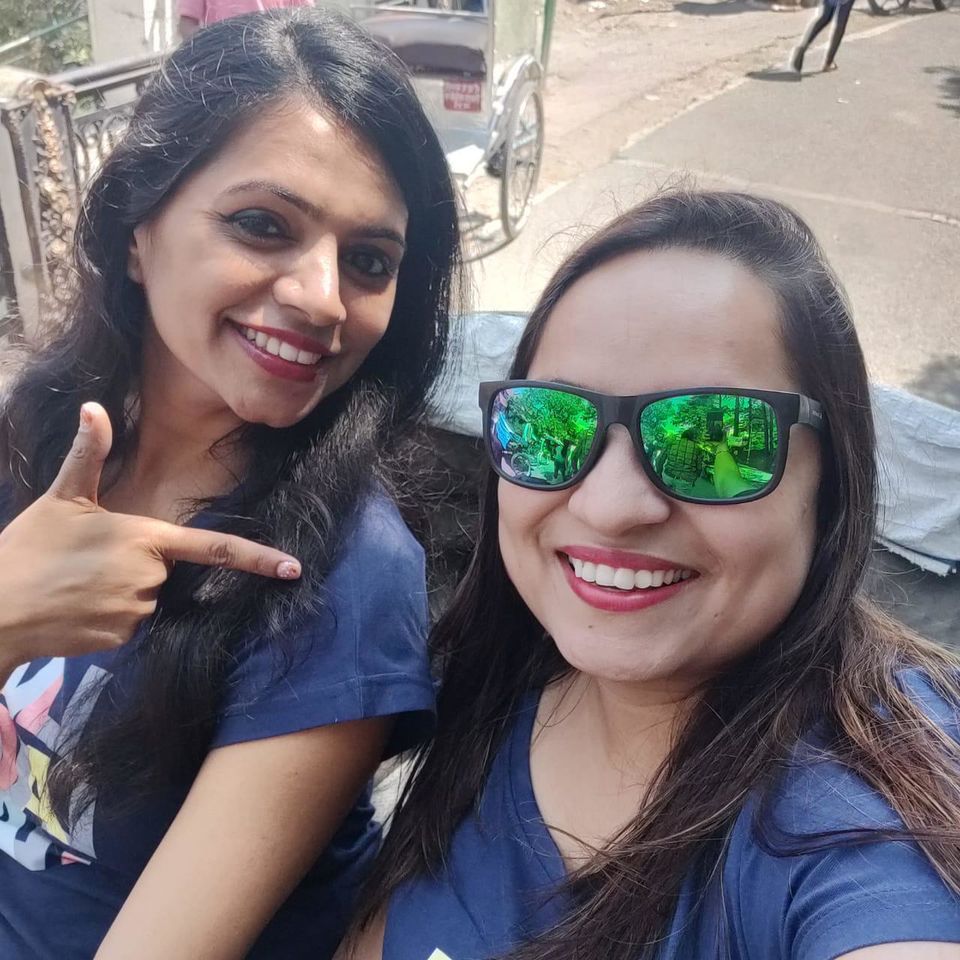 By 5 pm, we were inside the train to Delhi. This train journey was again one of its kind, a lovely view of hills and the local people through your way. We were impressed by shatabdi's hospitality too, which kept us serving us back to back.
Without any doubt we reached Delhi on time and the next day was the same life boring offices to head in.
The rest 2 weeks I spent on pondering about my next trip.