Pristine white sand beaches strewn with colourful starfish, waters resplendent with corals, shoals of fish and the most bizarre, albeit utterly fascinating creatures—Komodo Islands are made of these. No superfluous description can prepare you for the absolute delight these islands are!
But more importantly, these islands are open for tourism only for the next few months, until December 2019. The Indonesian government has decided to close the island because of heavy poaching of the dragons.
Very recently, smugglers were caught with 41 dragons which were to be sold in the international market for a price as high as 500 million rupiah (25 lakh INR) each. Threatened by the dwindling number of the endangered animal, the government will open the island for tourism only after a conservation plan is successfully executed.
So, if you wish to see the dragons, plan a trip at the earliest!
Where are the Komodo Islands?
The Komodo Islands are a group of islands in Indonesia that are home to some of the most interesting flora, fauna and marine life. From little hillocks girdled by the sea to beautiful blue waters stretching as far as the eye can see, these islands are a must visit if you're planning a trip to Indonesia.
Why should you travel to the Komodo Islands?
If you are a lover of strange creatures you are in for a treat! You can spot Komodo dragons in the Komodo National Park that are found nowhere else in the world and you can dive/snorkel with the elusive manta rays. The waters in these islands are some of the most clear and you can spend hours just swimming around with a snorkelling mask amidst stunning corals and a sea of gorgeous fish.
Visa requirements
The great thing about Indonesia is that Indians don't need a Visa for up to 30 days! So you can breeze into this lovely country for free and explore to your heart's content.
How to get to Komodo Islands
You will need to fly into Labuan Bajo from Denpasar (Bali). The flight takes about an hour and a half and it's advisable to book a bit in advance as the flights tend to get full pretty quick.
Komodo Islands Tour and things to do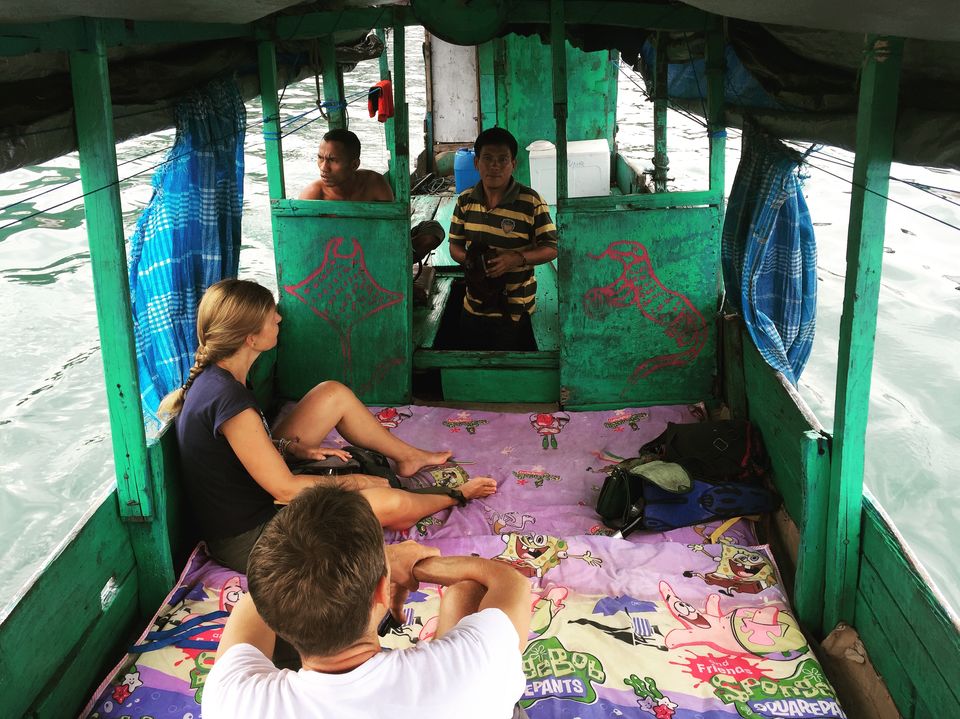 We would definitely advise you to book a 2 days 1 night Komodo Islands tour through your hotel, which will pick you up from Labuan Bajo and take you to Rinca, Pink Beach, Komodo Village, Komodo National Park, Kanawa Island and drop you back to Labuan Bajo.
Enjoy the boat ride!
It depends on what kind of boat you book but usually the boats are pretty small and cozy. They have cute graffiti drawn on them that will give you an inkling of what to expect on the Komodo Islands tour. The boat guys are pretty friendly and keep stopping to point out things to you. The water is so clear that sometimes you can even spot a turtle way down sitting on the ocean bed.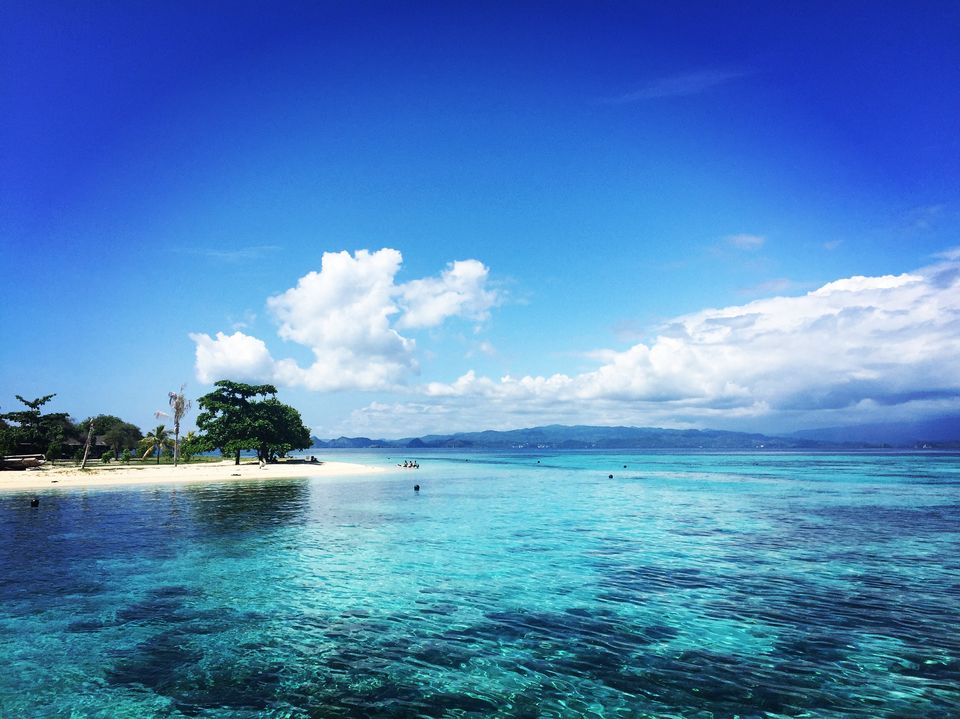 The boat takes a while to make the first stop at Rinca. Meanwhile you can either enjoy these stunning views or take a delightful little nap. Put up a make-shift screen made of sacks to block the sunlight, use your backpack as a pillow and the whirring of the motor boat for a lullaby, and take that nap!
Spot the dragons at Rinca
The gorgeous sights all around might make you forget momentarily about the potentially gruesome adventure ahead. This is the first time you'll be seeing the dragons. Make sure you carry a little cash on you as you will need to buy passes for the Komodo National Park. Once you do that, you will be assigned a guide who will walk you through the rules—one, stay away from dragon, two, don't take a selfie with it and three, don't leave trail. They are pretty strict about the rules, as they should be, so please stick to them!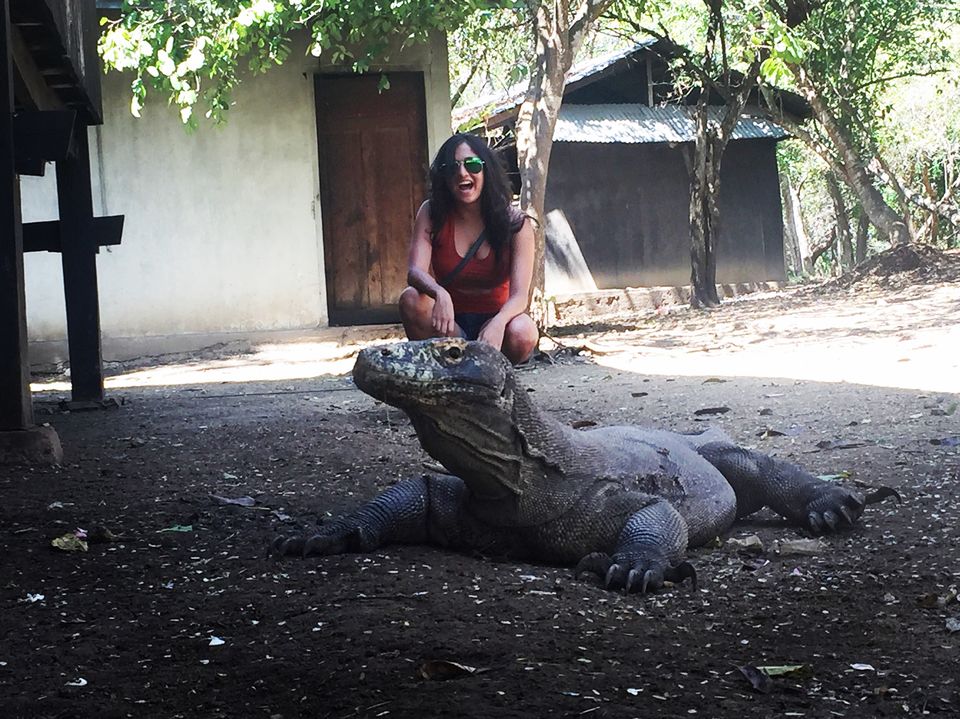 They are really fascinating to watch (from a distance of course). The guide will tell you stories about an adventurous journalist who strayed away from the trail and ended up getting mauled to death by a pack of dragons. Apparently the dragons ate everything - his hair, teeth, nails, all that was left of him was his camera. The dragon spit is also insanely venomous. If the anti-venom is not administered immediately, death is certain. It feels pretty damn good to see creatures that look so pre-historic and exist only in that part of the world. It is almost as though evolution never hit them.
Live with the locals in Komodo village
Next, the boat stops at the beautiful Pink beach. It is a lovely, serene place with wonderful corals and marine life. After a quick swim there, you will head to the Komodo Village where you'll be spending the night. The entire village is made of vibrant, colourful houses on stilts.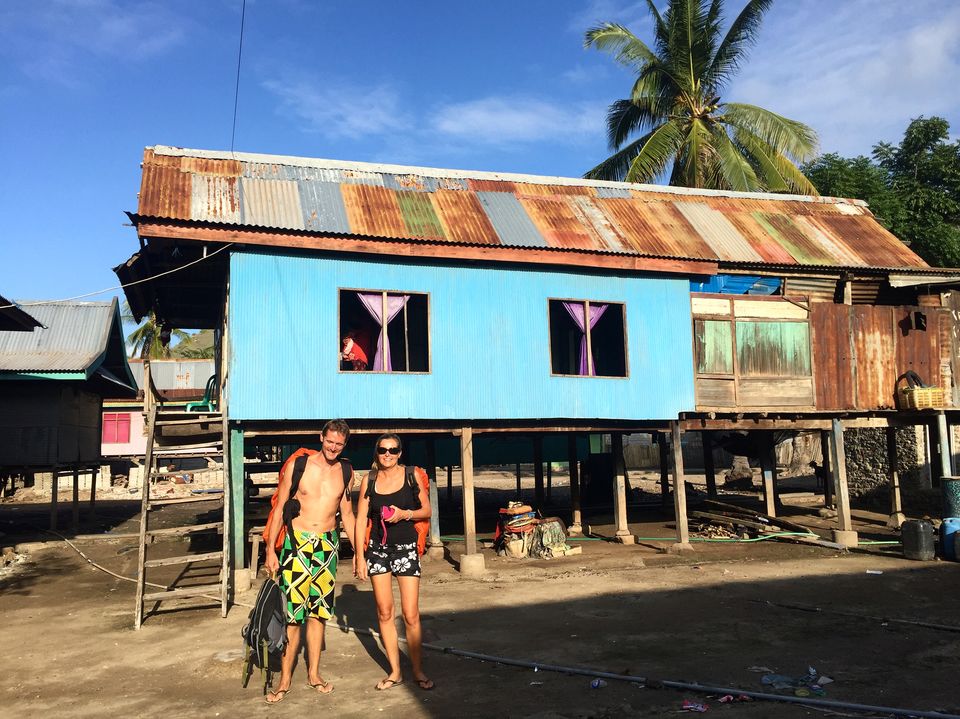 You can take a short walk around and experience the local way of life. It is a pretty village where everybody knows everybody else.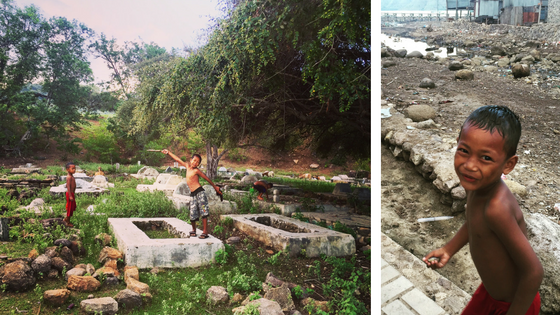 Every evening, the village elders sit below the stilt houses on cots to watch the volleyball match.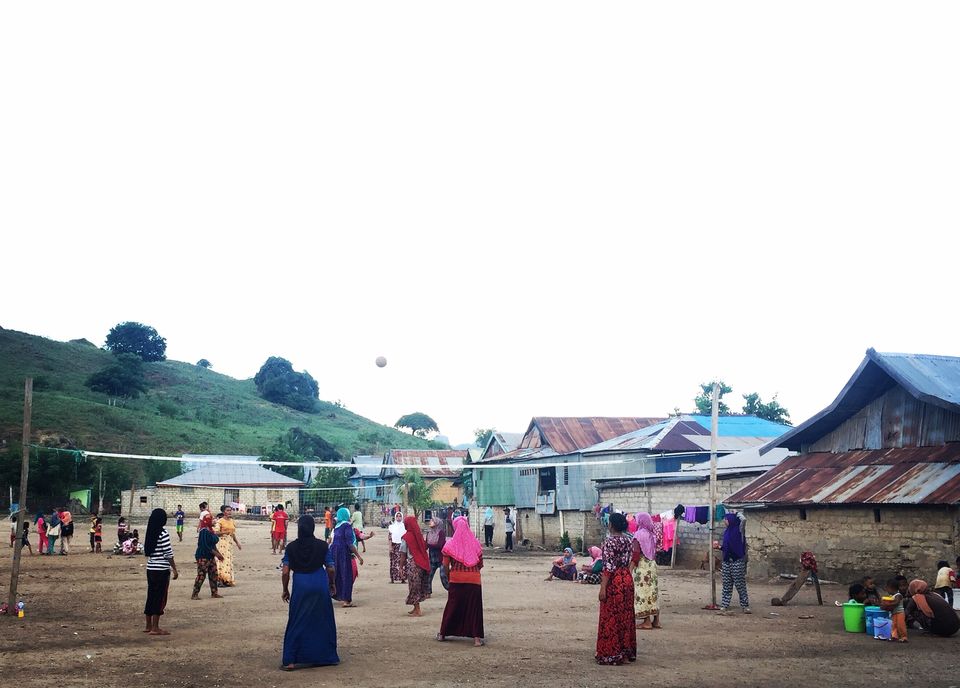 They are all such happy people. After all, how can you be sad if you live like this!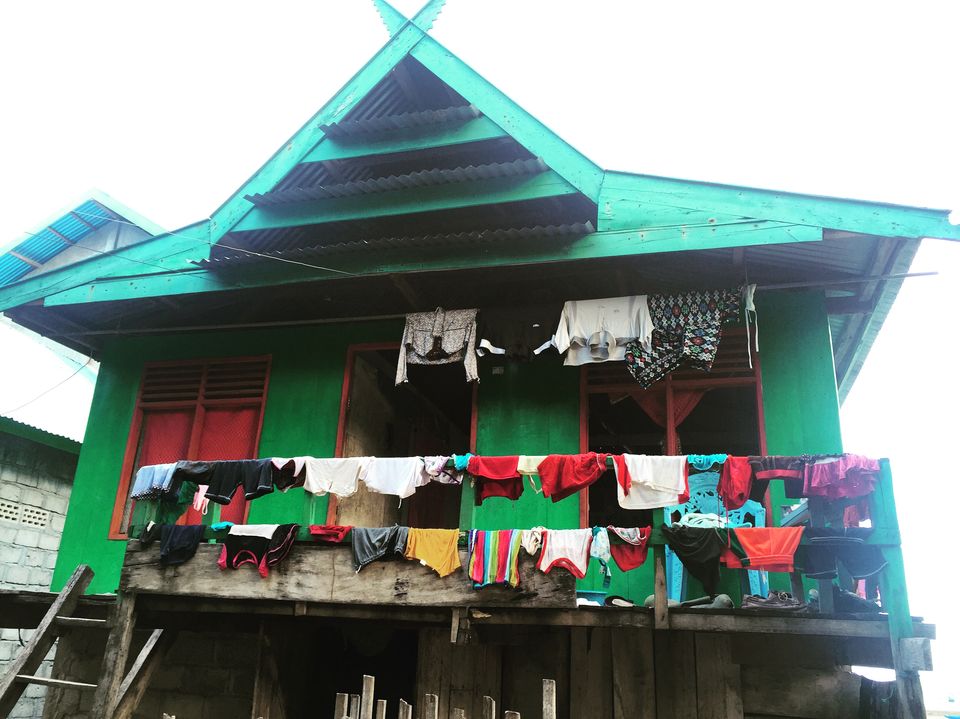 If you want to take a shower at the village, be warned that the facilities are not great. They have a community bathroom which is basically a tank full of water and a small half broken bucket to scoop water out. The door doesn't shut, there is no light inside, and no space to hang clothes. You might have to pull off quite the balancing act for a successful, much needed bath! But well, where's the fun if it all comes easy.
For dinner, the family you're staying with will prepare some fried fish, ramen and rice. The fish is absolutely fresh and with a dash of lemon on it and tastes like heaven!
Hike into the dragon's den at Komodo National Park
Next morning you will be leaving for the Komodo National Park. There are a couple of hikes available and you can choose which one to take basis time and availability which will take you straight into the dragons' home. The entry tickets from Rinca work here, so you don't have to pay extra. The dragons here are much bigger than the ones in Rinca. Please follow the guide and stick to the trail as the dragons are scary predators.
Spot the elusive mantas at Manta Point
The best spot to snorkel with manta rays is Lembongan Island in Indonesia. You can read about it here. And this spot comes pretty close to it. Make sure you respect them and always maintain distance so as to not disturb or alarm them. They are pretty comfortable with humans and are inquisitive creatures so don't panic if they try to swim close to you.
Snorkel in the clear waters of Kanawa Island
You might be wondering after seeing Komodo dragons, manta rays, turtles, the Komodo Islands tour is already a big success. But trust us, Kanawa Island will take it to a whole new level! The entire island is private resort property so they charge an entry fee. The visibility is mad! There are starfish strewn all across the shallow waters.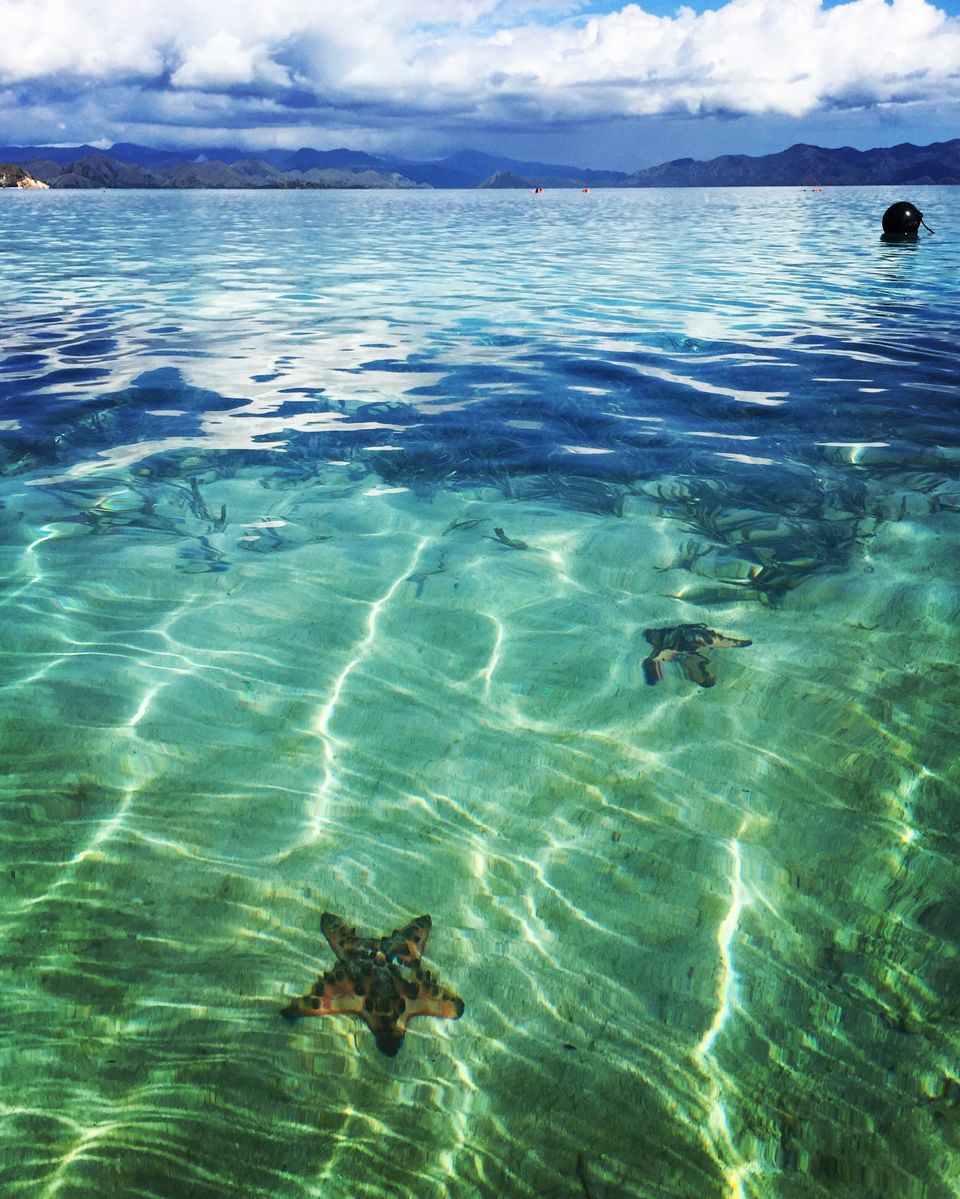 If you have the time, and a flexible budget, stay on this island for longer. The cottages cost 1.62 million IDR per day (about 122 USD). A little expensive but totally worth it! Make sure you tell the boat guys to make a pit stop here!
Best time to go
The best time to visit Komodo National Park is between April and December during the dry season. If you prefer peace and quiet, go between August - November. There aren't too many tourists at that time.
Total Cost of the Komodo Islands Tour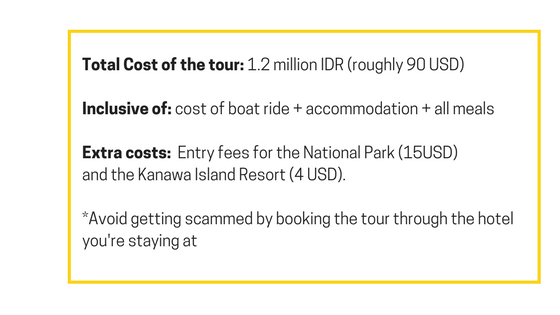 So in all you will end up spending about 109 USD for a 2 days + 1 night of absolute wonder.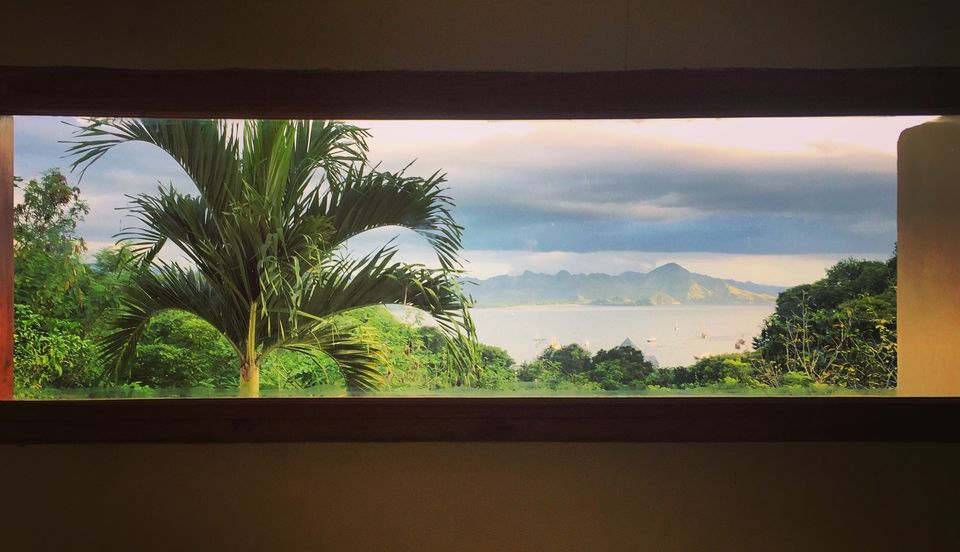 We would advise you to stay at CF Komodo in Labuan Bajo. The rooms are clean, they have AC, hot water and they will book your tour for you. And with a view like this you will have nothing to complain about!
What to eat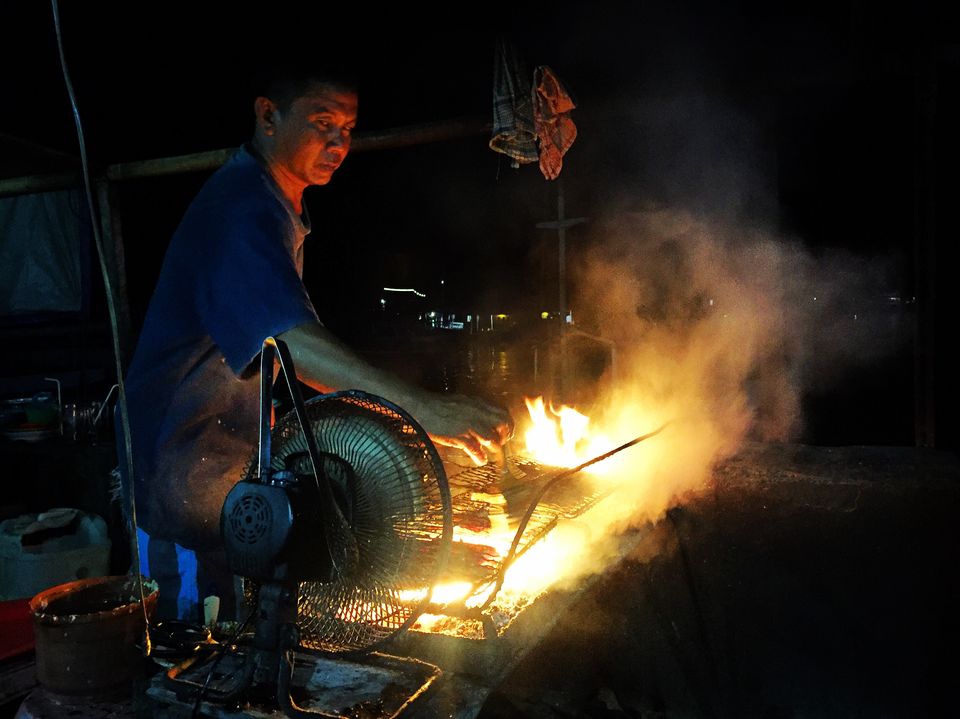 If you love street food and night markets you will love the Night Market at Labuan Bajo. The food is cheap, the fish is fresh and at the end of it all, the tummy is oh so happy! For just 5 USD you can get a huge barbecued red snapper with rice, veggies and a cold drink.
We really hope this has convinced you to stray away from the usual Bali route and visit the less explored Komodo Islands in Indonesia instead!
Been here already? Tell us about it here and earn Tripoto Credits!