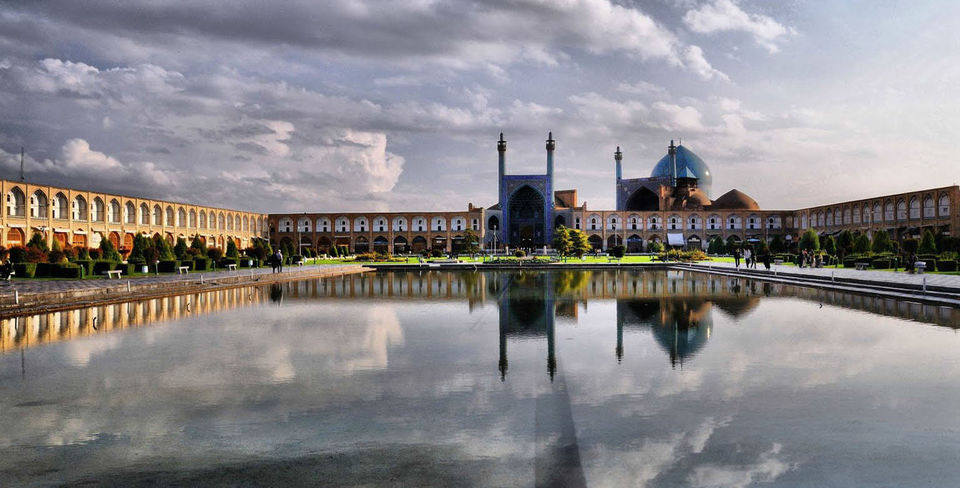 Iran with 7000 yeas of history and unique geographical position, enjoys a collection of colorful architectural masterpieces and unique natural wonders ranging from beautiful desert scapes, snowcapped peaks to dense forests. So, there's so much to see and do in terms of historical and natural sights, but if you want to discover Iran for the first time, you would not miss some of the Iran's most stunning highlights. Here, you can find Iran's top destinations and highlights. you can get your Iran visa with 29 EUR through 1stQuest.com
1. Shiraz
Celebrated as the heartland of Persian culture for more than 2000 years, Shiraz has become synonymous with education, nightingales, and poetry. This beautiful and historical city, situated in the southwest of Iran, was one of the most important cities in the medieval Islamic world and was the Iranian capital during the Zand dynasty (AD 1747–79), when many of its most beautiful buildings were built or restored. Book Shiraz hotels online through 1stQuest.com
Shiraz is home to splendid gardens, exquisite mosques the tombs of the great two Persian poets, Hafiz and Sa'adi. It's also near the remains of the old Persia, Persepolis, which is one of the world's magnificent historical sites dates back 2500 years ago. Besides the historic sites, you can get a taste of nomad life on a day trips from Shiraz. Below you can find top tourist destination around Shiraz which you should not miss:
Persepolis - Pasargadae - Eram Garden - Vakil Mosque - Nasir al-Mulk Mosque - Hafezieh (Tomb of Hafiz) - Sa'adieh (Tomb of Sa'adi) - Shiraz Bazaar
2. Isfahan
A city of immense beauty and unforgettable experiences, Isfahan has been dazzling travelers for ages. It is located on the main north–south and east–west routes crossing Iran, and was once one of the largest cities in the world. It flourished during 16th century under the Safavid dynasty, when it became the capital of Persia for the second time in its history. Even today, the city retains much of its past glory. "Half of the world" is a popular rhyme with the name of Isfahan and an example of the praise lavished by the inhabitants and poets on their city. You can book Isfahan hotels online through 1stQuest.com
Nonetheless, of all the cities in Iran, Isfahan is the richest in historical and architectural wealth. Walking through the historic bazaar, over the picturesque bridges and across the Unesco-listed central square, and visiting its imposing monuments are sure to be the highlights of any trips to this glorious destination. Below you can find top tourist destination in Isfahan which you should not miss:
Naqsh-e Jahan Square - Sheikh Lotfollah Mosque - Qeysarieh Bazaar - Chehelsotoun Palace - Hasht Behesht Palace - Vank Cathedral - Khaju Bridge
3. Tehran
Tehran is the political, economic and intellectual heart of Iran, lies at the foot of the Alborz Mountains. This bustling metropolis of 14 million people is historically a newcomer among Iran's ancient cities. Although it is not the prettiest city in Iran, it is without a doubt the most important, vibrant, and stimulating city. It is where to discover more about Iran's 20th century upheavals and get a pulse of the intersection of religion, politics, modernity, and class conflicts. you can book Tehran hotels easily through 1stQuest.
Tehran enjoys Iran's best museums and art galleries, one of the Iran's largest Grand bazzar, the finest of Iran's ski resorts, a range of ethnic and international restaurants, and chic cafes, which all makes it a memorable destination. Below you can find top tourist destination in Tehran which you should not miss:
Golestan Palace - Tehran Grand Bazaar - National Museum of Iran - Saad Abad Palace and Museum Complex - Niavaran Palace and Museum Complex - National Museum of Jewelry
4. Yazd
Yazd is one of the oldest, largest and most charming desert cities, lies somewhere in the middle of Iran, in the middle of ancient Silk Road. It is so beautiful that people call it "the Bride of Desert". Few places have adapted to their environment as well as the desert city of Yaz. The whole city is made out of clay and adobe; it seems that it has risen out of sands. Although it dose not have the imposing sights of Isfahan or Shiraz, Yazd is equally enchanting.
It is a gem of winding lanes, blue-tiled domes, soaring minarets, covered bazaars, and fine old countryard homes topped by badgirs (wind towers) and watered by ingenious qanat (underground water channels). Yazd is also home to Iran's second largest population of Zoroastrians, so there are some holy Zoroastrian sites around the city. Moreover, for the ones who adore nature, Yazd has much more to offer, you can take a day trip around to enjoy the desert's mysterious silence and unforgettable nights. Below you can find top tourist destination in Yazd which you should not miss:
Historical Context of Yazd - Amir Chakhmaq complex - Yazd Jame Mosque - Dowlat Abad Garden - Yazd Traditional Bazaar - Zoroastrian Towers of Silence - Dasht-e Kavir
5. Tabriz
Tabriz is home to the Azeri Turks, Iran's largest minority group, lies in northwest Iran near the Turkish border this ancient capital of Armenia (founded in the 3rd century BC). It is now a sprawling industrial city surrounded by mountains. Signs of 2500-year-old civilization, Tabriz was well placed on trade routes and played an important role in Iran's history and has been the capital city of Iran on numerous times.
Tabriz enjoys many historical monuments. Unfortunately, many of them were destroyed throughout the years, but what remains now is still fascinating and mostly dates back to the Ilkhanids, the Safavids, and the Qajars. It is now home to some the masterpieces of architecture and one of the Iran's most beautiful bazaars. In the nearby, the city of Ardebil with the Tomb of Sheikh Safi where the world's most valuable carpet was discovered (it's now in London's Victoria and Albert Museum) is worth a visit. Tabriz is also a base for a day trip to Kandovan, Iran's 'Cappadocia'. Below you can find top tourist destination in Tabriz which you should not miss:
Blue (Kabud) Mosque - Tabriz Historical Bazaar - Kandovan - Mount Sabalan
6. Kashan
Kashan is an oasis on the edge of the Dasht-e Kavir in Isfahan Provice, enjoying one of the oldest civilizations all around the world. Although, this delightful oasis city has never been the capital, in no period did lake anything in comparison to the major cities of the country. Every time that a story turns to the most remarkable Iranian art achievements, Kashan is inevitably mentioned. Today it is a major center for the production of textiles, rugs and rosewater, and great place to stock up on quality souvenirs.
It is one of the most fascinating destinations in Iran, boasting a highly atmospheric covered bazzar, a cluster of architecturally significant 19th-century, a 7000-year-old civilization, a stately Persian garden, and three excellent accommodation options. Also it is an ideal base for day trips to the ancient villages of Abyaneh and Niasar. Below you can find top tourist destination in Kashan which you should not miss:
Fin Garden - Sialk Tepe - Abbasian Historical House - Tabatabaei House - Borujerdi House - Kashan Grand Bazaar - Aqa Bozorg Mousqe - Abyaneh
7. Mashhad
The holy city of Mashhad is Iran's second largest city, situated in the northeast of Iran. Back in the 9th century A.D., Imam Reza was poisoned and martyred in the city. He was the eighth Imam (head spiritual leader) of Shi'ate Islam. His holy position made his tomb a sacred place for pilgrims to worship. Millions of people pay pilgrimage to the holy shrine, undoubtedly the largest and most magnificent of its kind, every year.
Away from the Haram complex, there are a number of large beautiful parks and shopping malls, the other sights tomb of Nader Shah, and Kooh Sangi pool. It is also a base for a day trip to the beautiful cities of Tus and Nishapur. Below you can find top tourist destination in Mashhad which you should not miss:
Haram-e Razavi (Shrine complex) - Ferdowsi Mausoleum - Tomb of Omar Khayyam Tomb - Tomb of Attar
8. Northern Iran
On the southern coast of the Caspian Sea, there are two provinces called Gilan and Mazandaran covered with beautiful forests and cities. The diverse nature of the provinces features plains, prairies, forests and rainforest stretching from the sandy beaches of the Caspian Sea to the rugged and snowcapped Alborz montains. This picturesque land enjoys a rich history dates back at least 75,000 years ago, a rich verity of cultures and costumes, and a rich culinary tradition.
This paradise is a famous Iranian tourist hub especially among domestic tourists. The region's most important and beautiful cities are Rasht, Anzali, Lahijan, Noshahr, Chaloos, Noor, Babol, Babolsar, and Ramsar. There are also many small towns and villages near the cities like Masal and Masuleh, which are defiantly worth a visit. Below you can find top tourist destination in northern Iran which you should not miss:
Masal - Caspian Sea Beaches - Gilan Rural Heritage Museum - Turkmen Tribes - Daniyal Cave - Bojagh National Park - Tea Farms - Anzali Lagoon - Ramsar cable cabin
9. Southern Iran
If you are interested in cultural and eco-tourism, you should take a trip to the southern Iran, along the Persian Gulf and Oman Sea to visit the free-trade zones of Chabahar and Qeshm Island. There are a range of stunning geological formations and abundant wildlifes in the region which make every observer praise these natural masterpieces. With beautiful beaches, sands and rocks, these quiet and calm destinations are best places for relaxation, recreation, swimming, and diving. Below you can find top tourist destination in southern Iran which you should not miss:
Islands of Qeshm - Qeshm Geopark and museum - Gelafshan Hill - Persian Gulf Beaches