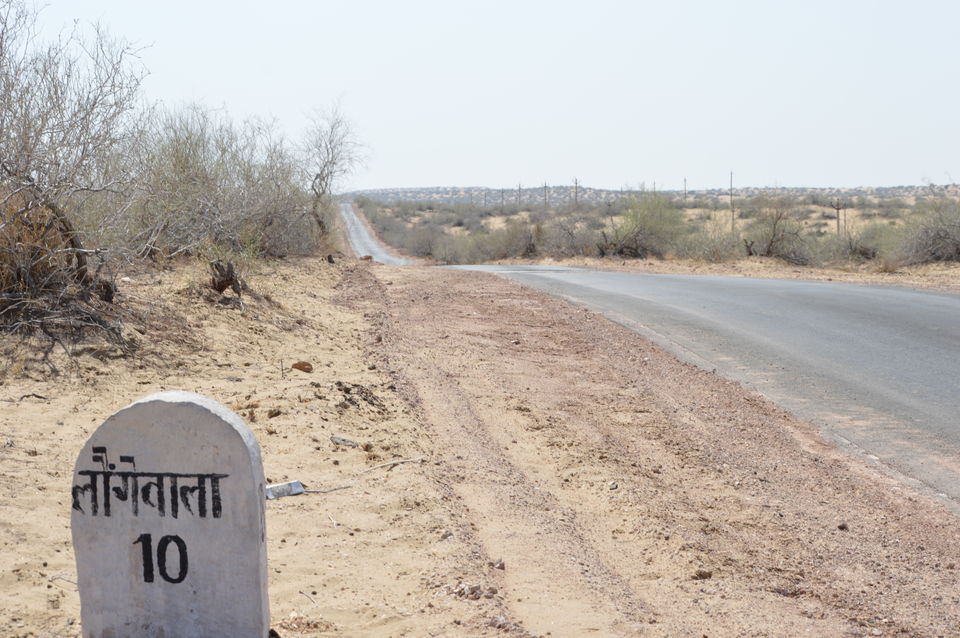 Major Kuldip Singh Chandpuri fought gallantly to hold the post of Longewala at one of the most ferocious battles fought between India and Pakistan during the 1971 war. The legend of Major Kuldip Singh Chandpuri was brought to the reel life in the 1997 movie "Border" starring our very own Sunny Deol in that role, and since then, Longewala had been on my bucket list. After two decades of awaiting and delaying, it was time to tick this off.
The plan, as usual, wasn't there. It was a rough idea to spend a day or two in Jaisalmer and do a few touristy things, go to Tanot and Longewala, and then head to Khuri for a secluded night stay at one of the villages deep inside the Thar desert. Embarking on another soulful encounter with the sand, sun and flavours of India, we picked our scooter from one of the rental places in Jaisalmer, as soon as we got there. Then, from cutting across the freezing winds of early morning in the month of February to the tanned faces in the middle of the noon, we savoured on everything we witnesses over four days and everything we found to eat or drink, be it chilled beer or bhaang lassi.
Day 0
Taking a roadways bus from Jodhpur to Jaisalmer will drain you down, as it takes good 6 hours, so basically the day you land up here, you just need to crash. We made a little change to this and straightaway headed to Sam Sand dunes (around 40 km), the much loved and for obvious reasons, the much touristy part of Jaisalmer.
You have a very different image of a desert safari or sand dunes, and sam dunes just thrash all your expectations. There are so many resorts near by, and by the evening this place turns out to be too touristy. It is not clean as some of the smart people forget to carry their trash back with them. Unfortunately such a pretty place is been spoiled by careless tourists. Sunrise and sunsets are a true delight although.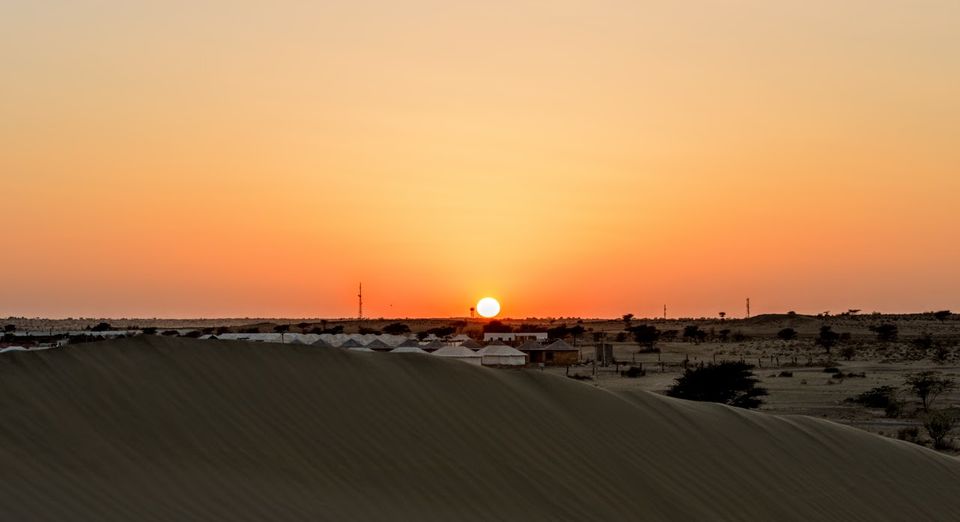 There are numerous stay options around sam sand dunes, and all of them have the standard offering: an evening safari, swiss tents, food, evening show etc. So the evening was spent well; witnessing the orangish sun streaks merging with the pale-yellow sand dunes far away in the west; sitting for the evening cultural show (as they call it), gulping down chilled beer; and savouring on ker sangri and gatte ki sabji over dinner.
The plan for next day was charted out and it was decided to cover Tanot and Longewala, and get back to Jaisalmer before sunset.

Day 1
The most eventful day of this sojourn began quite early in the morning. Since these tents are temporary ones, they hardly have running hot water facility. Evenings and mornings during winter get chilly in Jaisalmer. So, it was the early morning chase to get some hot water, and the caretaker barged with a couple of buckets at 5.30 in the morning. This was followed by the chilled welcome the early morning winds of Jaisalmer gave us while riding towards Tanot.
Ramgarh is the last town on this section, so you may grab your breakfast, water, snacks and tank up here. People in Jaisalmer told us there are no petrol pumps after Jaisalmer, but there are two new petrol pumps (operational) just before Ramgarh.
Past Ramgarh, soon after you take the diversion towards Tanot, the landscape changes abruptly. There is no vehicular traffic and no human settlement for miles. This was the most enticing part of the entire visit. You just cannot stop yourself from breaking over after a few kilometers to capture the breathtaking landscapes of road cutting across the swathes of shrubs and sand dunes.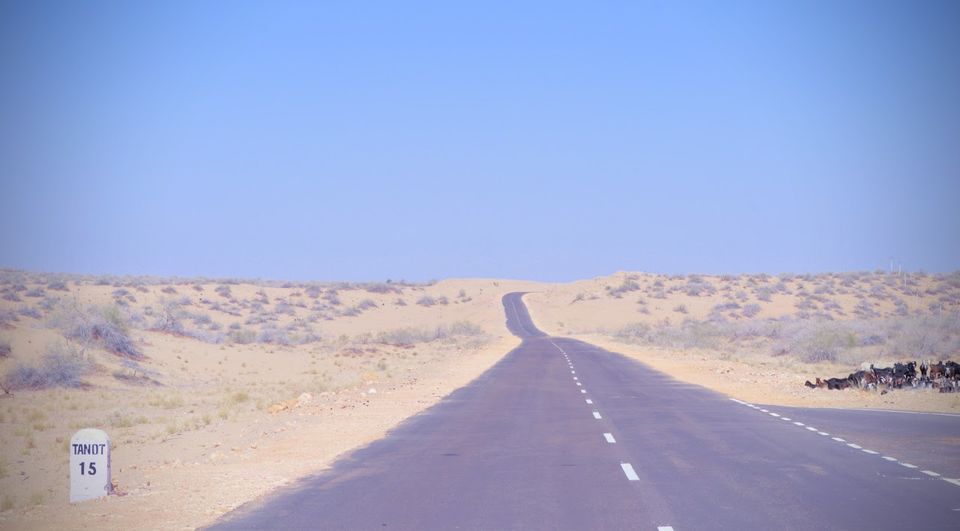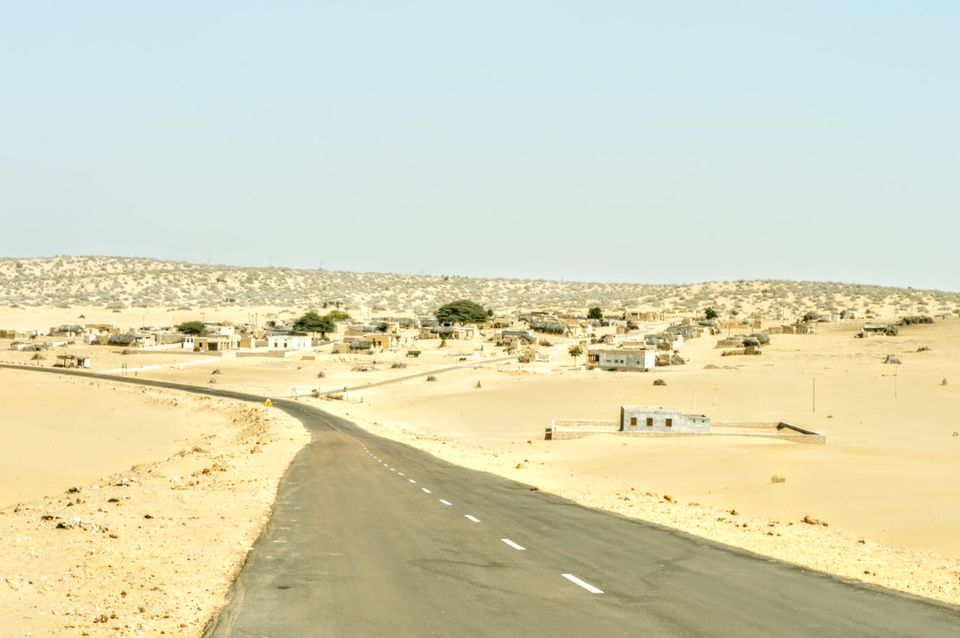 Tanot is truly like an oasis in the desert. Having ridden for an hour and a half deep inside the desert, you get to see life at Tanot. The deity and the temple at Tanot has its own legend. The temple survived the heavy shelling from Pakistan during the war of 1965. The border security forces have their faith in the spiritual powers of the deity, and they maintain this temple premises.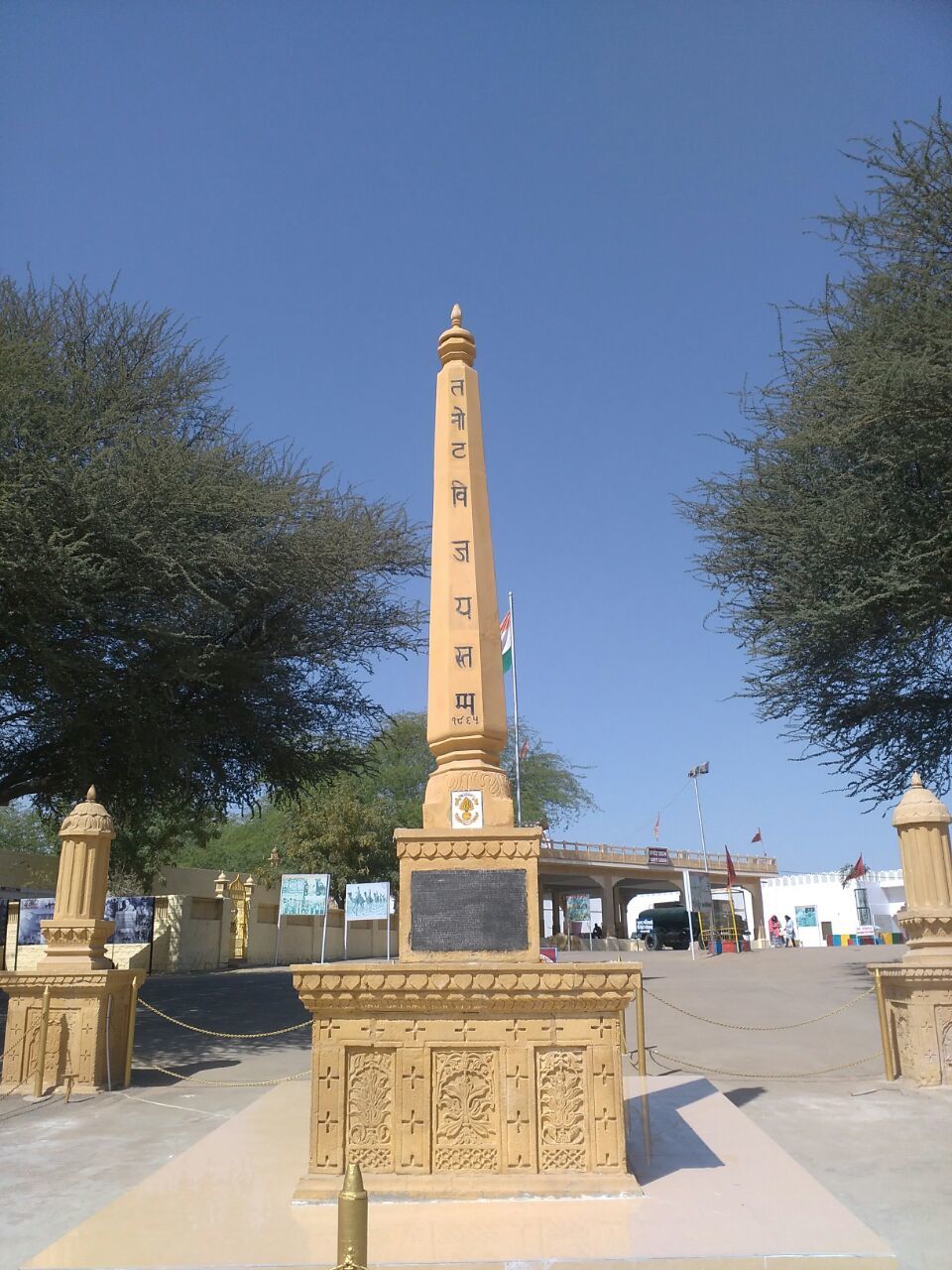 The next stop was the much awaited place since childhood, the Longewala war memorial. It is one of the few war memorials in the world, which are located right at the place where the battle was fought. This memorial was erected in remembrance of the soldiers who fought one of the most furious battles between India and Pakistan during the 1971 war. The battle of Longewala has a special place in the history of Indian armed forces, and that makes this place to be a must visit for every Indian national. No further words for this war memorial, it is just an experience which you can gather once you step in the place.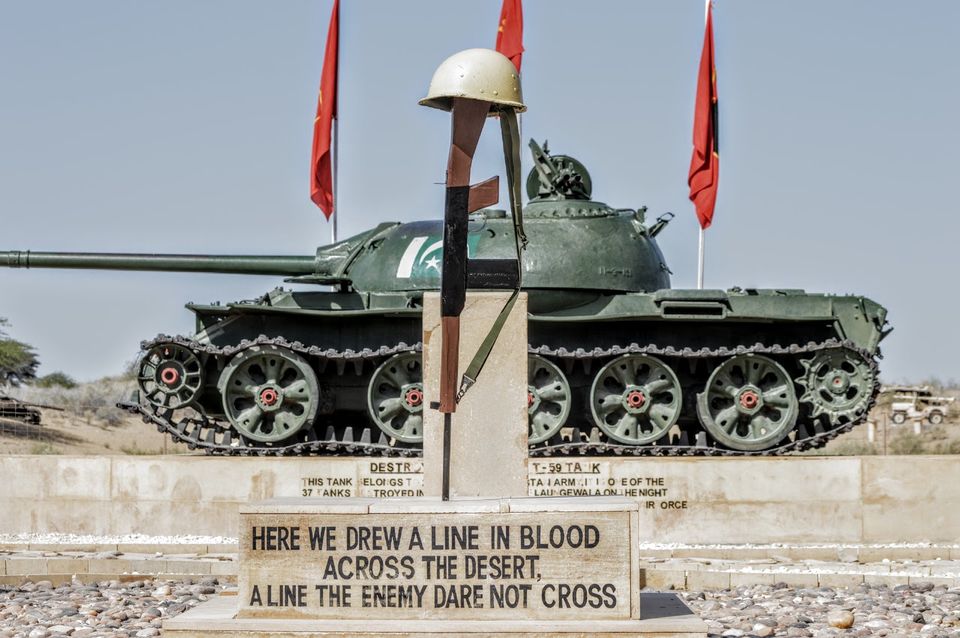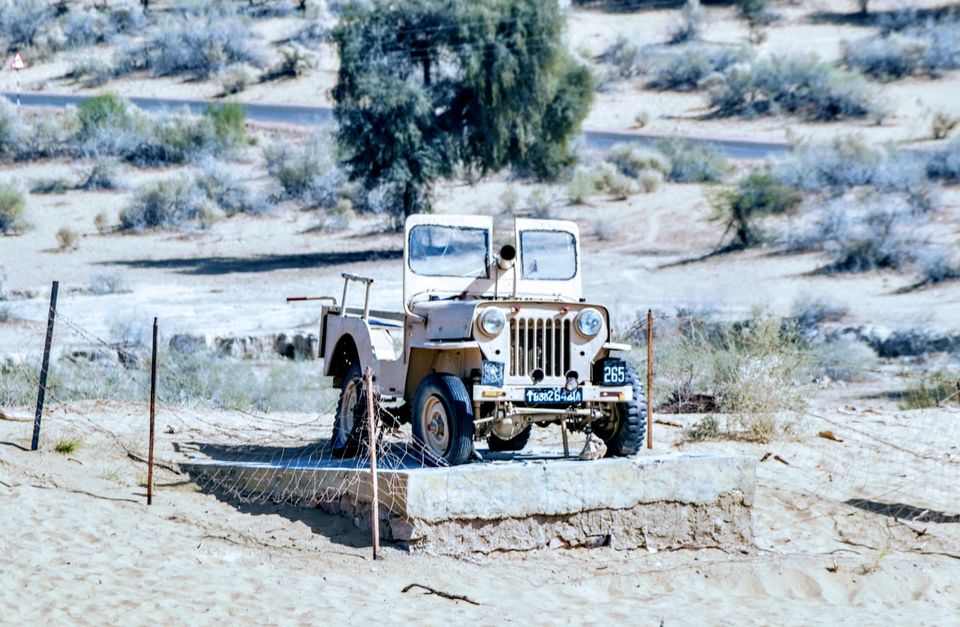 (Note: A small documentary is played every half an hour at the war memorial, do not miss this documentary.)
The return ride was equally intriguing, riding over dunes one after another; vast stretches of tarmac getting lost in the piles of sand. And the area is so deserted, literally, while stopping over for a quick camera shot, a cab driver actually stopped next to us to inquire whether we are okay or we need any help.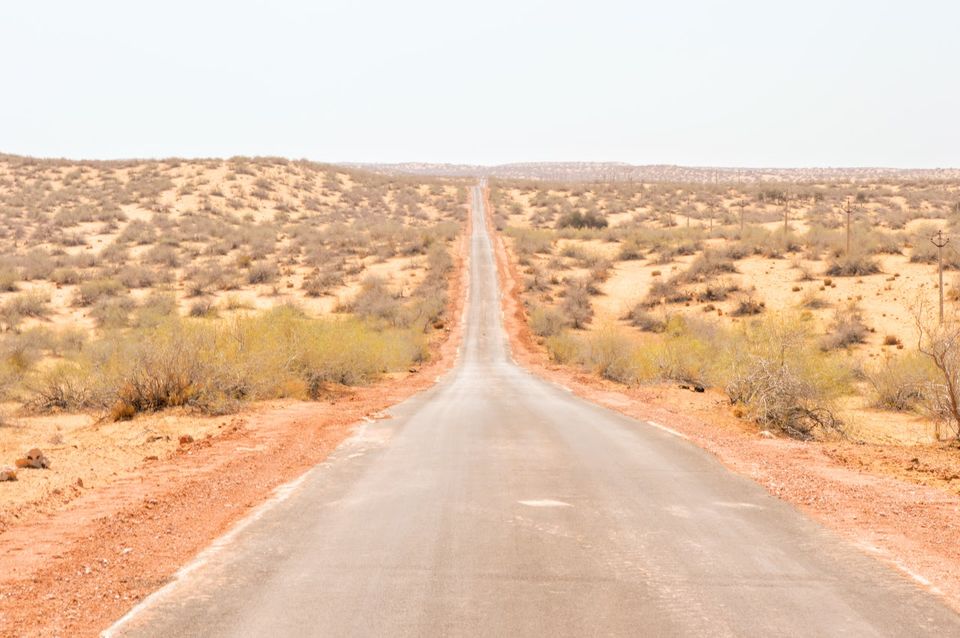 Getting tanned in the sun entire day, we just wrapped up the ride with a chilled beer on the way back. Wait, it did not end there. There was a lot in the store. So, after sorting out the night stay, we headed to the market and being "Mahashivratri", there was quite some crowd at a small shop. The shop was the "Bhang shop", infact one of the most sought after official bhang outlets in Jaisalmer. And such a splendid day got over with a glass full of blissful lassi: sorted for the night.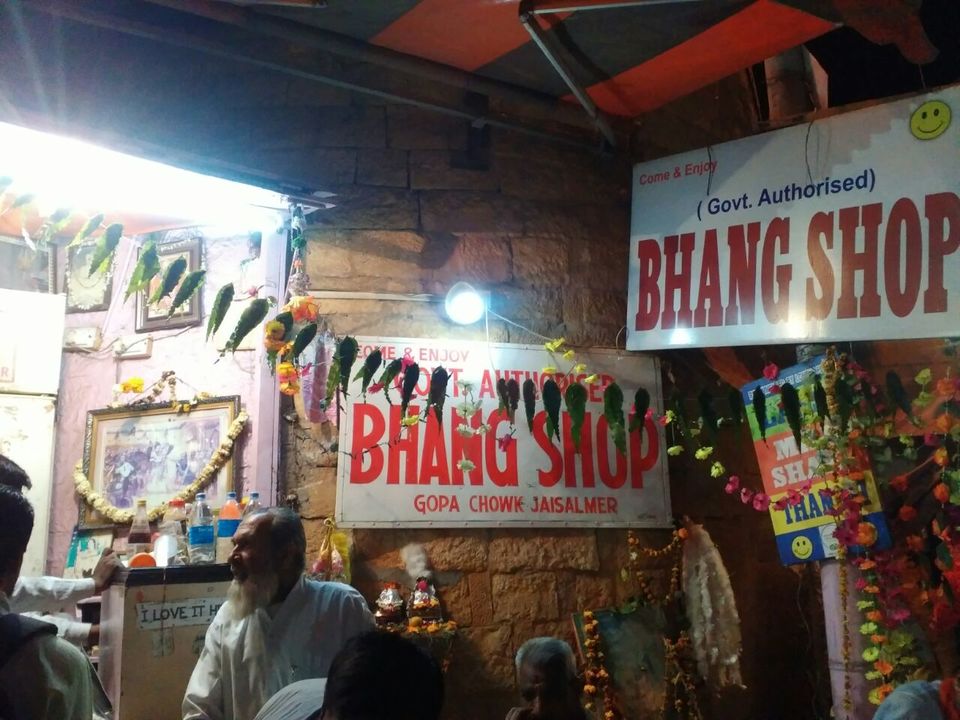 Day 2:
That's what bhaang does to you. With fade memory of the night before, we woke up on the roof of the hostel we were putting up at, witnessing one of the most beautiful sun rises. The yellow streaks of the morning sun had coloured the Jaisalmer Fort Golden and the clear blue sky made the perfect background. Trust me, you would love to wake up to such a morning every day.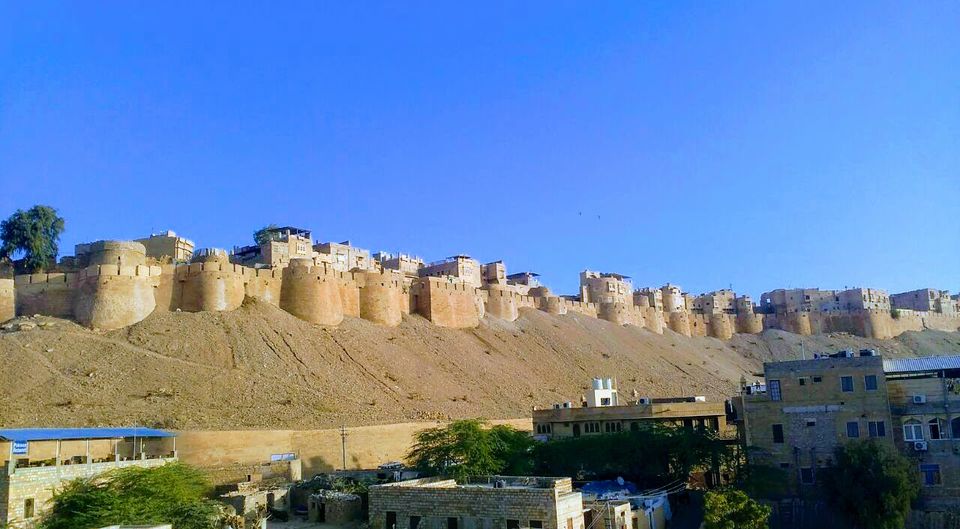 First half of Day 3 was for marked for places to cover in Jaisalmer and second half for Khuri. There are numerous havelis, at stone's throw from each other; so you can cover all of them easily in one go (if you want to). We headed straight to the market to grab the early morning souvenirs, breakfast of sipping hot kachoris, poha and dal pakwan. You just cannot miss them when you are in Rajasthan.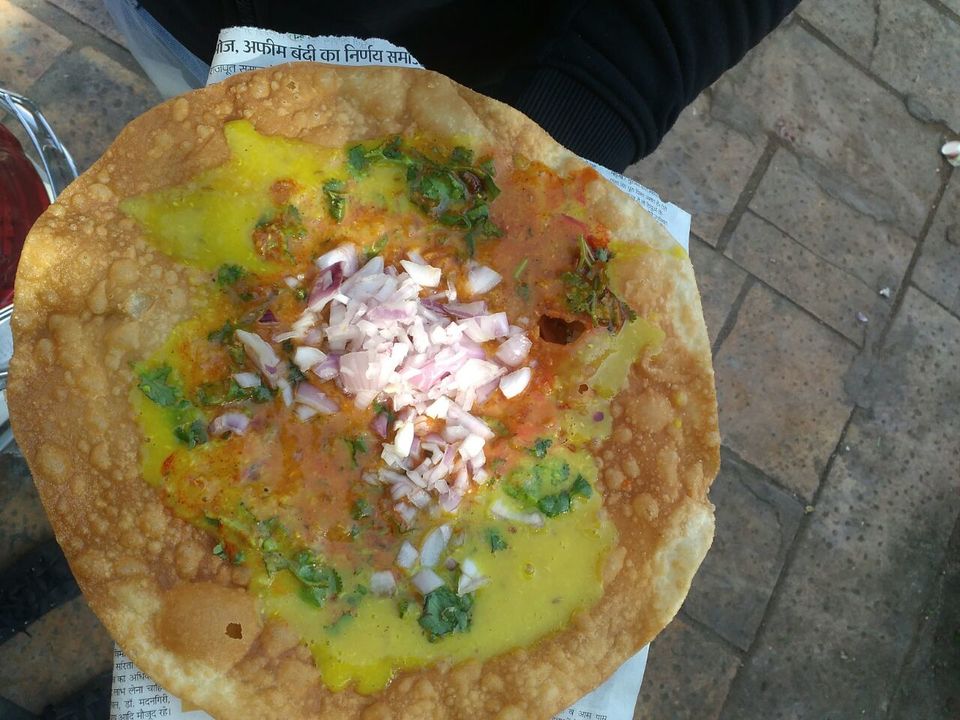 The next few hours were spent at Gadsisar lake and Jaisalmer war memorial. About Jaisalmer War memorial, well, this place is a war historian's paradise, with extensive coverage of the wars we have fought since independence. A must visit place if you happen to be in Jaisalmer. There is a lot at display, so do spend some time here and know a little bit about your armed forces.
After having covered the most of it in Jaisalmer, and a sumptuous meal of authentic Rajasthani food at "The Trio", we embarked on the road to Khuri, a small village some 50 km south-west to Jaisalmer.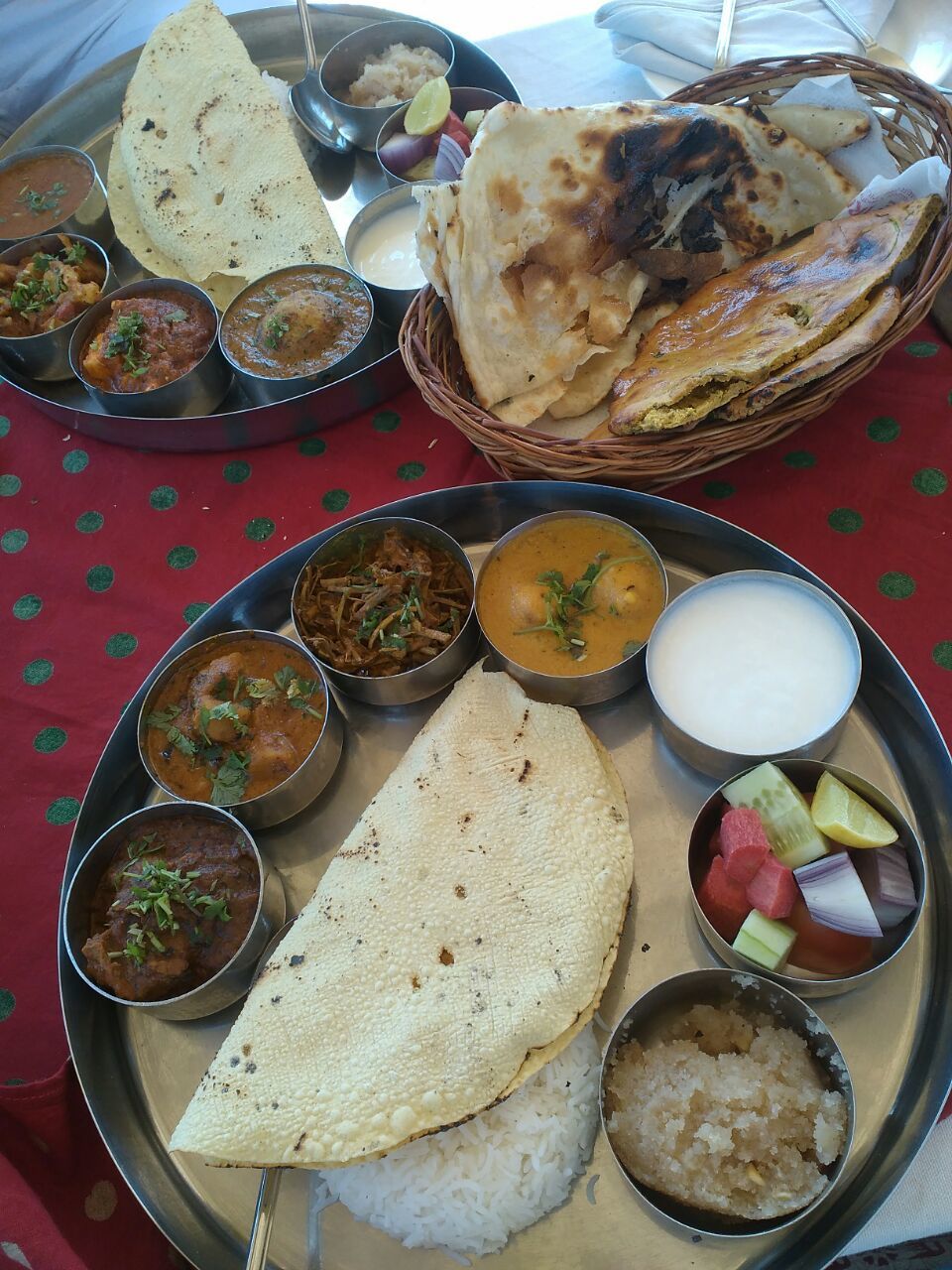 Khuri has one of the most spectacular and pristine sand dunes. Our host in this remote settlement inside the Desert National Park was Mr. Badal, who runs one of the best rated homestays, known as "the badal house". The simplicity and warmth with which Mr. Badal takes care of your stay is just beyond your expectations. Do not expect any kind of luxury at this place, just live the way local people do. The evening was spent gazing at the sun immersing slowly into the layers of sand dunes, far away in the west. The night was spent on the roof (this time we remember going to the roof) gazing at the stars on a pitch dark night, a night you would love to set in every day.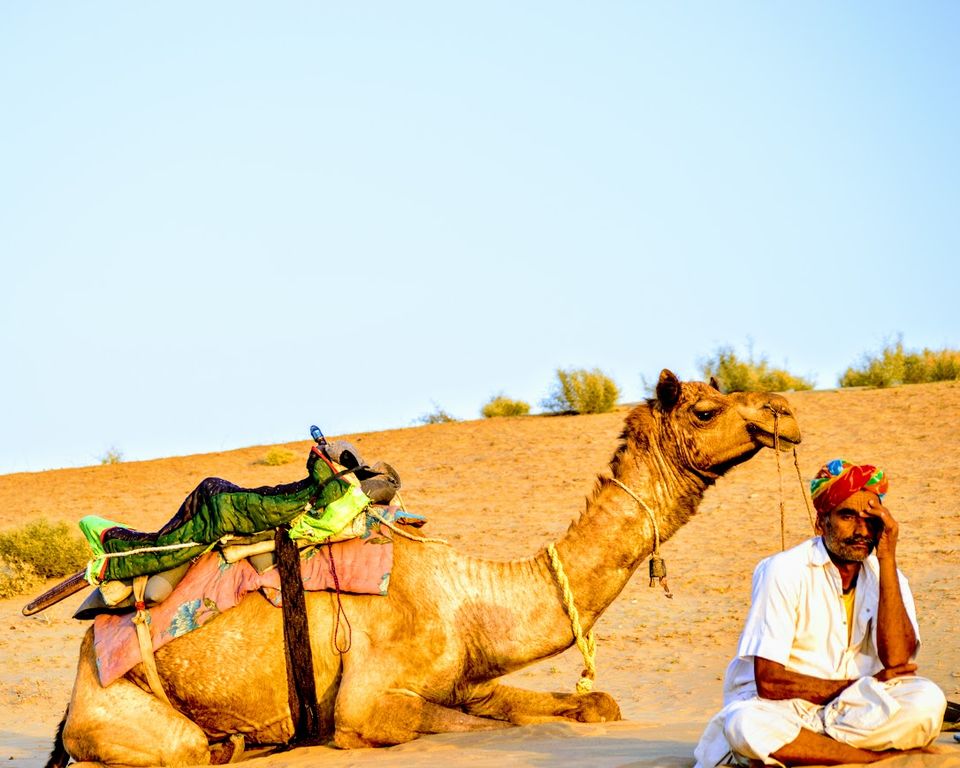 Day 3
This was the return day, and we packed our bags early from Khuri. That gave us some time in Jaisalmer to cover the Jaisalmer fort. This is a different world in itself, with so much to shop for, so much to explore and so much to eat and try at. There are numerous hostels, hotels and restaurants, some of them have lovely balconies overlooking Jaisalmer town, where you can sit for hours and do just nothing.
Well, that is how we saw Jaisalmer, the golden city. A laid back, chilled out and yet a culturally vibrant place which has the right mix for everything. Havelis for architecture lovers, abandoned villages and sand dunes for adventure lovers, a variety of local and foreign cuisines for food lovers, vast swathes of sand and nothing for nature lovers, and yes, war memorials for those who have profound love in history or warfare. Jaisalmer has something for everyone, hope you get to have your bit of something soon. Happy Travelling!!!