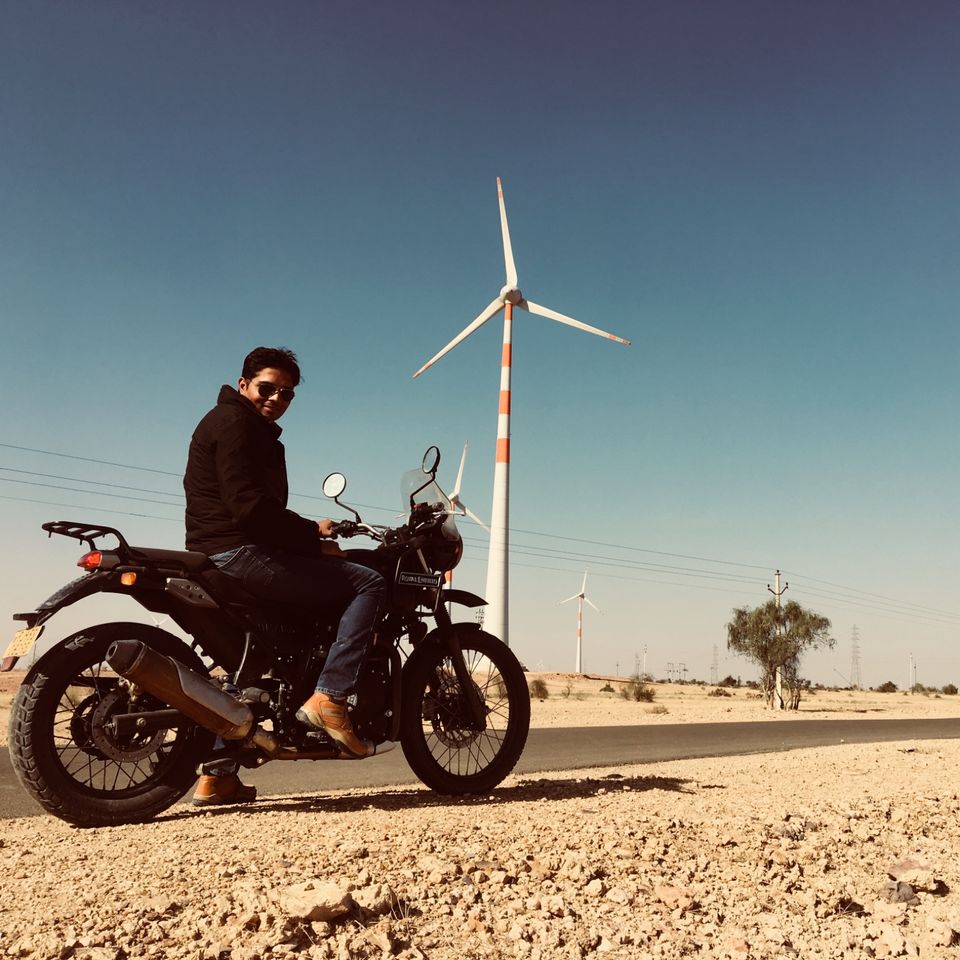 It was the last week of december, the new year time.
Me with my friends visited Jaisalmer.
We took a train from jaipur to jaisalmer which reached Jaisalmer at 4am.
We had our bikes and hotels booked. We freshened up at hotel in jaisalmer, had a delicious breakfast around the market near Jaisalmer fort and took the bikes to start our journey towards Tanot Mata Mandir.
It was 11am and the weather was dry, so we had to stop quite a number of times to have water.
The roads were just amazing which may be attributed to the less traffic in this area.
The sand dunes and wind mills makes this route a treat for the eyes.
We reached Tanot at 4pm. We had lunch on the way.
We planned to visit border near Tanot. You have to take permit from jaisalmer BSF camp for this visit.
But you can not drive with your bikes to border area as the terrain is muddy and bikes can not go through. We tied up with a family who were traveling in a tempo traveller.
The border was exciting to watch. Here one can see pakistan's check posts.
The place known as zero point, where all flag meetings take place between Indian army and Pakistan rangers.
Felt pity to know how tough are the conditions here for the soldier.
It is strictly a no photography zone.
A soldier narrated how they check infiltrations by observing the foot marks on the sand around the border fencing.
It took us 90mins to visit the border and come back to Tanot temple.
We started around 5.30pm towards longewala post. The land where the marathon war of movie "Border" was fought. The tanks and jeeps with gun has been kept for display here.
They screened a short movie on Longewala war.
It was late and sun had already set. The road from longewala to ramgarh looked horrible in night with foxes and wild cats running across the roads.
We reached around 10pm to Sam village. Sam is the land of the best sand dunes of Jaisalmer. We stayed in the Oasis Camps which offered great hospitality.
This december night was very cold in Sam.
Next day morning we took a camel ride which was complememtary for Oasis camp guests. We shot the beautiful sunrise in dunes. We drove to the windmills that we saw the last day. Took some amazing shots there.
The evening was the key outline of this trip. It was an amazing cultural night loaded with Rajasthani classical songs, Kalbeliya dance and fire show.
Stayed for another night at the camp.
Next morning we drove back to Jaisalmer and visited the Jaisalmer fort, the only inhabited fort in Rajasthan.
There is a complete market inside this fort. Handicraft and rajasthani crafts were the key articles being sold.
We visited the only Theatre called Ramesh Talkies to watch Tiger Zinda Hai.
We bade Adieu to Jaisalamer the very night.
For more such out of the box travel destinations and amazing photographs visit my personal blog www.lonelymusafir.com