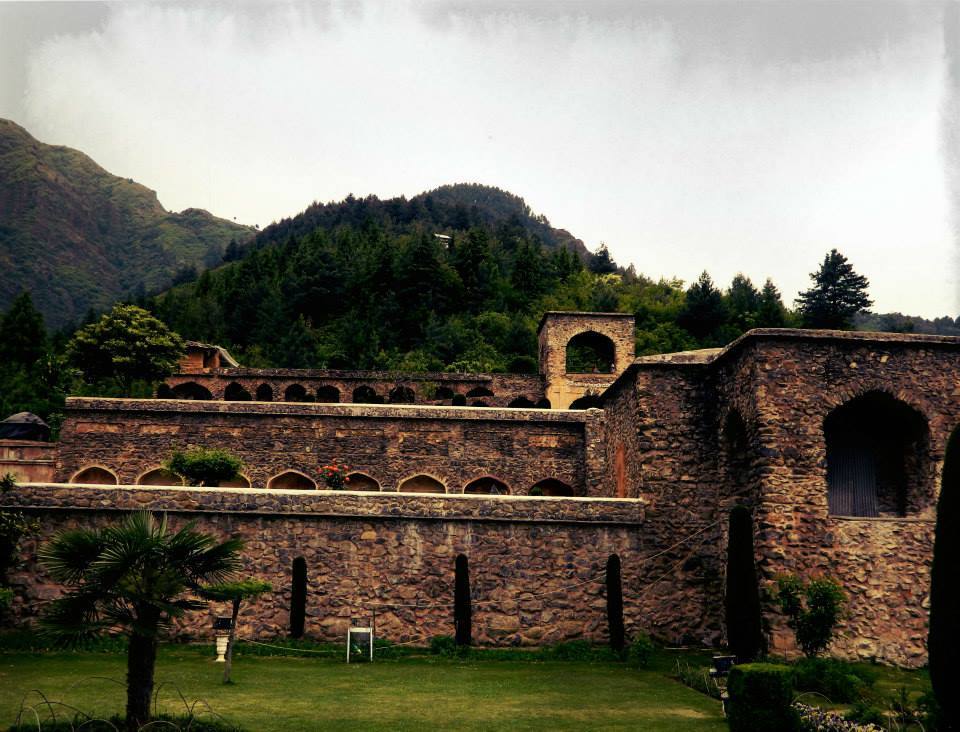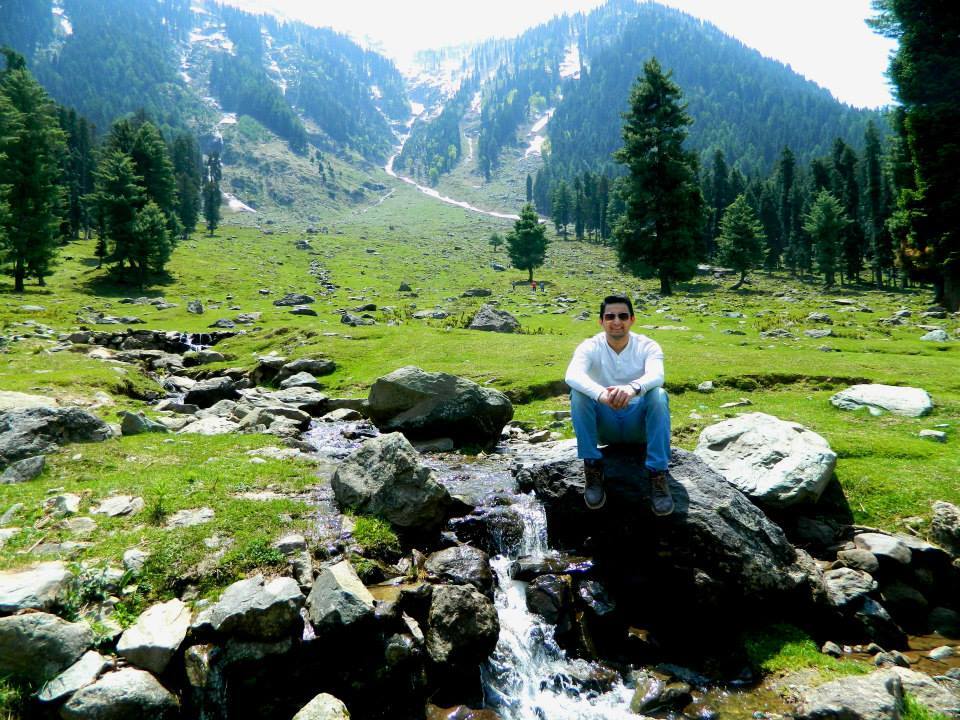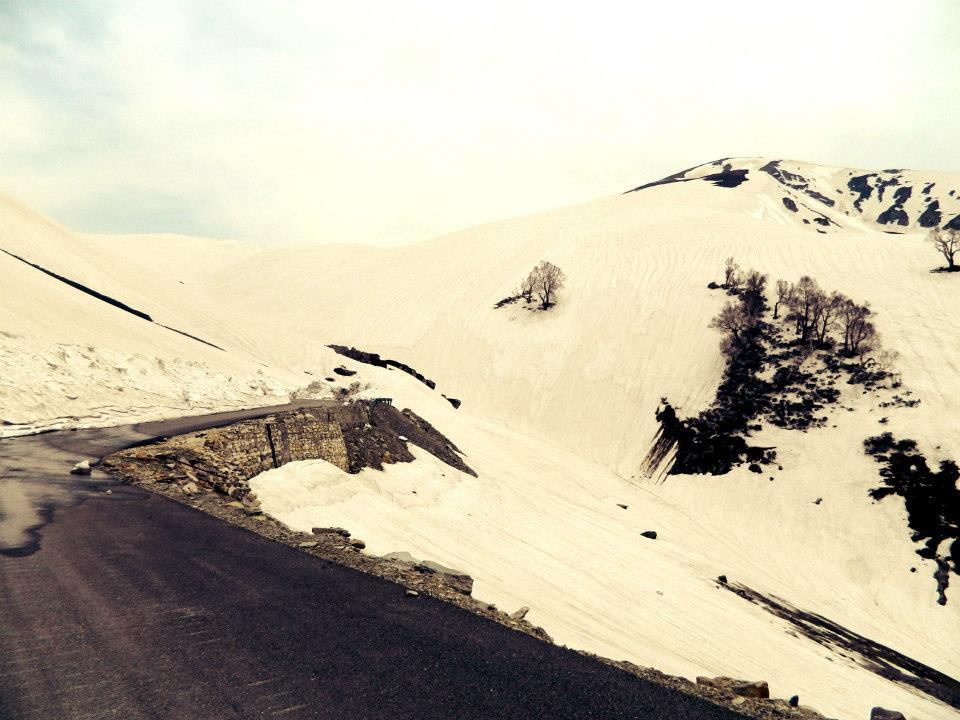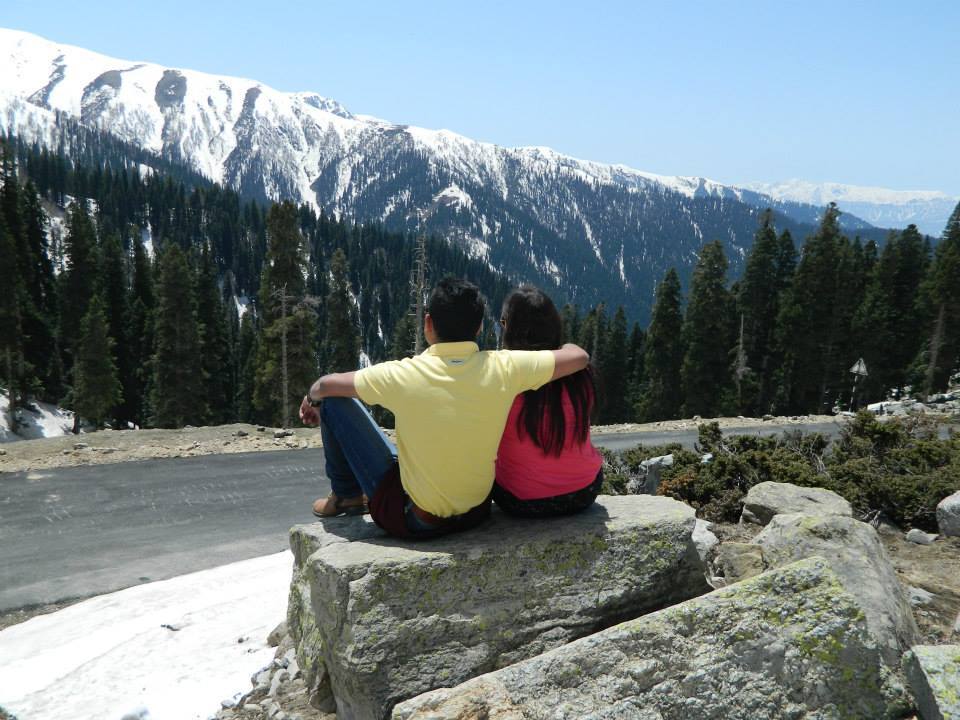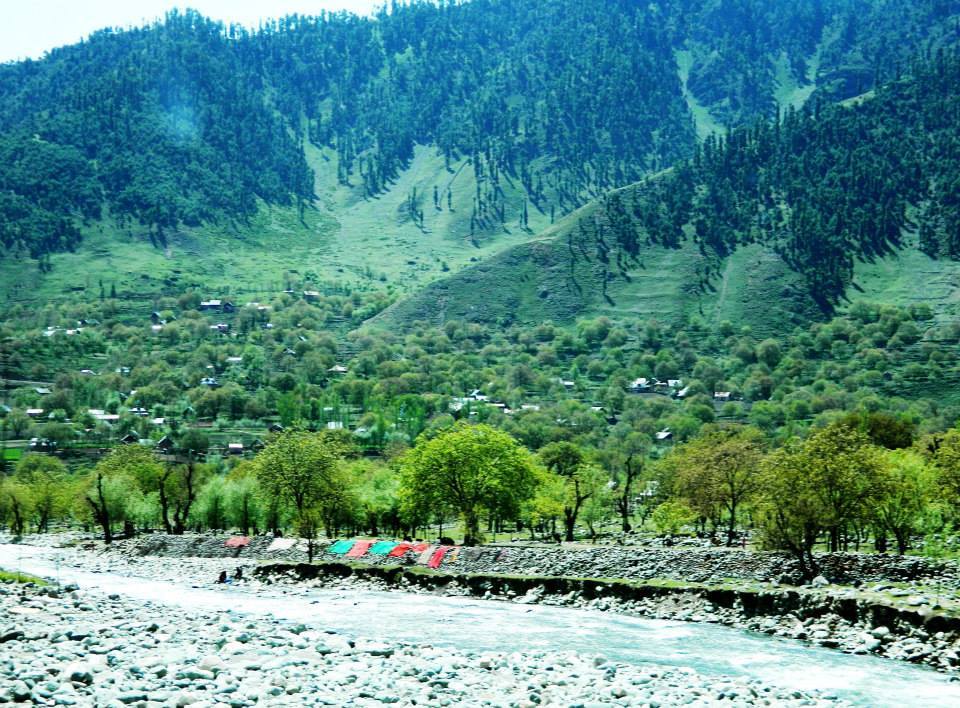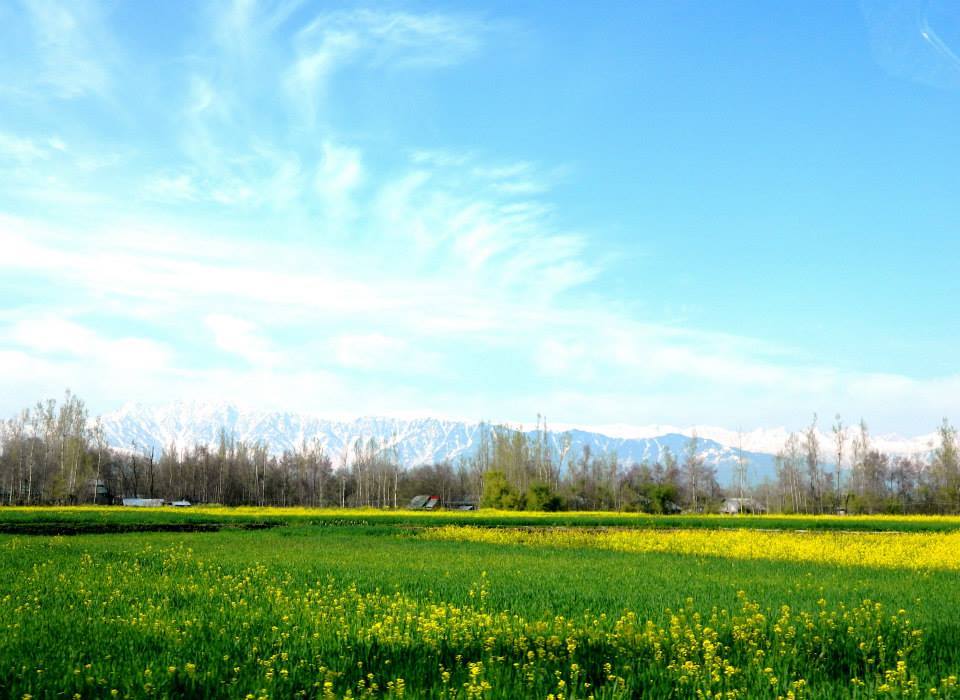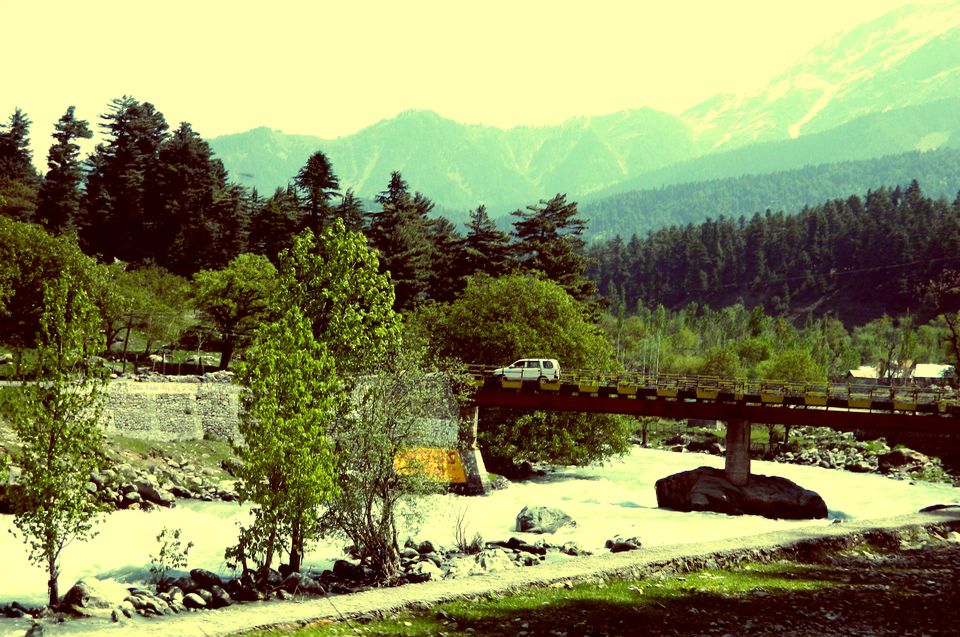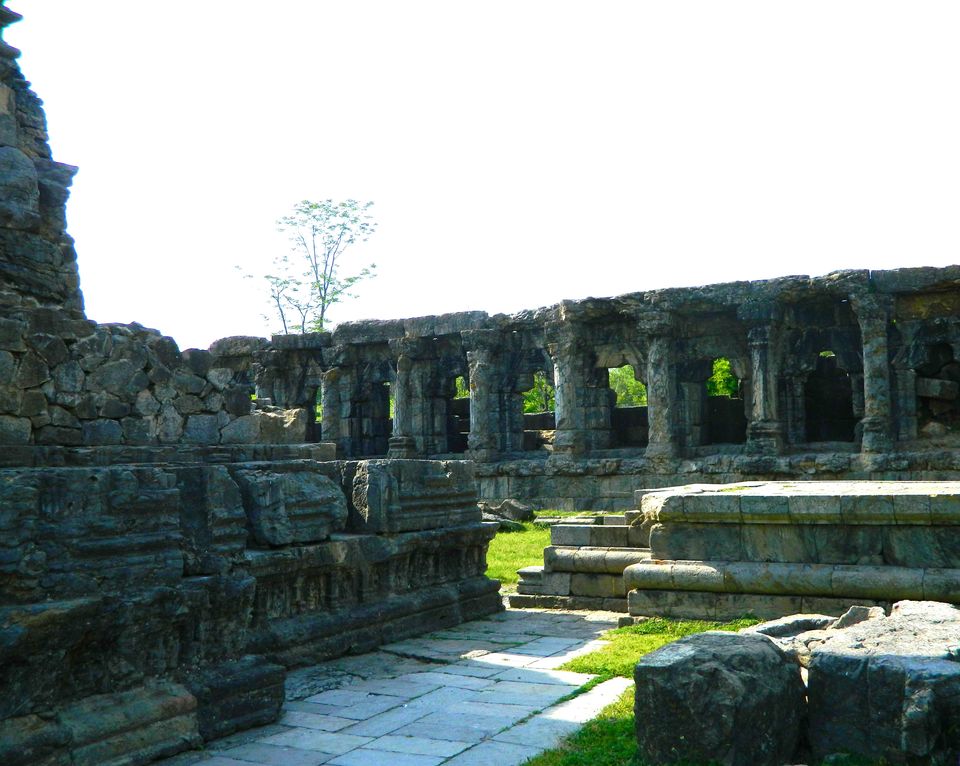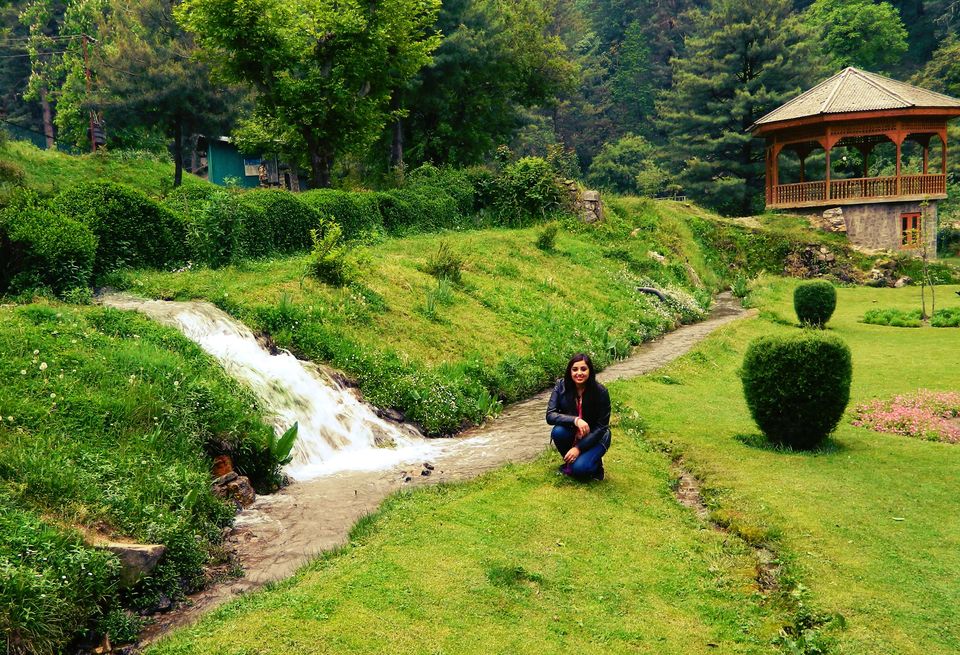 To the new beginnings.. here I am writing down my second trip, which happen to extend beyond "just a few days". Kashmir, was my home for a few months post wedding, owing to my husband's work assignment. We lived in a place about 60 km ahead of the capital, Srinagar. Despite my husband's busy schedule we did manage to steal a weekend or a two to go out and about.
As any excited tourist, your head moves towards the window of your plane to catch a glimpse of the snow-clad mountains, as soon as the pilot announces we have entered the Kashmir Valley. And trust me, the aerial view is nothing short of the postcards/ pictures of the Swiss-alps. As you step out of the plane, cold wind brushes your skin, and with watery eyes you get your first view of far off mountain tops surrounding the airport.
Places to visit in Srinagar:
The central attraction of the city is the Dal Lake and its Mughal Gardens. The lake is surrounded by Shankracharya Hills from 3 sides. Colorful House Boats and Shikaras (Kashmiri for Boat) adorn the lake. A Shikara ride can be taken from the edge of the lake and usually takes about 3-4 passenger per ride and costs INR 150-200 for a 30 Min ride towards and around the center of the lake. Locals offer to sell sweets, Kesar and nuts on make-shift Shikara shop. Tourists can also get their photos clicked wearing traditional Kashmiri dresses and jewellery at the instant photo service offered by professionals on the Shikara.
We skipped staying at the boat house at the lake as we had to head back by the evening, but it is another main attraction for tourists. A night's stay at the Deluxe house boat for two person costs around INR 7000, inclusive of all meals (offers WiFi facility as well). You can opt for stay + breakfast only plan, if you like. There are many restaurants/ eating joints at the market adjacent to the lake.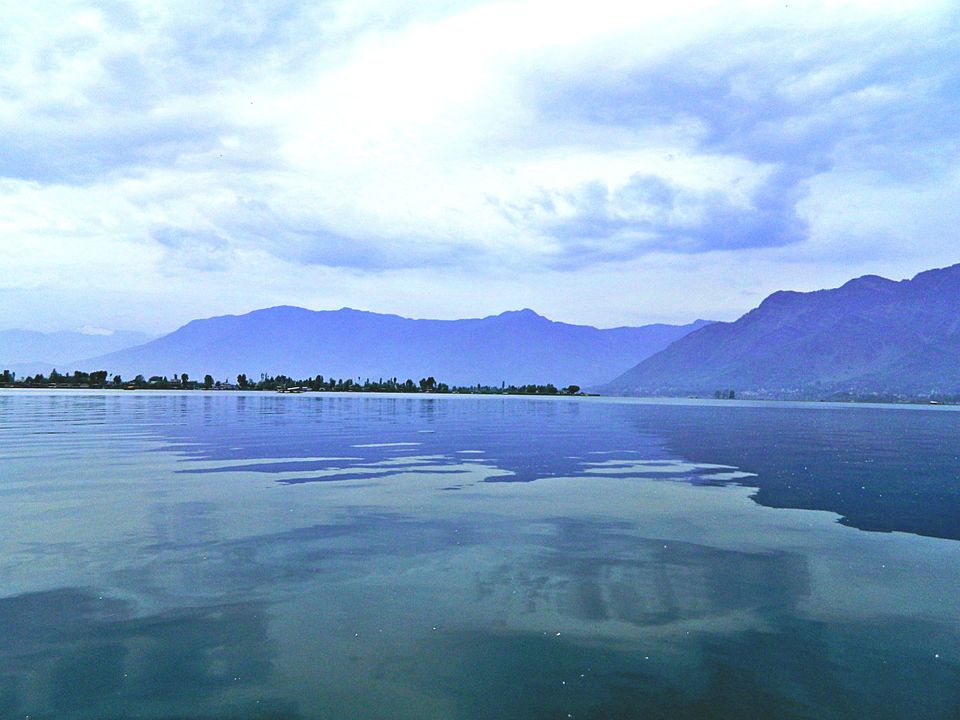 Next to the Dal Lake is the famous Shankracharya Temple, set at the top of the Shankracharya Hill (at the height of 1100 Ft. above the surface of main city). The temple is important for religious (main deity is Lord Shiva) as well as architectural viewpoint. Cars/ Taxi can take you up to a certain point, and from there tourists need to pass through a check post beyond which the temple is approached via a flight of approx 100 steps. Please note that camera/ mobile phones/ any electronic devices are not allowed at the temple, tourists are advised to leave them behind in the vehicle.
Botanical Garden
Famous as the Jawaharlal Nehru Memorial Garden, Botanical Garden is located at 5-10 min drive from Dal Lake. The garden is home to rare Kashmiri tropical plants and the entry is restricted through ticket (INR 10 per person). The garden also has a small lake within its boundaries and is open to tourists for paddle boating.
Chashm-E-Shahi Garden
Situated almost next to the Botanical Garden is the Royal Spring - Chashm-e-Shahi (Chashma is Kashmiri for Natural Spring). The garden is adorned with lush green landscape, colorful flowers and three-terraced formations that carry the sweet water from the spring. Fountains, waterfalls and Chinar trees add to the picturesque charm of Chashm-e-Shahi. The garden is open from 9:00 Am - 7:00 Pm everyday (except Fridays) and has an entry fee of INR 10 per person.
Tip: Do not forget to carry an empty bottle to carry back some sweet spring water with you. Its safe to drink. :)
Pari Mahal
Located at 5 Mins drive from Chashm-e-Shahi, Pari Mahal is a seven terraced garden overlooking city of Srinagar and south-west of Dal Lake. Showcasing Mughal architecture, the Mahal offers some amazing view from the top. It is usually crowded with local tourists, so you need to work your way through the crowd to get a perfect snap. Entry fee is INR 10 per person.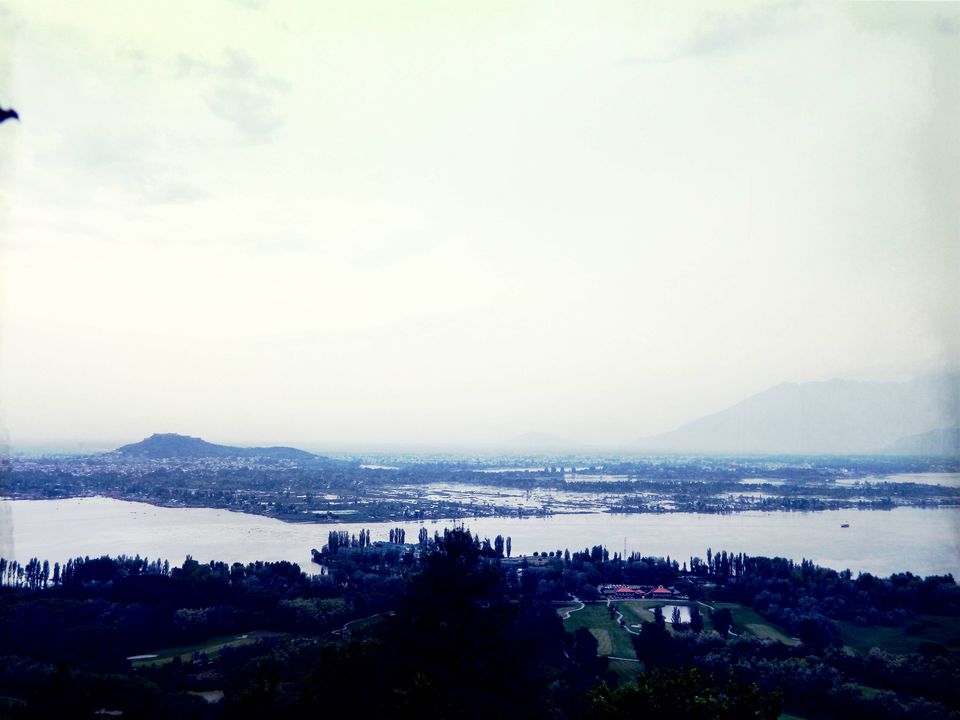 Arial view of Dal Lake from Pari Mahal
Indira Gandhi Memorial Tulip Garden
Known simply as Tulip Garden, spread across 12 hectares, it is one of the largest in Asia and houses 70+ species of Tulips. The garden is open only for 20 days in a year during the month of April-May, when the Tulips blossom. Bustling with colors, it is our Indian version of the Chinese Spring Gardens. It attracts over 2 million people each year. A short 10 min drive from Dal Lake will take you to the garden. Entry is restricted by ticket (INR 50 per person). It is a must visit if you happen to be there during the spring season.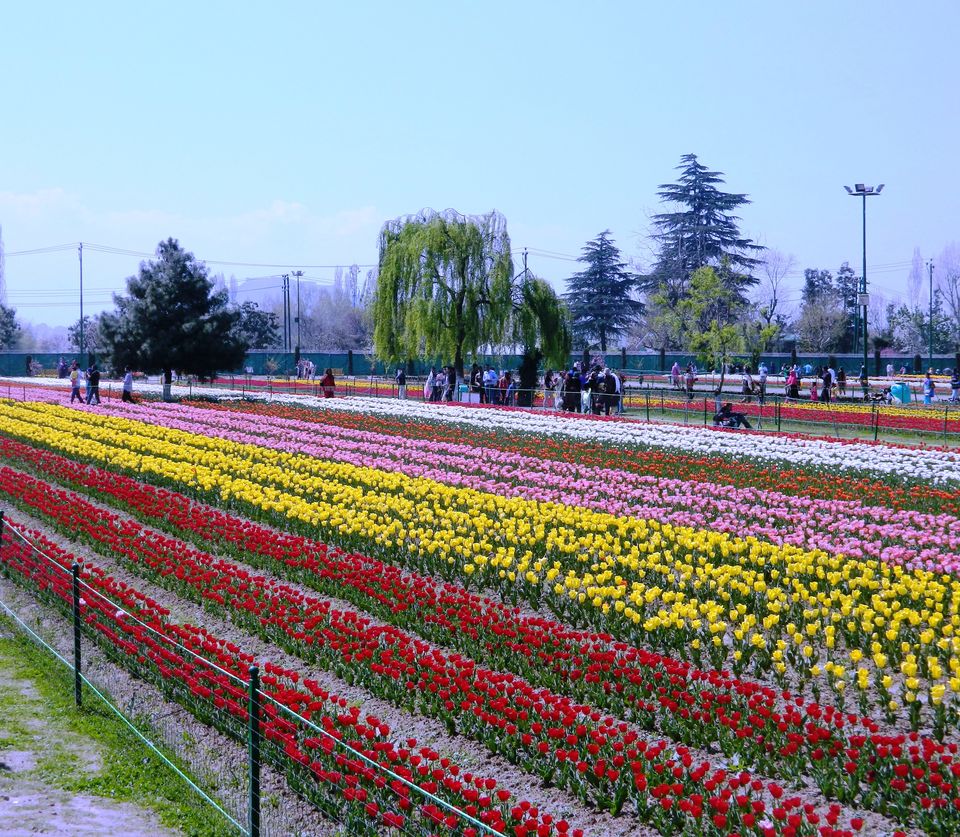 Places we missed and can be included: Nishant Bagh, Shalimar Bagh, Hari Parbat Fort
Things I recommend not to miss:
-Shikara Ride @ Dal Lake
-Visit to Tulip Garden
-Drink water from Chashm-e-Shahi
-Arial view of the city from Pari Mahal
-Shopping for Pashmina/ Creap/ Georgett clothing with delicate Kashmiri hand work - Sui-dhagga and Aari work @ Lal Bazaar, Srinagar.
Note: Dal Lake, Botanical Garden, Chashm-e-Shahi, Pari Mahal and Shankracharya Temple are all do-able in one full day, as they are closely located.
Some of the other places in Kashmir that we visited:
Pahalgam - Beetab Valley
A month or a two after we moved to Kashmir, my brother visited us. What better excuse to plan a weekend trip to the famous Pahalgam (yes, the same place from where Amarnath Yatra begins each year in the month of July- Aug).
From Srinagar, the drive to Pahalgam is 98 Km and takes about 2:30 Hrs via taxi (costs approx INR 2000- 2500). The drive through the last 15 km is one of the most picturesque with the road running alongside the lovely Lidder river. You might even be able to recognize spots from the climax of Bollywood movie- Bajrangi Bhaijaan.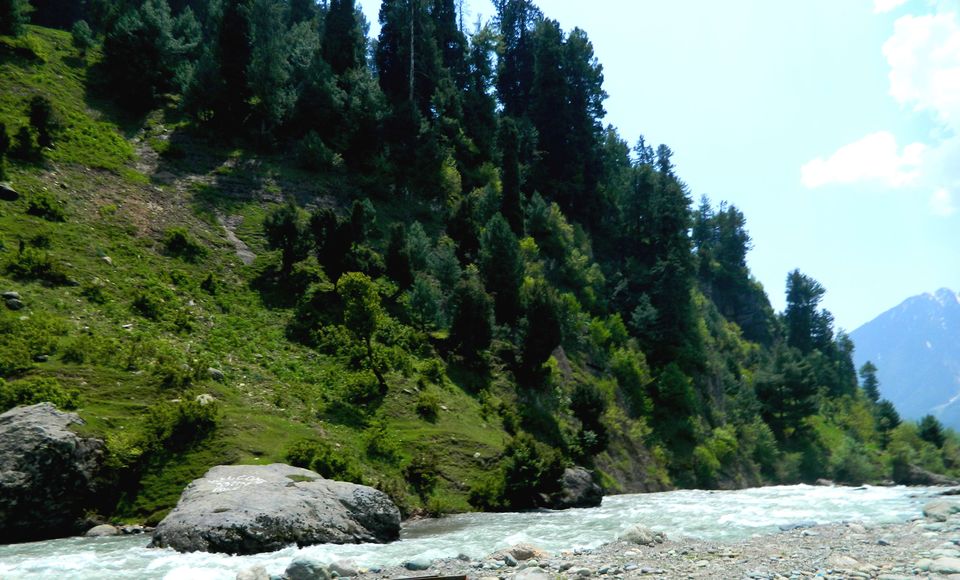 The hour and half's drive ends at Beetab Valley - made popular because of shooting of Bollywood movie - Beetab (starring/introducing Sunny Deol & Amrita Singh). The area is quite beautifully maintained and entry is restricted by ticket. It is also a popular weekend picnic spot for locals and it is common site to locate group of families enjoying meals and children playing cricket.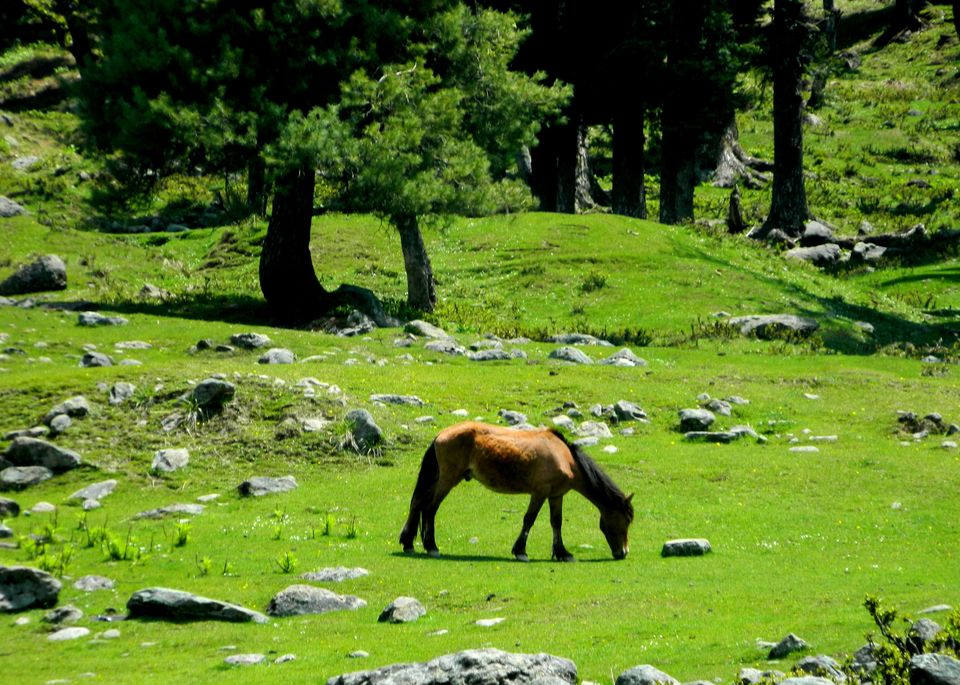 Local shepherds roam around the valley with their horses and mules to feed them.
Pahalgam village market also has many good restaurants and eating joints offering delicacies from all over India. It also has a couple of good 3* hotel/resorts for overnight stay - Pine & Peak is one of the most famous one.
On our escapades, we explored some hidden treasures, offbeat places that most tourists do not know about or tend to miss as they are located amidst rural Kashmir.
Sinthan Top
If you wish to escape the crowd at Gulmarg and Sonamarg, skip the Gondola ride and still enjoy the snow clad mountains - Sinthan Top should be your next stop! A 30 km uphill car ride takes you to the snowy top. The ride itself is amazing, beautiful scenery with small water streams cut through the mountain cracks and Chinar trees stand tall on the mountains. Barren Dhoks ( one room mud and wood houses) built by the shepherds to take shelter during winters are seen across on the adjacent mountains.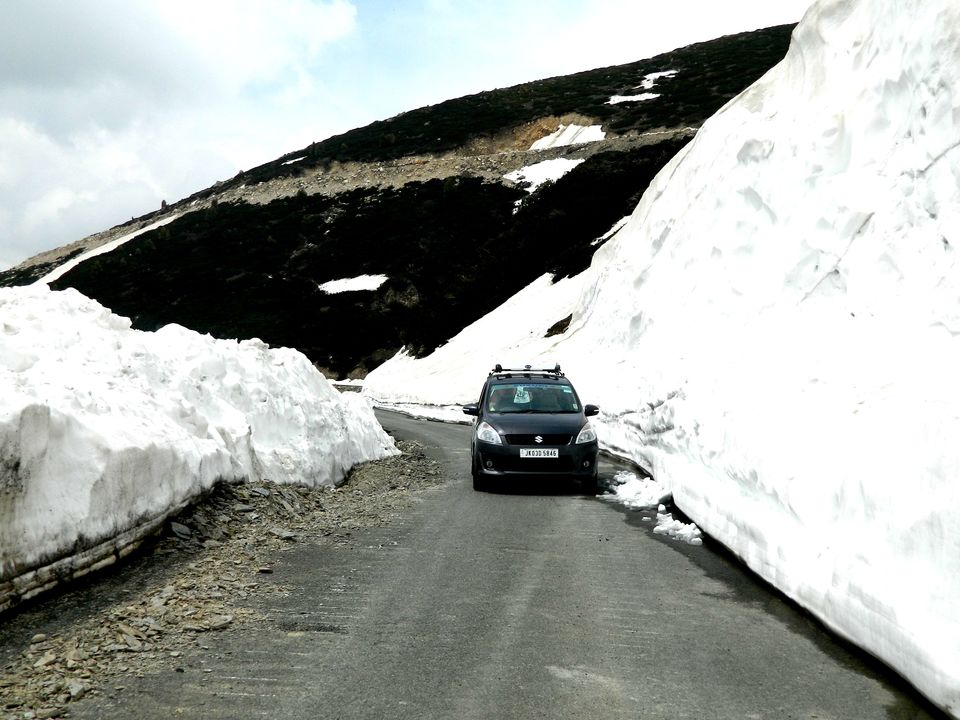 Note: There are no food stalls/ eating options on way or at the mountain top. It is advisable to carry your own food and water. There are however few shops at the bottom of the mountain that sell refreshments.
Marthand Sun Temple
Very few people have heard about this ancient Kashmiri hindu temple dedicated to lord Surya, that dates back to 8th century CE. It is located in the Kashmiri village, that falls under the Anantnag district. Some of you might be able to remember this from the video of the track - E-Gule Bismill, from the Bollywood movie - Haider. Though now left in ruins, the temple displays some beautiful architecture.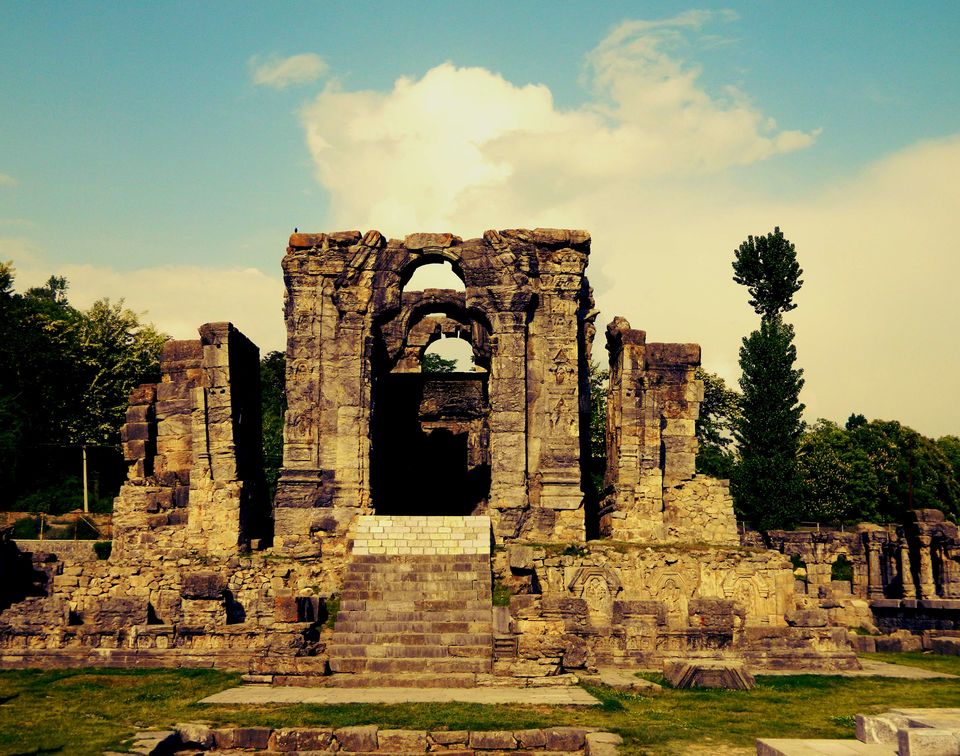 Kokernag Garden
If you thought you have already seen enough of Kashmiri Gardens, wait till you see the best! Kokernag is a sub-district town of the Breng Valley, Anantnag District. It is hard to describe the beauty of this place - adorned with some of the oldest (and tallest) trees of Chinar, lush green landscape, multiple wooden cross-over bridges atop the channels of the largest spring in Kashmir.
The garden is quite popular among locals for picnic and is always bustling with people. Entry is restricted by ticket (INR 10 Per person). There are numerous vendors/ stalls selling ice cream and fruits. There is only one restaurant in the premise - Zaika, and it offers multi-cuisine.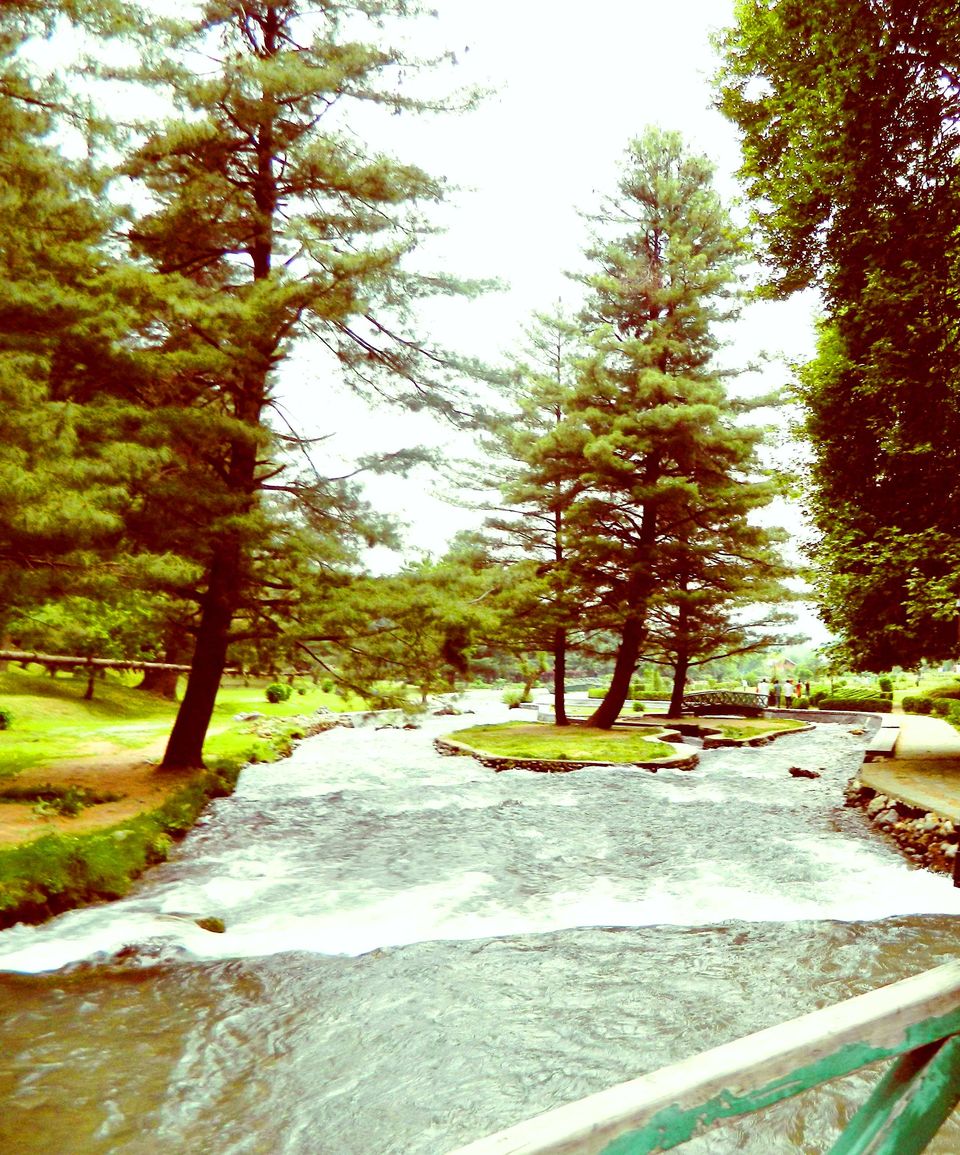 If you do happen to click some pictures here, I promise those would be the best you would get on your entire trip.
Tip: Kokernag and Sinthan Top are in the same direction and do-able on the same day.
Varinag Garden
Another tourist spot famous for its spring, which is know to never dry up or overflow. There is a stone basin and an arcade surrounding the spring, built by the mughal emperor - Jahangir. The spring is also a major source of river Jhelum.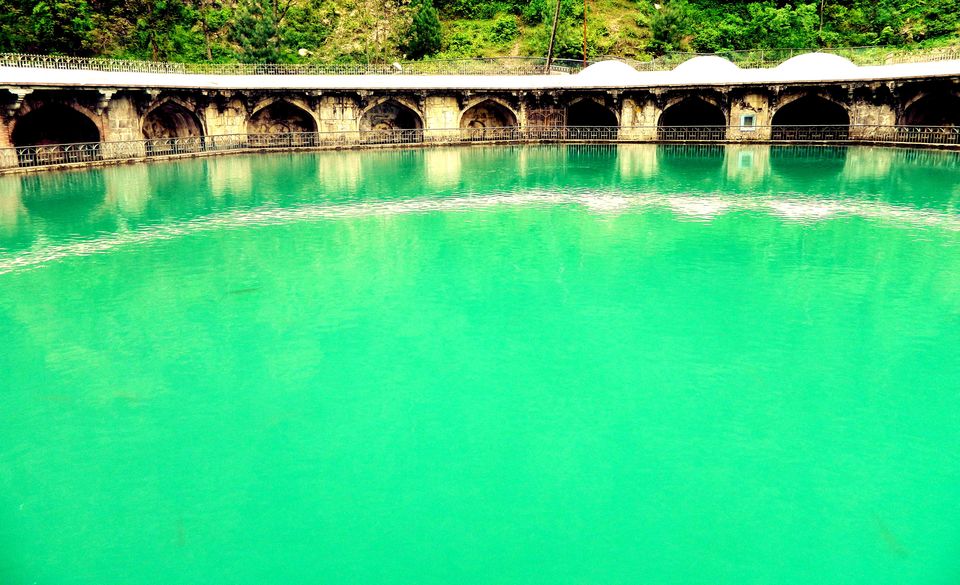 Best Season to visit: March to July
How to reach:
Best and fastest way to reach Srinagar is to board a flight from New Delhi (Return ticket for 1 costs around INR 10000, on a budget airline - if booked in advance).
The cheapest option is to take a direct bus service from Delhi but route is rough and painful (it is a 24 Hr journey and a absolute no-no for me!)
The third option is to reach Jammu by Train and take bus/ taxi from there to Srinagar. There are 30 odd trains from New Delhi that take you to Jammu overnight, the best being Jammu Tawi.
To go around, the best option is to hire a taxi. A day tour of Srinagar would cost you around INR 3000-4000. The charges for day trips to Pahalgam, Sonamarg, Gulmarg and other places would be higher owing to distance.
Things to (must) do:
-Kashmiri Herbal Tea - Kawa
-A picture in the colorful Kashmiri attire @ Beetab Valley
-North India food at local restaurant in Pahalgam
-Goofing around in the snow @ Sinthan Top (My personal favorite)
Budget: Depends on where you are staying and what all places you are covering. Should be under INR 50,000 for two for a 3-4 day trip.
Frequent Searches Leading To This Page:-
kashmir tour packages for family , top kashmir tour packages for honeymoon, kashmir group packages , sports activities in gulmarg , top activities in kashmir , top valley to visit in srinagar , budget hotels in kashmir , best local site seeing in kashmir , srinagar best food